"What Comes After"
We open in Rick's dream state – his current self tells his former self in the hospital room from the pilot episode to "wake up, it's time to go." Current Rick sees a flock of birds outside transform into helicopters, and then looks down to find his abdomen covered in blood. Hospital Rick tells him to wake up and he does. We're back to reality and Rick is still pinned to the rebar. With walkers closing in, Rick uses his belt to painfully lift himself off of it. He miraculously crawls himself back on his horse and barely escapes the herd.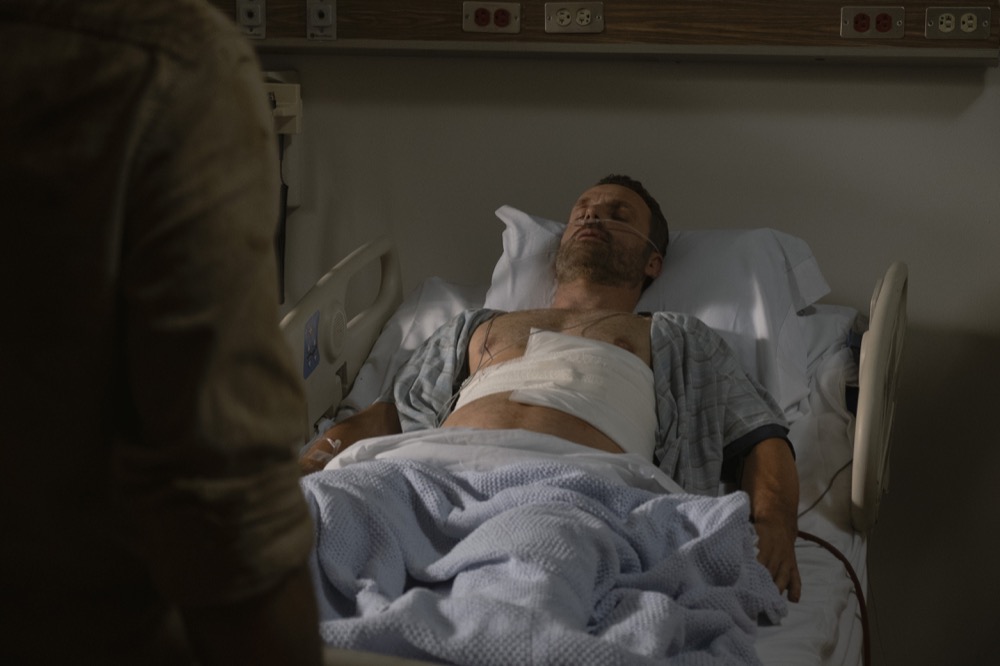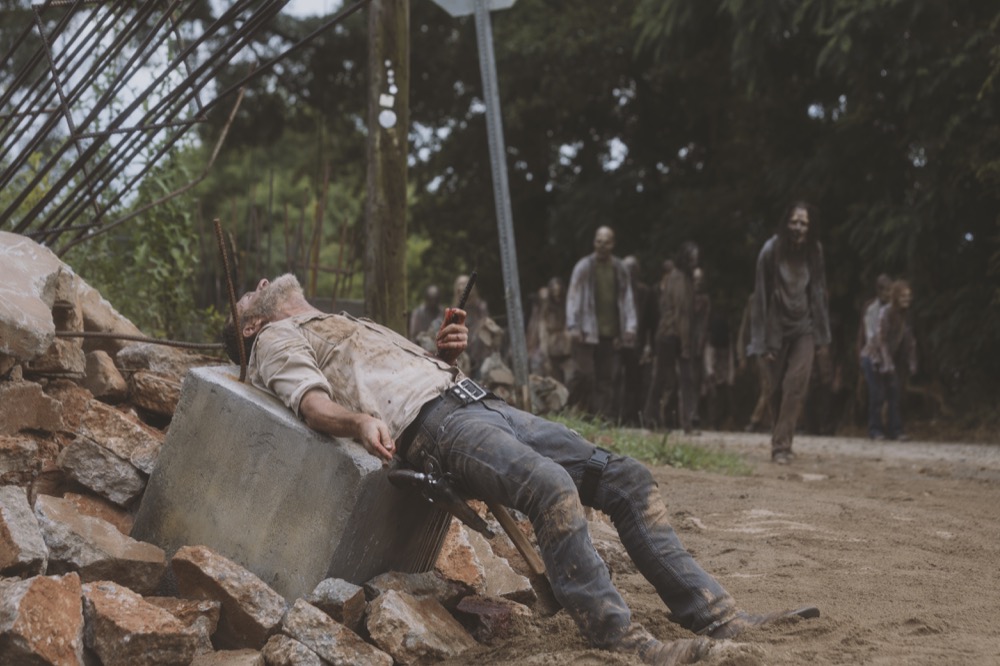 Anne's van breaks down on the road and her helicopter contact radios to see if she has "the A." She lies and confirms she does, saying they're ready for transport. On the horse, Rick tells himself he needs to keep the horde close to lead them away. He goes in and out of consciousness and briefly dreams up an image of Hershel's farm. He rides to an old shack and finds a tablecloth he uses as a tourniquet before passing out. Back in Alexandria, Michonne gets word that Maggie has arrived in town.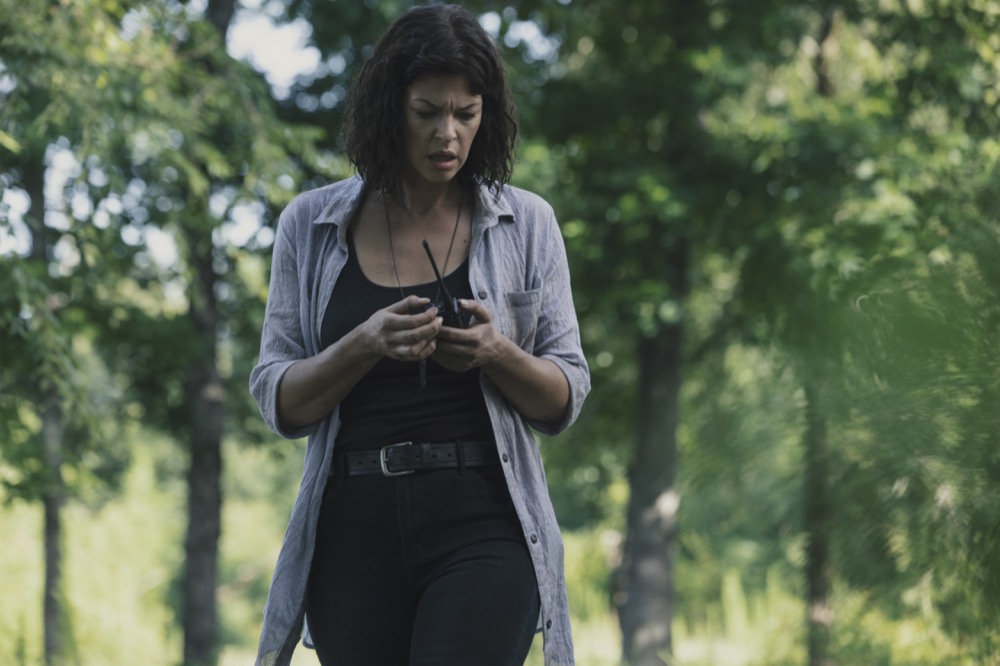 We're back in Rick's dream – he's on horseback in Atlanta and finds Shane in their old police car. Suddenly he's inside and they're back at the field from the pilot eating burgers. Rick tells Shane he's looking for his family, and Shane jokes that it's technically HIS family (burn). Rick jokingly calls him an asshole. Shane compliments him for killing him in that field, biting Joe's throat out, but then asks why he let Negan live. He encourages him to find his rage and "get it done." Rick looks down at the burgers, which are now dust, and apologizes to Shane for what he did to them. Shane forgives him and tells him to wake the f*** up. Rick's back in the shack, which is now full of walkers. He barely escapes out the back and gets back on the horse.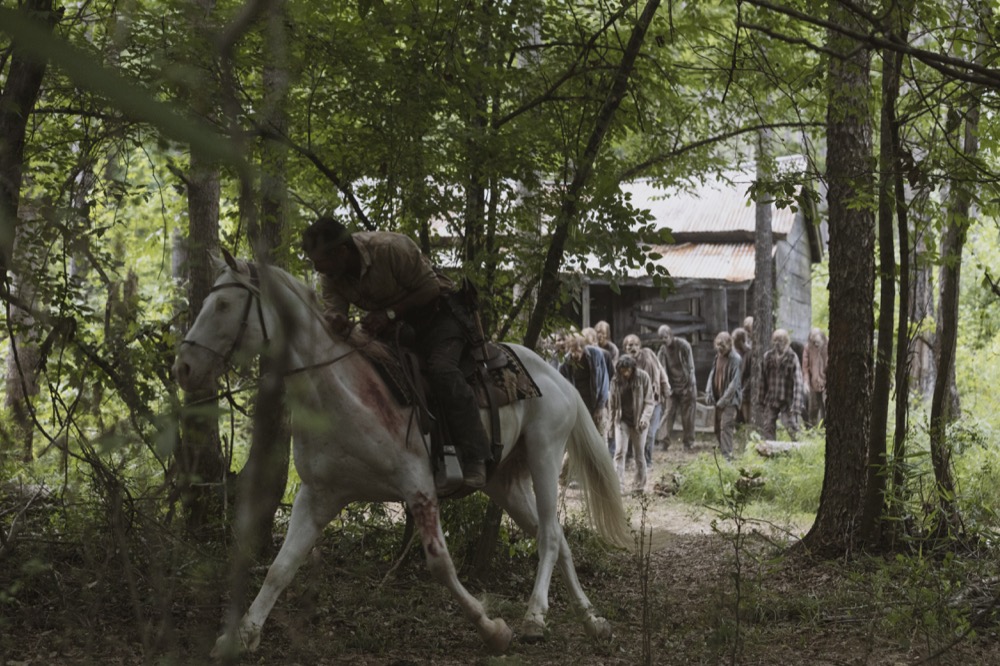 Maggie arrives outside Negan's cell with a crowbar before getting stopped by Michonne. She tells Michonne that Negan should have died under that tree and Michonne asks if this is what Glenn would have wanted. "I don't know what he would want, because I never got to say goodbye," Maggie says. Michonne eventually gives her the keys to his cell and Maggie walks in. Negan chuckles at her as Maggie demands he get on his knees.
Negan taunts Maggie about killing Glenn and begs her to kill him, but she won't. She opens the cell and slams him against the wall as he begs for death. He sobs and admits he wants to be reunited with his wife Lucille. She tells him to get back to his cell because he's already worse than dead. Maggie walks outside and Michonne seems pleased she didn't kill Negan. Suddenly, they get word that something's up at the camp.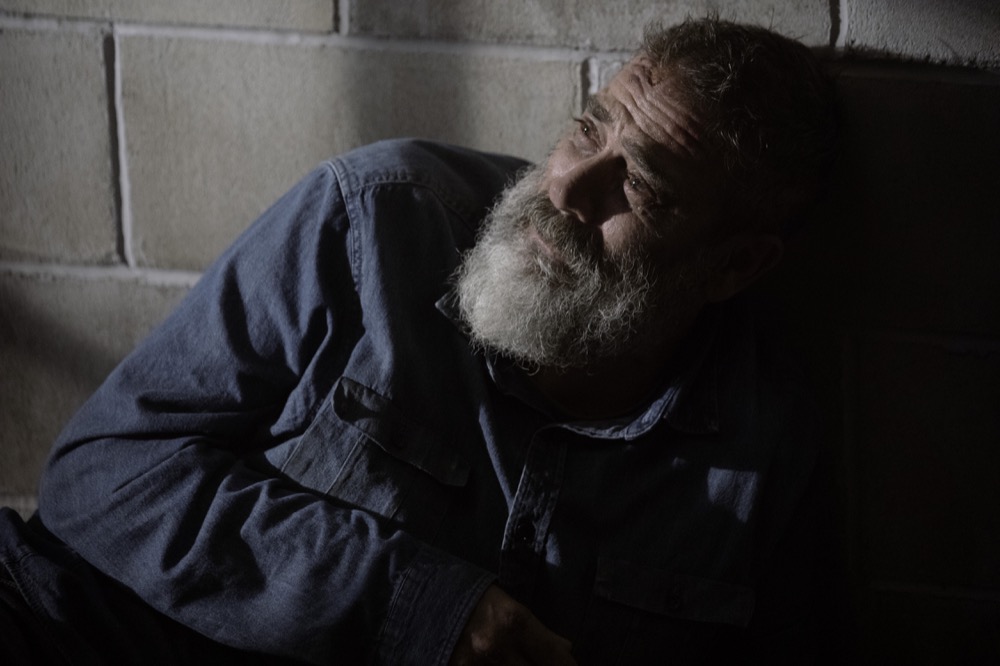 Rick clings to life as the walkers continue to follow him. He hallucinates again – this time he's back at the farm. Hershel's there and boasts he has his leg back. Rick embraces him and apologizes for what happened to him and his family, but Hershel reminds him Maggie's strong. Rick tells him he has to find his family but Hershel tells him he doesn't and just has to wake up.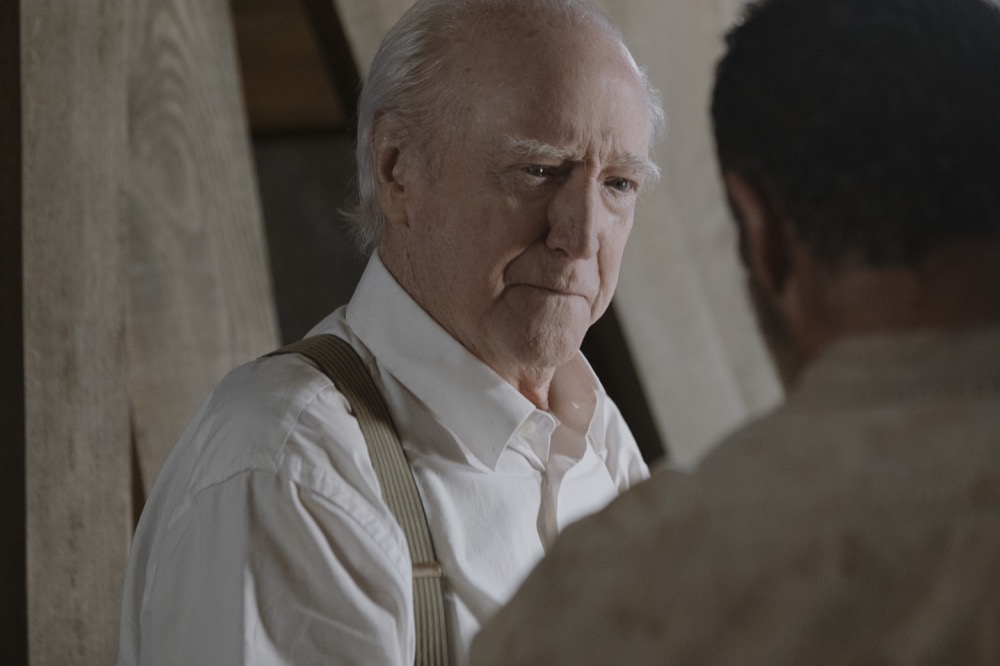 Rick wakes up before hallucinating again. He's back in the hospital and sees the infamous door, this time reading, "Don't Open, Dead Outside." He walks through it and finds a pile of dead bodies – they're his friends. We see Beth, Glenn, and Carl along with currently alive friends like Carol, Michonne, and Daryl. Rick walks among them until he sees Sasha, alive. She tells him none of this is real and it's time for him to wake up. "When you put all of us together, your family, you're not going to find them because they're not lost. And you're not lost," she tells him. Rick wakes up again – he's at his camp but his horse is gone.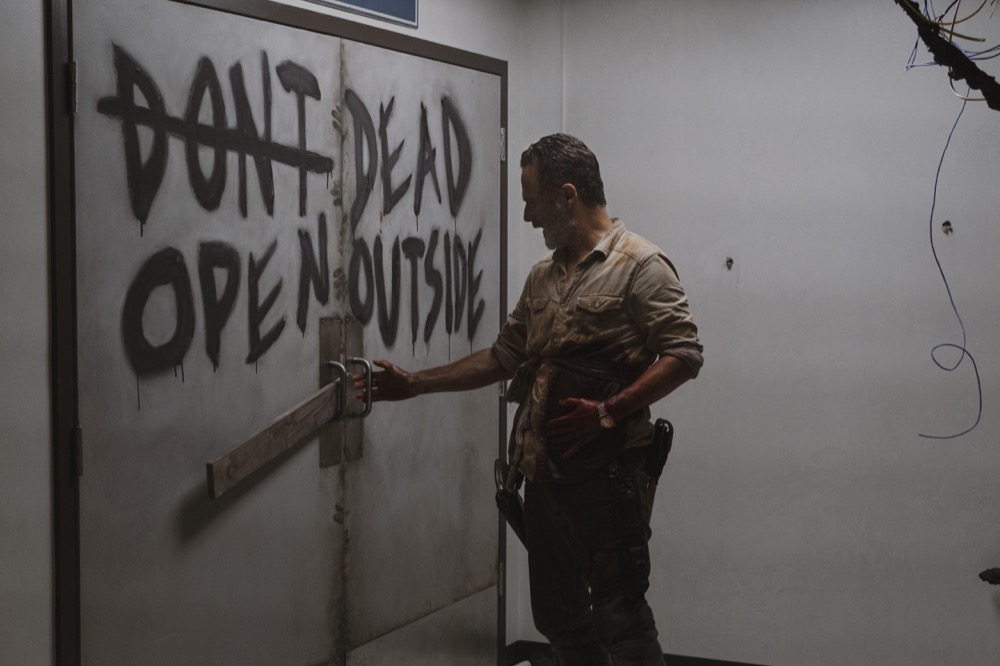 Walkers close in as Rick finds a gun and shoots them. The noise attracts more walkers so he summons the strength to limp away before collapsing near the bridge. Suddenly, Maggie, Carol, Ezekiel, and the others rush past him to kill the walkers. Michonne stops and sees Rick's wound. She reminds him she fell in love with him because he's a fighter. After killing the walkers, everyone stops to watch them. Michonne tells Rick how much she loves him and he tells her, "This isn't real." Michonne tells him to wake up and he does, again. This time, he's alone on the bridge.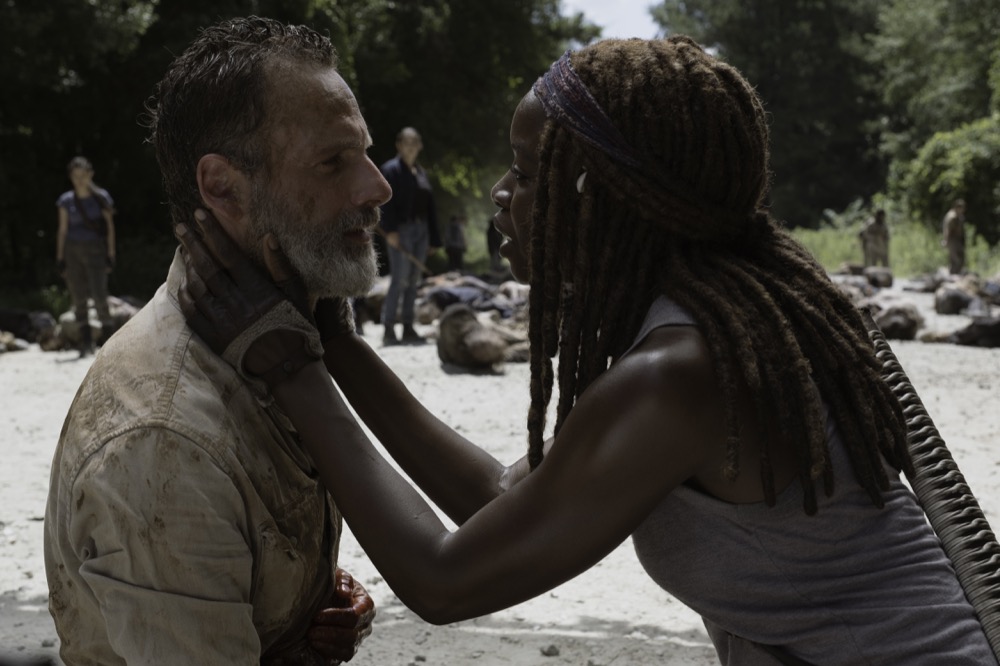 The walkers approach as Rick hobbles away, bleeding more than ever. He makes it across the bridge and turns around hoping to see the walkers fall through. They don't, and a walker makes its way inches away from Rick before getting shot in the head by a crossbow bolt. Rick watches as Daryl, Michonne, Maggie, and the rest arrive nearby – this time it's not a dream.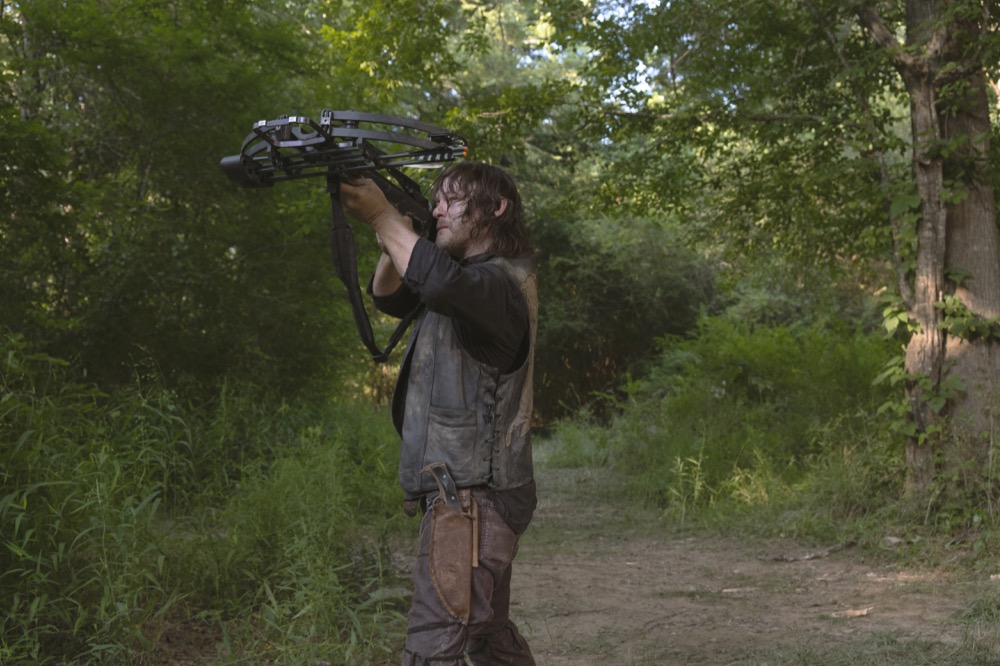 Maggie and Michonne hatch a plan to divert the walkers but Rick won't allow it. He notices the dynamite on the bridge, takes aim, and says "for them," and "I found them," before shooting and igniting the dynamite. The bridge ignites and explodes as Michonne and the rest can only watch in horror nearby. Assuming Rick is dead, Michonne screams out while Maggie and Carol comfort her. Daryl weeps and then walks away.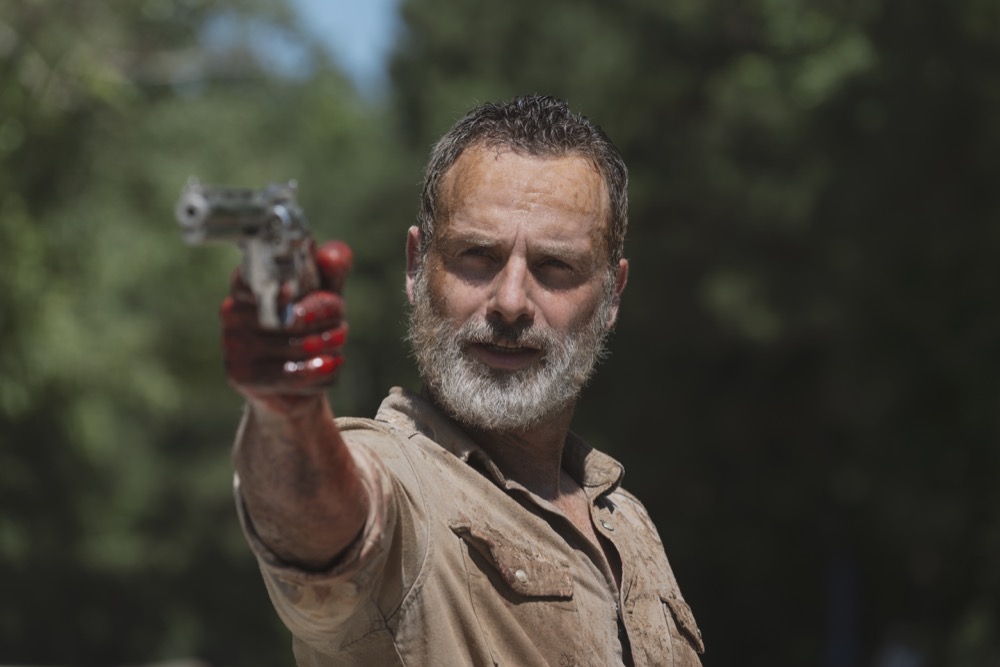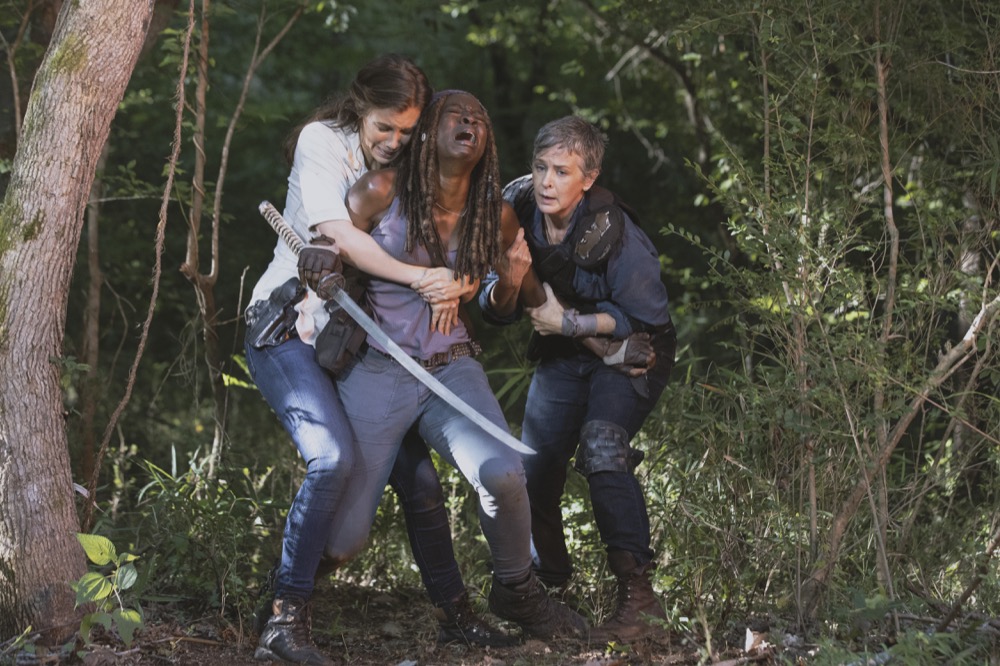 Nearby, the helicopter arrives to pick up Anne and her supposed "A." It's then that she spots Rick on the riverbank, somehow still alive. She quickly radios that she has a B but he's strong and needs help immediately. She promises it's not a trick and explains she's just trying to save a friend who once saved her. They agree to her deal and lower the helicopter. Rick wakes up in the chopper hooked up to medical equipment and Anne assures him he'll be OK and that "they" will save him.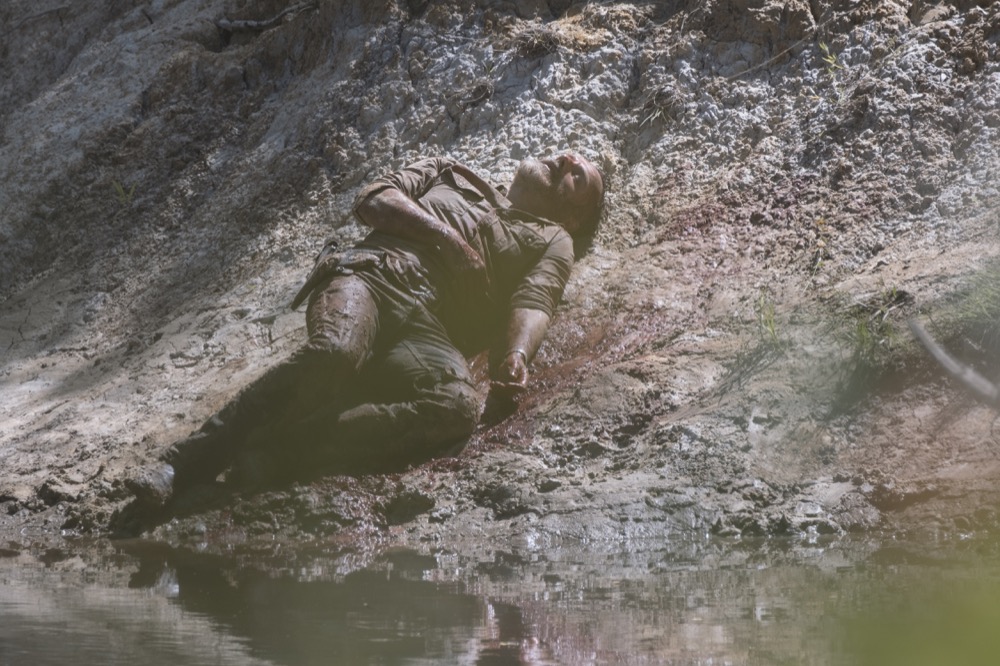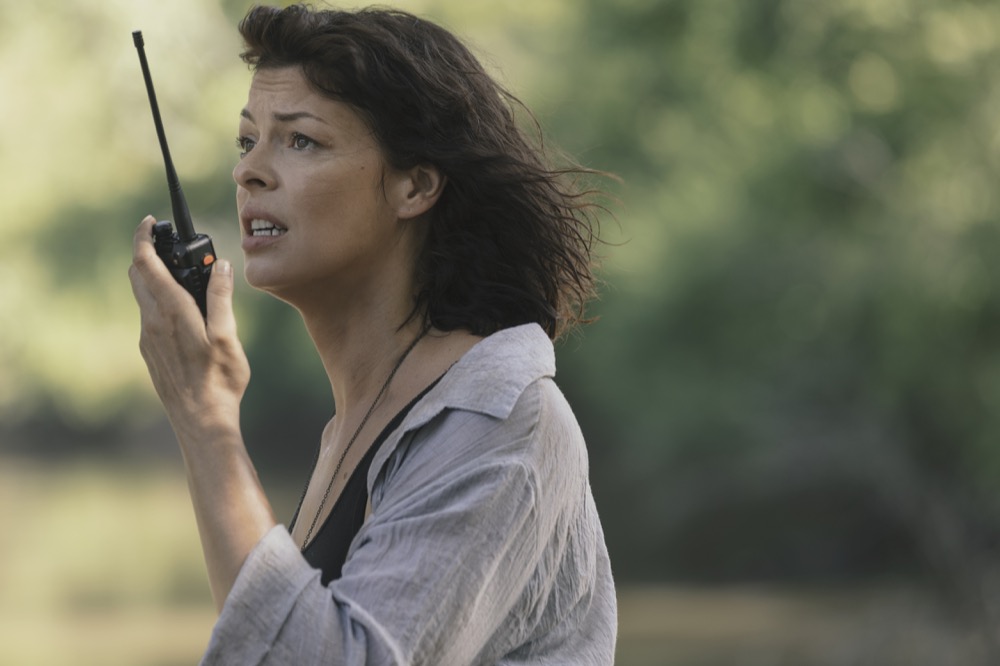 The helicopter flies away as the area below time lapses into decrepitude. We're now in the future and get our first glimpse of Magna's group take on a herd of walkers. They quickly get overwhelmed, and when all seems lost the walkers around them get shot from the trees. Magna and her group escape into the woods to find a 10 year-old girl who asks for their names. They introduce themselves and ask what her name is. The girl picks up Carl's hat and introduces herself as Judith…Judith Grimes.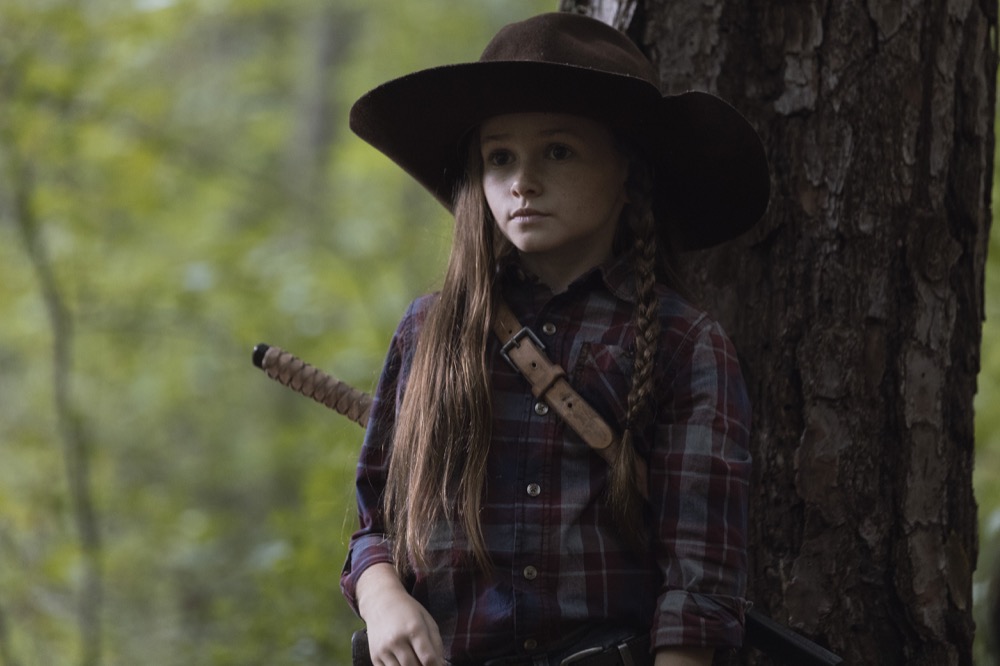 ---
WOAH! What did you guys think of Rick's last episode of The Walking Dead? Are you surprised he survived? Where the hell is he going?? And how do you feel about that multi-year time jump??? Tell us EVERYTHING in the comments below!