For a guy who's still very much in the comics, Rick's last episode was packed with a LOT of scenes and Easter eggs from the comics. We break down all the best nods from The Walking Dead Season 9 Episode 5.
---
Maggie vs. Negan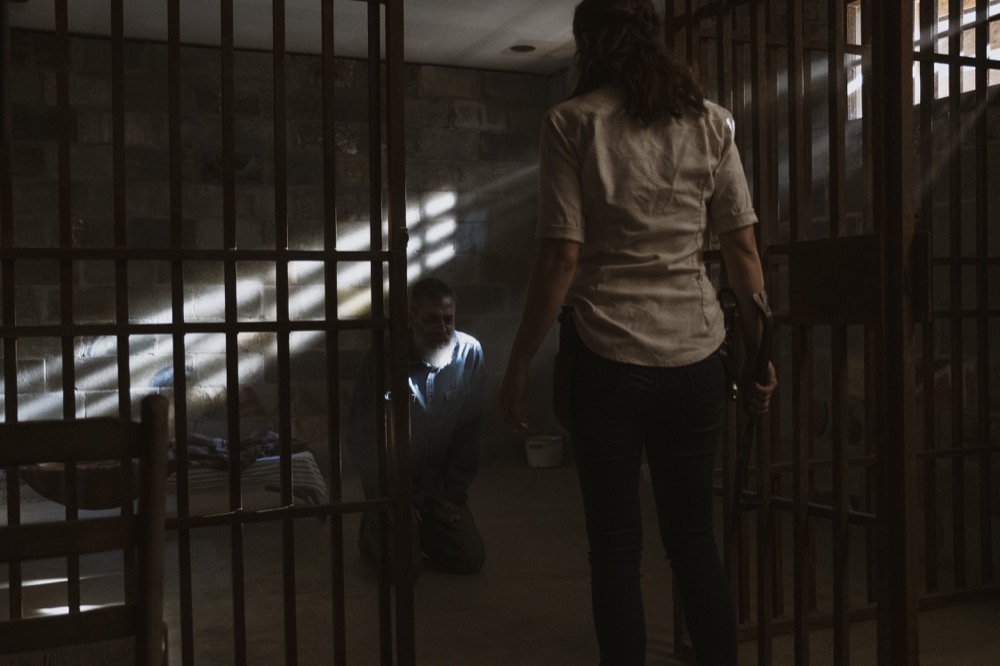 The big confrontation between Maggie and Negan also happened in in the comics, but it was significantly later down the line.
SHOW: After over a year of biding her time Maggie finally decided to return to Alexandria and exact her revenge against Negan. Michonne nearly comes to blows with her outside of Negan's cell but eventually relents. Negan, who has a death wish, taunts Maggie about killing Glenn and literally begs her to kill him before breaking down. Maggie realizes his four-walled hell is worse than death and says, "I came to kill, Negan. And you're already worse than dead. That settles it."
COMICS: A similar scene plays out in the comics, but as we mentioned it happens much later (for context the show covering the events around Issue 130 and the Maggie/Negan scene goes down in Issue 174). Instead of going through Michonne into a cell in Alexandria, Maggie confronts Negan while he's alone in the wilderness.
Negan had just been expelled from Alexandria following the Whisperer War and was living on his own in the wild. Maggie, still haunted by Glenn's death, hunts Negan down, puts a gun to his head, and nearly kills him until she realizes he's already worse off than he would be if he was dead. Even though he's free (unlike his show counterpart), Negan is clearly still haunted by his own past. So, Maggie leaves him, makes out with her Hilltop guard Dante, and they leave Negan.
This is mostly similar to the show, except in the comics Negan is less of a dick about Glenn and brings up his wife. Also, Maggie has a crowbar in the show while she's armed with a crowbar in the show.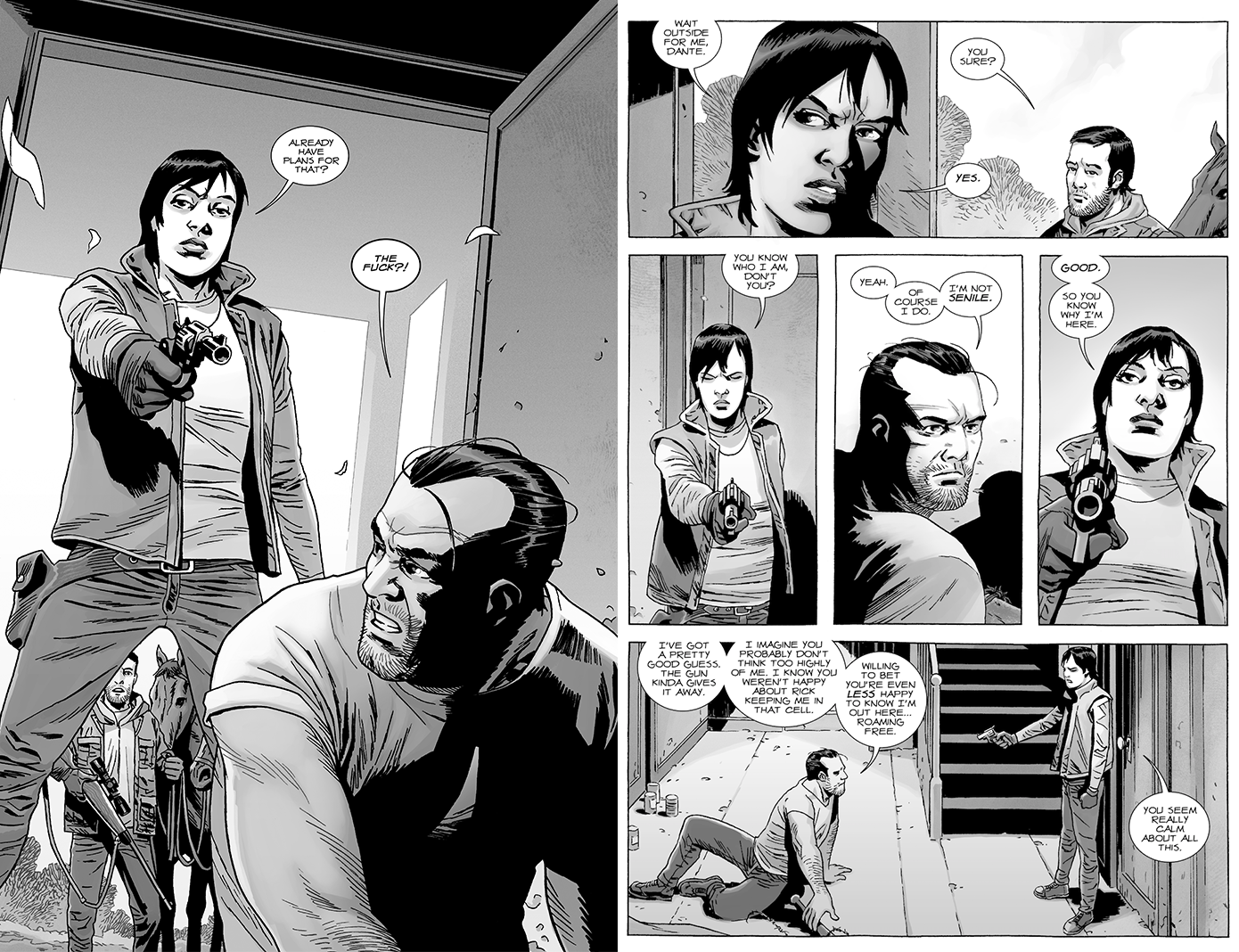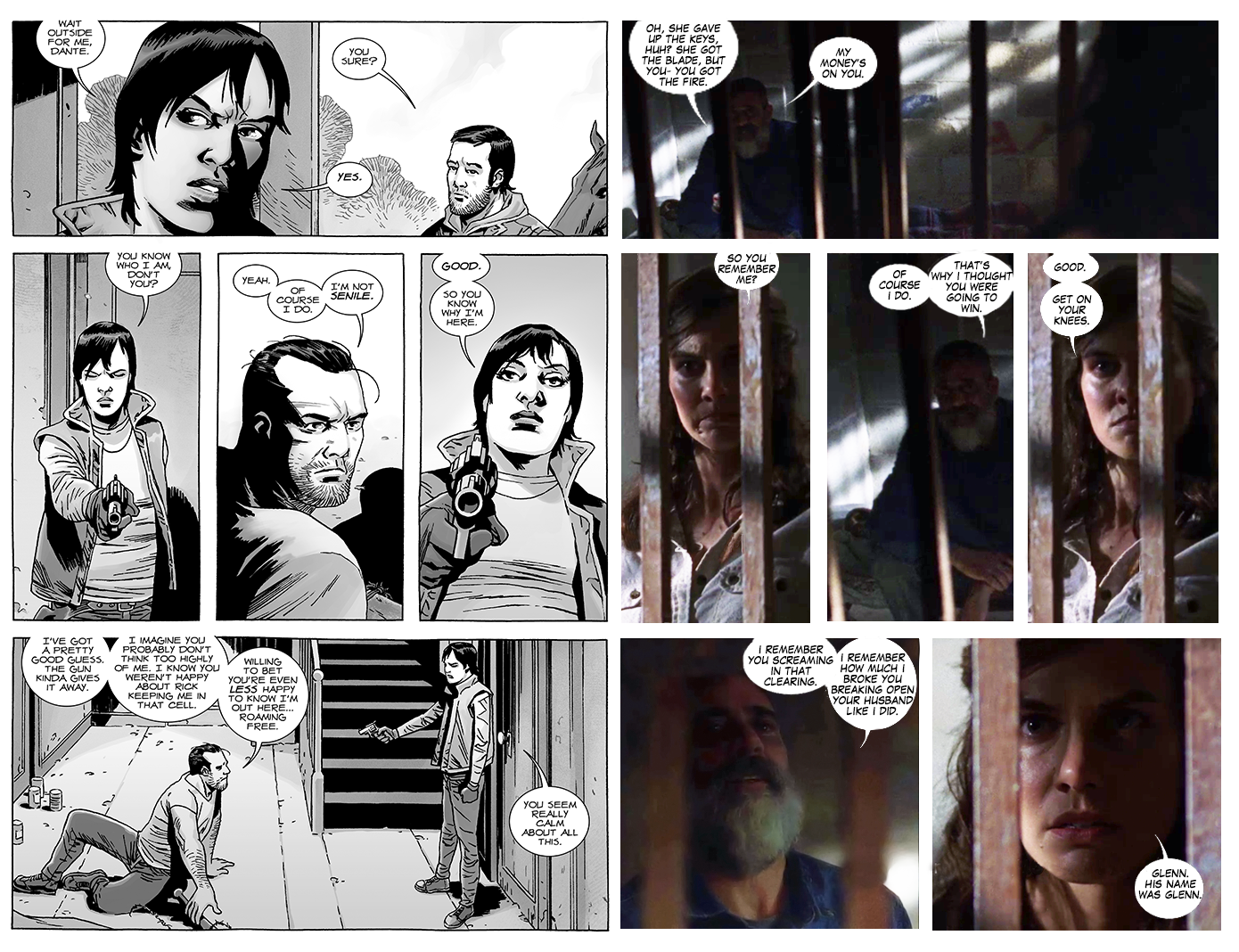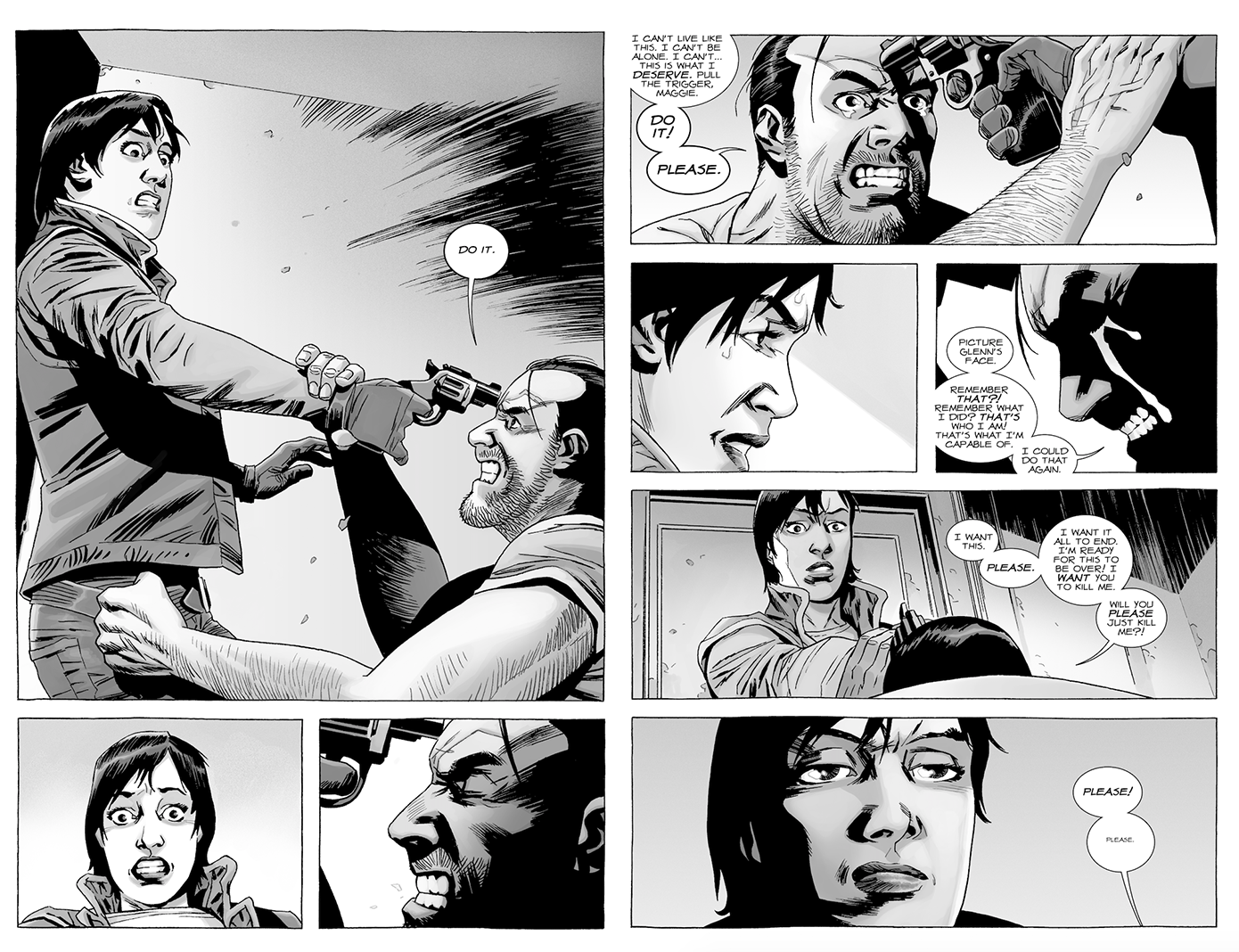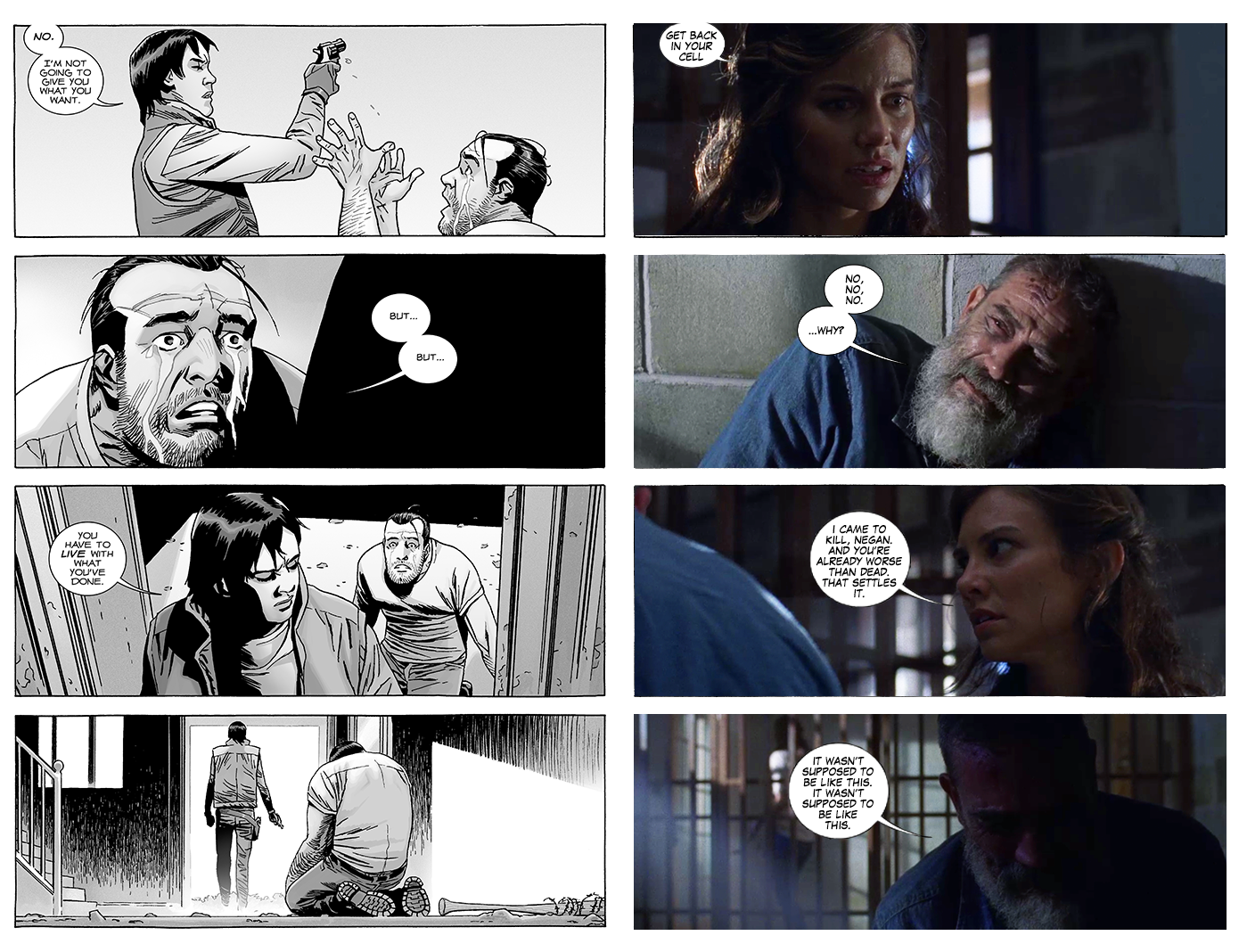 ---
Issue 100 Parallel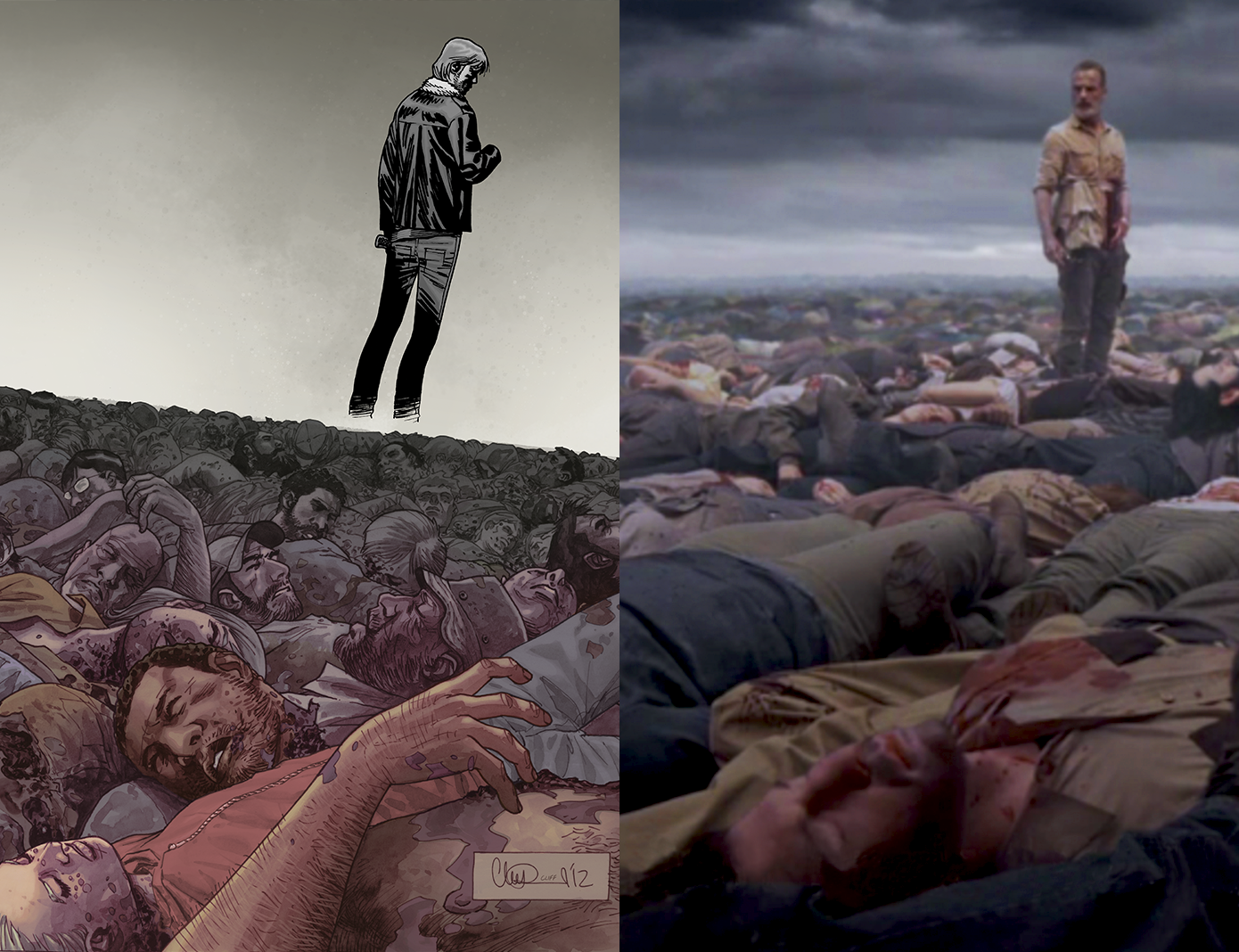 This comparison is more of an aesthetic homage, but it was so iconic we had to mention it. In the show Rick hallucinates talking to Shane, Hershel, and finally Sasha while standing in a pile of bodies of his family and friends past and present. As you can see above, this is a clear homage to the chromium variant cover for The Walking Dead Issue 100. The variant was done to show how many people we've lost on The Walking Dead in 100 issues.
---
Magna's Group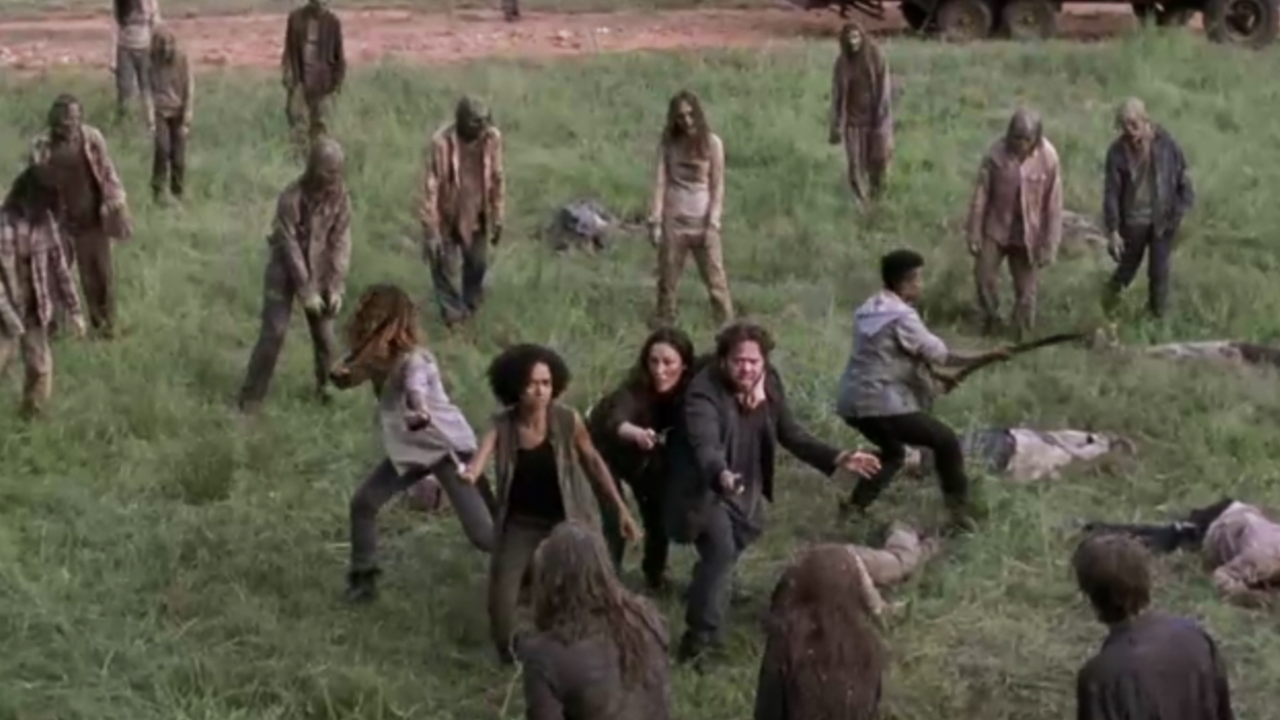 At the very end of the episode we got a MASSIVE time jump that briefly introduced major comic characters Magna, Yumiko, Luke, Connie, and Kelly.
SHOW: After the time jump we see Magna's group surrounded by a walker horde. They shoot, stab, and sling-shot their way through the undead before getting saved by an older-looking Judith in the woods.
COMICS: We're also introduced to Magna and her group after a massive time jump, but it's the one following All Out War, not a second one after that. Similar to the show, Magna and her group get surrounded by walkers and are saved by someone from Alexandria, but in the source material it's Jesus, Rosita, and Eugene – not Judith (Judith was killed as a baby when the Governor shot her and Lori at the prison). Also, Kelly's a man in the comics and Connie is deaf in the show.
We'll dive into Magna's group in greater detail throughout the season, but for now know that they will play a HUGE role in the show throughout the season and beyond. (Learn more about them here).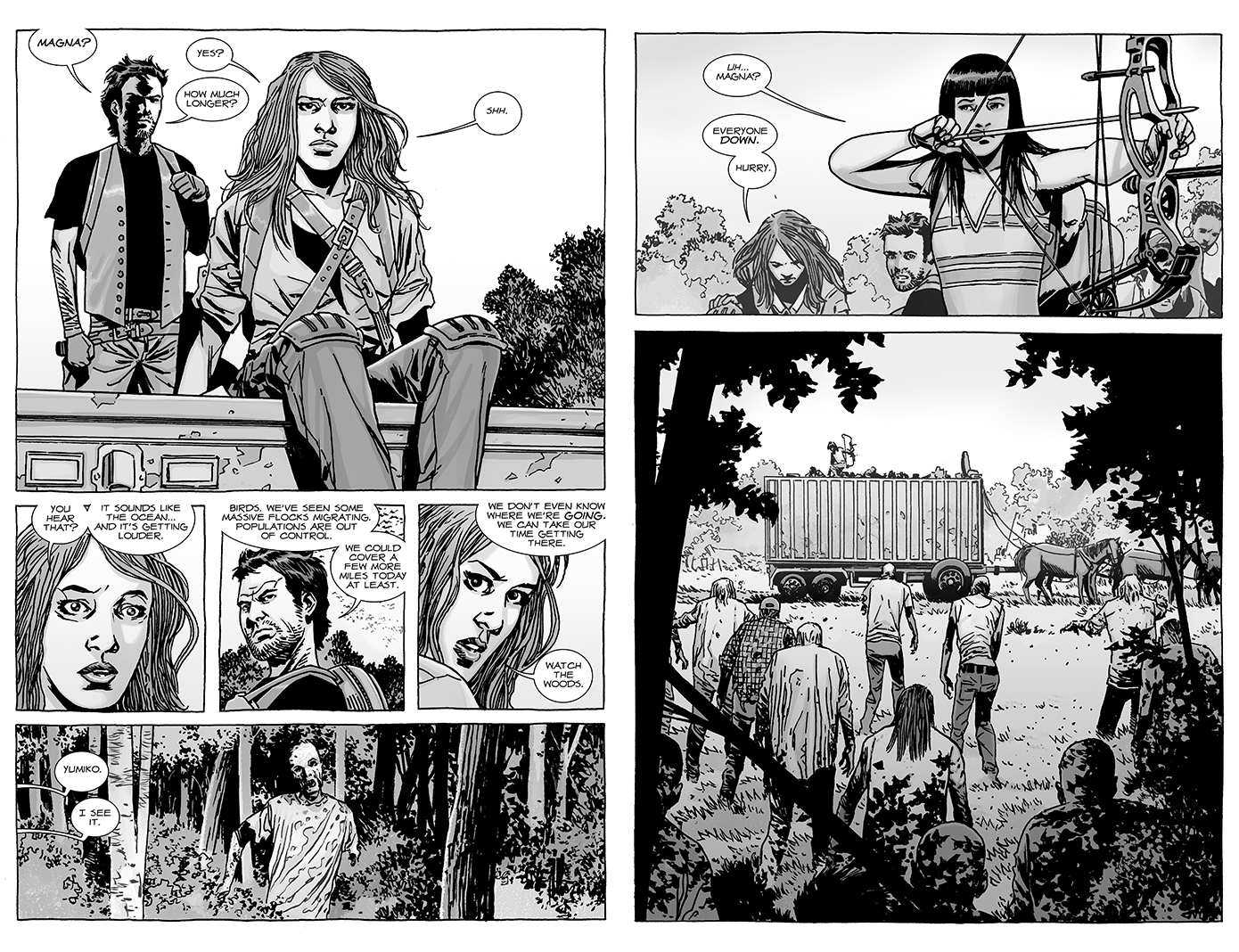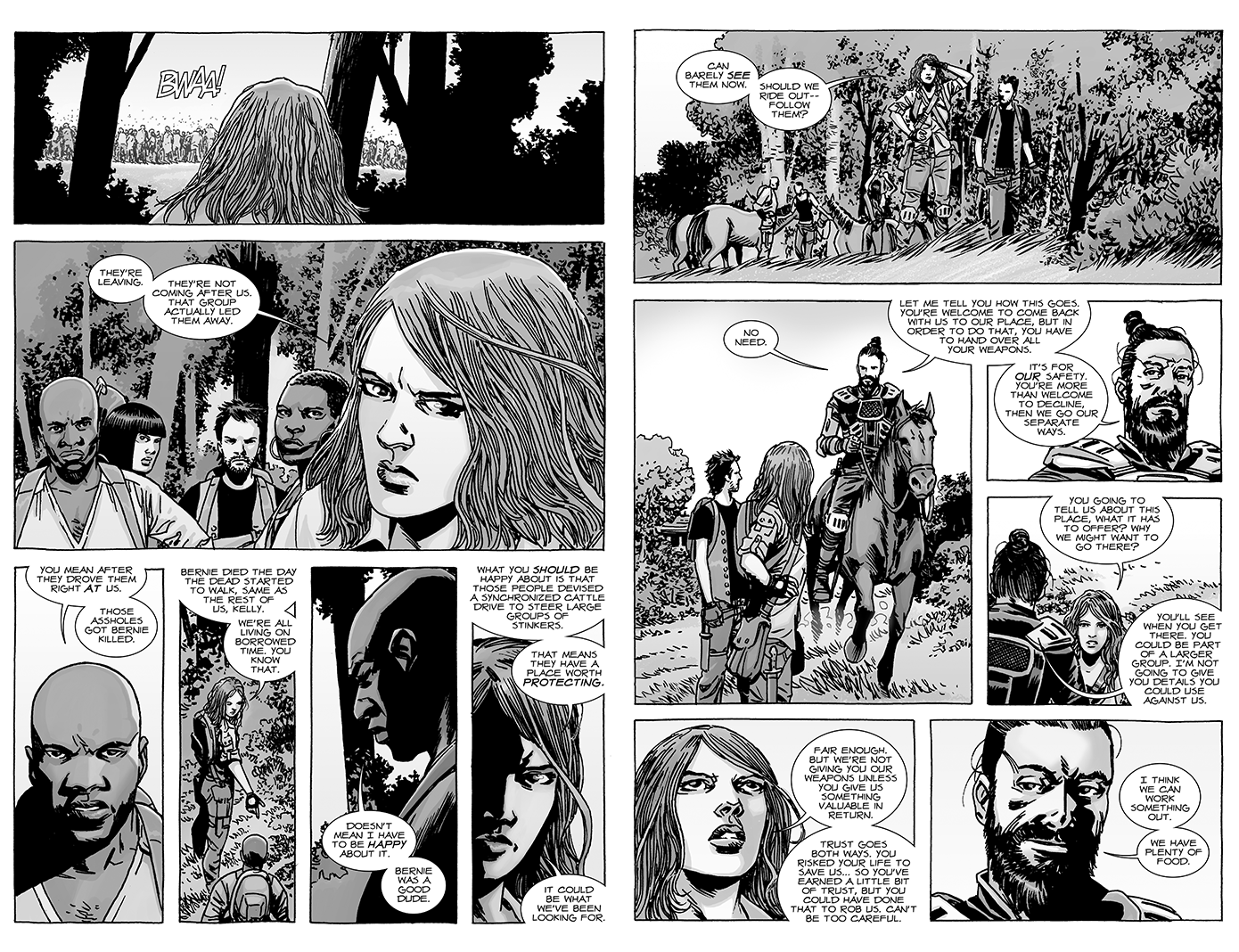 ---
What Didn't Happen In The Comics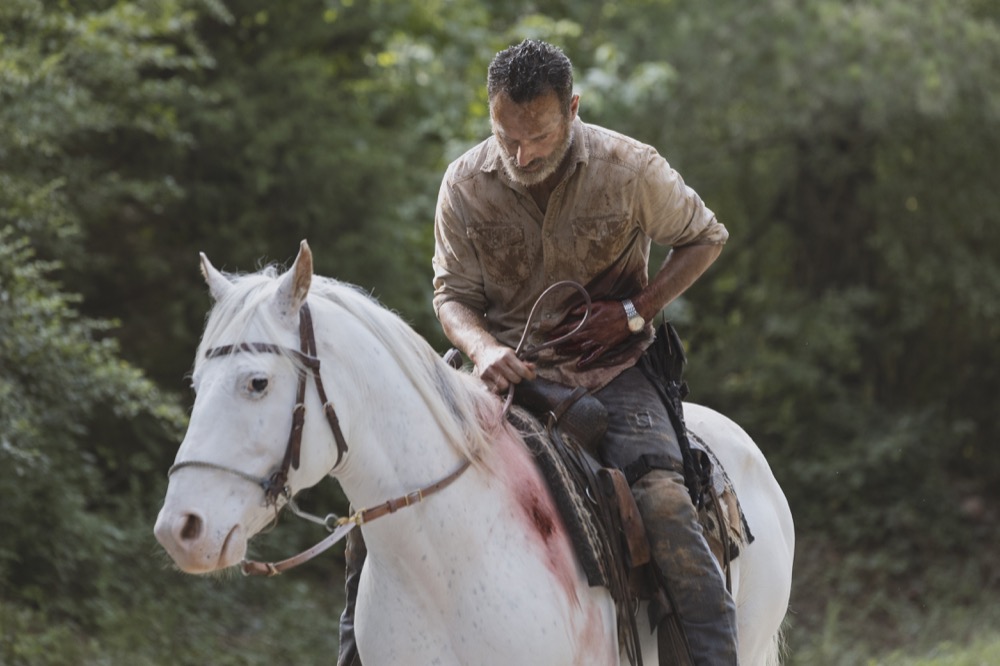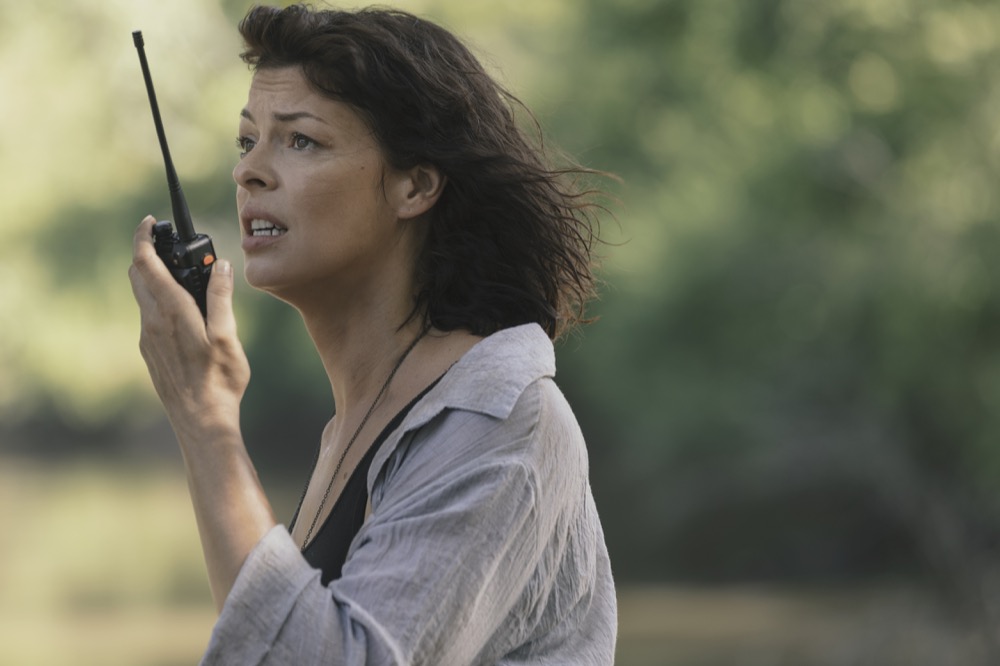 As much as the show borrowed from the comics, the majority of the episode did it's own thing. Rick's injury, hallucinations, bridge explosion, and Jadis' helicopter offering were all unique to the show. In fact, Rick Grimes is alive and well in the comics. So if you miss him, pick up a copy!
---
Which comic comparisons did you enjoy the most? Let us know in the comments and don't miss our post next week!