"Rendition"
I mean, look, who HASN'T had an ex dump them, join a murderous cult, and then waterboard them? It's a familiar story to all of us, and exactly what Daryl goes through at the top of this episode. Captured by his ex, Leah, who's now with the Reapers, Daryl resists torture and insists that he barely knows the crew he was rolling with (Daryl and Eugene are both experts in giving false testimony). After the death of one of the Reapers, Leah comes to Daryl and tells him how they were a squad of soldiers turned mercenaries. That explains the whole super-good-at-killing-and-torturing thing.
They say that Daryl is going to meet the leader, Pope, and then lock him and Leah in and light the building on fire. It was just a test though, and when Daryl breaks out (and saves Leah before himself) he has the REAL meeting with Pope (who has a GREAT mustache, by the way). After an "excuse me sir, do you have a minute to talk about God?" speech, Pope decides to feed Daryl and calls him family. I trust him about not at all. He questions one of his men that he thinks might have run from a fight and and then shoves him into the bonfire head-first and holds him there until he dies. The BBQ is ruined.
Plot-wise, a pretty light episode, but we learned a ton about the Reapers and Dog is ok, which is the really important thing. You ever have ex torture you in a non-emotional way? What's the worst BBQ you've ever been to? Sound off down below!
And here's another bonus picture of Dog after a week off, just because.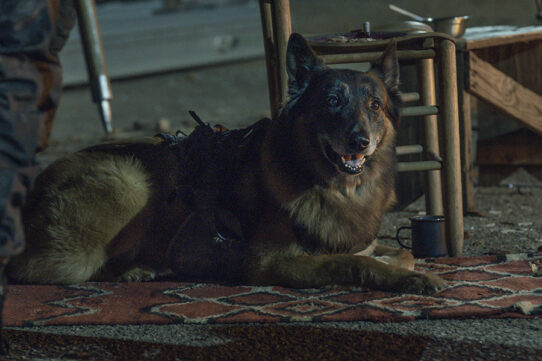 All photos courtesy of AMC by Josh Stringer