Skybound is a company for creators. We're known for using the Wheel of Awesome to make cool stuff, no matter the platform. We place creators and their projects at the center of the wheel and work with them to keep the integrity of their vision as it becomes a comic, game, TV series, film, audio series, or all of the above.  
Skybound builds global franchises. We've been the home of The Walking Dead and Invincible since 2010 and are leaders in creating universes that become pop culture phenomena from our library of over 150 properties, including the emerging tentpole Impact Winter. 
We've made Skybound a home for millions of fans and make sure to connect with them daily – whether it be in-person or online. We're fans of our fans and are constantly exploring new ways to interact with them through our content distribution. And that starts with our Wheel of Awesome. 
Leveraging our multi-faceted business, we place our esteemed Skybound creators and properties right in the center of the Wheel of Awesome and determine how best to build brands and franchises out of the IP.


Skybound has a library of over 60 titles published across hundreds of issues and collections, including 16 active series published in 2022. Our comics are printed in 30 territories and in 22 languages. Our most notable series include The Walking Dead, Invincible, and Birthright – all with television and film projects currently in development. 

Along with established brands, we've also seen huge success launching new books such as Dark Ride, by Joshua Williamson (Batman, Dark Crisis) and Andrei Bressan (Justice League Incarnate), and KROMA the prestige comic book series being written, drawn, and colored by creator Lorenzo De Felici (Oblivion Song).  
We have also partnered with global brands for several comic book series, including LEGO® NINJAGO® GARMADON, an official new chapter in the worldwide phenomenon from rising star writer/artist Tri Vuong (Everyday Hero Machine Boy).
This is the first LEGO® branded comic book series release from our landmark partnership with global children's book publisher AMEET, with additional top-secret new series to be announced soon.  
Another major partnership for us is CREEPSHOW, the star-studded five-issue comic book anthology based on the hit Shudder TV series produced and licensed by Cartel Entertainment. Our comic advances the worldwide phenomenon that began with George A. Romero and Stephen King's iconic 1982 film and has continued with the Greg Nicotero-helmed genre anthology series entering its fourth season on Shudder. SKYBOUND COMET, an original graphic novel imprint aimed at Young Adult (Ages 12+) and Middle Grade (Ages 8-12) audiences launched in 2022 with titles that can be found everywhere books are sold! Skybound Comet officially began with Clementine Book One, the first book of a trilogy set in the world of Robert Kirkman's The Walking Dead, from award-winning writer/artist Tillie Walden (Spinning, On A Sunbeam). That was soon followed by the release of Everyday Hero Machine Boy OGN from rising star voices Tri Vuong (LEGO Ninjago Garmadon) and Irma Kniivila; Sea Serpent's Heir Book One, which kicked off a fantasy trilogy from acclaimed creators Mairghread Scott (Star Wars: Resistance, Guardians of the Galaxy) and Pablo Tunica (TMNT Universe); Scurry, a collection of the hit webcomic from cartoonist Mac Smith; and Sean Kelley McKeever and Alexandre Tefenkgi's sci-fi epic Outpost Zero, collecting their 2018 Skybound series.
Our creator-first approach also involves launching Kickstarters, fan-funded campaigns that leverage the creator's fanbase to create compelling stories. In 2021, Skybound launched the Ava's Demon: Reborn Kickstarter campaign, one of the most successful graphic novel crowdfunding campaigns of all time, raising over $530k in backer pledges. In total, our comic campaigns have raised over $1.3MM in backer pledges. 
Motion Pictures
We're thrilled to partner with Universal Pictures for a first-look deal. One project from that partnership is Renfield, starring Nicholas Hoult, Nicholas Cage and Awkwafina, and released in 2023. 
Television

On the television front, Skybound has multiple series in pre-production.
Podcasts 
And you can't forget about the ears. Skybound also holds a first look development deal with Audible. In 2022 we released Impact Winter, a scripted long-form fiction Audible Original that soared to #1 on Audible+ for Audible Fiction and #3 on Apple Fiction. Two additional seasons of the hit series have been greenlit. 
Four new podcasts are currently in production, including the adaptation of the Eisner-nominated comic Gasolina, created by Skybound's SVP, Publisher Sean Mackiewicz and Niko Walter, set to premiere in July 2023.
Animation

Skybound has begun to bring its comics to life with animation. The smash-hit TV series Invincible, for Amazon Prime, is Certified Fresh on Rotten Tomatoes with a 98% rating and has been green-lit through Season 3. Building on that success, Skybound has established a growing 200-person animation studio with four projects in production that include a multi-format and style capability—hand-drawn 2D, 3D, and realtime in-engine.
Partners
Skybound is a force in games. We publish, produce and distribute video games across every genre, including the blockbuster, Webby Award-winning The Walking Dead series, the BAFTA Award-winning Before Your Eyes, and the multiple Webby Award-winning Escape Academy.
Established in 2018, Skybound Games is one of the premier studios, publishers and partners in the gaming industry. We've tapped our internal IP to develop games based on The Walking Dead, Invincible and more. We publish on every platform people play games on including PC, Sony Playstation, Microsoft Xbox, Nintendo Switch, iOS, Android and Steam. 
Skybound Games works and supports the world's best developers and publishers as they create innovative original games which leverage Skybound properties. 
Through our strong relationships in the industry, we also work with the best game creators in the world, financing, producing and publishing the original games they make. 
Skybound's Wheel of Awesome has also created the capability for global distribution in the gaming division, establishing a Worldwide network of trade distribution and licensing partners, with a sizable footprint in every viable games marketing in the world. We also partner with developers and publishers to release physical versions of our digital products, leveraging our global marketing and distribution to expand our reach, in standard and high-vale collector's editions. 
Skybound offers a vast collection of merchandise, tabletop, and collectibles, including toys, action figures, mystery boxes, prints, jewelry, wine and spirits. We've sold millions of units across all categories through e-commerce as well as brick-and-mortar stores globally. 
The Walking Dead fan-favorite products include Spirits of the Apocalypse Bourbon, The Walking Dead wine, vinyl soundtracks, toys and collectibles, action figures, and board games
Invincible highlights include bestselling merchandise from Season 1, collectibles, and action figures, as well as upcoming tabletop and party games to be announced soon 
Our tabletop games category is led by titles such as Superfight, and includes several games nominated for several Game of the Year accolades and Production awards. 
Our party game Trial By Trolley launched as a Kickstarter with $3.5MM+ raised in 30 days and 60k+ global backers. 
And we couldn't have done this without our incredible fans.
Over 6.6MM followers across social media channels.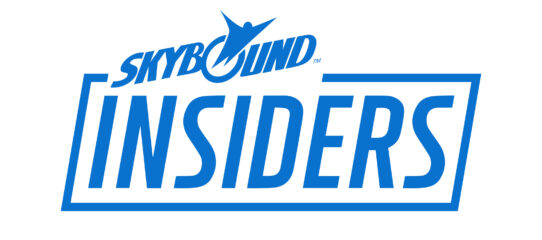 Over 65MM followers across Skybound + Partner channels.
Live Events, Online Programming and Emerging Platforms
The final spokes on the Wheel of Awesome are what separates Skybound from its competitors. 
Online Programming is Skybound's bread and butter, and every division of Skybound is supported by online programming on a monthly basis. Comics Vault Live, hosted by Shawn "Big Clutch" Kirkham, is the monthly destination for the rarest and most sought-after new comic book releases. 
We also recently partnered with Meta for The Walking Dead: Last Mile.  Part game, part interactive television show, the Webby Award-winning The Walking Dead: Last Mile immerses participants around the globe in the universe of The Walking Dead in new and unparalleled ways—putting the all-new The Walking Dead: Last Mile story and protagonists in the hands of the players as the saga unfolds minute-by-minute, day-by-day, week-by-week. 
Emerging Platforms
Since Skybound's inception, emerging platforms in entertainment have blossomed into billion-dollar businesses. We've remained on the pulse of these platforms with numerous iterations in metaverse, web3 and VR. Most recently, The Walking Dead has entered the metaverse with Sandbox, the global decentralized gaming virtual world and a subsidiary of Animoca Brands. Inside The Sandbox metaverse, the carefully integrated The Walking Dead game experience encourages gamers to unite with friends and other players as they overcome the day-to-day requirements of surviving a walker-infested habitat: scavenging for food, gathering resources, building walls, nurturing relationships, making alliances and more. 
The VR hit The Walking Dead: Saints & Sinners has sold 2MM units, and a sequel debuted at the end of 2022.