"The Hurt That Will Happen"
Strand makes a "if you're watching this I probably didn't make it" tape in the case of his death. He then puts down a tape labeled "skidmark" and walks to a fenced-off survival camp. He meets a cat (named Skidmark) and is then held at gunpoint by his old pal Daniel. Strand explains they left off on a bad note (shooting him in the face and leaving him for dead on an exploding dam) but he's here to make amends. Despite their past, Daniel welcomes him inside.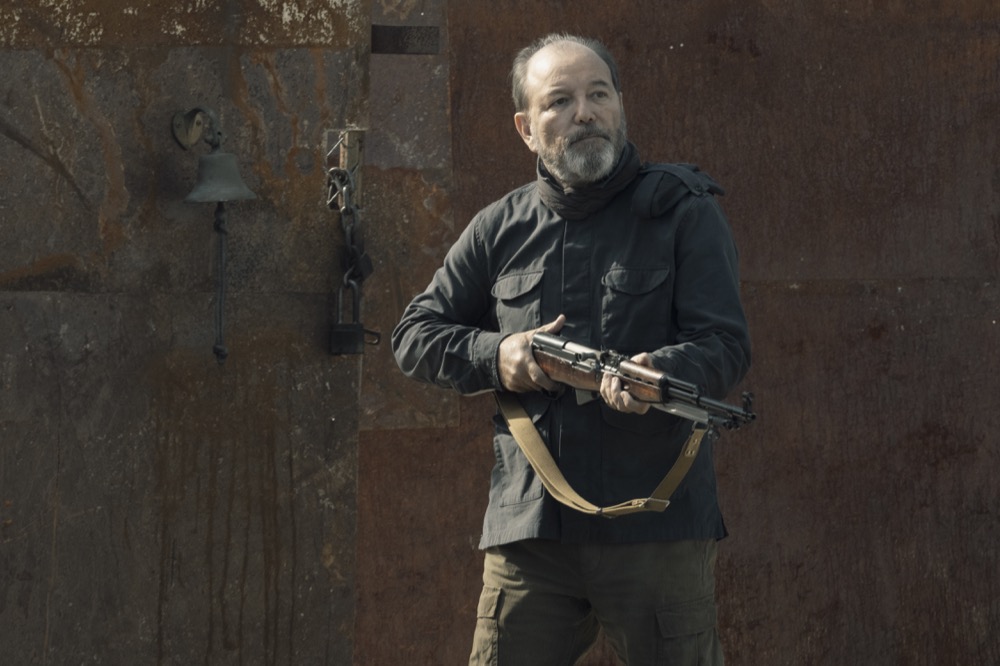 John, Alicia, and Morgan return to the crash site to discover all their weapons and supplies are missing. They kill some zombs as June tends to Luciana's wound in the gas station. Luci complains she can't feel her fingers, which is sad because she wants to learn to play the accordion. June reminds her she almost died and maybe to take up another hobby. John returns to tell them Morgan and Alicia headed North and they should head South while Luciana finds another pastime at the station.
Daniel takes Strand inside his Fast and Furious-themed factory hideout. Strand, who's not a pilot, asks if he could borrow his plane to find his friends. Daniel asks if it's for Madison and Strand breaks the news about her and Nick. Daniel calls bull on his intentions because, if you remember, Strand once shot him in the face and left him for dead on a dam…rigged with explosives…that he placed.
Alicia and Morgan run into a roadblock warning of radiation and then a truck packed with their crash site supplies. They explore some more and find a walker bird trap. Morgan takes one out but then get his ankles tied up. A woman with a HAZMAT suit named Grace holds him at gunpoint and demands he take his clothes off. Alicia jumps her, takes off her mask, and asks where Al is. Grace explains a power plant melted down last year and the walker Morgan killed has been affected by radiation, meaning Morgan needs to be decontaminated.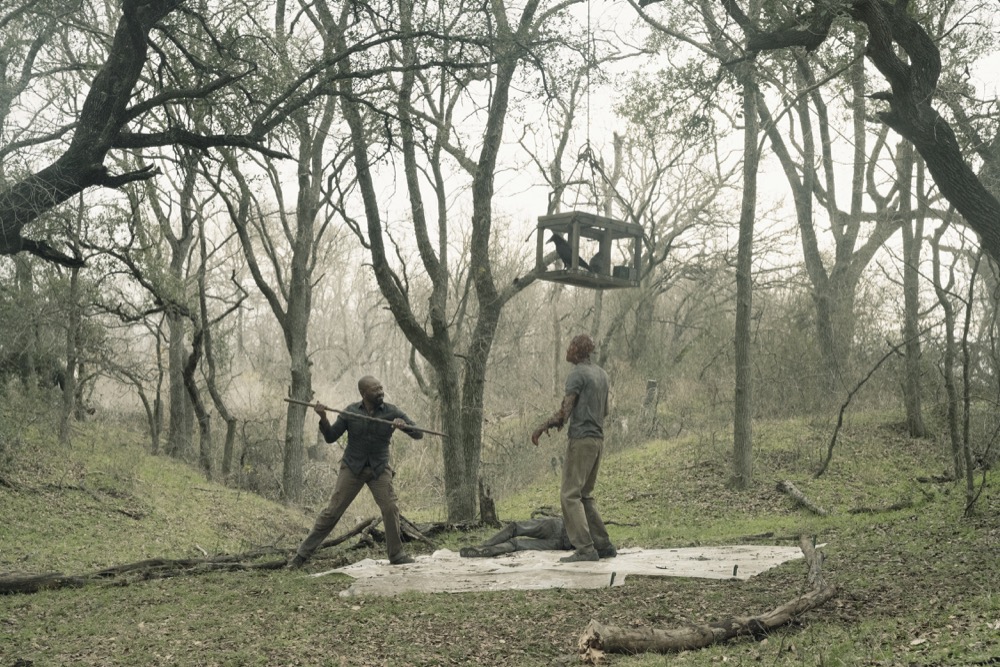 Morgan takes a shower by her truck and the woman suggests he take his wedding ring off to scrub under it. It's clearly something Morgan never does. The woman tells Alicia she hasn't seen Al and that they should return to the crash site. John radios that he and June's car broke down and Alicia warns them to watch out for radiation. Later, John and June follow a sign to a nearby camp to find the kids. They arrive to find cabins full of walkers.
Back at the warehouse, Daniel reminds Strand that he once shot him in the face and left him for dead on a dam which he rigged with explosives. Strand, who desperately needs Daniel's plane, explains people can change. Morgan, Alicia, and Grace search for radiation at the crash site when a group of walkers emerge from the woods. As Morgan and Grace suit up Alicia takes out the walkers one by one, looking to see if they're tagged with radiation markers. Alicia struggles with a walker as Grace checks each remaining walker for radiation. She doesn't find any as Alicia kills the walker.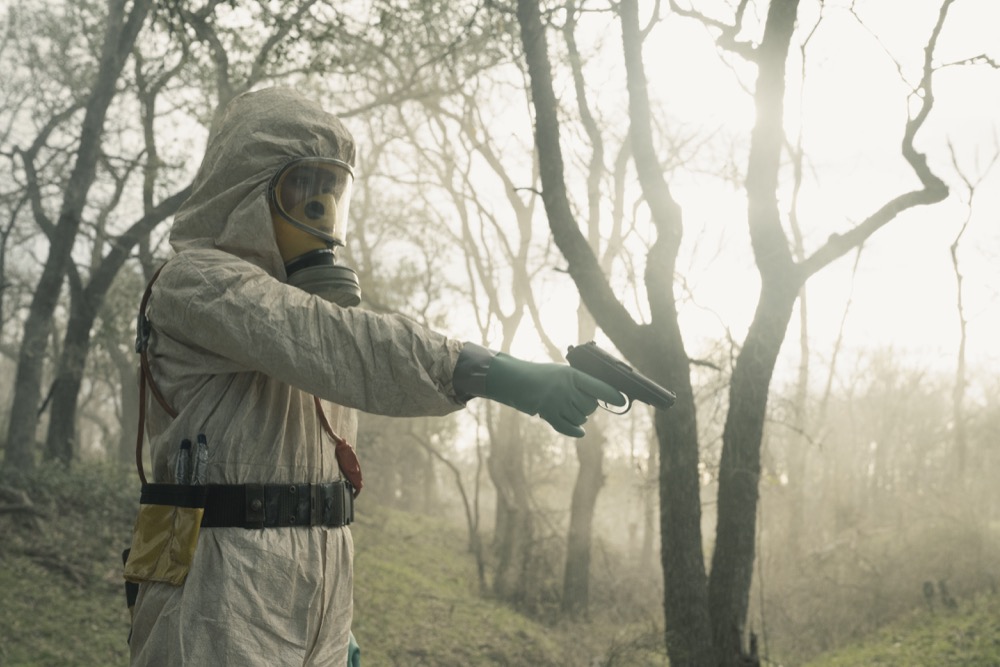 That night, Grace warns Alicia she shouldn't have fought the walkers without protection. She explains how she tried to keep the plant running when the apocalypse hit but failed. Although she made it out the workers didn't, and she's been trying to make up for it ever since. John radios again, so Alicia, Morgan, and Grace head to the campsite. Grace inspects the walkers in the cabins and confirms they were exposed to the radiation.
Back at the gas station, Luciana makes contact with Strand, who tells her he's going to get a plane and help them. She then hears a noise nearby as the radio feed cuts out. Luciana heads outside to investigate and then radios John to relay Strand's message about the plane. After the call a group of walkers arrive and Luciana's injured shoulder prevents her from shooting them. She hobbles away to the barn and locks herself in.
Later, Alicia laments to Morgan that she hasn't helped or found anyone and Morgan tells her about a time he was stuck, too. He promises there's a way out of her hopelessness, she just needs to find it. Afterwards, Morgan tells Grace they'll help her find the rest of her friends but she declines, saying she's probably contaminated and doesn't want to infect anyone else. Morgan reminds her they'll always be on the other side of the walkie if she needs them.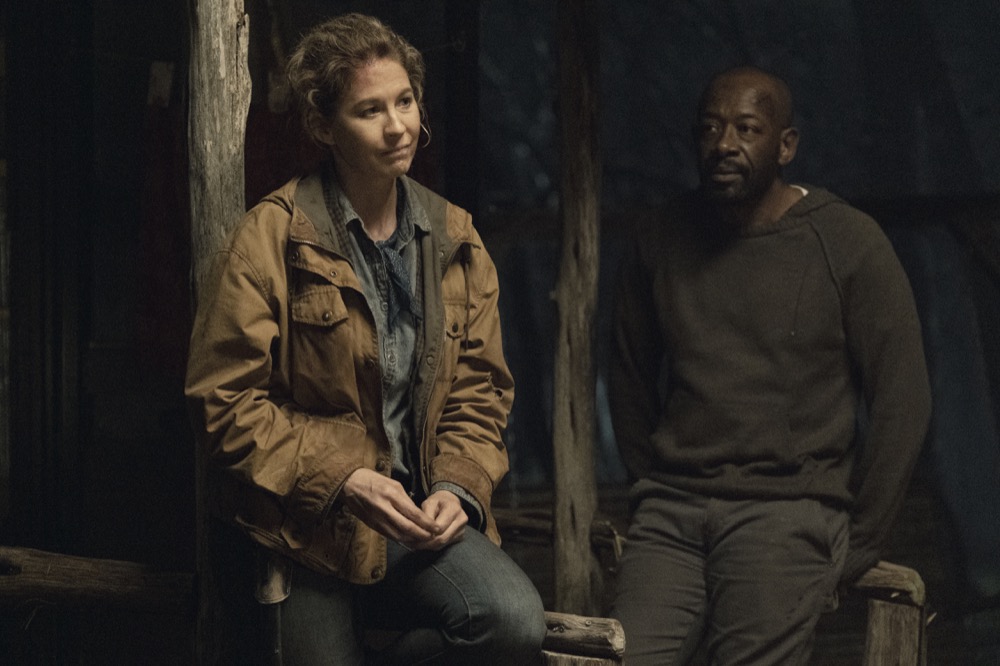 June and the gang find Luciana in the barn and then notice the dead outside have been beheaded and hung from a billboard. Daniel makes Strand leave without the plane because he thinks he'll screw things up again. He threatens to kill him if she shows up again so Strand reluctantly leaves. He kills a walker in frustration and heads out on foot.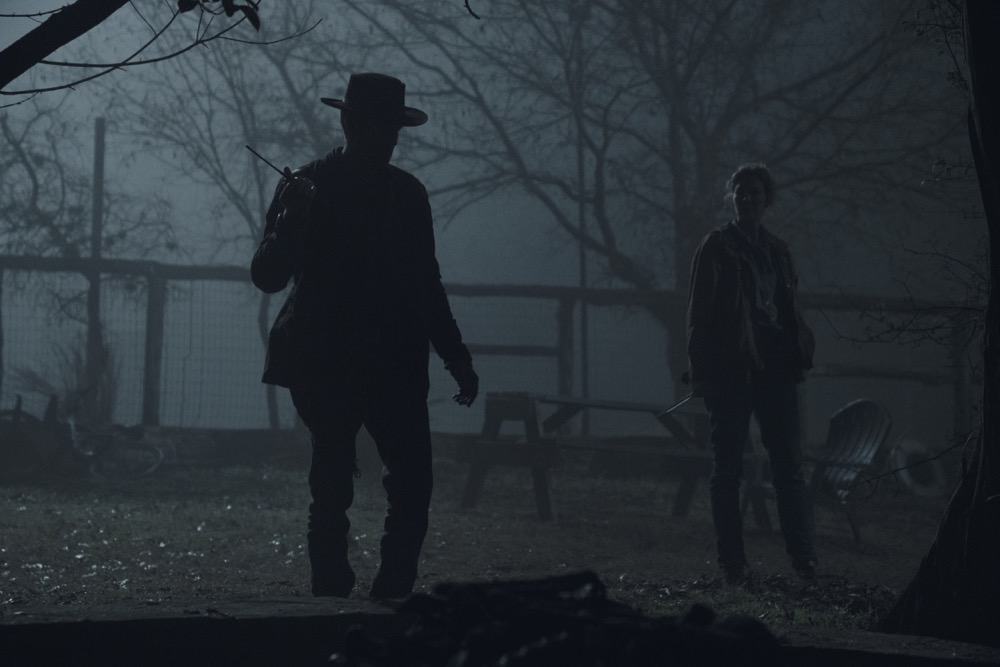 ---
What did YOU think of the latest episode of Fear? Are you excited to see Daniel back? How do you think Dwight will be introduced next week? Tell us that and more in our comments!