"Honey"

Sherry opens Dwight's letter to her while he makes her breakfast. He takes his last Bubonic Plague medicine and kiss, before getting interrupted by a call from the rangers. Dwight tries to get out of check-in but they're adamant he return, unaware of Sherry. Dwight suggests they run away together but she says she can't keep running away. Sherry leaves to get a fork but doesn't come back. Dwight hears a strange noise and grabs his axe to investigate. He opens the blinds and finds a man with a white mask staring back at him. He panics and tries to grab Sherry but more of the masked people black bag him.
Hours later, Dwight is un-bagged and finds himself tied up in the middle of a skate park-turned survival camp. Dwight bull rushes a masked man, grabs his gun, and demands to know where Sherry is. He's quickly surrounded my more people with masks, including Sherry. "I wouldn't be alive if it wasn't for them," she says as she removes her mask. She explains these are all of Virginia's outcasts who are trying to bring her down. Despite her working with them, Ozzy gets hostile with Dwight – holding him at gunpoint and showing a video of Althea tied up. They threaten to kill her if he doesn't give up information on Ginny. He counts down before he orders her death until they get stopped by another masked man, it's Raleigh, the guy Dwight saved last season.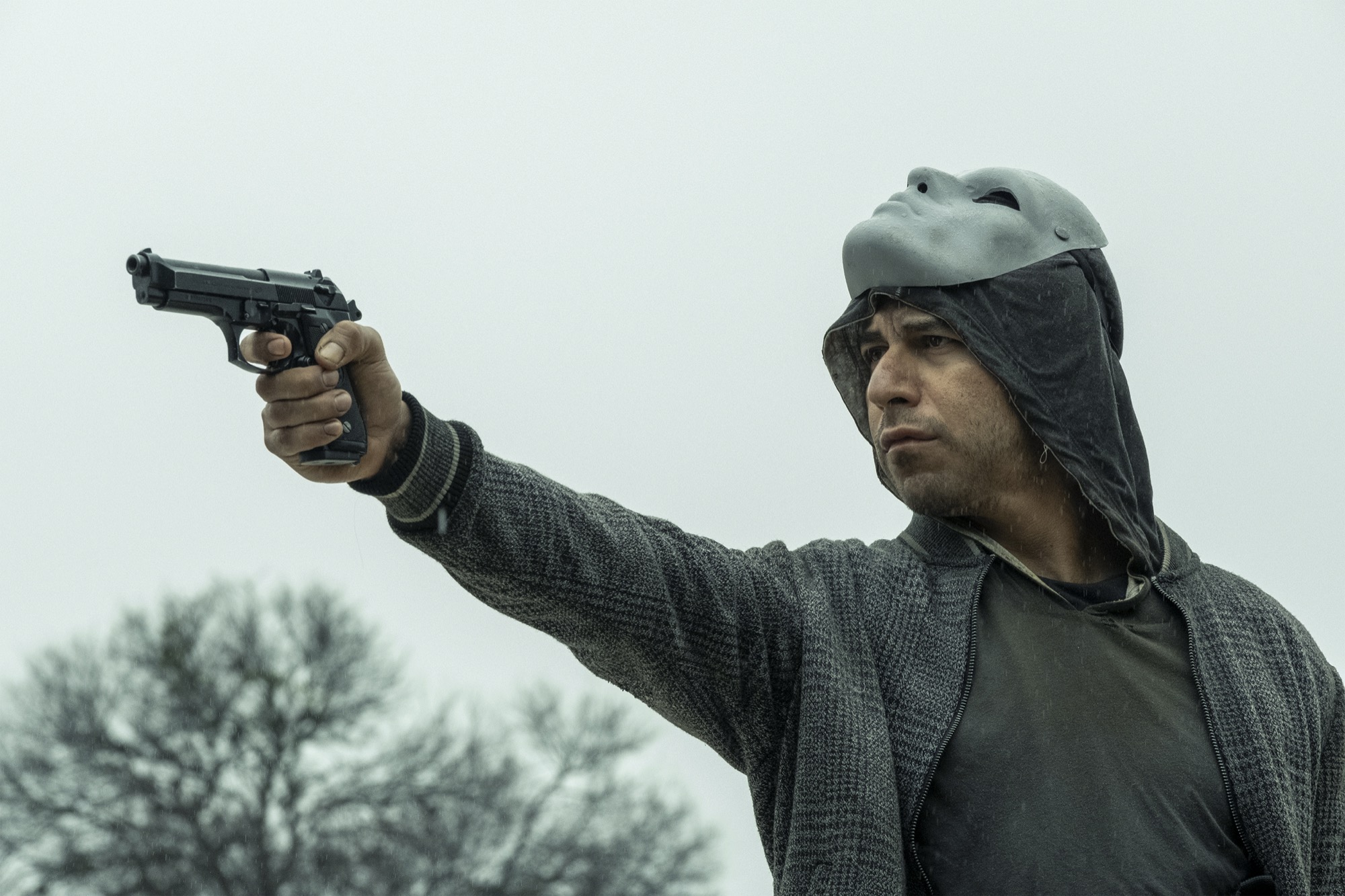 Shortly after, the men describe their plan of blowing up Virginia's SWAT truck. Al appears and warns that it's IED proof, suggesting they steal it instead. They agree, so Dwight, Sherry, Al, and the others get on horseback and chase down the truck. One of them cuts the communication line, leaving the driver to open the gun hatch. Al and the gang hug the truck to avoid it, allowing Dwight to jump on the back. He crawls his way to the roof and then inside. After some wrestling Dwight kicks the man out of the truck and finally brings it to a stop. They get out and search fr the driver, which is when they find Morgan on horseback dragging the drive by rope behind him.
Morgan catches them up on what he's been up to and congratulates Dwight on finding Sherry. They tell him they don't know where everyone is but Morgan vows, "We'll find everybody." That night, the gang returns to skate park and Morgan tells them they found a place where Virginia can't find them. Sherry says they don't need to hide anymore now that they have the truck. Morgan urges them to be patient, using his own experience in Negan's war as proof. A little later, Dwight tells Sherry he agrees with Morgan but Sherry argues they have their own plan.
The next morning, Dwight and the gang begin interrogating the SWAT truck driver. When he refuses to talk they throw blood on him and bring in their attack dog. The man asks Sherry to talk but Dwight shuts it down, tossing his mask off and telling the man now that he's seen his face he can't let him go back. Things escalate and Dwight nearly kills him, until Morgan shows up and asks what the hell's going on. "Seems like he doesn't have the answers you're looking for," Morgan says. Outside, Morgan again urges them to wait, reminding him they could be putting their friends in danger. Afterwards, Sherry suggests they get Virginia to come to them. Dwight radios the rangers and says they found a community of 100 people and need Virginia to come and greet them. They say they'll be there by nightfall. Dwight tells Sherry he plans on killing Virginia himself.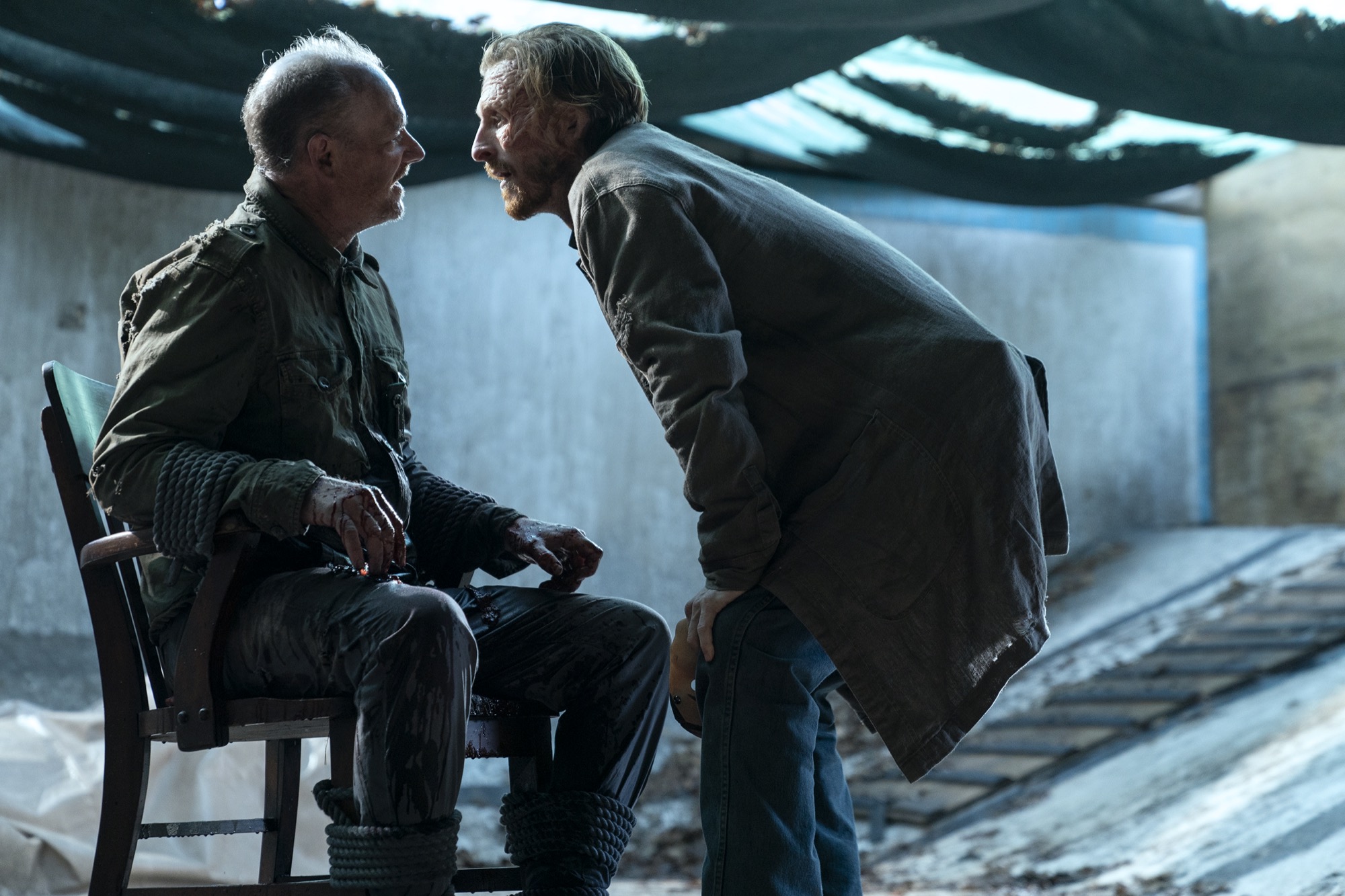 Shortly after, Al tells Morgan she CAN blow up the SWAT truck. Dwight appears and says he knew he couldn't trust them, so he makes Morgan and Al join the driver. "There's a fight, and somebody's got to lose," Dwight explains to Morgan. Sherry takes Dwight's gun and makes him join his friends, saying she doesn't want to see him become the person he used to be.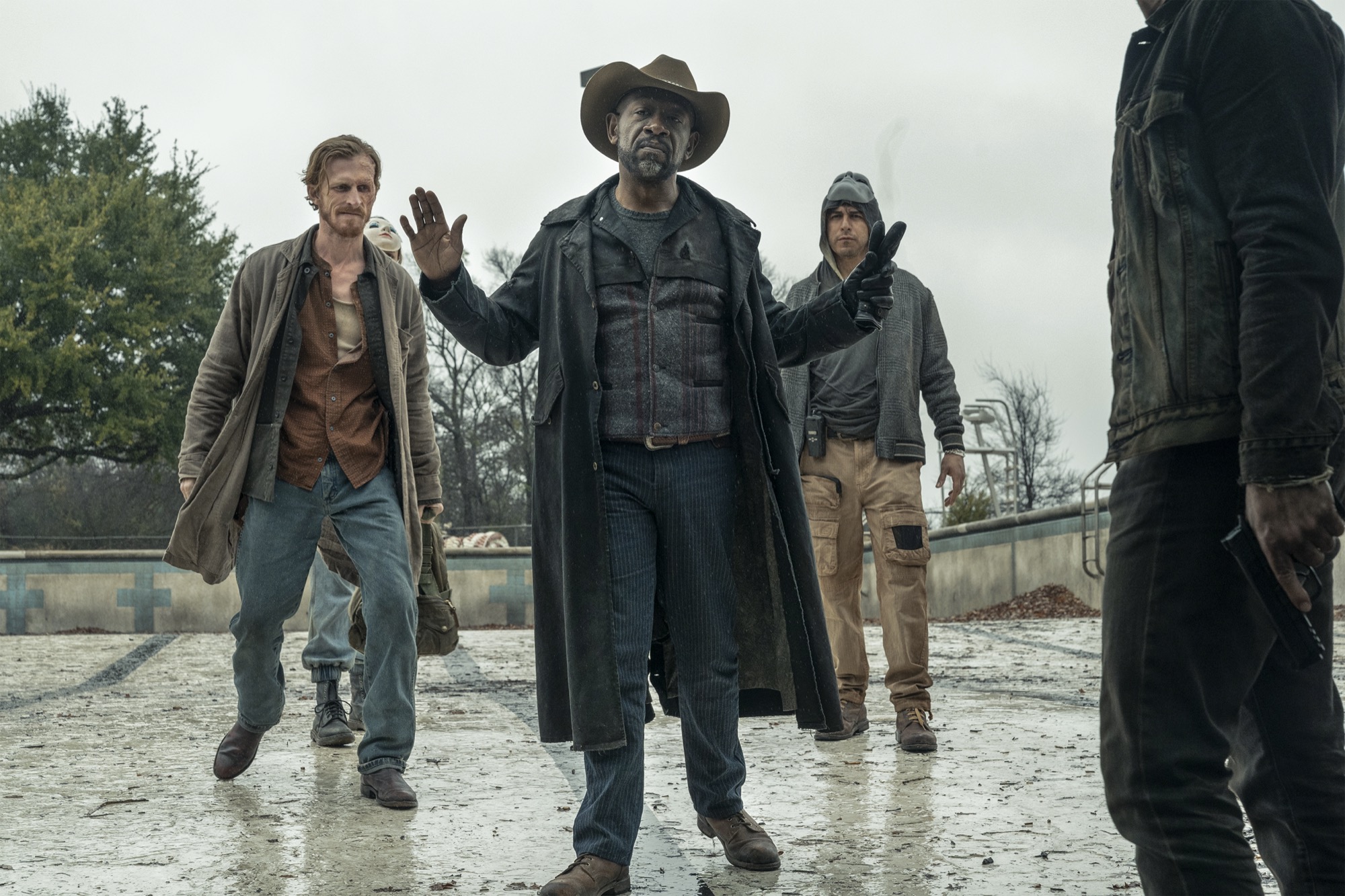 That night, Sherry prepares the ambush as Dwight tells Morgan and Al that they were right. He explains he thought this is what Sherry needed. Dwight has an epiphany and starts untying himself. As Virginia's caravan arrives, Dwight escapes and joins Sherry in the truck. They notice that Virginia hasn't come, after all, but Sherry still considers killing the rangers who did. Dwight tries talking her out of it, reminding her she could get his friends killed. She mentions they can't let him do what he wants to do, and Dwight asks, "Him?" The rangers run out of patience and start leaving. Sherry can't bring herself to kill them and Dwight thanks her. Sherry angrily lashes out at Dwight, "You had to make it hard" before leaving.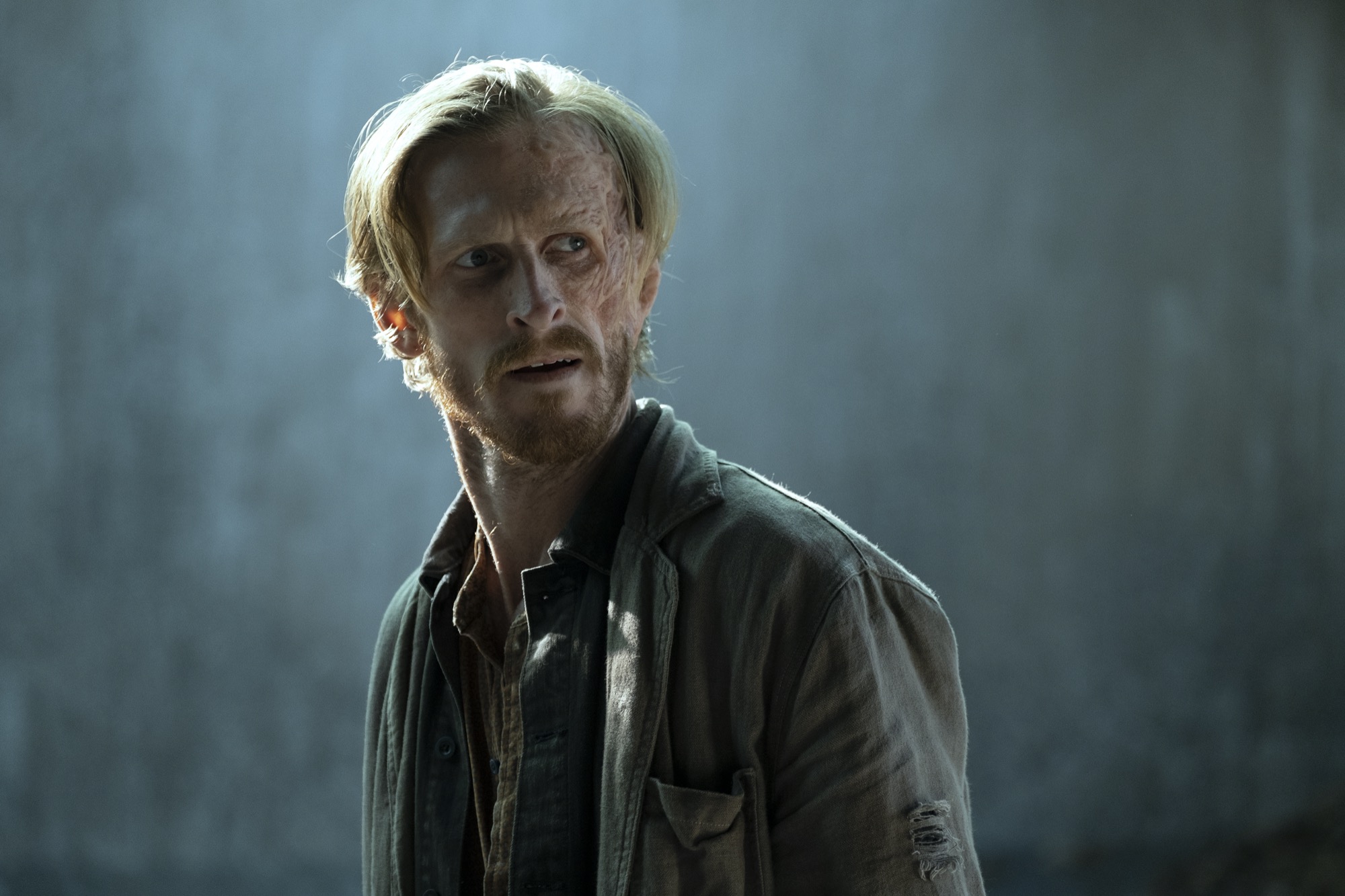 Later, Dwight finds Sherry and asks what Ginny did to her. "It's not about Ginny, it never was," she says. Dwight gets her to admit it's about Negan and her feeling guilty for never doing anything to stop him. Still, she's determined, and tells Dwight he reminds her of who he used to be before the apocalypse. She makes him leave, which he does. Outside, Dwight makes peace with the dog and lets him loose, knowing what it's like to feel like a caged attack animal. He then meets with Morgan and Al, who ask him to join them. Morgan says he still plans on taking out Ginny, but they'll need more than a SWAT truck. "She'll find her way back to you," Morgan tells him. Afterwards, they tie up some walkers, beat them up, and stage it to look like Dwight and Al turned.
The next morning, Morgan, Al, and Dwight meet up with the Bubonic survivors and tell them they have a safe place to take them to that needs a little work. Dwight leaves Sherry a map instruction on the truck as they head off to Morgan's place.
---