"End of the Line"

Dwight runs through a field before collapsing. He hallucinates Sherry's voice on the radio and chucks it into the dirt from frustration. Exhausted, he makes it back to Al's truck before hearing a group of horses ride up to him. He stands up to shoot and discovers the horses without riders. "You just saved my life," he tells them.
At the Gulch, Ginny tells Morgan she's happy to hear from him and asks where he is. When he tells her, she reveals she tried to help those people but they didn't want it, so they died. She tells Morgan that place is "beyond repair" and that he should move on. She suggests she'll split them up in her settlements instead and Morgan agrees to let her help them.
Morgan apologizes to everyone and then checks on Grace. She tells him she told a man from the plant how she felt right before he died, and that's why she didn't want Morgan to do the same. She then suggests she'll kill herself when Ginny arrives because she knows she'll have no use for her. "I won't let that happen," Morgan tells her. Nearby, June tells John she doesn't want to revert back to who she was before she met him.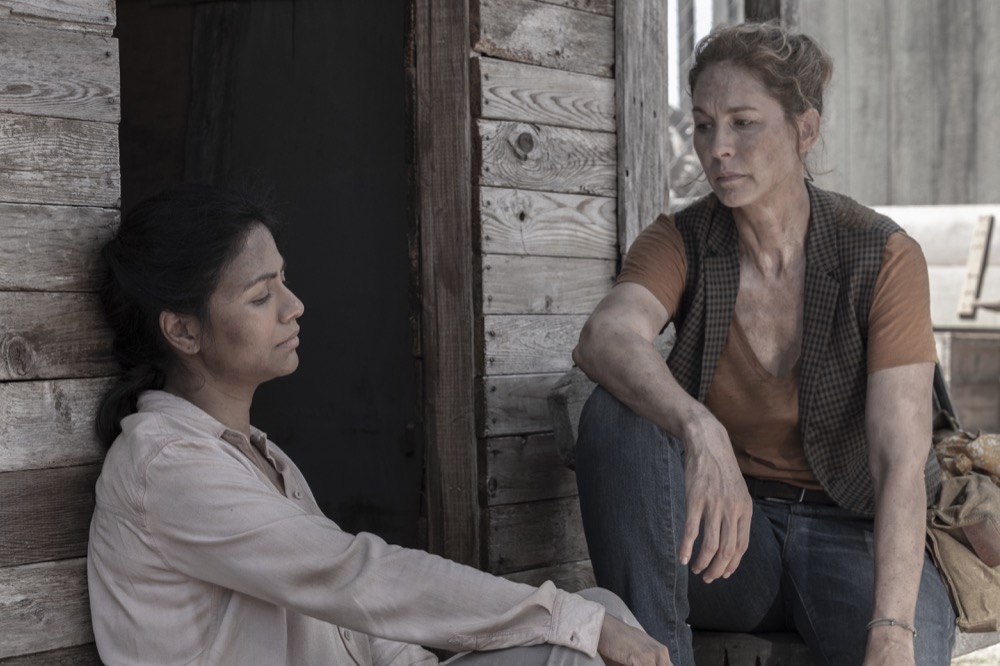 Suddenly, they hear horses gallop up; it's Dwight. Morgan and the gang are happy to see him and Dwight explains if they're alive then there must be water nearby. "We don't need her," he says. They argue over whether to stay or not and eventually decide to stay, where they'll deal with the walkers and Virginia. Morgan, Strand, Dwight, John, June, Grace, and Daniel break open the fence and use the horses to lead the massive herd towards Ginny, where they'll try to finally take what they need. With the walkers gone, the rest of their group moves into the gulch.
On the road, Strand and Daniel leave to find water while the rest continue to lead the walkers down the road. Dwight tells June about his Sherry hallucination and says if he's meant to see her again it'll come naturally, without the help of Ginny. In the gulch, Rabbi Jacob finds a church which he thinks he can work out of while Al finds some of the keys Ginny gave to her people on the walkers.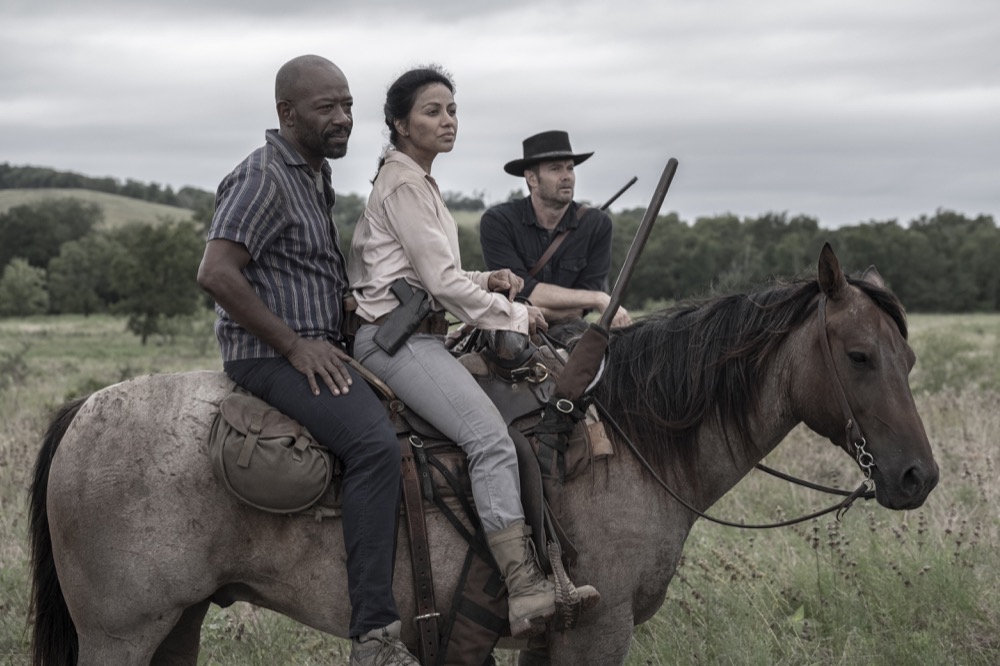 In the woods, Strand tells Daniel they should consider joining Ginny. "It might not be as bad as we imagined," he says. Daniel reminds him she's not giving them a choice and that's all they need to know. Suddenly, they spot Luciana among Virginia's people so Daniel radios Dwight and the gang to abandon the plan. Dwight quickly gets surrounded by walkers and is forced to jump off his horse as the walkers consume it. Morgan and the gang ride in to re-herd the walkers to save Dwight in a back-and-forth sequence that lasts too long and ends in a river.

Back at the Gulch, Morgan reminds them despite their failures they still made a difference in the world and they should keep living their lives. Alicia and Wes paint the church and later, June walks down the aisle to marry John. Jacob officiates and the two exchange their vows and rings. They finally tie the knot and Daniel, Grace, and Charlie perform "It's All Right." Suddenly, Virginia and the gang arrive in SWAT truck-leading caravan. Morgan asks her to take care of his people and not sacrifice any of them. She reluctantly agrees and tells him to round up the gang.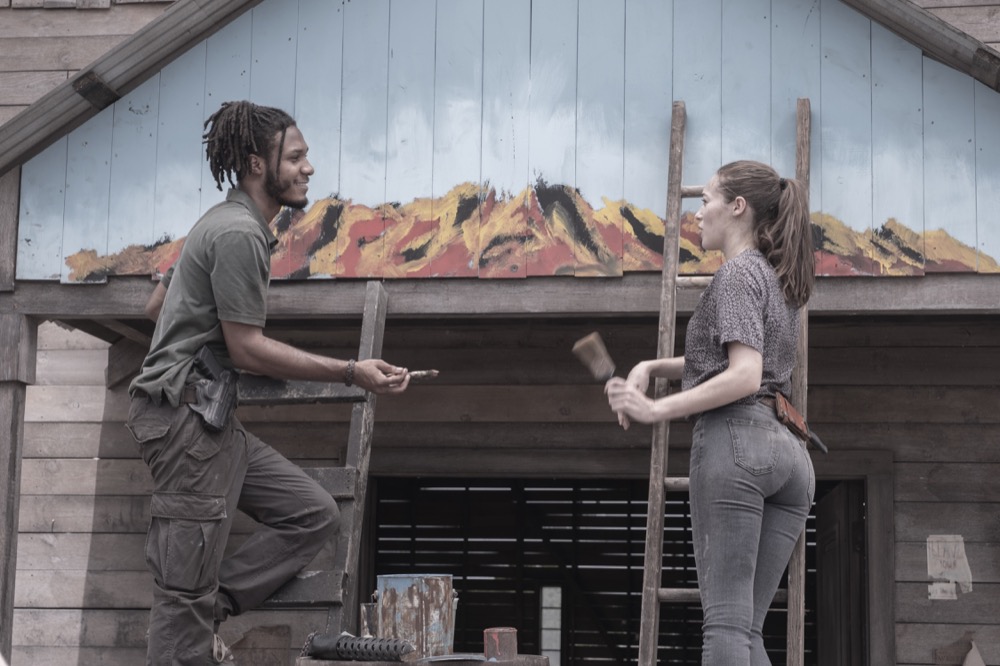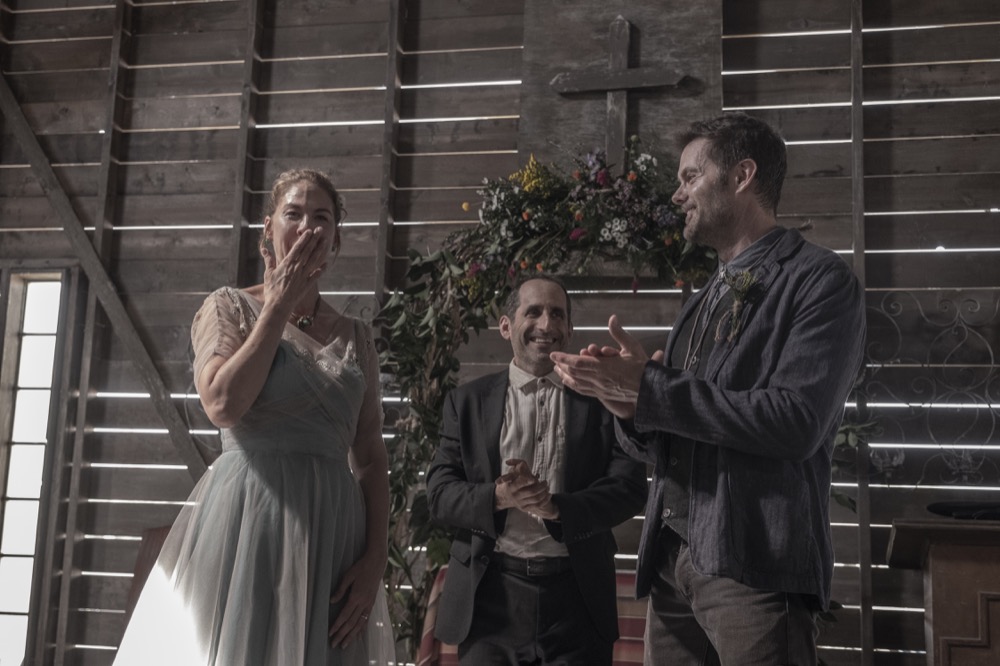 That night, the gang gets separated and driven away. Ginny tells Althea she'll soon need to hear more about the helicopter community. Sarah tearfully bids farewell to Wendell as Strand promises Alicia they can do more damage to the Pioneers from the inside. Daniel assures Charlie everything will be fine as John repeatedly tells June he loves her while two men throw him into a truck. Morgan then confesses his feelings to Grace before Ginny shows up and sends her away. Grace tells Morgan she feels the same about him as she's driven off with a doctor.
Ginny pulls out a revolver and tells Morgan he's staying. "You don't have to do this," Morgan says before swinging his stick at her. He connects with her face but gets shot through the chest in the process. Ginny tosses his staff as he crawls back towards the church. Ginny points the gun at him again and tells him, "I just resent your face so much" before firing again. It's a blank. Ginny then gets a call from the doctor informing her Grace isn't sick, she's just pregnant and malnourished. Morgan tells her she was wrong to say they didn't have a future. She says she hopes he dies before jumping into her Jeep and driving away. In the final scene of the season, Morgan radios one of the channels and tells Grace and his people to live. "Just live," he says as walkers close in on him.
---
What did you think of Fear the Walking Dead's Season 5 Finale? Is Morgan done for? Will our heroes ever be reunited for longer than an episode? Tell us in the comments!