Skybound kicked off the first full day of SDCC 2023 with a bang, a piledrive, and a chair shot to the head. Our first panel, WrestleQuest: The Wrestlefication of an RPG, focused on our latest video game sensation —WrestleQuest — and featured no less than 3 legends of wrestling: Jeff Jarret, Jake "The Snake" Roberts, and Sgt. Slaughter. All three gentlemen spoke of their love for both wrestling and WrestleQuest, and were joined by moderator James Deighan and Zack Manko of Mega Cat Studios…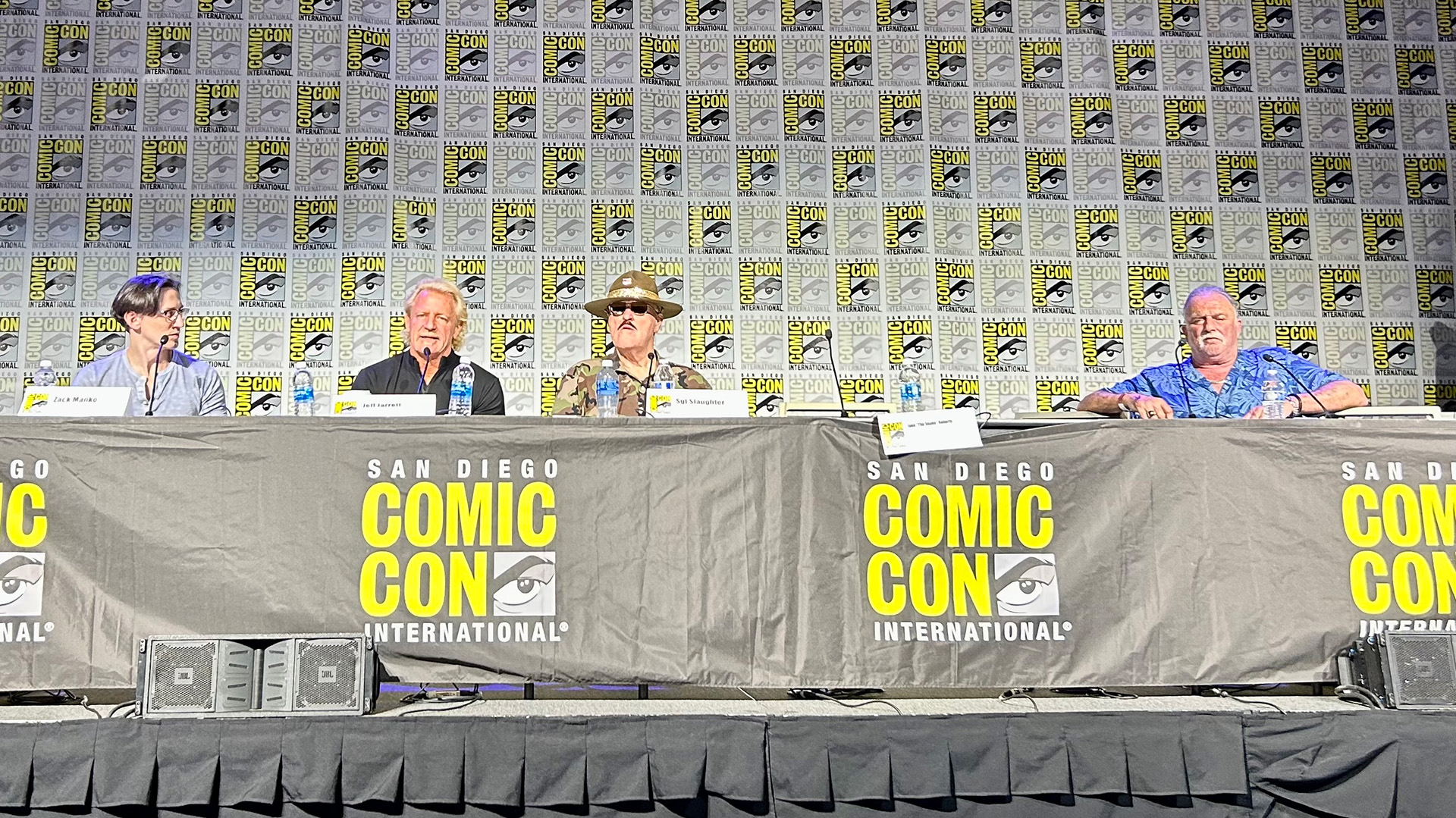 Just what is "Wrestlification"? As Deighan explained it, "Wrestlification is the process of making something (an event, a game, or even a person) sweatier, stronger, more dramatic."
"It's about taking stale game design elements and breathing new life into them, like a wrestler changing their gimmick."
"Wrestling has a way of taking something and exaggerating it until it becomes a caricature of itself. Athletic rivalries become life-or-death conflicts. Simple trash talk becomes catch phrases that live forever. A character concept take flesh and inspires a generation."
To that end, "On top of a story of heroism, redemption, and some seriously sweaty body slams, WrestleQuest offers JRPG players something fresh — a slamtastic battle system."
"We took inspiration from the classics, like Chrono Trigger, Super Mario RPG, Mario & Luigi Superstar Saga. Our goal with the combat was to turn up the excitement and engagement of JRPG battles by capturing the drama, action, and spectacle of pro-wrestling matches through a number of features."
Such features included sweaty animation, where "every duplex, piledrive, sidewalk slam, is fully animated in gorgeous pixels. This means battles are more fun to play, watch, and even stream."
WrestleQuest also offers a live audience for the drama. "Every battle in WQ takes place in front of a live audience," explained Deighan. "They've come to see some action and hard-hitting moves, so you better not let them down!"
Most unique to the game, however, is the "Hype Meter," represented by a gold bar that "indicates the crowd's engagement and excitement, encourages you to mix up your strategy, and provides buffs or rebuffs."
Different types of hype are represented in WrestleQuest, classes "based on wrestling archetypes, that determine how you influence the Hype Meter." These include Powerhouse, Technician, Sidekick, Underdog, and Showman.
Factor in dramatic moments like themed Boss Fights (including Tag-Team Matches, Rumbles, Cage Matches, and Block Tower Ladder Matches), as well as other climatic battles,  and the opportunity to talk smack about your opponent and build hype, and it's clear that WrestleQuest mimics not only the action of wrestling but its attitude and ethos as well.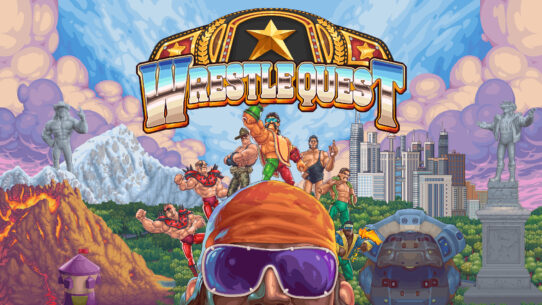 "It's the meat and potatoes of professional wrestling, and you're gonna love it," said Sgt. Slaughter, who admitted that he misses the thrill of wrestling but is able to relive it through WrestleQuest.
"I just truly love the game," he said to a raucously enthusiastic Comic-Con audience, "and I love WrestleQuest."
WrestleQuest is scheduled for worldwide release on August 22nd, 2023 for Xbox Series X/S, Xbox One, PlayStation®5, PlayStation®4 gaming consoles, Nintendo Switch and PC via Steam. The game will also be available on Netflix, included with all memberships.

Are you attending SDCC 2023? Check out Skybound's full schedule. 
Follow Skybound on Twitter (@Skybound), YouTube (Skybound), Facebook (@SkyboundEntertainment), Instagram (@skyboundent), Discord (Skybound), Reddit (Skybound), and at www.skybound.com for updates in real time from the convention floor.