As the creator of Pacific Rim and Carnival Row, Travis Beacham knows a few things about building dark, fantastic worlds. It's a talent that's perhaps given its greatest expression in Beacham's pulse-pounding, post-apocalyptic vampire tale of two sisters, the Audible Original Impact Winter — the second season of which is now available. We caught up with Beacham at this summer's SDCC 2023, where he gave us the lowdown on the past, present, and future of Impact Winter…
How did Impact Winter come to be?
I have a notebook full of ideas. I don't necessarily know what I have the idea for – Is this a TV idea, is this a movie idea? In 2014-2015, my agents were like, "Do you have any ideas for the audio space?"
I thought a lot about it, and why I gravitated to this one in my notebook was because I was thinking about Dracula a lot. All these gothic novels, they have this epistolary format, people writing letters or whatever. Something about that made it resonate. That's a cool conceit for the narration of an audio [series]. But also, in terms of the horror element, you could take a weakness and use it as a strength. The weakness being that you can't see what's happening. That's what makes Jaws scary.
So I thought, "Well, maybe there's something cool in that." It's the tension of having a character looking out the window and hearing that they're surprised by what they're seeing. There's an elemental tension in that. So I thought not seeing what's happening could be an interesting source of drama and tension.
Also, I just like not being able to rely so much on action scenes. Having something that's really driven by dialogue. Something that's really driven by character. It really gives you a chance to tell a genre story in a new way, without relying on set pieces.
How did Impact Winter's characters evolve?
I don't quite know why this is, but it always just made sense to me that this was a story about two sisters. Very early on, when I realized there was a bunker and there were survivors, there was something interesting about one being a vampire hunter, who's used to what the world has become and has honed herself on all that. And this other one who's very sheltered and knows nothing about that world, but is kind of chafing at the boundaries of this bunker that she's been in since she was nine. Immediately you look at that and you think that one's gonna go in one direction, the other's gonna go in another direction and…  Spoiler alert for the first season – it goes the complete other way around! With the sister that you're not expecting getting turned and becoming a vampire and the other one having to step into her shoes. I loved coming at it like that, where both of those characters are now in over their heads and they're now fish out of water.
Why do you think Impact Winter has won so many fans?
It's very character driven. If you liked Pacific Rim… I know part of what everybody likes about Pacific Rim is a robot smacking a monster in the face with an oil tanker. But what's endured with the fans is it's focused on character and the humans in it and their relationships with each other. Part of the fun I've had with Impact Winter is that same kind of humanity and the characters and their relationships. It's a very character driven genre, which is something that I love. It's the Lawrence Kasdan school of genre.
Because it's audio, you can't focus on action the same way, the character has to pop. It has to really, really sing, almost more than anything I've done. You get that in Impact Winter. You have characters that you can really fall in love with and a mythology that unfolds around them in really complicated and unexpected ways.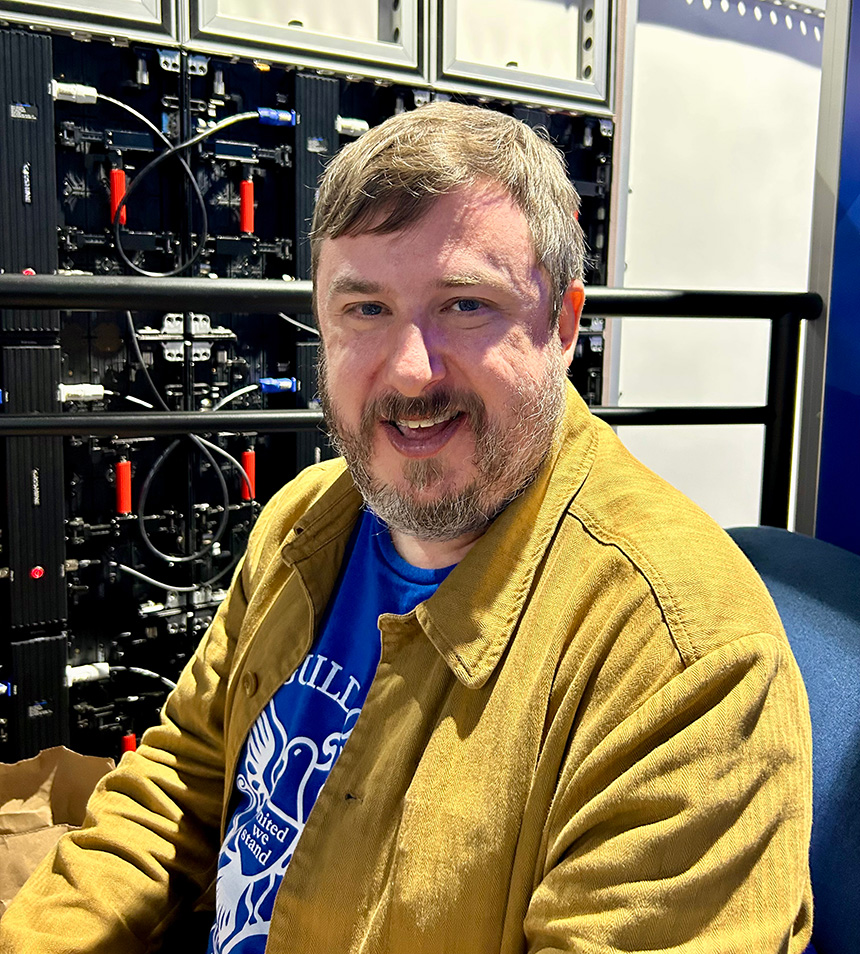 Impact Winter: Season 2 just debuted. How far do you see the series going?
There's a sense in which it could just keep going. But the story that we're telling now should end at about four seasons. That's not to say the show would end at about four seasons, but the story that we're on the trajectory of right now would end at about four seasons. The third one has been greenlit and it's getting written as we speak. It's honestly the only thing I can write now, with the strike and all that. But even that doesn't end the story. I think when we were pitching it to Audible, it was like, "So you're agreeing to a Season Three that does not end the story." And after Season Three, there's probably one more on this arc that we're on right now.
You've corralled an amazing cast for an audio series, with folks like Holliday Grainger, Liam Cunningham, Bella Ramsey. There's a lot of high-caliber talent.
It's such magic what they do. I love our cast so, so much. Because… When you're writing a scene, it's like, "Does this work? Does this not work?" You put it in their mouths, and they figure it out, and it just catches fire. It catches life. And these are classically trained British actors, who just have this reverence for the text. Who just look at something and really focus on figuring it out. I love what they're doing to it.
I mean, there were moments in Season Two where I was in the control booth, literally tearing up at the drama. Because they're all reading it at the same time. It's all simultaneous.
You don't always get that with audio dramas.
No, you don't, but it's something that I wanted. Because that's part of the magic of the craft of acting. It's a cliche that acting is reacting. But that's very true. When they're doing scenes, they're taking and they're giving and it's this constant thing. Magic happens and you wouldn't even know how to direct if you were doing them one at a time. When we were recording them, they were all in separate booths – because of COVID, we had to do it that – but all reacting simultaneously.
That was kind of lucky. Because in having their discreet voices, we could preserve the pacing of their performance. We could preserve how they did in real time, but we could move their voices in space. Because there was no bleed.
We could have them talking over each other. That really helped with the three dimensionality of it when we were engineering it.
We've just started seeing some Impact Winter merch, including the vinyl soundtrack. The music merits such a release.
The music has always been very, very important…  Usually I've written things that take place in their own worlds. This isn't its own world. It's a world that spins off from our world. And because it spins off from our world, it gave me a chance to write songs into the script. So, "The Sun Ain't Gonna Shine (Anymore)," I always knew there was gonna be a cover of that song on this. That's in the script… It's so surreal to me, because I have this playlist of songs that I'm writing to, when I'm writing it. So much of that playlist is now literally on the soundtrack. Which is really validating and cool, because it just speaks to how this – much more than anything else I've done – really has been my baby, every step of the way. In the casting and the music, and with Audible and Skybound really just handing me the reins and saying, "What do you think it should be? What should it sound like?" Yeah, it's been an incredibly validating creative experience to have that. I knew instantly in meeting Skybound and meeting all the people there, that we all sort of speak the same language. We're all fans of the same stuff. We're all the same tribe.
Can you say what else you're working on right now?
This is the main thing right now, but we're talking about this in a number of iterations. We were talking about the possibility of a TV show. Obviously, all that sort of planning is on hold at the moment. But there was real movement happening on that, and that could become a reality. Although I've said to people, "I think at the pace that the podcast is going, you're gonna hear the last episode of the podcast before you see the first frame of the TV show." Also, there's the comic book tie-ins and all that. And I've sold something to Apple. A film that I will be working on once the strike ends. That's going to be fun…