Having worked on every hit animated show from Ren & Stimpy to Robot Chicken, Emmy Award-winner Marge Dean is one of those Hollywood veterans for whom the term "legend" is no hyperbole. We chatted with Marge at this year's SDCC 2023 about her job overseeing Invincible's upcoming second and third seasons. And she somehow managed to get us even more excited for the show's return on November 3rd…
How would you say Invincible's second season differs from its first?
Well, there's all different ways of looking at it, right? The story's different because it's a continuation of the story. But I would let other people talk about that. I didn't produce Season 1. The one big difference in our approach to the animation is that we went traditional 2D all the way. There was a big CG component to Season 1. We opted – and this is with Robert [Kirkman]'s blessing and everything – to really shift to a much more traditional 2D hand-drawn approach.
I think it gave Robert and Cory [Walker] what they were looking for in the show. I think every show is unique and every show needs or requires a different approach to it. With this show, because they really wanted to stay true to the comics, doing a hand-drawn approach made more sense.
Are you working with the same animation team for this season?
For Season 1, they used one studio. We're using three studios now. Because we're doing two seasons at once – 2 and 3. So there's 17 hour-long episodes. That's a lot, and too much for one studio to do. So we are still using that one studio, Maven, and then we've added two other studios. One is only doing a couple episodes. And the other one is doing an equivalent amount as Maven.
What do you find to be the most challenging in doing two seasons at once?
The show is massive. I don't think I've ever worked on a show as big as this show is. I mean, not only are they 45–50-minute episodes, but if you understand how 2D animation works… Any time there's any change to a character or a prop or any part of a background, it all has to be redrawn again. And so there is so much in the show and in the story, in every single episode. The biggest way to save time and money is by reuse. With most of the basic animated shows, you draw the character once and they're the same throughout the whole show.
In every single episode, multiple times, Mark gets beat up so many different ways. You can't just keep having the same bloody nose slash on his arm. So each and every time that happens and every time they have a massive fight In the city and half of the city is destroyed and all the vehicles are flying… All of that has to be drawn over and over and over again.
I was talking with a person who is producing another hour-long drama and I said, "How many assets do you draw per episode?" His show is the same length of time. He goes, "About 200." Then I went back to the office and we counted ours. We're at 400. So we're really producing twice the amount of assets that other shows are doing.
While continuity is important on a live action show, it must be of paramount importance on an animated series.
Yeah. Bless their hearts, animation fans. You know, the whole thing about animation is it's all about minutia. It's all about tiny little pieces that come together. And I think animation fans, maybe what draws them to that is that they are people who focus on minutia.
So you get called out all the time, with the slightest variance. If you take a shortcut to do something to make it more efficient, sometimes that will come across in such a way that it looks like you took a shortcut, and therefore you don't value what you're doing. People are not usually happy with that.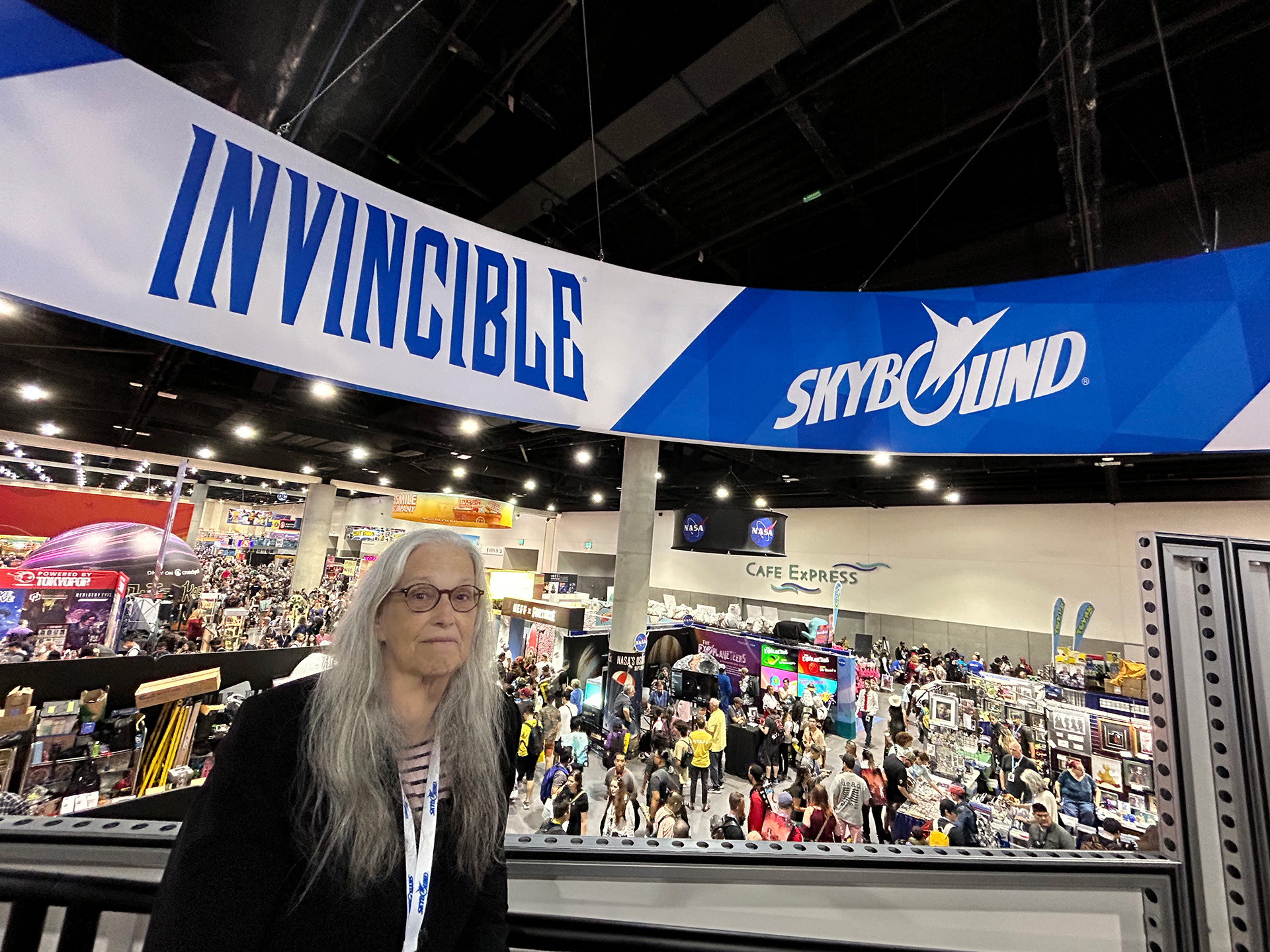 Speaking of the show's size, the number of voice roles is much bigger than any normal show.
It's a lot of work. But we have a casting director. On other shows I've worked on we've had a production management person who handles casting. They do other things as well. They were also the writer coordinator. They're usually the line producer or someone like that. On this show we have a specific person dedicated to the cast. Then there's the recording. That we do upfront. But then we do pickups and ADR in post. When we get the final locked picture, we will go back and see if there are lines that we think we need a different delivery on or if we need to fill in space. Like if there's a fight scene, there has to be a lot of effort. Grunts. So sometimes we have to bring the actors back to get all of that right. You know? So the dialogue is a pretty huge part of it.
What do you think about the response to the show?
They knew there was a fan base for the comics, and they knew those people would show up. But I think what surprised everybody was how many other people showed up. One of my favorite statistics that we heard from Amazon was that the audience for Invincible over indexed for people who don't normally watch animation.
I was talking to somebody yesterday who was around at that time. They said what everybody saw was that, initially, when the show came out, all the comic book fans showed up and it was a good showing. But then the word of mouth kicked in and then it went crazy. That's where a lot of people started watching it who probably wouldn't normally watch animation.
They wouldn't have been drawn to it, except other people were saying, "Holy shit, you really need to see this. You gotta watch this!"
It's cool that Invincible does that with a style that is uniquely its own. How was the show's visual design developed?
I think it's a combination of the style and the writing and the story. I mean, there's so much meat in the story that it could have been a live-action show. It would've totally worked that way. As far as the style goes, that was made when they did the comic. We are just adapting it, and the direction that we've always been given is make it look like the comic. Fortunately, that look works for this. It's beautiful. It's a beautifully designed comic, with amazing colors.
How did the Atom Eve Special come about?
My understanding is that Atom Eve popped. She was the character that people were really, really interested in. And that Amazon was interested in. They love her. I think that's where it came from. I think that's what made them decide to do it.
Robert Kirkman obviously loves the character as well…
I love working with Robert. Yeah. Not only is he a brilliant creative guy, but he's smart enough to be very articulate and decisive. For my job, that's the best gift that you can have. First and foremost is that they're talented and they're doing the right thing and their instincts are right, which is 100% for him. But then second is that they're articulate enough to be able to communicate to you what it is that they want. He does do that.
He does very much understand the business. He's got a really great common sense. He leans on David Alpert and Jon Goldman to run the company, but when I watch them interact with each other, there's a lot of mutual respect. Which is the other thing…
It might be worse in small companies, but it's so rare to be in a work environment where the leaders all mutually support each other. Especially in larger companies, there are fiefdoms all over the place. And somebody like me has to come in and go, "Alright, so I have to do this with this person and that with that person…"  You have to tippy toe around and figure it out. Half of your brainpower goes to "How do I get done what I want to do?" or you need to go through this maze of personality. These guys are all very much on the same page, and also people who are cooperative.
INVINCIBLE™ © 2023 Robert Kirkman, LLC & Cory Walker. SKYBOUND and all related images are owned by Skybound, LLC. IMAGE COMICS and all related images are owned by Image Comics, Inc. All rights reserved.