From a fan signing with Creepshow artist Becky Cloonan to an Impact Winter sword giveaway to a chat with WrestleQuest's legends of wrestling, Skybound offered plenty of goodness for fans of every pop culture persuasion on Thursday, July 20th, the first full day of SDCC 2023. Here's the breakdown…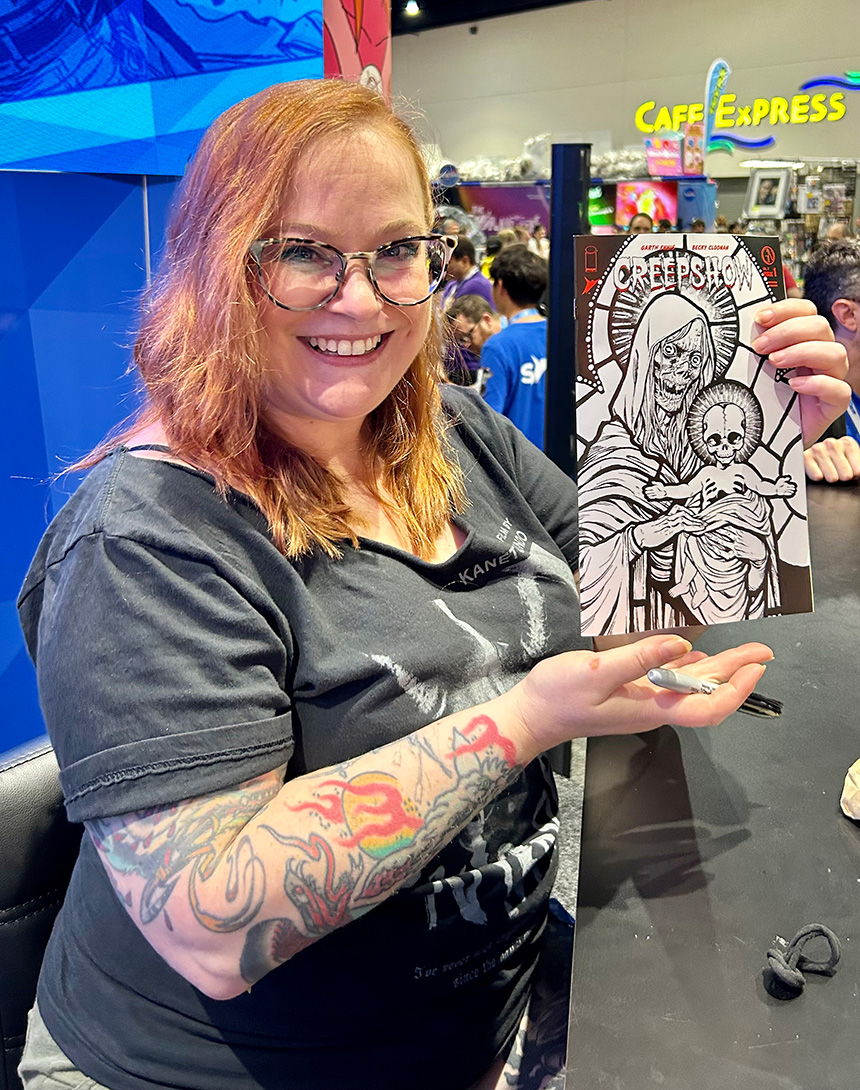 Becky Cloonan Signing
Things kicked off at 10 AM at the Skybound booth (#3735) with an appearance by superstar writer-artist Becky Cloonan, who signed copies of an exclusive limited edition of her story in the second volume of Skybound's anthology comic series Creepshow, written by Preacher creator Garth Ennis. Cloonan took the time to chat with us about her horror inspirations and what fans can expect from the Eisner nominee next.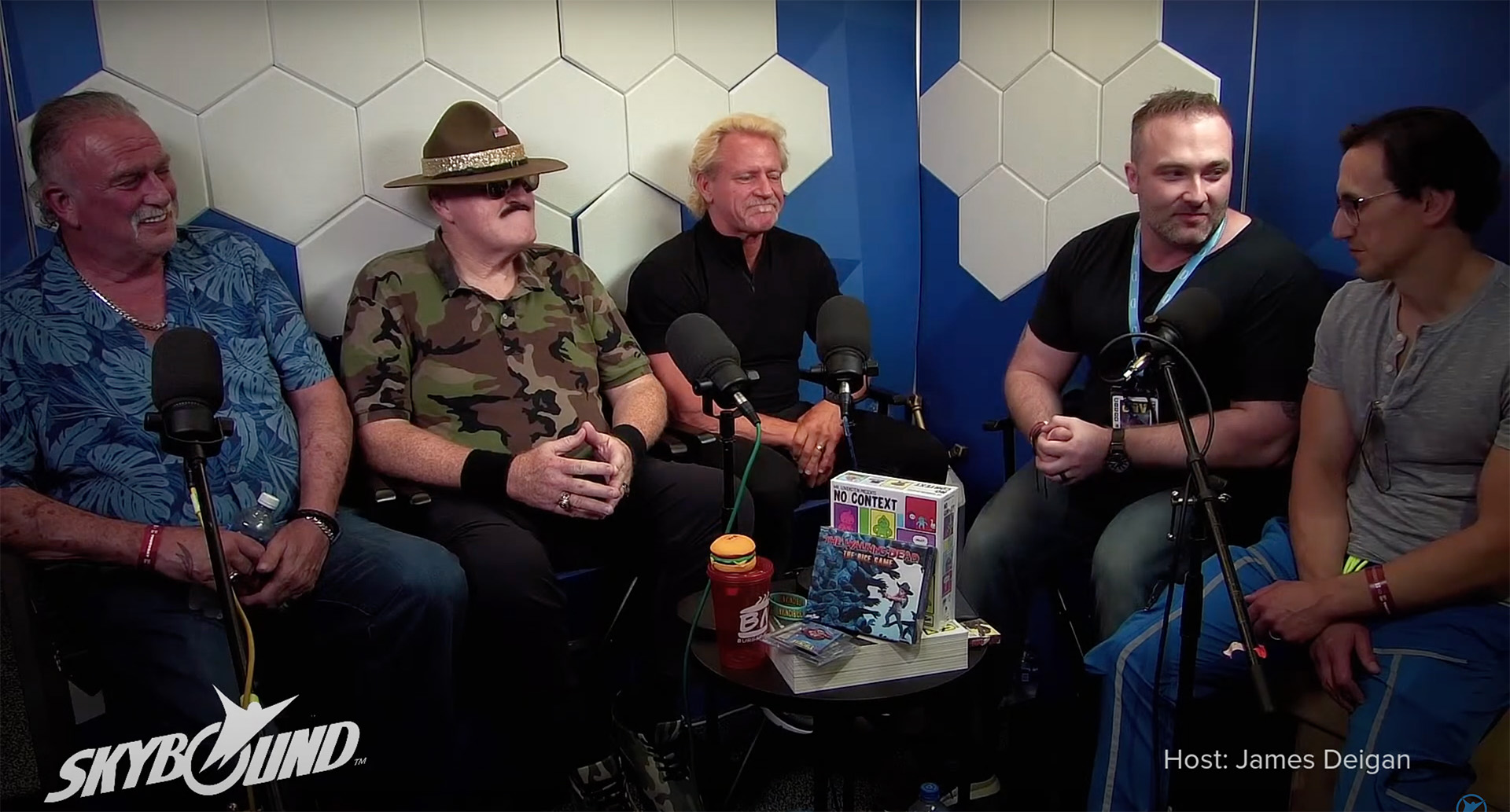 Jeff Jarret, Jake "The Snake" Roberts and Sgt. Slaughter Signing
Things shifted into high gear at 12:30 PM when the legends of wrestling — Jeff Jarret, Jake "The Snake" Roberts and Sgt. Slaughter — hit the Skybound stage to sign for fans, and sat down in our live streaming studio to chat with Mega Cat Studios' James Deighan and Zack Manko (pictured above) about their new JPRG video game sensation. You can watch their conversation in the following video, starting at the 1:01:53 mark…
That wouldn't be the last we saw of the legends of wrestling on Thursday, but they took a brief break to make way for…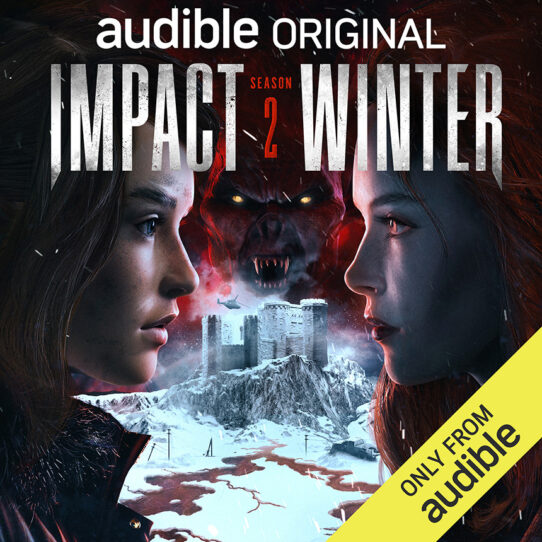 Travis Beacham Signing and Conversation with Robert Kirkman
Things shifted from wrestling to vampires and broadswords, as the Audible Original Impact Winter took center stage. Creator Travis Beacham signed for fans, and joined Robert Kirkman in conversation with our live streaming host Gina Darling. Watch their chat at the 3:18:34 mark below…
Then Skybound had more Impact Winter goodness for fans with a…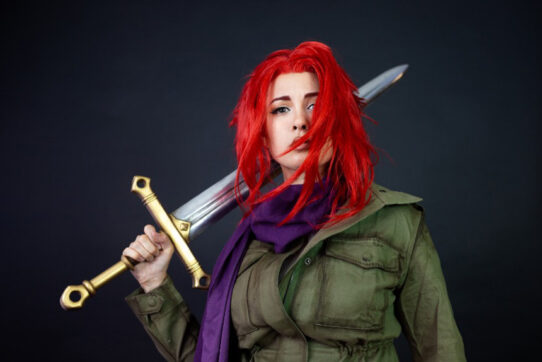 Impact Winter Sword Giveaway
Oh yes, we gave away Impact Winter heroine Darcy's sword to one lucky fan who best channeled the growl of the Audible Original's vampires! Fortunately for those of us who didn't win, cosplay superstar Hendo (pictured above) showed us how to make our own Impact Winter sword. Check out her tutorial at the 27:59 mark below…
Those fans craving more WrestleQuest, however, didn't have long to wait, because next up was our first panel of the week, titled…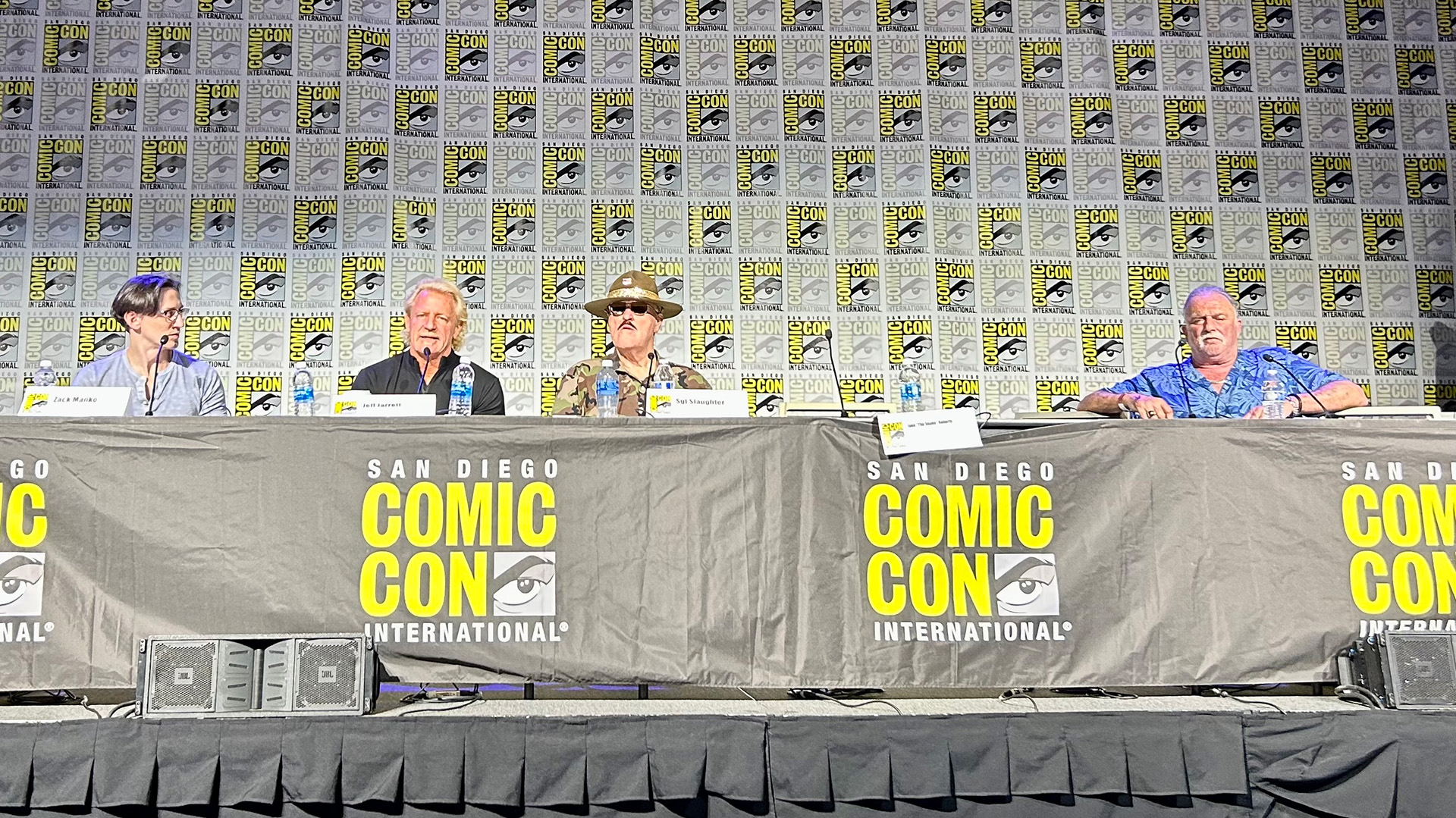 WrestleQuest: The Wrestlefication of an RPG 
This time the legends of wrestling took the stage in Room 6A of the San Diego Convention Center for an in-depth look at the game with Mega Cat Studios' James Deighan and Zack Manko. Here's our recap of that info-packed panel.
There's lots more in store for Skybound fans at SDCC 2023, with Friday promising a bonanza of Invincible surprises to celebrate the comic's 20th anniversary. So keep checking back with us here at Skybound.com, and be sure to check out Skybound's full SDCC 2023 schedule here.
Follow Skybound on Twitter (@Skybound), YouTube (Skybound), Facebook (@SkyboundEntertainment), Instagram (@skyboundent), Discord (Skybound), Reddit (Skybound), and at https://www.skybound.com/sdcc-2023 for updates in real time from the convention floor.
Creepshow™ © 2023 Cartel Entertainment, LLC. SKYBOUND and all related images are owned by Skybound Entertainment. IMAGE COMICS and all related images are owned by Image Comics, Inc. All rights reserved.