Not all comic creators are as talented at telling stories as they are at drawing pictures, but Becky Cloonan is the kind of talent that refuses to limit herself. A veteran of the Meathaus collective, Tokyopop, and Vertigo, Cloonan has also illustrated Gerard Way's The True Lives of the Fabulous Killjoys and co-created the fan-favorite Gotham Academy. We caught up with the multi-talented Eisner nominee at this year's SDCC 2023, where she was signing an exclusive limited edition of her latest work – a story written by Garth Ennis for the second volume of Skybound's anthology comic series Creepshow. Here's what she had to say…
How would you describe your Creepshow story?
When I was sent the script, I read it and I was like this, "This reads like a lot like a Preacher script." I read Preacher when I was 16 years old. I was maybe a little bit too young… I used to work at a video store, and one of the guys at the store would come in and he knew I liked comics. But I was reading X-Men and Ranma ½.  It was very much manga and superhero stuff. He would come in with the Vertigo stuff and be like, "No, you need to read this. Here's some Sandman, here's some Preacher. This is stuff that you should be reading."
Because I was a weird little literature nerd… I don't know, maybe that imprinted on me or something. It felt so much like that with this script, that you can't say no.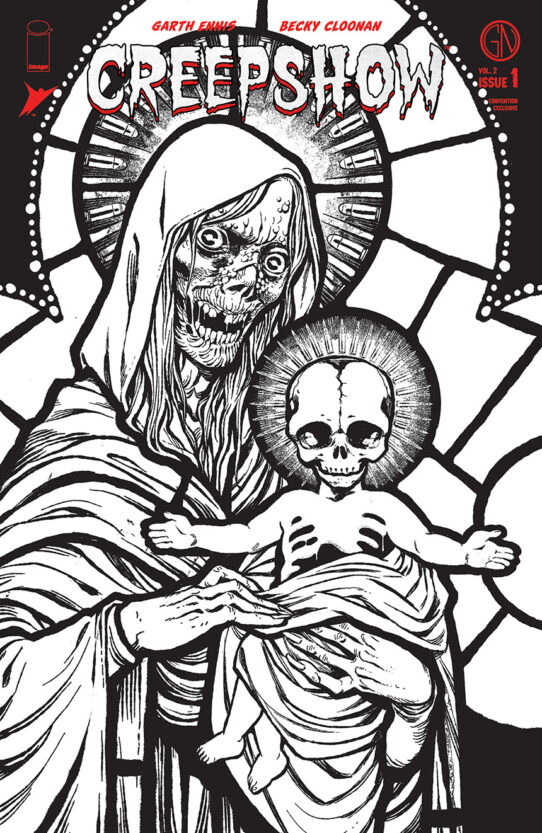 How did this collaboration with Garth Ennis come about?
Skybound called me up and asked if I'd like to work with him. It's crazy, because I've been such a fan of Garth for so long it was a no-brainer for me. Garth and I have talked about wanting to work together for a while. I've known him for years.
As an artist, that's how I started doing comics, working with writers. Then I started writing more. I kind of burnt out on art, back in like 2013 or 2014, doing monthly books. It's just such a grind. I always said if I get tired of it, or if I start not liking it, I'm just gonna stop doing it because I don't want to burn myself out and become this embittered old cartoonist. [Laughs.]
So I thought, "I'm just gonna switch to writing and maybe change gears a little bit and see if I can get some of that like energy and momentum back." And it did. It helped me a lot, working with different artists. You can work on more than one book at a time and you're just exercising a different part of your brain.
I love writing, but I love drawing too. I think when I came back to drawing this past year, this story was one of the first things that was offered to me. So, coming back to drawing comics again, after a couple years hiatus, it's been nice. It's a good way to ease into it.
This story has something for everyone. It's something to read to the kids. [Laughs.]
How did the two of you collaborate?
Reading his scripts is like a master class in how to write a comic script. As a writer, I'm reading his scripts and thinking, "God, that's how you do it…" And as an artist, it's a dream because everything is there that you need. As an artist, what I look for is, "Can I see this page?" He knows how to lay a page out. He knows how to cut up a sequence so it's emotional and the beats are there.
So, being able to like to visualize it before I draw it is one of the most important things. And he worked with Steve Dillon so much. I worked with Steve on the Punisher stuff at Marvel before he passed away. So much of that is an influence on me. So when I read Garth's script, I almost thought, "What would you do with this?" He had such a dark humor. I don't want to try to emulate what he did, but that was definitely on my mind with this Creepshow short. Steve's work was so scary, but it's also so funny – his expressions, his characters, his layouts. Everything is perfect because the timing was masterful. So I've definitely been like kind of seeping in a little bit of that when I worked with on this story.
Were you a Creepshow fan beforehand?
100%. Actually, it's so funny – my partner and I have been talking about Creepshow a bunch, and Creepshow 2, of course. [Laughs.] So it's been on my mind of late. I've got to go back and rewatch them. I was like definitely a big scaredy cat when I was a kid, but I still love to watch horror movies.
It was one of those things where it would keep you up at night and you'd be like, "I'm so scared. But I just can't turn away. I gotta watch all these movies…"
Those are usually the kids who grow up to become lifelong horror fans.
 Yeah, yeah, yeah. It's like smelling a bad smell. [Laughs.]
Right, you just gotta do it. [Laughs.] What are your favorite horror comics?
Right now, Junji Ito is one hundred percent a favorite. He's one of the best horror cartoonists out there right now in that like, weird, unsettling way.
Horror comics are so strange because you don't have sound. The only jump scare we have is a page turn. You've got to use that to its fullest effect. But it's different. So when I do horror, I go for unsettling, creeping spookiness. Rather than full on shock horror.
That's what I shoot for, this middle ground. Which seems to work for me. You want to have a thing that's like, "I can't put my finger on it, but there's something about this that creeps me out…" That's my favorite kind of horror.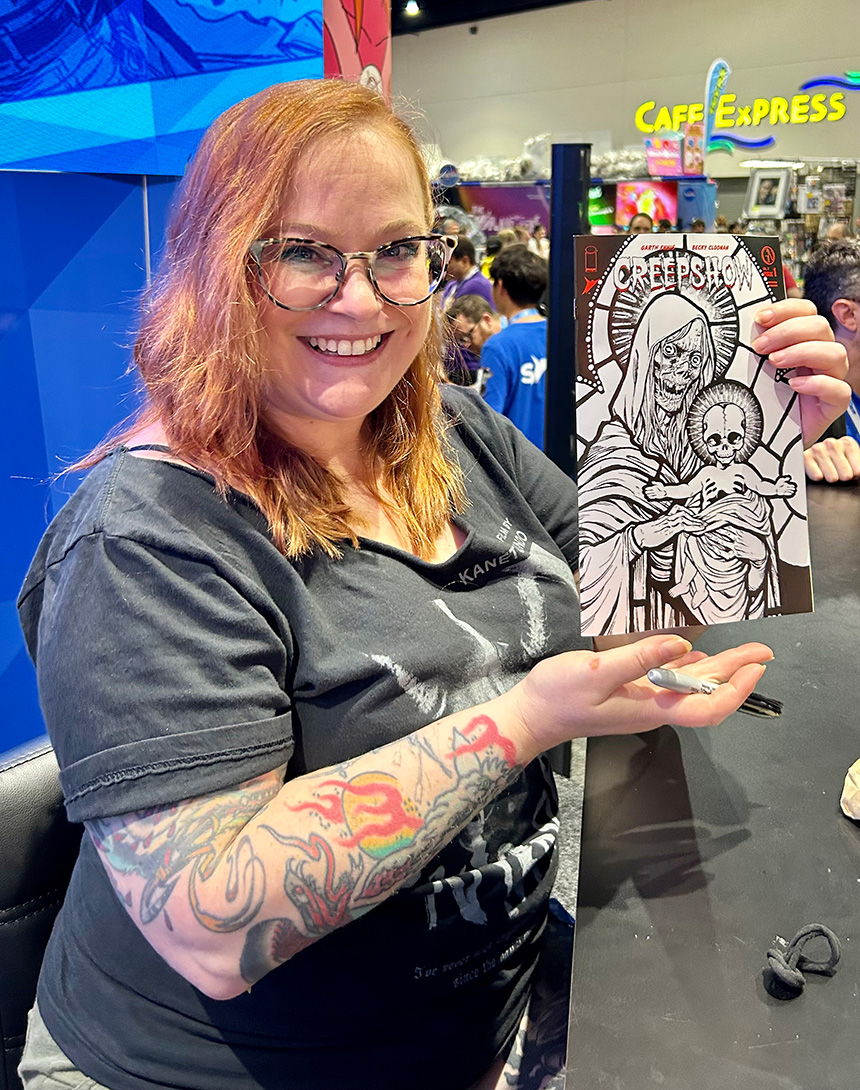 What's next for you?
Speaking of Junji Ito… I have a short story with Michael Conrad that's in the Betwixt horror mango anthology that's coming out, that Junji Ito curated. I don't know, maybe he saw my work one day. That would be super cool.
He's here at the San Diego Comic-Con this year. Are you going to have a chance to meet him?
I'm going to try. I'm going to try. I don't know. I might just rush the stage. I'm going to trip over everything to touch the hem of his pants. [Laughs.] And I got a thing with DSTLRY. They just came out with their Devil's Cutcompilation. I did a short story with Tula Lotay.  She and I wrote it, and we drew it together. So it's very much a creatively nourishing collaboration where I feel absolutely fulfilled in every way. It's so self-indulgent. Everything I want to draw is in there. Nothing I don't want to draw is in there. [Laughs.]
The story that we did for that is very much like a Hammer horror kind of tale, a nice Conqueror Worm/Witchfinder General story.
So the Vincent Price fans will be pleased?
Yeah, that was definitely the aesthetic and the feel. It's a period piece, it's kind of witchy, very 1600s… Then my next book with DSTLRY is gonna be a longer thing, and more along that line. So if you read this anthology, you'll see that the next thing I'm doing is very tonally similar.
It's what I want to draw. I don't want to draw cars; I want to draw horses. Give me a horse. There's car artists and horse artists, and I'm the horse artist. [Laughs.]
For more on Becky Cloonan's work, follow her on Instagram.
Follow Skybound on Twitter (@Skybound), YouTube (Skybound), Facebook (@SkyboundEntertainment), Instagram (@skyboundent), Discord (Skybound), Reddit (Skybound), and at www.skybound.com for updates in real time from the convention floor.
Creepshow™ © 2023 Cartel Entertainment, LLC. SKYBOUND and all related images are owned by Skybound Entertainment. IMAGE COMICS and all related images are owned by Image Comics, Inc. All rights reserved.