There's a new little ditty about Jack and Diane. Recently, an abandoned donkey and emu couple named after the infamous John Mellencamp song were rescued by the non-profit Carolina Waterfowl Rescue Group in North Carolina. The group posted a video of their new arrivals on social media, which showed Jack and Diane comforting each other.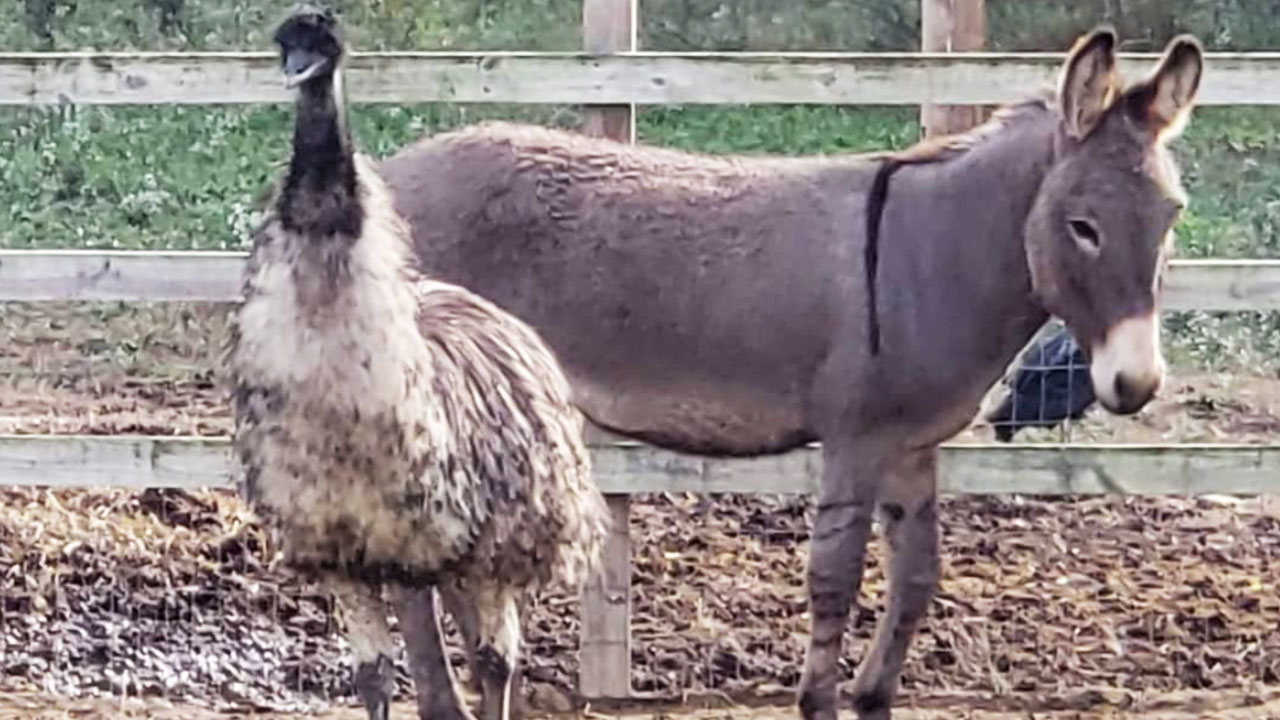 Jack and Diane pictured above at Waterfowl Rescue Group.
"They like to cuddle and even sleep together," Waterfowl founder Jennifer Gordon told The Charlotte Observer. "We can't separate them. Where one goes, the other follows." Waterfowl staff even said when they tried to separate the pair for transportation purposes they both became distressed. Unsurprisingly, the story became viral and the internet quickly fell in love with the unlikely couple. Among their new fans was Walking Dead star Jeffrey Dean Morgan, who replied to one of their tweets:
Hey there… read the story… if you are looking for a forever home for jack and diane? Happy to take them, and keep them together at our farm. They would be a welcome addition to our menagerie of happy creatures. Xojd

— Jeffrey Dean Morgan (@JDMorgan) November 11, 2018
Shortly after, Waterfowl became inundated with over 2,000 inquiries from around the world. "We had a lot of people trying to capitalize on the publicity of the story, and we were really concerned that they would end up in the wrong hands," Gordon told the Observer. But ultimately, they decided to hand Jack and Diane over to Jeffrey Dean Morgan, who owns a farm in New York with his wife Hillary Burton.
"I strongly felt that by allowing Jeffrey Dean Morgan to adopt them that it would take the publicity fear off the table," Gordon said. "He definitely doesn't need to adopt an animal to get publicity, and so I knew that would not be his motive in giving them a home." As you can see below, JDM showed up at the rescue group and picked them up himself. And as you can see from Morgan's tweets below, Jack and Diane made it safely to his farm, where they can live out the rest of their days as a couple.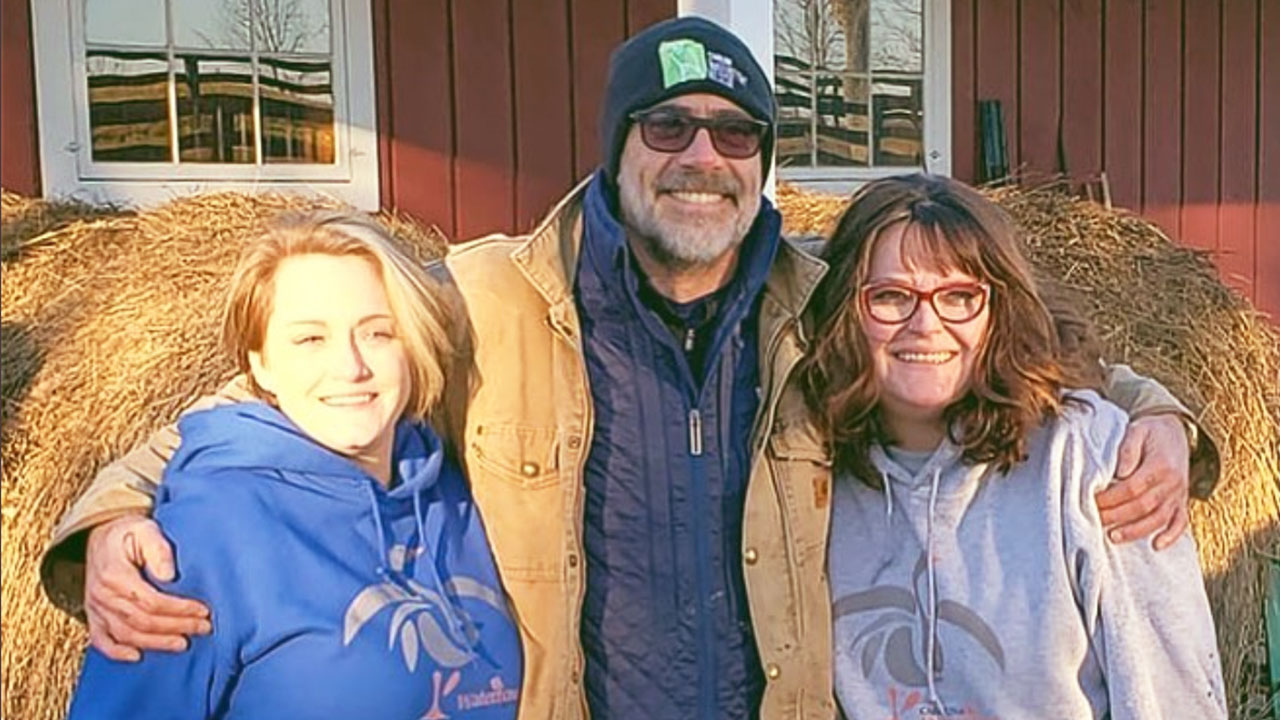 Jeffrey Dean Morgan pictured with Waterfowl staff during his pick-up of Jack and Diane.
See Jeffrey talk about it on Live with Kelly and Ryan:
---
Little diddy about jack and Diane…

— Jeffrey Dean Morgan (@JDMorgan) December 4, 2018
A quick update to those interested… J&D made it HOME. They spent the day exploring new digs… and I just tucked them in to bed with some berries for Diane, apple for Jack. Family is in love with its newest members. Thanks to @waterfowlrescue the world needs more of you. Xojd

— Jeffrey Dean Morgan (@JDMorgan) December 5, 2018
Gonna give them a little time to settle in… both from drive and I'm sure… just… a hard life so far. That all changes forever today. They are home. Once they feeling secure and cool, I'll be posting pics… I know you all are excited! We are too! ❤️

— Jeffrey Dean Morgan (@JDMorgan) December 5, 2018
One last story about J&D. When they got here today… in a 3 or 4 stall trailer… Diane had crawled underneath the door separating them and rode for god knows how many hours, laying beneath/between Jacks legs. Made me smile big. Love is an amazing thing. Goodnight. ❤️

— Jeffrey Dean Morgan (@JDMorgan) December 5, 2018
---
Finally, here they are in their new home!