2018 was a life-changing year for Danai Gurira. After finding success in theater and television Gurira became globally recognized for her breakout performance as Dora Milaje leader Okoye in Marvel's "Black Panther" and "Avengers: Infinity War." But Gurira wants to be known for more than a Wakandan warrior, she desires to make a difference for girls and women in the real world. Referencing her Marvel character at The Hollywood Reporter's Women In Entertainment 2018 event, Gurira said, "If we want a world that looks more like Wakanda, the first step is you invest in some girls and women." And Gurira has been doing just that.
Watch @Lupita_Nyongo, @DanaiGurira and @ChadwickBoseman present the #BlackPanther scholarship.

"If we want to live in a world that looks more like Wakanda, the first step: Invest in girls and women." #WomenInEntertainment pic.twitter.com/V8SaRQ1p3e

— Hollywood Reporter (@THR) December 5, 2018
---
Gurira was recently named a Women Goodwill Ambassador by the United Nations during a Global Citizen's Festival honoring the life of Nelson Mandela. She plans to use the new platform to further advance women's rights and gender equality around the world. Gurira explains her principles on her Love Our Girls site, which aims to bring awareness to the injustices of women globally. "I have always had a passion for women and girls, a hope to see them function on the same playing field as men and have the same opportunities and appropriate protections. I want to be more than an actress and storyteller but an advocate for women, not only in underdeveloped countries but all over the world."
That moment at #GlobalCitizenFestivalSA when our ED @phumzileunwomen told the world that @DanaiGurira is our newest @UN_Women Goodwill Ambassador.

Congratulations! ? We are so delighted to work with you. #Mandela100 pic.twitter.com/yozMaV5PGP

— UN Women (@UN_Women) December 2, 2018
Gurira recently told PEOPLE in an interview, "We can't accomplish anything until we're on an equal playing field. What are we doing if we're not trying to make an equal playing field for men and women? The inequality makes no sense. So to make sure that equality does occur, I'm putting all my efforts behind equality as the top priority for my efforts. In my mind, how else can we proceed without making sure women get to explore their full potential as well as men."
Since 2016 Gurira has partnered with Johnson & Johnson on their "Make HIV History" initiative, which is currently testing an HIV vaccine in five South African countries. "I grew up around a developing country grappling with the onslaught of HIV-AIDS," Gurira told PEOPLE. "Women were grappling for the rights to be able to own land, the rights to be able to inherit land, the right to be able to have a bank account."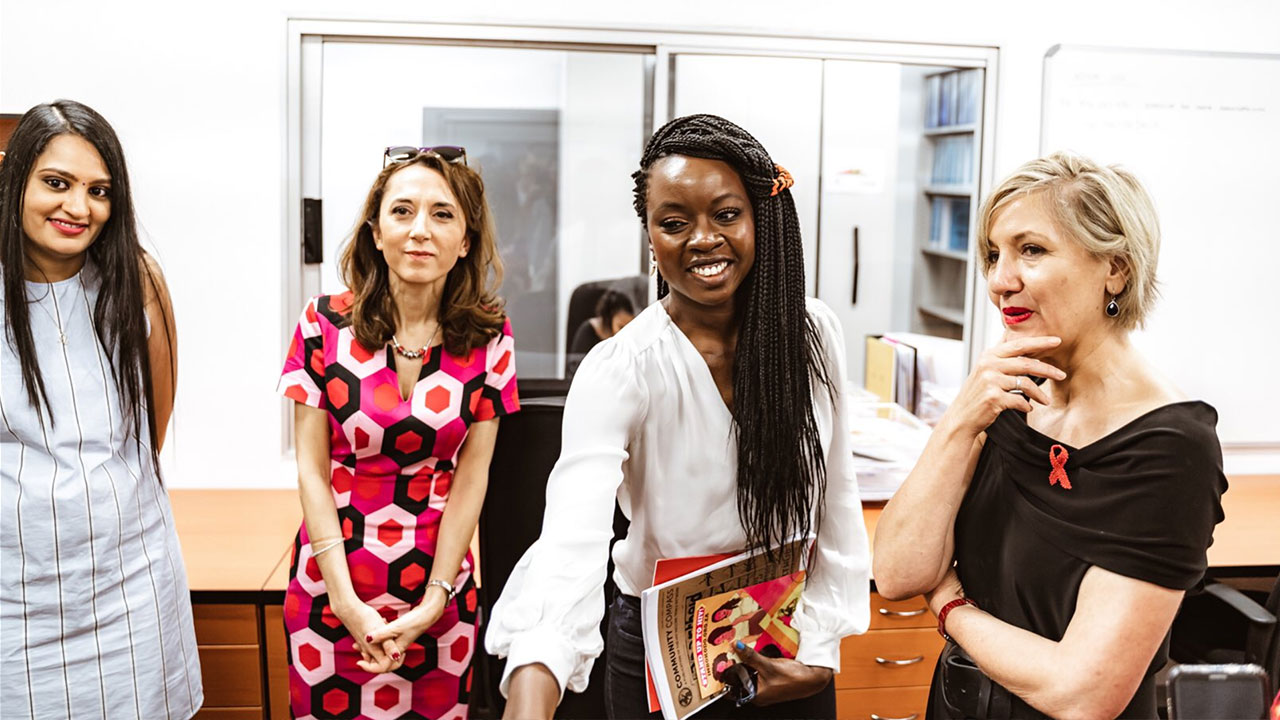 (Danai Gurira pictured alongside leaders from Johnson & Johnson and South African women who are part of an HIV vaccine study)
Gurira continued, "I have a purpose and it's based on how I was born into this world. I focus on my life's work. That's what everyone has to do is, what are we called into this world to do with the time we have here? I pursue my truth and I pursue what I'm authentically passionate about. And that is my job." Danai Gurira's roles as Michonne and Okoye have made her into a star, but her mission to make the world a better place for girls and women will solidify her as a global icon. In her parents' native tongue Shona, "Danai" means "to be in love" or "to love one another." Loving others is what Danai Gurira is all about.
---
Danai Gurira has also co-founded Almasi Arts Alliance (which supports the arts for students in Zimbabwe), has been involved with the ONE Campaign, has written several plays, been nominated for a Tony Award, and fluently speaks four languages. Catch more of her interview over at PEOPLE and make sure to follow her on Twitter for updates on her life's missions.