"Acheron: Part 1"

We're back, baby! Well, kind of. The show certainly is as we kick off the 11th and final season of the TWD flagship. Here at Skybound HQ we're close to hiring someone to take on all the TWD love, so we should be back up to full speed soon. I mean, the poor person is walking STRAIGHT into the biggest season yet…
Anyway, I didn't want to leave you without a place to discuss the newest episode!
The show opens with a large contingent of our group (led by Daryl and Carol) on a supply run at a military base. Where they run into… sleeping walkers! Nappers? I suppose being locked in place for long enough maybe triggers some sort of energy conservation reflex? After narrowly escaping with some MREs (don't try this at home—MREs go bad) we regroup back at Alexandria and things are dire… Food will basically be gone in a couple weeks.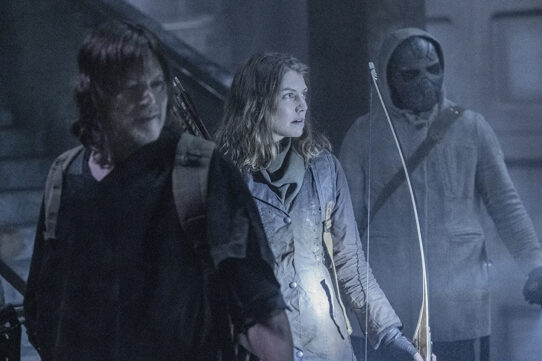 Maggie suggests they go to the place she was living at where everyone she knew was slaughtered. They'll just have to kill the people that killed her people and they should have plenty of food. Sounds… dicey. A large group led by Maggie and consisting of Daryl, Negan, and others heads out. A storm drives them into the subway line and it is bad news. Hundreds of (un)dead bodies in body bags so you know this going to end well. Negan and Maggie clash, the walkers get up and start with the bitey bitey, Dog takes off, Daryl goes after him, and Negan lets Maggie fall off the back of a subway car to a questionable fate as walkers converge on her.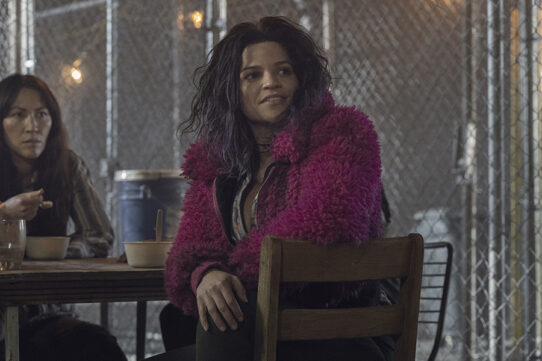 Of course, while all this is going down, Ezekiel, Yumiko, Eugene, and Princess are being held and interrogated by the Commonwealth, who are asking some VERY invasive questions (although Eugene's answers were absolute classics). Or maybe they're just THAT worried about the giant lump on Ezekiel's throat. A narrow escape is seemingly brought to a halt when they realize Yumiko is listed on a board put up by Commonwealth residents looking for their loved ones (her brother is apparently a resident and has her on the VIP list). Was I the only one that thought we'd see maybe someone else on that board..?
Some big cliffhangers for next week in next week's ep ("Archeron: Part 2"), that's for sure.
Ok so what did you guys think?! What's gonna happen to Maggie and Daryl? Is Negan even MORE unforgivable now? I honestly was not expecting that. And NOT escaping that Commonwealth interrogation when they had the chance? Genius or idiotic? Sound off below!
And here's a bonus picture of Dog, just because.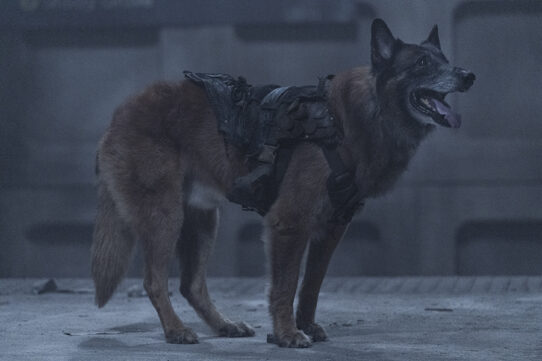 All photos courtesy of AMC by Josh Stringer