"Adaptation"
The Mid-Season Premiere opens with a different kind of recap – this time narrated by Michonne. "Our splintered communities must now unite to face a brutal enemy who walk with the dead," she says. Now to the episode – we pick up where the Mid-Season Finale left off – in the cemetery. Michonne and the others group up like the Avengers to kill the Whisperers and walkers around them. When more arrive they're forced to carry Jesus' body away and lock their enemies inside. As they flee one of the "undead" open the lock.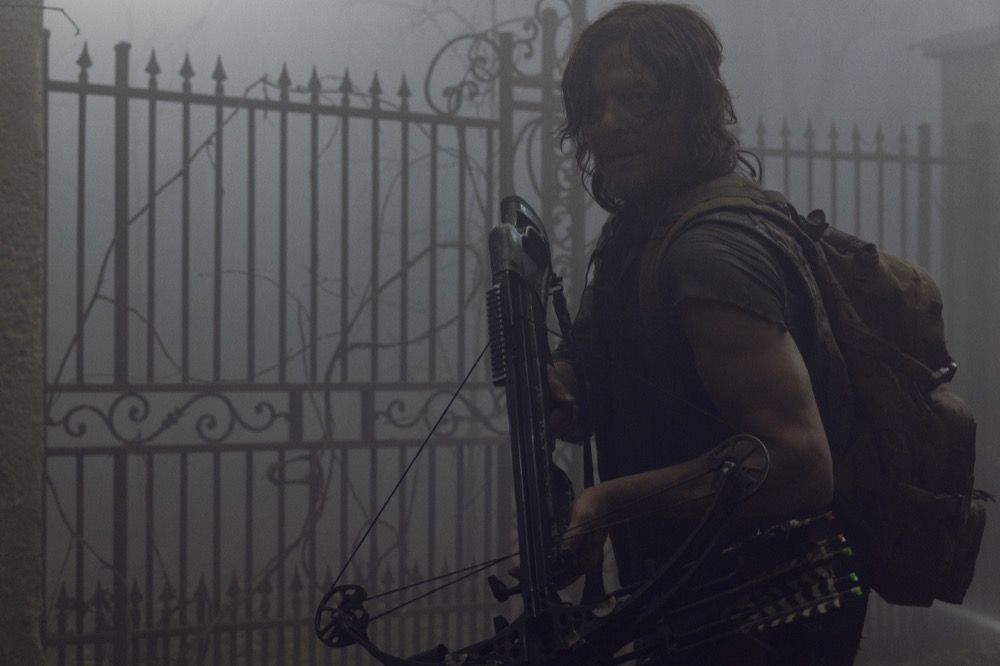 After escaping his cell, Negan sneaks around, breaks into Judith's room (she's not there), and pilfers er compass. He throws on some normal clothes and scales the fence before Judith stops him with her gun drawn. He laughs and suggests they just go their separate ways, but she doesn't budge. Negan climbs down and Judith reminds him there's nothing out there for him. He promises not to hurt anyone and she finally relents, promising him if she sees him again she'll shoot. Meanwhile, Tara, Alden, and Enid send out a search party to locate Eugene's search party; Luke offers to help.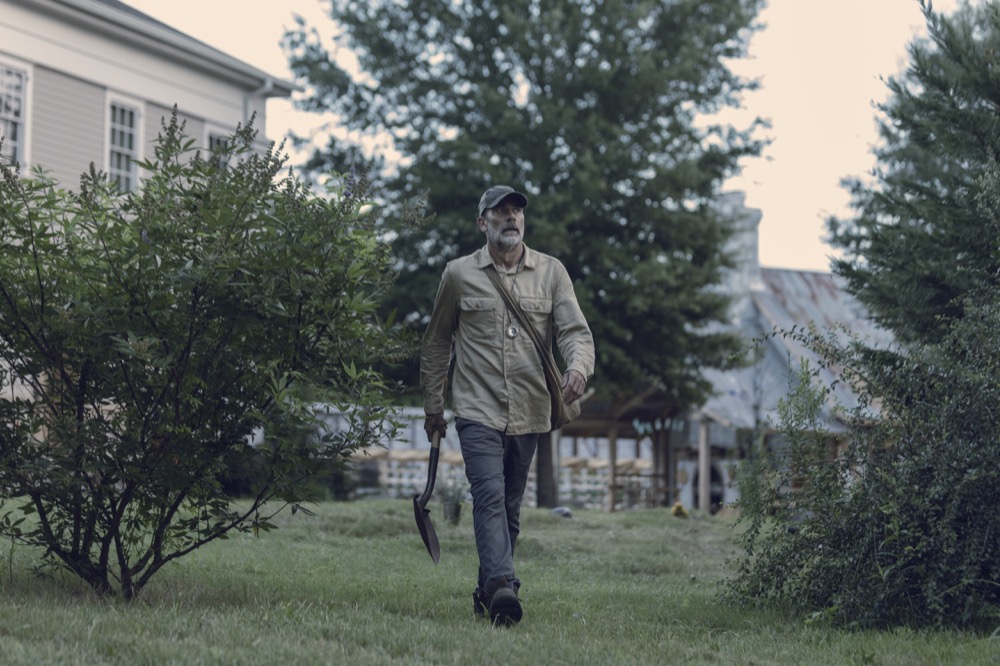 On the road to Hilltop Daryl and the group spot a small group of the "undead" nearby. Daryl corners them on a bridge, using his crossbow to weed out the alive ones. He hits one in the leg, and the man falls down screaming in pain. This attracts the actual walkers to him while the rest try slowly escaping to the other side, where Michonne is waiting for them. They draw their knives and attack, but Michonne and the rest kill them with ease as the final whisperer gets on her knees to surrender. Daryl rips off her mask and the Lydia begs for her life. Michonne angrily questions her but when more walkers show up Daryl decides to take her with them. Michonne's displeased but allows it.
Negan strolls through the woods soaking in his freedom. He kills a few walkers, drinks and bathes with a river, and is just generally super bored. Michonne and the crew return to Hilltop with Jesus' body and Lydia. the community reacts in disbelief. Daryl and Magna take the Lydia to the jail while Tammy tells Tara that the Hilltop will now look to her for leadership. She reminds her that includes getting justice for Jesus, and Tara affirms she understands. Daryl tosses Lydia in the cell and tells Henry (who's still locked up) that Jesus is dead. Michonne rips off her blindfold and tells her "No more bullshit!"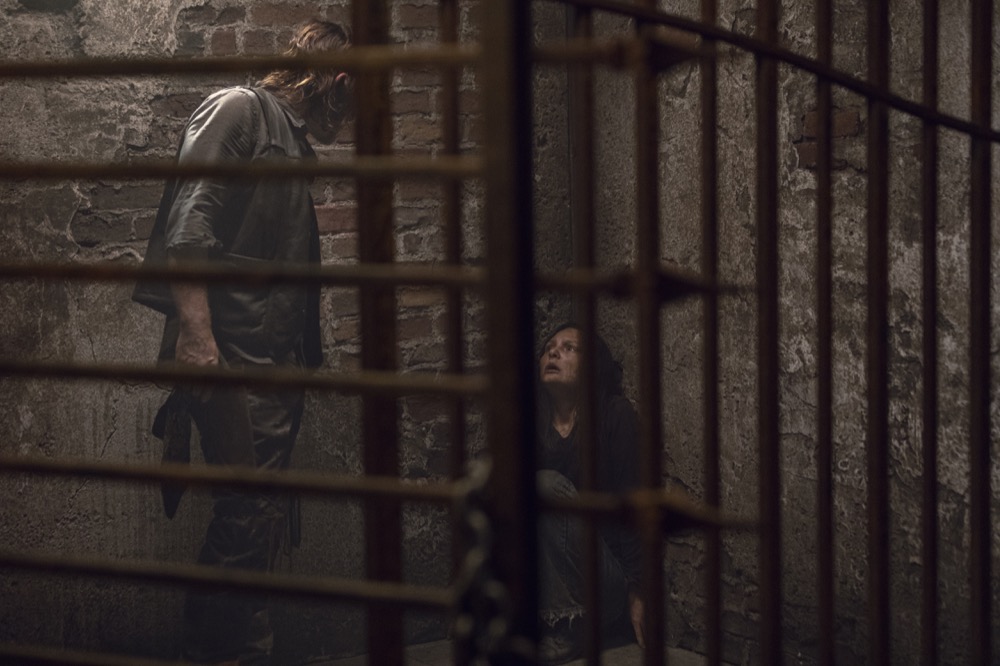 Negan rummages through an abandoned clothing store and finds himself a black leather jacket. Three hungry dogs show up, forcing him to hide on top of a shelf. He runs outside and throws a walker in to distract (and eat) the dogs. Elsewhere, Luke and Alden bond over music until they discover one of Yumiko's arrows on a tree. They kill some walkers and Luke suggests they follow the arrows to find their friends. They spot a herd nearby and ponder their new moves.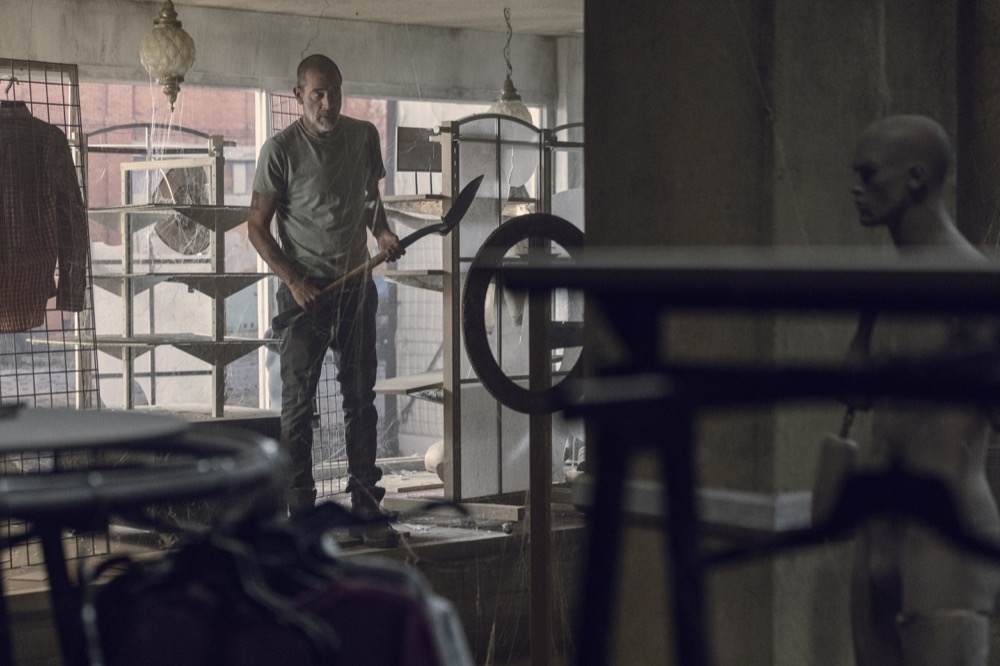 Michonne, Tara, and Daryl interrogate Lydia. Sobbing, she claims to not have a name and her group of Whisperers were good people just trying to survive. Michonne asks if her people know about Hilltop but Lydia begs to be left alone. They give up for now and Michonne tells Daryl and Tara she's heading back to Alexandria. Tara agrees and tells her she's going to allow Magna's group to stay because it's what Jesus would have done. Michonne secretly reminds Daryl that he knows what to do if Lydia keeps refusing to talk.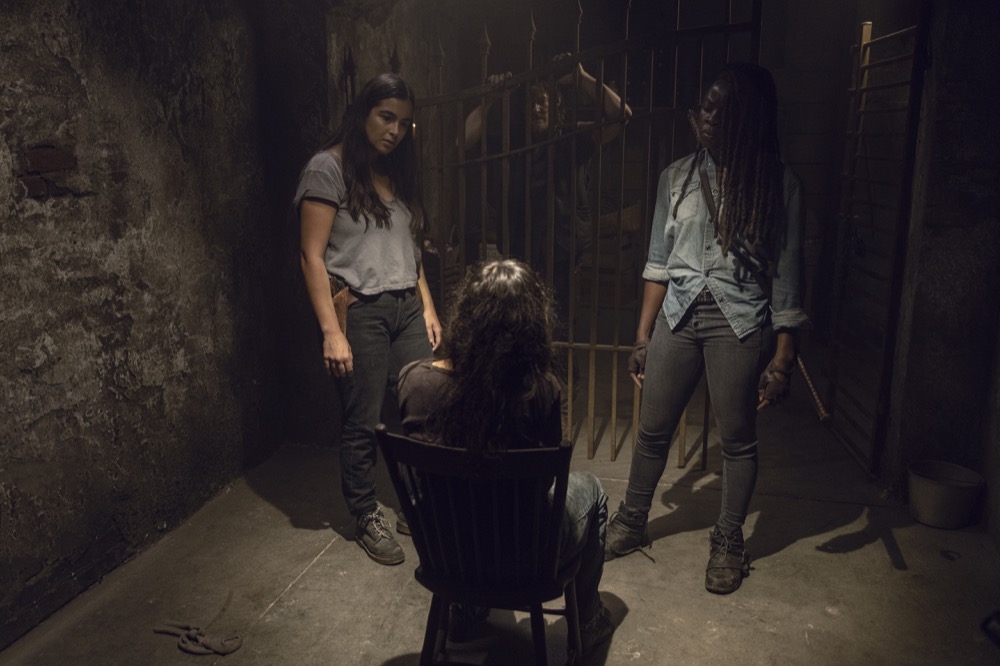 Siddiq re-locates Eugene's knee in the infirmary and leaves to grab a bandage. Eugene tells Rosita he was scared she was dead and tries confessing his love but she runs out saying "I can't." Rosita vomits outside and Siddiq asks if she's OK. She reveals she's pregnant…with his baby! Eugene looks horrified as he listens from inside. Daryl scolds Henry for behaving stupidly and reminds him he has one more night left in the cell before he can be free for good. Meanwhile, Negan returns to the Sanctuary and marvels at his past. He encounters a turned version of one his old Saviors Big Richie and says, "Loyal to the end."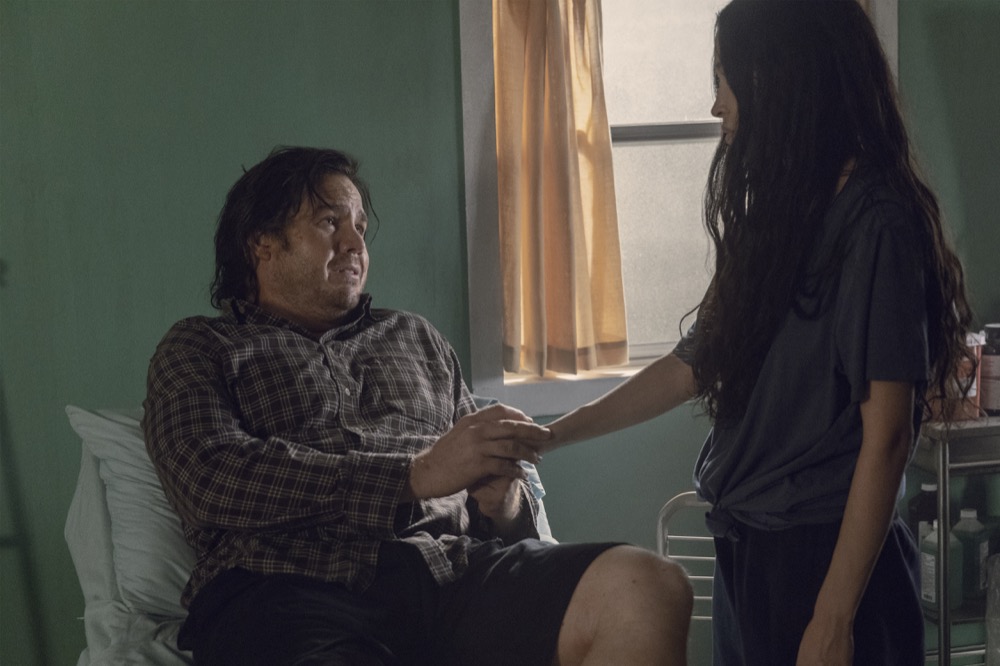 Aaron apologizes to Michonne for doubting her, affirming that Alexandria is self-sufficient enough without Hilltop. Michonne apologizes too and then informs Daryl that Alden and Luke haven't returned yet. She suggests he lead the effort in questioning the girl to ensure they don't lose anyone else. Back at what's left of Sanctuary, Negan cleans up a bit and tells Big Richie he could get this place back up and running with new people and supplies. "This was my palace…I let my people down. This was on me," he laments. Negan kills all the walkers in the yard, including Big Richie.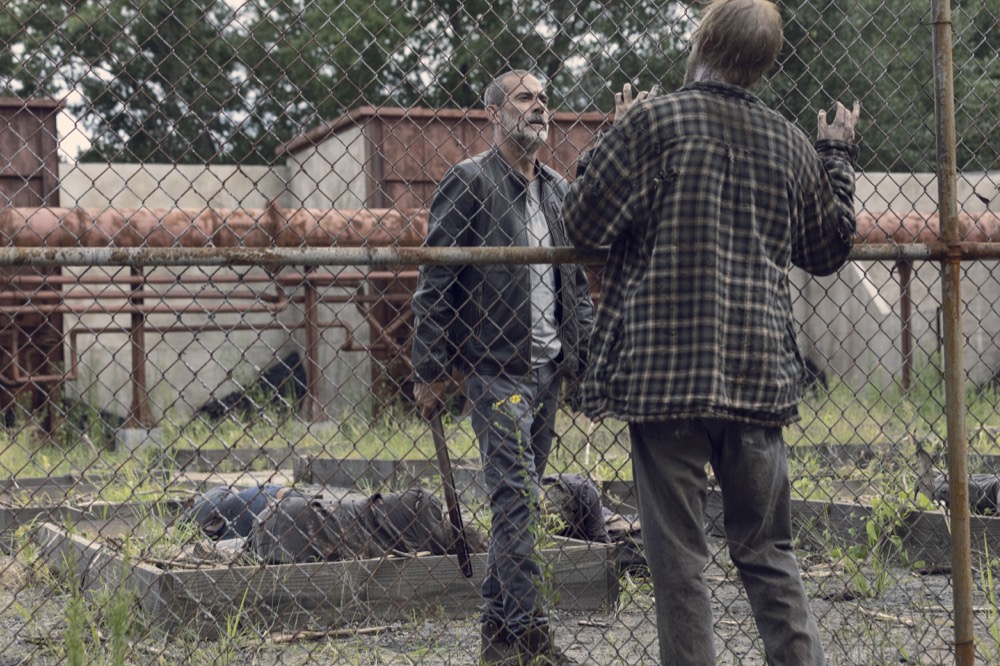 The Hilltop holds a funeral for Jesus and everyone gets a crack at hammering the nails in his coffin. Moved by the moment, Daryl rushes to the jail and demands the girl reveal her identity. Henry tries to intervene but Daryl shuts him down. He slams her against the bars and asks if she comes from a place with walls.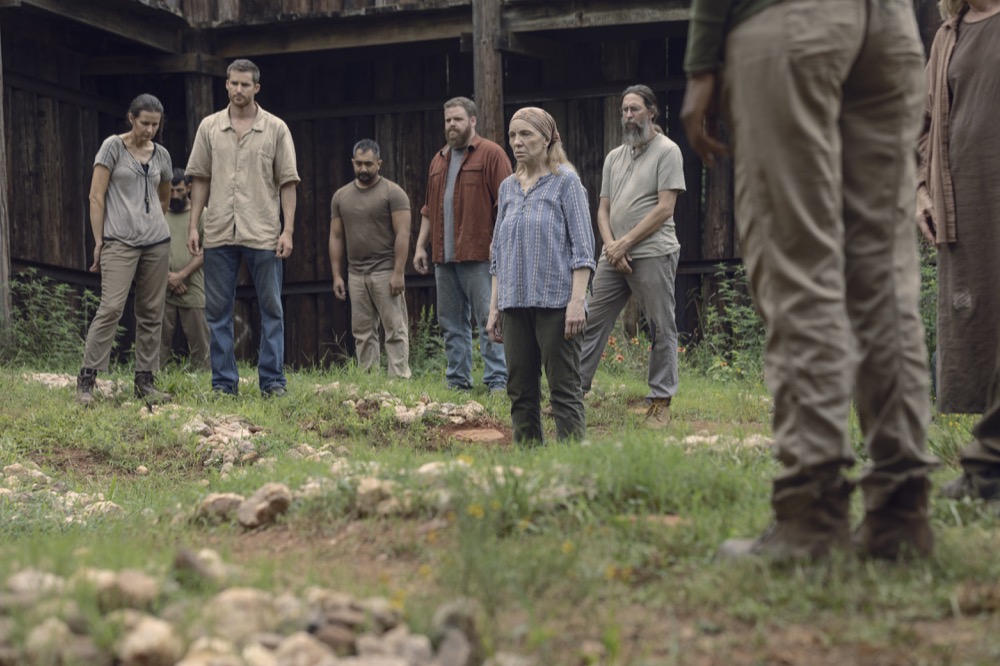 Lydia tells Daryl that places like Hilltop never last and her mom told her they needed the dead to stay safe. He raises his knife to her and demands why her people killed his and she says they were always going to, that's what they do. She tells him it's just her and her mother left and he calls her a liar before dragging her towards the exit. She begs for her life and he lets her cower back in her cell. He then reminds Henry of his place and warns he'll stay in that cell until he realizes it. After he leaves Lydia thanks Henry for saving her. They introduce themselves as Daryl listens in close-by.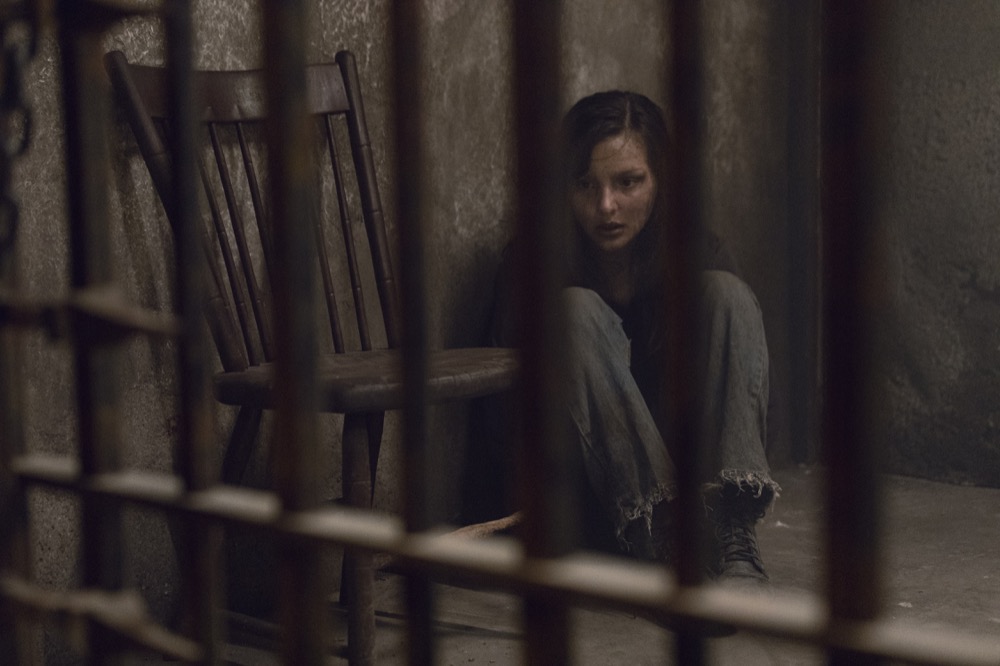 Negan drives his bike down the road and crashes when he sees Judith pointing a gun at him in the middle of the road. She says a lot of people are looking for him. He gives her back the stop watch and says he wants to return to Alexandria because she was right, there isn't anything out there for him. At Hilltop, Enid tells Magna her worries about Alden. Magna assures her he's in good hands with Luke by his side. Speaking of, Alden and Luke spot a group of "walkers" staring at them motionless. A female one with long hair tosses them one of the arrows they've been following, points a shotgun at them, and says, "Trail ends here."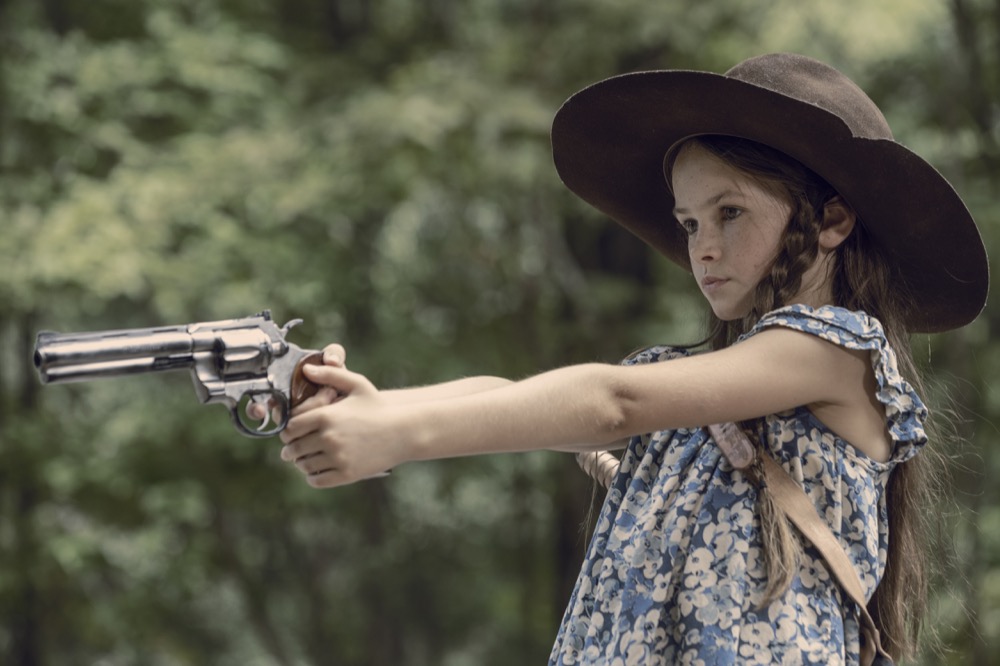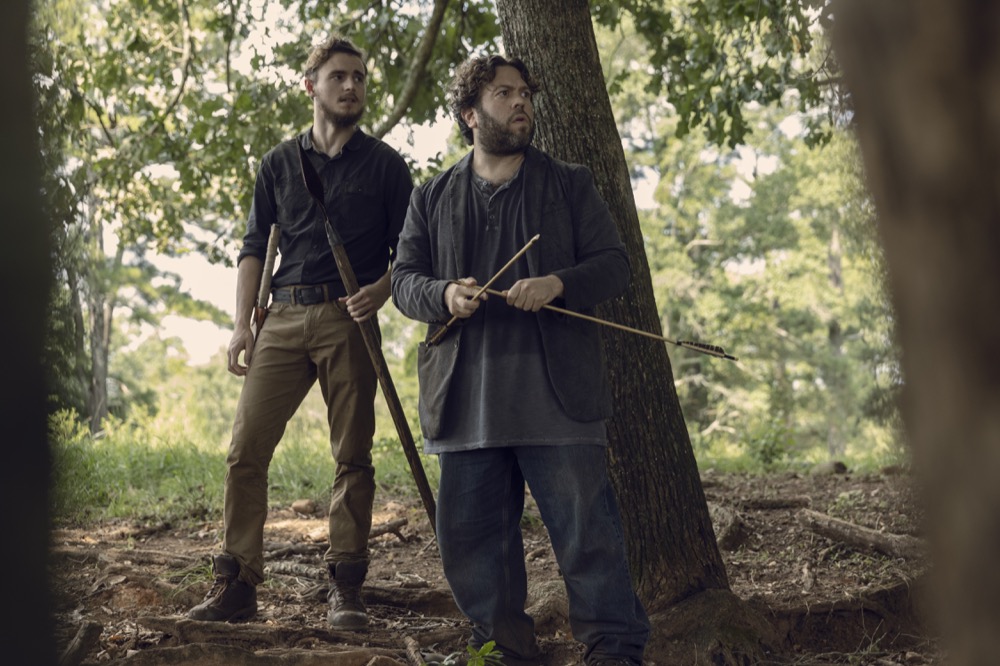 ---
What did YOU think of the Mid-Season 9 Premiere? Will the show follow the comics or chart its own path? Give us all your takes in the comments below!