The Walking Dead is finally back and we're here to help break down ALL the comic comparisons from the episode. A lot of the major scenes came straight from the comics thanks to some character remixes.
---
The Aftermath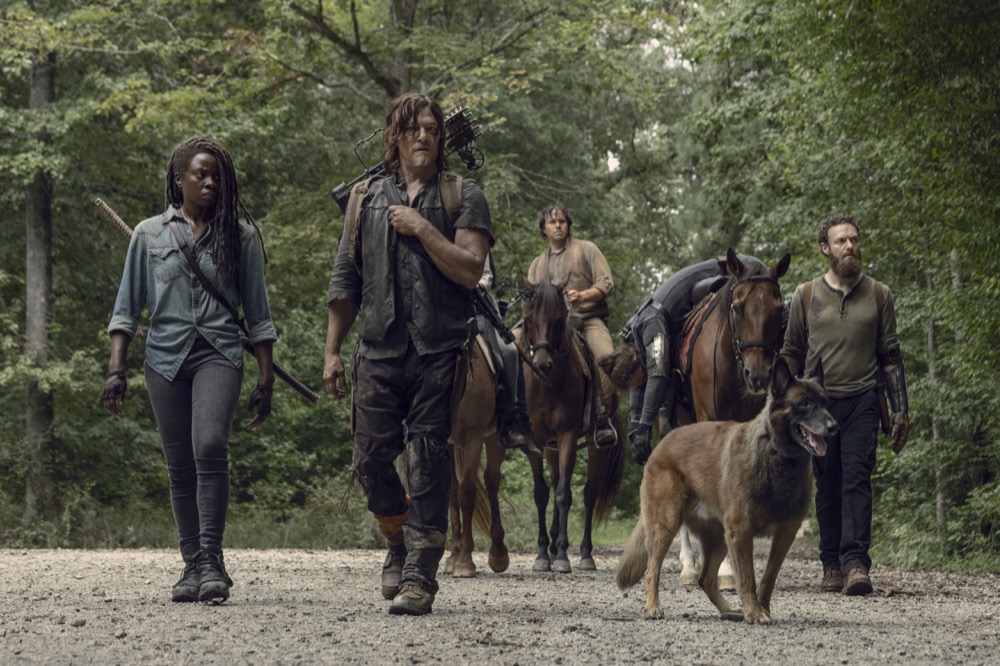 As we mentioned in our comic vs show, the cemetery attack which led to Jesus' death was a lot different in the comics. Although there was an ambush by the Whisperers, it didn't happen in a cemetery and Jesus didn't die. In Issue 132, the Whisperers attack another group of our heroes, leaving Dante and Ken as the lone survivors (you remember Ken, he was the guy who died saving horses). Anyway, Jesus, who's still alive, heads out with his friend Darius to find Dante and the gang when they don't return home. So Michonne, Magna, and the gang are not involved in this at all.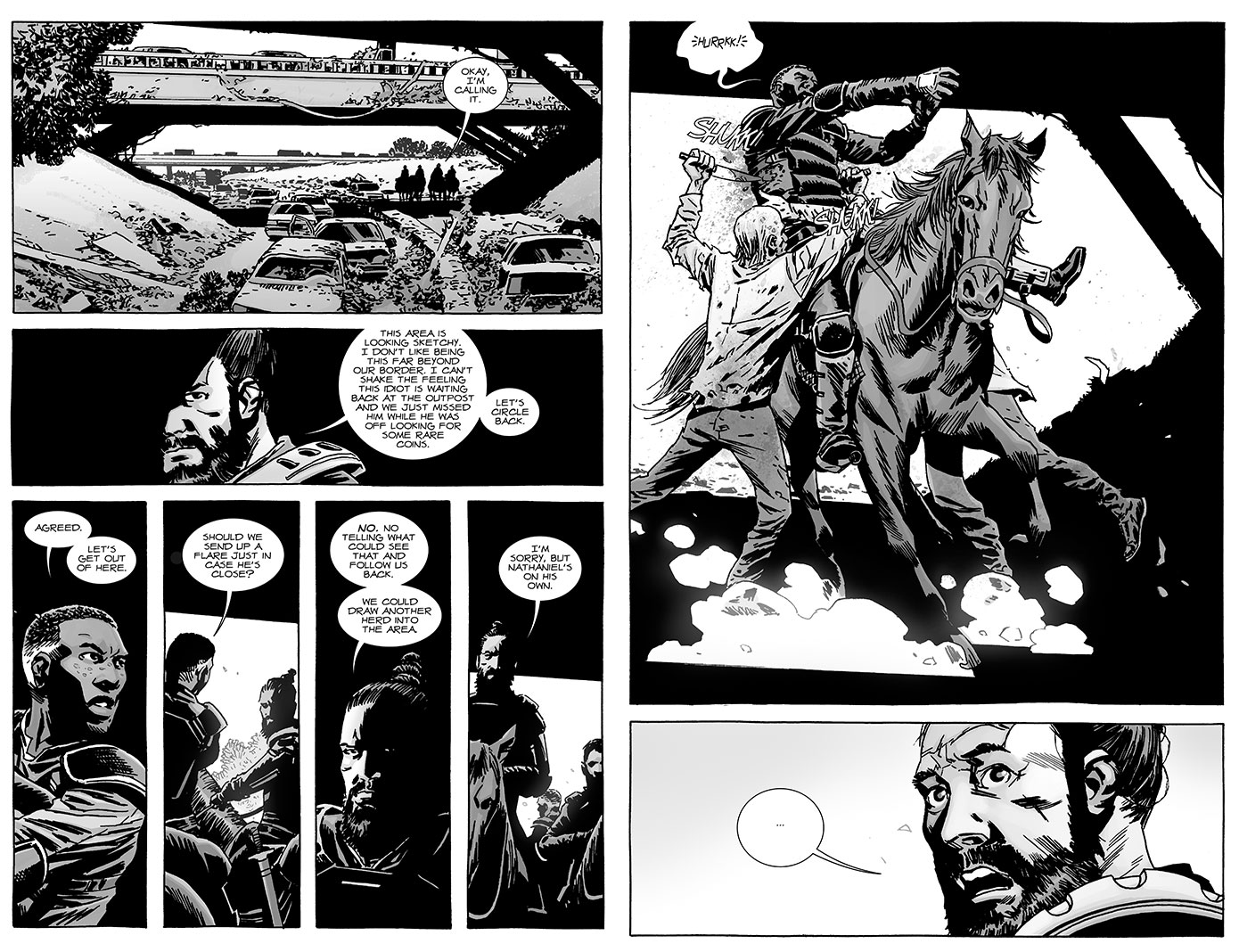 ---
The Whisperers Attack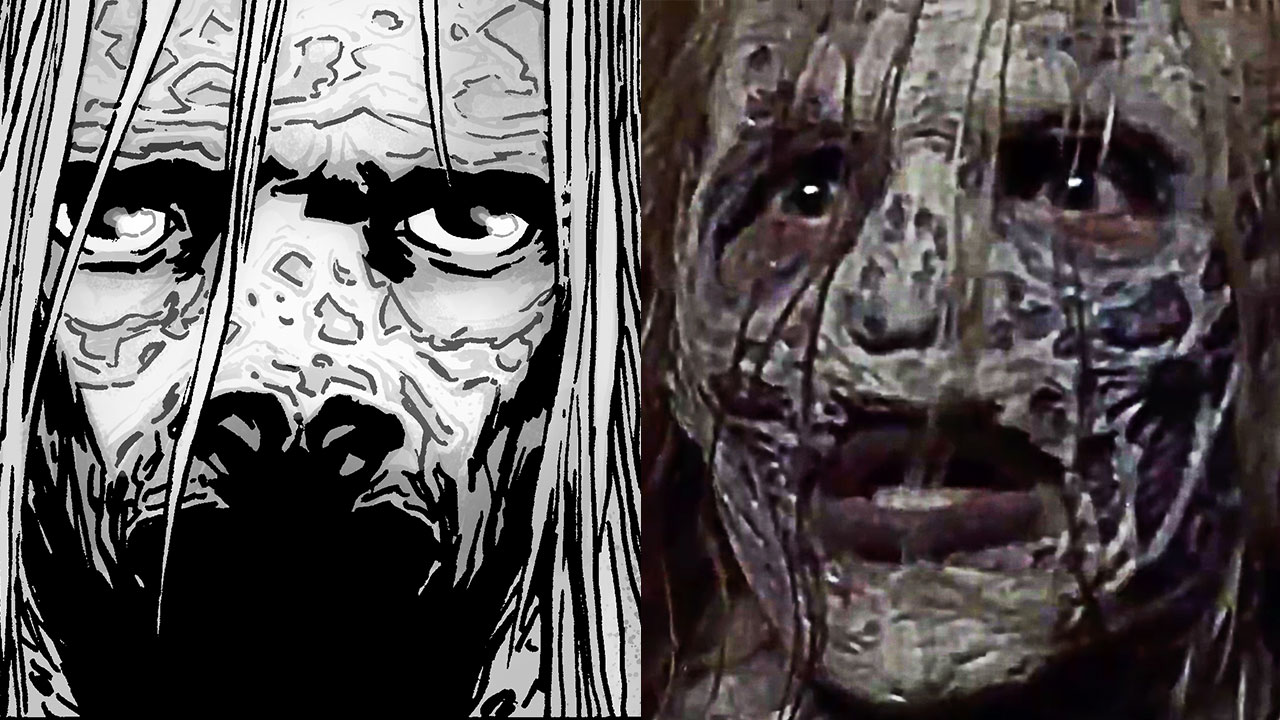 On the way back to Hilltop, Daryl and the gang get jumped by a pack of Whisperers on a bridge. They handily kill all of them except one – a teenage girl (Lydia). Daryl rips off her mask and decides to take her prisoner, even though Michonne wants her dead for killing Jesus. #JusticeForJesus.
A similar scene plays out in the comics. In Issue 134, Jesus and Darius also get attacked by Whisperers by a bridge. Just like the show, they butcher everyone except the girl, who is taken prisoner. Also, Darius gets super stabbed during the fight, whereas in the episode everyone makes it out with barely a scratch.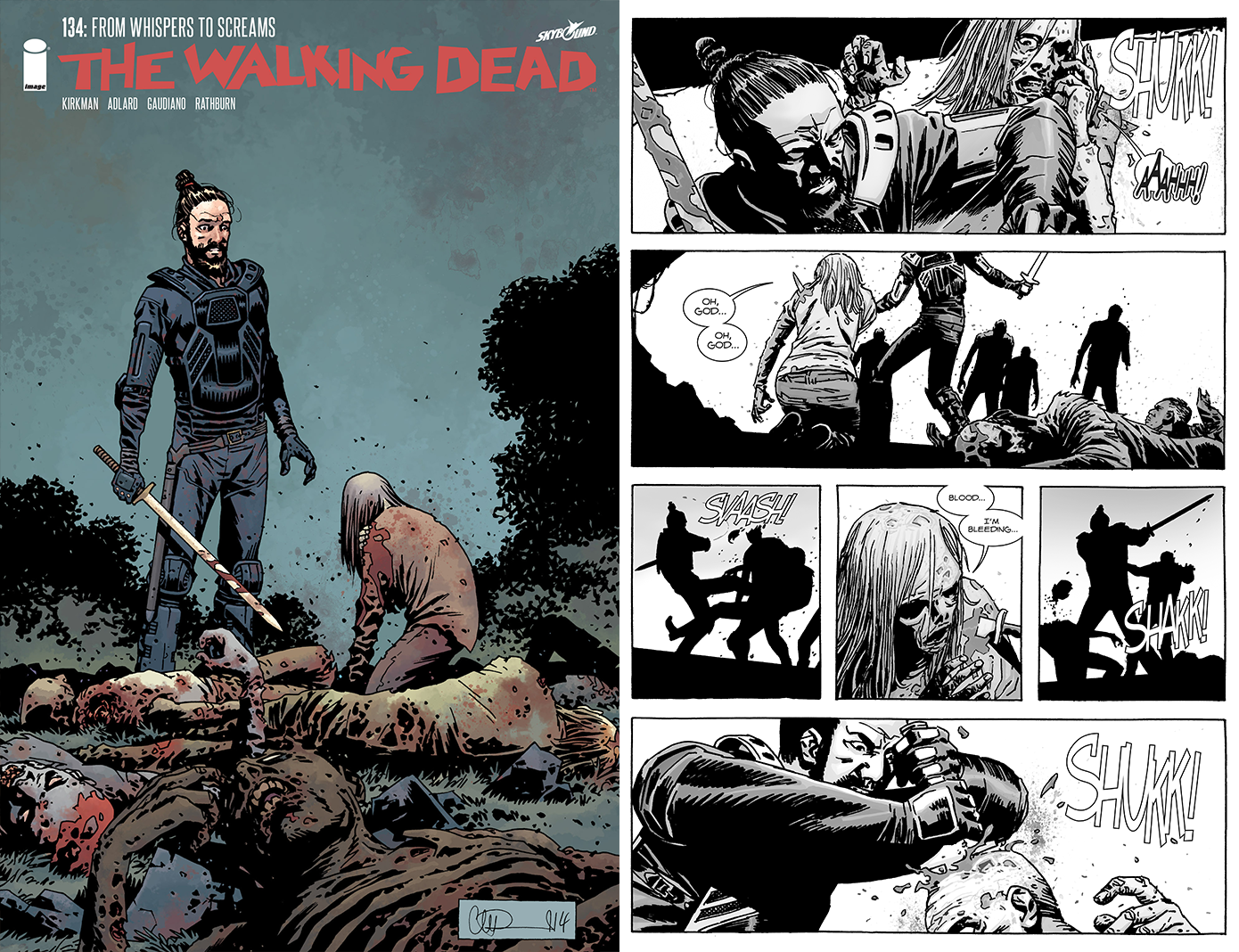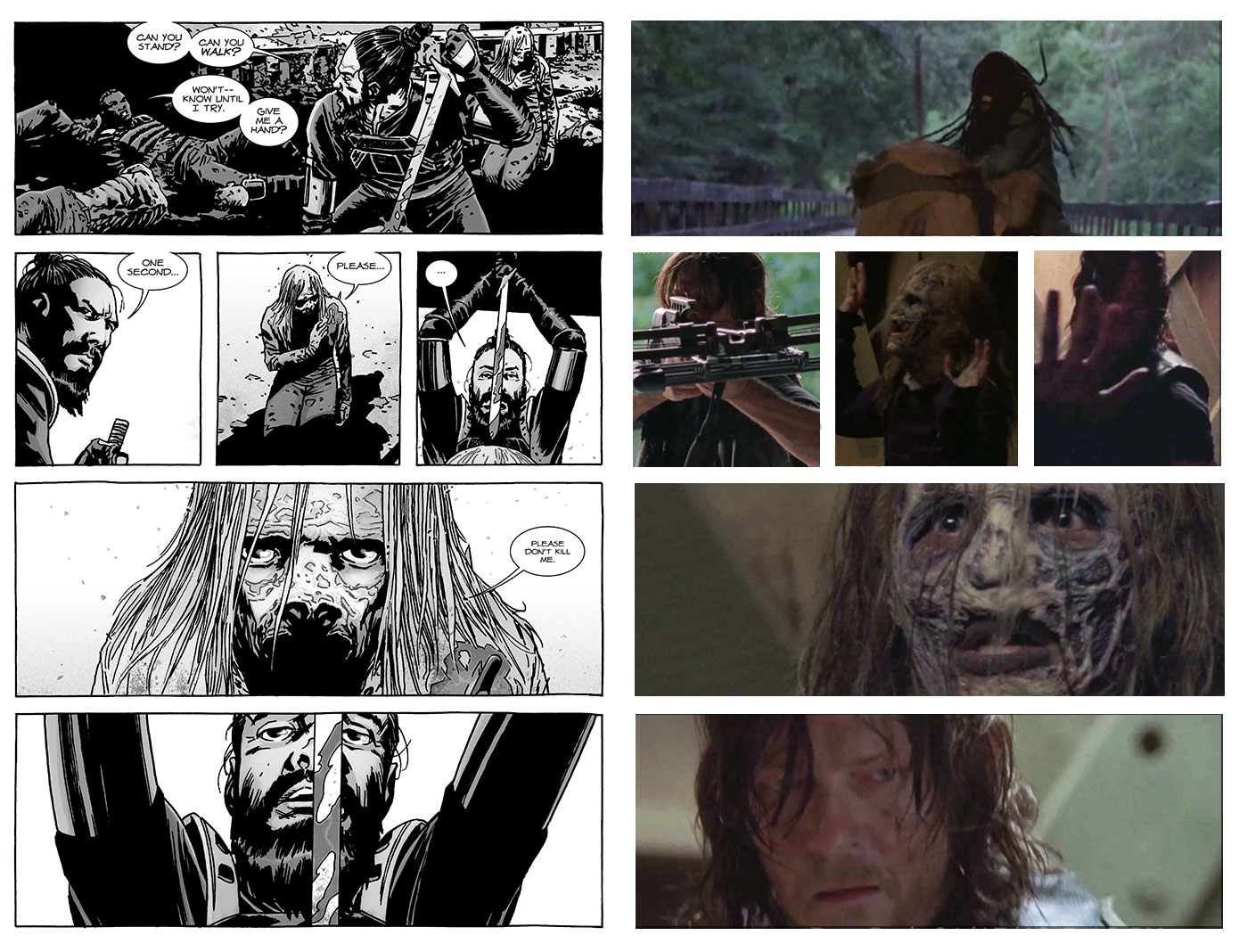 ---
Negan's Adventures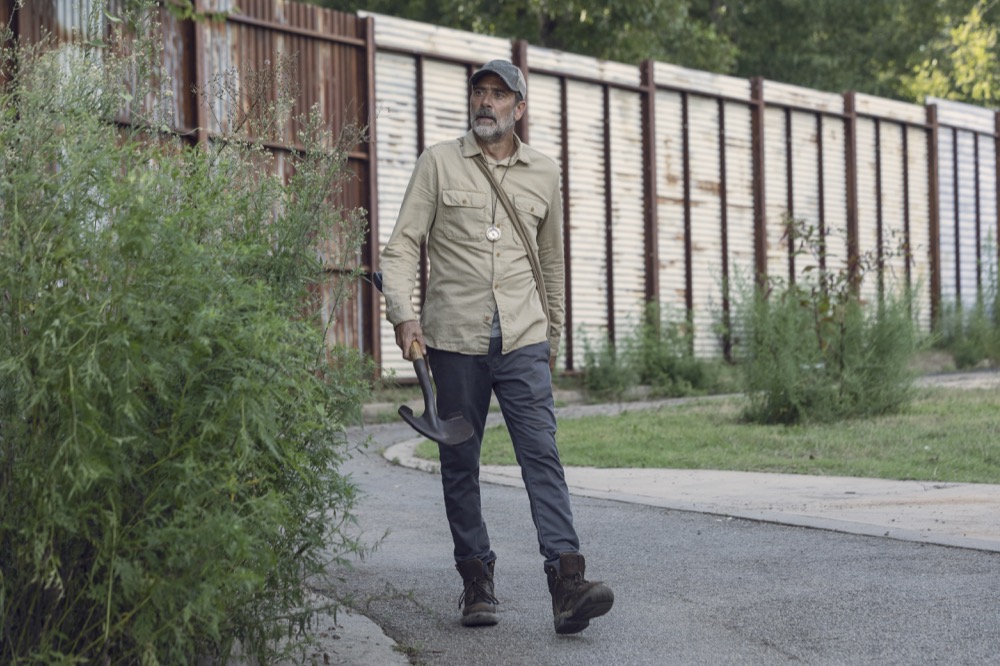 Now to the episode's B story – Negan's adventures outside of Alexandria. In the show Negan escapes his cell, for some reason waits for morning, and then climbs up the fence. Judith catches him but decides to let him go. Negan tries to enjoy his newfound freedom but quickly becomes lonely. He finds a jacket in an abandoned store, gets chased by dogs, and returns to Sanctuary to find it empty. It's all very depressing until Judith tracks him down and convinces him to return home.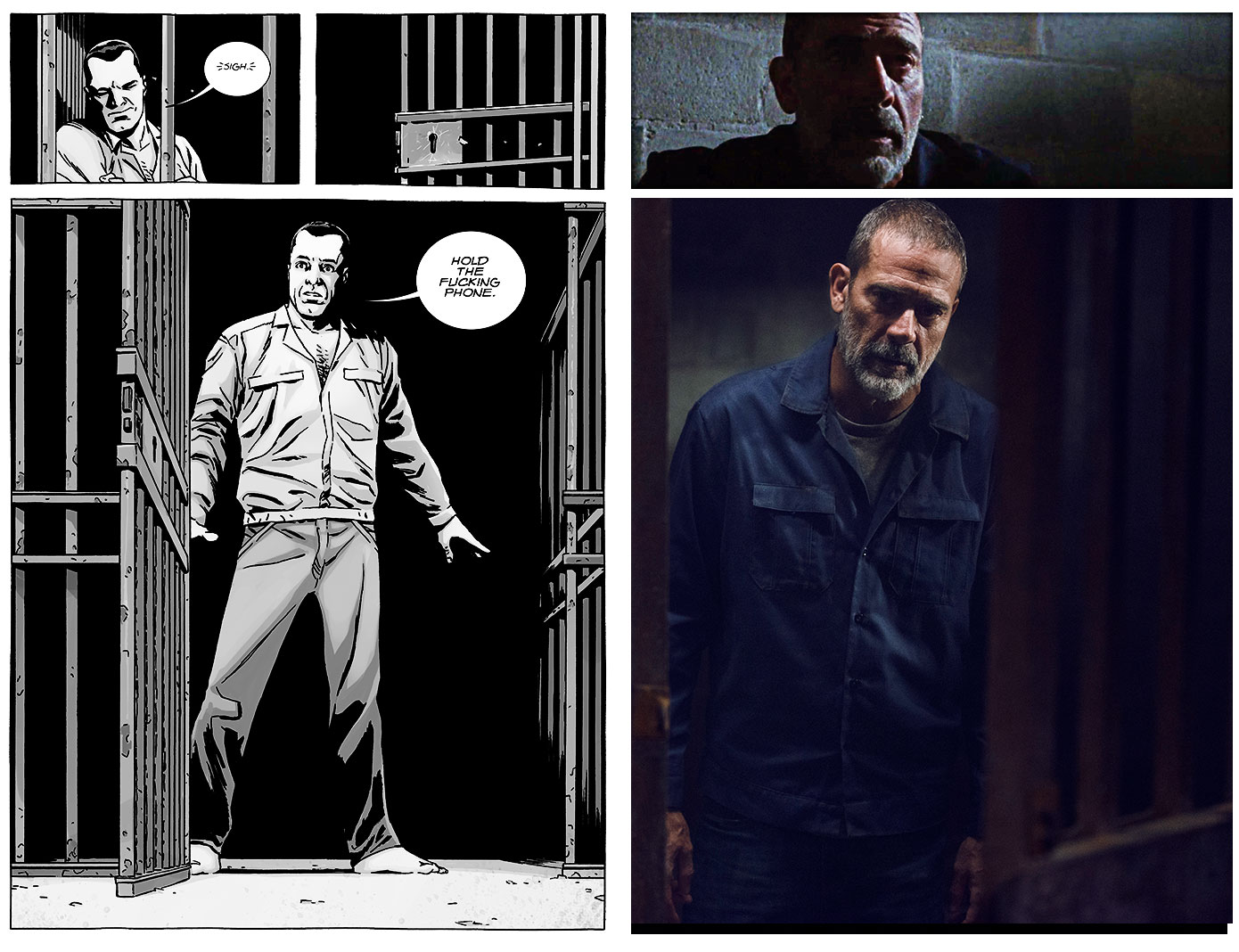 So how did this go down in the comics? Well, it's complicated. First, in Issue 140 Negan DOES find his cell unlocked, but he decides to stay to prove to Rick he can be trusted. Buuut, his plan backfires and only pisses Rick off. His adventure in the episode actually mirrors his adventure MUCH later on in Issue 174. Following the Whisperer War, Negan is exiled from Alexandria and, like the show, also finds himself lonely in the wilderness. Maggie tracks him down to kill him but finds he's worse than dead so she spares him. (Sound familiar? That scene already happened in Episode 905! Remixes are fun). Long story short, that's the last we've seen from Negan in the comics…for now.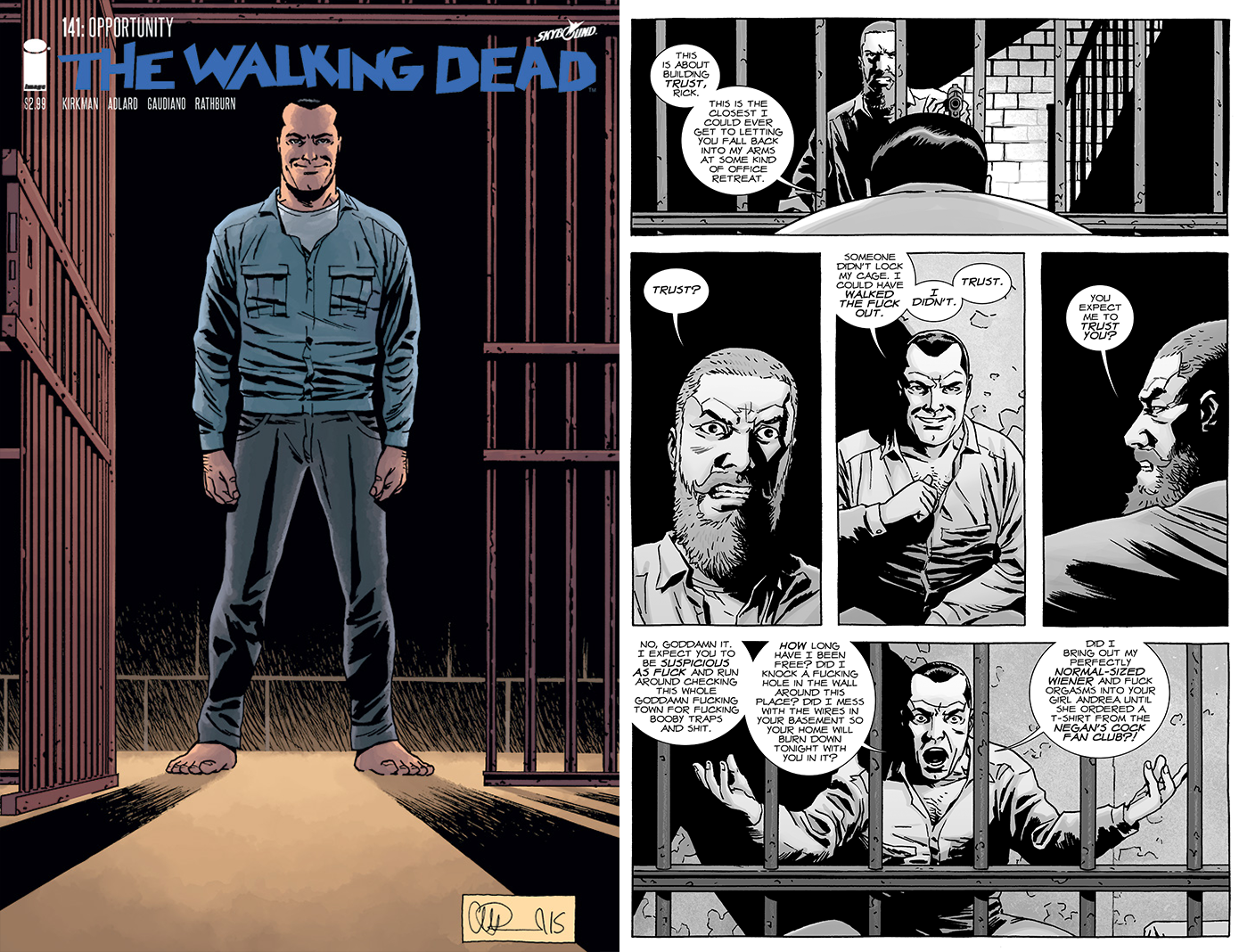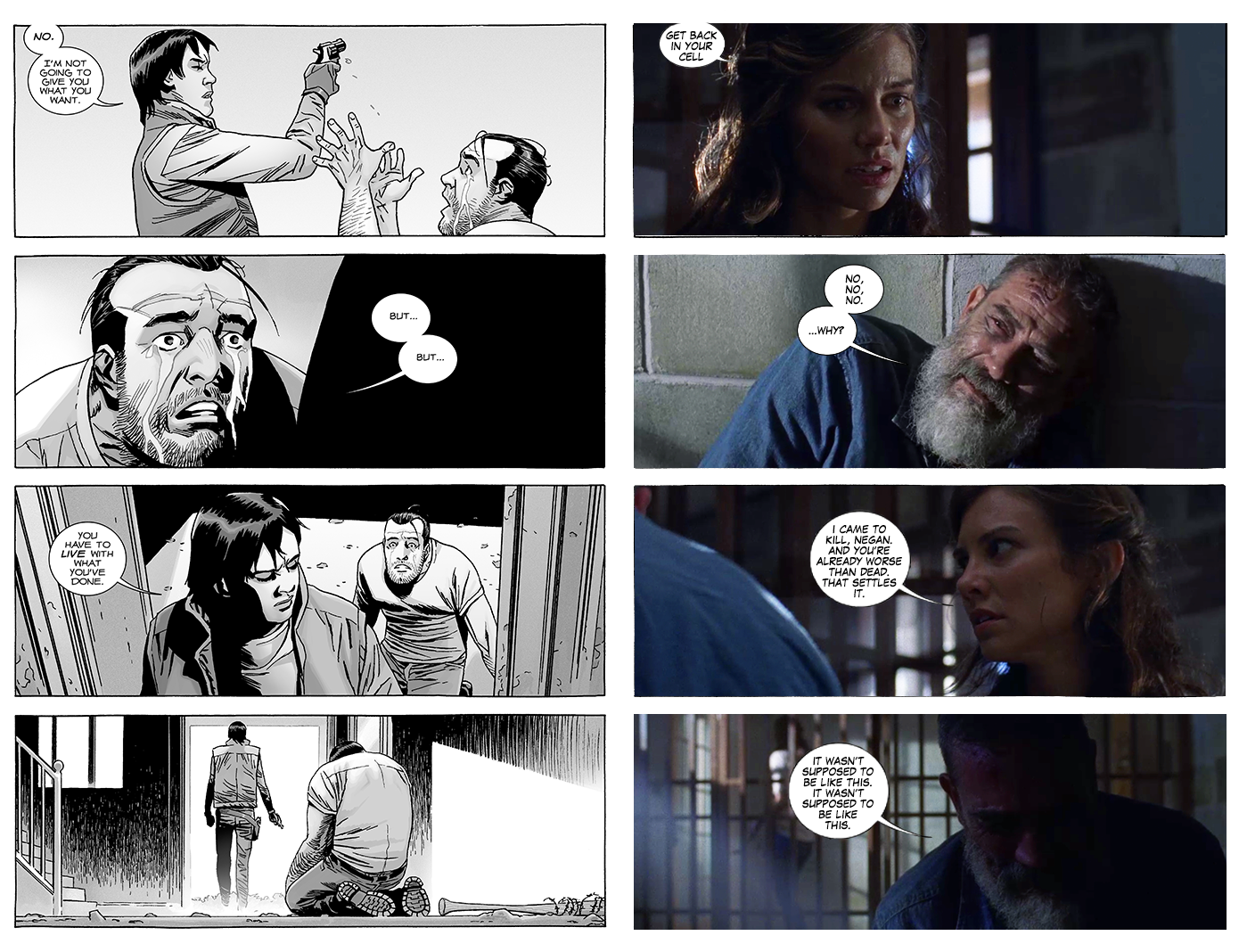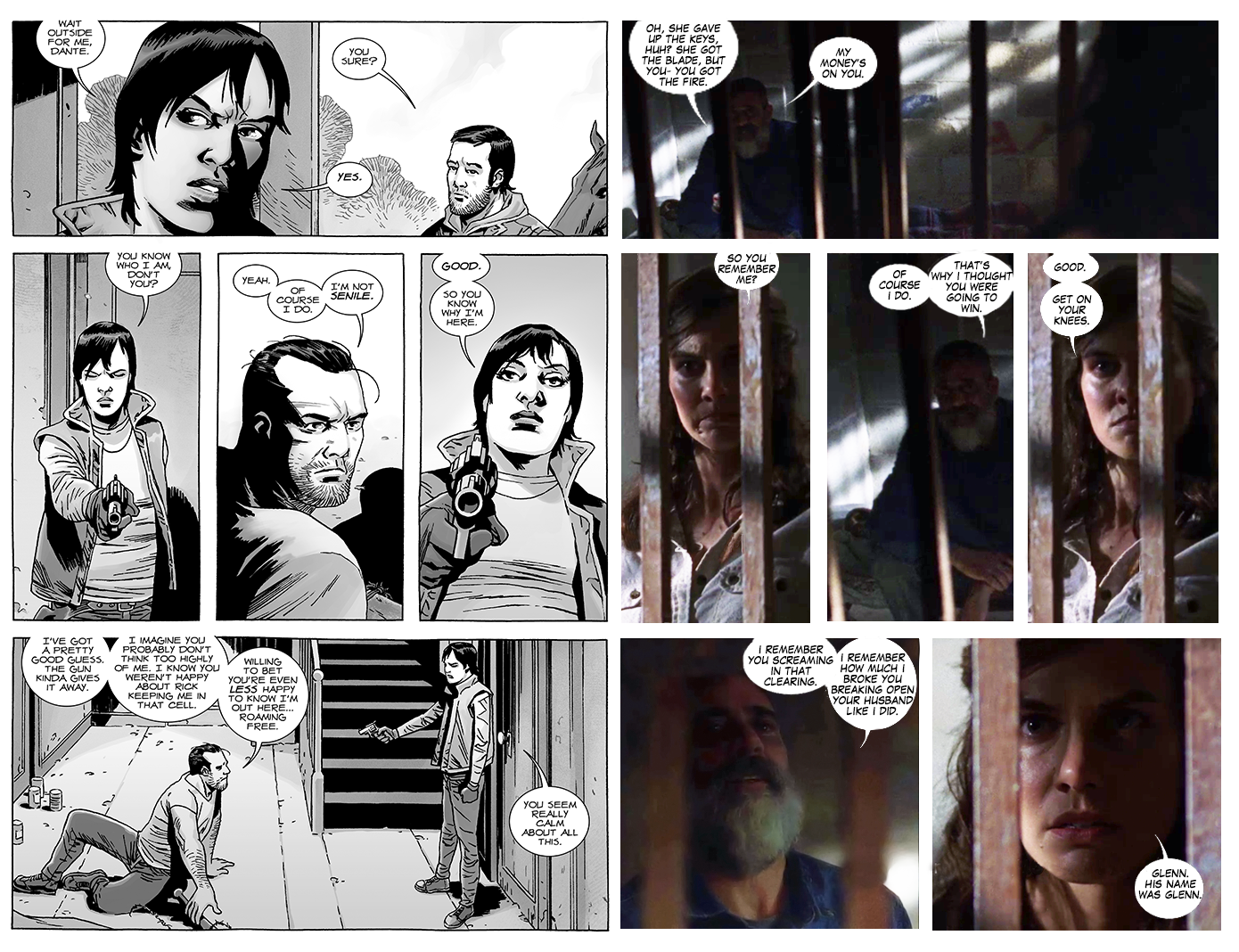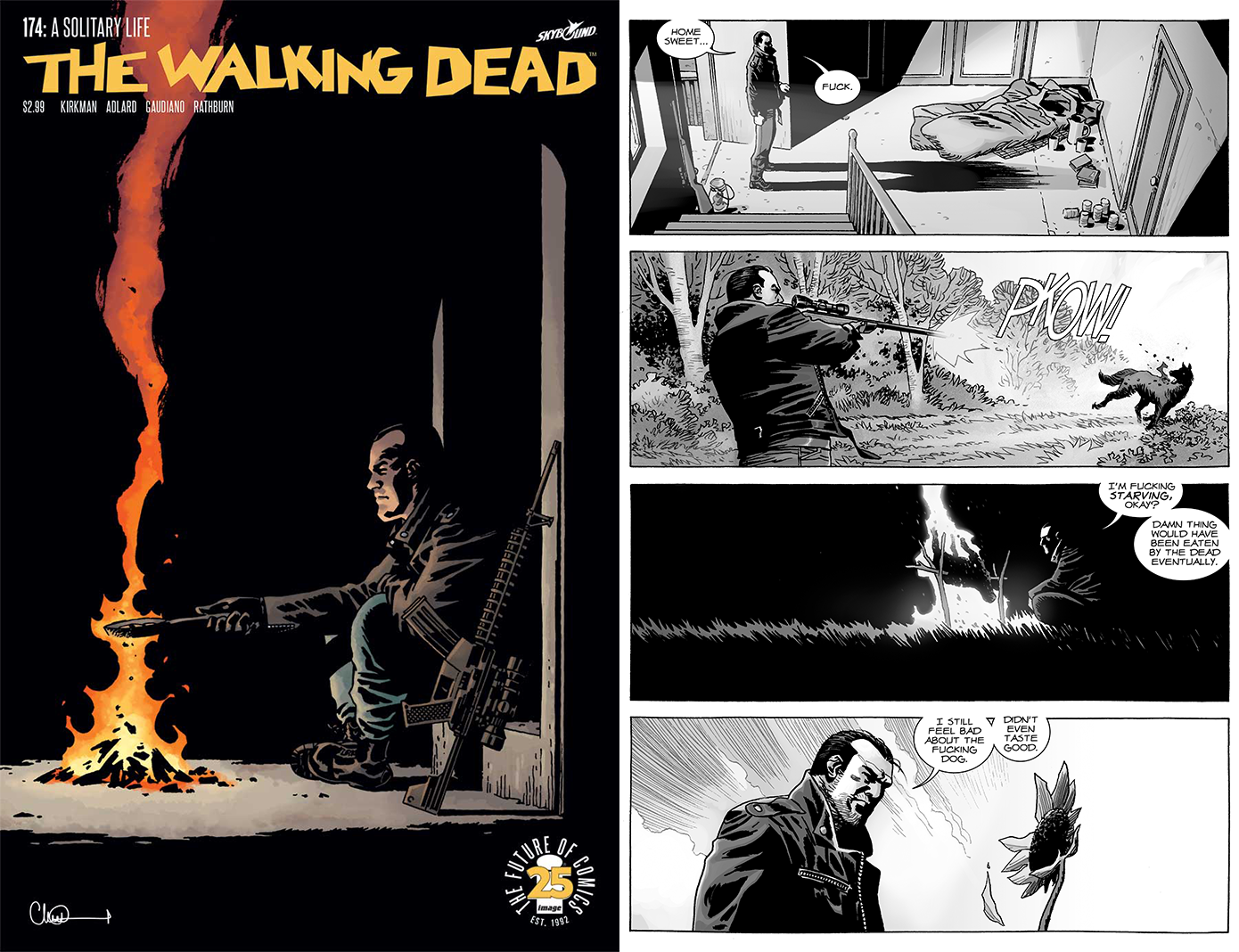 ---
Rosita's Pregnancy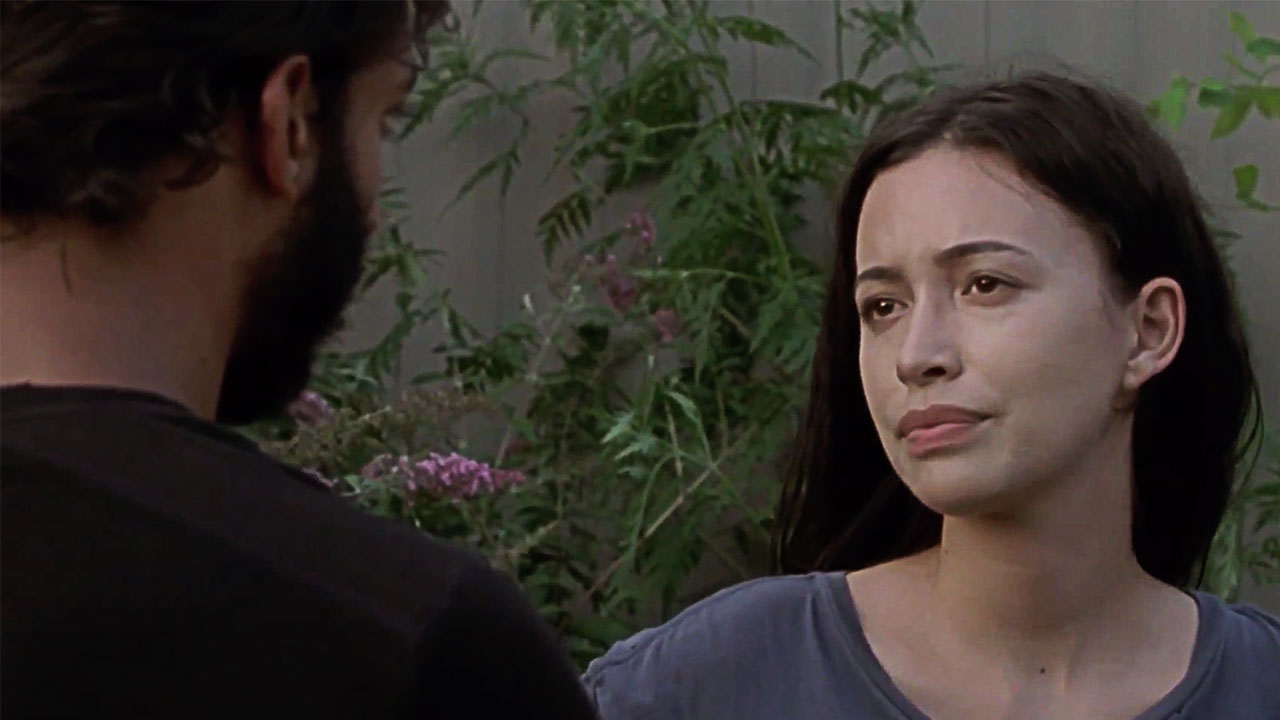 In this week's episode, we find out Rosita's pregnant with Siddiq's child even though she's dating Father Gabriel (awkward). In Issue 141 of the comics, Rosita reveals she's pregnant with Eugene's baby – but we later find out it's actually Siddiq's baby, even though she's dating Eugene (also awkward). Even though Rosita isn't involved with Gabe in the comics, the show still manages to give us that weird love triangle fans have been longing for. One last note – like the comics we did see Eugene try to profess his love to Rosita, but for now she's with Gabe.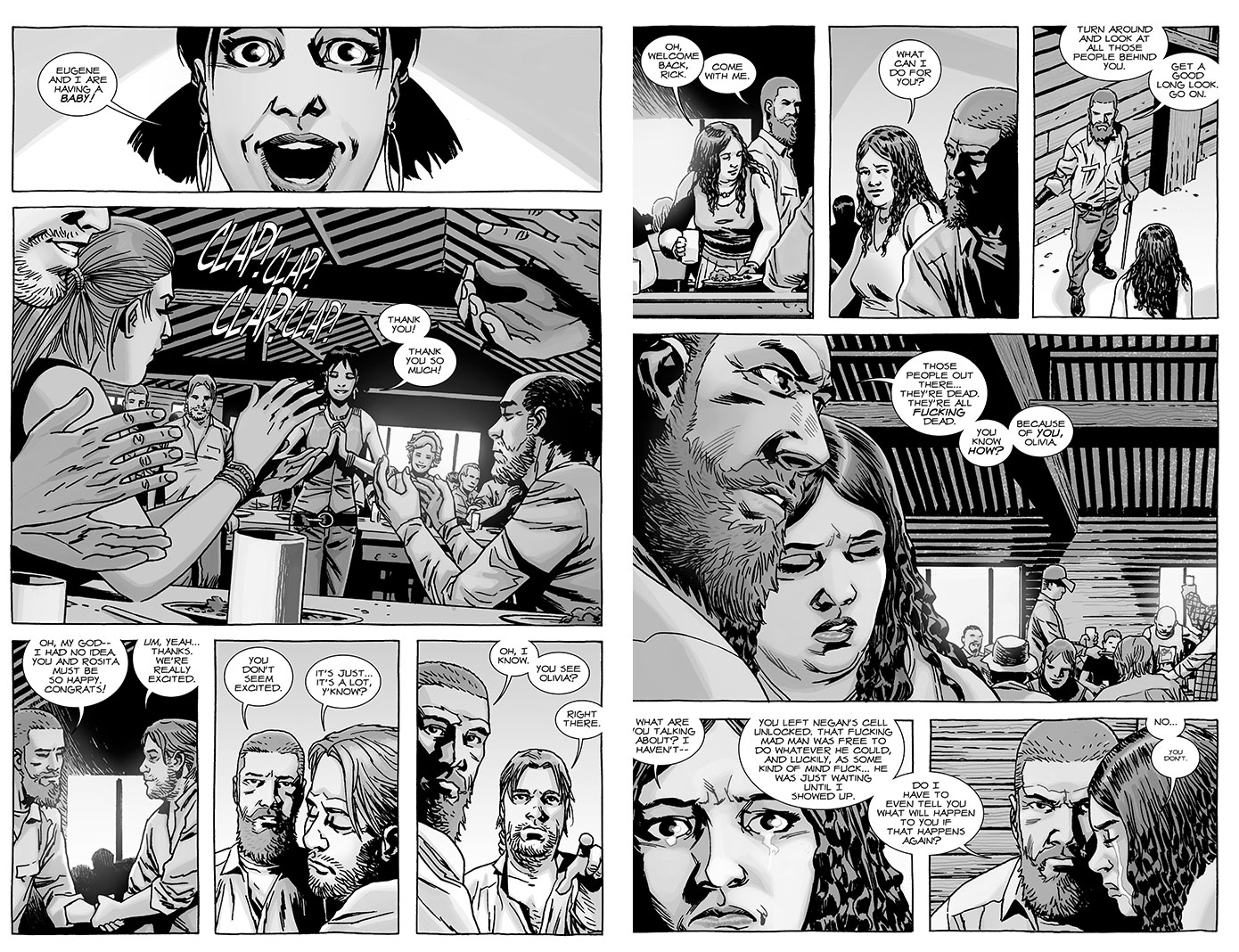 ---
Lydia's Imprisonment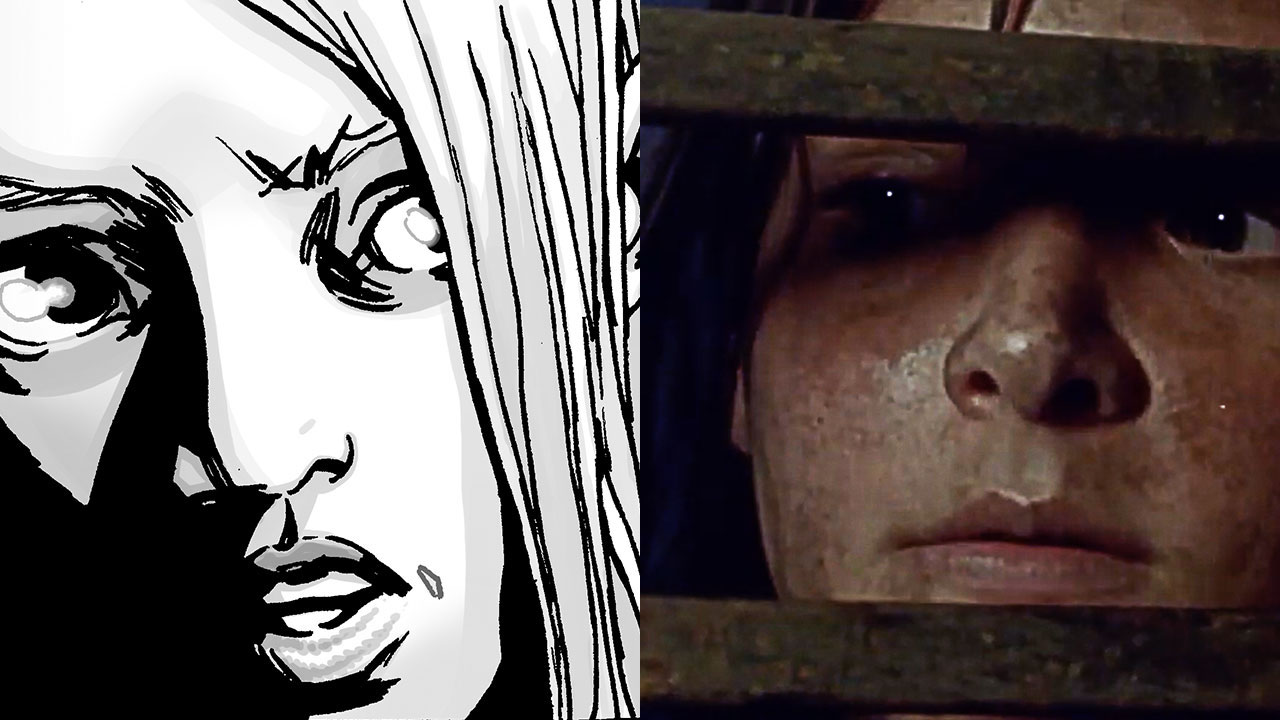 In the show, the group finally returns to Hilltop to bury Jesus and lock up Lydia. Daryl gets angry during Jesus' funeral, rushes into Lydia's cell, and threatens her life. Te interrogation goes nowhere so Henry slams her against the wall until Henry begs him to stop. Daryl reminds him of his place and storms out. Henry then asks if she's OK and the two introduce themselves.
This is pretty close to what happened in the comics, only with different characters. In Issue 135, it's Jesus who locks Lydia up and interrogates her. She doesn't say much so he leaves, leaving Carl, not Henry, to ask if she's OK. You see, Henry, aka new Carl, is also a show-exclusive character who takes most of comic Carl's storylines. It's fine, remixes are fun.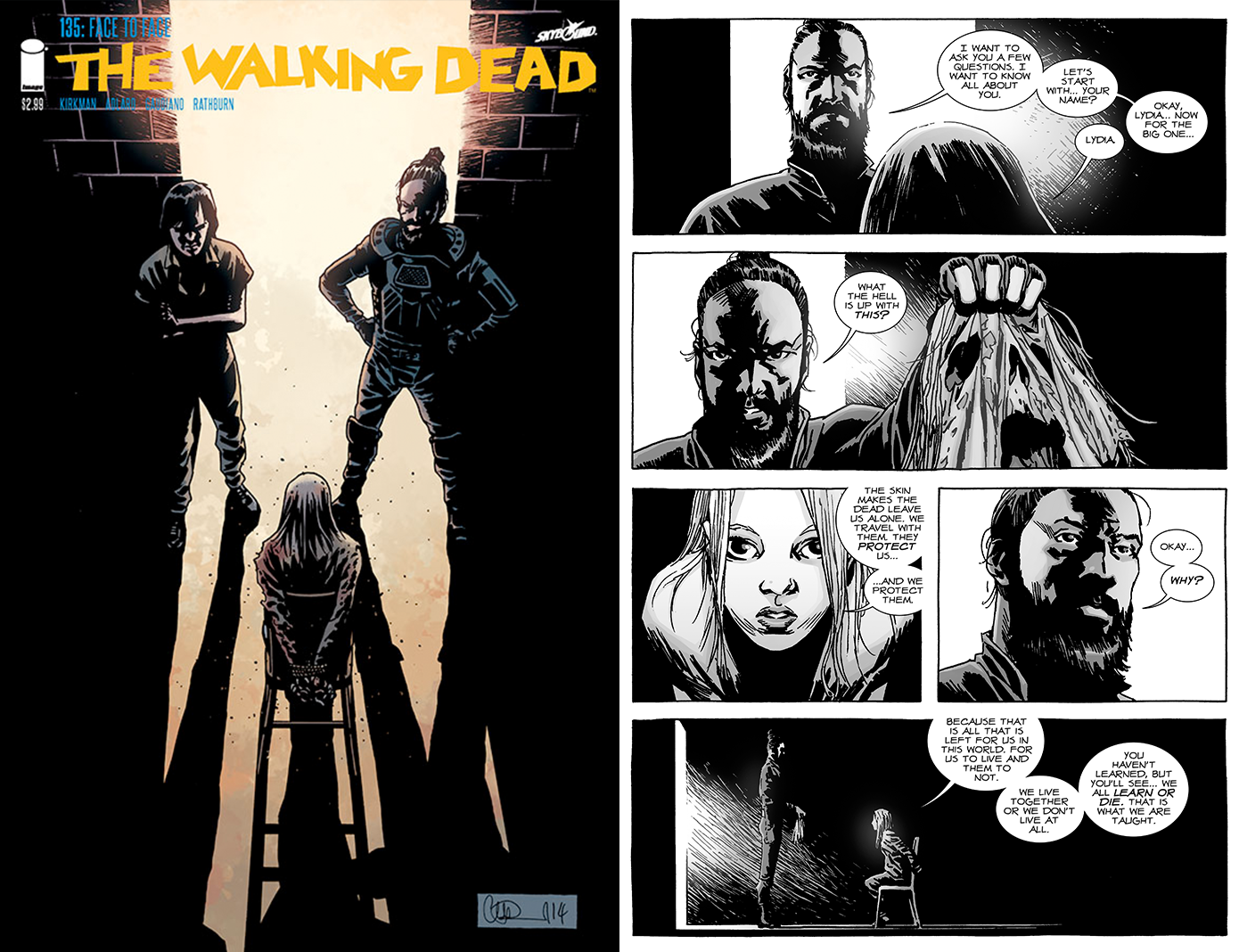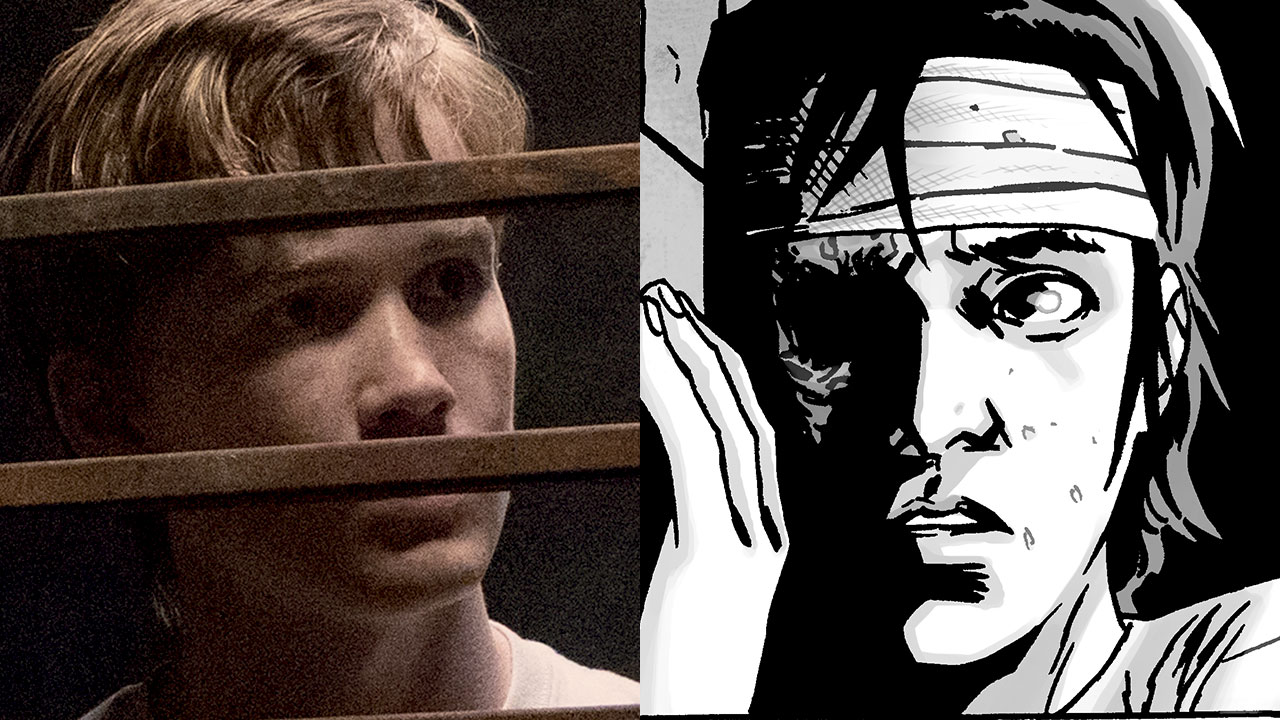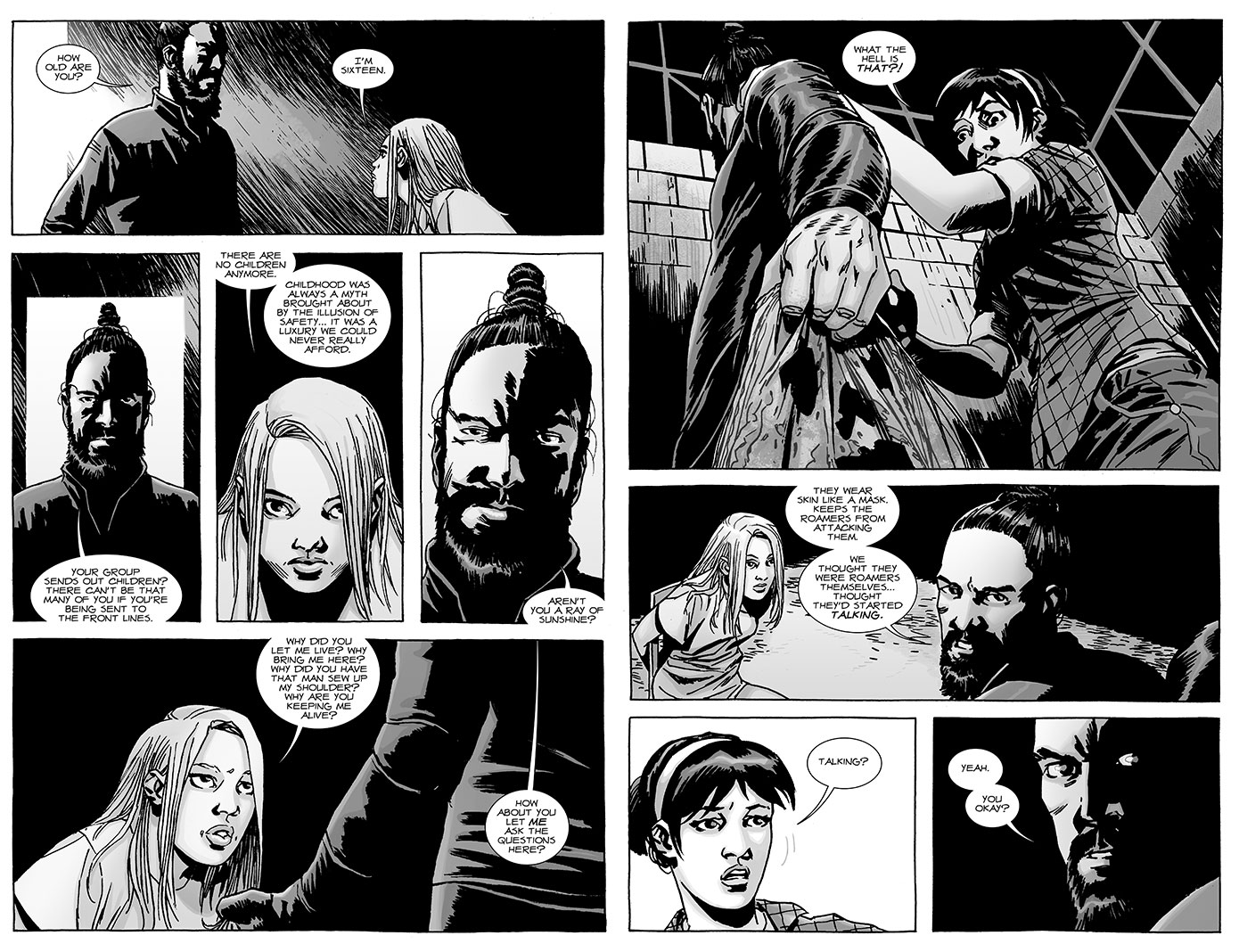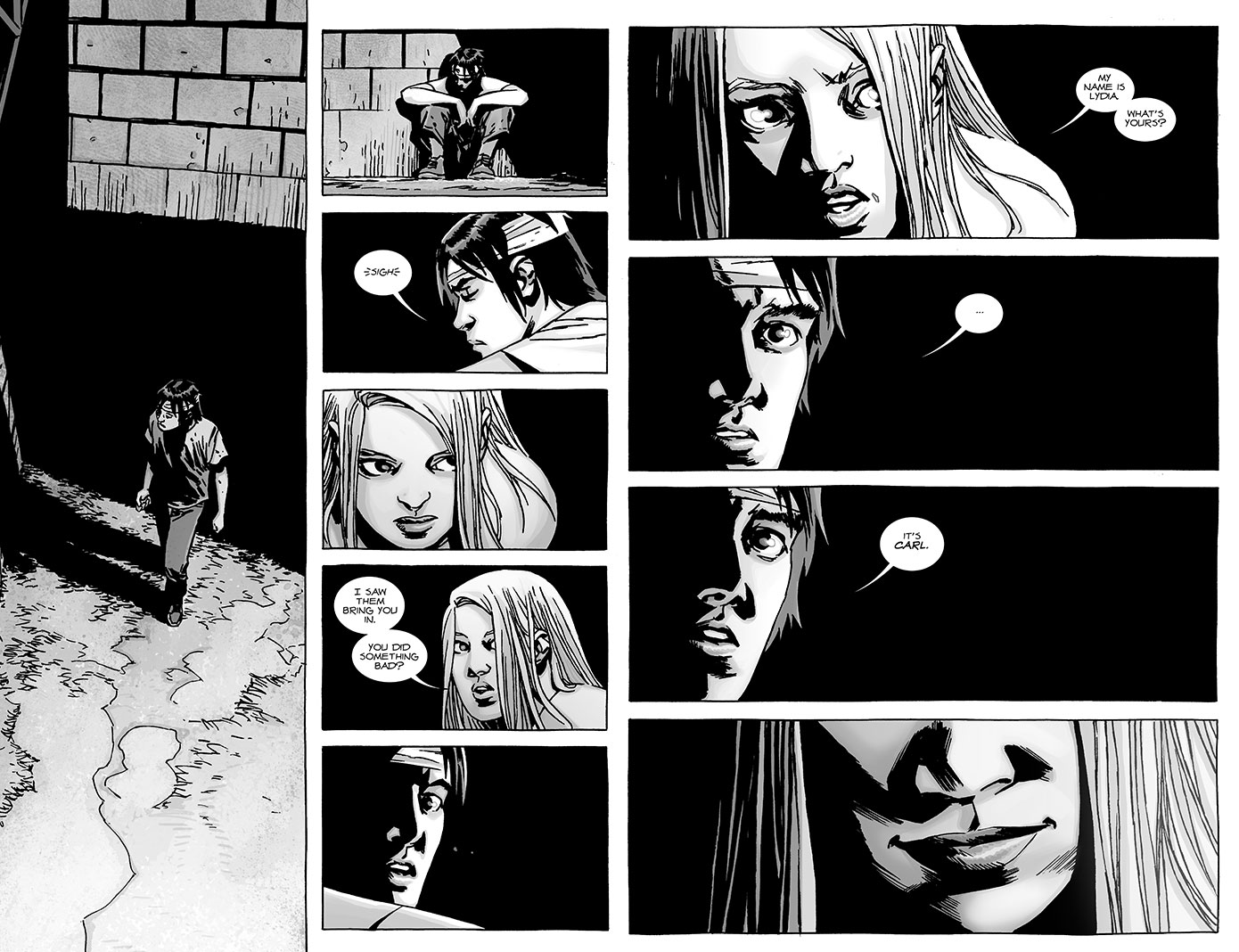 ---
Alpha's Introduction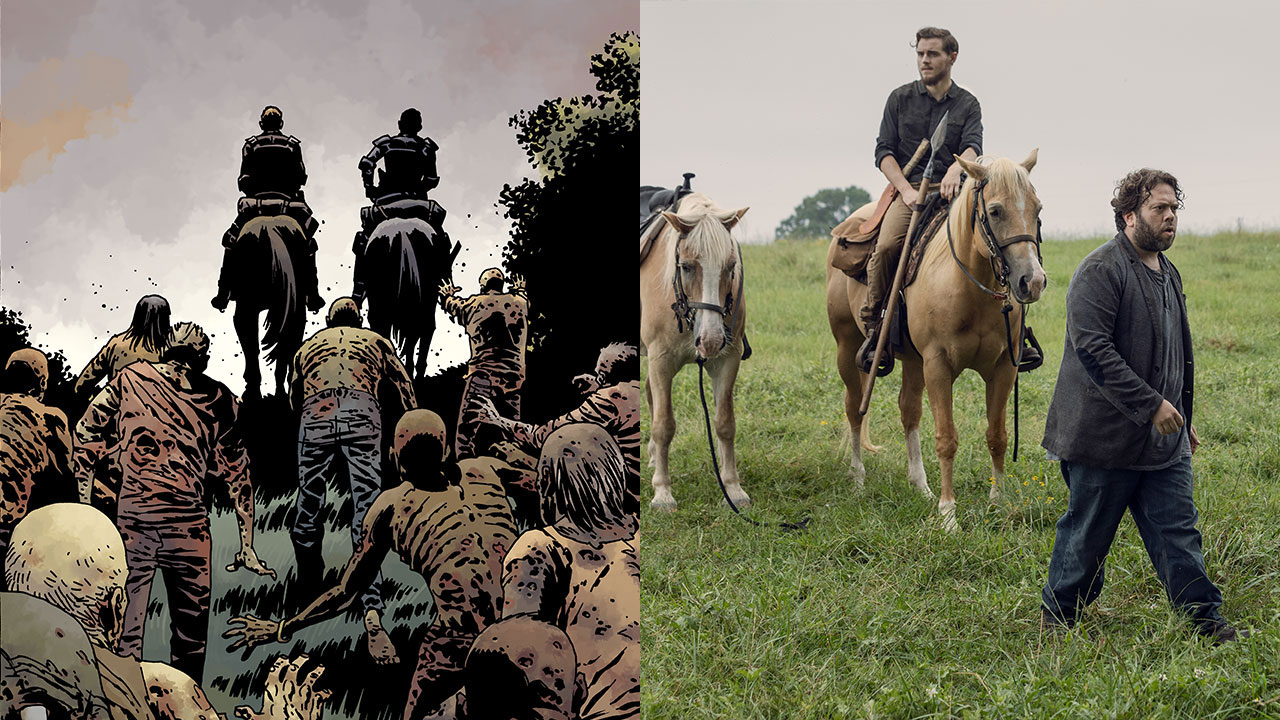 Luke and Alden, who left to search for Eugene and the gang, get ambushed by a female Whisperer pointing a sawed-off shotgun at them. She tells them "Trail ends here." In the comics, the same thing happens, but it's to Dante and Ken, and the woman says, "Don't move." As most of us know, the mysterious woman is Alpha, the leader of the Whisperers. Don't worry, we'll learn MUCH more about her next episode.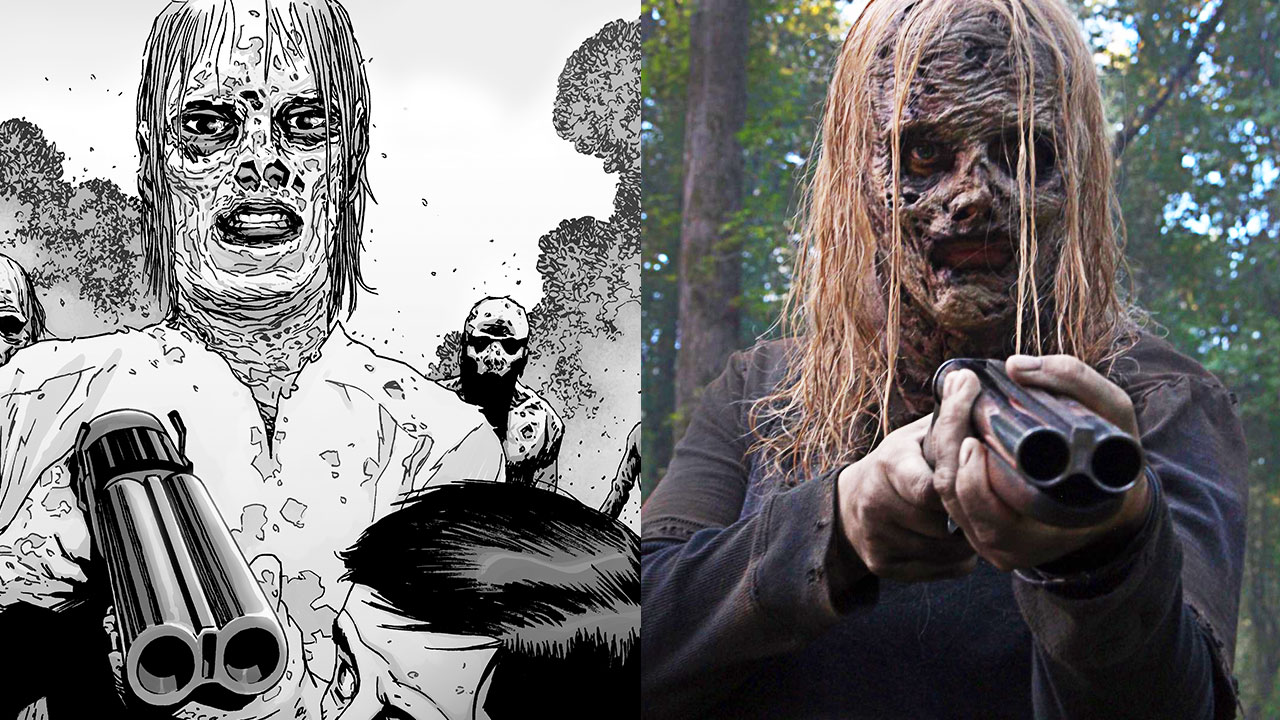 ---
What Didn't Happen In The Comics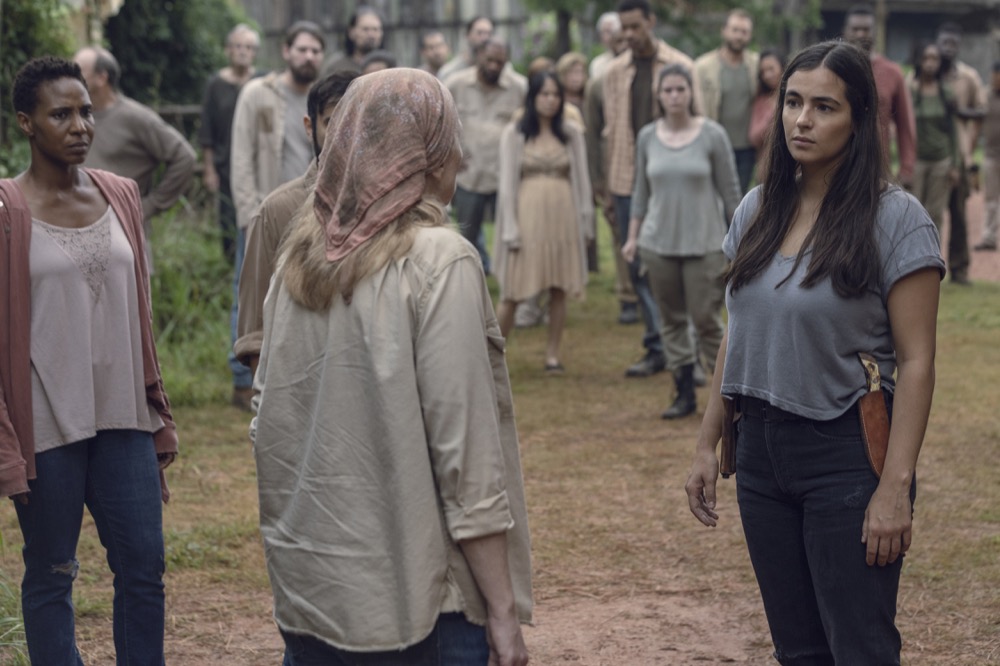 As we mentioned – in the comics, Jesus, Carl, and Sophia are still alive, Rick and Maggie are still around, Carol died a while ago, and Tara, Daryl, Henry, and Alden are exclusive to the show. Also, since Jesus is around they don't hold a funeral for him. Other than that, the show mostly mirrored the comics pretty closely.
---
And that wraps up our comic/show comparisons for The Walking Dead Season 9 Episode 9! What were your favorite comic moments? Make sure to watch our Panel to Screen to watch this in video form and catch us next week for another comic vs. show!