"Who Are You Now"
Michonne narrates about the future as we see an older-looking Daryl spear fish in a pond. A longer-haired Carol wakes up in the Kingdom next to Ezekiel while Michonne finds a toy sheriff figure that reminds her of Rick. Rosita, Eugene, Laura, and Aaron find Judith in the woods along with Magna's group. Wanting to take them in, Judith declares she won't go return to Alexandria until they accept them. Rosita and the others reluctantly agree.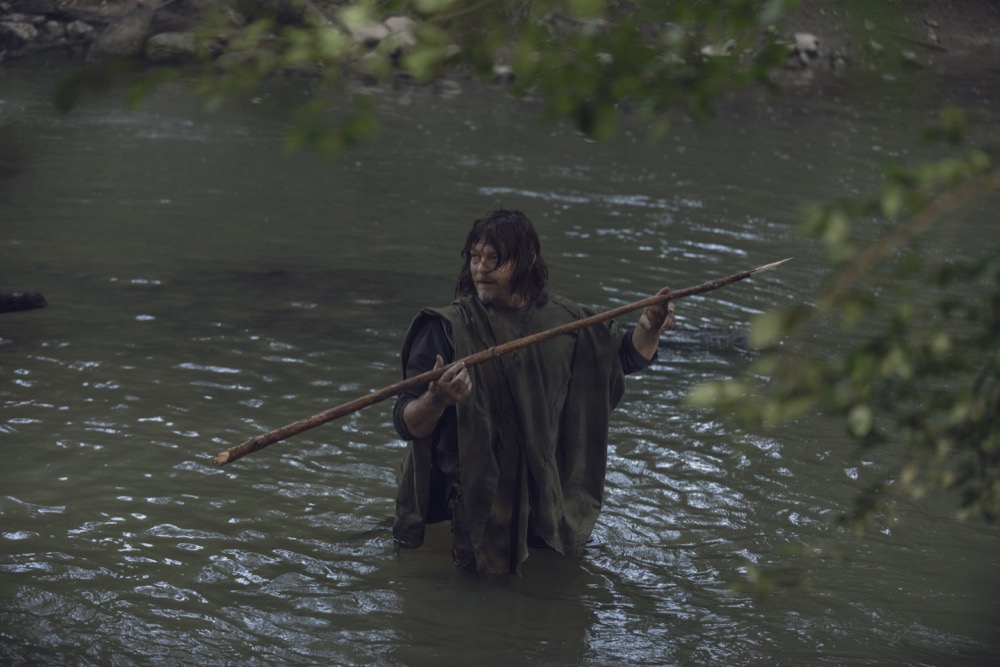 At the Kingdom Carol and Jerry find Henry, who's now a teenager, trying to fix the pipes. Ezekiel arrives and Henry sasses him about their deteriorating community, but Ezekiel warns him to watch his tone. Shortly after, Carol reminds Ezekiel that Henry isn't wrong and he could benefit by moving to Hilltop.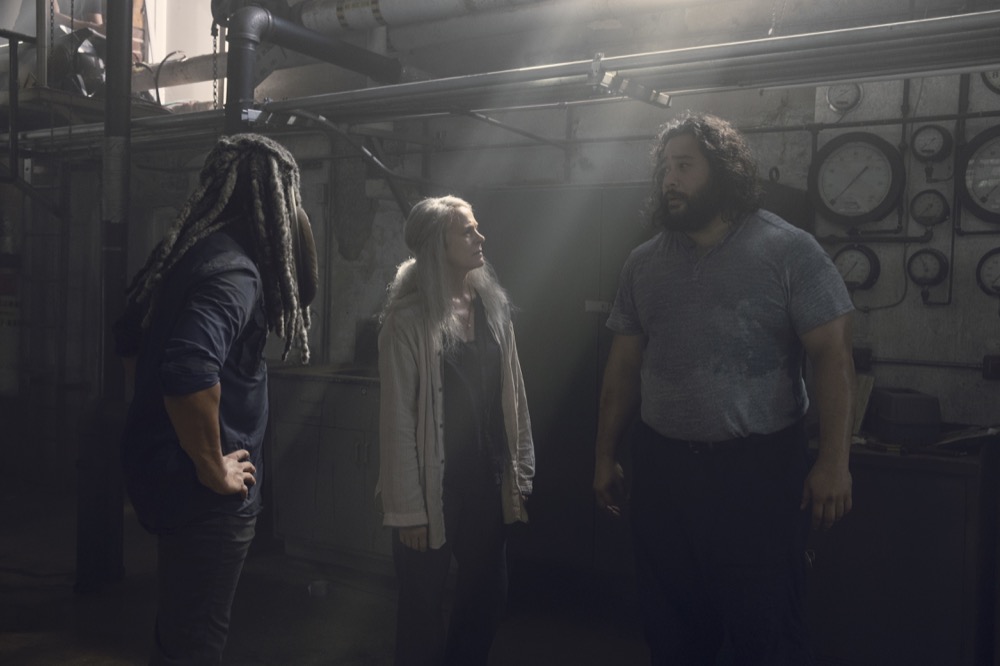 Magna's group makes it to Alexandria and Judith assures them they'll be safe. They get escorted inside, where Gracie, who's also much older, runs over to Aaron calling him daddy. Rosita updates Siddiq on Yumiko's condition and he escorts her to the infirmary. Magna tries to tag along but is stopped by one of the Alexandrians.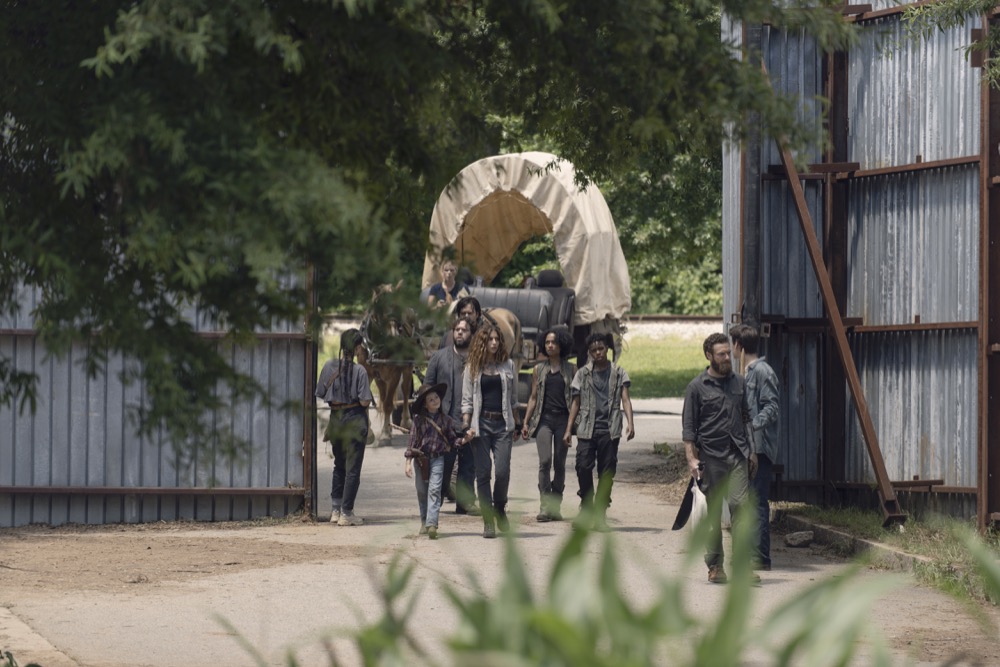 Michonne arrives on horseback and doesn't look pleased to see the new arrivals. She frisks Magna and asks Eugene why they're here. Aaron claims it was his call but Michonne reminds him it's not his call to make. "I decided," Judith tells her. Michonne scolds her but Aaron says they're here now and they should decide their fate together. Father Gabriel suggests they vote tomorrow and Michonne agrees, instructing her people to put them in holding. Her sheriff figurine falls out of her pocket and Judith picks it up. Later, Ezekiel bids farewell to Henry as he and Carol prepare to trek to Hilltop. Henry assures him they'll see each other before the fair.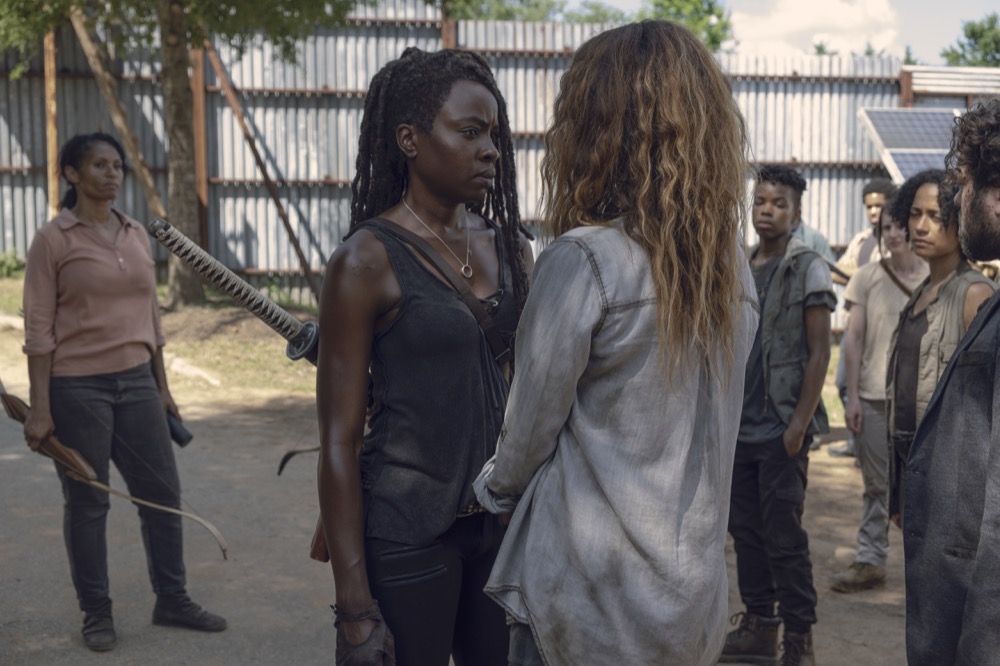 The next day, Magna's group stands before Gabriel, Michonne, and the others for questioning. They ask who their leader is and Magna claims they're a team; Luke explains their group used to be bigger. Gabriel asks about their former professions: Luke was a music teacher, Magna was a truck stop waitress, Connie was a journalist, and Kelly was a high school student.
Luke says they should trust them, but Michonne isn't done with questions. She stands up and asks Magna to see her left hand, which has a prison tattoo. Michonne then calls her out for the hidden knife on her belt, which she makes her place on the table. Michonne storms out, saying she'll second any of their motions.
Father Gabriel tests out the radio he found in the woods with Dr. Carson and tells Rosita he thinks there could still be more survivors out there they could help. He suggests they set up a remote amplifier to boost the signal and find new communities, and Rosita instructs him to stay in town while she and Eugene set it up. Rosita then kisses Gabe and he tells her she's amazing. WHAT!
Judith overhears Michonne pretending to talk to Rick – but Michonne catches her and tells her to do her homework. On the road, Carol tells Henry they have to take a detour before going to Hilltop. Suddenly, they hear a woman scream and Henry runs over to help but finds former Saviors with a gun pointed at him. Carol runs over with a bow and arrow as Jed walks up and smiles.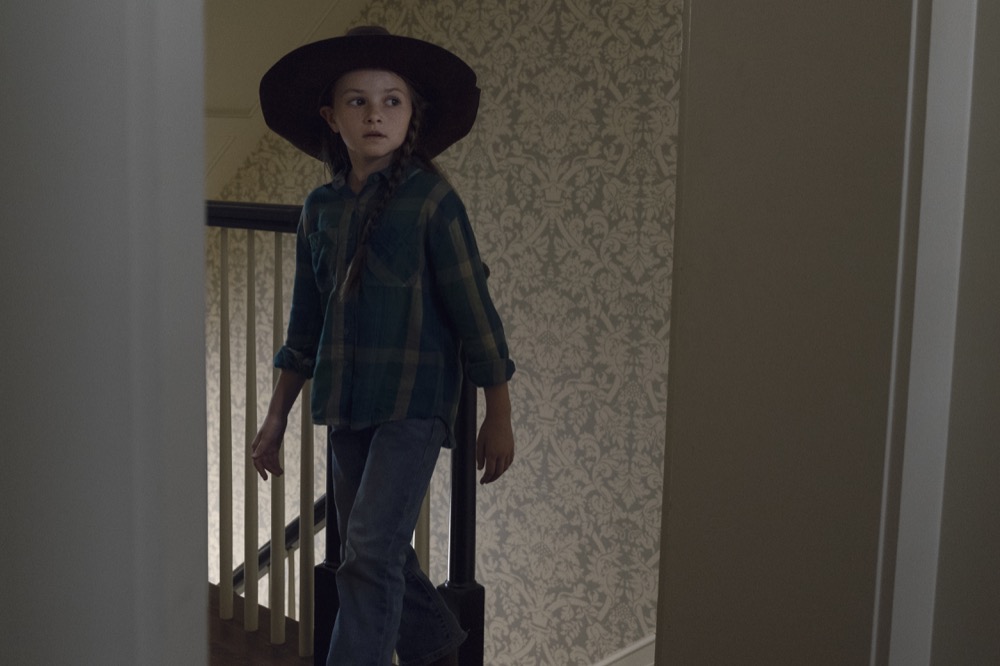 On the way to set up the amplifier Eugene questions Rosita about her fling with Gabe and reminds her some men prefer facts over fairytales. Back in Alexandria, Siddiq updates Magna's group on Yumiko's condition. Elsewhere, Jed tells Carol and Henry that since the Sanctuary "went bust" they've had to get more desperate. He tells her he's going to let them off since she saved him back in the day, but he's taking all their stuff, including her ring. This angers Henry, who kicks up his stick and knocks Jed down. He throws Henry to the ground and Carol jumps in and gives him her ring. He thanks her and leaves with his people.
Outside of Negan's cell, Judith reads off a math problem to him about two planes on a collision course. He stops her and asks if she's ever seen a plane and she says no, so Negan suggests she worry about problems that apply to the real world. Judith then tells him that Michonne wants to make Magna's group leave but she doesn't want them to. Negan uses an anecdote from his childhood about a seemingly nice stray dog that turned violent – meaning just because someone looks nice doesn't mean they are. Judith brushes it off and says the numbers don't care if someone's good or bad on the inside.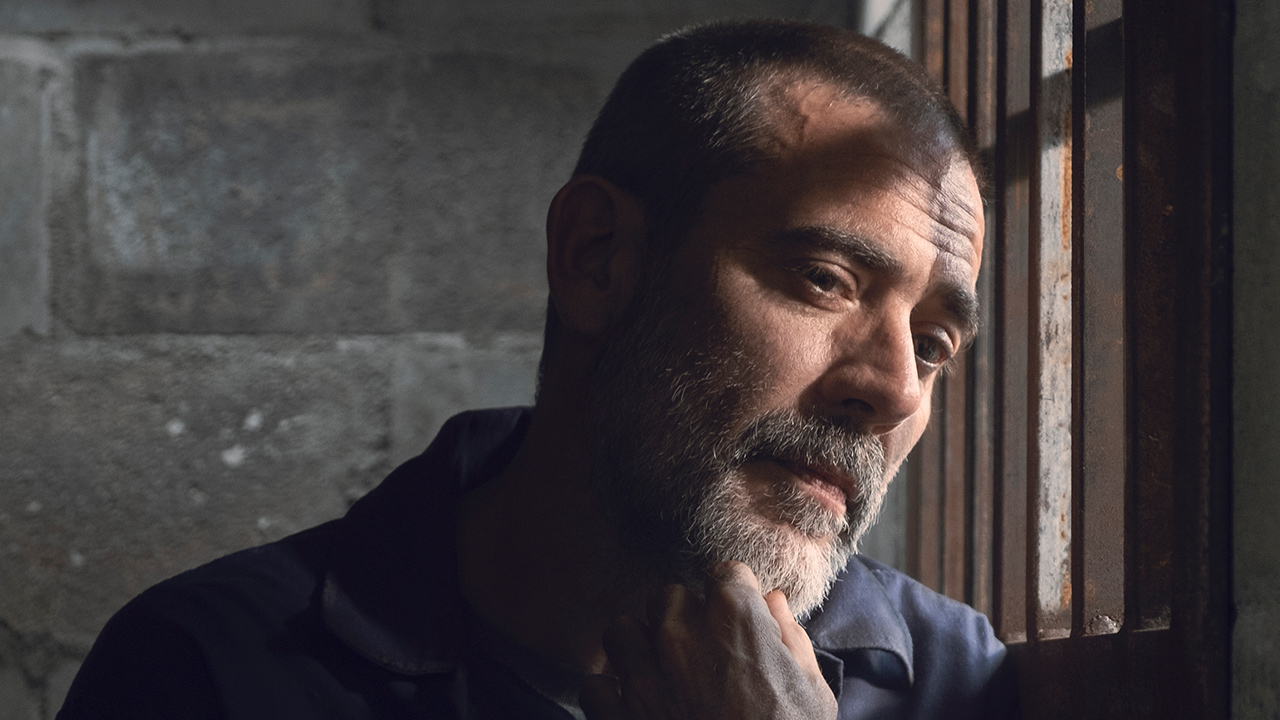 Eugene places the amplifier on the top of a water tower and begins to climb down before seeing a walker herd head toward them. Rosita screams for him to climb down as his pack falls and the horses get spooked. Part of the ladder falls so Eugene jumps down, injuring his knee. Rosita runs over with a makeshift crutch and the two run off.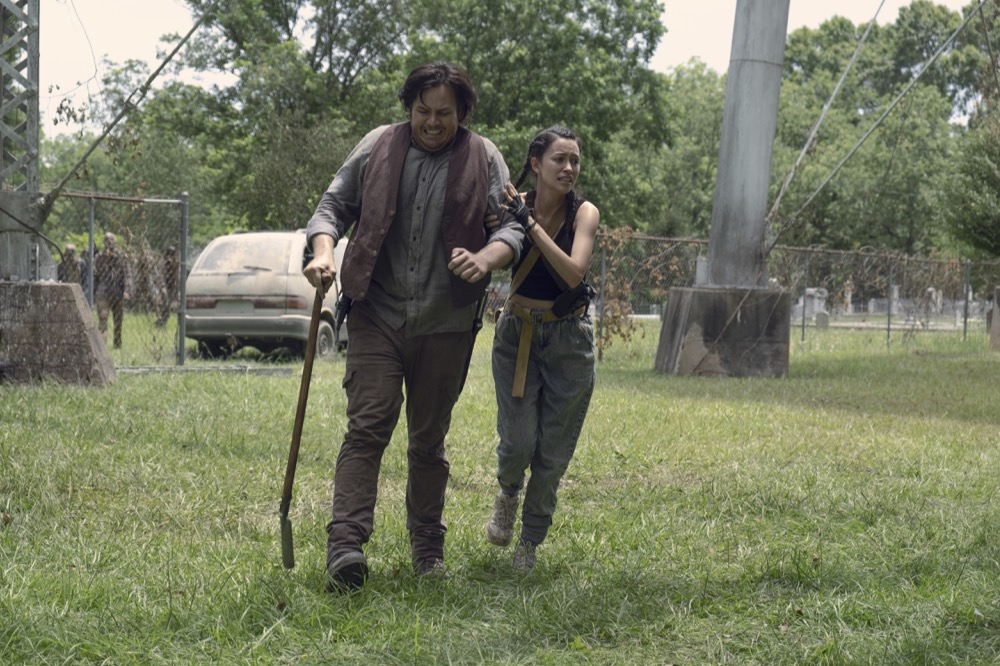 That night, Luke asks Magna to hand over her necklace (which also doubles as a knife) but she's reluctant. Magna says they should fight their way through Alexandria to take their supplies before heading out, but Connie tells her to leave Michonne and Judith out of it. Luke says they save the fighting for people who deserve it, and Magna finally surrenders the necklace. Elsewhere, Carol finds the Saviors and lights a match, reminding them they hurt her son. She drops the match, igniting and killing all the Saviors she poured gasoline on.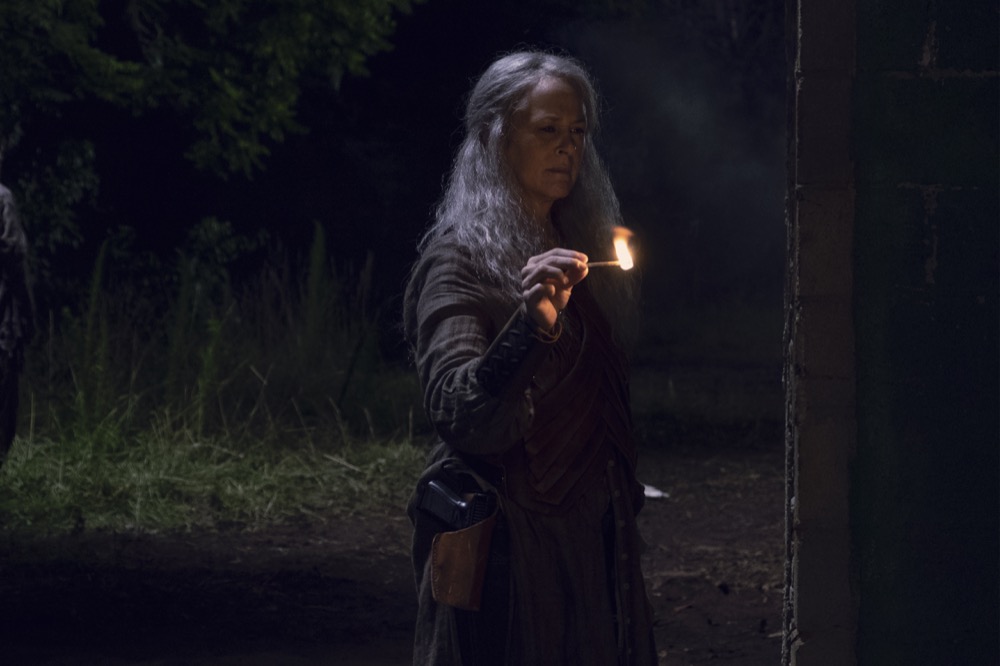 Magna sneaks around Michonne's house with another knife at the ready. She opens the door slightly but sees Michonne hug a toddler, so she leaves. The next morning, Magna hands Michonne her knife and tells her she was right about her. Michonne tells her they all do things and then turns around to find Judith on the staircase with her father's gun. She says dad would have wanted her to do what she did, and Michonne agrees. Michonne tells her she'll understand one day why she's making Magna's group leave. Judith reveals she knows Michonne still talks to Rick and Carl and she's beginning to forget their voices. Then, Michonne and Rick's SON runs up to her and asks for food. WHAT!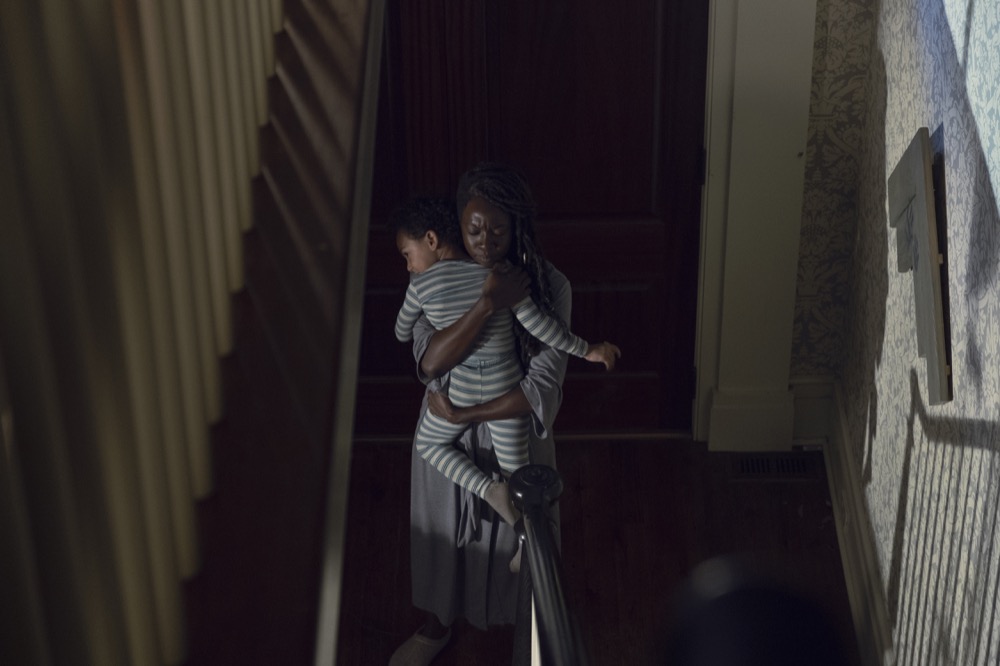 Eugene slows down as he and Rosita keep running from the walkers. He suggests he stay behind to distract them and reveals he has something to tell her. She tells him not to make it weird and forces him to keep going. Elsewhere, Carol and Henry find Daryl in the woods. Michonne smells one of Rick's old jackets and puts it on. Outside, Magna's group prepares to leave by thanking everyone for their hospitality. Michonne rides up and says she's going to instead escort them to Hilltop with Siddiq. Back in the woods Rosita and Eugene slide down a ditch and cover themselves in mud as the walkers get closer. They stay still and hear the so-called walkers ask, "Where are they? They must be close. Don't let them get away."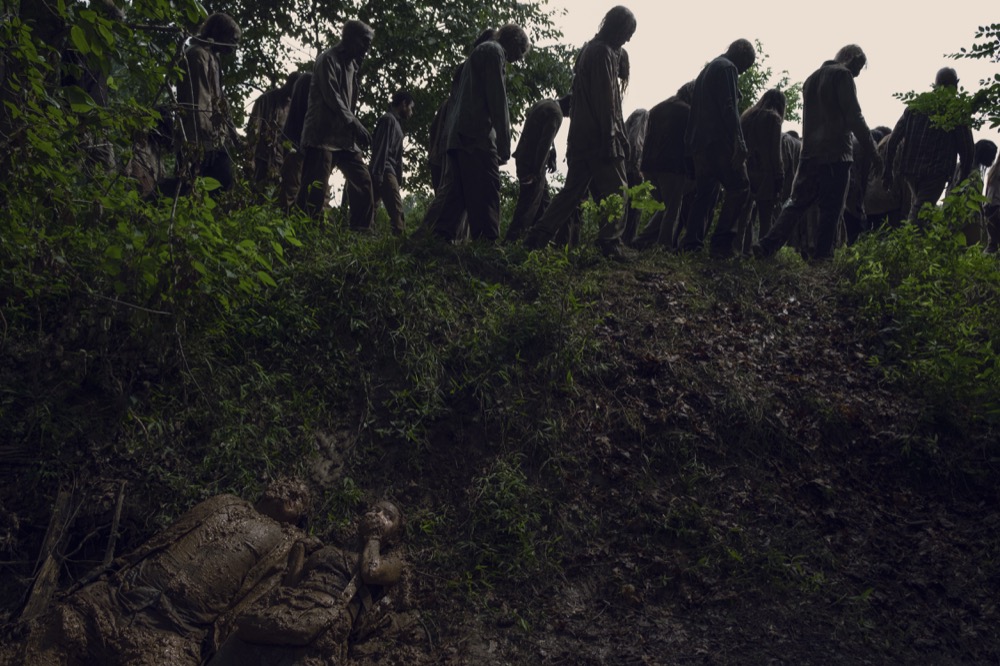 ---
Woah! The Whisperers are finally here! What did YOU think of this week's episode? How are you liking the post-time jump changes? Let us know in the comments!