This week's Walking Dead gave us the most comic-infused storyline of the whole season. Between Magna's group, the radio, and the Whisperers we were treated to some long-awaited moments from the source material. Let's break it all down:
---
The Time Jump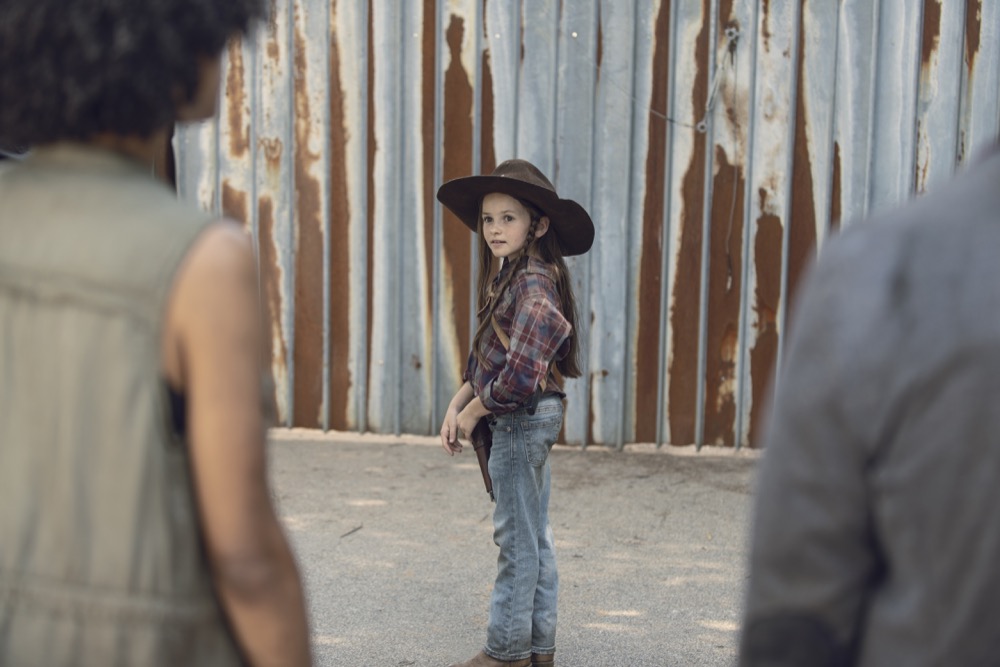 Let's start it off with a quick one. Yes, the comic also had a time jump, but it accounted for three years and immediately followed All Out War. The show, however, used two time jumps: a year-and-a-half one following the war and then a SIX YEAR time jump after Rick's departure. Rick never left in the comics, but the long time jumps in both mediums allowed for the environment to change and our characters to age. Speaking of aging characters…
---
New Carl
< Look, we know most of you will compare Henry to Carl because well, he's going to be involved in a lot of Carl's storylines. That's fine, show characters remixing the comics is a common thread in the show. So with that said, let's dive into Henry. SHOW: After living at The Kingdom his whole life Henry decides he wants to help out his home and learn blacksmithing skills at the Hilltop. He and Carol head venture off on a journey that leads them to what's left of the Saviors and eventually Daryl. COMICS: Carl also relocated to the Hilltop to become a blacksmith in the comics. He's about the same age as Henry in the show - 16 (ish). However, Carl came from Alexandria while Henry traveled from Kingdom. Also Carl traveled with Rick, and they never encountered a rogue group of Saviors on their trip (they also didn't find Daryl, because as you know he's exclusive to the show).
---
The Fair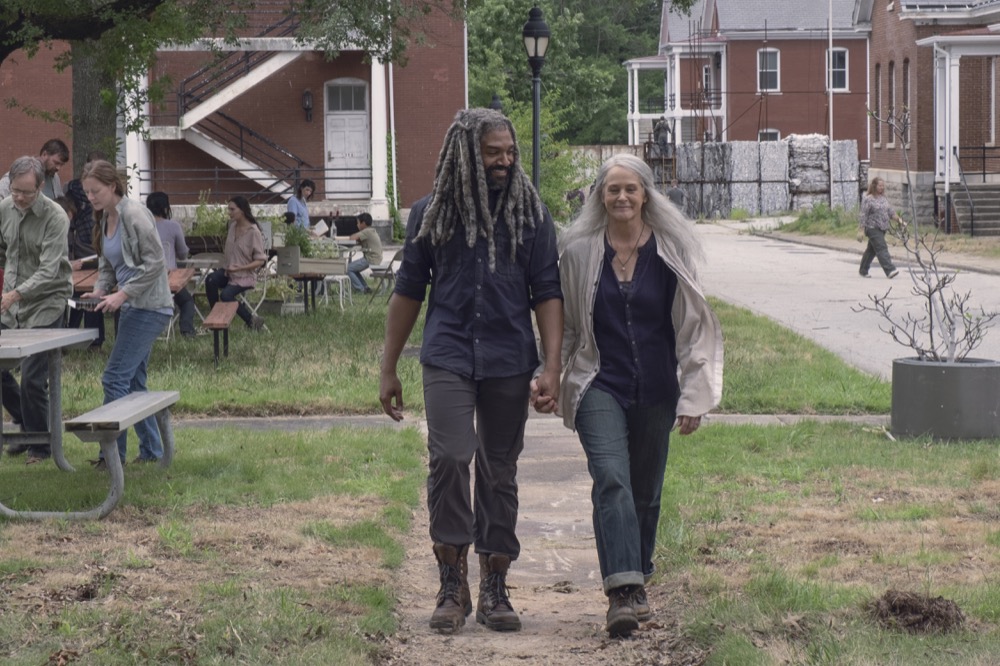 In a blink-and-you-missed-it moment we heard Ezekiel mention a community fair to Carol. May not have seemed like a big deal to the typical fan, but anyone who has read the books is probably freaking out. After the time jump in the comics, the communities joyfully throw a fair in Alexandria to celebrate their rebuilt civilizations. What could possibly go wrong? EVERYTHING! EVERYTHING WENT WRONG. We don't want to spoil too much, but let's say that while the fair happened several of our heroes have run-ins with Whisperer leader Alpha. MUCH more on that later, but for now know that The Fair is a big deal.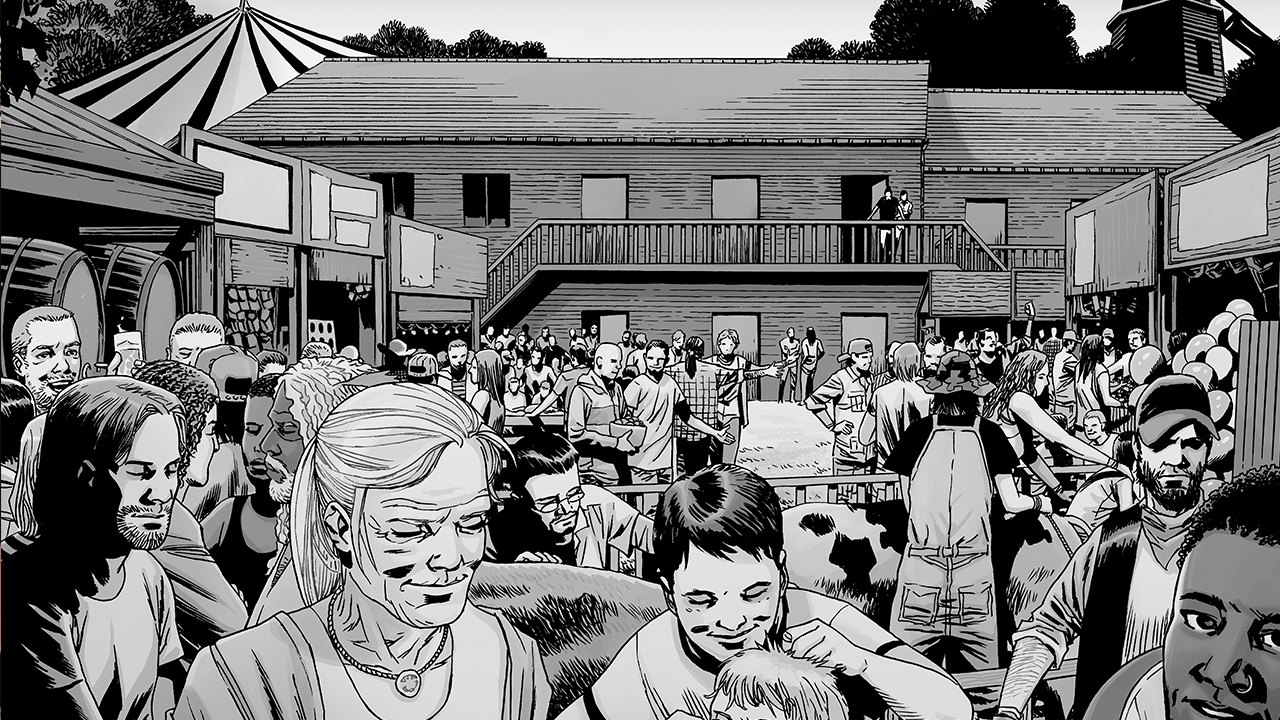 ---
Magna's Introduction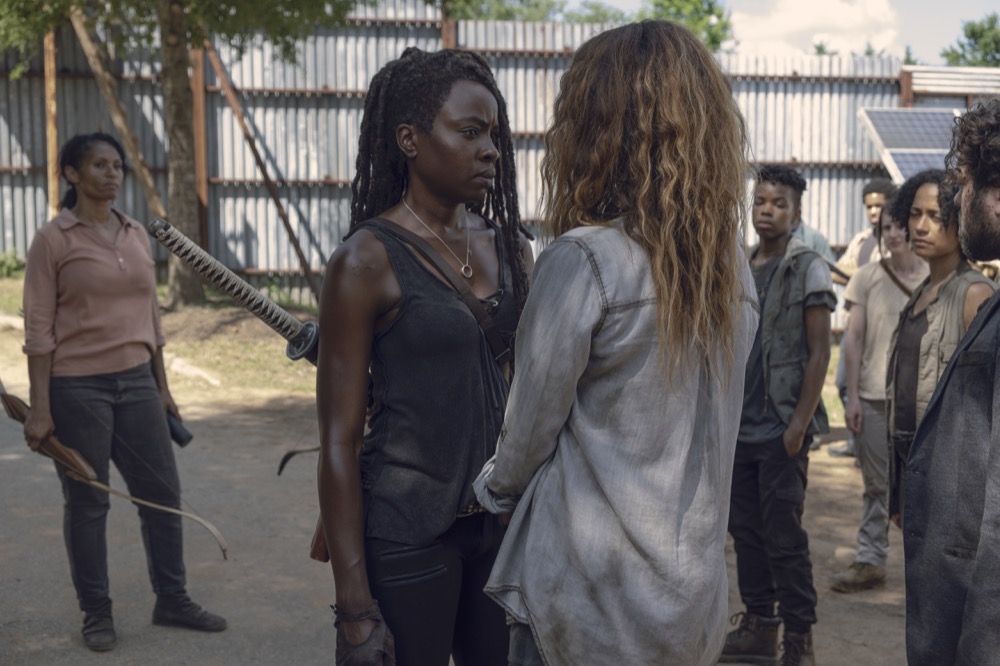 Last week time skipped ahead six years and we were introduced to a mysterious new survival group headed by a woman named Magna. A similar situation plays out in the comics, but the timelines differ.
SHOW: Magna and her crew get surrounded by walkers but are saved by Judith. Rosita, Eugene, and the others catch up and Judith convinces them to bring in her new friends. They're stripped of their weapons and taken to Alexandria to meet with the council, but are treated more like prisoners than guests. Michonne isn't happy to see them, but allows her people to interview them. More on that in a second.
COMICS: Magna and her people are also saved by people from Alexandria, but it's Jesus, Rosita, and others that rescue them from the walker horde (Judith died as a baby back in the prison). They also lose their weapons but are warmly welcomed to Alexandria and are treated more fairly than their show counterparts.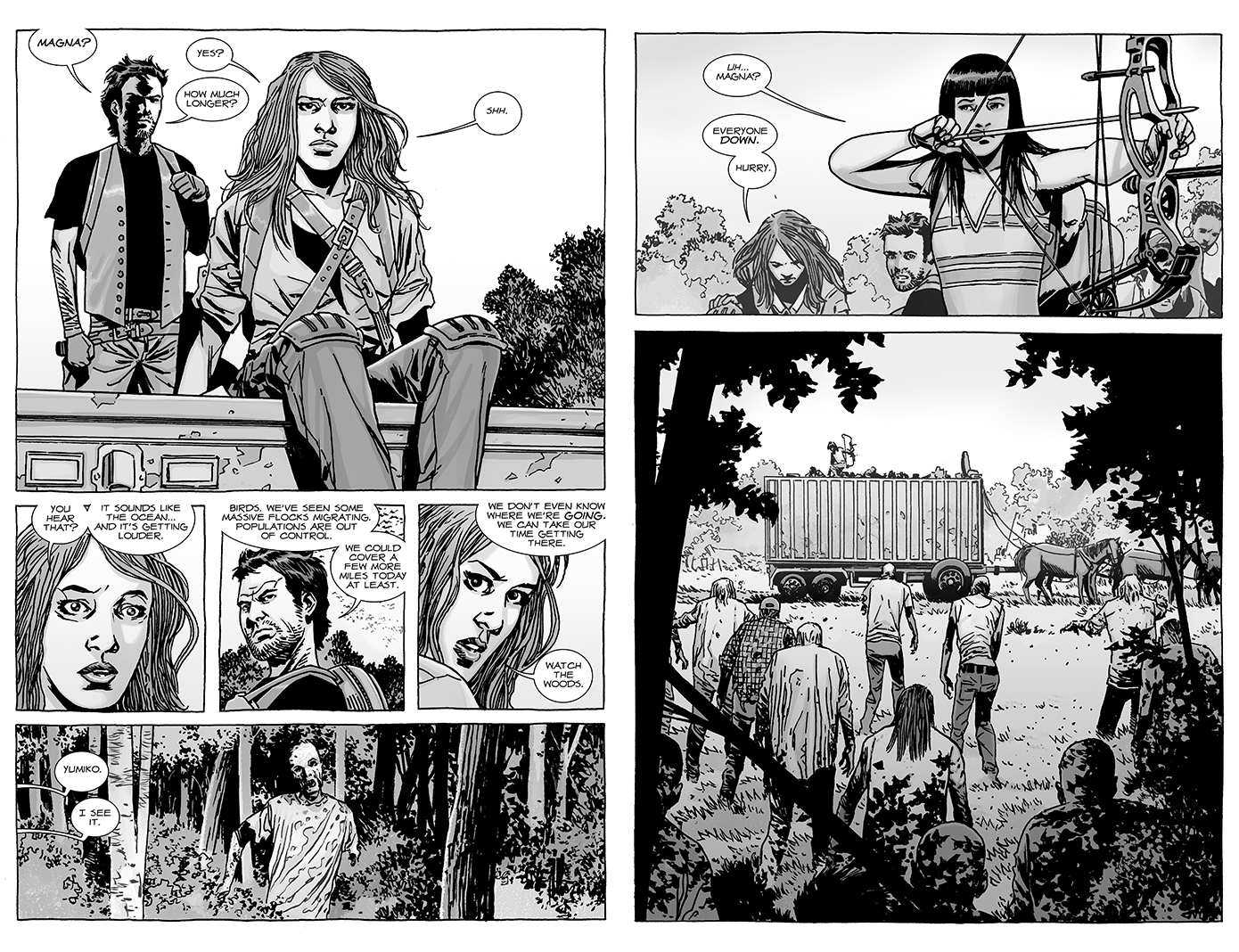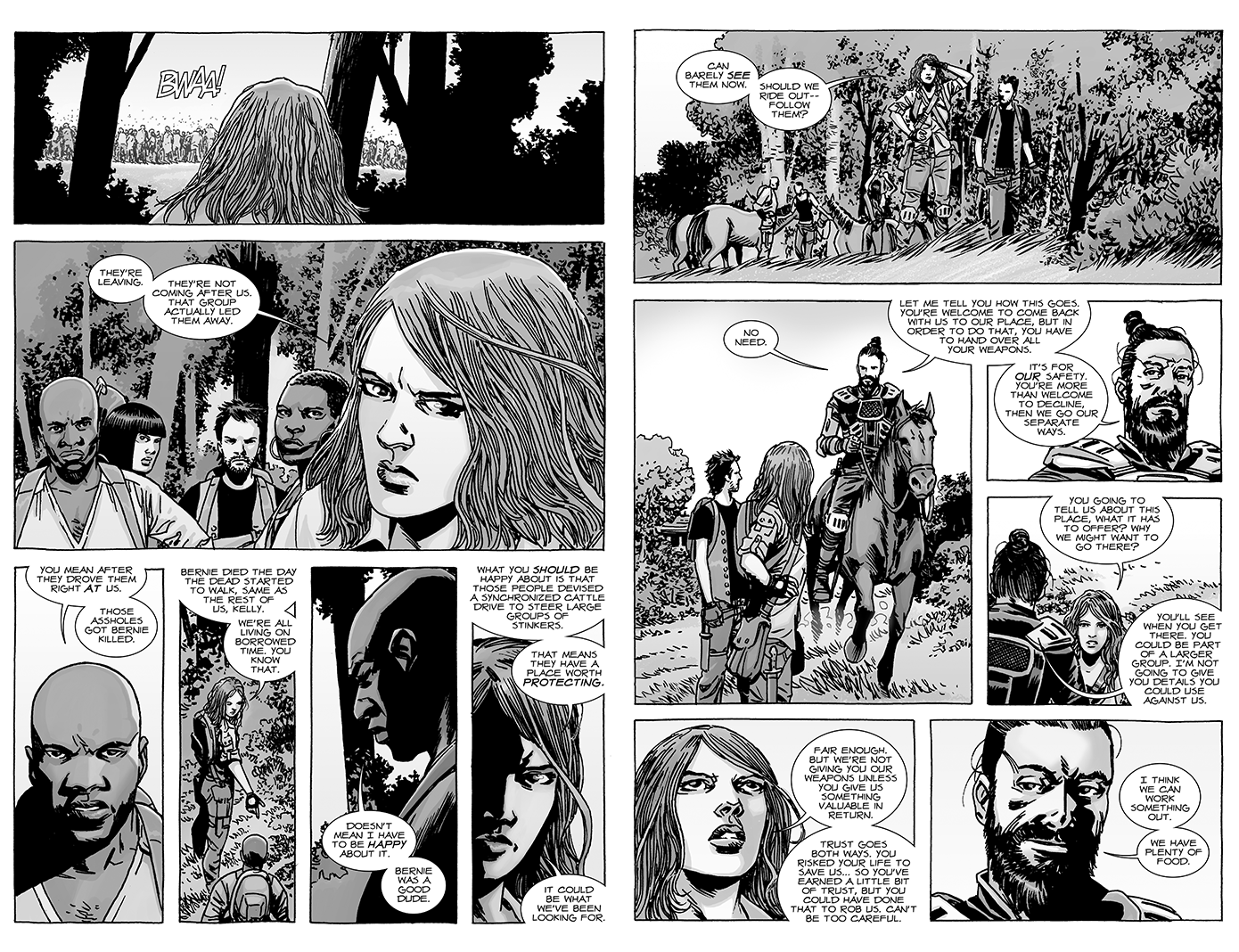 ---
The Interview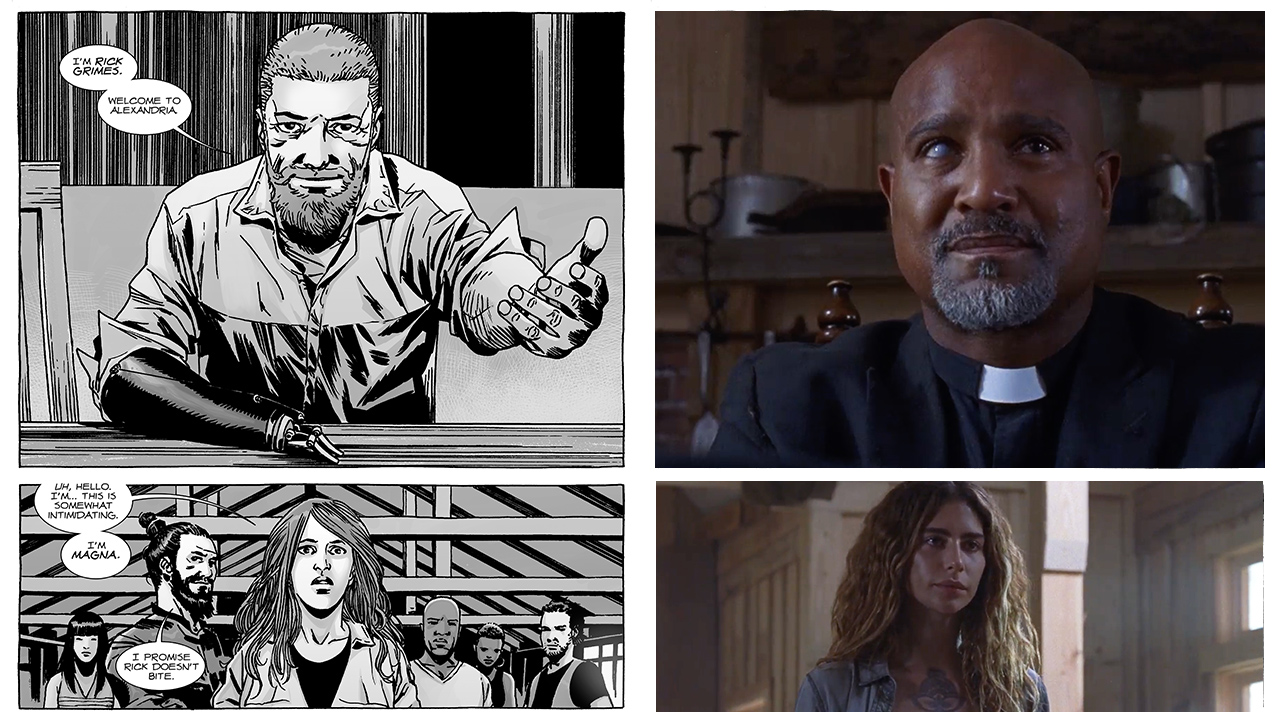 In both mediums Magna's group was interviewed by a council in Alexandria to determine if they could stay.
SHOW: A council comprised of Michonne, Father Gabriel, Aaron, and Laura bring Magna's group together in the church to ask them questions. Magna's cold but Luke and the others give a more heartfelt defense that they're normal people just seeking asylum. Despite that, Michonne sniffed Magna out and showed everyone she had been to prison and was concealing a knife.
COMICS: This part in the comics was actually split into two sessions – a general meeting sort of like we saw in the show, and then individual interviews conducted by Andrea (whose storylines are often remixed with Michonne in the show). Since Rick is still around, he conducted the general meeting (alone). So that scene where Magna's exposed was exclusive to the show.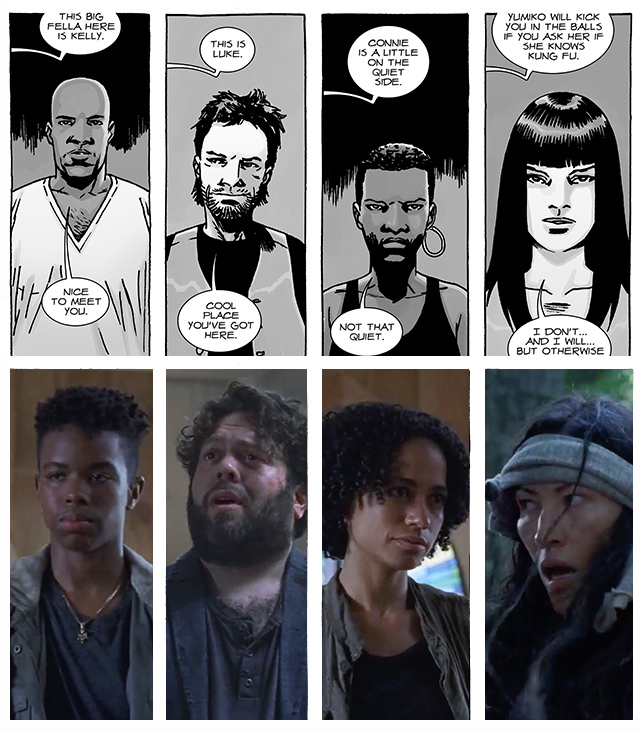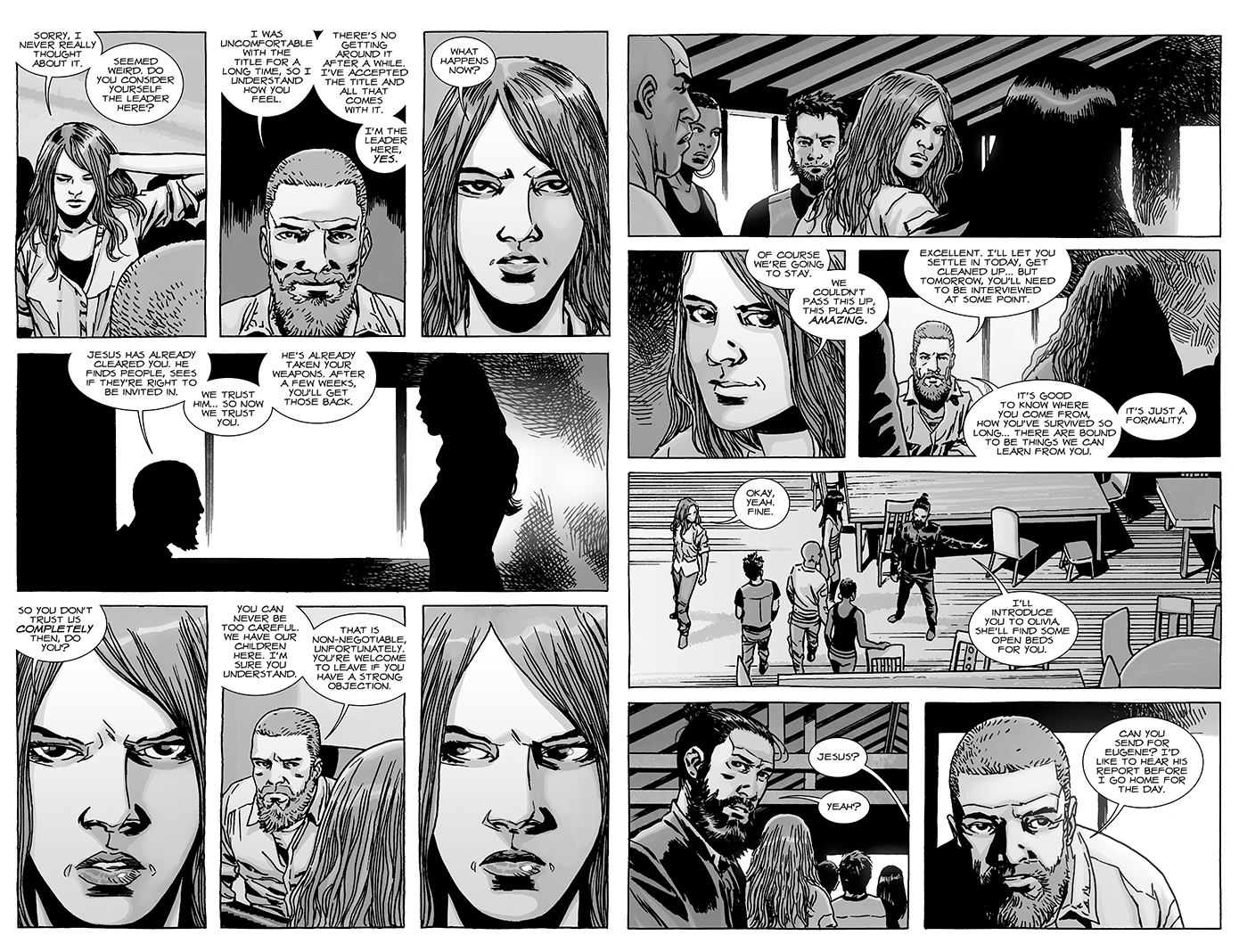 ---
The Radio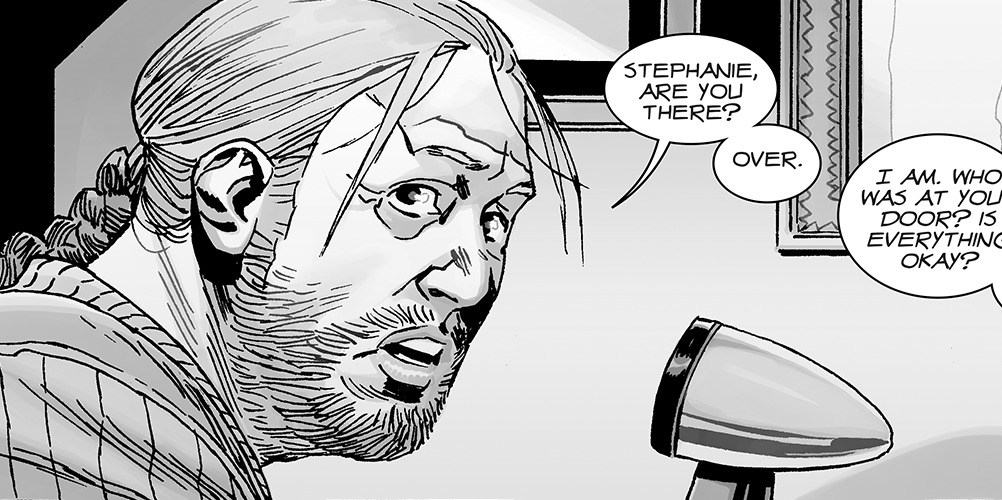 Like the Fair, the radio hints at another major storyline in the comics.
SHOW: Gabriel puts together the radio he found in the woods with Carson and tells Rosita, who he's dating, that they should find a way to extend the signal to find new communities. She agrees, and heads out with Eugene to place a transmitter on a water tower.
COMICS: In Issue 151 Eugene ALSO puts together a radio and miraculously makes contact with someone from afar. We later find out that it's someone living in a massive Ohio community called The Commonwealth, which is where the story currently is at in the comics as of Issue 185. So the main difference is that the radio in the comics is used MUCH later in the story than the show and Eugene didn't have to leave Alexandria to boost the signal, it just connected on its own.
---
Negan's Visitor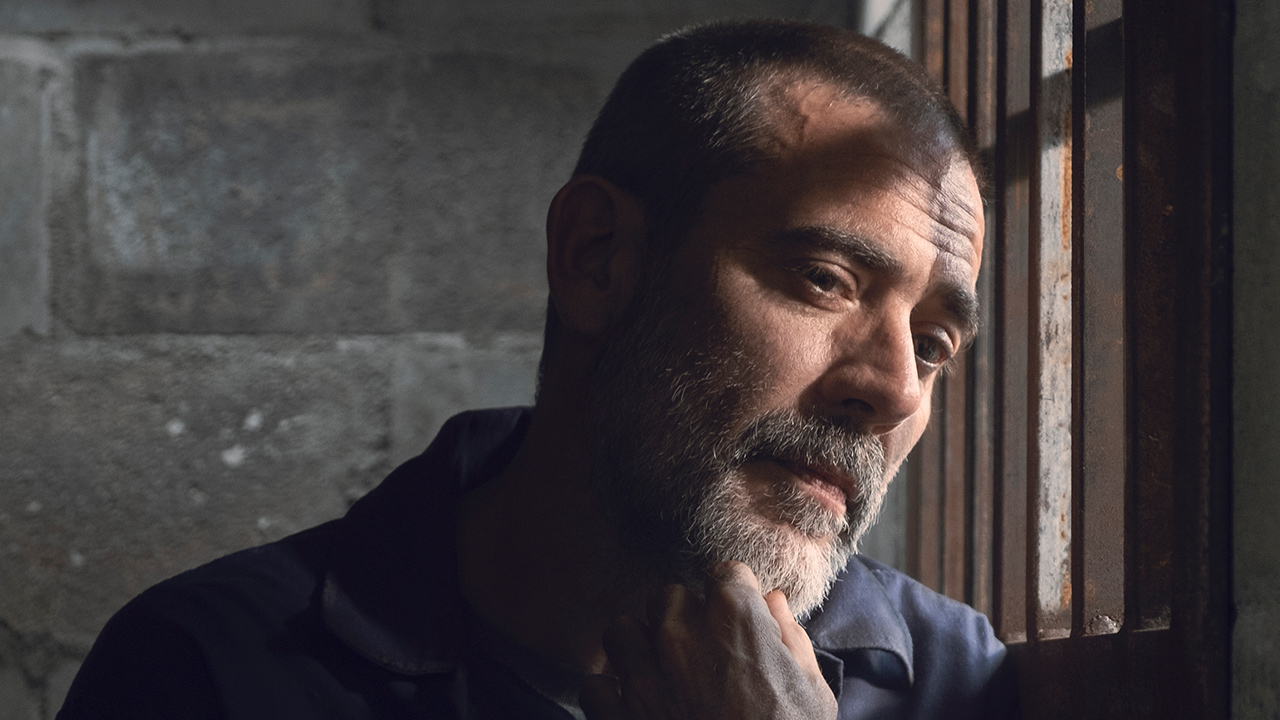 We lied when we said Henry was the new Carl – he's just half. Judith is also new Carl, but let's agree to stop calling anyone new Carl and just recognize the show characters for who they are.
SHOW: This week we discovered Judith has a secret friendship with Negan that includes talking to him about life around Alexandria and her homework. Negan seems to enjoy the camaraderie.
COMICS: Starting in Issue 127, Negan is also visited by a Grimes kid, but it's Carl instead of Judith (Judith was killed as a baby back in the prison days). Carl visits Negan to vent about girls and like the show, Negan does seem to enjoy talking to SOMEONE. But the conversations are slightly more tense than the show.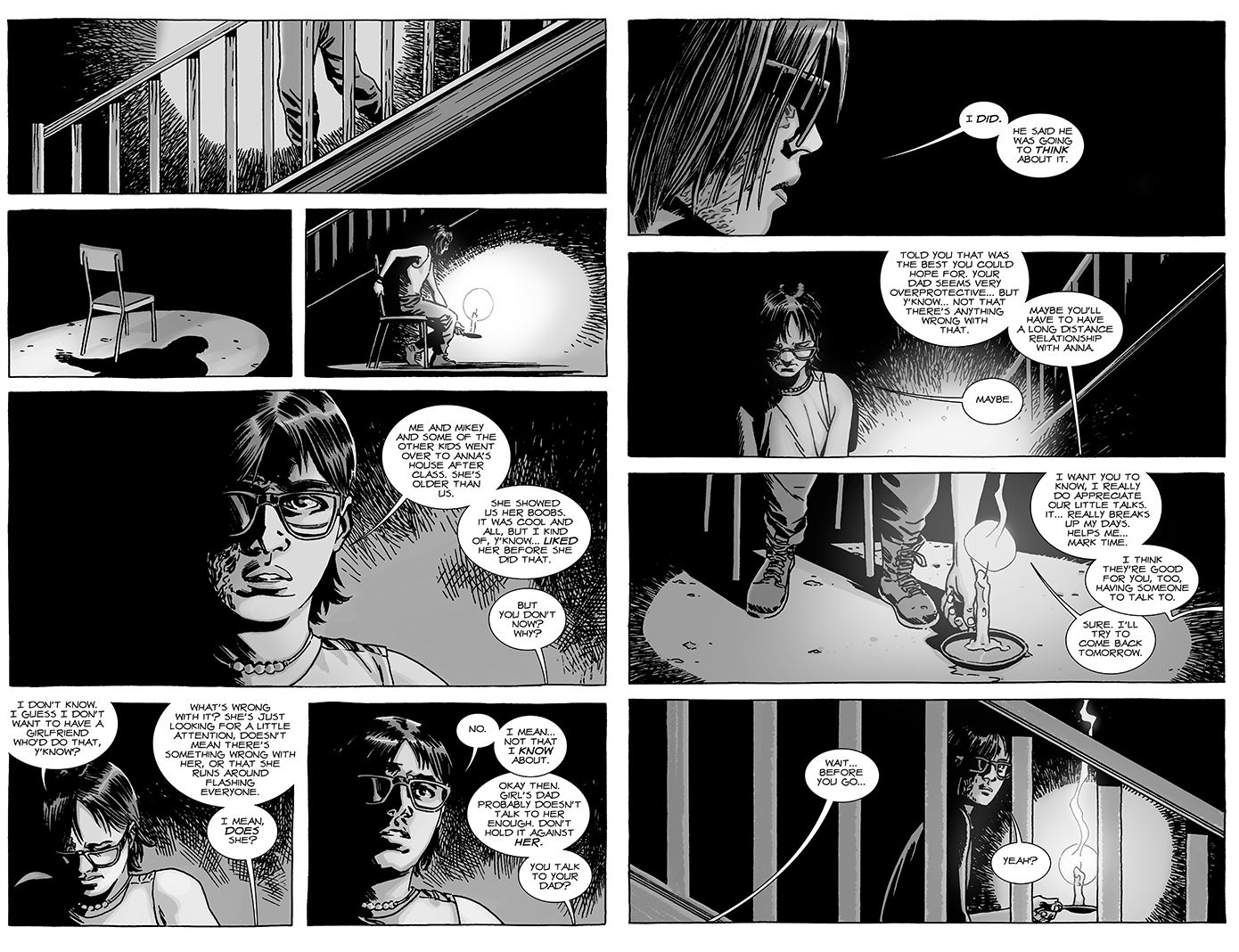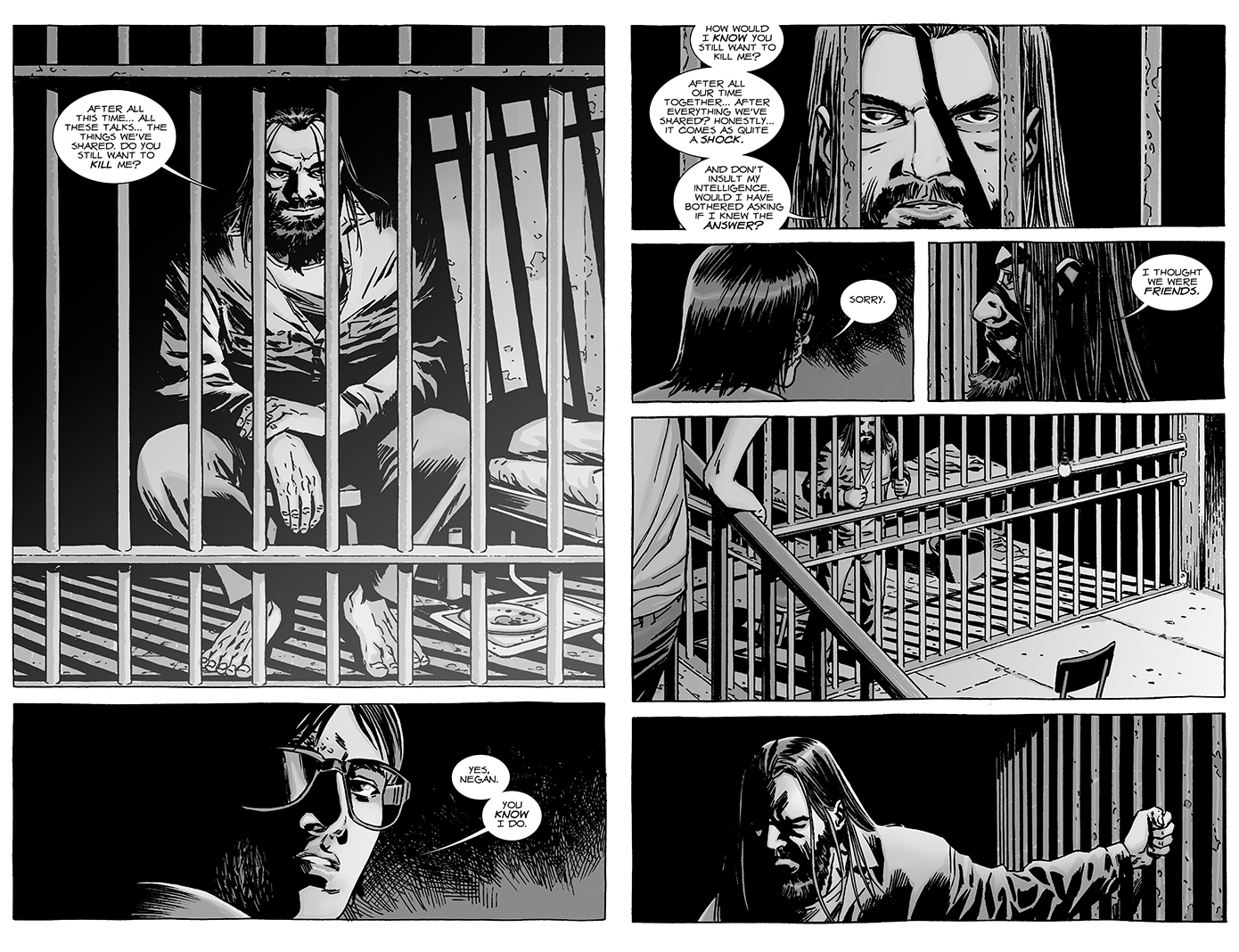 ---
The Near Break-In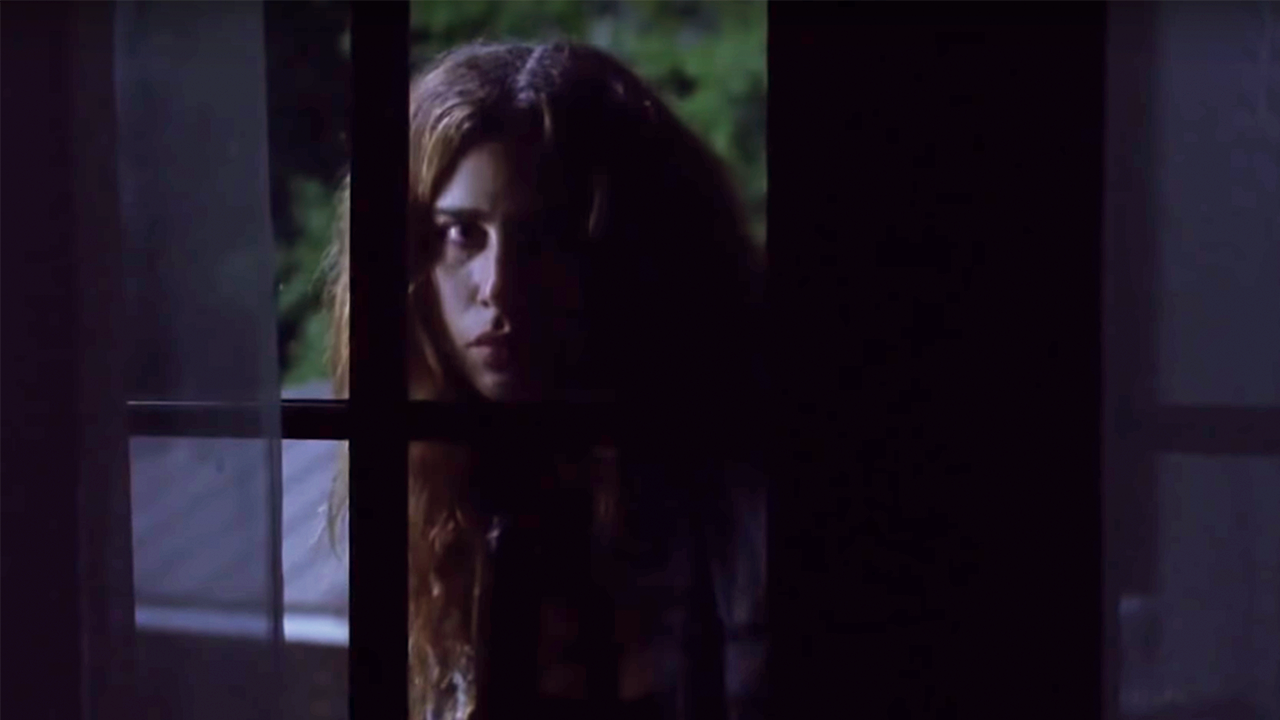 SHOW: Magna NEARLY breaks into Michonne's home to presumably threaten or harm her for exposing her in that town hall. But then she sees Michonne with her TODDLER and chooses against it. Later, she returns to Michonne's home to return her knife and explain she's just trying to be safe. Michonne understands, and even though she still sends them to Hilltop, Michonne decides to escort them.
COMICS: Magna and her gang straight up break in to Andrea's place in the comics and demand answers. Andrea agrees, but warns them not to threaten her. Andrea answers questions about Rick, the community, and why some guy (Negan) is locked up. Eventually, they earn each other's trust and stay in Alexandria to live (they only go to Hilltop in the show). Also, that whole toddler thing is also unique to the show; Rick and Andrea never conceive.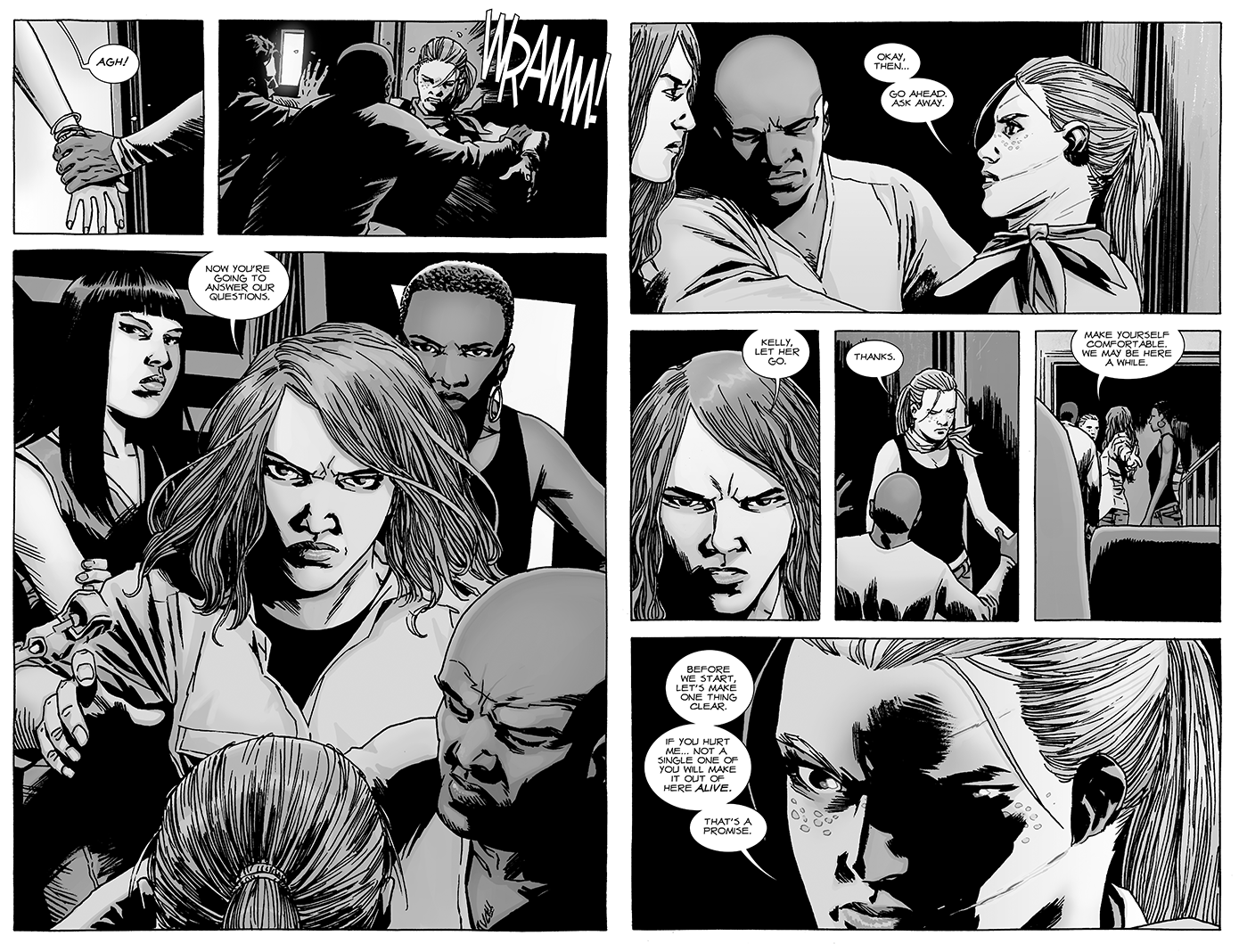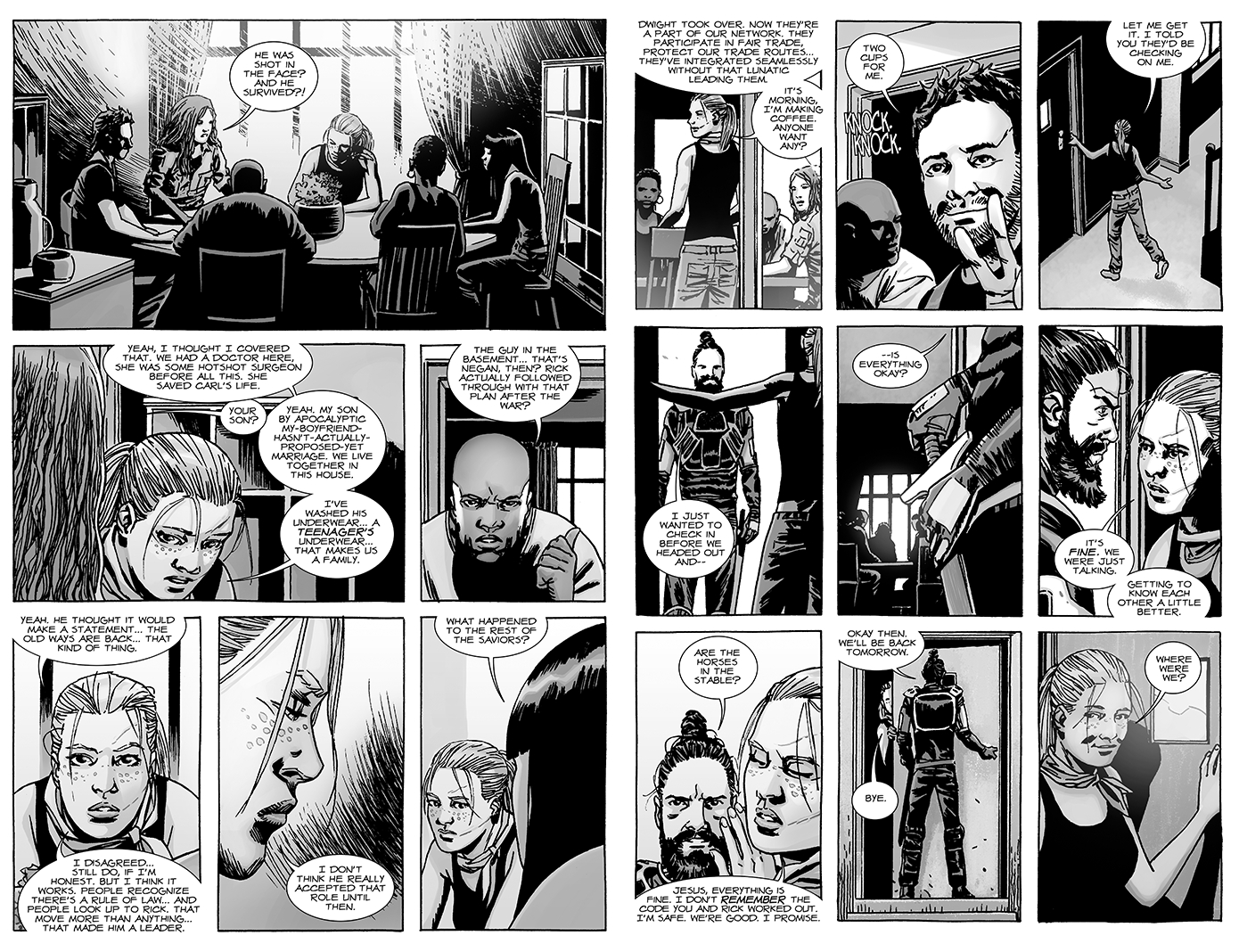 ---
The Whisperer Ditch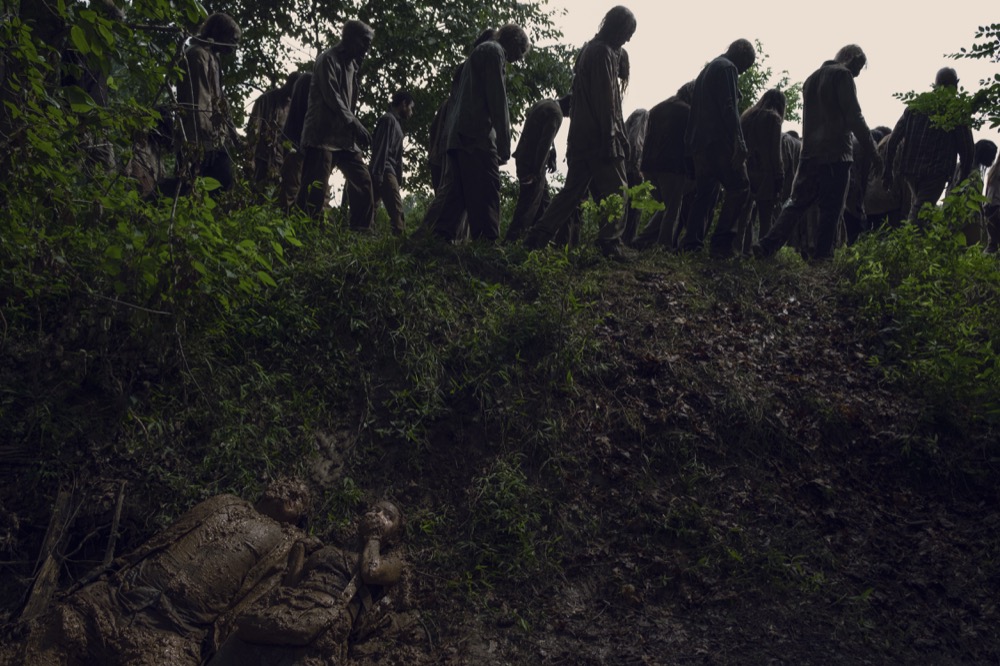 This episode we FINALLY got treated to first taste of The Whisperers, the massive group of people who wear human skin over their own to blend in with the undead. The scene at the end of the episode with Eugene and Rosita hiding in the ditch as the Whisperers walk by is straight out of the comics.
SHOW: After Eugene places the radio signal on the tower he spots a horde of walkers and accidentally falls off the ladder, injuring his leg. Rosita helps him and they hobble away until they're forced to cover themselves in mud and hide in a ditch. Soon after, a horde of the "undead" pass by above them and you hear them WHISPERING to each other. They ask "whereeeee areeeee theyyyyy?" as Eugene and Rosita do their best to not make a sound.
COMICS: That scene also took place in the comics, but it was with Ken and Marco and not Rosita and Eugene. Like the show, they get surrounded by walkers during a supply mission and are forced to hide in a ditch. As the "walkers" pass by they ALSO hear them whispering. It's the first time in both mediums that the Whisperers are shown. Read more about The Walking Dead's new villainous group here, but for now know they are a MASSIVE group that make Negan look like nothing.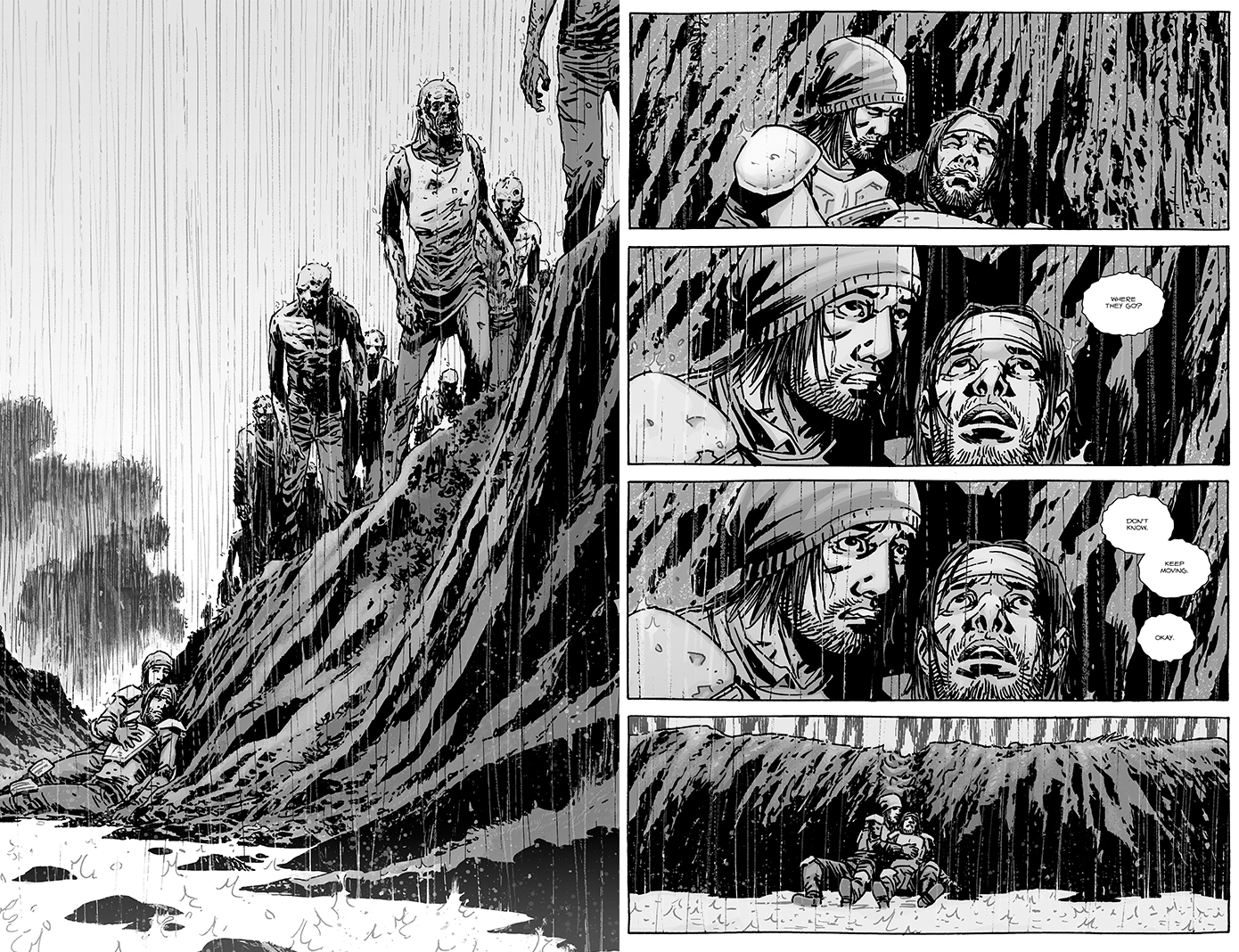 ---
What Didn't Happen In The Comics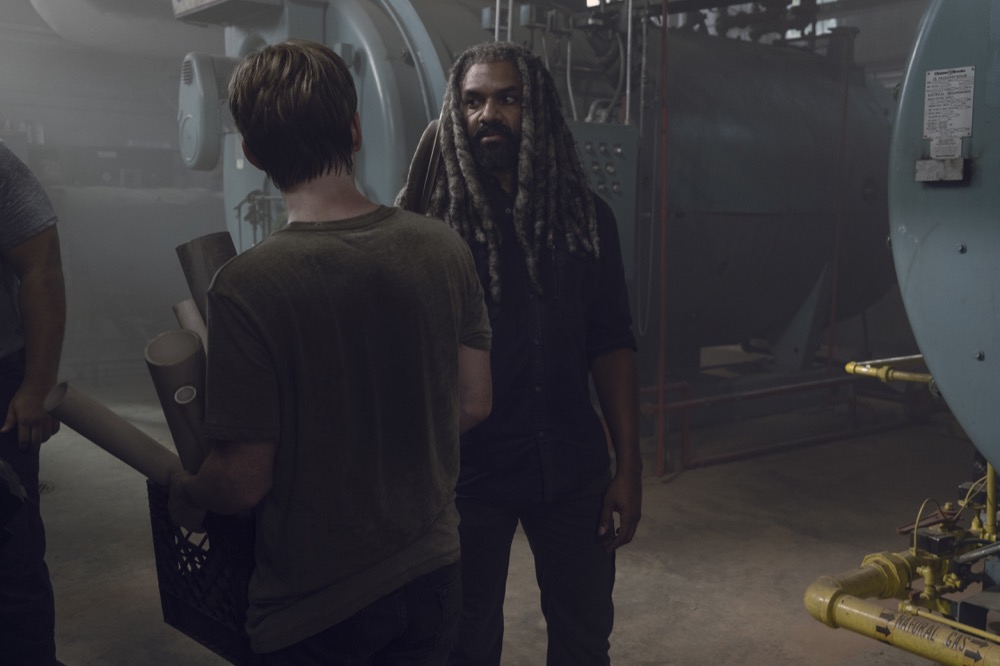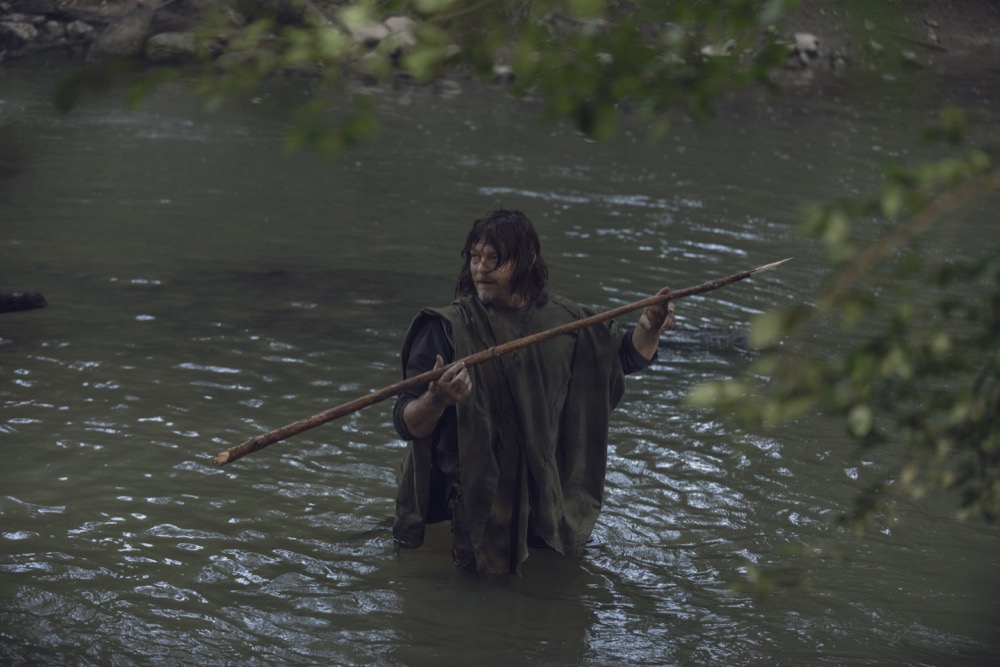 As much as the show borrowed from the comics, there were also a lot of scenes that were unique to the episode. The Savior run-in, Michonne's kid, and anything involving Henry, Carol, Daryl, or Judith were either completely show-exclusive or (as we mentioned above) remixed from other parts of the comics.
---
That wraps up our comic/show comparisons this week! Keep up with us all season because there some iconic storylines from the comic that are about to play out in the show…