"The Calm Before"
A happy survivor couple finds their way to Hilltop and quickly integrates into the community. Overtime, they're seen making crafts and eventually boarding a carriage to the Fair at the Kingdom. Unfortunately, their love story is cut short by Alpha, who ambushes and kills, and scalps them at their camp.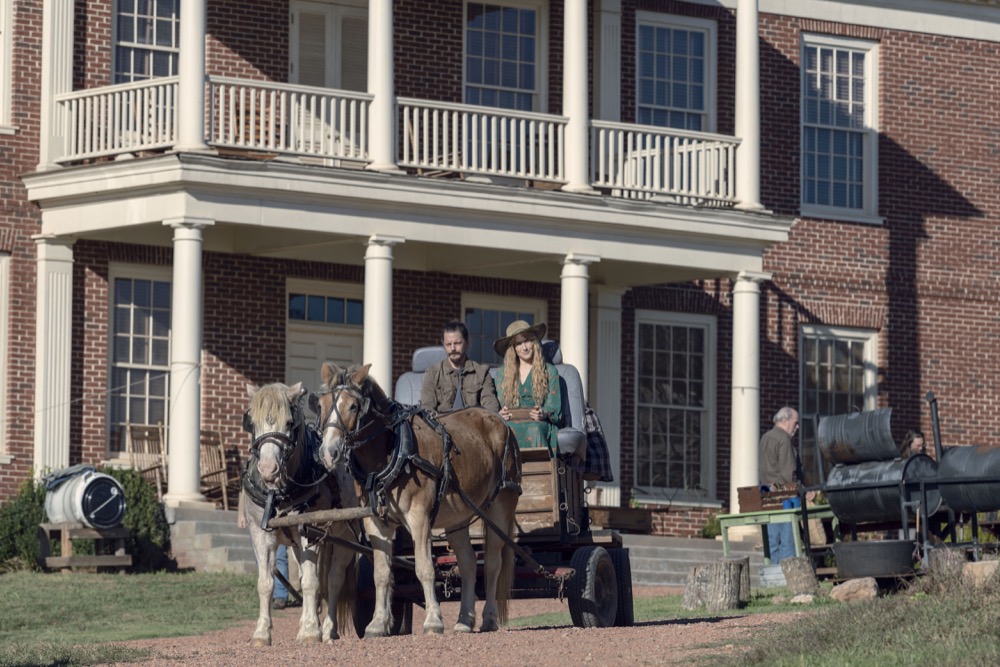 The Fair is finally here. Ezekiel addresses the crowd and declares they've finally accomplished Rick, Carl, and Jesus' dreams of reuniting the communities. "Let the fair of new beginning begin!" Ezekiel says. Shortly after, Daryl, Michonne, and the convoy arrive. Carol scolds Henry for running away while Michonne greets Ezekiel, who's shocked to see her. "I was in the neighborhood," Michonne says. Carol and Ezekiel marvel at how much Judith has grown while Tara spots Lydia among the group. "The plan was to bring Henry…just Henry" Tara says.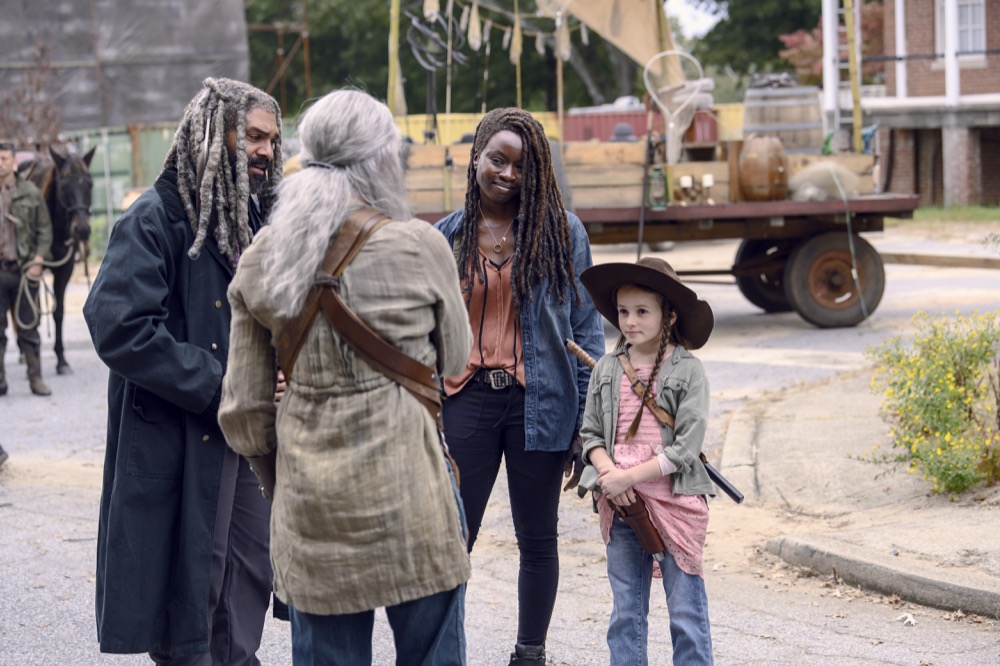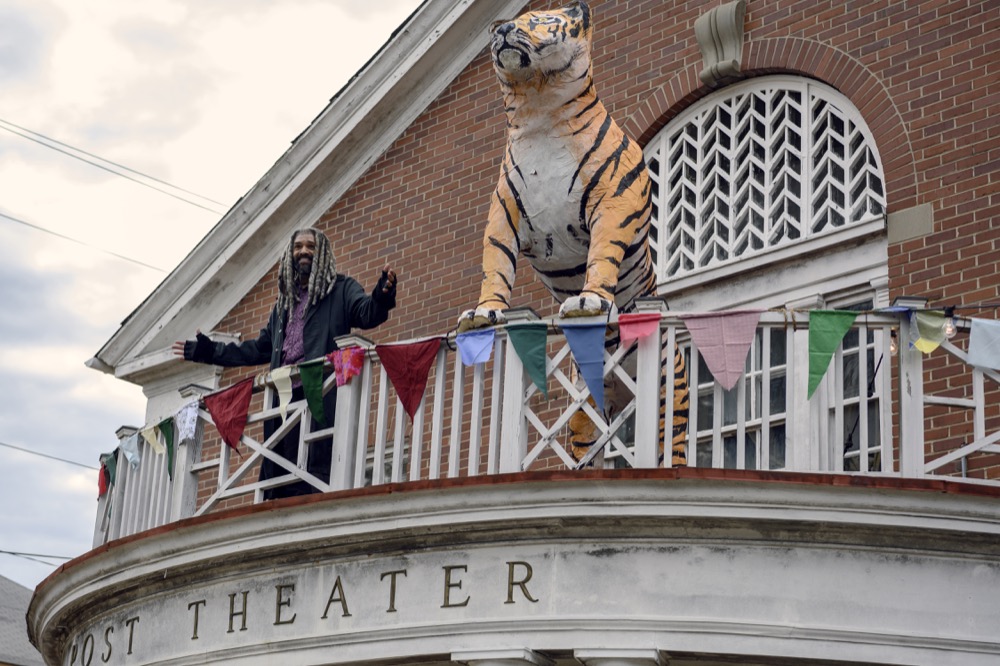 Michonne convenes the leaders and tells them she's finally ready for Alexandria to help out. "We're here now," she says. Gabriel announces Alexandria is willing to grant asylum to Lydia but Tara warns if her mother retaliates it'll be against Hilltop, not Alexandria. Michonne warns her that none of them were trusted when first introduced to Rick's group, and Tara relents.
They all agree to send some of their own to Hilltop to guard against any potential attacks from the Whisperers and Michonne decides to re-establish the charter. That way, an attack against Hilltop counts as an attack against all of them. Ezekiel then retrieves the original charter as Tara and Michonne finally make up. They all sign it and Michonne tells Gabriel he should sign for Alexandria as the head of the council.
Later, Henry and Lydia walk around the Fair, which is full of booths, survival lessons, and more. Ezekiel tells them he hopes to see them at the movie tonight while Luke tries convincing Alden to perform with him. Enid accidentally calls Alden her boyfriend but he decides that it's ok, making it official. Kelly emotionally tells Connie how upset she is that she left without saying goodbye and Connie apologizes but says she had to protect that baby. She hints that she may have lost a baby in the past.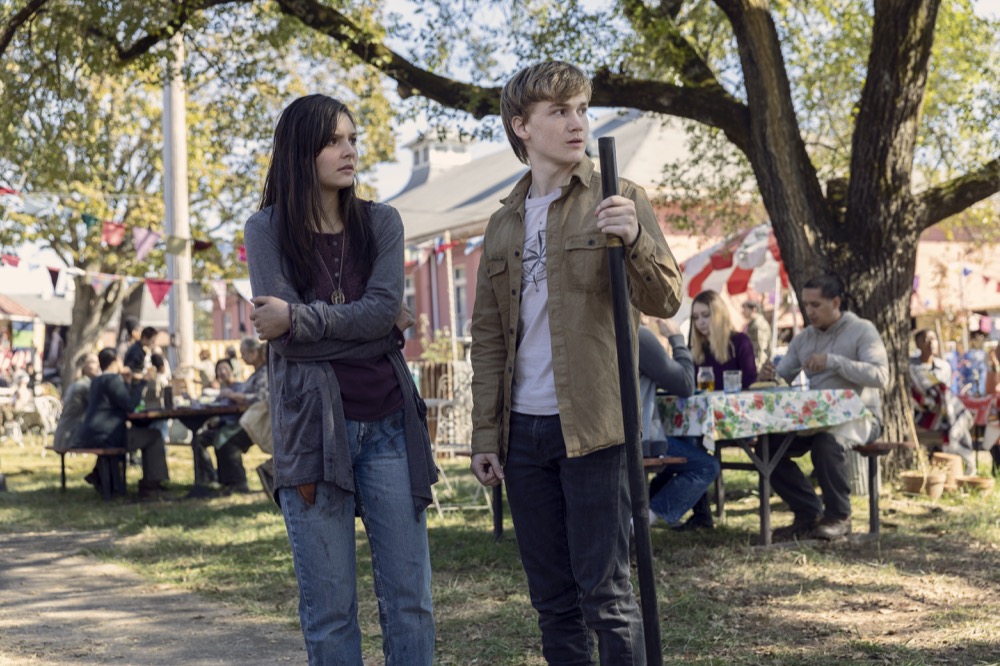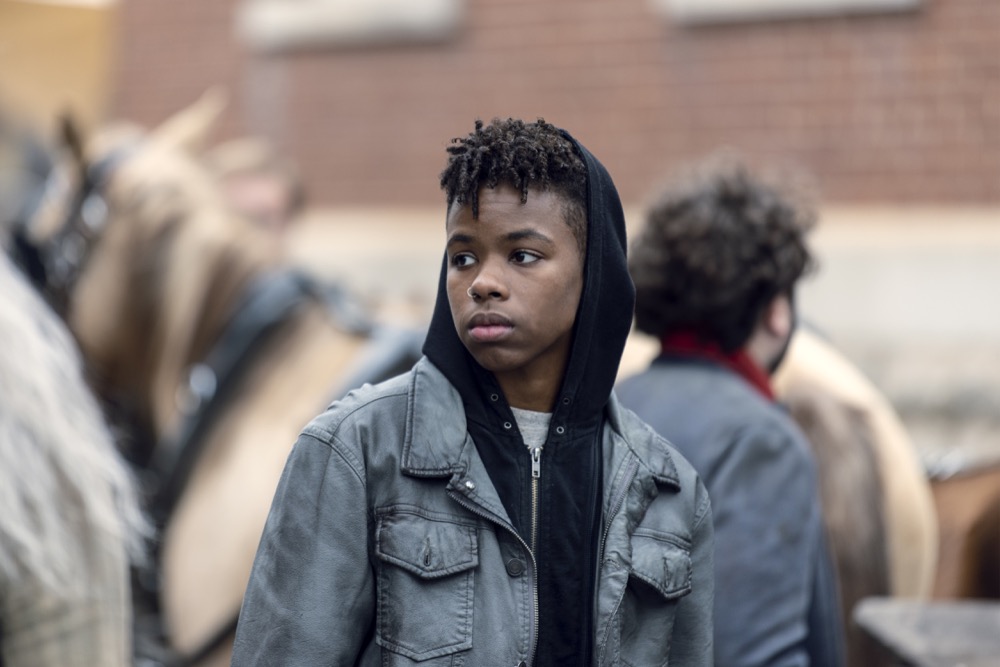 Michonne informs Siddiq she's going to leave for Hilltop with the first group and he hints he has baby news for her, but says he'll fill her in when they're all back at Hilltop. Addy apologizes to Henry for ratting him out but he forgives her. Gage and Rodney introduce themselves to Lydia and tell her that Addy has a thing for Henry, warning her not to mess anything up.
Daryl, Carol, Michonne, Magna, Henry, Tara, and others leave Kingdom and meet the highwaymen on the road to the Hilltop. They show them an abandoned camp where a struggle happened…it's clear the Whisperers were here. Carol, Daryl, Michonne, and Yumiko decide to track them while the rest head to Hilltop.
That night, Daryl and the gang get attacked by a group of walkers; they take them out one by one until the Whisperers surround them. Beta emerges from the trees and tells them to drop their weapons. "You just had to give me the girl," he growls at Daryl, telling him their deal is off. Flashback to earlier that day – we see Alpha in disguise at the Fair wearing the clothes of the woman she murdered earlier on. Eugene tells Rosita that he's collected radio parts to make it easier for the communities to communicate with each other. Rosita tells him that despite her pregnancy things don't need to change between them.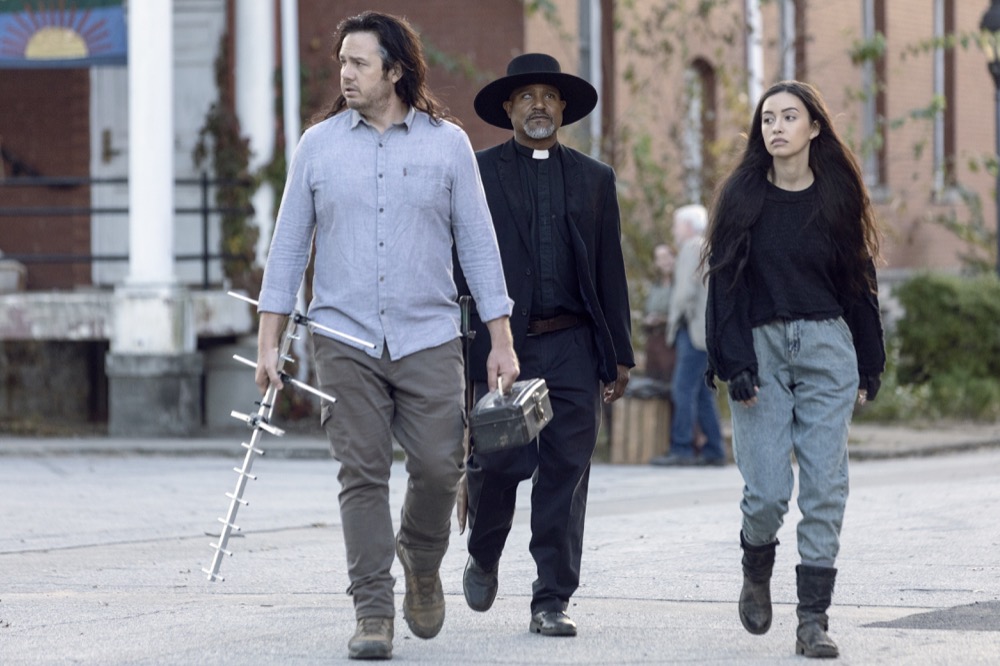 Elsewhere, Henry assures Lydia he's not into Addy. They kiss and he leaves to check on the pipes. Ezekiel introduces himself to a disguised Alpha, who tells him she has a feeling it'll be a long winter. That night the Kingdom shows the movie and Lydia worries about Henry not being back yet. Then, Alpha sits down next to her and quietly tells her not to say anything.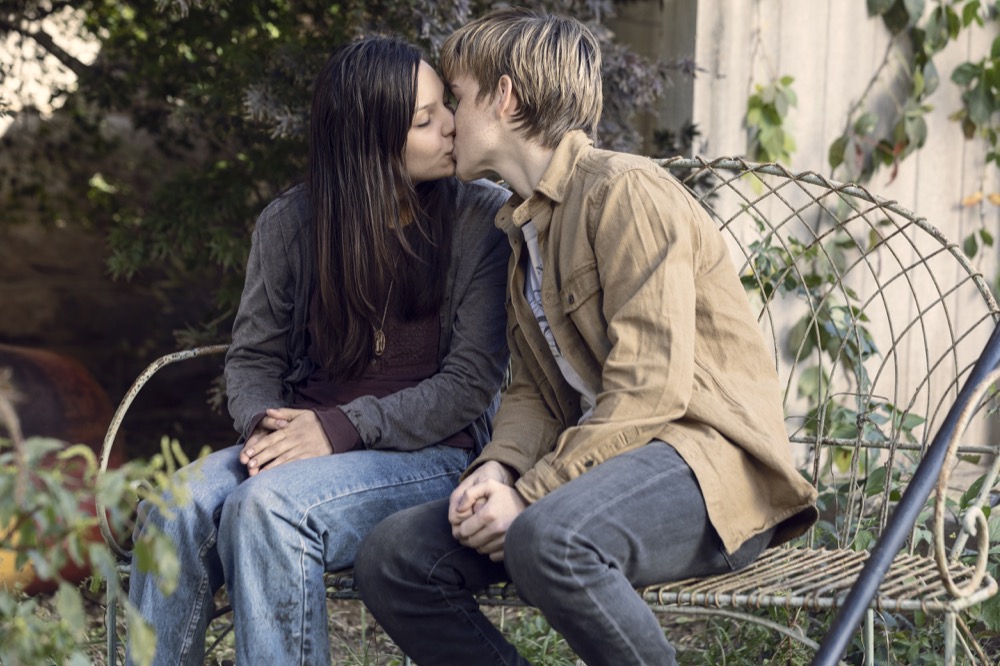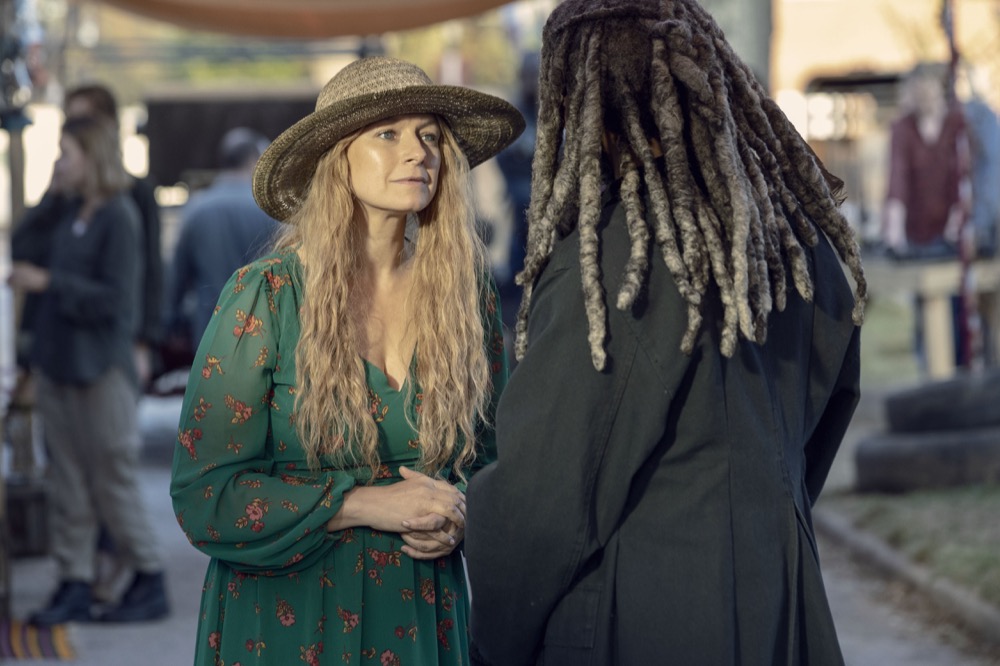 Later that night, Alpha, now out of disguise, approaches Daryl and the gang tied to a tree. She tells them she ran into trouble on the road as she wipes her bloody knife on her pants. Michonne warns her if she tries to get Lydia back they'll respond in force, but Alpha assures her Lydia isn't her concern anymore. She takes out a shotgun and tells Daryl to come with her alone.
As the sun rises Alpha forces him to the top of a cliff where a massive horde of walkers and Whisperers walk beneath them. Alpha says Daryl's communities are a joke and that people should conform to her way of life or there will be chaos. She then tells him his friends at the camp are fine, but the next time her people cross into her land she'll release the horde into theirs. She clarifies she marked the border and Daryl asks if she killed Lydia.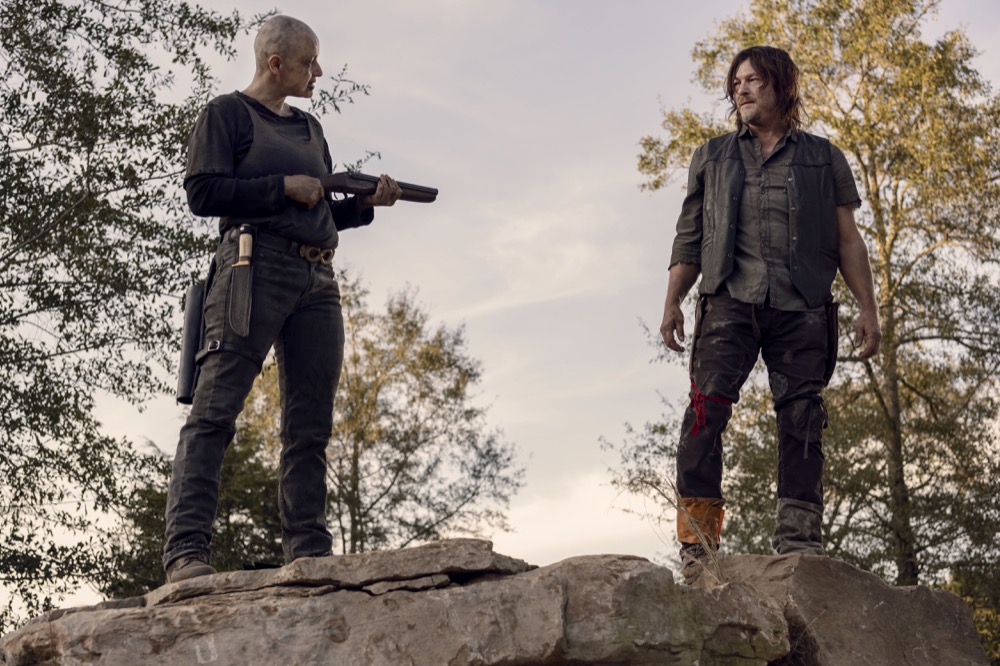 Flashback to earlier that night – Alpha confronts Lydia about being a traitor but she tells her this is a better way of life. She then threatens to scream if she doesn't leave and Alpha tells her she was never one of them. Lydia breaks down in tears as Alpha leaves. Flash forward to Alpha telling Daryl she didn't kill Lydia and doubts she he can protect her. Later, Beta asks Alpha about Lydia and she tells him, "I want to be alone." One of the Whisperers accidentally witnesses Alpha crying so she stabs him in the neck, killing him, so no one sees her being weak.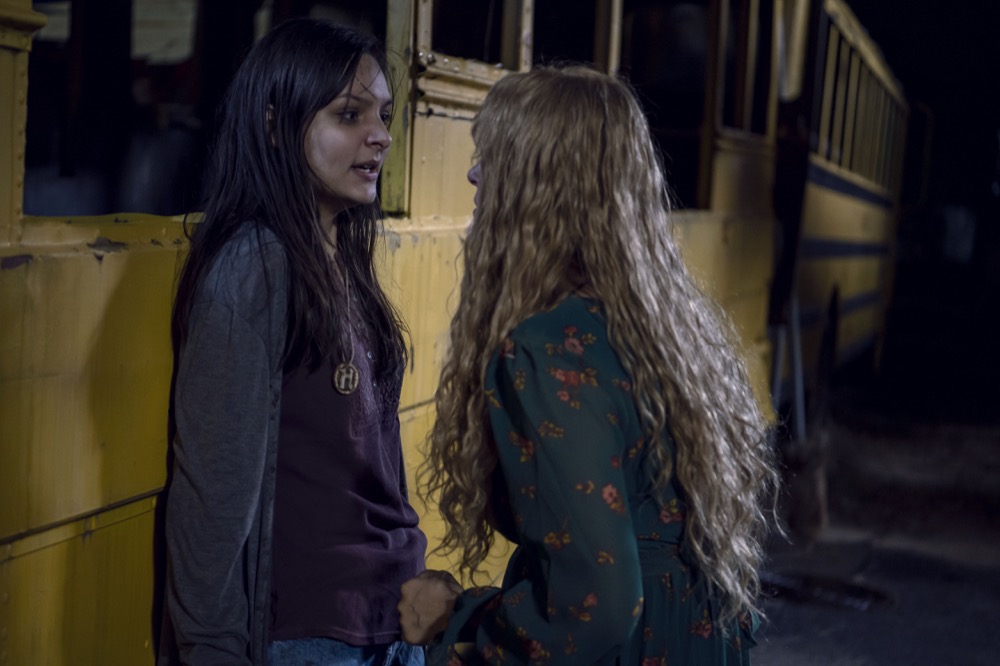 On their way back to Kingdom Daryl, Michonne, Carol, and Yumiko find Siddiq tied to a tree. Limping and bloody, he points them to a nearby hill, which has 10 spikes in the ground. Each spike has a severed head stabbed through the top. The group walks towards it in horror, examining each one. Among the victims are Ozzy, DJ, Alek, Frankie, Tammy, Addy, Rodney, Enid, Tara, and Henry! Each head is revealed through a juxtaposition of people at the Fair asking others where they are. Lydia rushes up to Ezekiel to tell him her mother was here and she can't find Henry. (Cut to Henry's head). As Carol finally realizes it's him Daryl comforts her and tells her to look away, but it's too late. Carol is overwhelmed with emotion.
Later, the gang returns to the Fair and Siddiq addresses the crowd to deliver the tragic news. He tells them how brave everyone was in their final moments and how he was intentionally kept alive to tell this very story. He encourages everyone to remember the fallen. Later, Daryl and Lydia return to the border. Lydia leaves the necklace Henry made for her on the ground by the spike, and the two walk away as snow flurries begin to fall.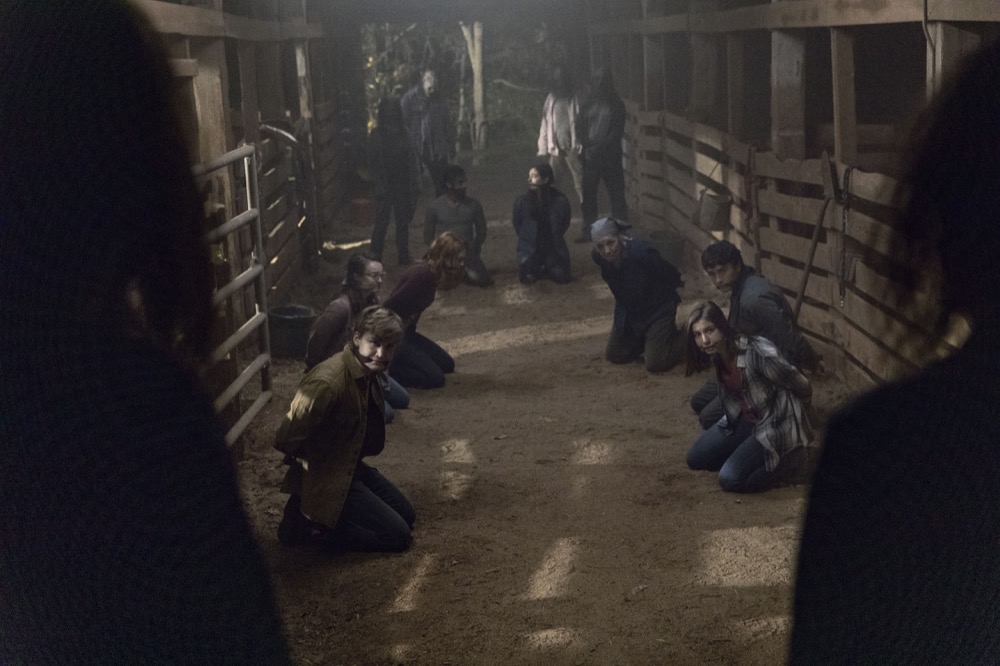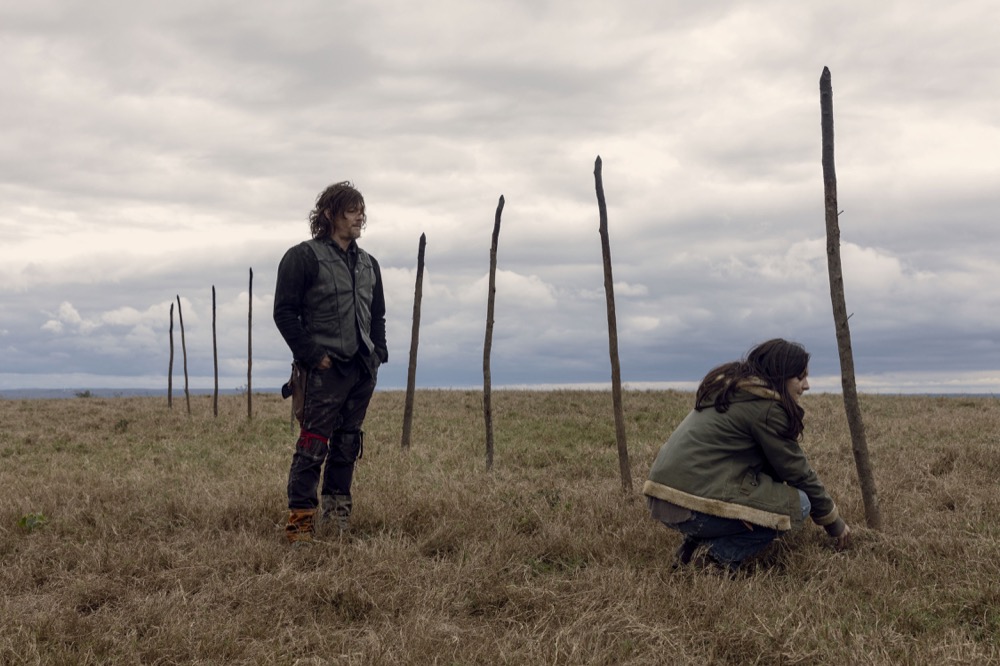 ---
And that wraps up our recap for "The Calm Before"! We want to hear ALL your thoughts on this Season Finale-esque episode in the comments below. How do you feel about the pike victims? Are you relieved they deviated from the comics?