Our Walking Dead fan mailbag is (finally) back for the holidays! Get some insight into the back half of Season 9 and more below!
---
Michonne in 9B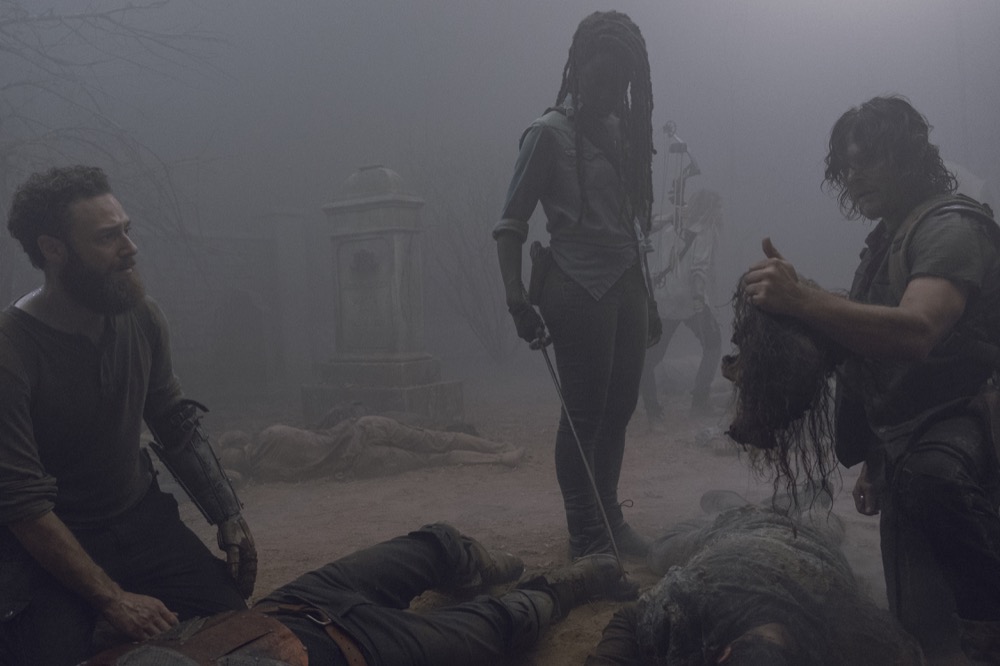 On a scale of 0 to 10 how badass will Michonne be in 9B ???

— Patrícia Daniela (@pattydanny22) December 17, 2018
Eleven.
---
New Romance?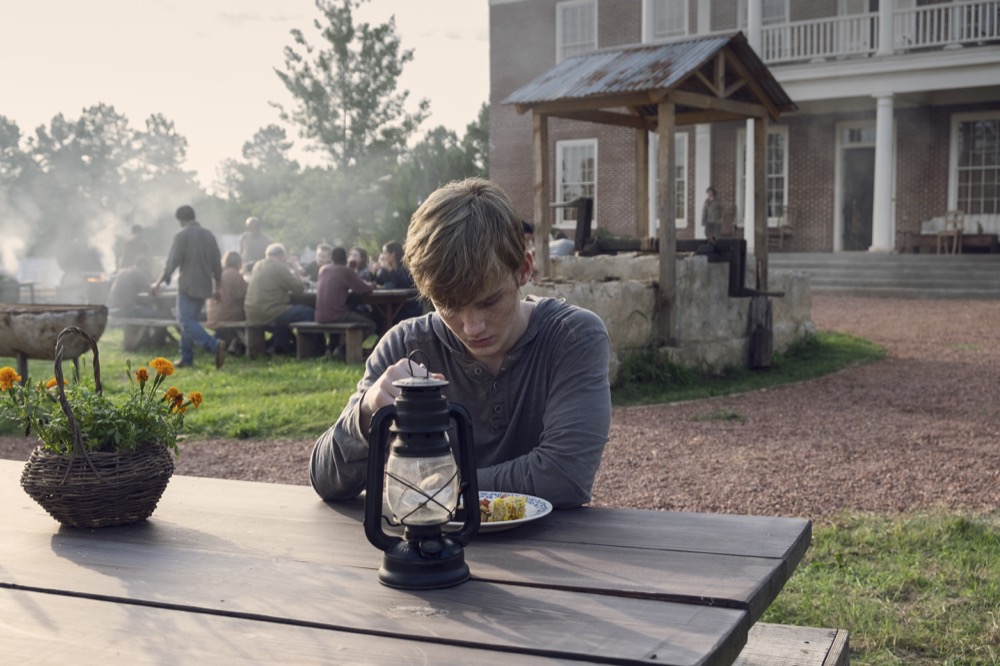 Did anyone else feel a little bit of chemistry between Addy and Henry? Could there be something there to build off in the future? I mean, you can't blame her for not being too interested in Gage or Rodney, right…

— Adam B. Carlson (@MNVikingZombie) December 17, 2018
Since Henry has taken a lot of Carl's comic storylines it makes sense that could also apply to his romantic life. In the comics, Carl eventually couples up with Lydia, the daughter of Whisperer leader Alpha, who we got a glimpse of in the Season 9B trailer. He also has a will they/won't they flirtation with Sophia, who's still alive in the comics. Although she's dead in the show, it's possible Hilltop teen Addy could fill those shoes.
---
New Love for Aaron?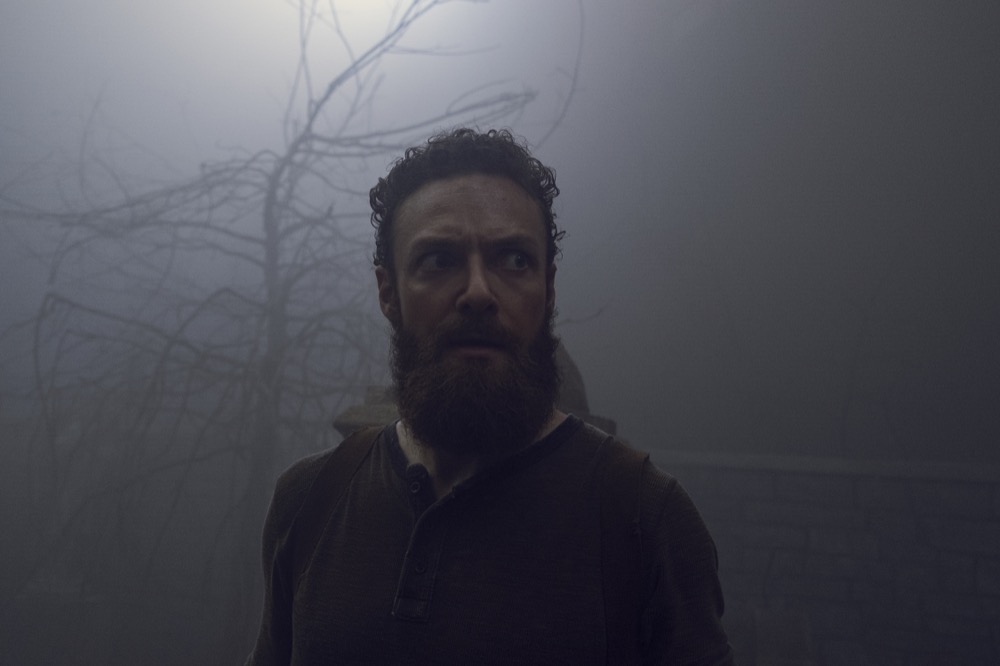 When will Aaron get a boyfriend? Should've been Jesus but you killed him.

— Igor, Igor Grimes | ThankUNext (@nemligor) December 17, 2018
Speaking of romance, don't hold your breath for a new Aaron romance. Talking to a crowd at Walker Stalker Con New Jersey 2018, Aaron actor Ross Marquand said, "I feel like at this stage in the show and in the apocalypse, I don't know if finding love is a really critical thing at this point. I feel like we're all like, 'You know what? It's not working out for the lovers, maybe we just get through each day and eat our food and plant crops and maybe we make that our focus.'" He added, "He's already got baby Gracie, he's got to take care of her," Marquand said. "I feel like that's where he's putting all his unrequited love."
---
Daryl Romance?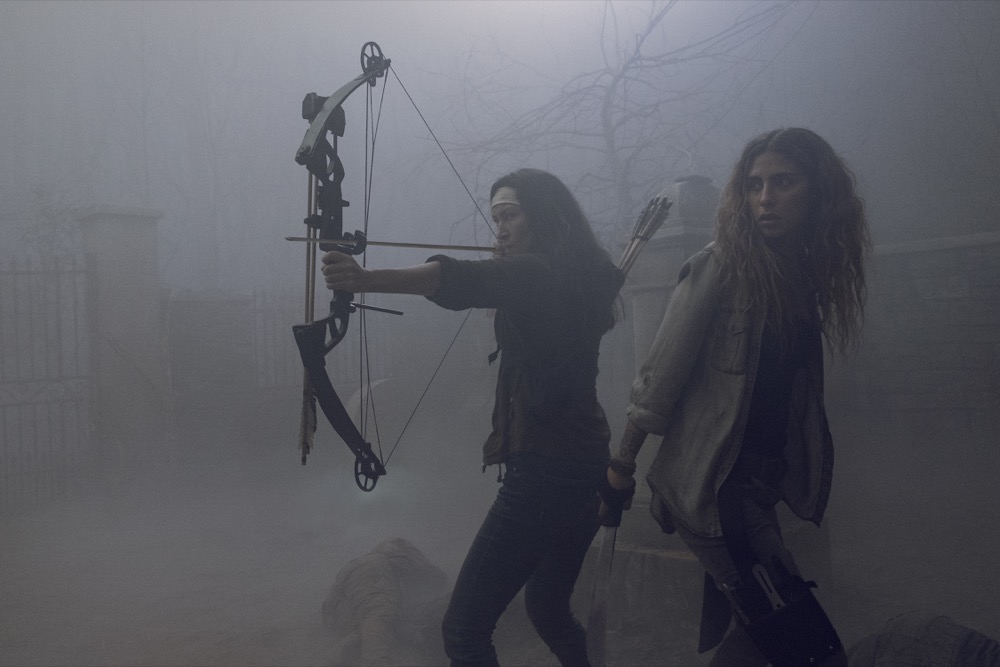 Daryl x Yumiko.. Dumiko or Yaryl?

— J⊗E and 97 others (@DoomJX) December 17, 2018
Neither, Yumiko's with Magna thank you very much. What's that? One more?
Are we ever going to see Daryl with a girlfriend

— susan c kabaca (@KabacaC) December 17, 2018
Don't count on it.
---
Grimes Family Update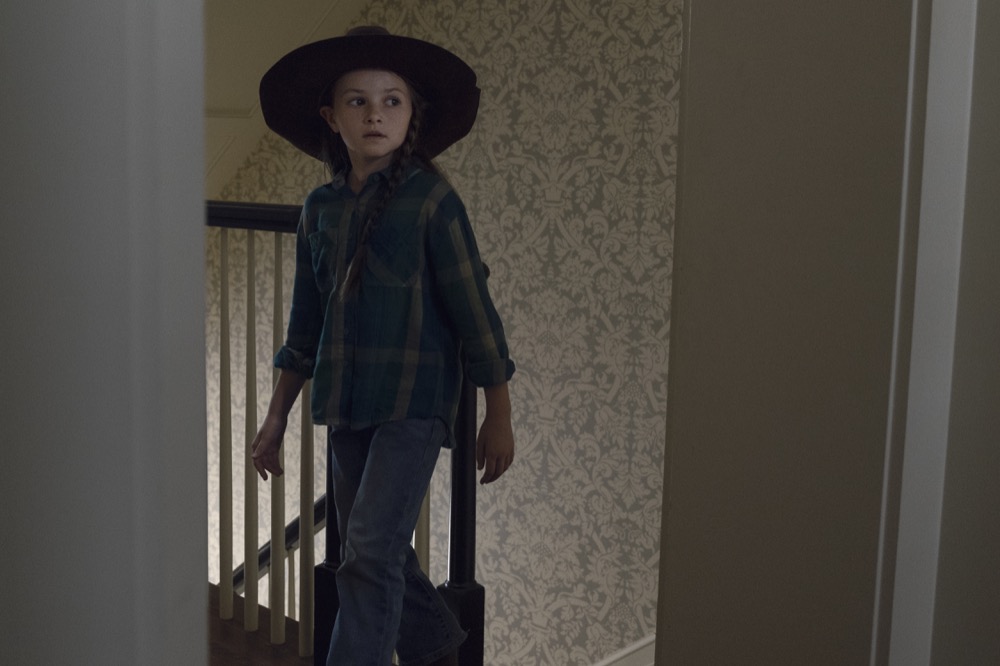 Just tell me anything about the grimes family pls , they're all I care about .

— L✰ (@danaiguriraaa) December 17, 2018
Since it's the holidays, we'll tell you that you haven't seen the last of Michonne, RJ, and Judith in a scene together.
---
More Babies?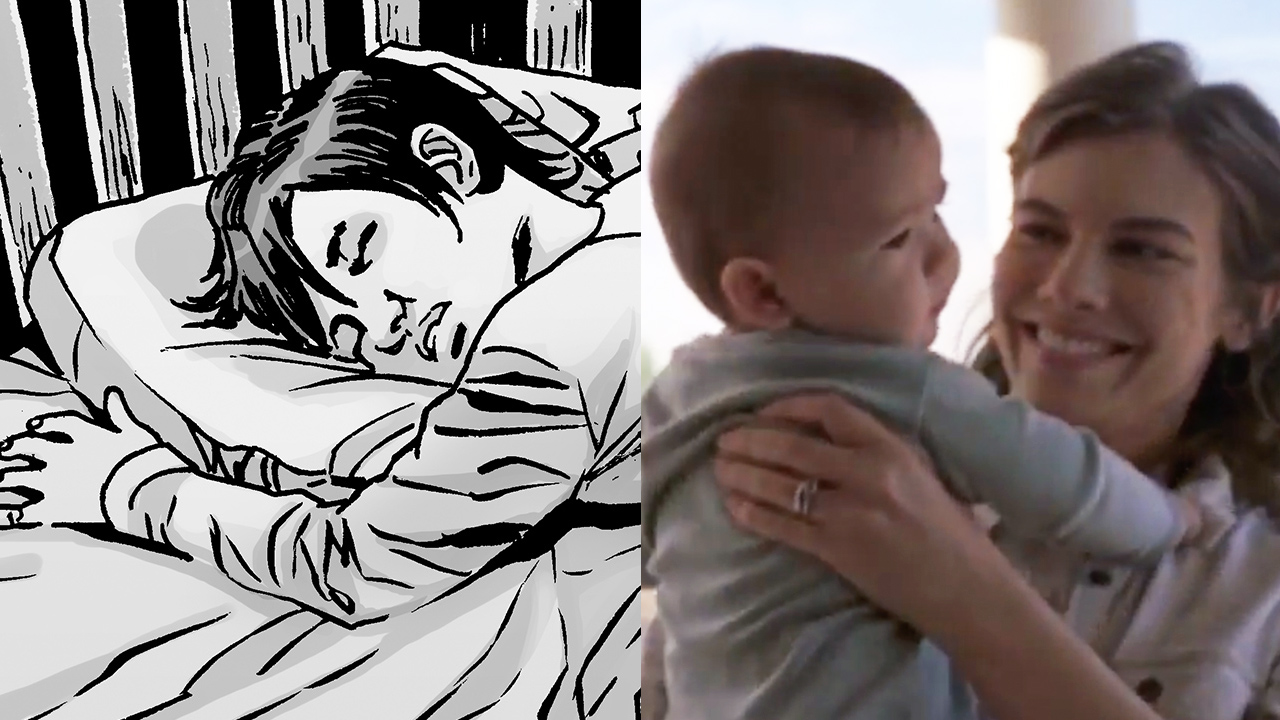 Is Santa bringing anyone babies this Christmas. Asking for a friend.

— Rebar "And yet, I smile" Grimes (@carrieWUTWUT) December 17, 2018
Maybe not Christmas, but February? It's possible we haven't seen the last baby on The Walking Dead…
---
New Series Regulars?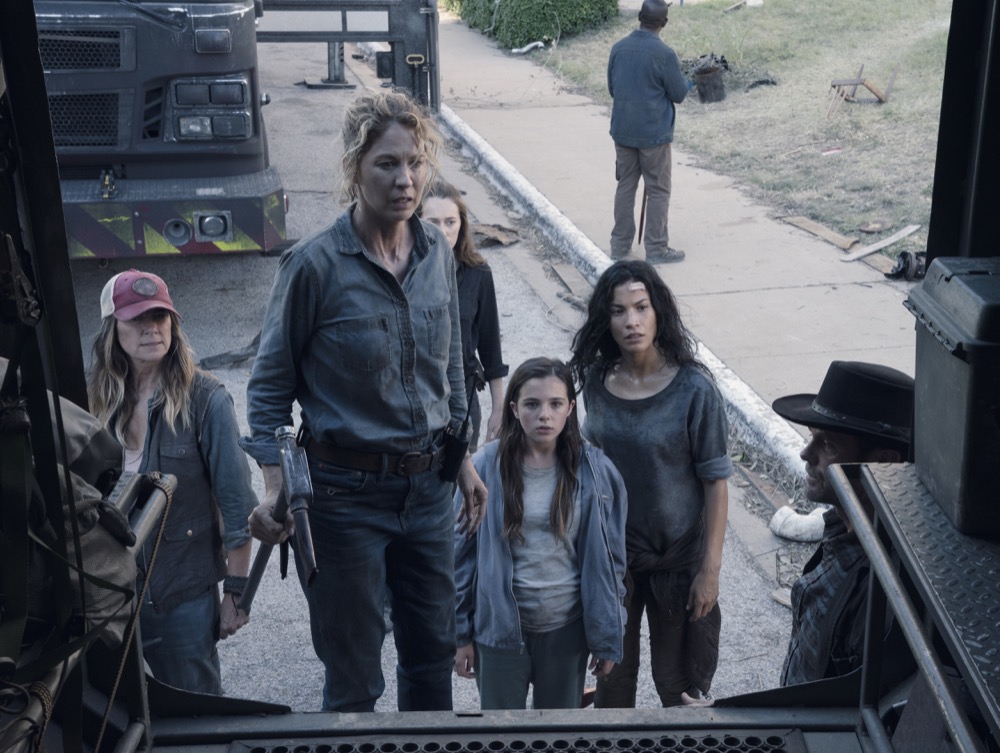 Can you share if any of the cast members of #FearTWD have been promoted to series regulars for Season 5?

— The Walking Dead World (@TWalkingDWorld) December 18, 2018
Good question! Can't confirm anything now, but expect more Fear Season 5 news in the coming months (they're currently filming).
---
Second Vs First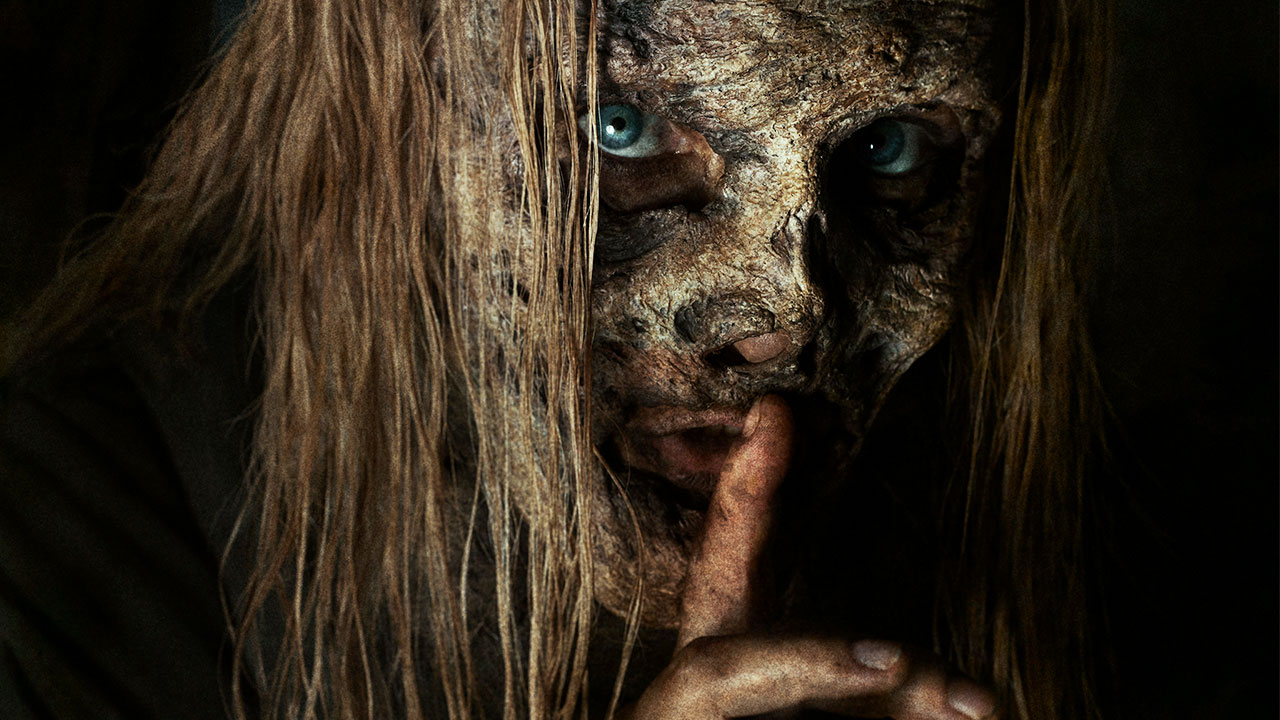 How different is 9B from 9A?

— Sara Scamander ?? (@writtenbysara) December 18, 2018
While the first half of the season settled us into the new world, the second half focuses primarily on our next villain group The Whisperers, the skin-wearing baddies who blend in with walkers. As the official synopsis of 9B states, "A whole new threat has crossed their paths, and they soon discover it's unlike any threat they have encountered or endured before. The group will start to question what they think they see. What may appear to be normal in this post-apocalyptic world could actually be more disturbing and terrifying than when the apocalypse first broke out." AKA our heroes will be in more danger than ever.
---
More Michonne and Carol?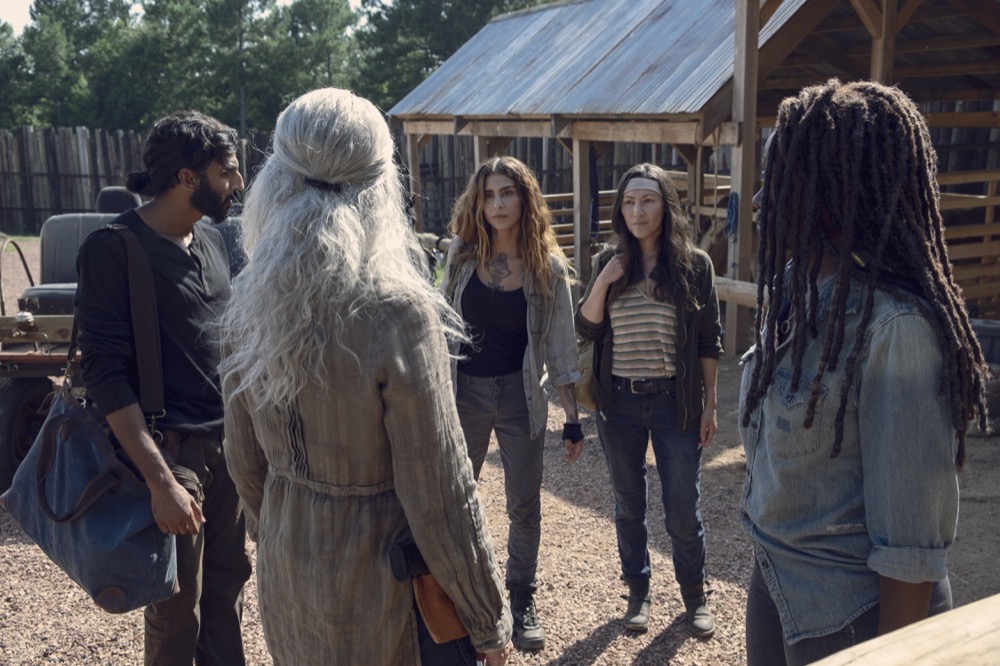 can we look forward to more scenes between michonne and carol?

— danii ? (@michonnesokoye) December 17, 2018
That's a fair assumption.
---
Carol vs The Whisperers?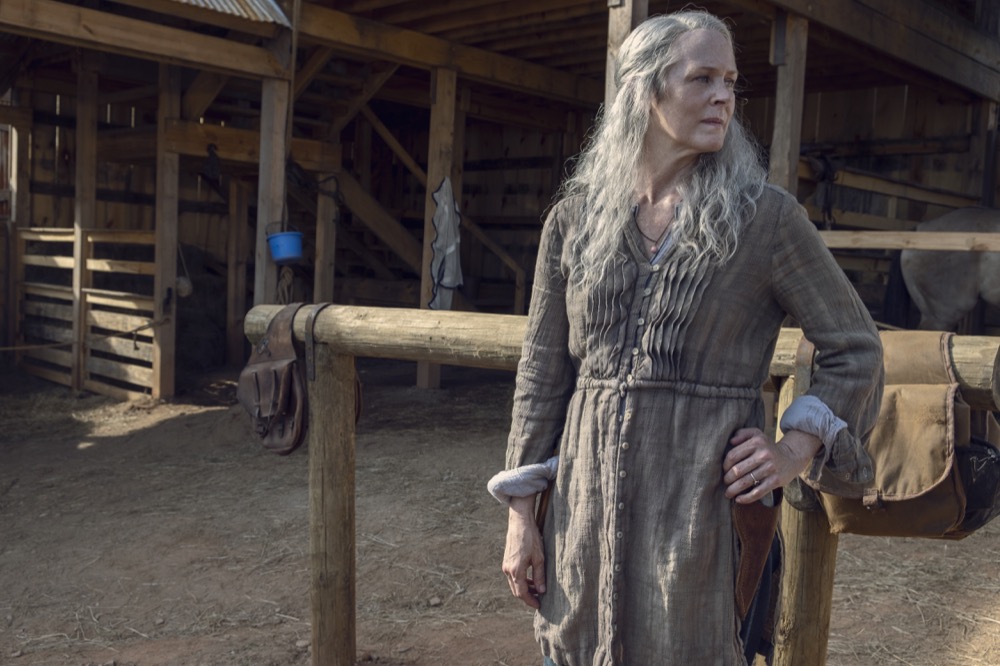 We last saw Carol leaving for the Kingdom. Please tell me she's not going to stay there for the rest of the season? Will she find out about the Whisperers and help fight against them?

— Nikki (@LilyVLove) December 17, 2018
Carol's done a lot of traveling this season – from the museum to the Sanctuary to the Kingdom to Daryl's camp to Hilltop. It's possible we'll see her in other locations in the back half, but expect to mostly see her at Kingdom.
---
New Lil' Asskicker?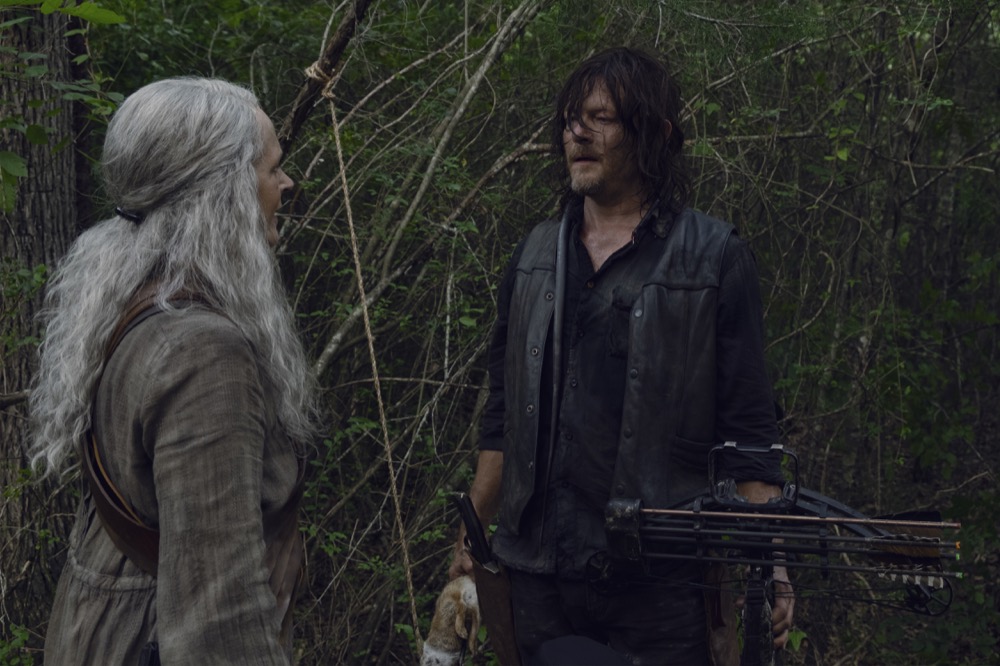 Does Daryl have a nickname for RJ similar to Judith's Lil' Asskicker? Does he check up on #RickGrimes family like a brother should? Would Rick be proud of the support provided to #MichonneGrimes and their kids?

— Tashann Grant (@MrsGrimesGrant) December 17, 2018
So many questions! So we can't answer all of them because we don't want to give too much away, but we can assume Rick would be proud of Daryl's involvement in his family. Even though he spent years in isolation, we might learn more about his relationship with the Grimes fam in the post-Rick era.
---
Henry and Daryl Scenes?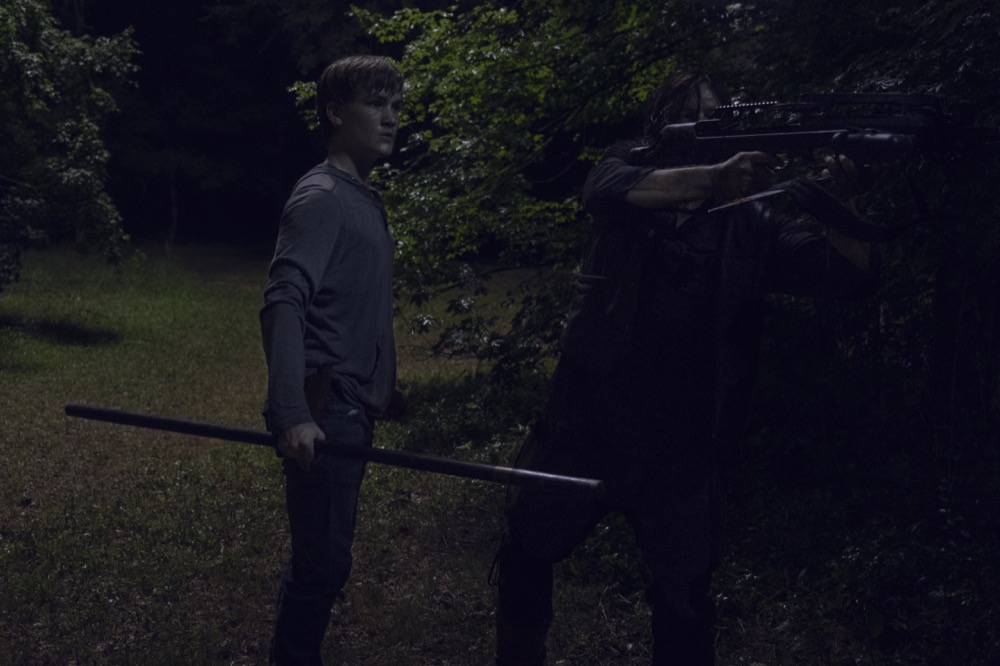 Any Daryl and Henry moments or scenes together

— Zainap ?? ?.. RIP George Michael ? (@ZainapMcReedus) December 18, 2018
Since Carol entrusted Daryl to look after Henry at Hilltop, it's safe to assume they will have more scenes together in the second half.
---
Where's Dwight?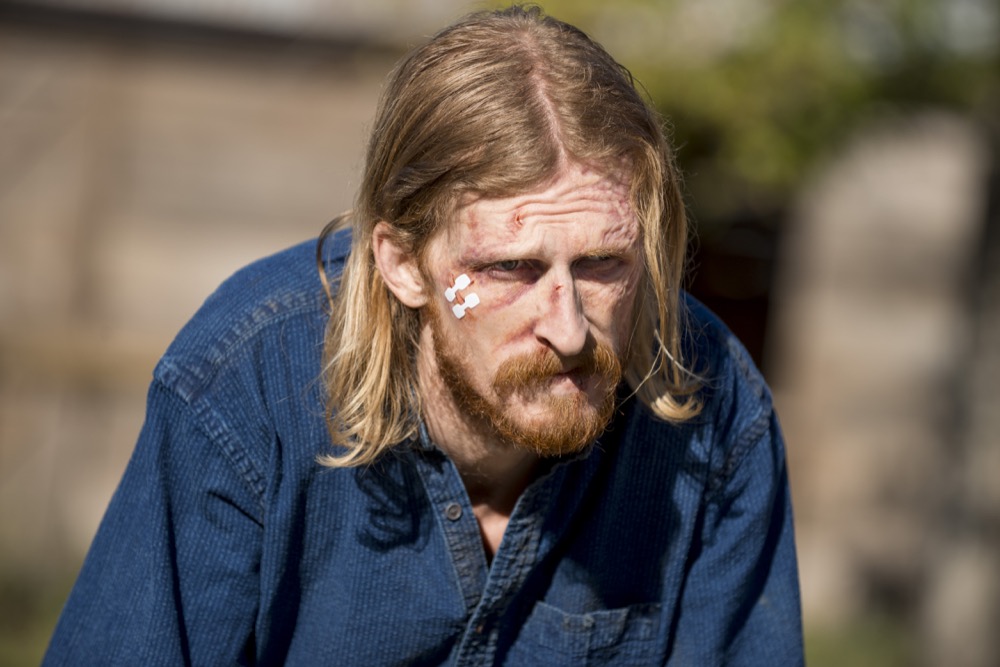 Do you know where is Dwight?

— Zainap ?? ?.. RIP George Michael ? (@ZainapMcReedus) December 18, 2018
We can't tell you, but Dwight actor Austin Amelio seems pretty confident his character is just fine. "He's not dead," Amelio said during this weekend's Walker Stalker New Jersey panel. "That's all I can say…he's alive. He's alive in the world somewhere…I think where he said he was going to go, to try and find his wife and just (be) a lonesome traveler on the road."
---
Changed Negan?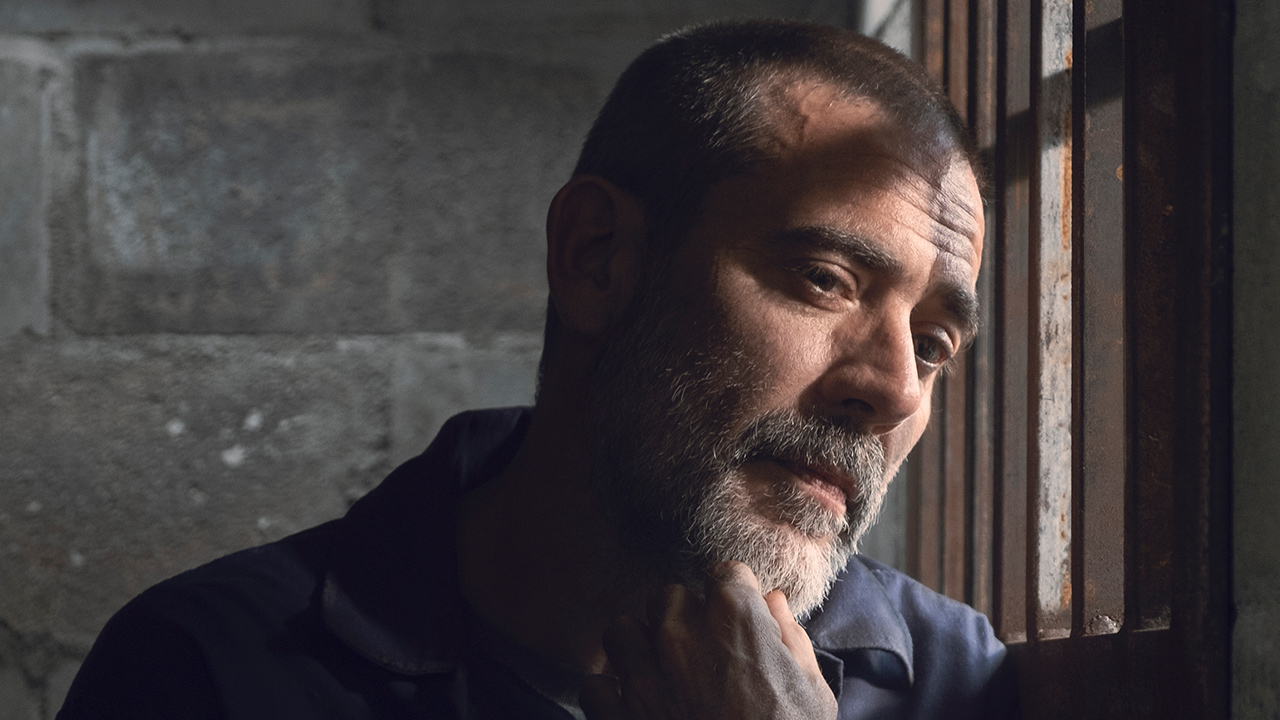 After spending 6 yrs in a cell, will we see a changed negan, or will he still be the same sadistic but lovable negan.

— em12 (@emmahar12345) December 17, 2018
Even though Negan escaped in the Mid-Season Finale, it's safe to say he's a different man than he was seven-and-a-half years ago. You'll see.
---
Maggie Back?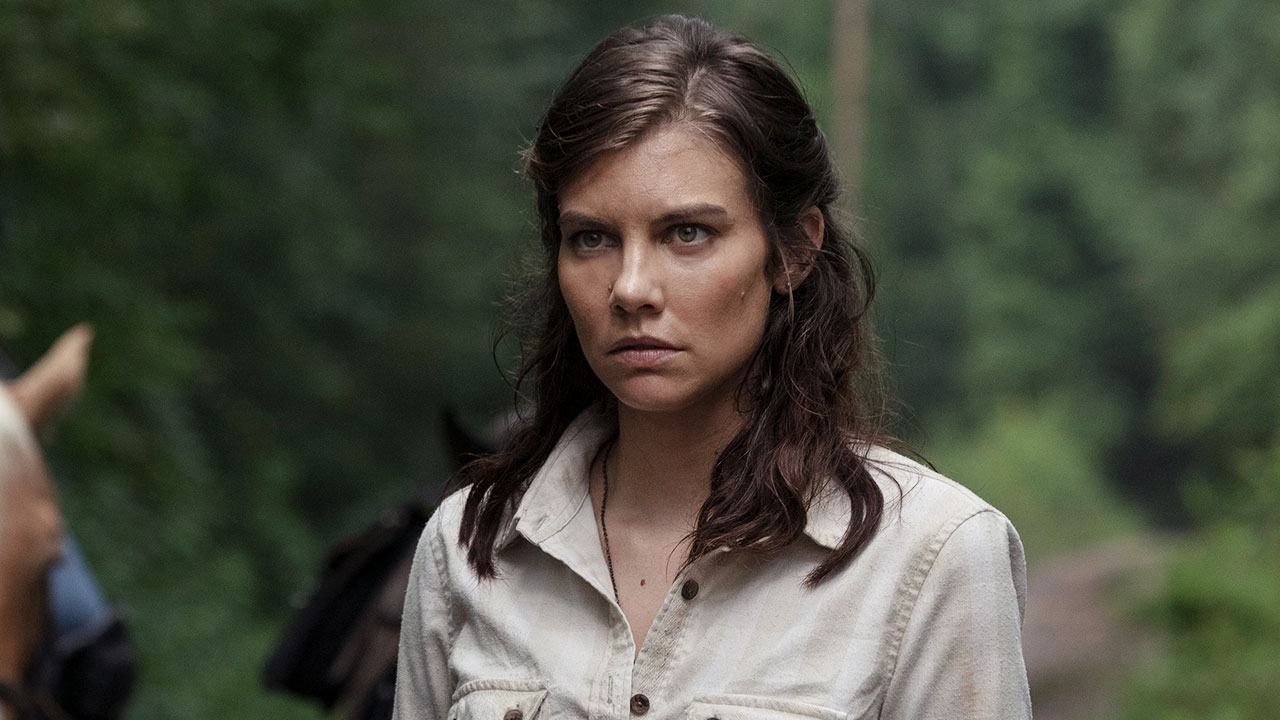 Will Maggie be the familiar face that return in the back half of season 9 since it's going to be a flashback episode later this season?

— Darius isn't ready for Endgame. | Thanks Andy (@DariusBlu) December 18, 2018
Unfortunately no, we're done seeing Maggie this season. But Showrunner Angela Kang has indicated she has plans for her in Season 10 (assuming we get one).
---
Rosita Feeling Better?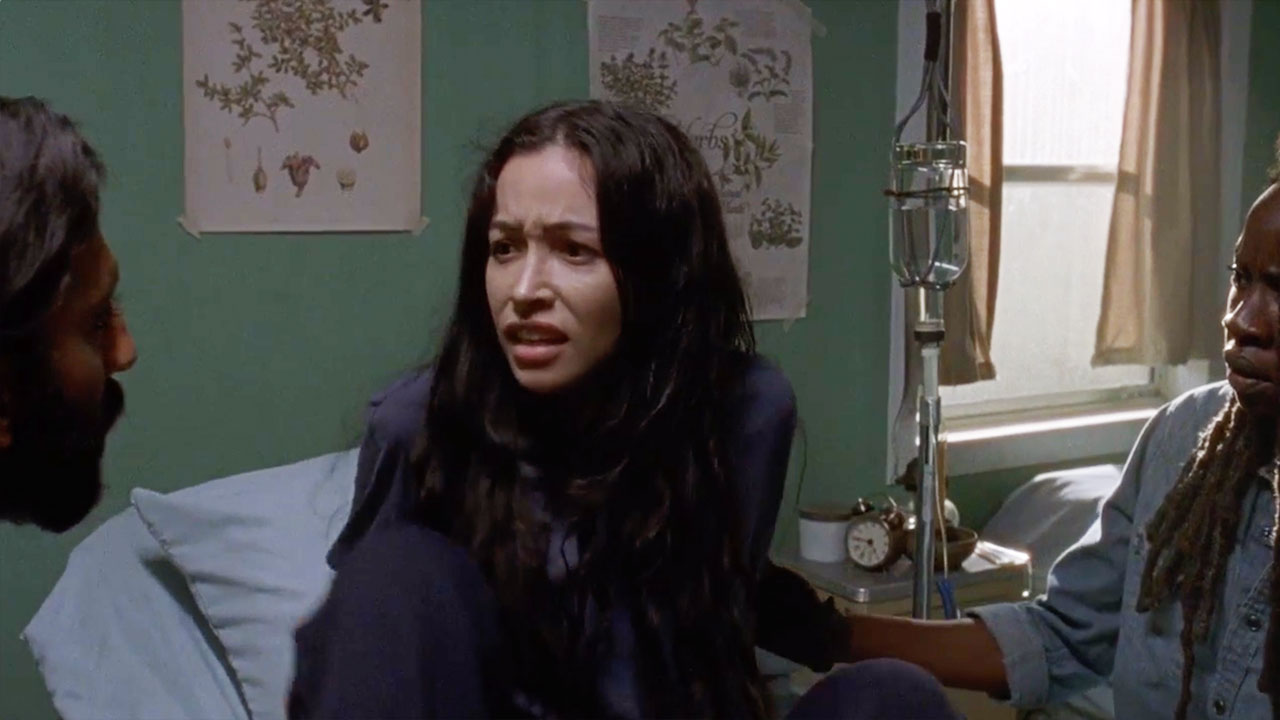 how's my baby rosita ,, is she recovering well?? when could we expect her back on her feet?

— grace loves carl and rj (@carlsrositas) December 18, 2018
Yes, Rosita's feeling well. Expect to see her doing better in the back half.
---
More Ezekiel?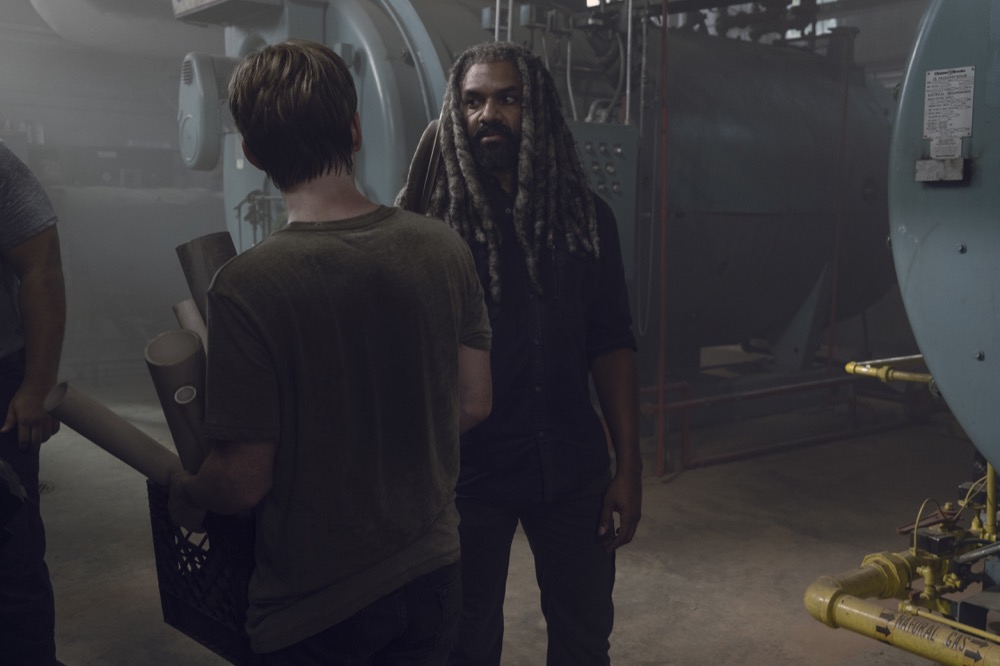 I missed King Ezekiel in 9A, will we see more of him in 9B?

— Patrícia Daniela (@pattydanny22) December 17, 2018
There was so much story to tell in the first half that some characters (like Ezekiel) got less screen-time than the others. With the fair coming up it's FAIR to say we'll see more Zeke in the second half.
---
Zeke Backstory?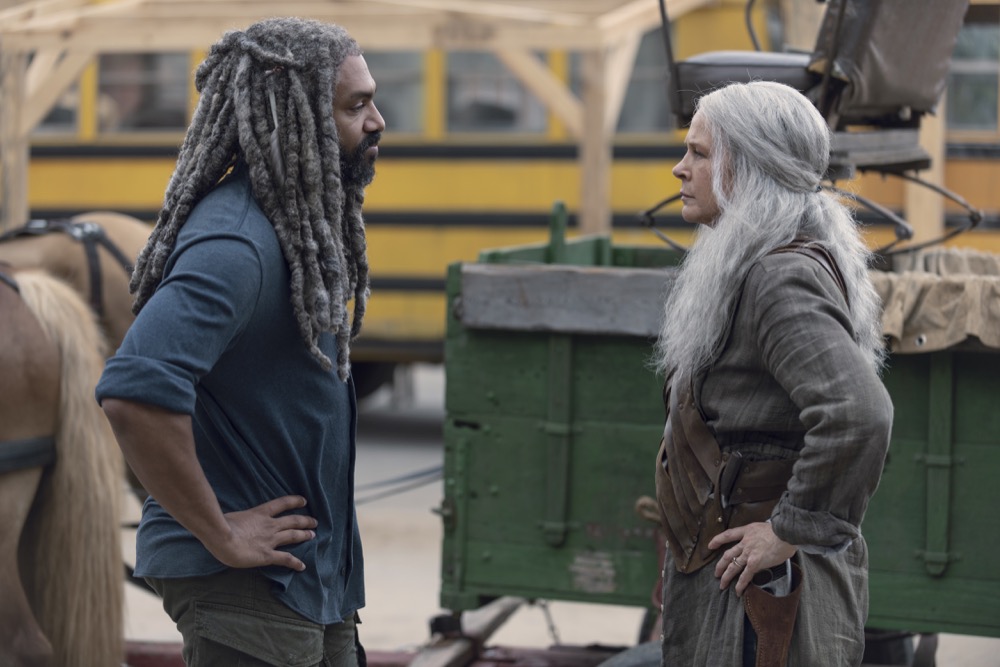 Asking again… Ezekiel backstory? More focus and on screen representation/development?

— ZM ❤️ Ricarzekichonne (@zombie_madam) December 17, 2018
The Walking Dead doesn't typically go too far in depth with backstories but it's probable we could learn a little more about his pre-apocalyptic life sometime down the line.
---
Where's Rick?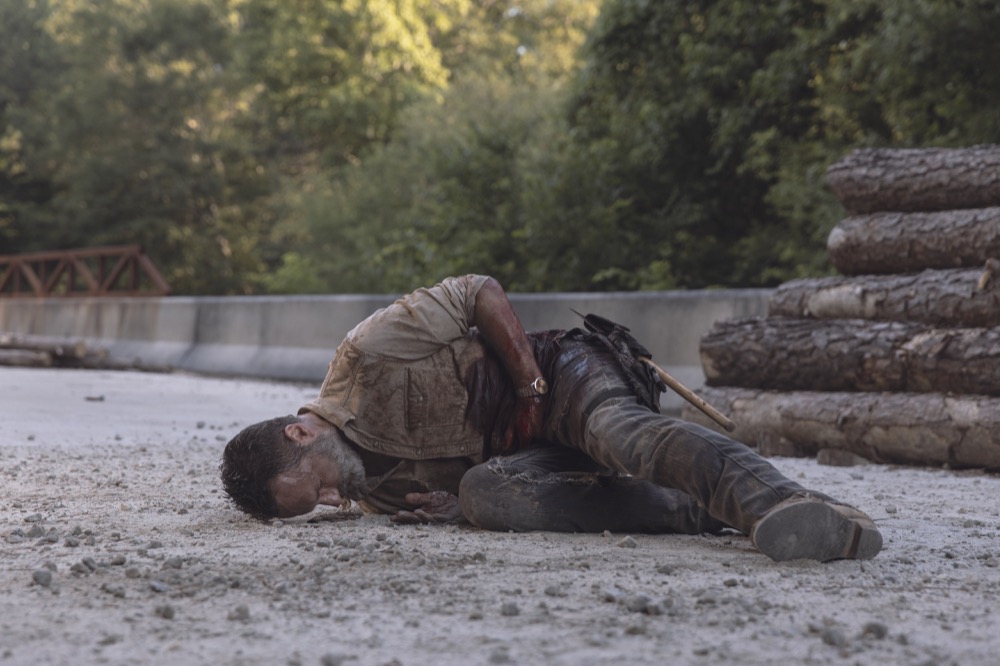 Who took Rick in the helicopter? I want him to come back!!!❤

— Donna Arrowood⬆️ (@DonnaArrowood1) December 18, 2018
You'll find out in the movies!
---
Rick Movies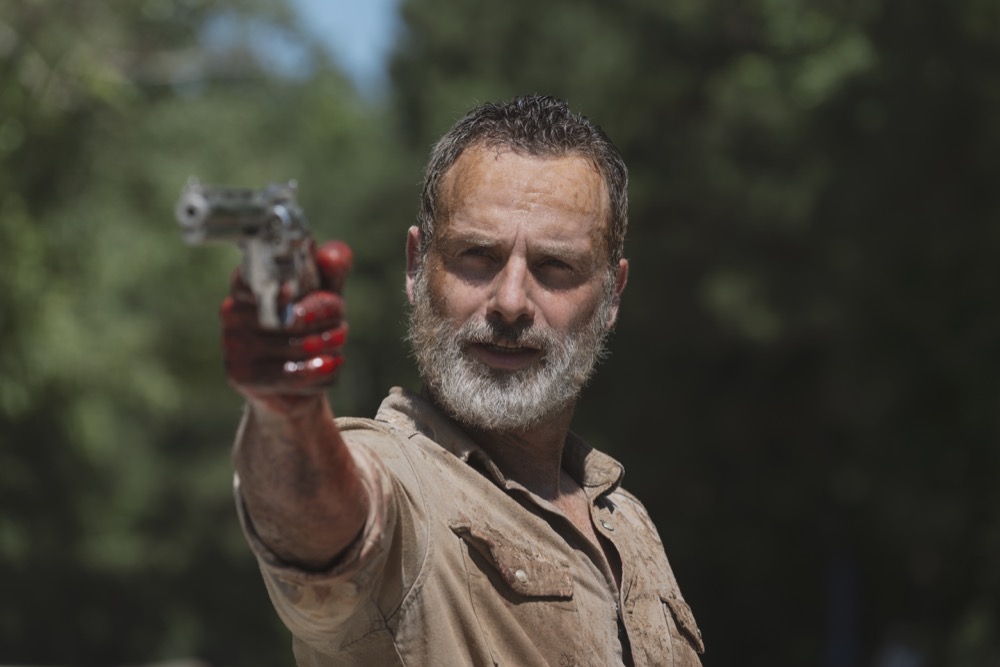 Are the Rick Grimes movies only going to be airing on TV or is there a chance we could be able to see at least one of them in theaters?

— what (@ncxaesthetic) December 17, 2018
There are a lot of details that still have to be sorted out for the Rick Grimes movies, but for now the plan is to air the films on AMC.
---
Daryl vs Beta?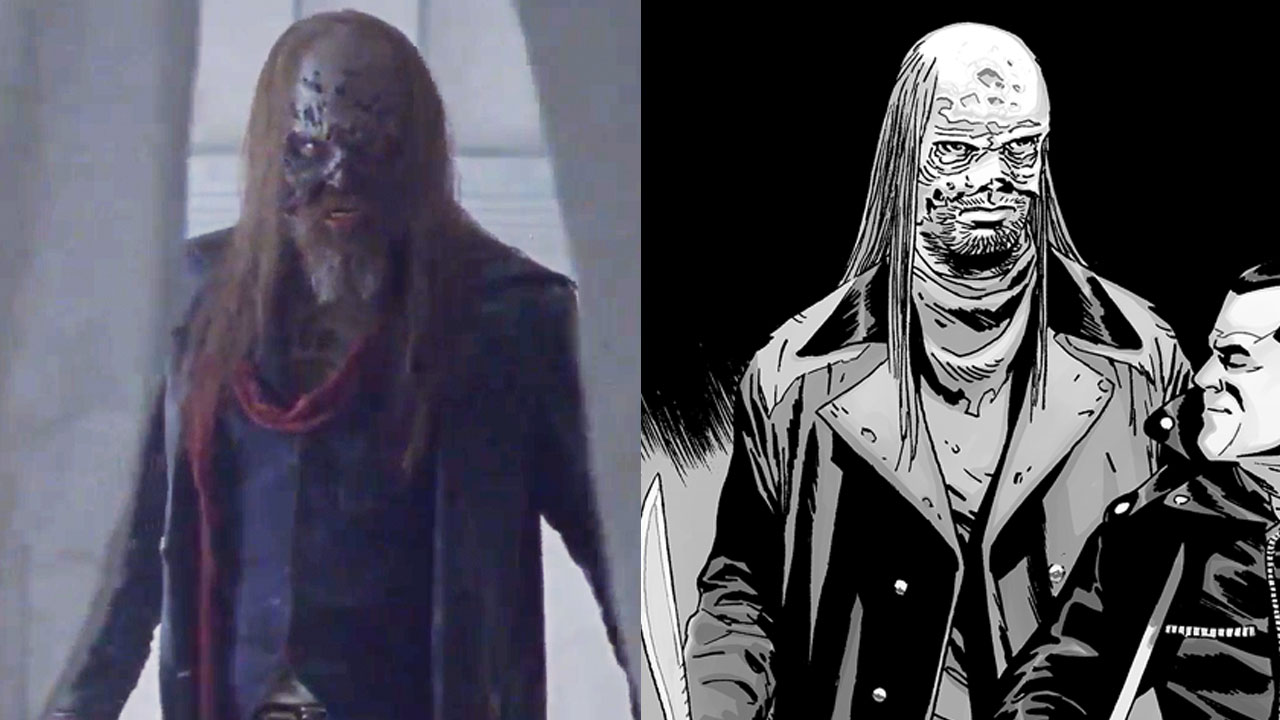 Who will win daryl vs beta

— Konzilla (@KonnorWild) December 17, 2018
Define "win."
---
Oceanside Justice?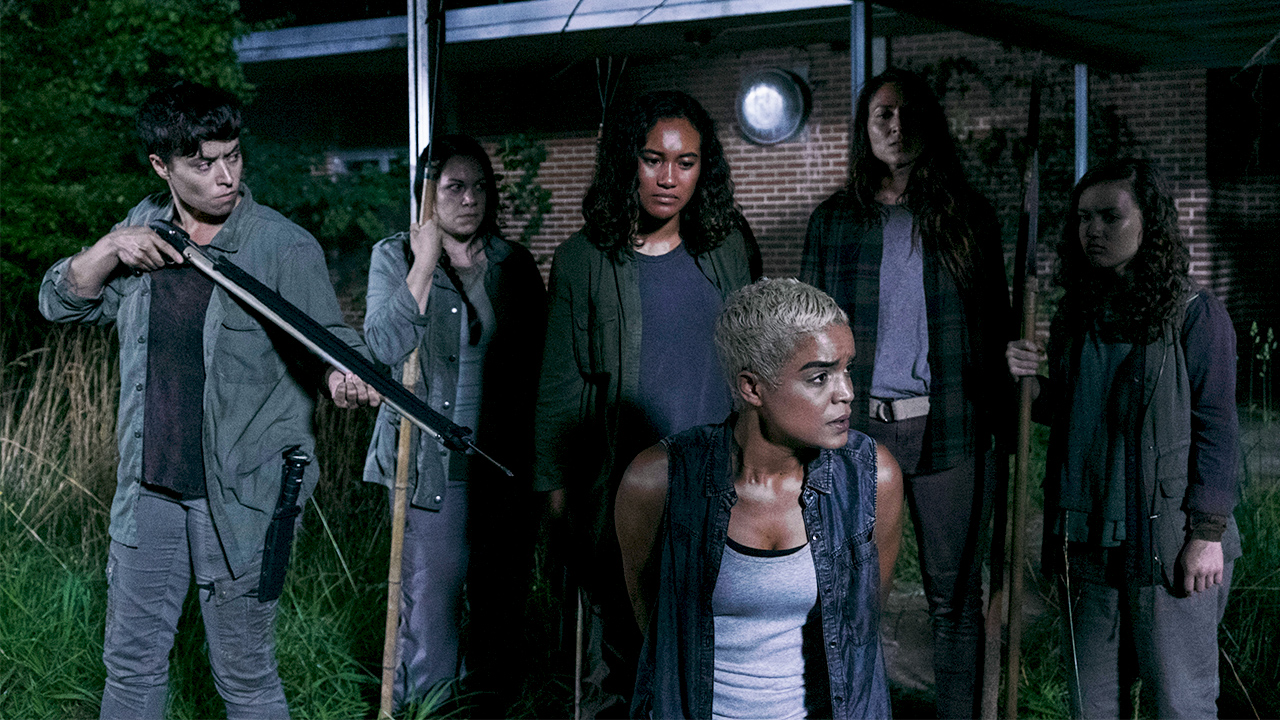 Will we find out what happened to the women from Oceanside as justice for their murders and why they aren't locked up like Negan is?

— Adam B. Carlson (@MNVikingZombie) December 17, 2018
Actually, the Oceanside gals won't be punished for killing the Saviors at all. They're still very much allies of Alexandria, Kingdom, and Hilltop (even though the bond connecting the communities has soured). Maggie and Daryl barely flinched at Arat's execution, so no justice will need to be served (remember how Carol dealt with the Saviors when SHE last encountered them?)
---
Carol & Judith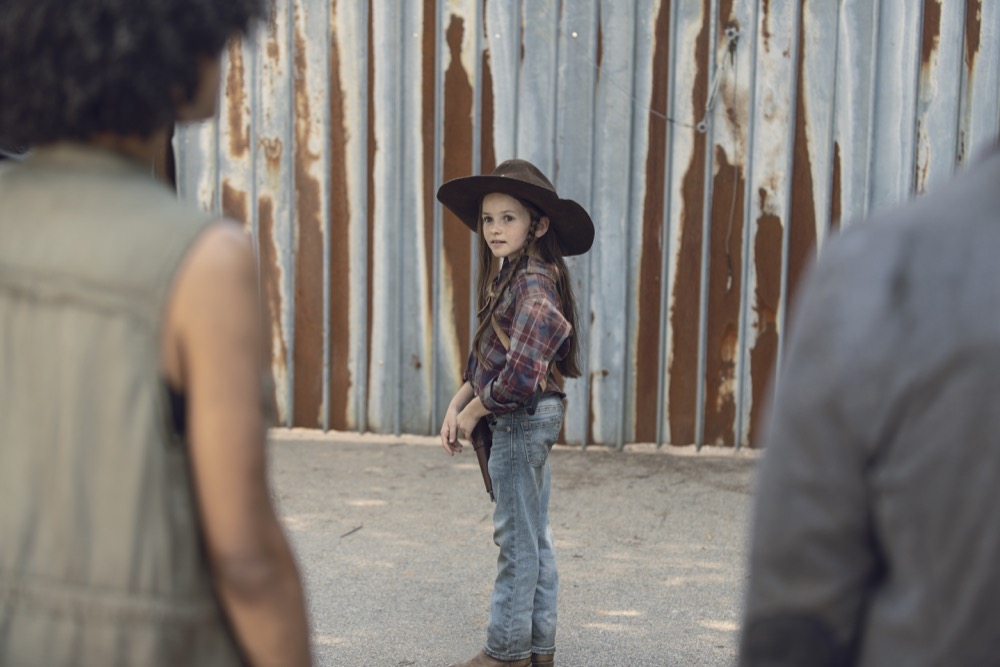 Are we ever going to see Carol interacting with Judith again?

— Anu (@Anuradh39017505) December 18, 2018
Maybe!
---
The Rick Tapes?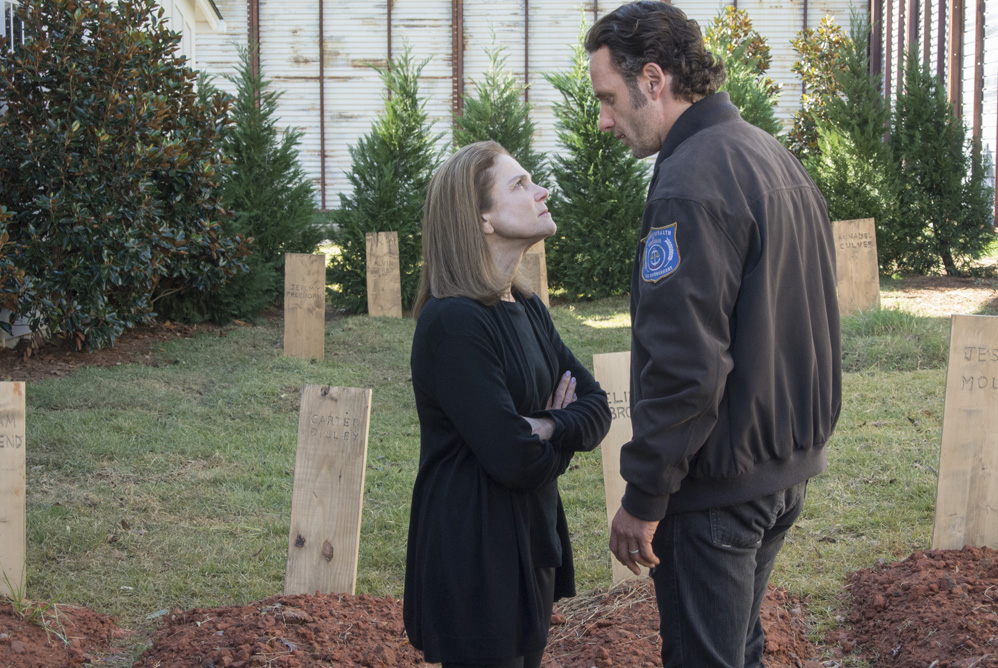 Judith told Michonne that she was starting to forget Rick and Carl's voices…way back when Rick arrived in Alexandria Deanna made tapes. Negan and the Saviors found them and took them with the camera.. do the tapes still exist? Does Negan know where they are?

— Lori (@LoriheartsTWD) December 17, 2018
Unfortunately they're currently MIA. Not necessarily lost forever, but don't expect to see them again anytime soon.
---
More Time Jumps?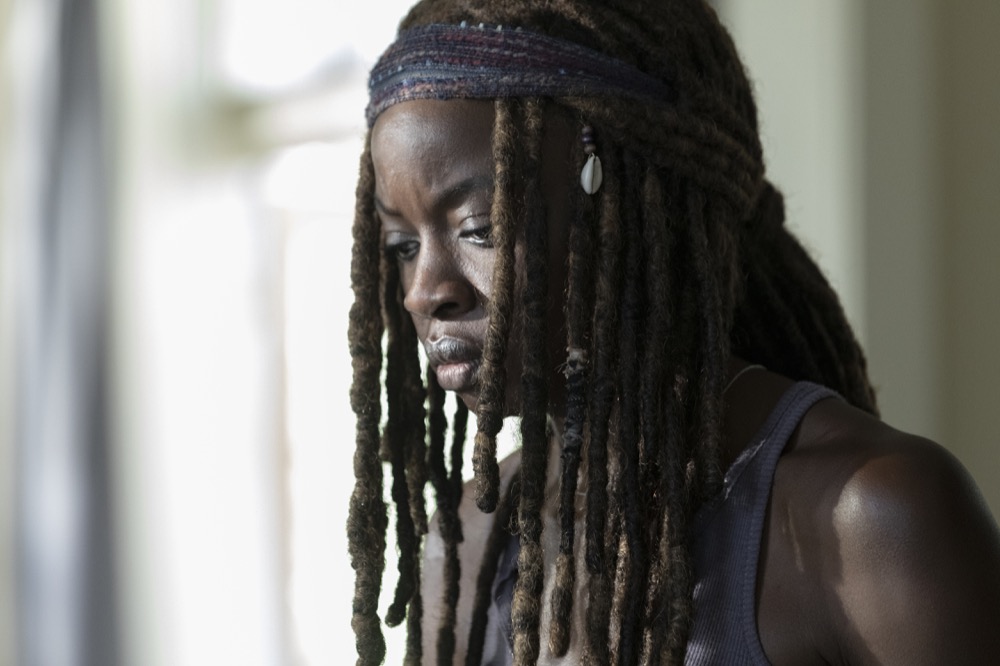 should we prepare for any more time jumps im not sure im ready tbh

— Rebar "And yet, I smile" Grimes (@carrieWUTWUT) December 18, 2018
Yes, Michael Cudlitz and Angela Kang have both confirmed we'll learn how Michonne and Daryl got their x-shaped scars, aka a flashback. Stay tuned.
---
Michonne Pregnancy Flashback?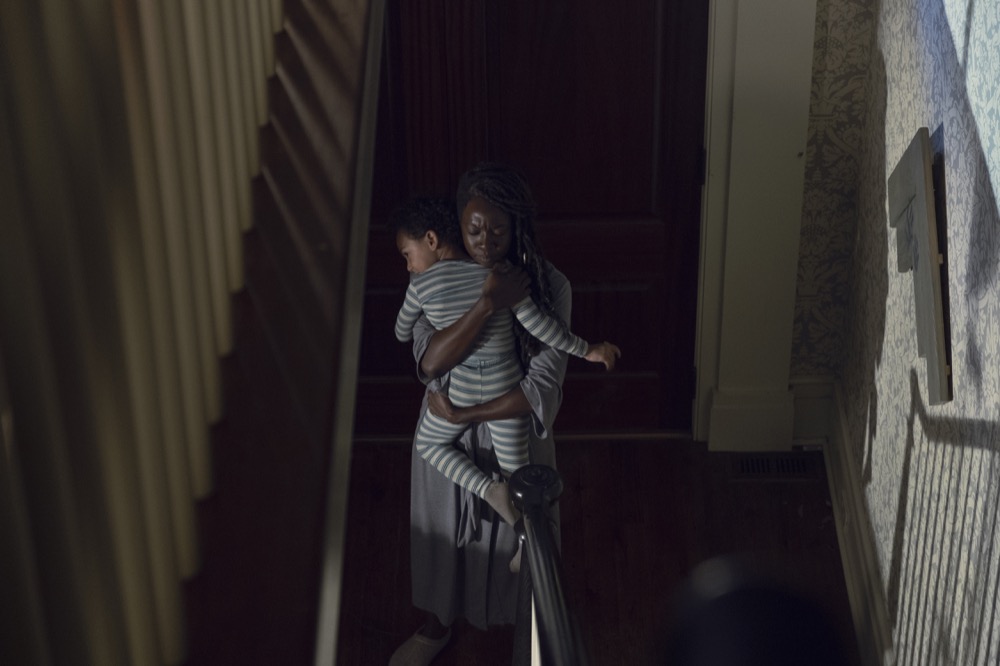 are we getting michonne pregnancy flashbacks? maybe to when she found it she was pregnant?

— gia misses ross ✧ 297 (@andysrichonne) December 18, 2018
Maybe! This Michonne time jump could have been from any time in the six-year time jump, but it's possible she could be pregnant with baby RJ in flashback.
---
Gracie and RJ?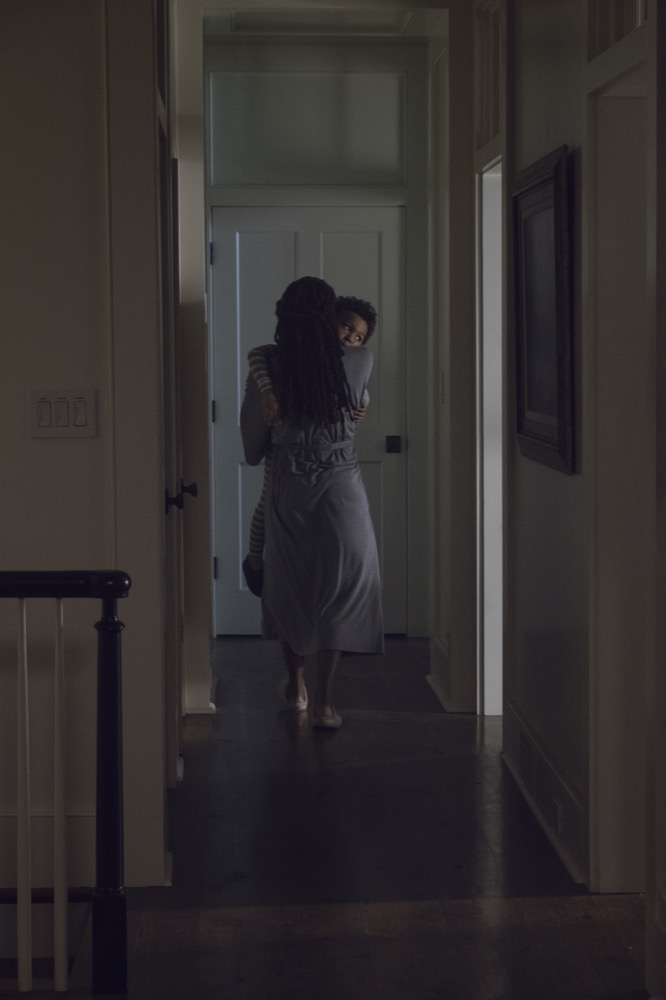 are gracie and rj friends?

— katee loves ross 116 (@rcssmarquand) December 17, 2018
RJ and Gracie are pretty far apart in age but most of the Alexandrian children are pretty close, so to answer your question, yes.
---
Aliens??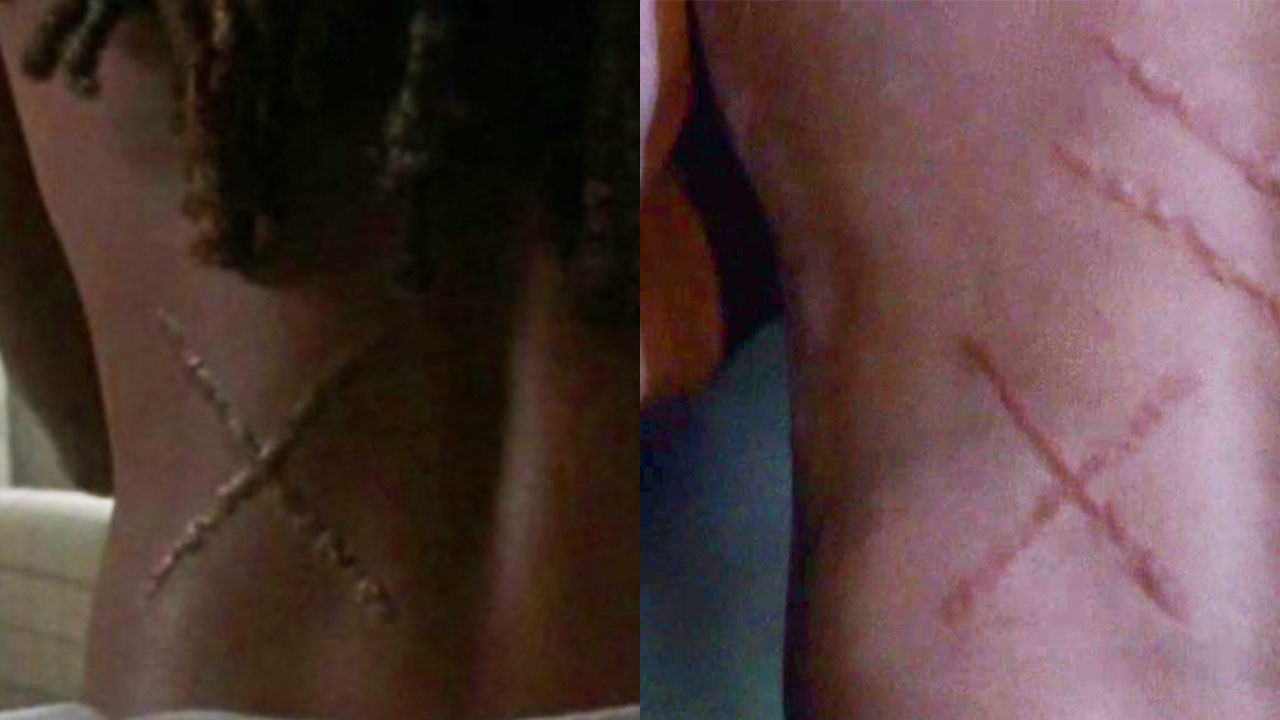 Did Daryl and Michone get those 'X's on their backs from an alien abduction? Does Carol have one, too?

— Jillian Davis (@Jilly928) December 18, 2018
Yes and no.
---
Cleaner Daryl?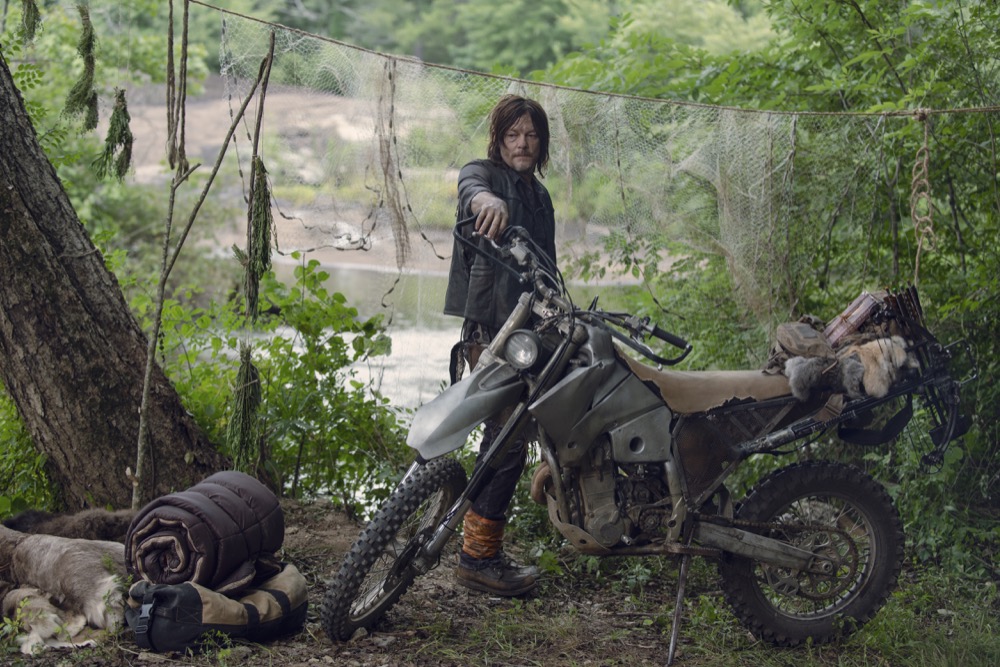 Will we have a Daryl's shower scene?

— uss-donnie (@UssDonnie) December 17, 2018
Nah.
---
Dance Off?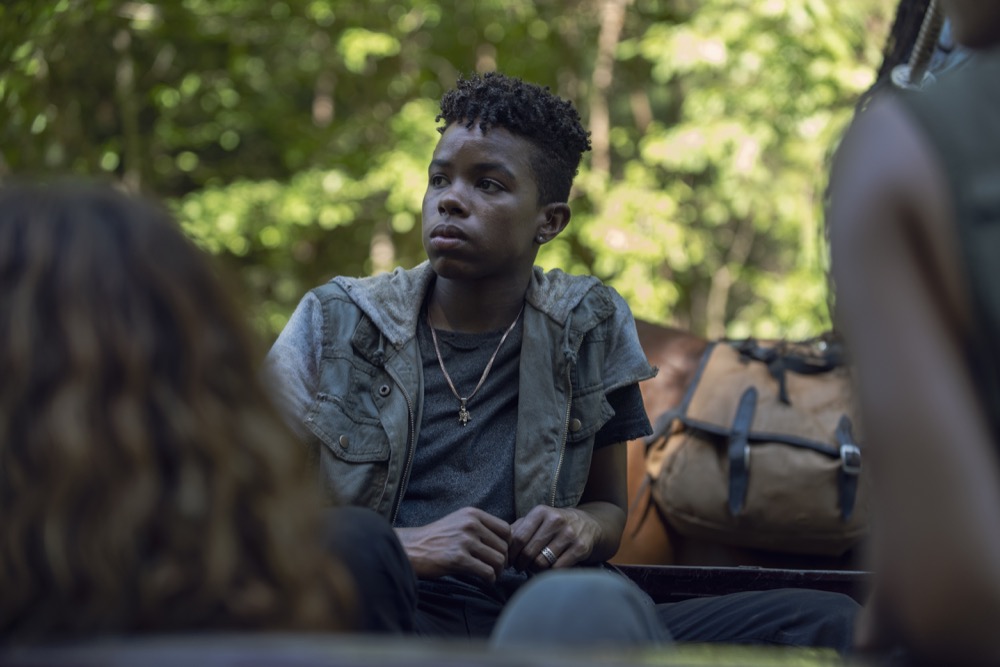 Can we work in a dance off between @IamAngeltheory and @kharypayton

— Rebar "And yet, I smile" Grimes (@carrieWUTWUT) December 17, 2018
God, I hope so. And for the uninitiated, Angel Theory, who plays Kelly, is ALSO an amazing dancer. Exhibit A:
---
Walking Dead Reindeer?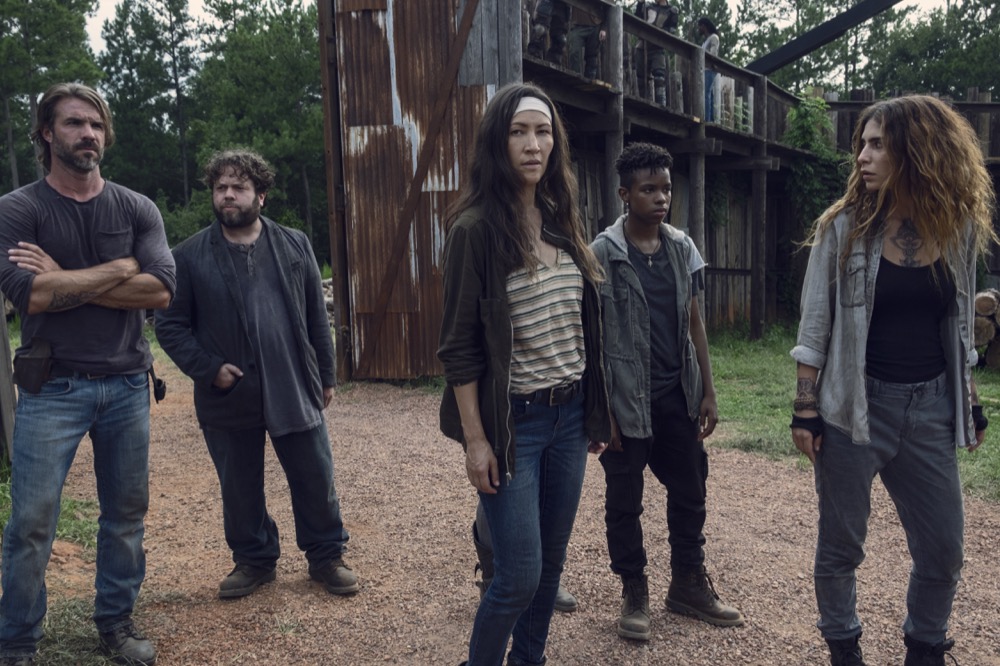 If you was to match the main characters to Santa's reindeers who would be who?

— Tony Quant (@TopRopeTony) December 17, 2018
Dasher = Carol
Dancer = Kelly
Prancer = Dog
Vixen = Rosita
Comet = Magna
Cupid = Ezekiel
Donner = Daryl
Blitzen = Michonne
Rudolph = RJ
---
That wraps up our final Walking Dead mailbag for 2018! Thanks for sticking with us and look forward to MANY more mailbags next year. Until then, Happy Holidays and Happy New Year!