UPDATE:
DELUSION: LIES WITHIN is dropping on Samsung VR on NOW! Grab yourself or the horror fan in your life an early xmas present! Take a look at the new trailer and all the new information HERE and jump into the insane world of DELUSION today!
ORIGINAL ARTICLE:
Ever since we announced our partnership with Jon Braver to turn his amazing interactive theatrical experience into a virtual reality series, people have been asking us when they can experience DELUSION: LIES WITHIN themselves. We've been doing the festival thing for a bit with it, but we've been patiently waiting to announce that we're once again partnering with Samsung to bring this amazing theatrical VR story to the mass market! Starting December 24th, all 4 parts of DELUSION: LIES WITHIN will be available through Samsung VR Video! Full details below in our release!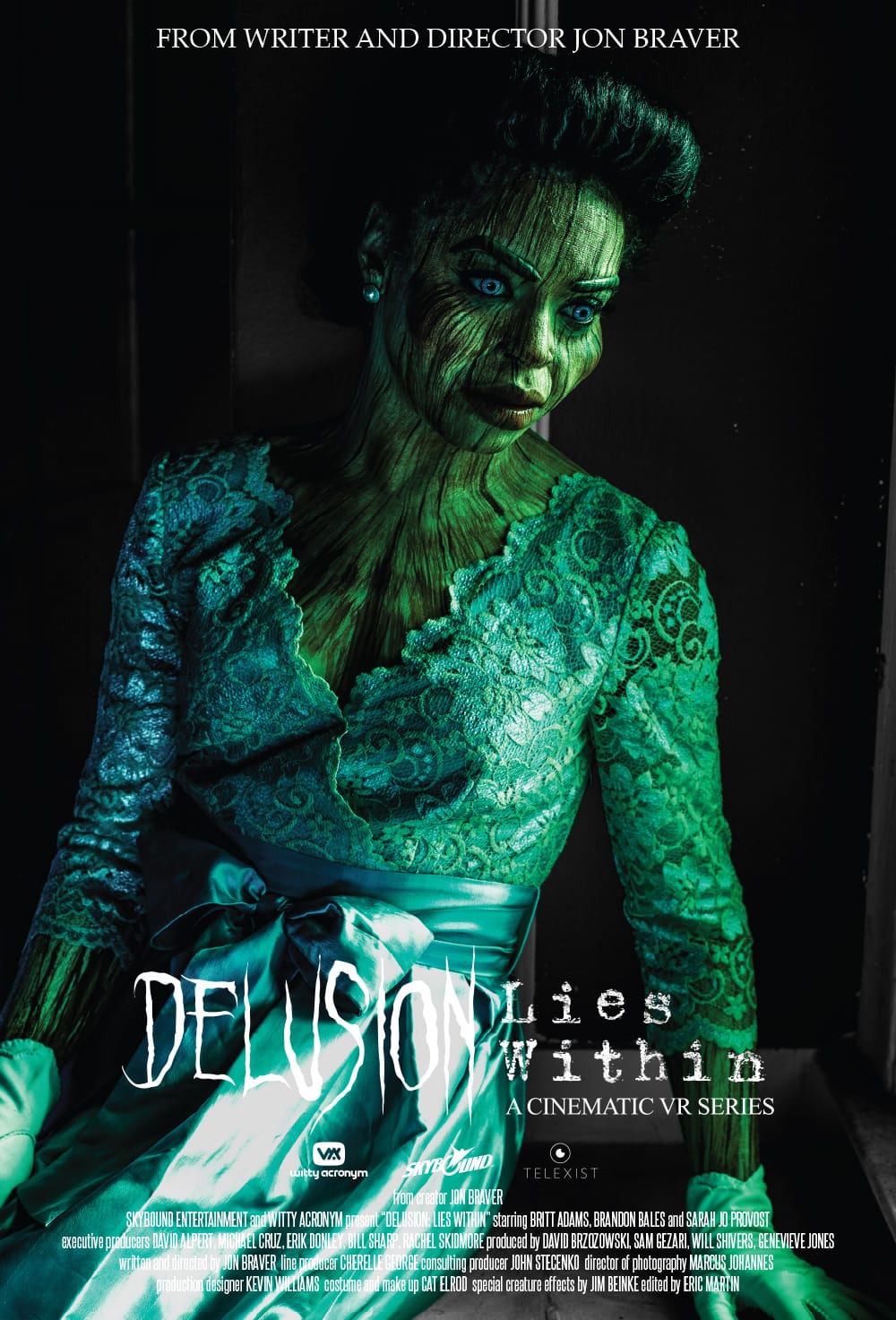 SKYBOUND ENTERTAINMENT'S VIRTUAL REALITY SERIES DELUSION: LIES WITHIN TO BE DISTRIBUTED ON SAMSUNG VR
The Series is Available Starting November 2, 2018
October 30, 2018 (LOS ANGELES, CA) – Skybound Entertainment's virtual reality horror series Delusion: Lies Within will debut on Samsung VR Video starting November 2, 2018. Jon Braver wrote and directed the series, which premiered earlier this year at Overlook Film Festival. It also screened at DTLA Film Festival, as a part of an interactive experience in collaboration with Samsung Electronics America.
Delusion: Lies Within is based on Jon Braver's 2014 immersive experience of the same name, co-written by Peter Cameron and produced by Braver's LA-based interactive theatrical company Delusion. Set in 1947 in the American South, the series follows two rabid fans of a missing author as they set out to reclaim their beloved novelist from her literary nightmare come to life. Witty Acronym serves as a production partner on the VR series.
"Jon Braver's vision for Delusion: Lies Within brings to life truly captivating storytelling in VR, and we're excited to share his story with a larger audience," said Rachel Skidmore, Vice President of Emerging Platforms at Skybound. "Samsung VR Video is an ideal partner to spread an immersive experience such as Delusion further than the capacity of a theatrical event, and we're thrilled to be working with the team again."
"Samsung VR Video is thrilled to team up with Skybound Entertainment again — this time bringing Jon Braver's Delusion: Lies Within to global audiences. In the immersive adaptation of his wildly successful theater piece, Jon's superb storytelling combined with the studio's excellent live-action capture and special effects are exemplary of what virtual reality desires in long-form, episodic content today," said Yoon Lee, Senior Vice President of Content and Services at Samsung Electronics America.
The episodic story will offer a cinematic adventure following various characters through their dark journey, offering a unique perspective on immersive storytelling. Viewers will be able to purchase the series on Samsung VR Video for $4.99.
Skybound and Samsung previously partnered together for the distribution of Gone, the first-ever scripted virtual reality series from Samsung.
About Skybound:
Founded in 2010, Skybound Entertainment is a multiplatform entertainment company managed by partners Robert Kirkman, David Alpert and Jon Goldman. Skybound houses projects ranging from television, film, emerging platforms, comics, interactive gaming, live events, and more. In 2016, the company expanded to Vancouver with the opening of their Skybound North office, working to expand Skybound's footprint into the animation and children's space with top Canadian talent. In 2018, Skybound opened GammaRay, a video-content brand focused on pop culture, and expanded Skybound Games into a venture focused on publishing independently developed games.
Skybound Entertainment is responsible for television hits including The Walking Dead, Fear the Walking Dead, Outcast, Robert Kirkman's Secret History of Comics, and currently holds a first-look television deal with Amazon Studios. On the film side, Skybound has a first-look deal with Universal. Robert Kirkman's second-longest running comic series Invincible will be developed for film at Universal and as an animated series for Amazon. The interactive gaming slate includes partnerships with Starbreeze, Skydance, Scopely, and more. Skybound is currently publishing comic book titles The Walking Dead, Oblivion Song, Die!Die!Die!, Outcast, Redneck, Gasolina, Crude, and more.