Our Walking Dead fan mailbag is BACK! This week we cover more Season 9 goodies with some Fear questions mixed in! And quick note guys, we do see ALL of your questions on Twitter, but know if we didn't answer them it's because we just can't just spoil the show. Now, let's get into the mailbag for the week of August 23rd, 2018.
---
Resurrecting The Dead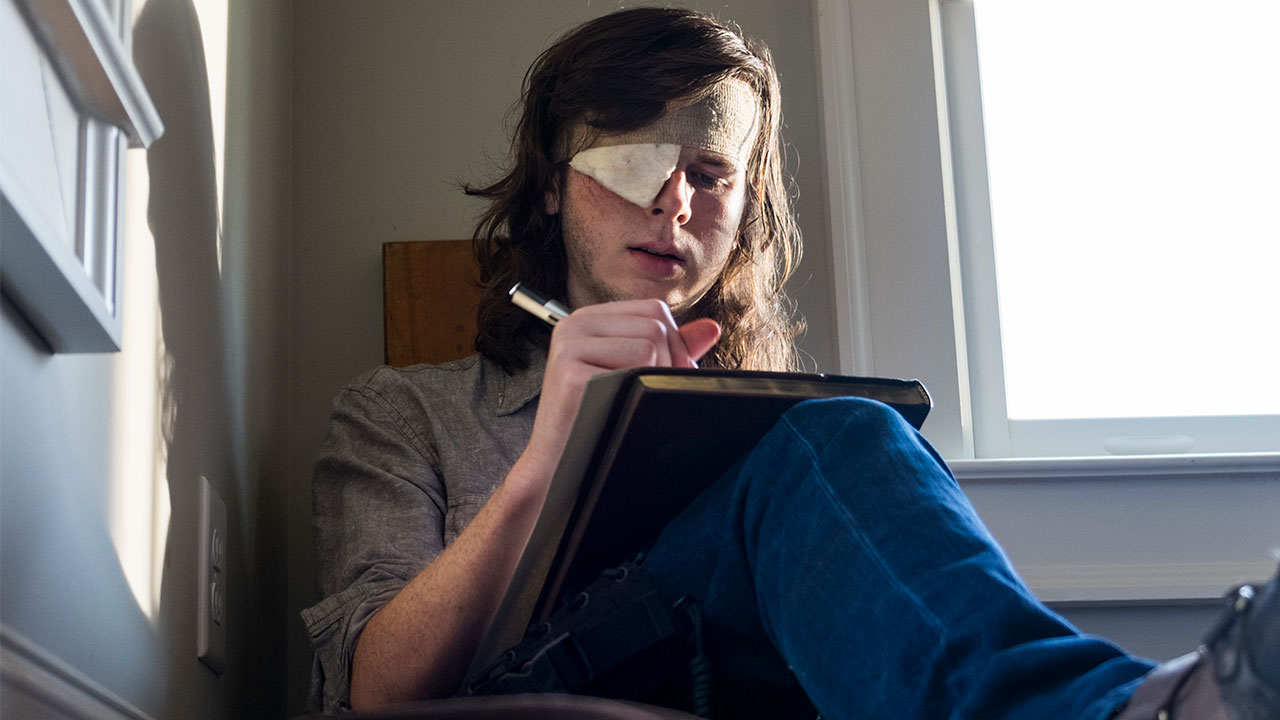 Will there be any mentions or references to deceased characters in Season 9?

— The Walking Dead World (@TWalkingDWorld) August 23, 2018
Yes! In fact, new showrunner Angela Kang revealed that Michonne will wear a piece of Carl's shirt in her hair this season in his memory. Even though the season starts with a time jump, Carl will remain fresh in everyone's mind. He also might not be the only character of Christmas past to get a mention…
---
Old Man Rick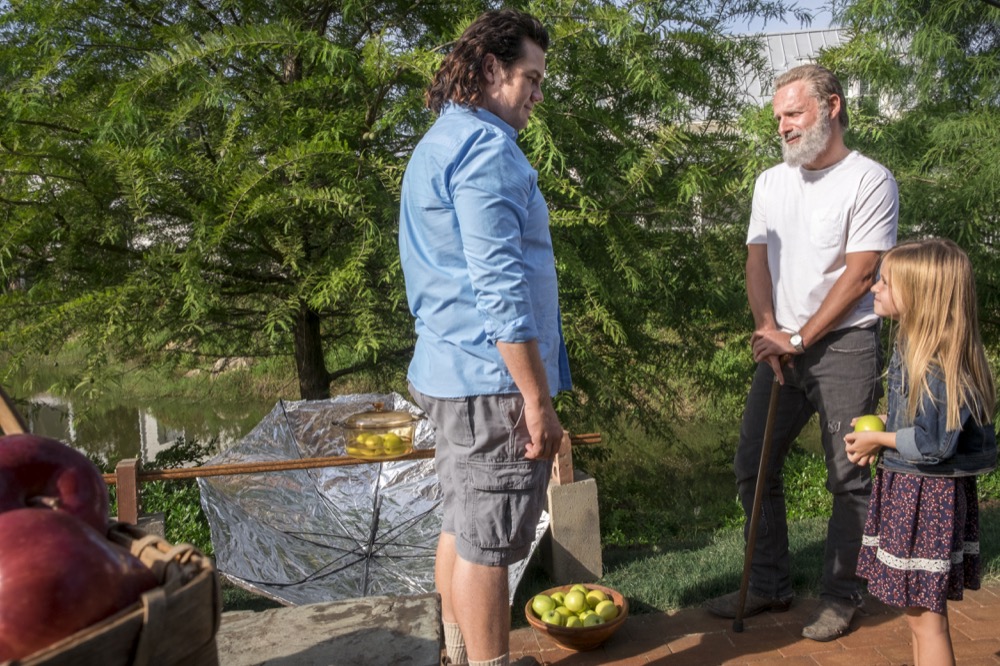 Will Rick use his cane as he appeared in Season 8?

— Rick Grimes | Andrew Lincoln (@TWDRickGrimes__) August 23, 2018
Great question! No, Rick will not need a cane this season like he did in Carl's dream for the future in Season 8 (pictured above). That vision was more of a nod to the comics, where Rick got his leg broken by Negan in that final battle of All Out War. Since that was exclusive to the source material, real-life Rick will be able to get around just fine like we saw in the trailer.
---
Fear Performances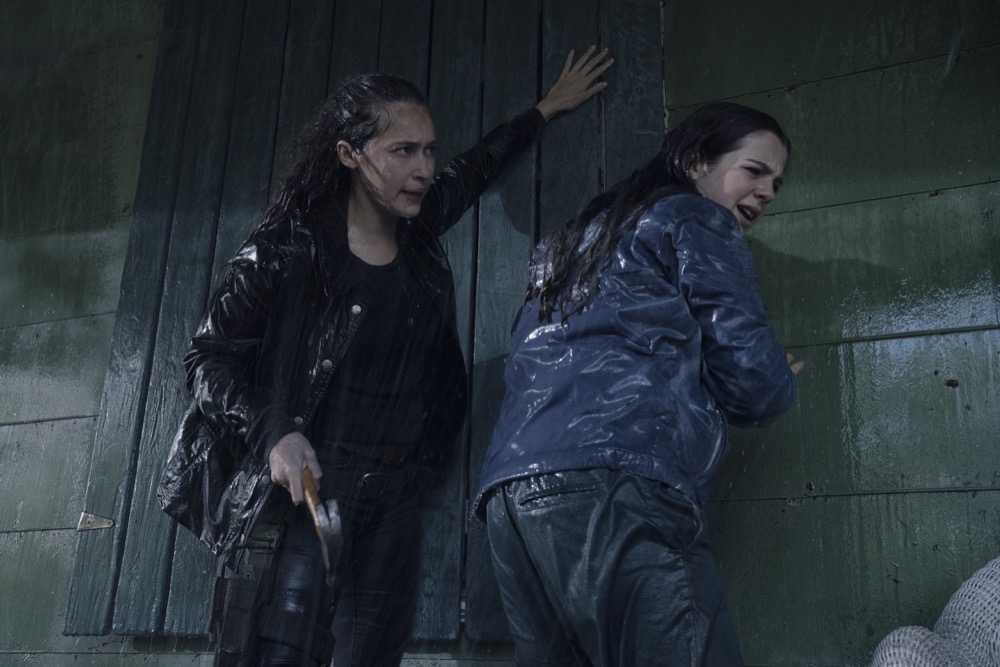 What are some of the top performances you can tease in the remainer of Season 4 of #FearTWD?

— The Walking Dead World (@TWalkingDWorld) August 23, 2018
I think we can all agree that Alycia Debnam-Carey and Alexa Nisenson delivered Emmy-worthy performances in last week's episode of Fear. As for the rest of the season, we can honestly say that you'll get top-tier performances from all the characters, especially the new ones you haven't met yet.
---
Ezekiel Update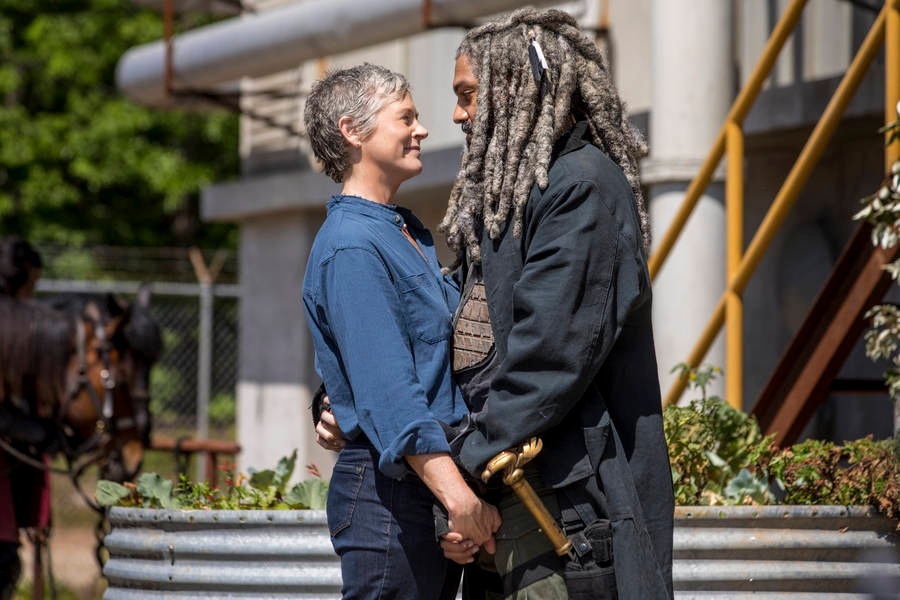 Also what is my man Ezekiel up to? Will we see more of him and maybe a bit of his backstory?

— eileen ? (@caarolpeletiers) August 22, 2018
As shown above we'll see a good amount of Ezekiel in the context of his relationship with Carol. As seen in pictures, we'll also see him at the Kingdom, the Sanctuary, and in DC during the major supply run that happens early on in the season.
---
Jesus Update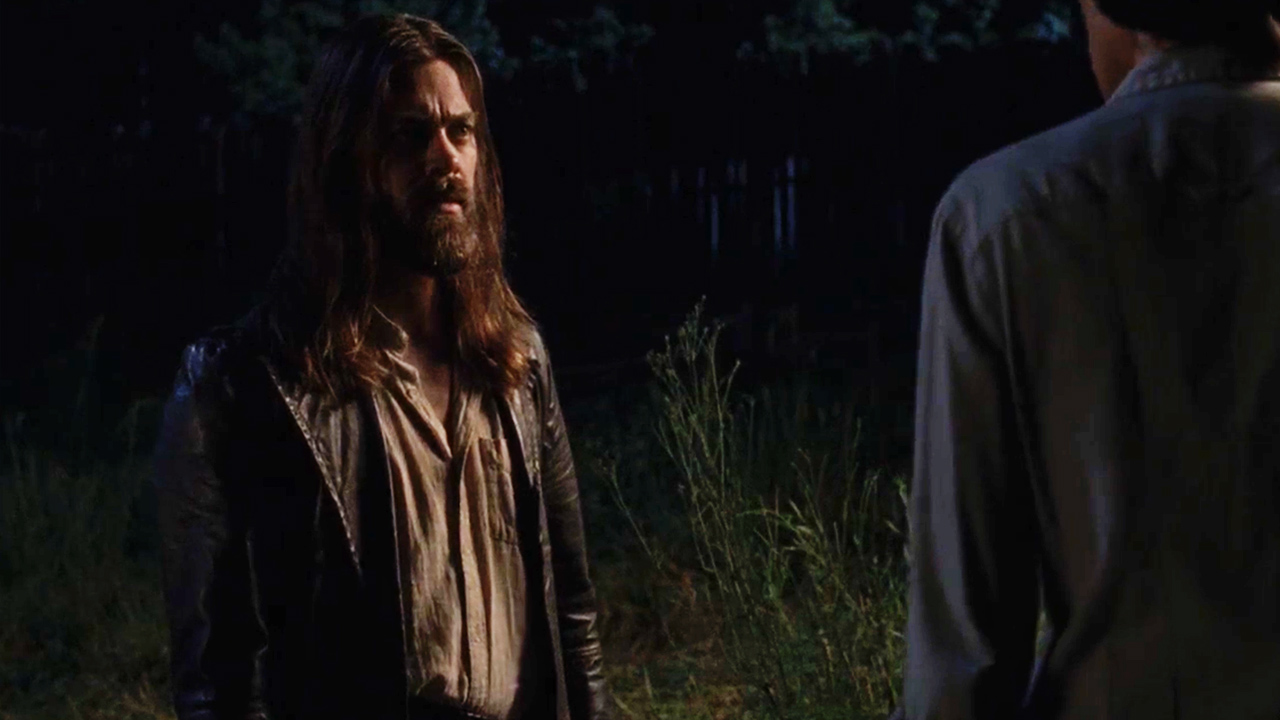 is jesus actually gonna have anything to do this season?

— clo ⭕️ (@PAULROVlA) August 23, 2018
Plenty! The majority of it will revolve around helping Maggie run the Hilltop. Tom Payne himself expanded on this during the Season 9 Special. "I think one of the things that might be tough this season for him…I think Maggie wants him to be a more active part of the community and I think he's there to help her with stuff," Payne said. "But he would rather be doing what he was doing when we first met him on the show, which is out there meeting new people and doing stuff for the community."
He assured fans that Jesus would still have plenty of action scenes. "I will say there is some fight stuff and its amongst some of the favorite stuff I've done on the show," Payne said.
---
Season 9 Special?
Will we have a special The Talking Dead this year for the Season 9 premiere? Do we have a location?

— Gekari ?? QueenOfSpades | Sledgehammer (@Gekari097) August 22, 2018
Good question. Most years, The Walking Dead season premiere is followed by an epic episode of Talking Dead featuring the whole cast at some amazing venue (for Season 7 it was Hollywood Forever Cemetery, for Season 8 it was the Greek Theater in LA). HOWEVER, in Season 6 it was a regular Talking Dead only featuring Scott Gimple and Greg Nicotero BECAUSE the night before the entire cast was in New York for the epic Walking Dead Comic-Con panel.
The same situation might also happen this year since The Walking Dead New York Comic Comic-Con panel also goes down the night before the Season 9 Premiere. Although there will be a Talking Dead following the episode, it's possible it'll be a more toned-down show considering the panel. But we just don't know yet, so keep it here for updates!
---
Michonne Grimes?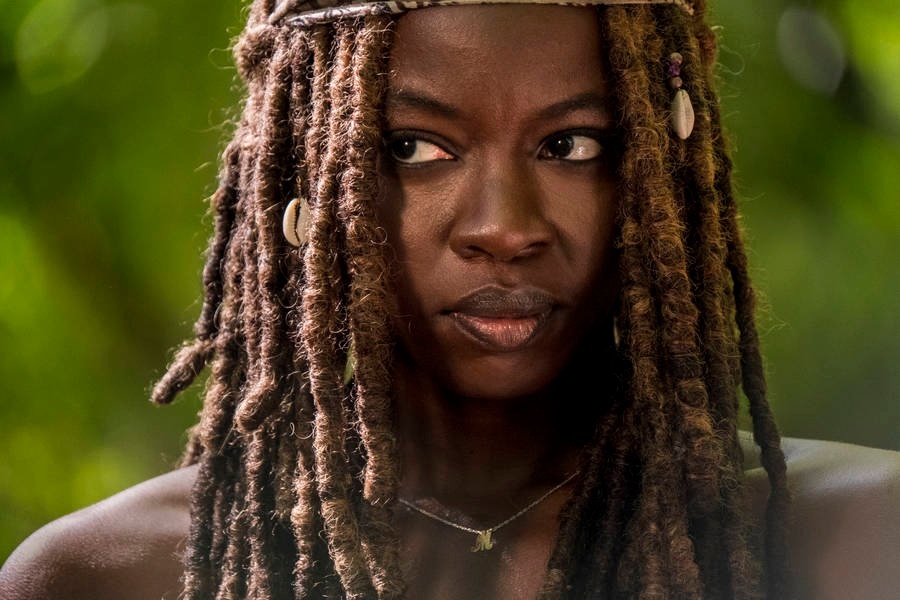 will michonne take rick's last name, moving forward? I like the sound of michonne grimes, don't you?

— danii ? (@michonnesokoye) August 22, 2018
Since Michonne hasn't used a last name this entire series don't expect her to take Rick's last name when he leaves. No shade to Richonne, they just don't need a name change to prove their love.
---
Michonne's Leadership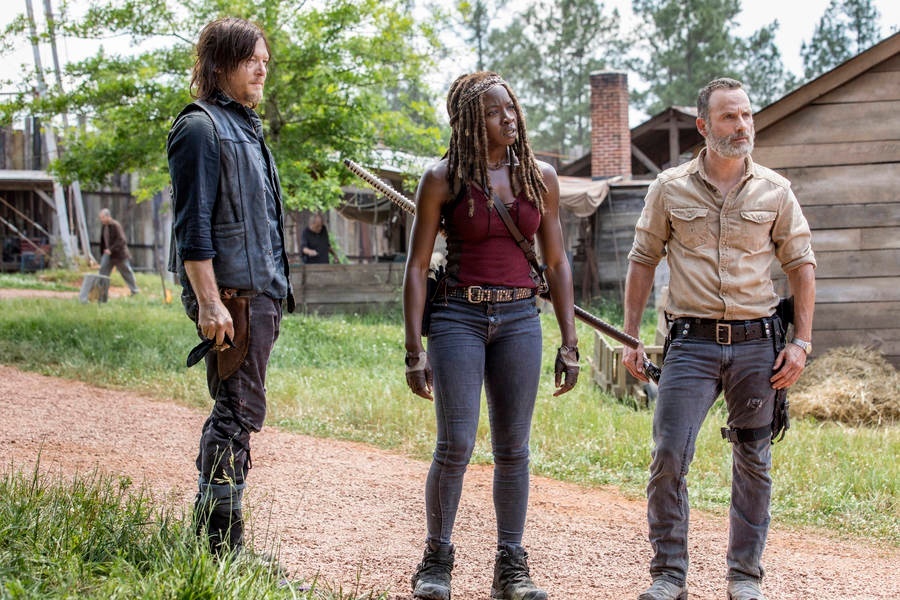 Will Michonne become Alexandria's new leader?

— – jade (@cluttercurls) August 22, 2018
With Rick out of the picture it would make sense for Michonne to take over the reigns of Alexandria. Although other candidates for the job include Daryl, Eugene, or Aaron, Angela Kang has placed a lot of emphasis on the increased roles of women this season. "We're going to see some really great stories with the women on our show, particularly," Kang said earlier this Summer on the Kick-Ass Women of AMC panel. "…for people who are looking for that specifically they will really see some incredible work from our women." But who;s to say what Alexandria will even be like by the time Rick's gone??
While we're at it, let's knock out a few more Michonne questions with quick answers:
Are we gonna get scenes of michonne being happy and smiling ?

— L (@danaiguriraaa) August 22, 2018
Yes, and it's beautiful ? For now we'll refer you to the trailer and pics of her and Judith to hold you over.
Will be get any domestic Richonne scenes ?

— L (@danaiguriraaa) August 22, 2018
Plenty of them! You can get a sneak peek in the trailer.
is judith gonna call michonne mommy soon?

— danii ? (@michonnesokoye) August 22, 2018
Eh, we can't say at this point, but Michonne IS the only mother she knows. It would be surprising if we didn't hear her call her that.
---
Tara's Arc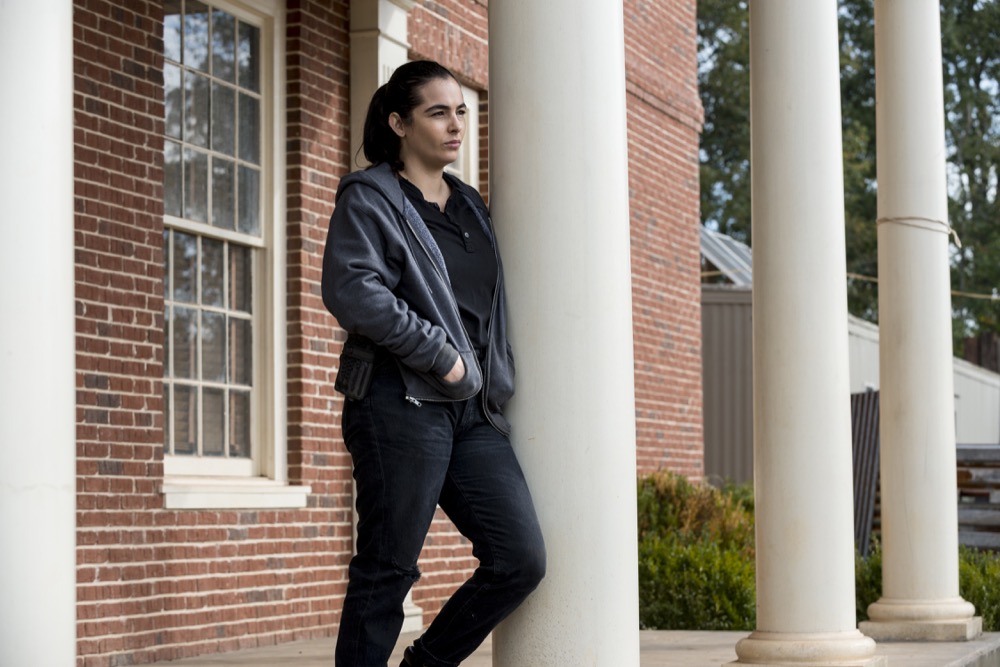 can you tell me about tara? what's her arc this season?

— RositaraFan (@FanRositara) August 23, 2018
Since we can't reveal entire character arcs before the season we CAN say that Tara will spend a lot of time at Hilltop helping Maggie, Jesus, and Enid rebuild (via Georgie's plans). And as we've seen in the trailer and teaser images Tara also takes part in a few supply runs, including one to D.C. where they try to extract a covered wagon from a museum.
---
Aaron Update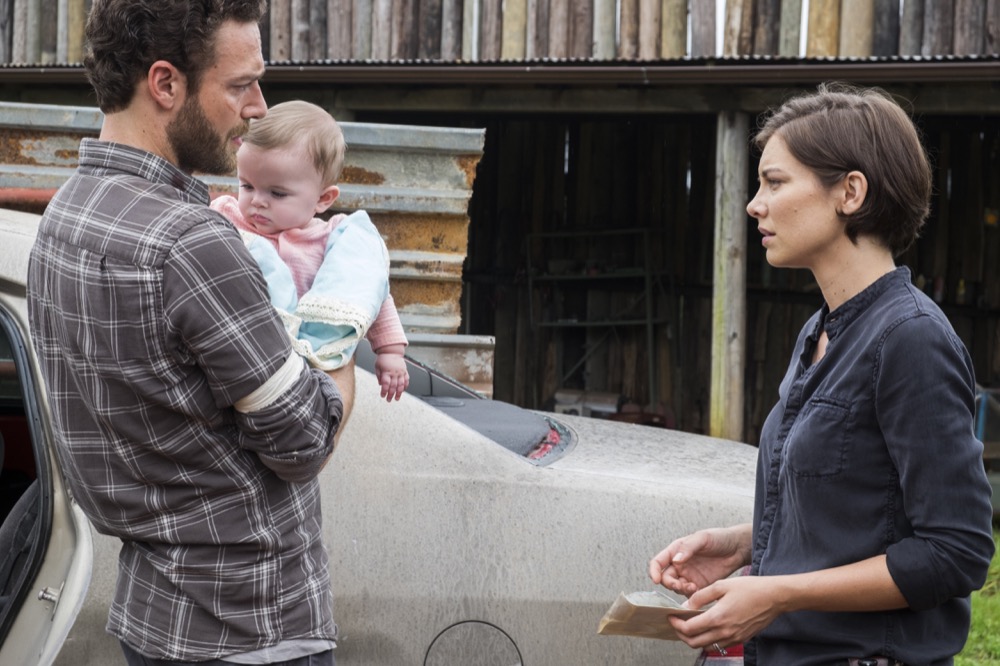 last mailbag y'all said "unless you consider aaron a foster parent" or something similar. yeah i do sO will we see aaron with gracie this season?

— river (@softaarons) August 22, 2018
Aaron said last season he was going to take care of her so expect it.
---
Jerry Status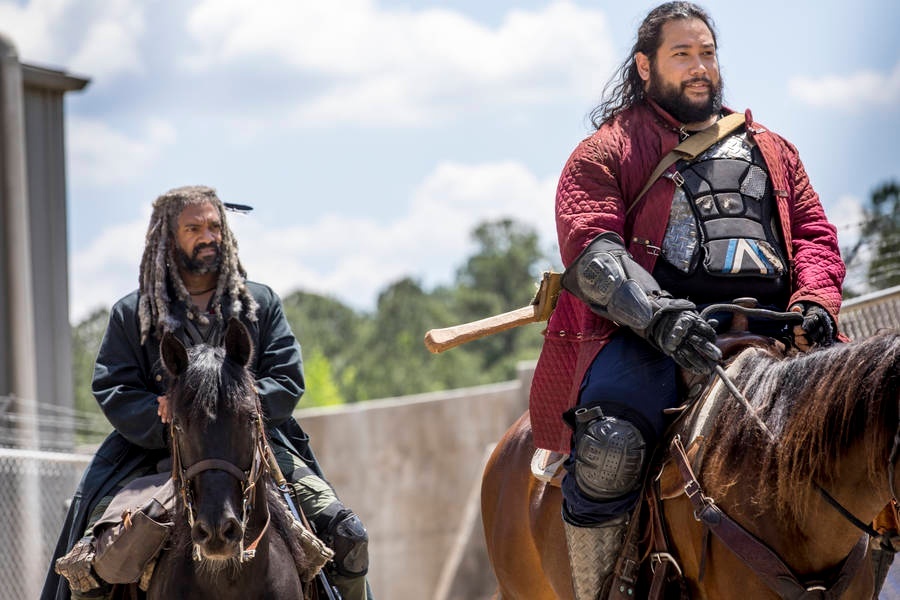 is jerry happy? that's all i need to know

— ellie (@dunathema) August 22, 2018
As we saw in the Season 9 trailer Jerry is very happy with his new boo Nabila from The Kingdom. That's not to say everything's just sweet peach cobbler, Jerry will also have to deal with the growing pains that come from the integration of the Saviors into the allied communities. But in general, Jerry's doing well.
---
More Junkyard?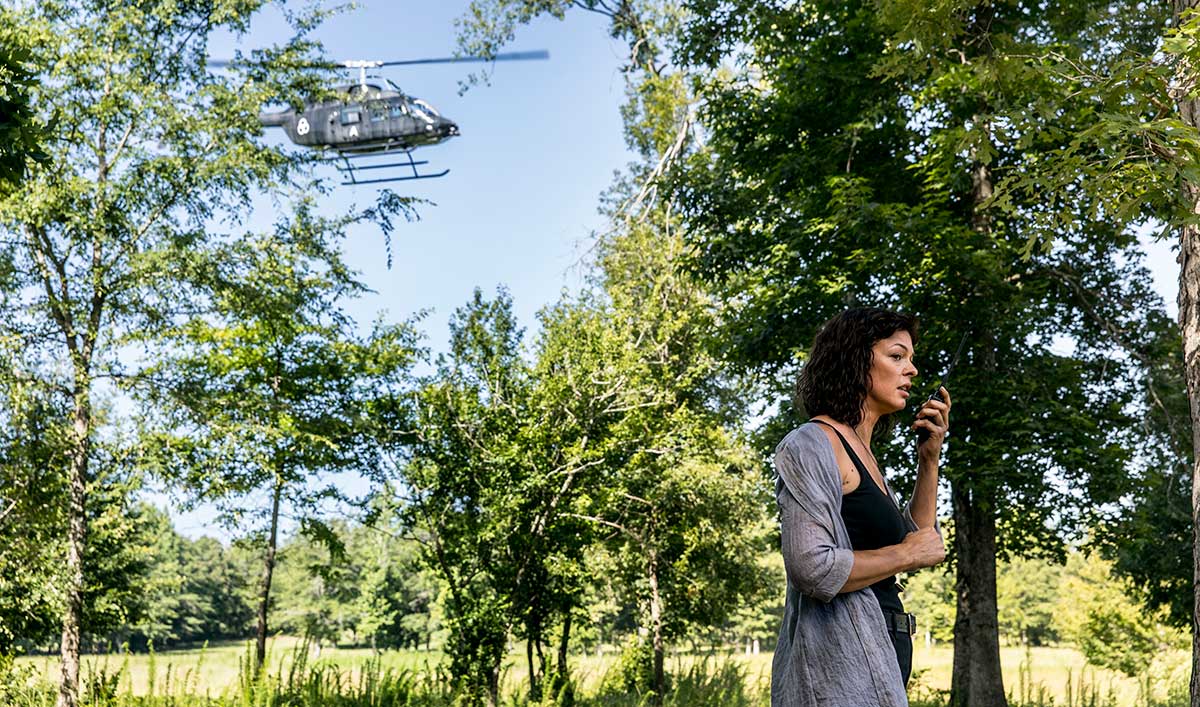 Will the Junkyard be used in anyway?

— Moral (@PlanetPuffle) August 22, 2018
Yes! We also saw this in the Season 9 trailer when Jadis/Anne suspiciously returned there at night…
---
Rosita Update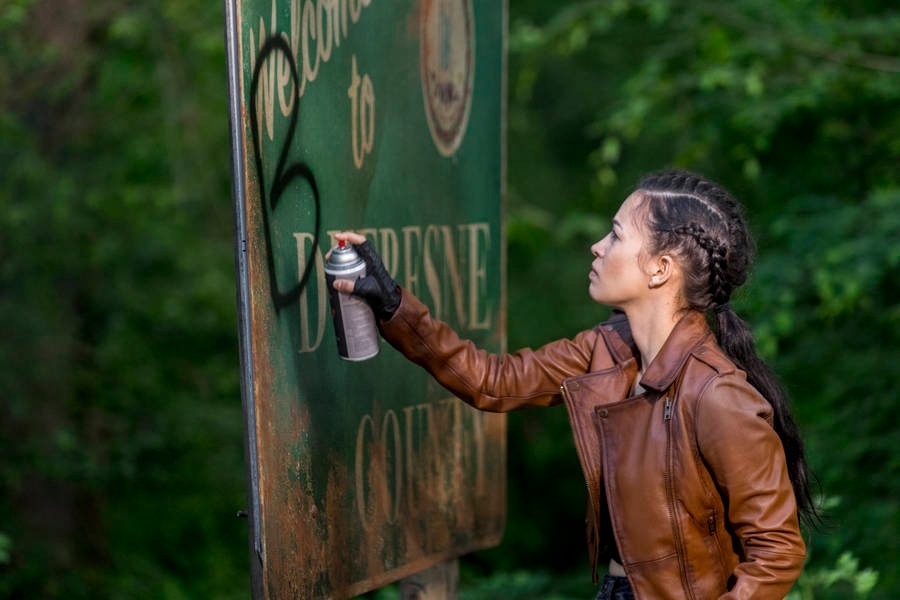 What's Rosita going be doing in season 9 outside of covering herself in mud hiding from the whisperers?

— Anya 7890 (@Anyaof7890) August 23, 2018
Rosita's part of Angela Kang's tease that women would play a bigger role this season. Aside from going on missions with Eugene, Rosita will be helping out Hilltop along with the bigger missions like we saw in the trailer.
---
Character Portraits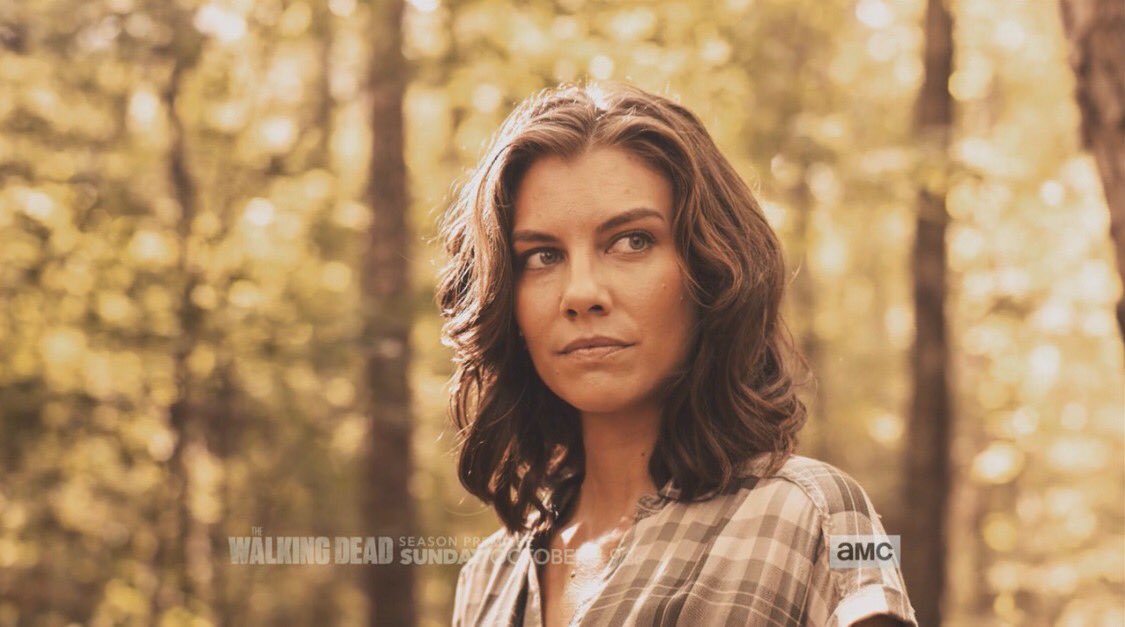 Will we get character portraits for season 9 this year?

— morgan deserves better (@lenniesmorgan_) August 23, 2018
First of all, MorganDeservesBetter – does he? He's doing GREAT on Fear the Walking Dead! It's hard to evolve a character after we've seen them for so many years, but damn it he keeps evolving in Fear! And to answer your question, yes. We will definitely be getting character portraits for Season 9. We included one of Maggie (that we ripped from the Season 9 Special) above to prove it.
---
More Eugene?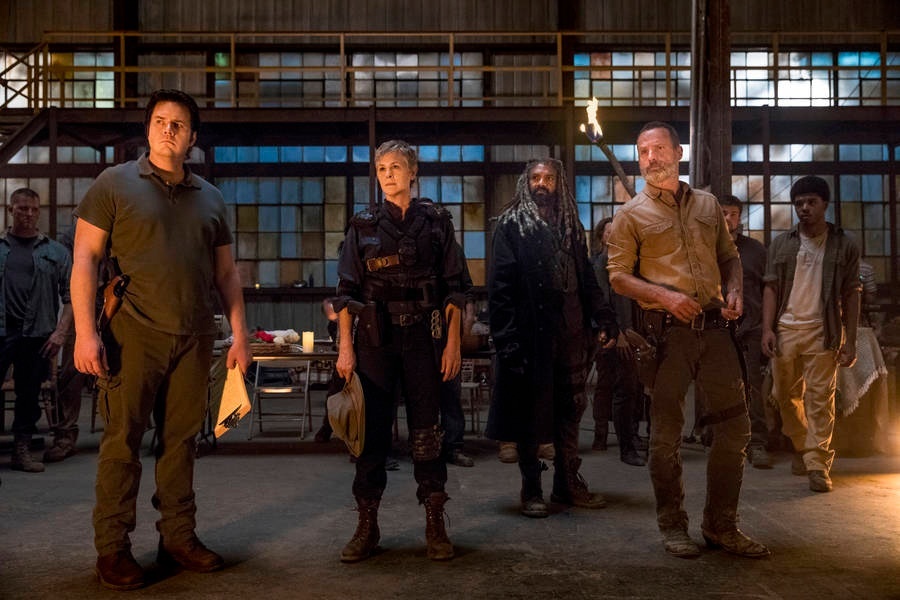 will we get much Eugene this season?

— Nic Donaldson (@nicdonaldson16) August 22, 2018
Yes, in fact! As we see in this image and others Eugene makes his rounds to Sanctuary, the bridge, and a muddy ravine.
---
New Casting?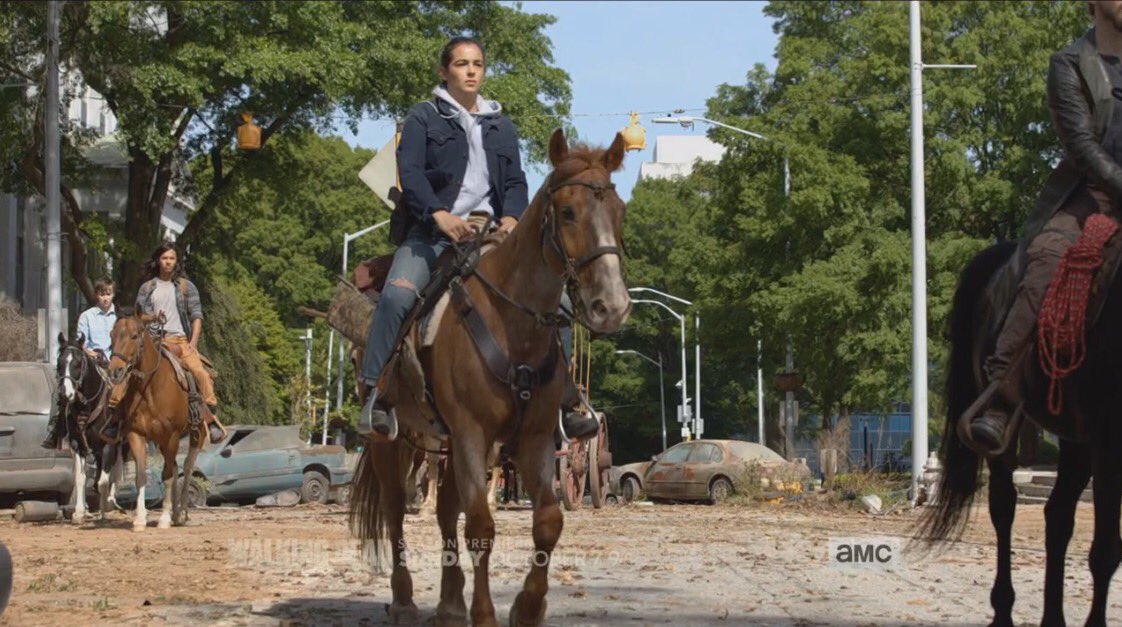 Besides the ones that have been announced, can you tease any castings for Season 9?

— The Walking Dead World (@TWalkingDWorld) August 23, 2018
We can't here but Angela Kang did hint at a few comic adaptations during the San Diego Comic-Con panel, so expect to hear about some in the coming month or so.
---
New Matchups?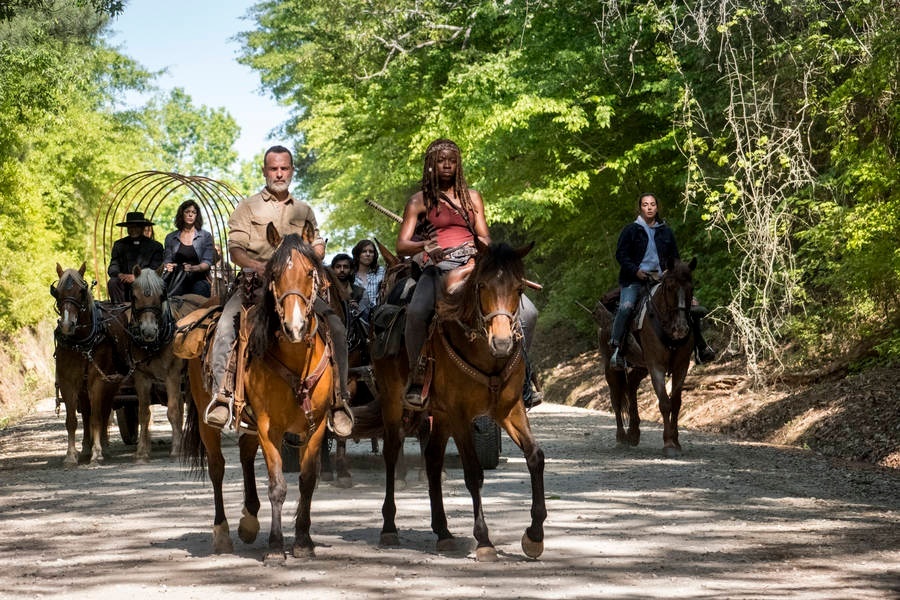 in season 8, we got to see new team ups of characters we haven't really seen together before such as rosita and michonne, tara and jesus, rosita and maggie, etc. can we expect to see those past friendships in action again this season or any new ones you can tease?

— grace loves carl (@xgrimespinosax) August 23, 2018
There are actually quite a few new character mashups to look forward to this season. Along with the ones you mentioned, we'll see some involving Gabriel and Jadis/Anne along with a ton between Cyndie and our mains (see above). Additionally, Jeffrey Dean Morgan teased on the San Diego Comic-Con 2018 panel that Negan would be sharing the screen with some new faces while locked up.
---
Grab The Tissues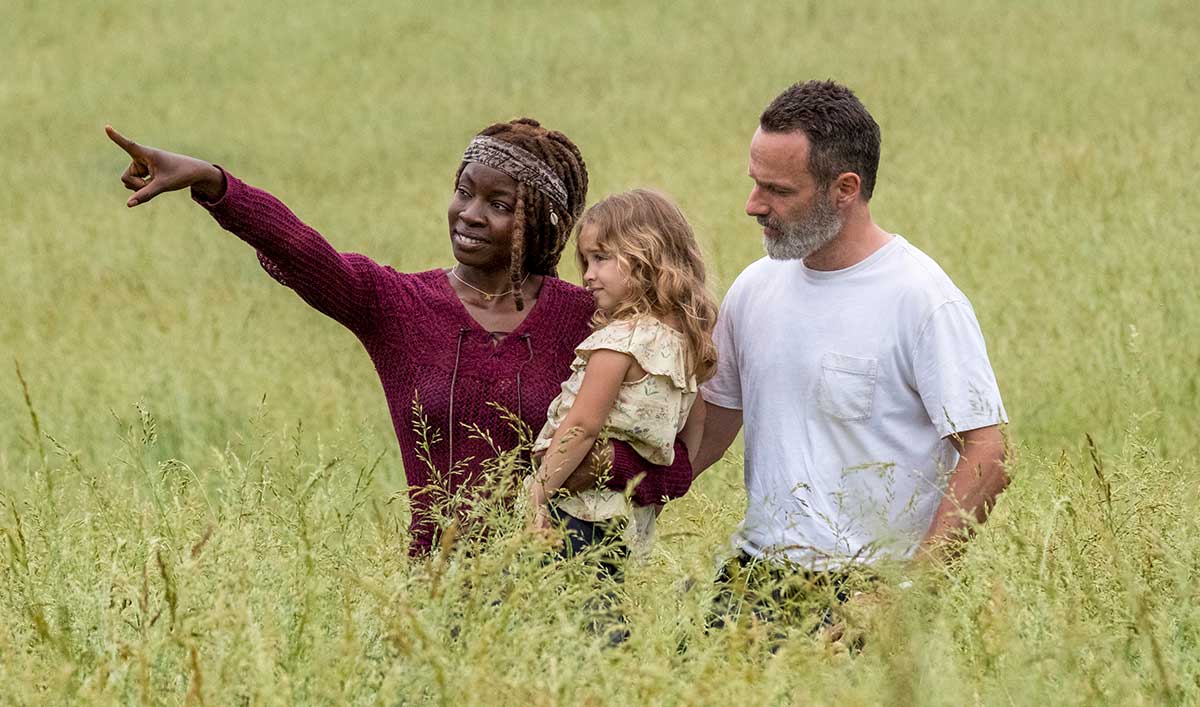 Are we gonna cry?

— marinanuXD ? ❤LEXA ∞❤ (@MarinanuXD) August 22, 2018
Most definitely.
---
That wraps up our mailbag for this week! Keep replying on Twitter and you might make into next week's edition. Until then!