The untitled Walking Dead movie focused around Rick Grimes is officially getting a theatrical release through Universal Studios (with AMC and Skybound producing). We released a brief teaser trailer, which you can watch here:
Although the trailer was brief, it did show a helicopter with the familiar three-ring insignia headed towards a snowy post-Apocalyptic city. A similar helicopter recently found its way into Fear the Walking Dead when a soldier named Isabelle (Sydney Lemmon) flew a similar-looking helicopter to Texas. She captured one of the main characters Althea, and the two of them made a daring climb up a mountain to obtain helicopter fuel. Although they initially butted the heads, the two eventually formed a brief romantic bond before Isabelle flew off into the sunset. Since Fear is currently a few months behind where The Walking Dead was when Rick left, some theorize it was Isabelle who picked him up. We'll just have to wait and see.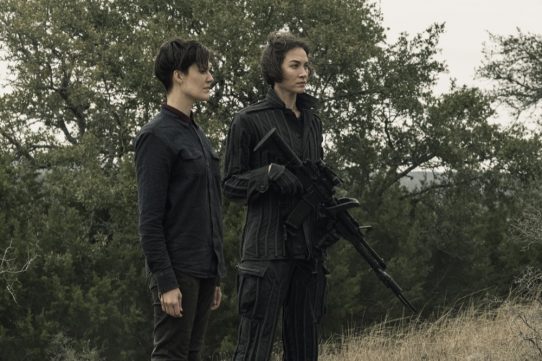 ---
What do you think of this news? Let us know in the comments!