The Walking Dead Season 10 will open with a slight time jump that will feature our heroes still grappling with the Whisperers. The survivors of Alpha's mass-beheading will take use tactics from Robert Kirkman's comics to push back against their walker skin-wearing foes. "Yeah, one of the great things from the comic book that we got really excited about, there's this idea of propaganda and paranoia, and this idea of 'Silence the Whisperers,' which Robert Kirkman played really well," Angela Kang recently revealed to Entertainment Weekly.
In Issue #153 of the comics, Rick commands his friends to paint "SILENCE THE WHISPERS" messages across town to remind people of what they're fighting for (and to shift the town's anger from his inaction to the Whisperers). Even though Rick won't make it for Season 10, it's exciting to see Kang keep the creative tactic included.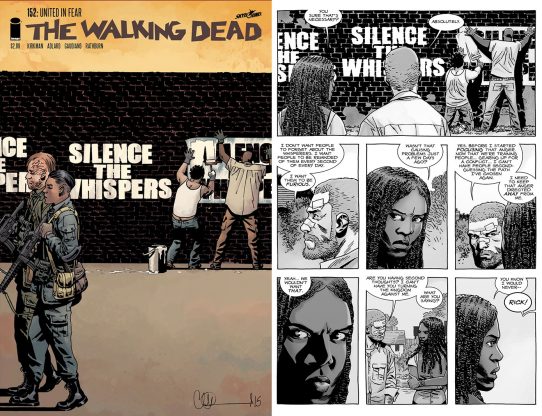 Aside from the anti-Whisperer advertisements, Season 10 will also introduce more new children following the time skip. "So we saw Rosita pretty heavily pregnant at the end of last year, and I'll say that that state has changed," Kang told EW. "A little time has passed. They've been living with some of the Whisperers' rules, and we'll see that some things have changed and some people have done some unexpected things in the time that has passed to deal with the trauma at the end of last season." In the comics, a pregnant Rosita was actually one of the people beheaded by Alpha, so her child with Siddiq will be a fun new addition to the story.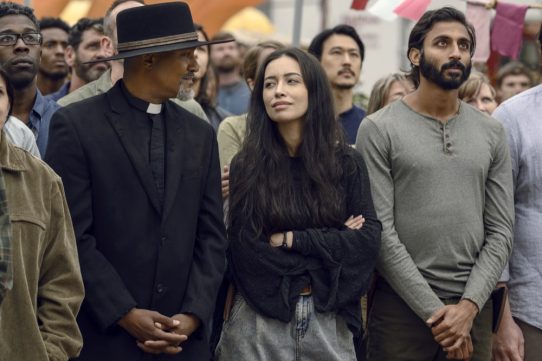 Aside from our heroes, Season 10 will also dig deeper on the Whisperers' backstory and and their rules surrounding the border. "We will learn more about Alpha and Beta. They've got their own problems, too, within their group, so there will be some interesting back-and-forth between our two groups as they deal with this conflict at the border," Kang said. "And of course, Samantha Morton as Alpha, and Ryan Hurst as Beta — they are so great. We love them as people, and as performers I think they bring so much to those roles. So I'm really, really excited for the audience to see what they're bringing to this season because there's much more to explore with them."
---
Catch MUCH more of the interview over at Entertainment Weekly and keep it here all week for our San Diego Comic Con 2019 coverage!