UPDATED: We're ready to reveal the covers of the three compendiums and the extended HERE'S NEGAN Hardcover! We also have your first look at the box set in action! Check them out below and click to see them full size: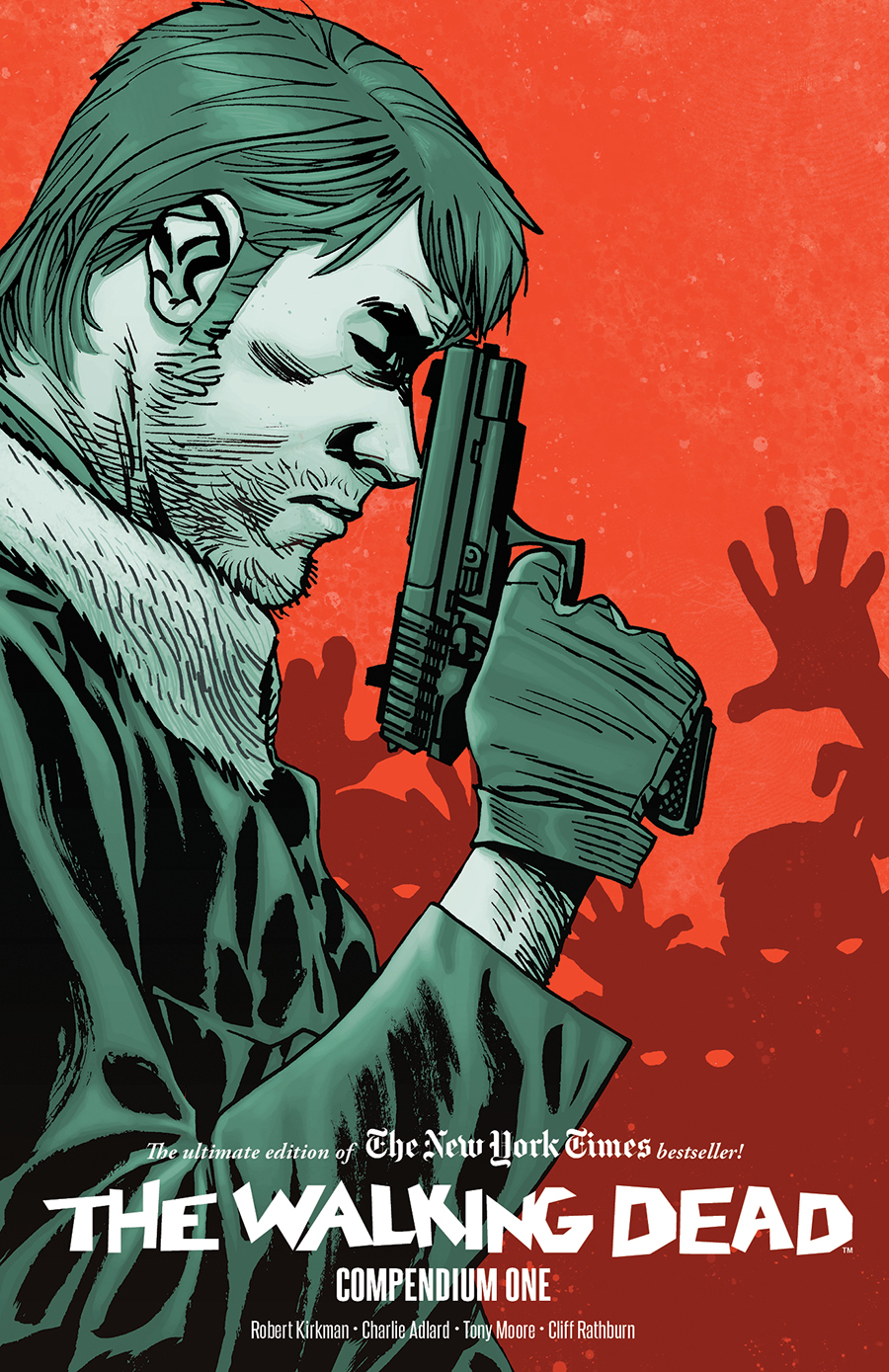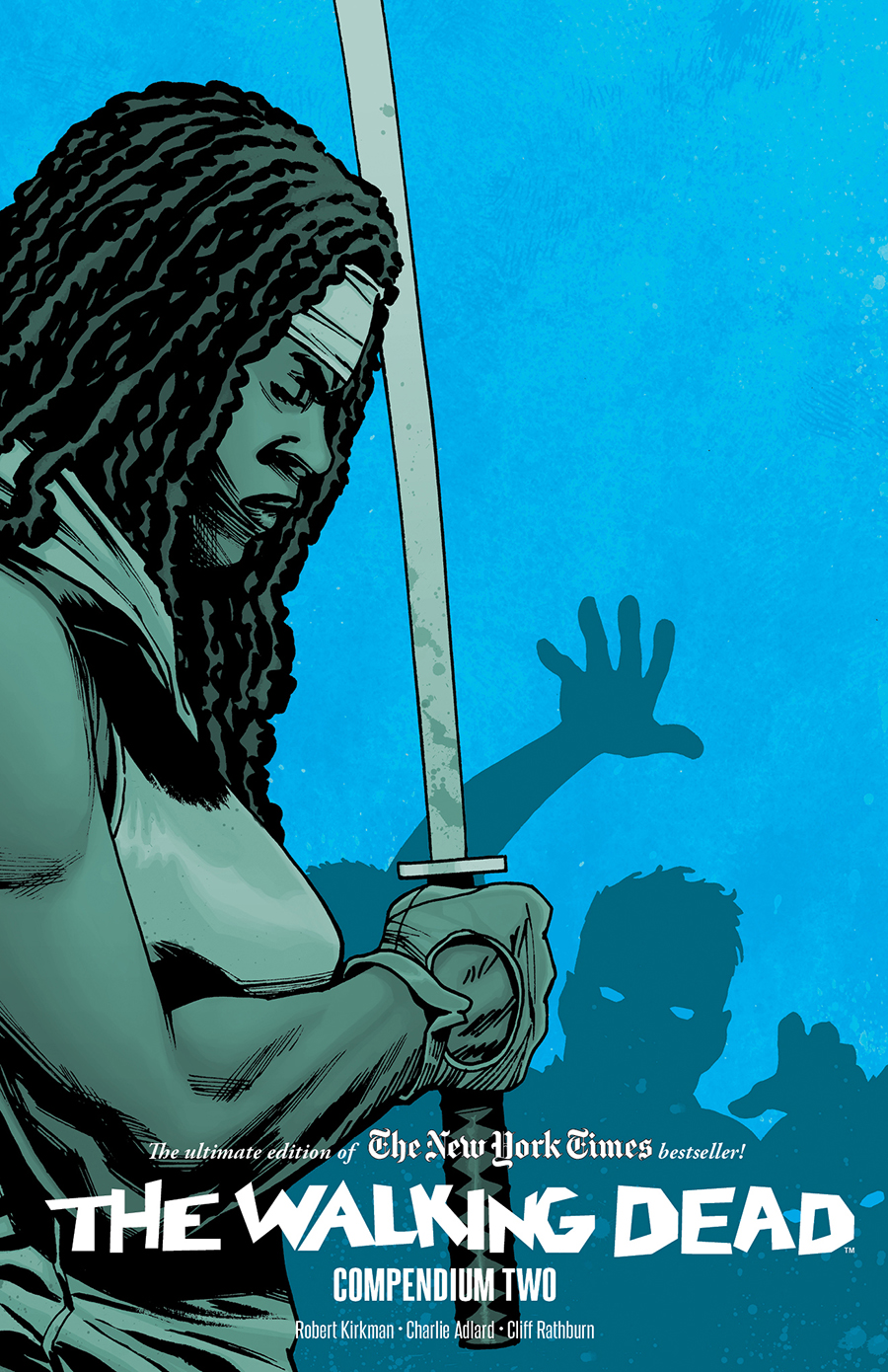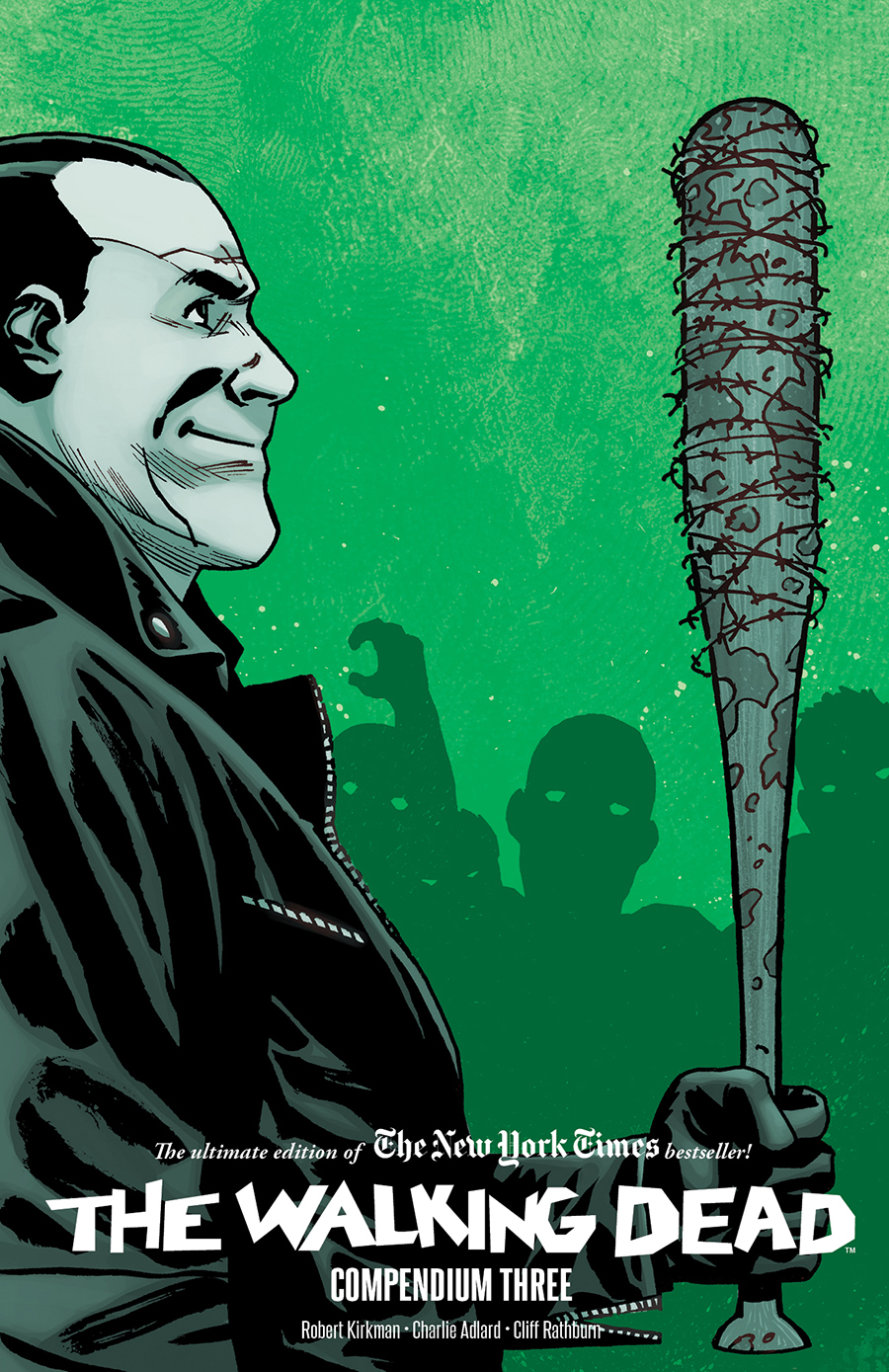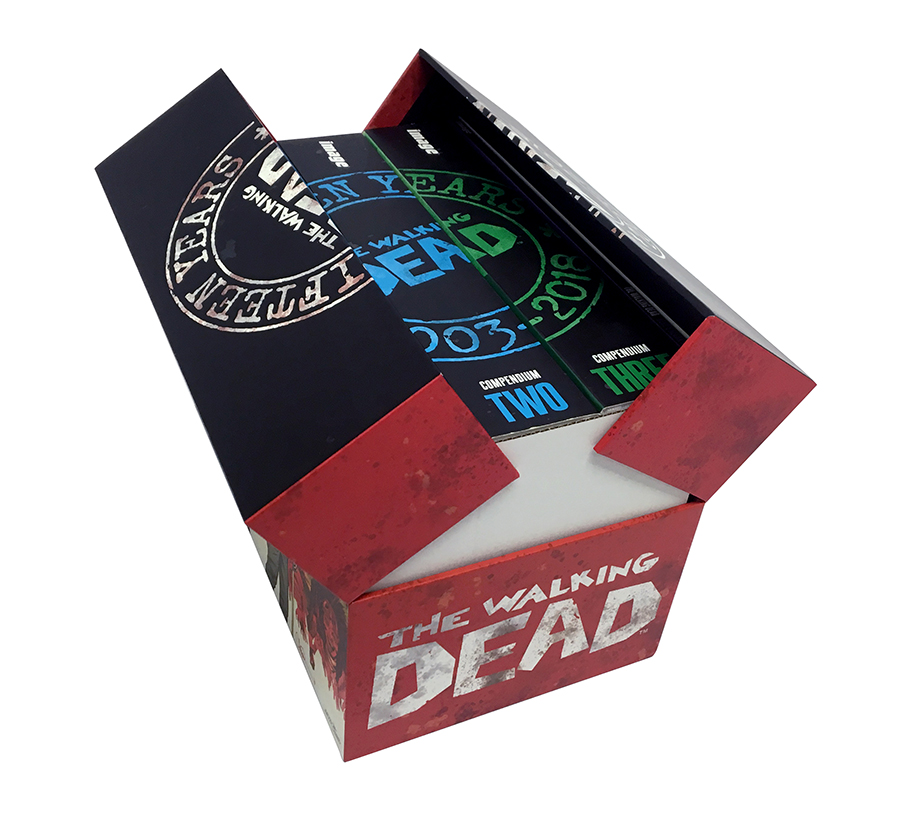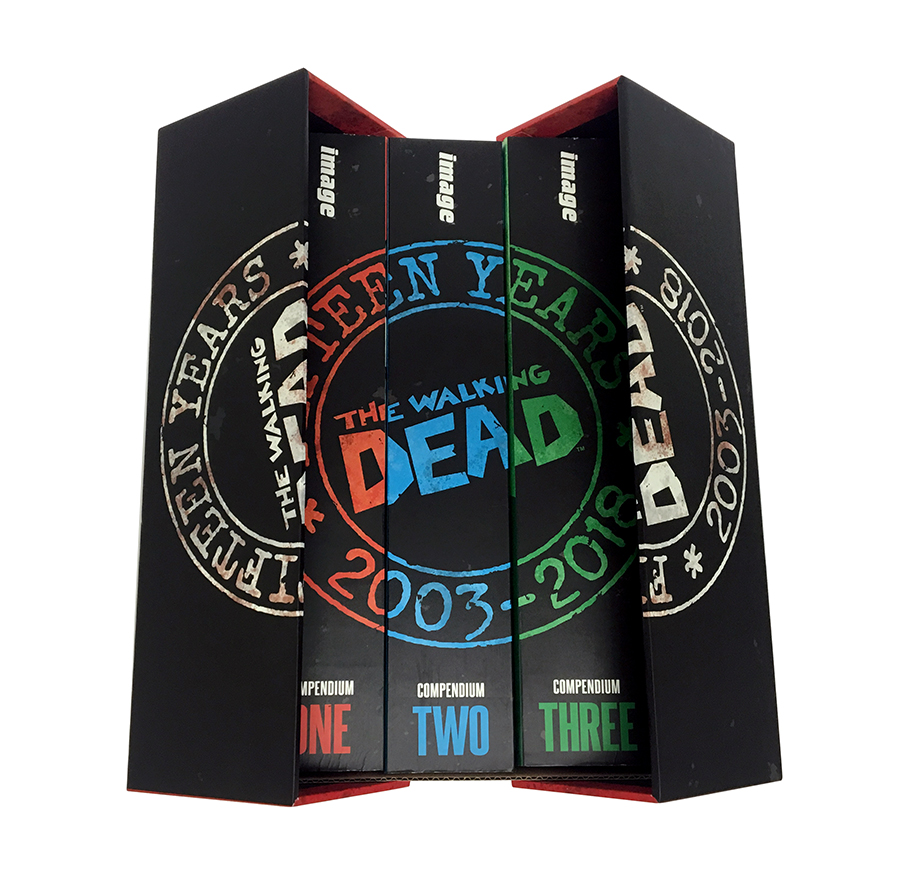 ORIGINAL ARTICLE BELOW:
Who's ready for some more Walking Dead Day news?! A few weeks back, we showed you the special Walking Dead #1 variant that will be available at a comic shop near you on Walking Dead Day. Now we're back to announce another amazing item that will be available in stores right before Walking Dead Day on October 13th. The Walking Dead 15th anniversary box set will include the first 144 issues of the walking dead in three compendiums.
These compendiums aren't like the ones you've seen before, each one features an exclusive cover you can find ONLY in this box set. On top of that, there will also be a brand new collector's edition of 'Here's Negan' which will also include the previously uncollected backstories of Michonne, The Governor, Tyrese and Morgan! This whole box set will retail at $200 and will be a must have for any TWD collector. Get your first look at the amazing Charlie Adlard art for the set: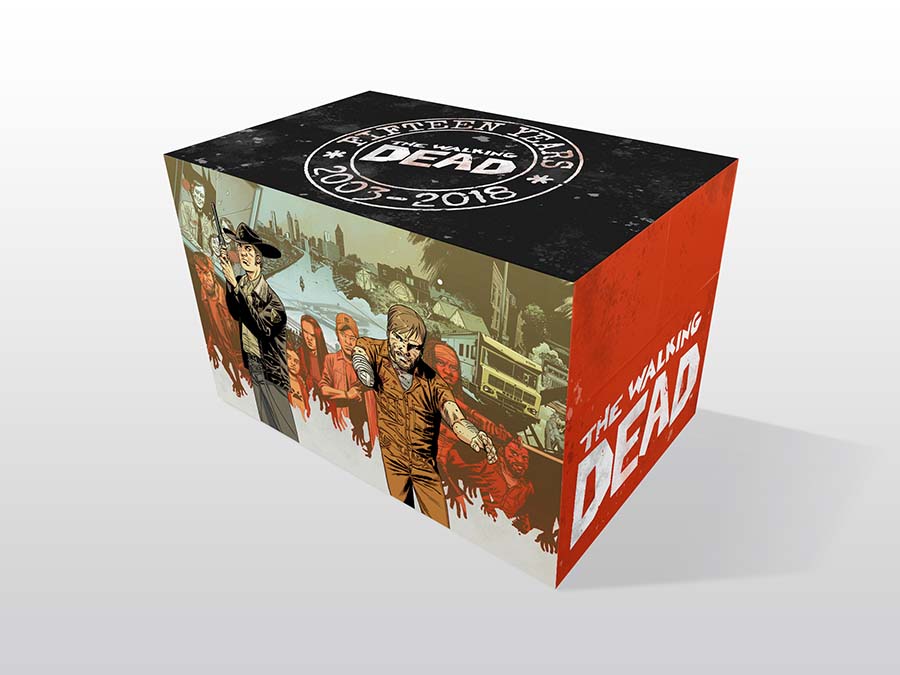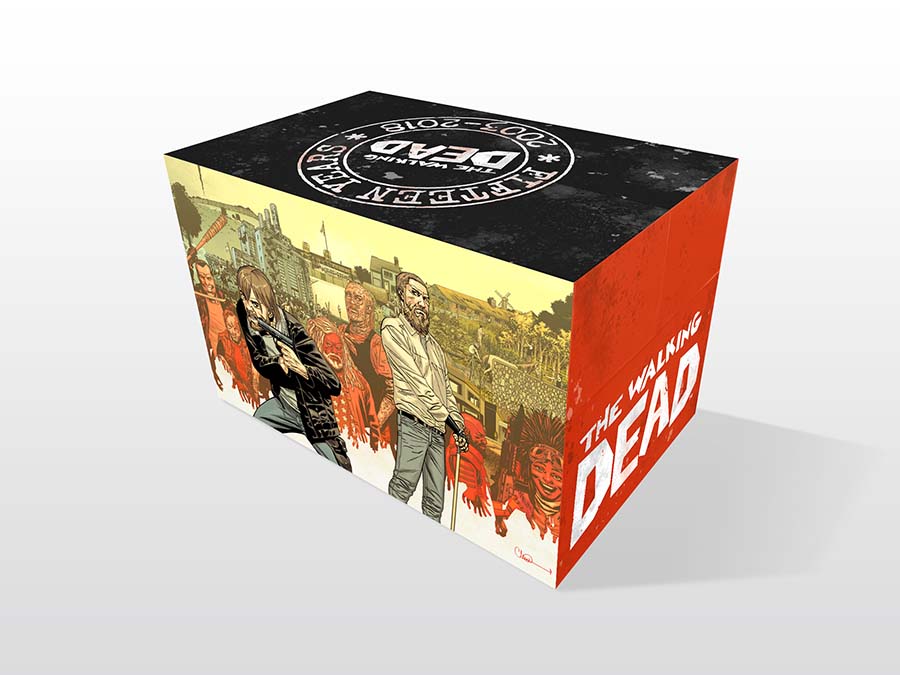 You can read the full press release from Image Comics below. Final order cut off for retailers is JUNE 11th so make sure to let your local comic shop know to order your copy today!
---
IMAGE/SKYBOUND ENTERTAINMENT ANNOUNCES SPECIAL THE WALKING DEAD 15TH ANNIVERSARY BOX SET
Image Comics/Skybound is pleased to announce a special WALKING DEAD 15TH ANNIVERSARY BOX SET stuffed with over 3,300 pages of Robert Kirkman and Charlie Adlard's walkers, Survivors, Saviors and a barbwire bat named Lucille—just in time for readers to enjoy in the days leading up to this year's THE WALKING DEAD DAY on Saturday, October 13th.
"I can't quite believe it's been 15 years. This is an amazing box set and it's something that I would be proud to have on my bookshelf…" said Adlard. "Here's to the next anniversary!"
This deluxe boxset includes THE WALKING DEAD Compendiums 1, 2 and 3—each with exclusive, new covers—collecting the first 144 issues of the New York Times bestselling survival horror series from Kirkman and Charlie Adlard. It also includes an exclusive, expanded edition of the HERE'S NEGAN trade paperback, which now features the previously uncollected origins of Michonne, Tyrese, the Governor, and Morgan. This box promises to be the most complete collection of THE WALKING DEAD ever assembled and is a cannot-miss experience for the ultimate fan.
THE WALKING DEAD COMPENDIUM 15TH ANNIVERSARY BOXSET [Diamond Code APR188923], which will retail for $200, will be available on Wednesday, October 3rd and in bookstores on Tuesday, October 9th. The final order cutoff deadline for retailers is Monday, June 11th.