Andrew Lincoln may be leaving The Walking Dead in Season 9, but he's already planning to return later this season and next. "I'm going back," Lincoln told Entertainment Weekly. But for the first time in a decade, he won't be playing Rick Grimes. "I'm going back to shadow a director, and my intention is to direct next year," Lincoln said about coming back this season.
Although AMC has yet to announce it's renewing the show for a 10th season (that kind of news usually drops in January), it's safe to assume they'll come back. So why come back to the show he left? "I can't be that far away because I can't bear it," Lincoln admitted to EW. "That's how much I am invested in the show and the continuation of the story."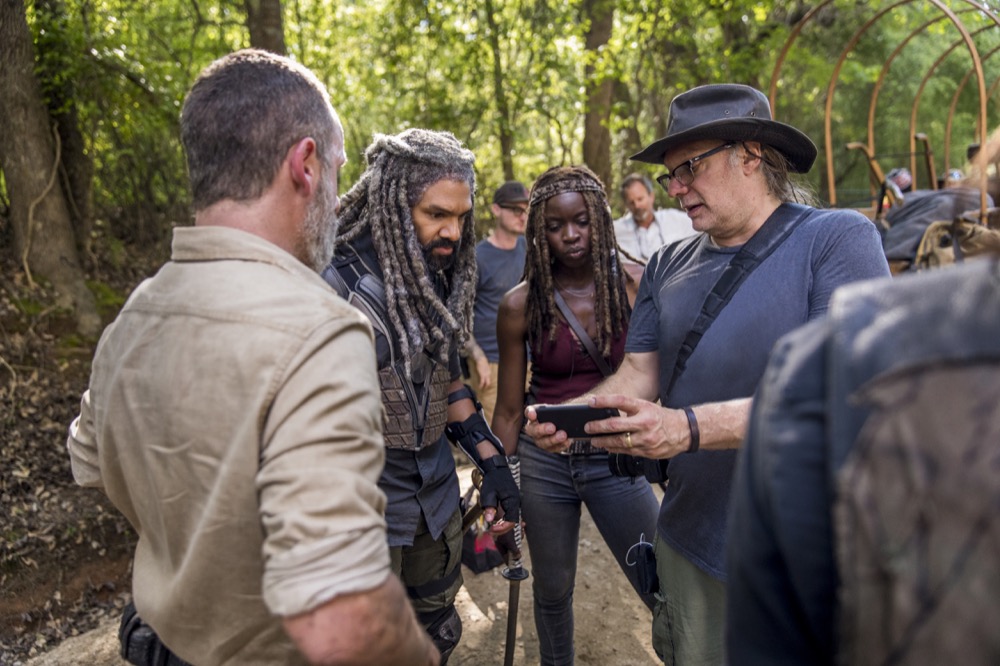 (Andrew Lincoln, Khary Payton, Danai Gurira, and Greg Nicotero behind-the-scenes of The Walking Dead Season 9 Premiere)
If Andy does eventually direct an episode he'll join an exclusive club of actors-turned-directors from TWD universe. The Walking Dead's Michael Cudlitz (who played Abraham Ford) directed the upcoming Season 9 Episode 7 "Stradivarius" while Fear the Walking Dead's Colman Domingo (Victor Strand) directed Season 4 Episode 12 "Weak." Additionally, Greg Nicotero, Angela Kang, and Scott Gimple have all double and triple-dipped with producing, writing, and directing roles.
---
Catch the rest of the story over at Entertainment Weekly and let us know in the comments what YOU think of Andy taking the reigns of an episode. The Walking Dead Season 9 Premieres Sunday, October 7th on AMC and Monday, October 8th internationally.