UPDATE: The artists on our blind bag covers have been announced! Scroll down to see all the amazing people we're working with on these sweet covers!
We told you we had more in store for you for WALKING DEAD DAY and today's news is a doozy! Coming to a comic shop near you are THE WALKING DEAD 15th Anniversary Blind Bag Variants! These 15 collectible blind bag comics feature milestone issues of THE WALKING DEAD from the first issue to Michonne's first appearance to the death of Glenn and much much more! Each issue will feature new original art by iconic comics artists like by J. Scott Campbell, James Harren, Emma Rios, Declan Shalvey, and Sana Takeda, among other exciting to-be-announced artists. The blind bags will be concealing multiple versions of the artwork as well.
You might find a colored version of the art, a sketch version, a virgin version (with no title) or something else entirely. We won't be showing off any of this artwork until after the books are released so it'll be a total surprise.
Below you can find a list of which key WALKING DEAD issues will be featured in these variants along with the Diamond Code for each so you can tell you local shop which covers you want to order. These are going to be amazing, so you won't want to miss out. And of course, keep it tuned here and on our social channels for more news about WALKING DEAD DAY and the 15th anniversary of The Walking Dead!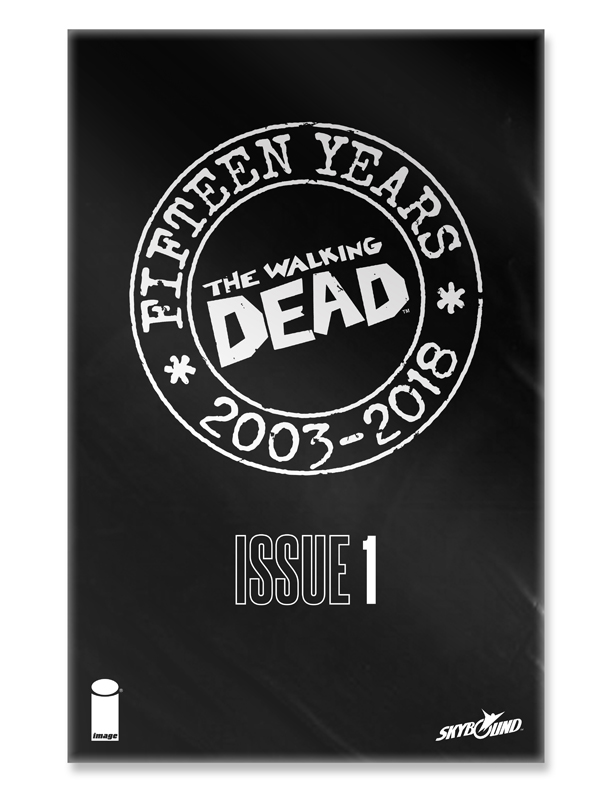 WALKING DEAD #1 15TH ANNIVERSARY BLIND BAG DAVID FINCH VARIANT – MAY188674
WALKING DEAD #2 15TH ANNIVERSARY BLIND BAG CHRIS SAMNEE VARIANT – MAY188675
WALKING DEAD #7 15TH ANNIVERSARY BLIND BAG DANIEL WARREN JOHNSON VARIANT – MAY188676
WALKING DEAD #19 15TH ANNIVERSARY BLIND BAG J. SCOTT CAMPBELL VARIANT – MAY188677
WALKING DEAD #27 15TH ANNIVERSARY BLIND BAG DECLAN SHALVEY VARIANT – MAY188678
WALKING DEAD #48 15TH ANNIVERSARY BLIND BAG CHRIS BURNHAM VARIANT – MAY188679
WALKING DEAD #53 15TH ANNIVERSARY BLIND BAG KIM JUNG GI VARIANT – MAY188680
WALKING DEAD #92 15TH ANNIVERSARY BLIND BAG CORY WALKER VARIANT – MAY188681
WALKING DEAD #98 15TH ANNIVERSARY BLIND BAG WES CRAIG VARIANT – MAY188682
WALKING DEAD #100 15TH ANNIVERSARY BLIND BAG JAMES HARREN VARIANT – MAY188683
WALKING DEAD #108 15TH ANNIVERSARY BLIND BAG EMMA RIOS VARIANT – MAY188684
WALKING DEAD #127 15TH ANNIVERSARY BLIND BAG MATTEO SCALERA VARIANT – MAY188685
WALKING DEAD #132 15TH ANNIVERSARY BLIND BAG ASHLEY WOOD VARIANT – MAY189518
WALKING DEAD #167 15TH ANNIVERSARY BLIND BAG SANA TAKEDA VARIANT – MAY188687
WALKING DEAD #171 15TH ANNIVERSARY BLIND BAG JEN BARTEL VARIANT – MAY188688