"The King, The Widow, and Rick
With temporary lull in the war, each of Rick's allied communities receive letters from him, Maggie, and Carol catching them up on what they've missed. Rick explains despite their losses The Sanctuary remains surrounded, and in three days they'll finish what they started. In the meantime, Rick arrives at the Scavengers' home.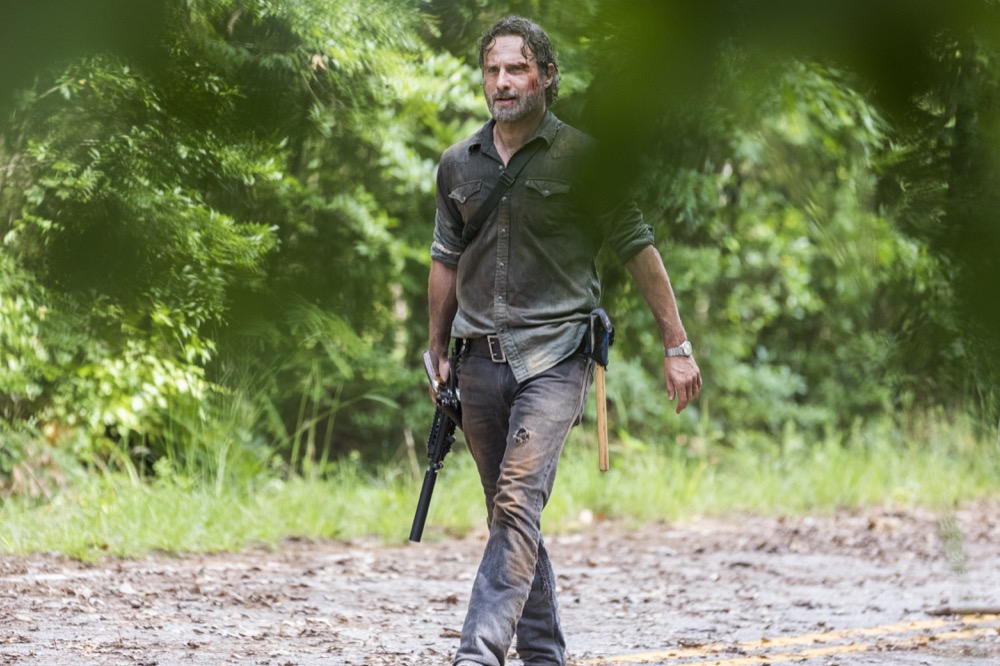 At The Hilltop, Maggie chastises Jesus for treating their Savior prisoners well. Gregory suggests they build gallows to hang them, which Maggie doesn't exactly resist. Trying to follow Rick's orders for a meet-up, Carol tries and fails to summon Ezekiel while Michonne and Rosita leave Alexandria. Rick arrives in Jadis' community to form an alliance. They're reluctant but Rick shows them polaroids he took of dead Saviors at outposts to prove his point. His message to them: join us or die. Jadis confidently tells him no and has Rick escorted away.
Back at The Hilltop Gregory warns Maggie not to allow wolves among the sheep. Daryl arrives back in Alexandria and Tara tells him she wants to be the one that kills Negan. That night at The Hilltop, Jesus notices the people building something in the colony.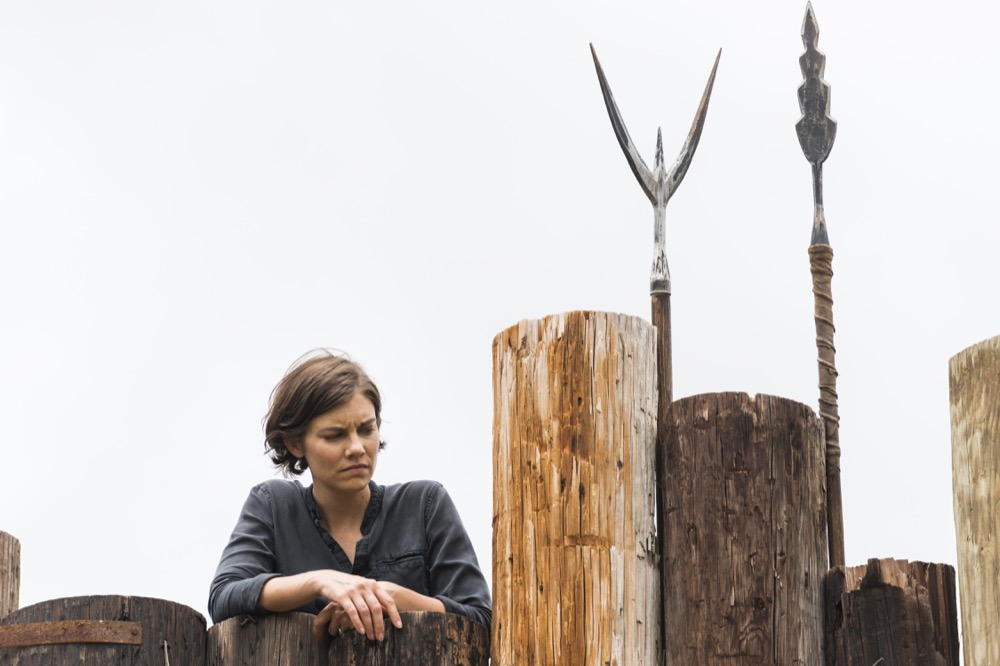 The next day Michonne and Rosita drive down the road until they hear a loud noise. Meanwhile, Carl trails and locates the man he helped at the gas station. He doesn't run this time and introduces himself as Siddiq (from the comics!) Carl offers him water and asks him the three questions. His answers are satisfactory enough and Carl suggests he come back with him to Alexandria.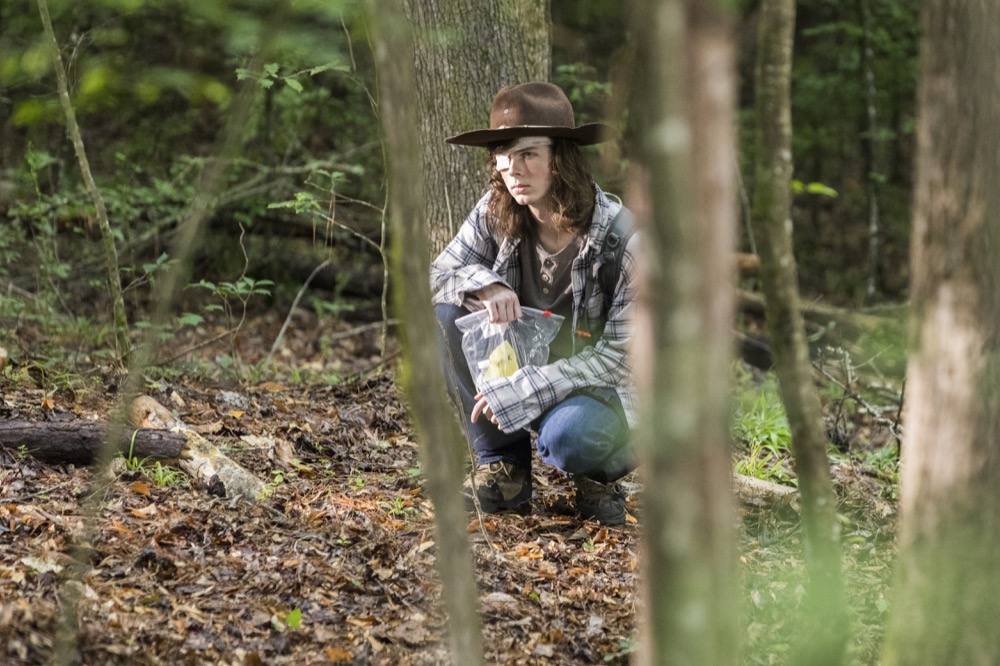 Outside of The Kingdom Carol gathers weapons from Richard's old trailer. She then spots Henry fighting walkers outside alone and she gives him the same speech she once gave Sam. Unlike Sam, Henry's not scared and is out to avenge his father. Carol respects it and rewards him with a gun. Elsewhere, Michonne and Rosita arrive at a building blaring loud music.
At The Hilltop Maggie orders the Saviors (and Gregory) to be moved inside the colony into barbed wire cages. Jared attempts to flee but Maggie knocks him out. Carl and Siddiq sloppily attack a group of walkers feasting on a deer and almost get killed in the process. It's enough to prove to Carl that Siddiq is capable enough to bring into the fold.
Michonne and Rosita infiltrate the building and find a warehouse of tools and weapons. They eavesdrop on two Saviors plotting against Rick. Michonne accidentally gives away her position when she rolls a tennis ball near them. They open fire on Rosita and Michonne but they dodge it. Suddenly it's a game of cat and mouse. Michonne attacks the woman, who counters with a pickaxe. Rosita fires her rocket launcher at the man while the woman escapes in her Mad Maxian stereo truck until she's t-boned by Daryl and Tara's garbage truck. Michonne tells them they need to go to The Sanctuary.
Back at The Kingdom Carol tries again to talk to Ezekiel and this time Jerry allows her in. He's sitting on the floor by his throne in despair over Shiva and his lost soldiers. He reminds her he's a fraud and his people deserve better. Tearful, she asks why he kept visiting her and he says because she knew who he really is. She asserts he IS real and his people need him now more than ever. "I can't," he says again.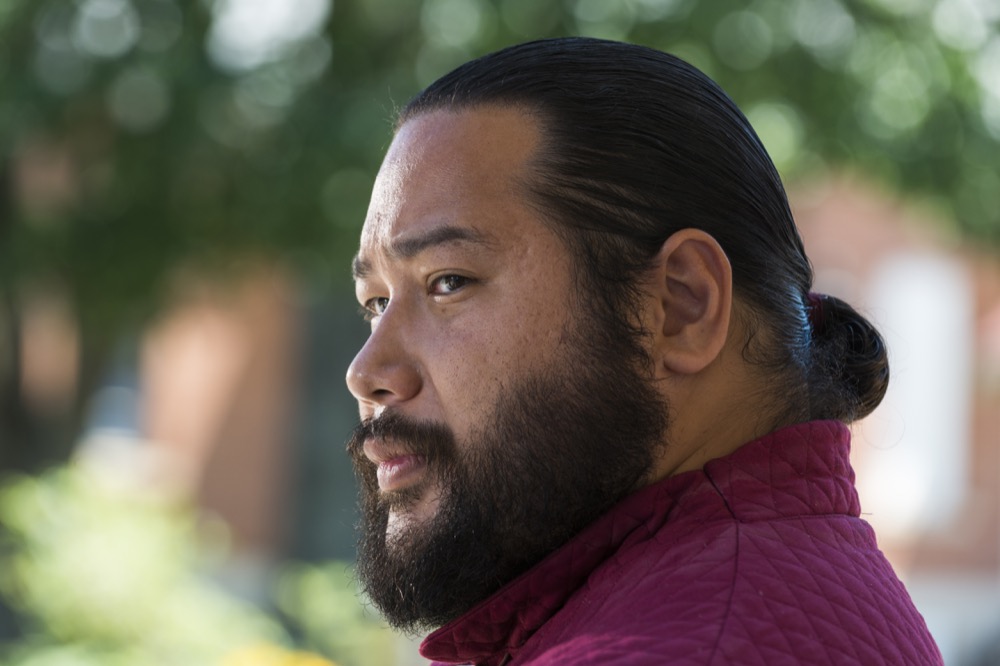 At The Hilltop Aaron mourns Eric's death with Enid and Maggie. Jesus comes in and Maggie says they can use The Saviors as bargaining chips, and if they can't she won't let them live. Jared tries cutting his way out of his ties but the other Savior stops him, reminding he was in trouble before. Aaron prepares to leave and Enid asks to tag along. Daryl, Tara, Michonne, and Rosita arrive a safe distance from The Sanctuary to 'end this thing.' Meanwhile, Rick sits naked in a garbage pen as a prisoner in Jadis' community.
---
What did YOU think of this all-encompassing episode? Tell us in the comments!