Today AMC released the official key art, synopsis, and logo for The Walking Dead Season 9. The art features Rick Grimes (surprisingly) sporting his old sheriff's hat with Carol, Michonne, Daryl, and Maggie standing behind him. Also in the background is a worn-down Washington D.C. skyline, a herd of walkers, and even a shadow of the helicopter that's somehow tied to Jadis/Anne. See the art for yourself and read the synopsis below: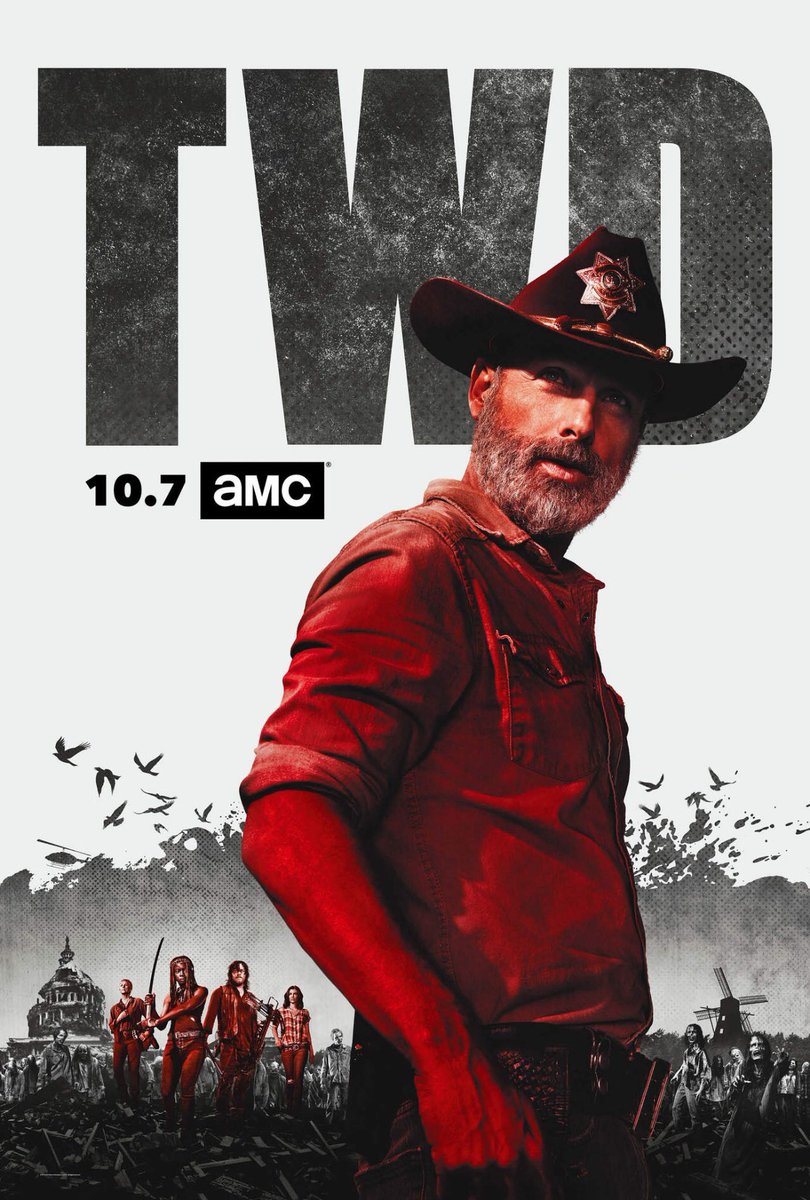 Last season brought the culmination of "All Out War," which pitted Rick Grimes and his group of survivors against the Saviors and their cunning leader, Negan. With Negan's life in his hands, Rick had a character-defining choice in front of him. By making the unilateral decision to spare Negan, Rick upheld the values his late son, Carl, championed in order to build for the future, but created conflict within his group.
Now, we see our survivors a year and a half after the end of the war, rebuilding civilization under Rick's steadfast leadership. It is a time of relative peace among the communities as they work together, looking to the past to forge the future, but the world they knew is rapidly changing as man-made structures continue to degrade, and nature takes over, changing the landscape and creating new challenges for our survivors.
As time passes, the communities confront unexpected obstacles, danger, and of course, walkers, but nothing quite prepares them for the formidable force they are about to encounter, which threatens the very idea of civilization that our survivors have worked so hard to build.
Based on the comic book series written by Robert Kirkman and published by Image Comics, "The Walking Dead" reigns the number one drama on television among adults 18-49 for the last six seasons. The series is executive produced by chief content officer Scott M. Gimple, showrunner Angela Kang, Robert Kirkman, Gale Anne Hurd, David Alpert, Greg Nicotero, Tom Luse and Denise Huth.
---
This synopsis confirms the year and a half time jump, the civilization rebuild, and a possible Whisperer tease. If that wasn't enough, Walking Dead beat reporter for Insider Kirsten Acuna tweeted the new logo for Season 9:
The logo for #TheWalkingDead season 9 is NOT decaying #TWDFamily pic.twitter.com/tYqrD2S6us

— Kirsten (@KirstenAcuna) September 5, 2018
---
Make sure to also check out our Season 9 character portraits! What do you think of all this new Season 9 content? Tell us in our comments! The Walking Dead returns Sunday, October 7th on AMC.