"Stradivarius"
Rosita sprints through the forest (without Eugene) trying to escape the whispering walkers. She gets confused and eventually collapses. Elsewhere, Daryl escorts Carol and Henry to his camp by a dam; we see he has a dog and Carol asks him when the last time he ate was. "Dog ate yesterday," he says. On the road to Hilltop Siddiq tells Michonne she should have let Magna's group stay in Alexandria, but she says she still doesn't trust them. Magna loudly complains that Michonne has her knives and Yumiko tells Michonne she's just upset about their lost friend Bernie.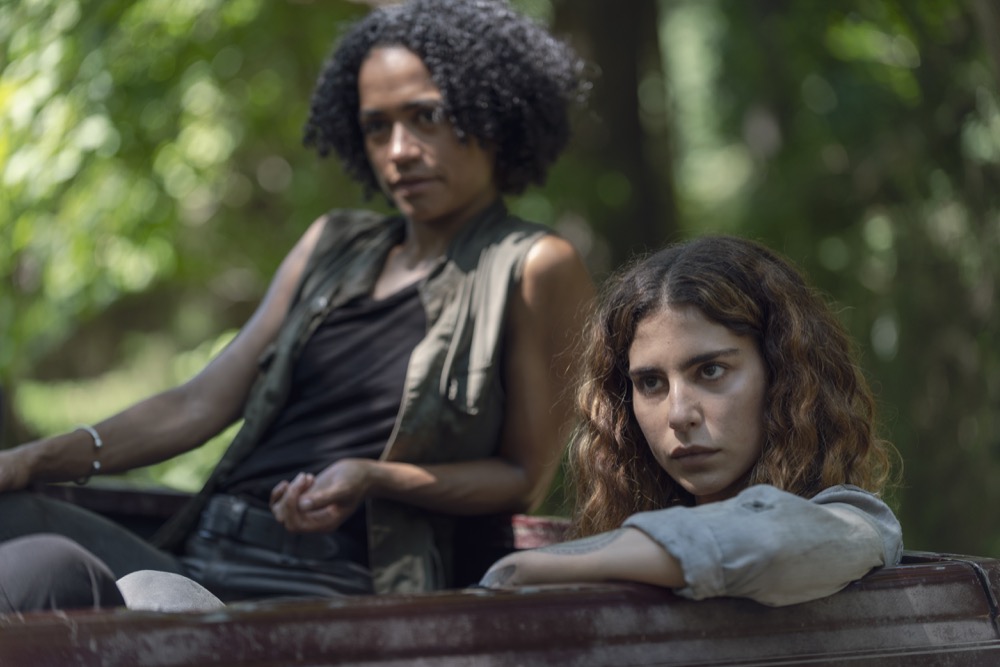 Now to the thriving Hilltop – Enid conducts doctor check-ups while residents tend to their crops. Tara asks Jesus about Maggie, and he reveals she and Hershel are with Georgie and they're "happy." Tara updates him on the minor problems and going-ons at their community and congratulates him on being re-elected as leader. He reminds her he ran unopposed, but Tara suggests he still take Maggie's office, but he refuses.
Back at Daryl's camp Carol asks why he's been living in the woods so long and he says it's quiet. She updates him on Henry moving to Hilltop while she deals with things at the Kingdom. Daryl asks why she's really here and she reveals she wants him to come with them. "Want me to babysit your boy?" Daryl growls. Carol admits Henry could use a mentor to toughen him up, but Daryl says he'll have to learn on his own.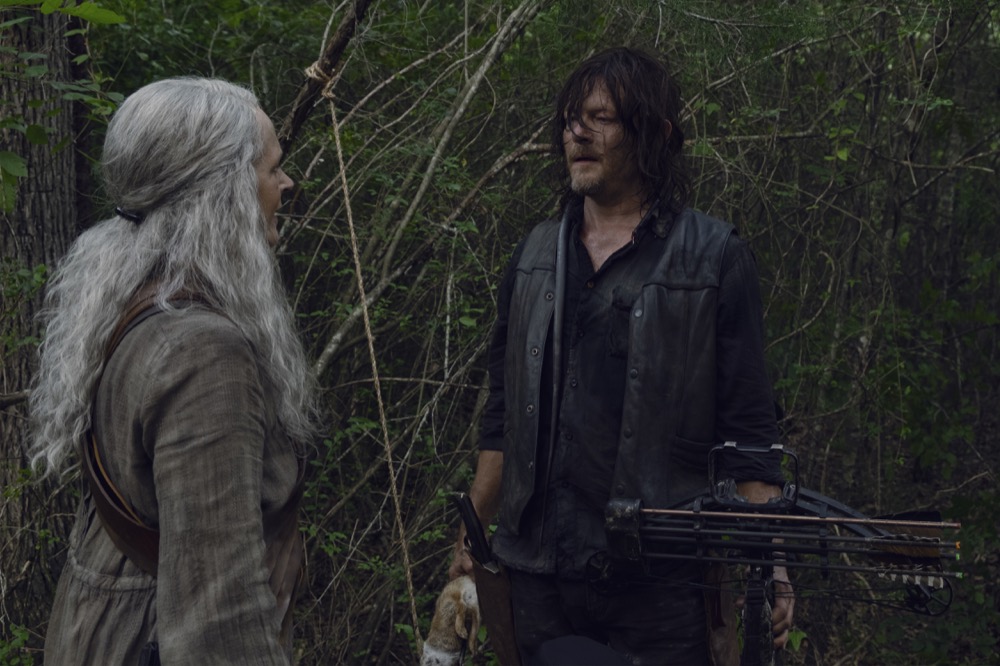 Michonne and the others arrive at Magna's giant crate of supplies, which have been displaced or destroyed by walkers. Magna's upset at the sight of Bernie's things while Michonne instructs DJ to gather more of their weapons. This angers them, and Michonne also announces she's returning to Alexandria in the morning while Siddiq and DJ help them finish the journey. All of this riles up Magna and Luke but Yumiko calms them down and reluctantly agrees to her terms.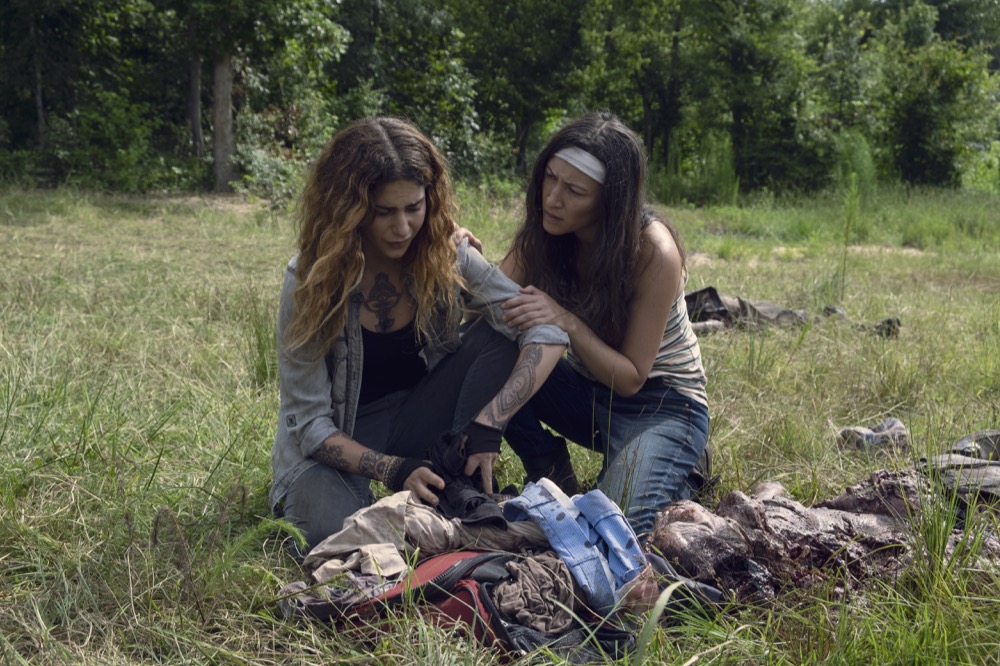 Aaron jumps Jesus on horseback and the two playfully fight until they're worn out. Jesus asks if Michonne has reconsidered joining the upcoming fair but Aaron said they won't even put it to a re-vote. Suddenly, a flare is fired in the air close by and they rush over to investigate. They find Rosita wounded by a tree, who tells them she left Eugene by a barn. "Walkers" close in so they grab her and promise to look for Eugene tomorrow.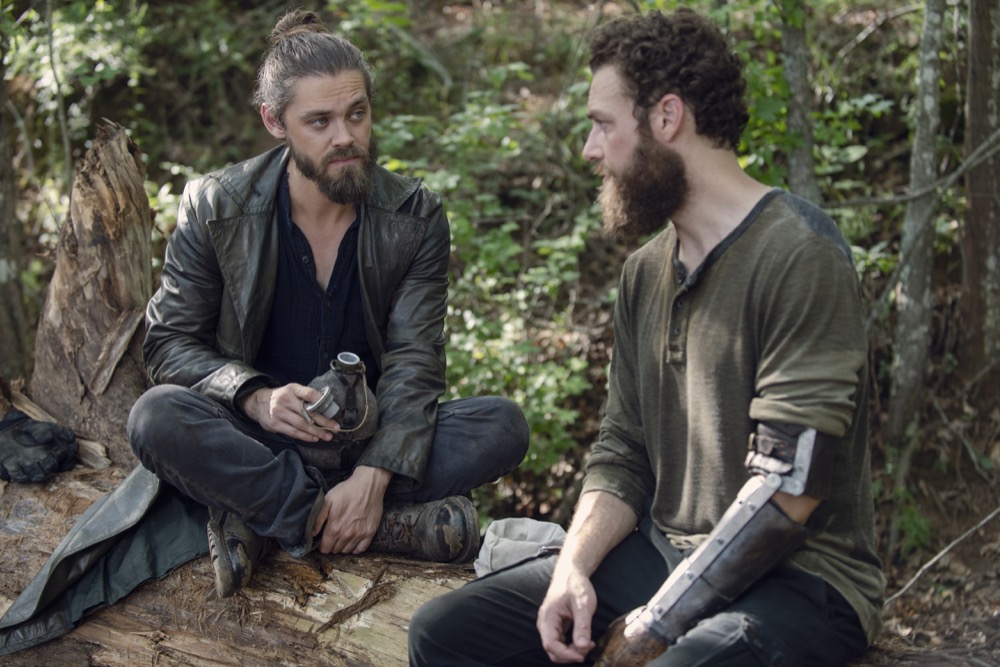 Daryl skins a snake and throws it into the fire for dinner while Henry asks Carol if she brought him here so Daryl could be his chaperone. That night, Carol gives Daryl a haircut and he reveals he never found Rick's body…but it was easy to just stay out here after he was done looking. Carol suggests he let it go. Over dinner Henry asks how Daryl got his scar but he ignores him and leaves to find his dog.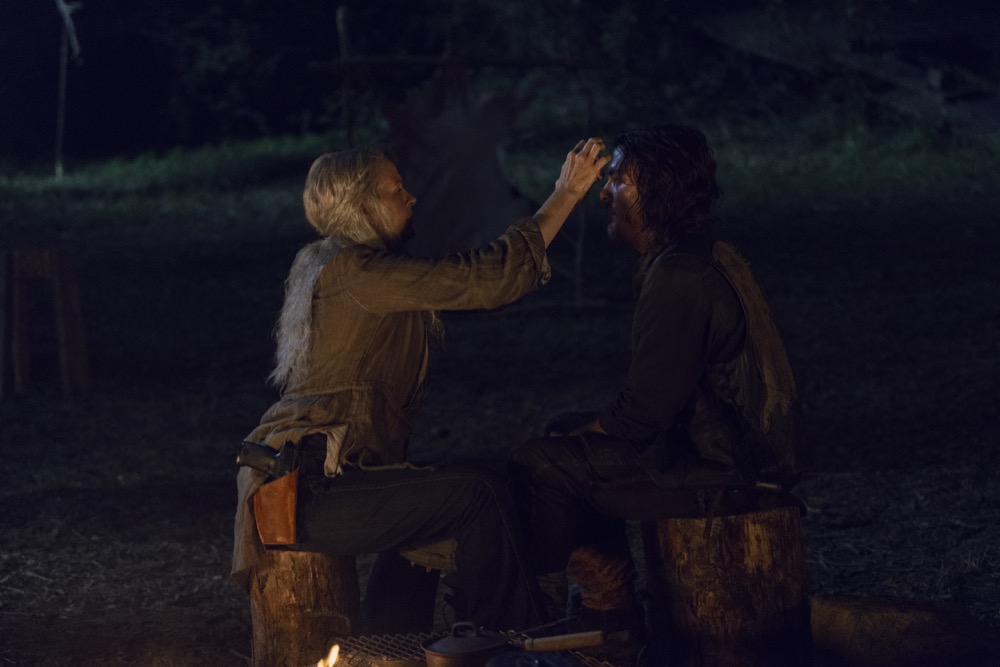 Michonne sneaks up on Luke in the stable they're sleeping in and tells him to "drop it" and turn around. When he does Michonne slices his violin (or Stradivarius) in half, waking up the rest of the group. Meanwhile, Henry tails Daryl and finds a walker instead. Daryl shows up and asks if he was following him. Suddenly, Daryl hears his dog barking wildly nearby and rushes over to find it surrounded by walkers. Daryl picks off the walkers and when one approaches Henry jumps in and saves him. "I told you to stay back," Daryl scolds. We then see Carol secretly lower her bow and arrow in a bush nearby.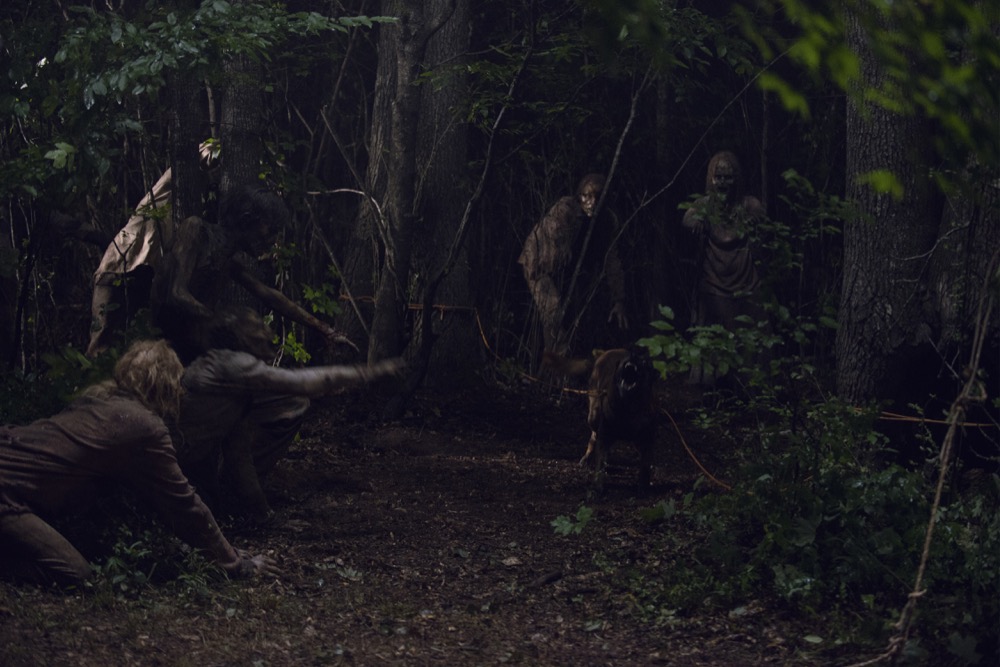 Back at Hilltop Tara updates Jesus on Rosita's condition and asks what they were doing out there. Jesus confesses he was training Aaron while trying to get Alexandria on board with the Fair. She lets him know people are noticing his constant absence from Hilltop reveals she's leaving tomorrow to look for Eugene.
As Daryl changes clothes we see an X-shaped scar on his back identical to Michonne's. He throws on a shirt and tells Henry this is the first time the dog got caught in his trap. Henry thanks him for the save and tells him Carol misses and worries about him. "She knows how to find me," Daryl says. But Henry suggests he should come to Hilltop with them. Daryl asks if it's so he can look over his shoulder, but Henry says "It isn't just about me."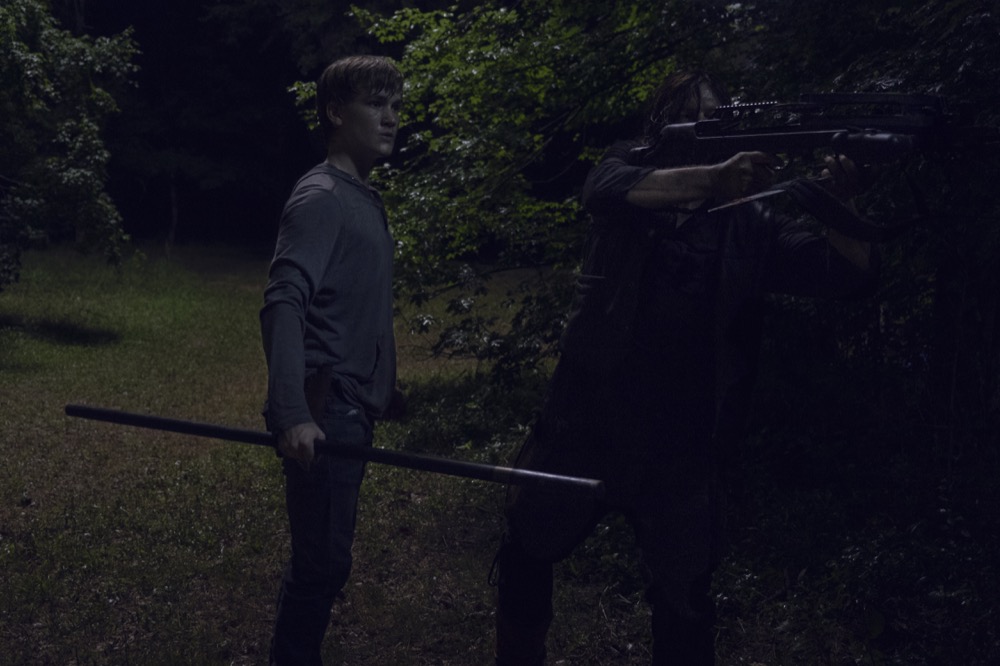 Luke gawks at his broken Stradivarius in disbelief and explains to Michonne how old and rare it was. Yumiko lays her head on Magna's leg and playfully recalls the mansion they found it in. Luke says the Stradivarius is the one thing that separates them from the animals.
The next morning, Siddiq tries again to convince Michonne to come with them but she says she can't take the risk with Maggie. Siddiq reveals that actually….Maggie and Hershel left last Fall. Before he can explain, DJ says walkers are here so Magna demands they get back their weapons. Michonne relents and returns them, and Magna's group splits up to take them out. Their old friend Bernie appears as a walker, which deeply upsets the group. Michonne takes him out, causing Magna to weep. Siddiq tells them they have to go, and they do.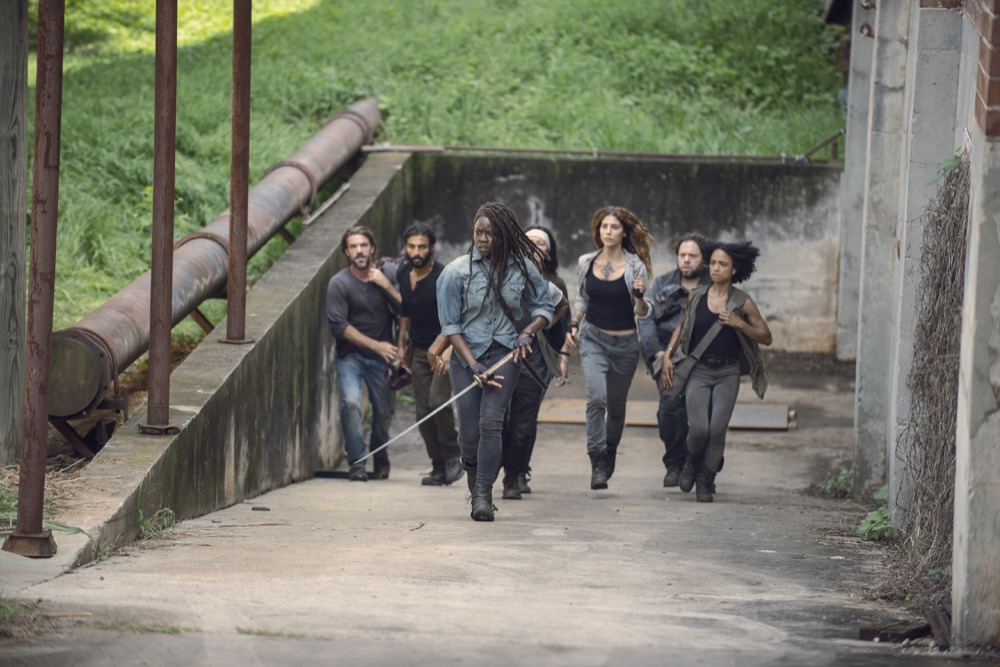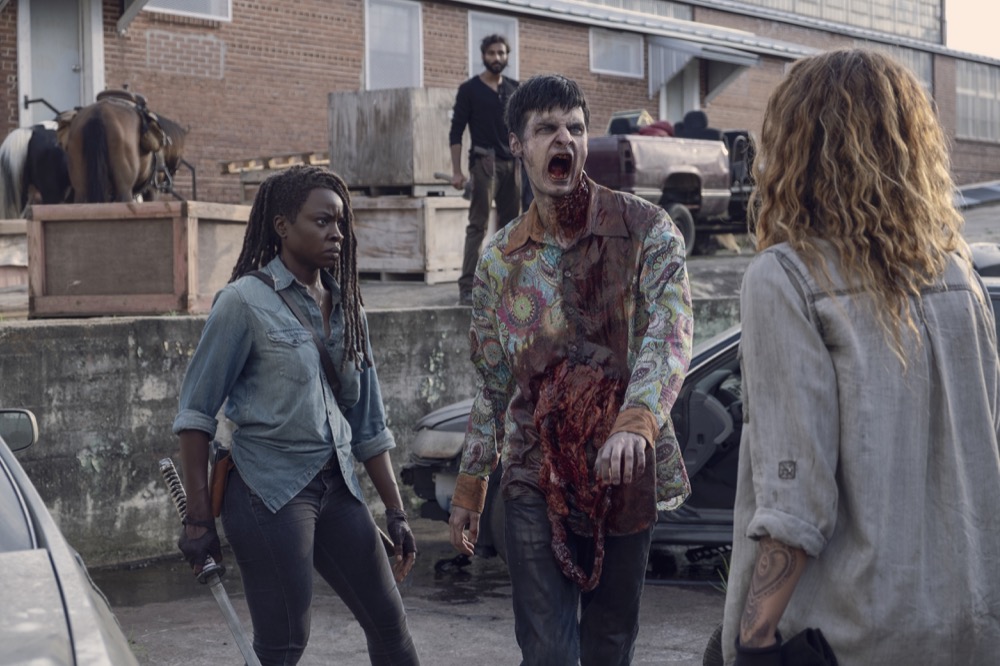 Daryl loads up his bike for Hilltop and Carol seems overjoyed she convinced him to leave. On the road, Michonne empathizes with Magna and Siddiq apologizes for not telling her about Maggie sooner. Two spear-wielding Hilltop soldiers ride up to them to deliver the news that Rosita's injured and being cared for at Hilltop. Michonne instructs them to tell Hilltop they're on their way. The group hears something nearby but decide to move on, even though it seems like they're being watched.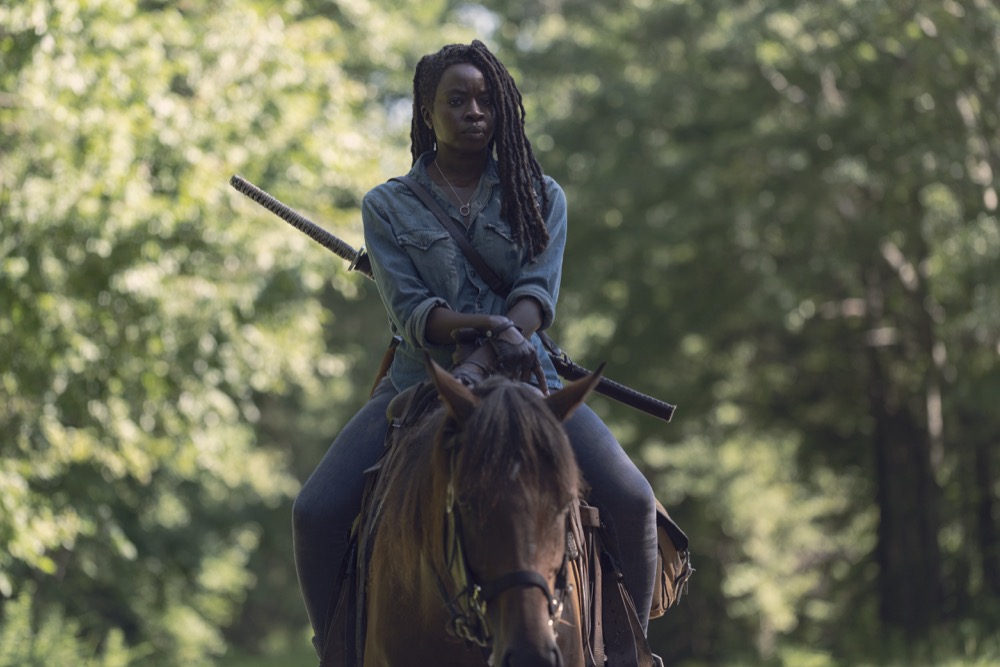 Daryl's crew arrives at Hilltop and Carol tells Jesus that Henry wants to learn how to be a blacksmith. Aaron greets Daryl and tells him they could use his help locating Eugene. Henry tries to tag along but Carol shoots it down. Jesus tells Tara he should go instead of her so she agrees to stay. The group heads out to find their friend.
---
What did YOU think about this week's episode of The Walking Dead? Do you think Daryl and Aaron will find Eugene? Will Magna's group integrate well into Hilltop? And where are the Whisperers?? Join our discussion below!