"The Obliged"
Michonne finishes various errands around the community and that night finds a walker being hung a tree who resembles someone she once knew. She tears up and almost gets killed by another walker, but kills it with a bat. She looks at the bat in horror, reminded of Negan.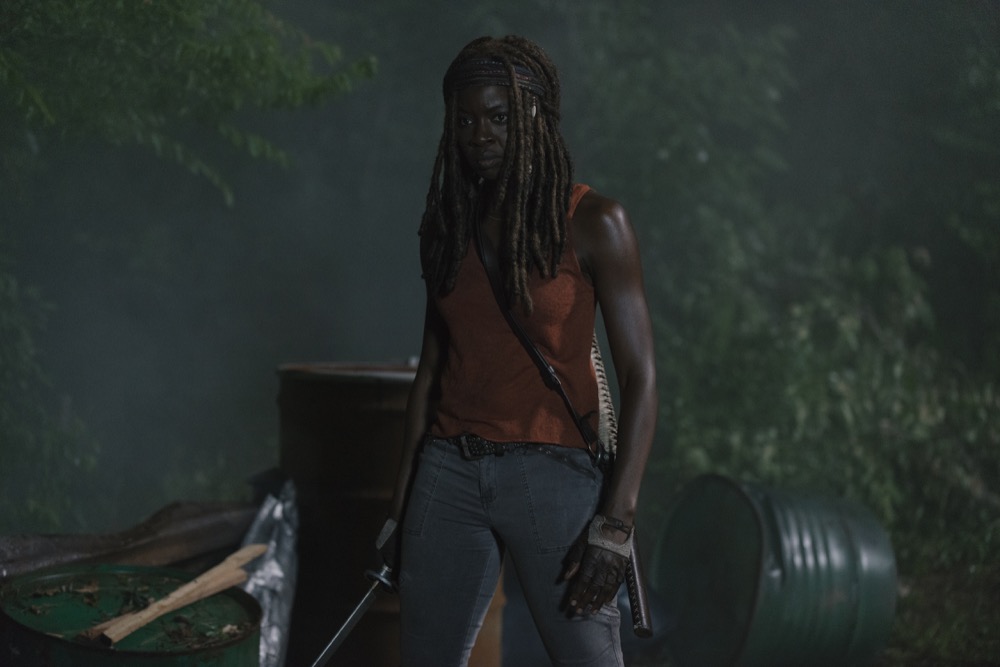 Maggie returns to Hilltop and sneaks a crowbar into a travel bag, which Jesus notices. She instructs him to look after the Hilltop while she heads to Alexandria (to take care of Negan) and he implores her to think about it. At the camp, Eugene updates Rick on the status of the rising river in relation to their bridge construction. He apologizes for the bad news but Rick reminds him how valuable he is to them. Carol tells Rick she's taking her people back to Kingdom while the Sanctuary figures out who they want to be.
Jerry arrives at the camp to warn Rick about Maggie's march to Alexandria. He immediately radios Rachel to warn his people not to let Maggie into the community, but Rachel picks up a magazine and ignores the request. Daryl overhears Rick and tells him he'll take him to Alexandria himself. Nora, one of Alexandria's residents, warns Michonne that Negan has been refusing to eat and she promises to handle it.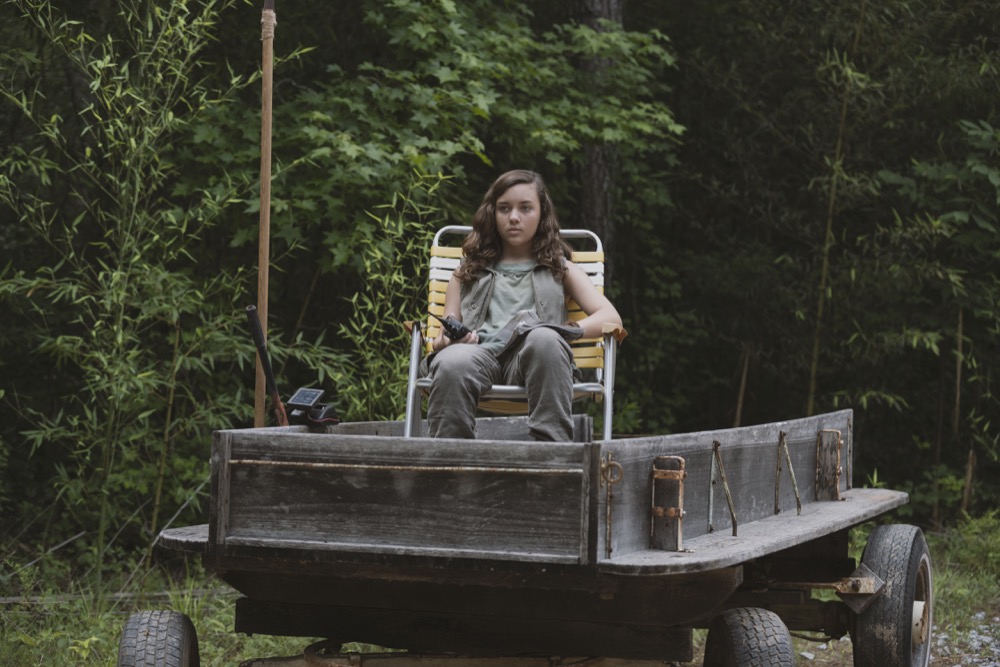 Daryl rides past the road to Alexandria and Rick angrily tells him to pull over. Rick asks what's up and Daryl reveals he messed with the relay so Maggie will be allowed into Alexandria to kill Negan. Rick jumps at him and the two wrestle until they roll into a giant ditch. Michonne brings Negan a meal and he says he'll only eat if she stays to talk to him.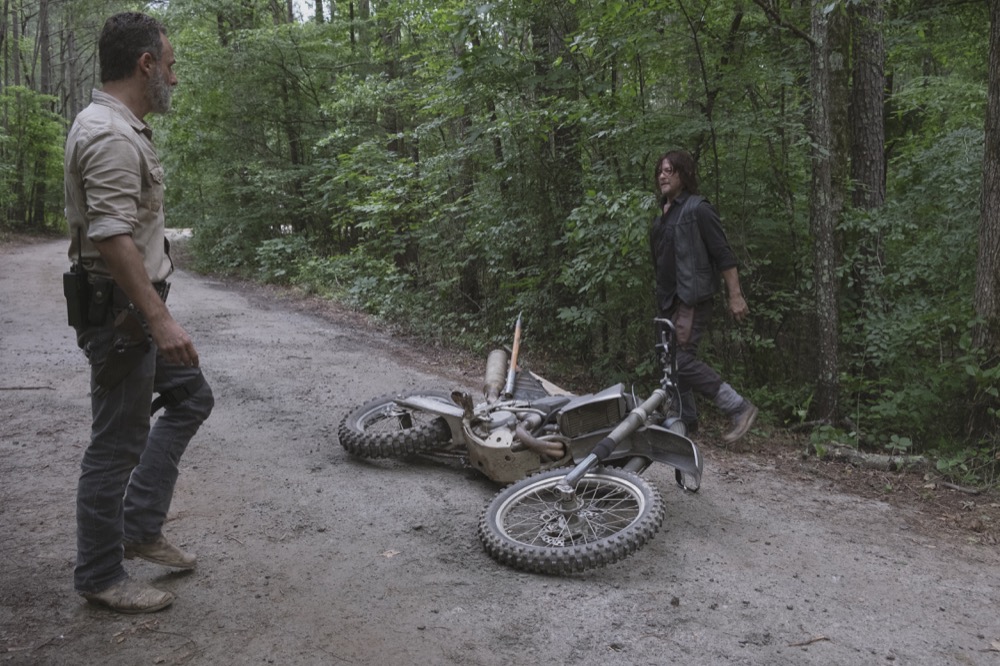 In the ditch, Rick and Daryl argue over the merits of keeping Negan alive. Daryl reminds Rick how Negan turned him into a slave and how no one's on board with him sticking around. Rick says if they martyr Negan then Carl will have died for nothing. Daryl tells Rick he'd die for him and he would have for Carl too, but he has to just let him go. Rick says he never asked anyone to follow him, and Daryl says, "Maybe you should have."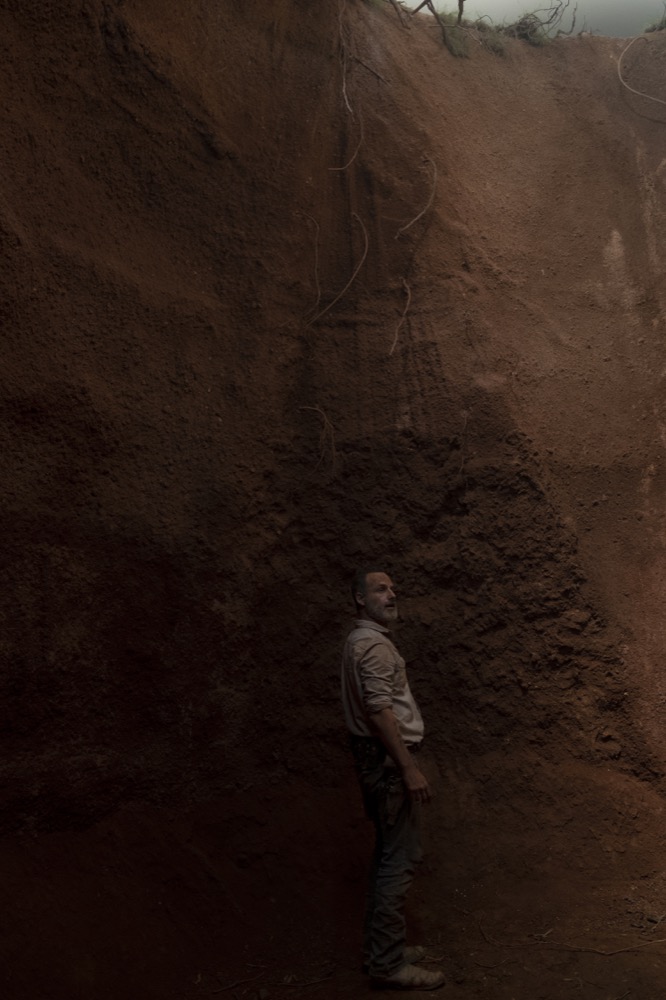 Negan tells Michonne he's not meant to be in the cell just as she's not meant to be "planting kale and kissing boo boos." Michonne shoots back that she's helping rebuild civilization. Negan admits he's happy his wife never got to see him like this. Michonne presses, and Negan reveals they wish they had a kid like Carl, but his wife got cancer and the world changed. Michonne says she sees Carl everywhere, and when Negan asks about her own kid, she angrily says Andre "just didn't make it." Negan says it's better this way because his wife wasn't made for the apocalypse. "We were built for more," he says.
At the junkyard Anne kisses a tied up Father Gabriel before rolling up one of her walker experiments to kill him. He wakes up and begs her to stop before telling her he forgives her. She leans the walker over him and then stops, before putting another chloroform rag over his mouth to knock him out.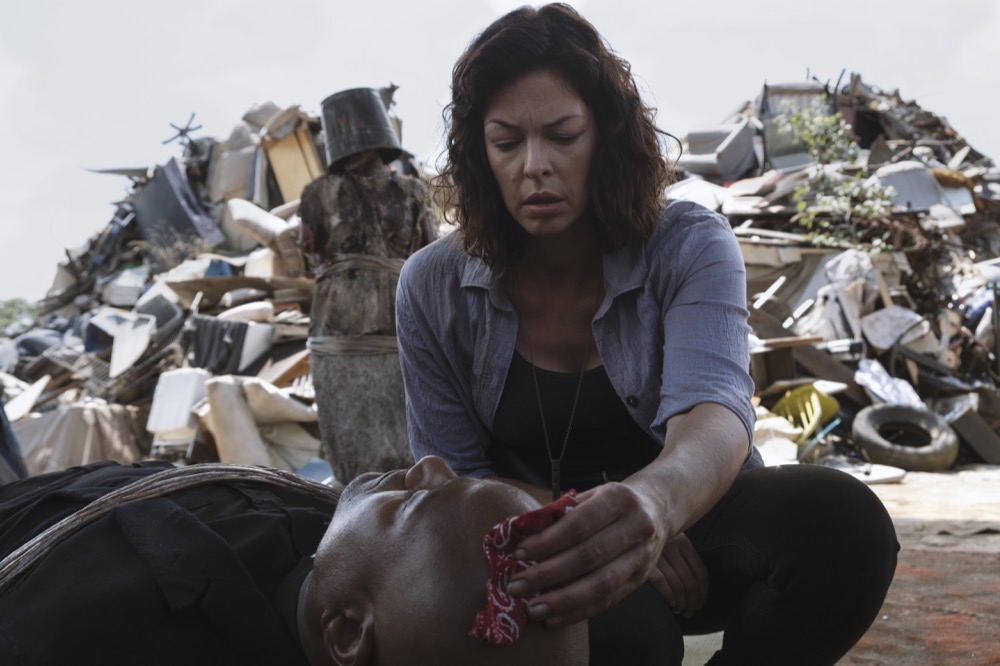 At the camp Carol packs up for Kingdom when Jedd and the Saviors return, this time they're armed. He reveals he knows that Oceanside's been killing the Saviors and he needs her to step aside so he can enact his revenge. Carol attacks him again, more Saviors show up and a shoot-out ensues. Rick and Daryl hear the shots from the ditch and are forced to help each other escape. Negan tells Michonne that the two of them are the same, which enrages her. She acknowledges they're similar but distinguishes that her worldview is a lot more positive than his. She finally gets him to eat, and as she leaves he asks her to see Lucille. Michonne tells him they don't have the bat anymore, which causes him to violently bang his head against the wall.
Walkers slip into the ditch as Rick and Daryl struggle to climb out. Rick finally crawls out of it and uses a tree branch to get Daryl out as well. With a horde building near the camp Rick concocts a plan to lead them away while Daryl heads for the river. Father Gabriel wakes up untied and alone in the junkyard. He finds a note in his pocket from Anne telling him, "If you want to go fast, go alone. If you want to go far, go together. I want to go fast." Gabe breaks down in tears. Elsewhere, Michonne reads to Judith about baseball and gets triggered by the bat again.
Quickly surrounded by walkers, Rick's horse gets spooked and throws him into a pile of rebar, WHICH STABS HIM THROUGH HIS SIDE. Rick loses consciousness as the walkers close in.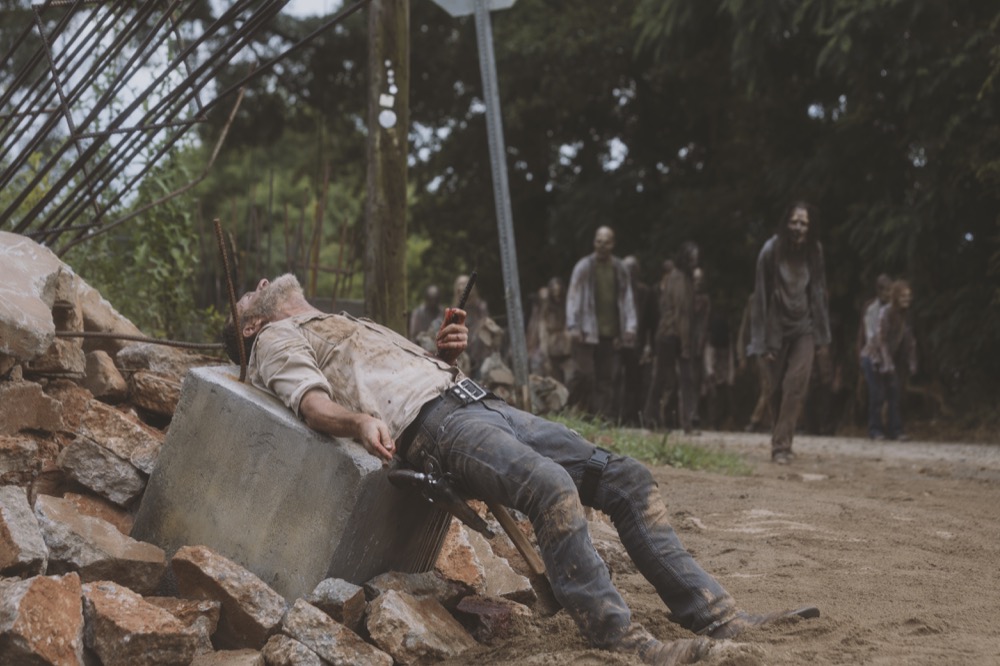 ---
WHAT! Do you think Rick will survive that injury? Will his friends make it back in time to save him? Give us all your reactions in the comments!