"The Storm"
A few months after the spikes, the Kingdom has fallen. Ezekiel uses Eugene's radio to explain its demise (burst pipes) and asks for shelter from "the storms to come." Carol sorts through some of Henry's old stuff as Daryl makes dinner for Lydia. Ezekiel looks longingly at the community charter before packing it up and heading out to Hilltop into the cold, leaving the Kingdom behind for good.
On the road, Ezekiel warns the others to be mindful of where they step so they don't trespass into the Whisperers' land. Yumiko informs Michonne they've sent letters to Maggie but haven't heard back, and the Hilltop is still reeling from the loss of another leader. Michonne suggests Carol and Ezekiel could fill in. Suddenly, they spot the undead walking parallel to them in a field and Alden asks Lydia if they're her people. "We followed their rules, haven't they done enough to us?" Daryl and Michonne shoot him down, reminding Alden that Lydia's dealing with her own loss. Lydia tells Daryl, "I don't want to cause any more problems."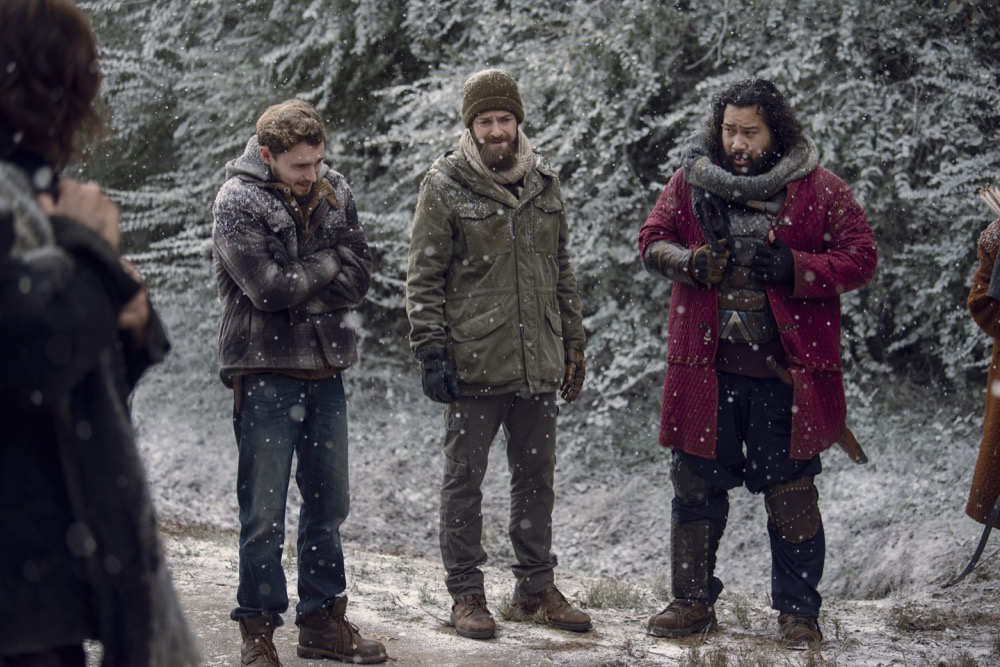 Later, as it becomes colder, Daryl reminds Carol that Henry wanted Lydia to be with them. She admits all she can see is Henry when she looks at her and Daryl asks what she sees when she looks at him. She assures him she just sees him and puts her hand on his shoulder – it doesn't go unnoticed by Ezekiel. Jerry warns Ezekiel their barometer just took a nose dive and they better find shelter because the storm arrives.

In Alexandria, Gabe and Rosita keep warm by staying close but Eugene interrupts them to report on the storm. Gabe concocts a plan to group up next to large fireplaces, meaning they'll have free Negan so he doesn't freeze. Back on the road, Daryl and Carol kill a couple of walkers and Ezekiel uses the opportunity to let Daryl know he wants a fresh start with Carol at Hilltop "and it would be easier if it was just us." Daryl doesn't say anything as snow begins to fall.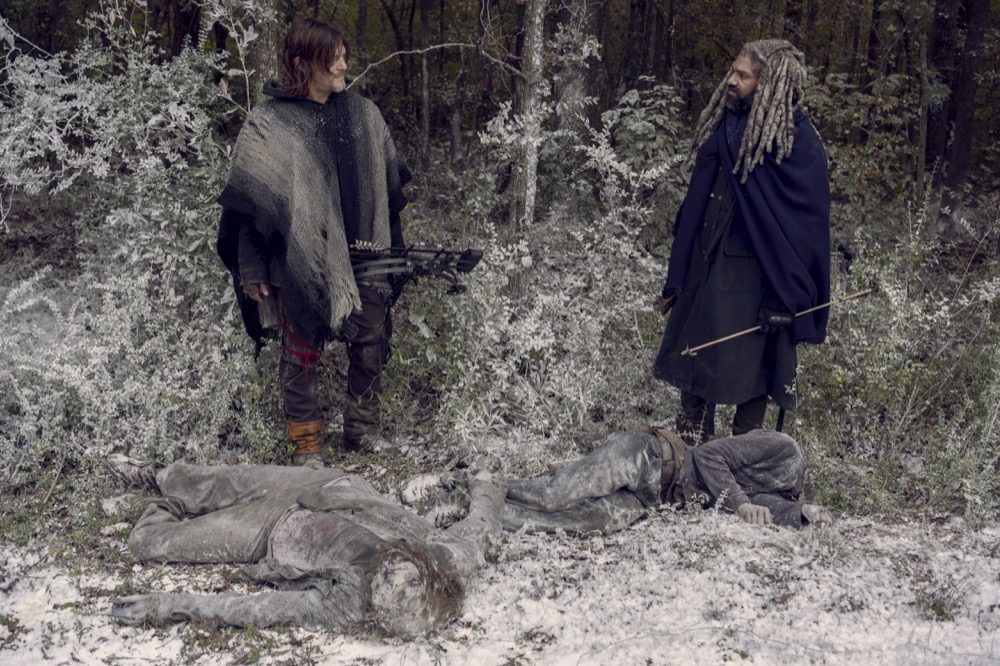 Lydia wanders the forest and finds a walker trapped in ice. With a tearful look she takes off her glove and offers her hand to the walker to kill herself but suddenly stops when Carol appears. She escorts Lydia back to the group unbitten. Needing shelter, Michonne reluctantly takes the group to Sanctuary.
Back in Alexandria, Negan congratulates Rosita on her harem of a priest, doctor, and genius. He taunts Gabe by calling him "father…not the father." Judith tells Negan she's worried about Dog, who she lost despite Daryl asking her to watch over him. Suddenly, the group smells something and Eugene pulls Siddiq and Gabe away from the fireplace before it explodes. He says chimney makes it unsafe to light anything else on fire, so Gabe decides they're moving to Aaron's house. They all tie a rope around themselves and head out into the blizzard.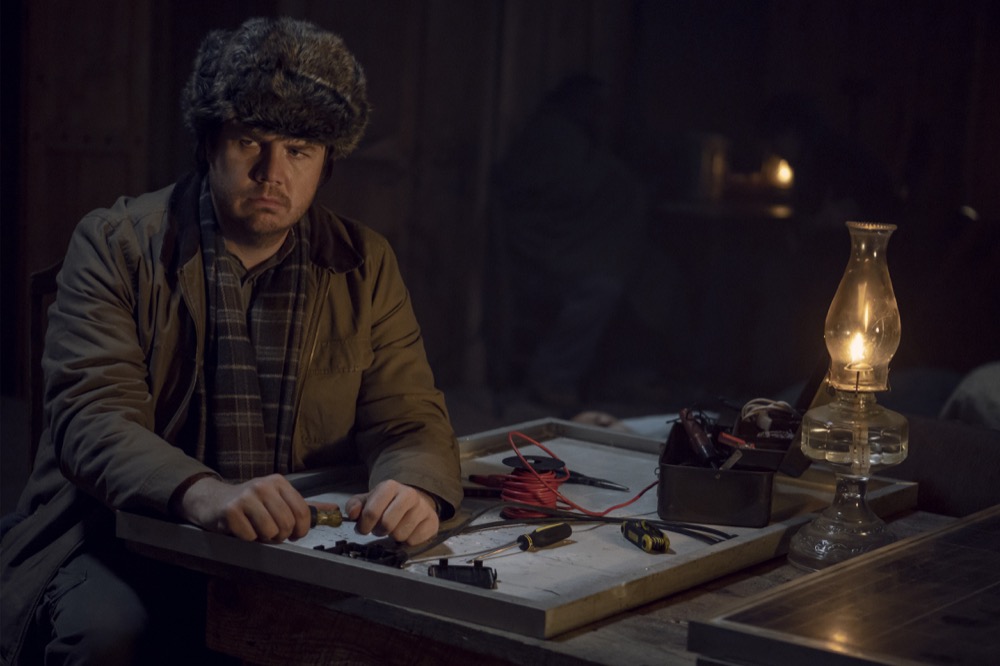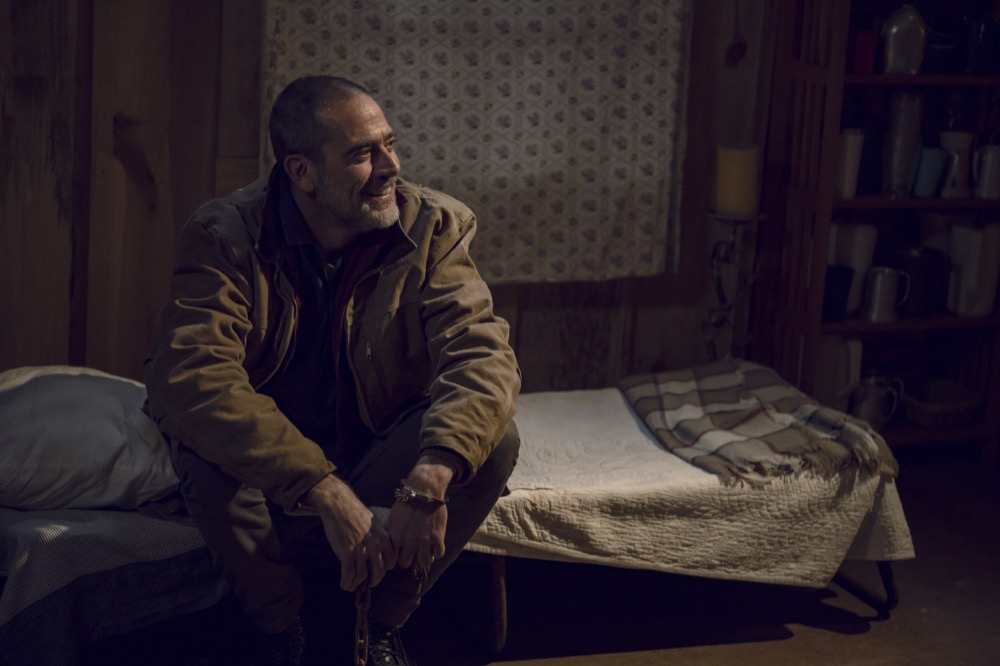 Daryl sits with Carol at Sanctuary and tells her they're going to make it. She asks him if something happened back there between him and Ezekiel and he says no, but Carol's suspicious. She admits with Henry gone she feels like she's losing herself again, so Daryl offers to take Lydia away from her even though he doesn't want to leave her. Shortly after, the leaders map their route through a frozen lake in Alpha's land and Michonne warns they leave now or die.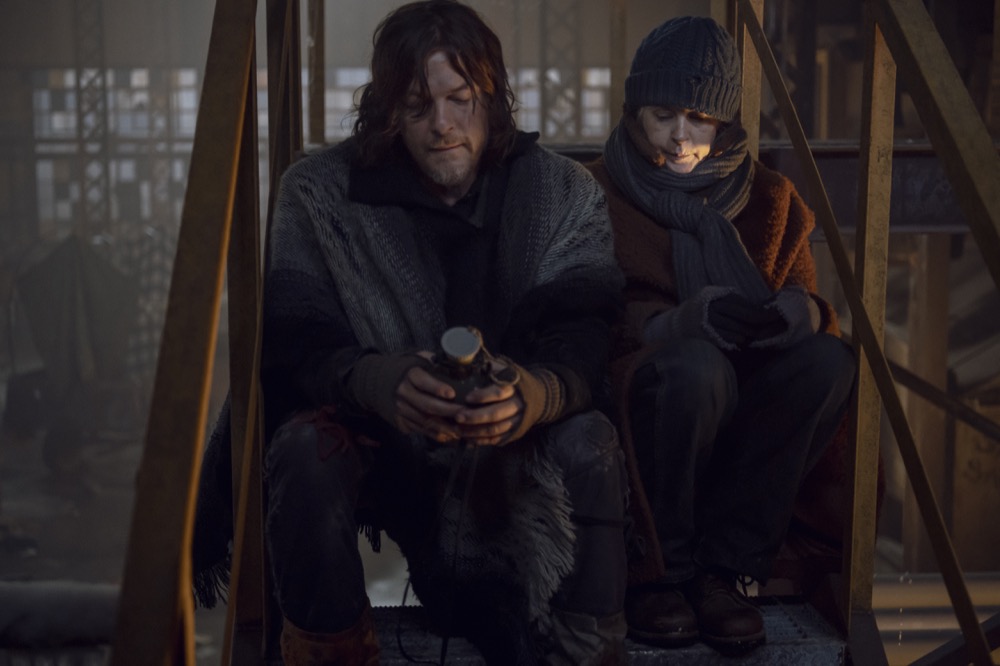 Afterwards, Ezekiel laments his failures with Michonne, who says if their communities knew each other better Alpha would have never blended in. She vows to never let them get that divided again, and reminds him the Kingdom is here with them, not in their old location. Later, Ezekiel and the gang head out on foot, passing the spikes and into Alpha's territory. In Alexandria, Judith hears Dog barking in the distance and chases after him, forcing Negan to race after her.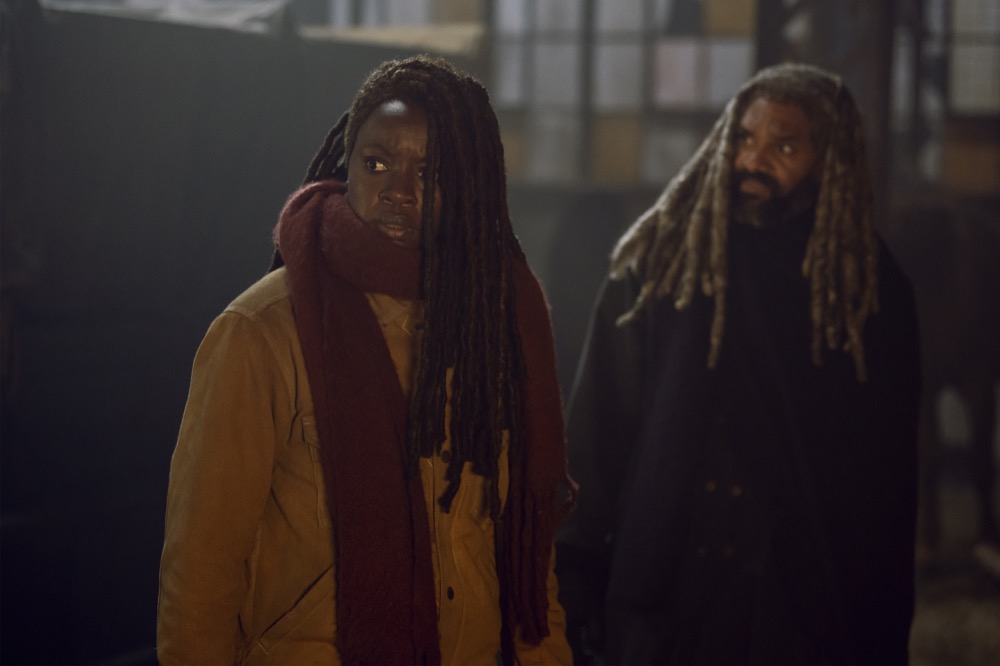 Michonne kills frozen walkers, unsure if they're Whisperers or not, before reaching the frozen lake. Daryl notices Lydia's missing again, so Carol leaves to find her and instructs Daryl to get everyone across safely. Suddenly, walkers awaken from the snow banks and they kill them one by one before escaping across the ice.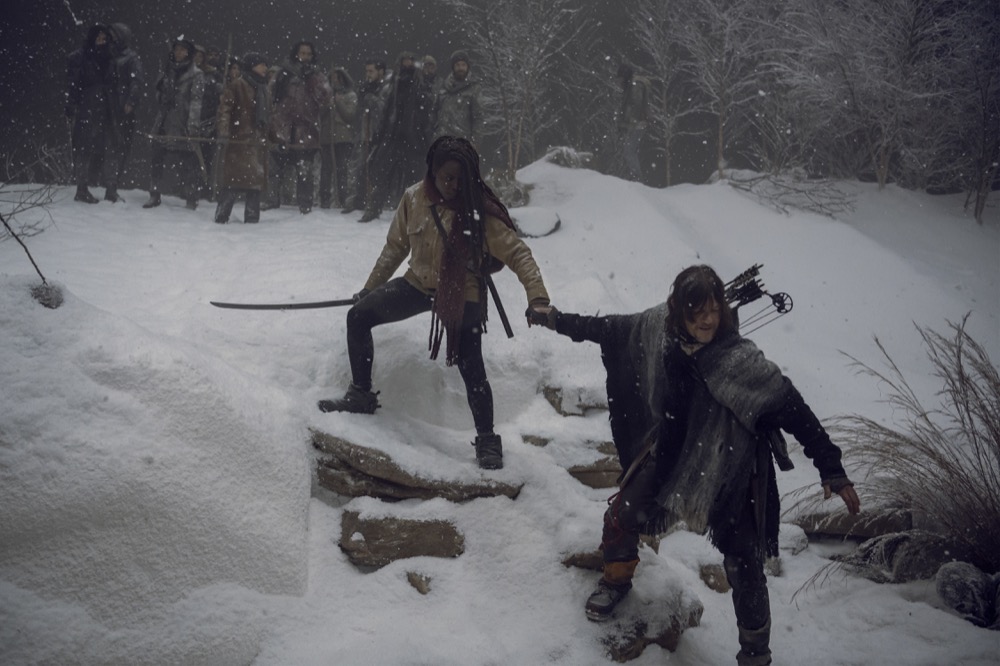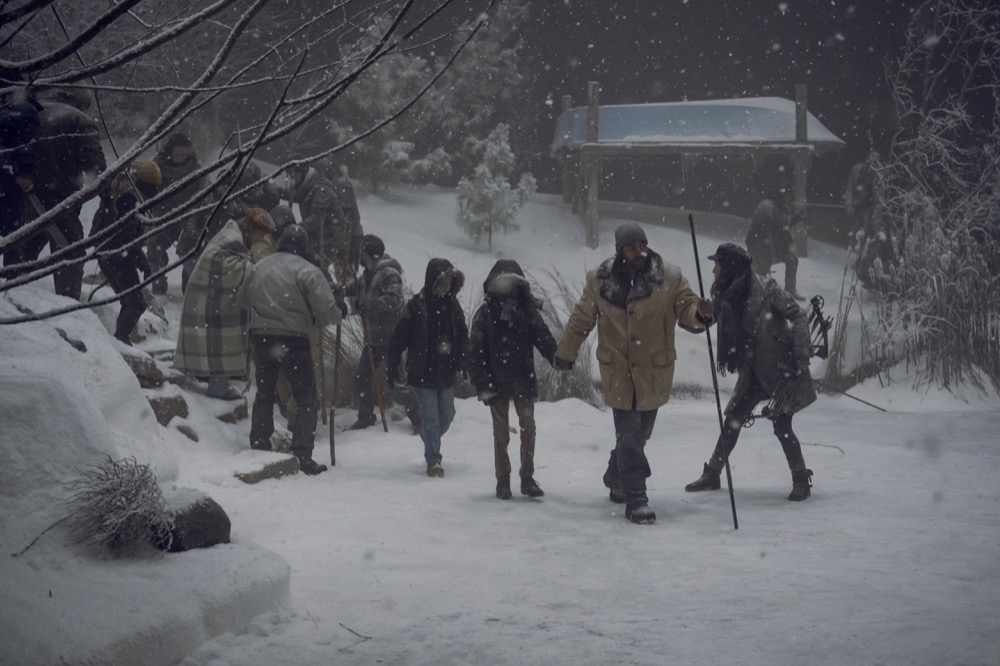 Meanwhile, Carol tracks down Lydia in a cabin and demands to know what she's doing. Lydia explains she can't cross the river because going to Hilltop won't fix anything, after all half of them blame her for what happened. "Your son's dead because of me," she says, before asking Carol to kill her. Lydia holds Carol's spear to her own neck and tells her this is how she ensures they don't lose anyone else, and although Carol considers it she stops herself. "You're not weak," Carol says before taking her back to the group yet again.

Elsewhere, Negan gets hit by debris while searching for Judith. He screams her name until he hears Dog barking and finds her. Negan puts Judith on his shoulder, grabs Dog's leash, and realizes they're lost. He places her down by a cabin and gives her his coat to stay warm. He then ties up his injured leg and carries her and Dog away.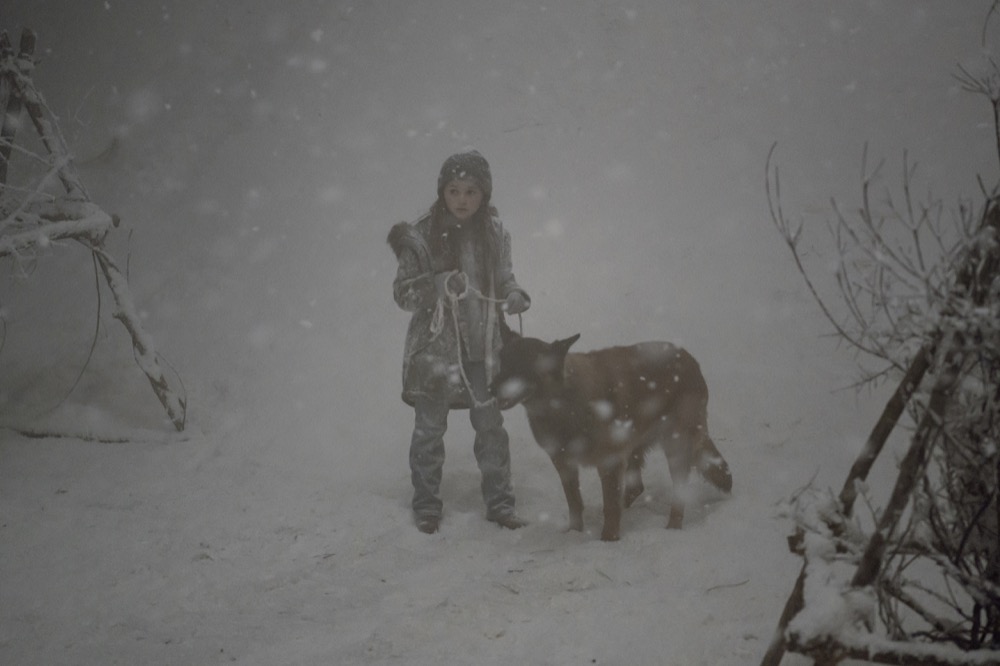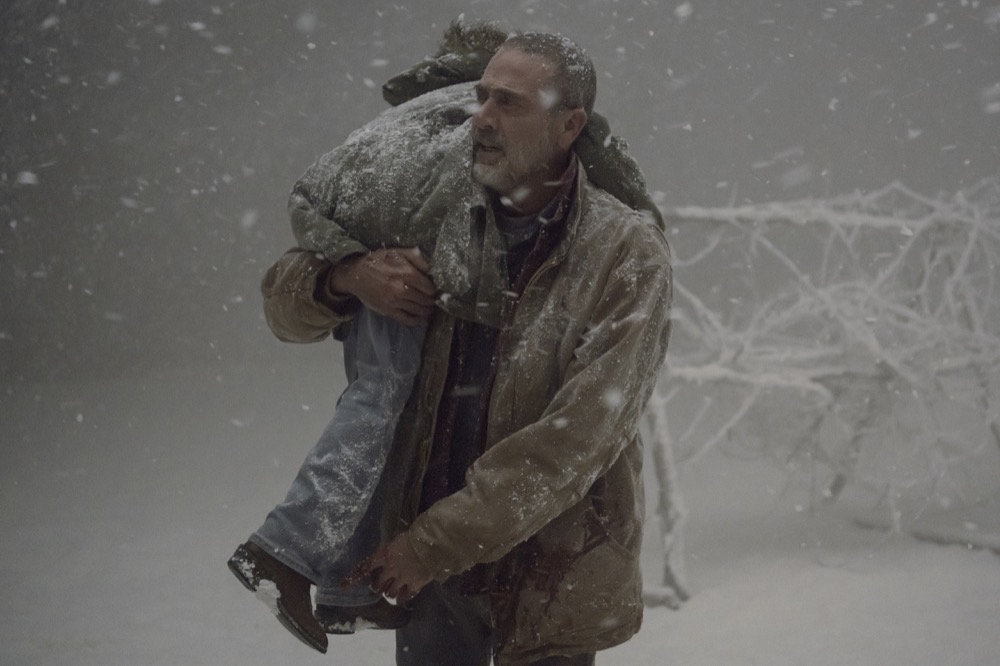 The gang finally arrives at a frozen Hilltop, where Daryl knocks off the head of a frozen walker. That night, Daryl informs Lydia they'll leave for Alexandria in the morning. She asks why he left and he says she'll get that story another day. Alden offers Lydia a room but she says she's OK. Carol tells Ezekiel she's going to leave him and head to Alexandria with the others. He reminds her he'll always love her and she says she'll "never regret the fairytale." She hands him back her ring and Ezekiel takes it and leaves.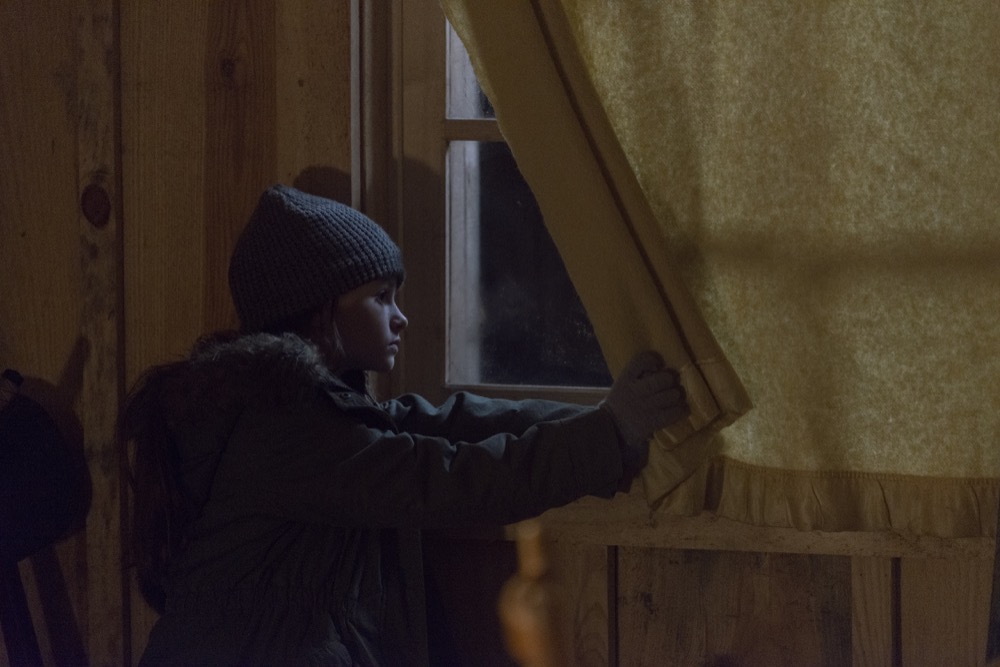 The next morning Michonne, Daryl, and the others return to Alexandria. Michonne hugs Judith and heads to the infirmary where she finds Negan in the infirmary. She thanks him for saving Judith and he muses that last time they were here Rick had just slit his throat. He compliments her on having the guts to cross through the Whisperers' territory. She tells him that Lydia said they were probably gone because of the cold but Negan warns they'll be back.
Elsewhere, Beta tells Alpha "the time away has been good for the pack." Alpha reminds him she'll need to be strong for what comes next and Beta assures her she will be. Beta then hits her arm with a switch to make her strong. Ezekiel radios Judith from Hilltop and says just because they lost their house doesn't mean they lost their home. They get off the radio and then we hear another voice – someone saying through mumbled communication to send help."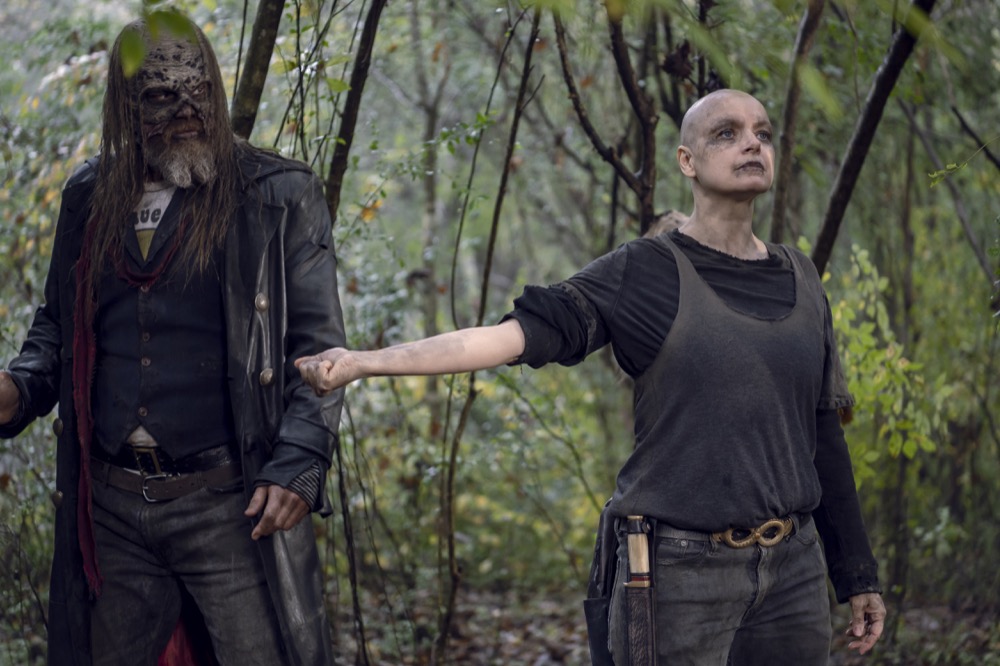 ---
What a crazy season finale! What did YOU guys think of the last episode? Let us know in the comments!