"Chokepoint"
Following their daring escape from the Whisperers Daryl blames Lydia for getting them into this mess and says she can't go with them. Back at the Whisperer camp Beta tells one of his people to find Lydia or else "they'll all walk with the Guardians."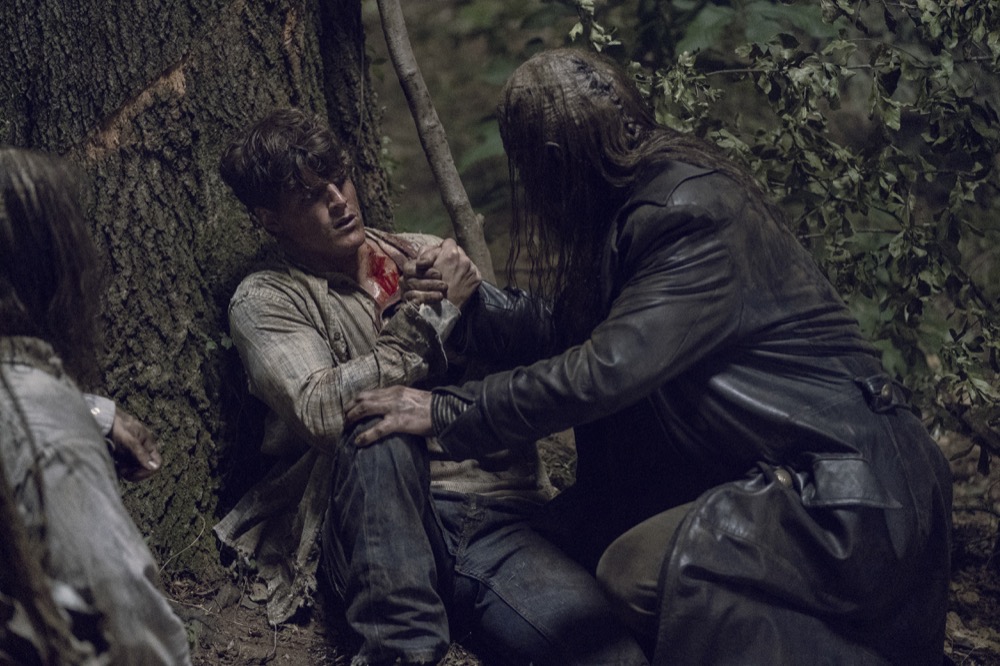 The Kingdom is nearly finished prepping for The Fair. Nabila tells Carol this is everything they've fought for. She then notices Jerry bruised and without armor after returning from a supply mission. Jerry tells Ezekiel his patrol got jumped and robbed on the road by a group called "The Highwaymen," who gave them a note warning anyone traveling to the fair will be turned back unless they pay their toll. ____ guesses it could be Jed's group of Saviors but Carol politely rules that out. Ezekiel decides they should fight these marauders and instructs Jerry to gather all their fighters.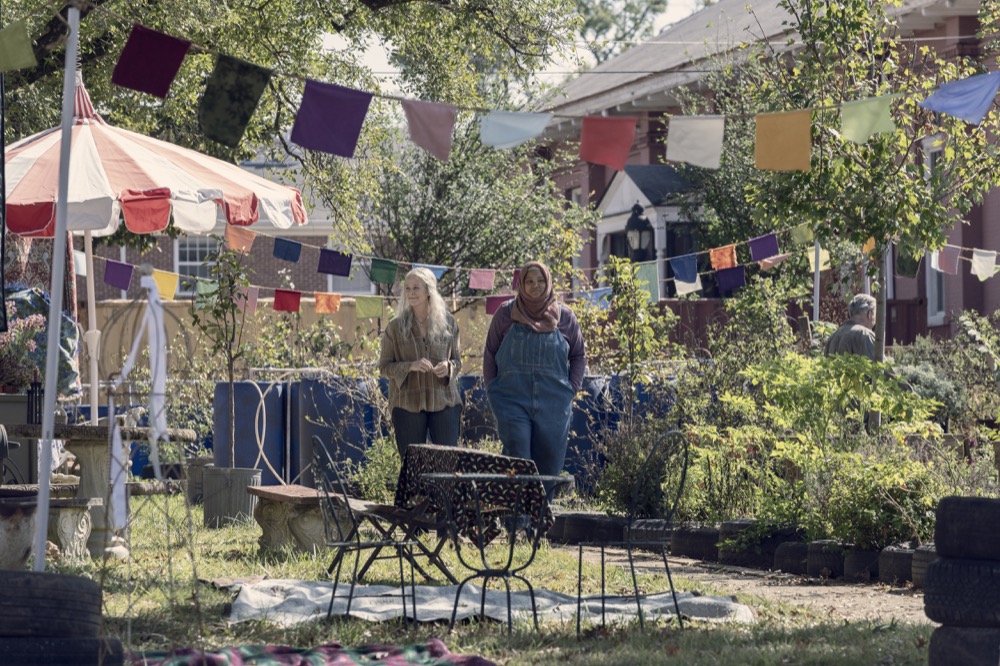 On the road, Magna's group clears a tree from their path as Tammy tells Earl how happy she is to have the baby. Kelly lets Tara know she's worried about Connie but she and Magna assure her she's fine with Daryl. Speaking of, Daryl's team devises a plan to use an office building as a means of separating the dead from the living. Lydia warns him Alpha's going to send Beta, who's their best fighter. "We'll kill him first," Daryl promises.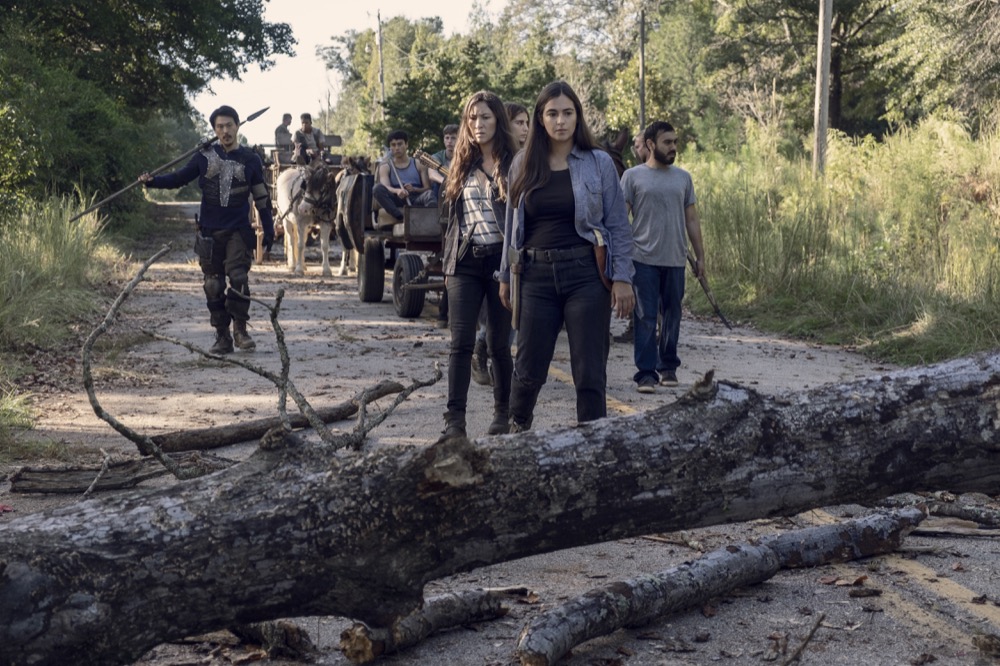 Jerry and Carol scope out the highwaymen community while Ezekiel laments the violence they have to resort to. Carol suggests they try talking to them first, and if that doesn't work they'll kill them. Meanwhile, Daryl's group prepares for battle in the building. Connie and Daryl argue how they should proceed; Connie says they have more to lose than Lydia.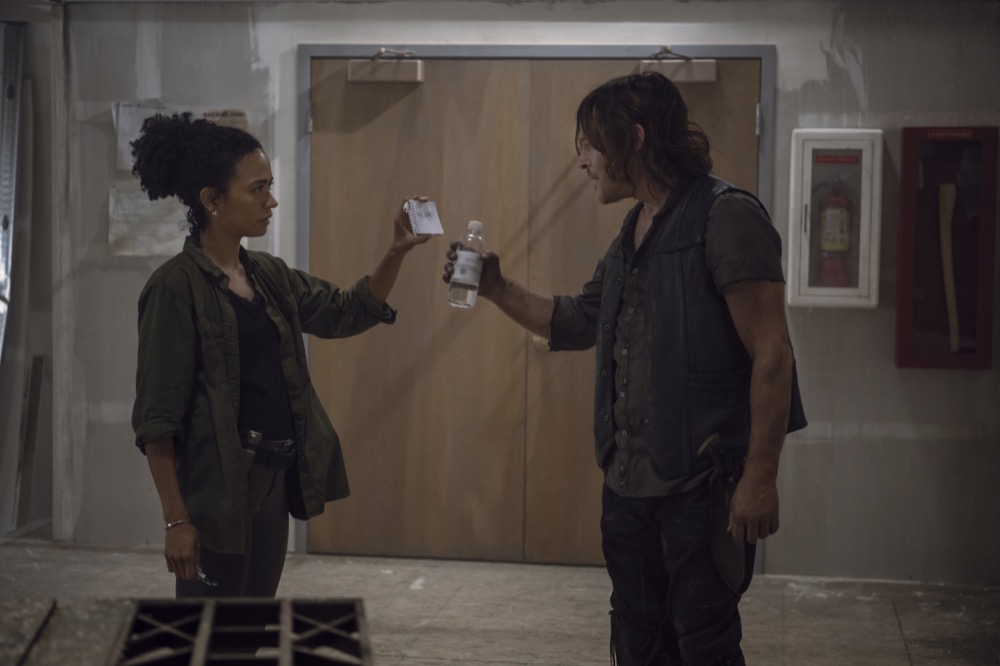 Ezekiel, Carol, and Jerry infiltrate the base and a mysterious man informs them this meeting is for the King alone. They disagree, and the man asks if they have his toll as his people approach with their weapons drawn. He suggests they use Ezekiel as ransom when suddenly the Kingdom fighters grab the man's people from behind. Zeke draws his sword and says he's prepared to fight for what they've created. He then offers the man a job to clear his roads for him in exchange to access for the Kingdom and the Fair. The man laughs in his face and draws Jerry's sword, telling them they'll have to do better than that. Carol then asks when the last time they've seen a movie and the man responds, "Seriously?"
In the building Henry gifts Lydia a spear he made and she reminds him she's not willing to kill her own people. He takes it back and tells her he'll try not to either. Lydia then scolds him for risking his life for her, saying what he did made Alpha look weak. He reminds her he cares about her so she kisses him. Daryl interrupts and tells them to keep watch.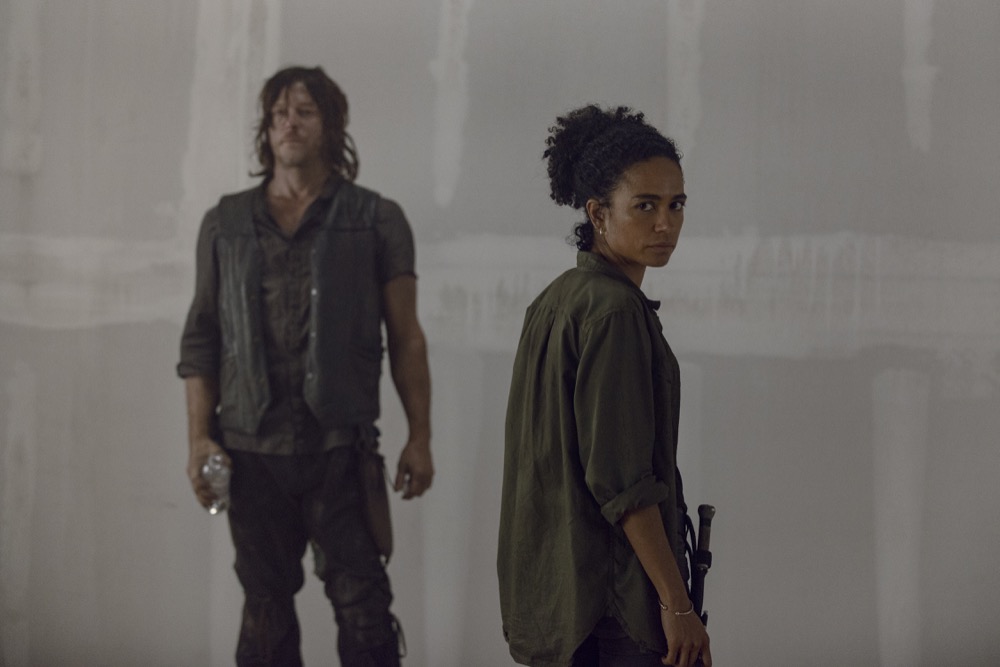 On the road a small horde of walkers approach Magna and Tara's group. They get in position and remind themselves to watch for the Whisperers. Tammy puts the baby in a box with air holes and then kills some walkers to save Earl. Suddenly, the highwaymen ride up on horses and introduce themselves to Tara as their escort to the Fair.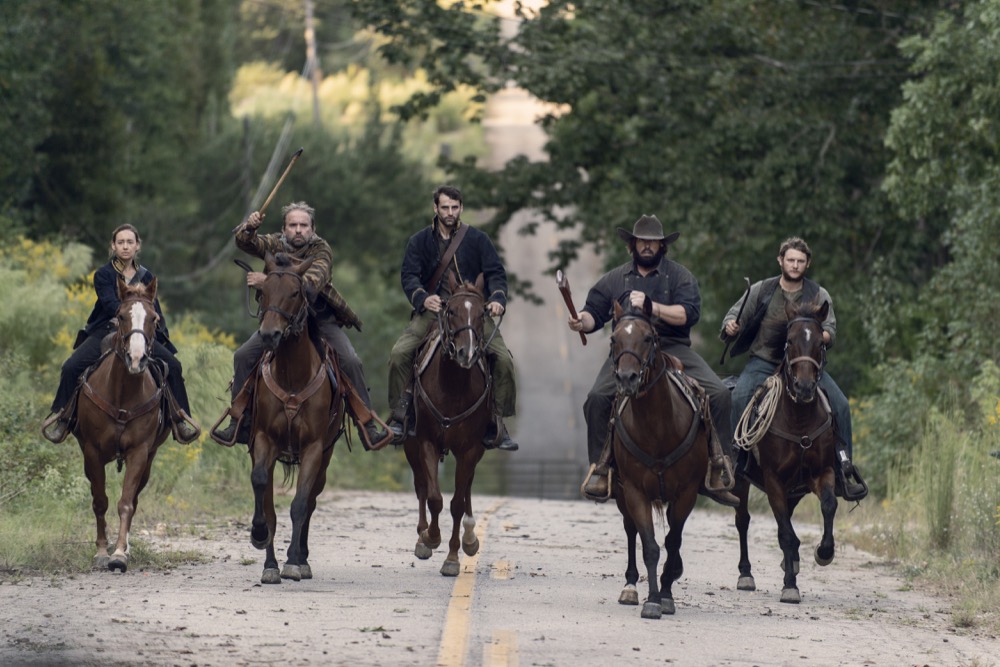 Lydia spots a group of walkers/whisperers emerge from the bushes toward their building. In the middle of the group is Beta, who quietly instructs his people to spread out as Daryl shoots one of them with his crossbow. Beta and his people break in and quickly discover a trap meant to separate them from the dead. Beta avoids it as Daryl makes Lydia hide in a closet. He locks her in as the Whisperers creep upstairs. Henry knocks one of them out as Connie slingshots another. Daryl aims his crossbow at the main door, which gets busted down by Beta, who's using another door as a shield.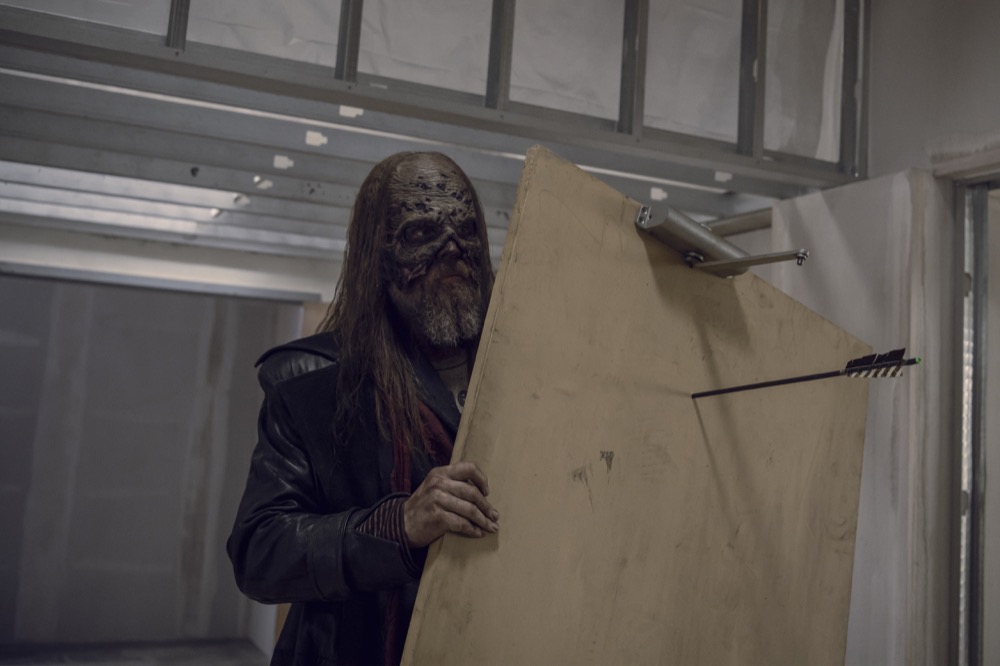 Daryl regroups and kills a whisperer through a sheet while Connie and Henry hunt down the others. Hearing her people getting killed Lydia starts to break out of the closet. One of the Whisperers stabs Henry in the leg but is then tackled by Daryl's dog. Connie finishes it off as Lydia breaks out and tells Henry it's OK. Daryl slits a Whisperer's throat and is then bull-rushed by Beta, whose size startles Daryl.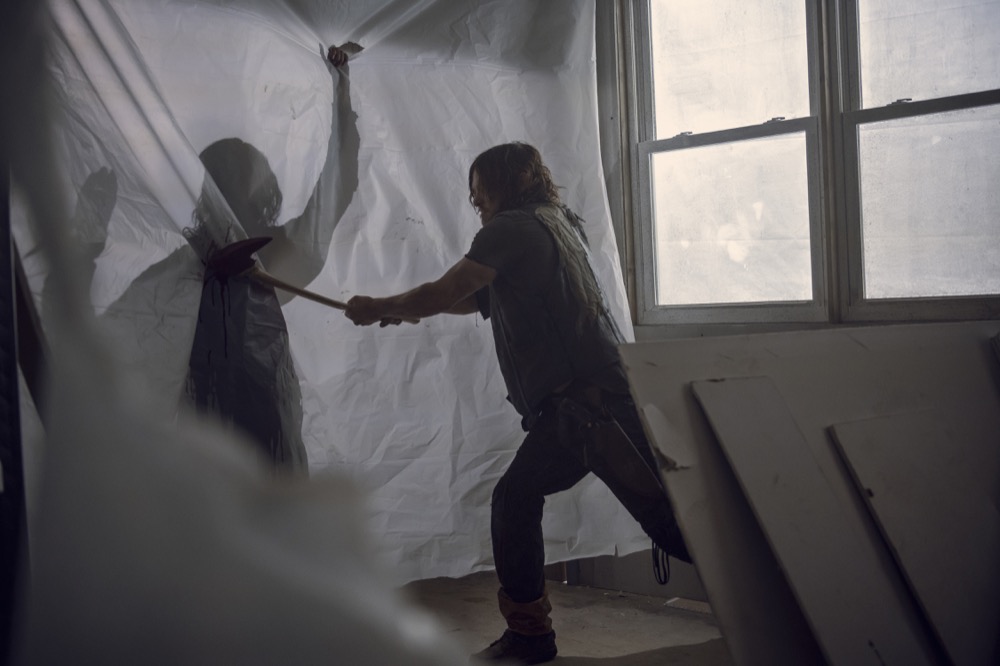 The two size each other up and Beta forces Daryl's neck towards a blade, but he manages to punch him and break free. Beta returns with a punch of his own and Daryl stabs him in the chest before escaping into the trap door. Beta grabs the knife out of his chest and announces all he wants is Lydia. Daryl sneaks up through the crawl space behind him and pushes him down the elevator shaft. He spits down and grabs his knife.
The highwayman returns to the Kingdom with Tara and the others, who assure Ezekiel and Carol they can be trusted. They greet Tara and ask where Henry and Daryl are…Tara admits she thought they'd be there by now. Meanwhile, Daryl tells the others they're headed to Alexandria to get him fixed up because it's closer. As they leave, we slowly zoom down at Beta lying at the bottom of the elevator shaft…he's alive. He rises in pain and peers up, enraged, and covered in blood.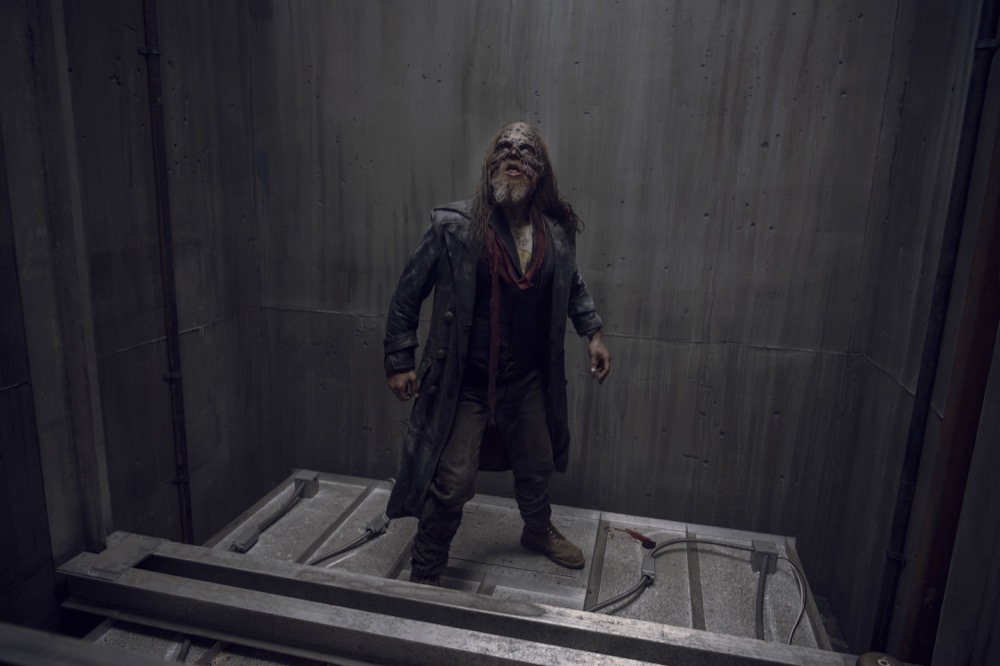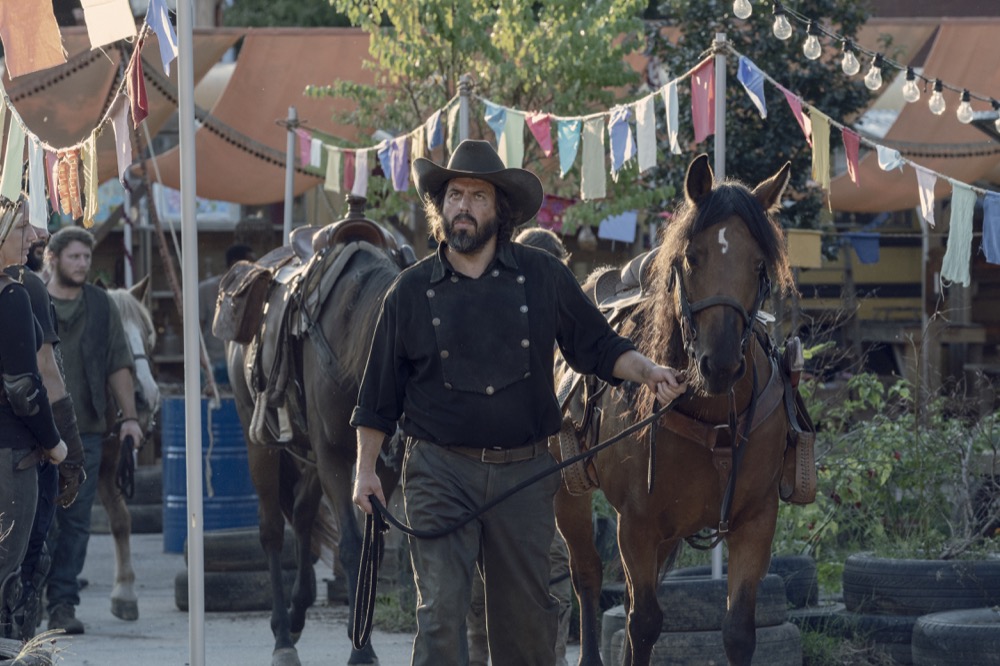 ---
What did YOU think of this week's insane episode of The Walking Dead? Will Daryl regret not finishing the job? Can the Highwaymen be trusted? And what the hell is going on in next week's promo?? Tell us what and more in our discussion below!