"Omega"
Flashback to the onset of the apocalypse, where Lydia and her parents are holed up in a shelter. Her father, Frank, says no one's coming for them but her mother assures her he's kidding and sings to her to calm her down. Back to the present, where Lydia's recalling this story to Henry in her cell. While Daryl eavesdrops outside, Henry tells Lydia about Carol, who would do anything to protect him. He asks more about her parents and Lydia thinks about her father dying from a stab wound. She says her mother is also relentless.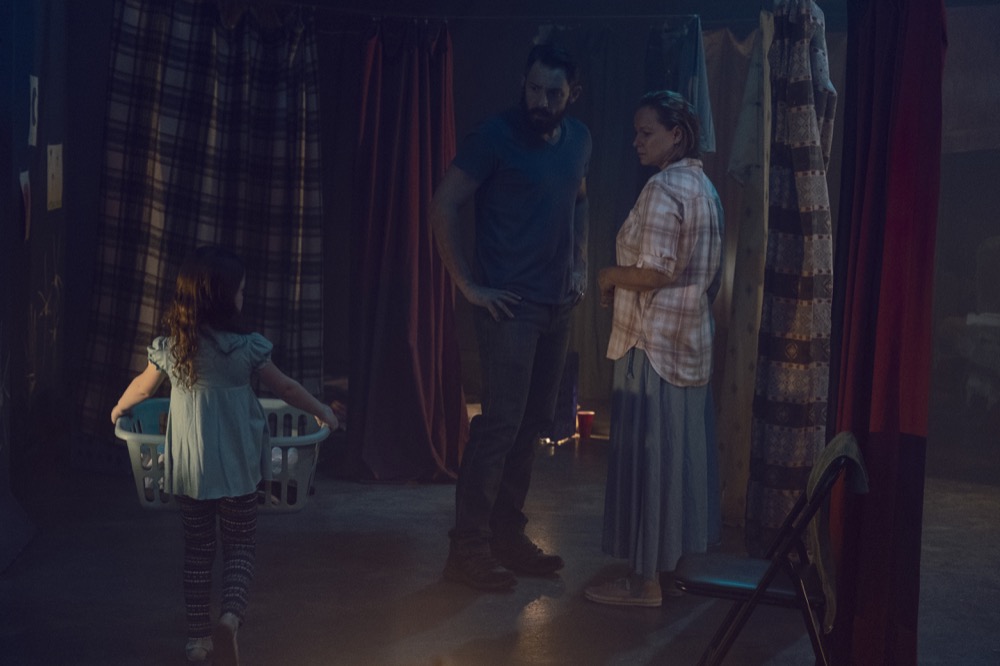 Tara and Magna lead a small group from Hilltop to locate Luke and Alden. They find a group of walkers feasting on their horses, and Connie notices the horses were cut open with knives. Even though that indicates this wasn't just the work of the dead, Tara says they should keep investigating before drawing conclusions.
Back in jail, Lydia tells Henry about the day the survivors in that shelter decided to leave. Her father tried to go with them but her mother decided they're staying to protect their daughter. He calls her delusional and starts trimming his beard, saying that with the apocalypse he does what he wants now. Cool. Despite it, Lydia's mother continued playing checkers with her to help her feel safe.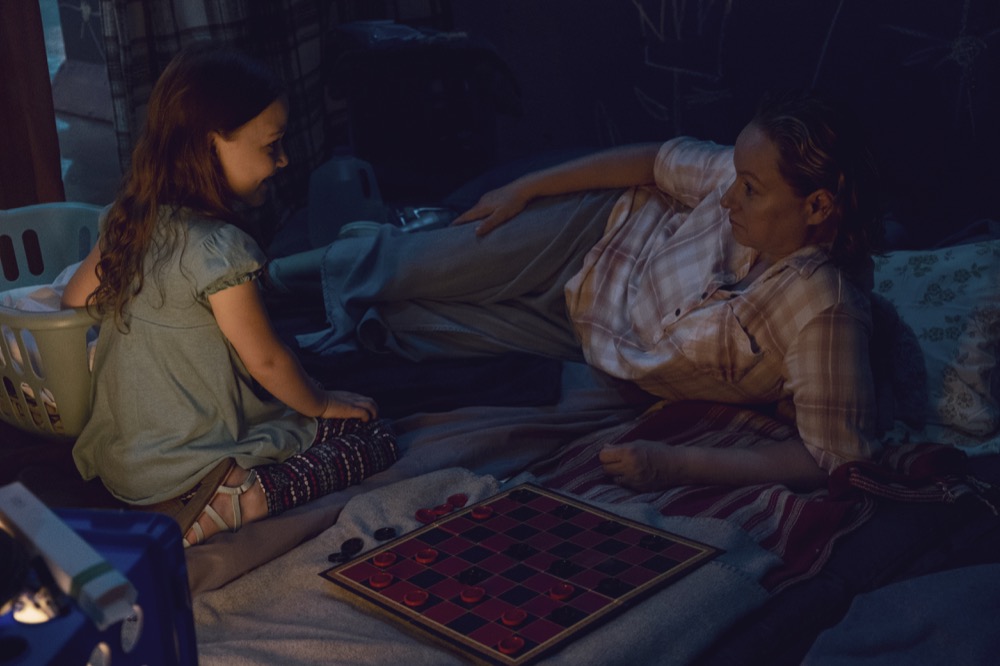 Henry tells Lydia her mom seems nice and reveals they're from another community called The Kingdom, which isn't too far from here. Daryl flies downstairs, grabs Henry, and throws him outside. He scolds him for endangering his family and reveals he's been using him to get info out of her (duh). Henry lashes out and calls him an asshole, saying he should get the information himself.
Daryl offers Lydia medicine to help with her ear, but she refuses. He asks her about Luke and Alden missing, which she says she knows nothing about. He then inquires about her mother, of whom Lydia says did anything she had to do to survive. Back to the shelter – the survivors who didn't leave are FREAKING OUT as gunshots are heard outside. Lydia's mother jumps on a man yelling for help and strangles him. Frank comforts Lydia by singing to her like her mother. Daryl says her mom did what she had to, and Lydia reminds him it doesn't make it easier.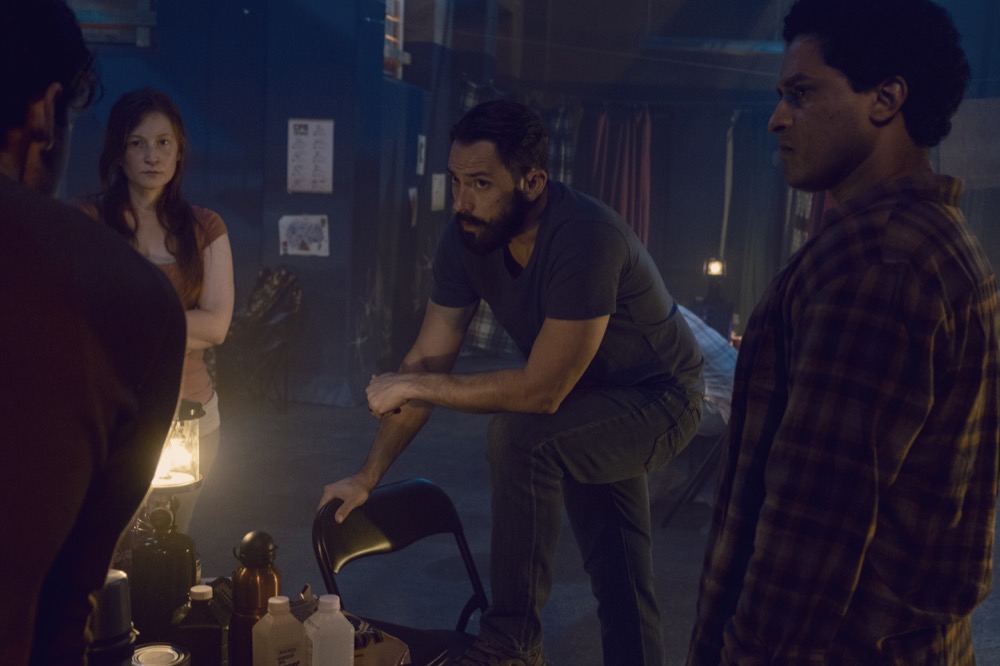 Lydia again pulls at her ear and Daryl tosses her the meds, reminding her the people at Hilltop will help her if she helps them. She asks him for water and when he gets close she tries grabbing him. He grabs her arm and pulls up her sleeve, revealing a series of cut marks, causing her to retreat in the corner.
Yumiko suggests they leave to search for Luke again but Magna warns they could lose everything if they disobey Tara's wishes. Yumiko reminds them their crew is ride or die so they all agree to leave tonight. Meanwhile, a couple of Whisperers watch Hilltop close by. That evening, Daryl visits Lydia to find out more about her bruises. She says she got them from her mom, so Daryl asks why she won't tell her where she is. He says she's safer here than out there but she disagrees, and says her mother's abuse makes her hard. Daryl calls it bullshit but Lydia says staying soft makes you die.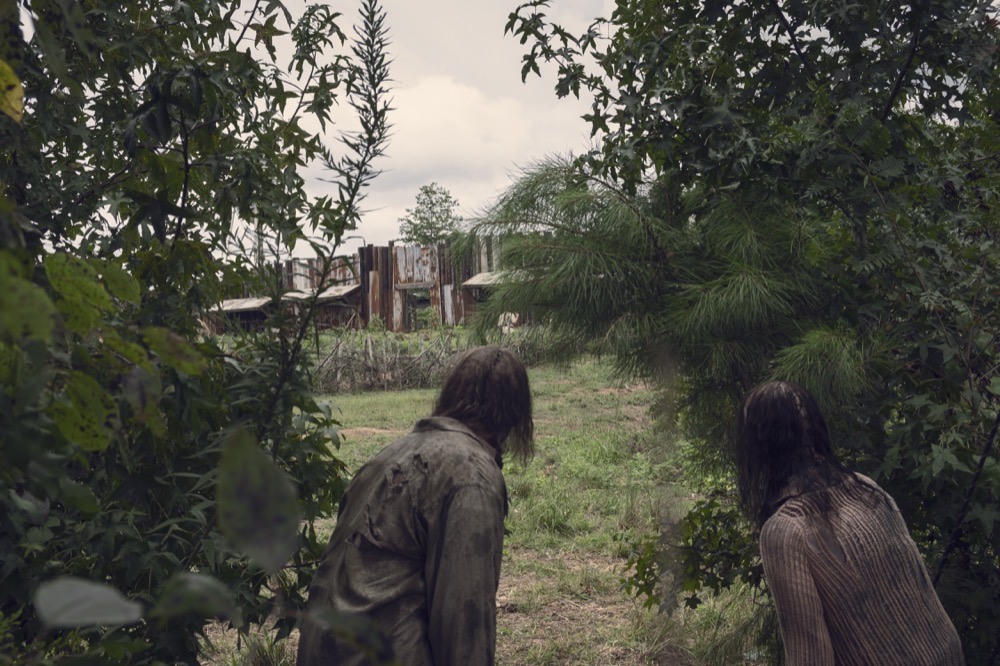 Flashback to the shelter – Lydia checks one of the dead survivors, who turns and tries to attack her. Frank wrestles it but gets bitten in the neck and dies. Present-day Lydia tells Daryl her father was weak and can see he's tougher and belongs with her people more than his own. Henry confronts Daryl, who says Lydia is Tara's problem now. Henry asks about his friendship with Carol and tells him she kept her hair so short because Ed used pull it and abuse her when it was long.
Magna and her group return to the woods to search for Luke and get attacked by a walker. They kill it and Yumiko has second thoughts about leaving. Kelly argues they can't leave Luke so Magna and Connie back her up and Kelly breaks down, reminding them Luke saved her. Connie comforts her and lets Magna and Yumiko know they can return without them.
Henry frees Lydia from the cell so they can hang out outside. Lydia immediately grabs a worm from the ground and eats it. She gives one to Henry, who does the same. It's no eye-socket licking, but it's a start. Henry shows her around as she sneaks a hammer behind her back. She nearly bashes him with it until she hears a baby crying, which triggers more memories from the shelter. She repeats "She's a good person" and then asks Henry to take her back to her cell. He agrees and we see Daryl eavesdropping nearby. In the cell, Lydia asks Henry to stay with her tonight. They hold hands through the bars and fall asleep.
The next morning Daryl finds them holding hands. Lydia asks for pills, promising not to attack this time. She confesses she was trying to get intel from them and that if her mom did find Luke and Alden then they're probably dead. She then explains her people are always on the move and that her memories are mostly a lie fabricated by her mother.
Lydia confesses her father was caring and her mother was the monster. While trying to escape the shelter Frank got cornered and murdered by her mother. Present day Lydia apologizes to Daryl for wasting his time but he says she didn't. Magna and Yumiko return to Hilltop; Yumiko apologizes to Tara for leaving and Tara tells her to talk to her next time. Suddenly, Yumiko spots a small group of Whisperers approaching Hilltop. Connie and Kelly, who are also outside the gates, get split up. A bald-headed woman stops her group in front of the gate and introduces herself as Alpha, telling them she just wants her daughter back.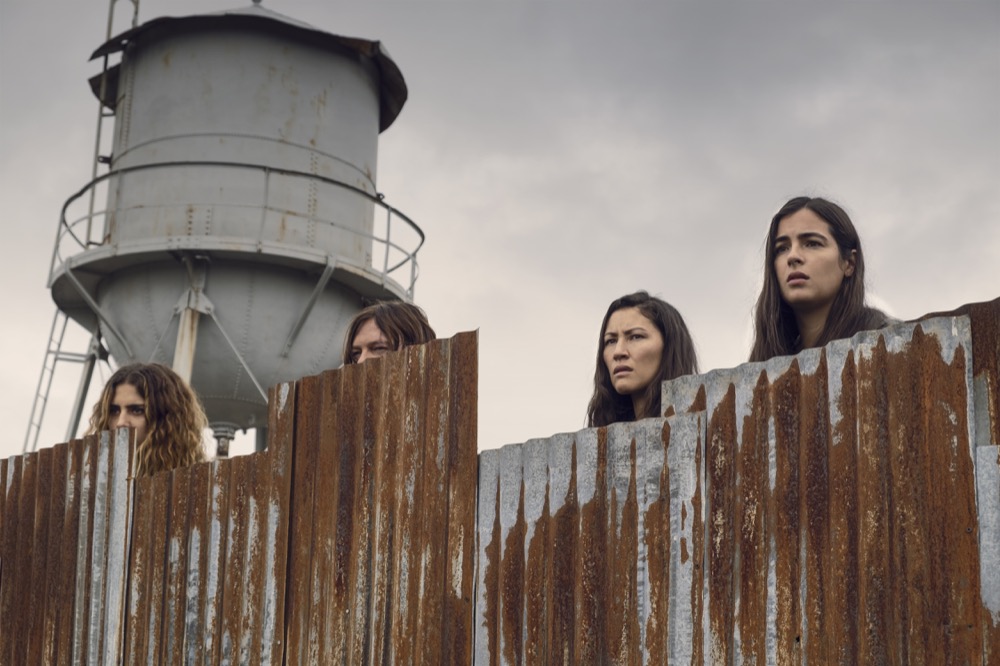 ---
What did you think of the flashbacks in this episode? Will Alpha take Lydia back next week? WHO'S GOING TO RAISE THAT WHISPERER BABY?? Let us know in the comments!