"Here's Negan"

Maggie walks Hershel Jr through Alexandria and recalls how her father used to wake up early to walk with her. They sing "You Are My Sunshine" together as Maggie actively ignores Negan nearby. A little later, Negan accompanies Carol on a hunting trip and asks her to put in a good word for him with Maggie. "You kinda owe me that much, right?" he asks. Instead of answering, she takes him to Leah's cabin and informs him the council has voted to banish him from Alexandria. She and Daryl helped move all his stuff into this cabin. Negan asks if he was actually banished or if she made the decision on her own. She smiles and hands him the dead rabbit.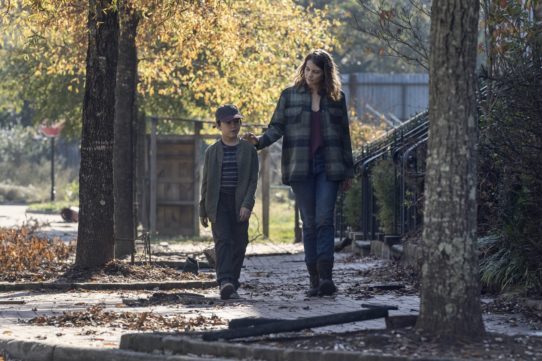 That night, Negan drinks his whiskey by the fire and hallucinates his old self sitting behind him, taunting, "Little pig little pig, let me in." Real Negan tells him he's a clown and cult leader with no colt, but his hallucination reminds him they got a hell of a lot further than people would have thought. "it's time to face the facts, old man. You are nothing without her," the hallucination says, causing Negan to throw his glass at the now empty chair. Negan returns to the tree where Rick slit his throat and starts digging holes until he finds what he's looking for: Lucille. He picks it out of the earth and smiles.
Twelve years earlier, we see Negan tied to a chair by a biker gang. He tells the men that the cooler of IV fluid is for his wife and he needs it back, but the leader of the gang chides him for leading them to a dead end. The man asks him to bring him to the doctors or he'll pour out the IV. While he's talking, Negan discretely unscrews a bolt from his chair and gets punched in the face. Negan then agrees to tell them what he knows about the clinic.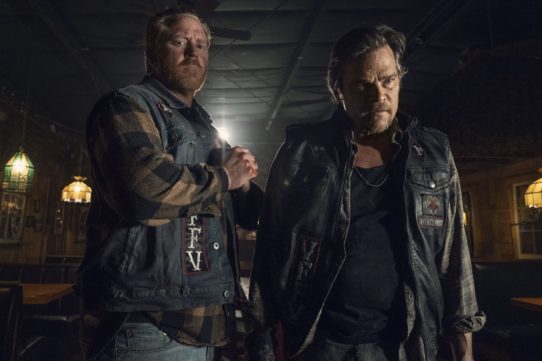 Two or three days earlier, we see Negan nervously confront two survivors on a camper. He notices a third and nearly shoots before getting knocked out from behind by…Laura! Negan comes to in the camper and finds himself handcuffed to a chair. It's there the stranger introduces himself as Franklin, un-cuffs Negan, and hands him some soup. Negan explains he's a high school gym teacher who's just trying to get medicine for his wife, who has cancer. Franklin, a doctor, is shocked he taught himself how to administer chemotherapy. Negan says it's not tough unless something goes wrong, which it did.
Six weeks earlier, we see Negan replace his wife's IV bag as she decides which James Bond movie to watch. Negan tells her to skip it as to not make the generator too loud for walkers. He places the IV bags in the freezer and turns off the generator. A little later, Negan tries reading her Pride and Prejudice but quickly gives up. "This book sucks, it's killing me. I can't do it." She tells him to finish when they hear a walker creep up by their house. She tells him to get rid of it, so Negan wrestles with it and puts a knife through its eye, which somehow still doesn't work. Lucille shoots it in the head and tells him that was their last bullet. Negan asks if she's all right and she says yes, adding she wants him to turn the generator back on so she can watch that movie.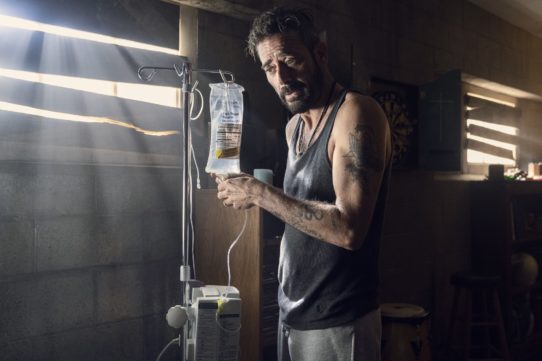 A little later, Negan siphons gas from cars and pilfers its belongings. He returns to his wife that night with a weed stash and she reminds him they should move and find people soon because their area is running out of supplies. He promises to take her wherever she wants. Later that night, Negan holds and sings to her as she shivers. They both think back to the good times of them trying on wigs together and trying to get through the first stages of treatment. They're interrupted by another walker passing by and Negan laments he doesn't want to get used to it. The next night, the two have a nice meal of dog food and Lucille gifts him an anniversary present – a leather jacket that she kept from the old days. "Ho-ly shit!" Negan says, as he wells up. "I don't deserve anything from you," he says, saying he feels terrible for the way he hurt her in the past. He tells her how lucky he is that she stuck with him, so she sits on his lap and tells him she could always see the man he is right now.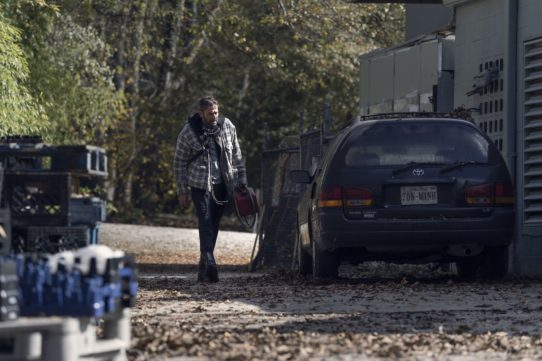 The next morning, Negan wakes up in a panic, opens the freezer, and realizes the ice melted and the IV's expired. He quickly goes to work planning on catching up with the doctors he heard about but Lucille tells him to stop. "I have something to tell you," she says. Seven months earlier, we're right before the apocalypse hits. Lucille walks in on Negan talking shit to kids in an online multiplayer video game. She chides him for playing games with children and for paying $600 on a leather jacket. He tries explaining that he has two leads but she reminds him he doesn't have a job because of his misdemeanor charges. Later, Lucille talks to her friend Janine on the phone, who's trying to tell her Negan's always been this way.
At dinner, Lucille asks Negan to take her to her doctor's appointment tomorrow, but Negan says he has a parole appointment. At the doctor's office the next day, Lucille learns she has cancer. With tears in her eyes, she dials Negan, who doesn't answer, and then Janine, who doesn't answer. She puts it together that the two are having an affair, turns off her radio that's talking about "killers" eating flesh, and speeds off in her mustang. That night, Lucille sits at the dinner table with a gun in her hand, waiting for Negan to return. When he does, she decides to leave the gun on her seat and show him the doctor pamphlets instead. "I have cancer," she says bluntly.
Back in the present, we see Lucille recall this story to Negan. "You knew about me and Janine this whole time?" he asks. She nods and Negan starts breaking down, assuring her he broke things off when they got her diagnosis. He asks why she's telling him and she says it's because he needs to know he made up for it. She goes on to say that if he wants to help her, then he should stay. "I need you to do my fighting for me, ok?" Negan says that he's not giving up and he'll find those drugs for her no matter what. She kisses him.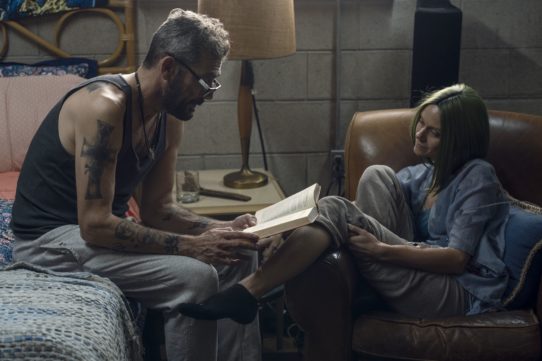 Back to the camper, Negan recalls how difficult it was after that moment with Lucille. Laura shows up with a cooler of all the items on his list and Negan thanks them for their kindness. Before he leaves, Laura asks if the empty gun is his only weapon. He says yes, so she gives him a baseball bat for protection. "Damn girl, you pack a wallop," he says, smiling. The biker guy makes him stop his story, complaining he talks too much. "Story time is over bitch," the man says, as he pulls his gun to his head. Negan asks them to bring him his map, so he circles where the doctors are and tells them the security is light. The man says if they're not there he'll come back and kill him.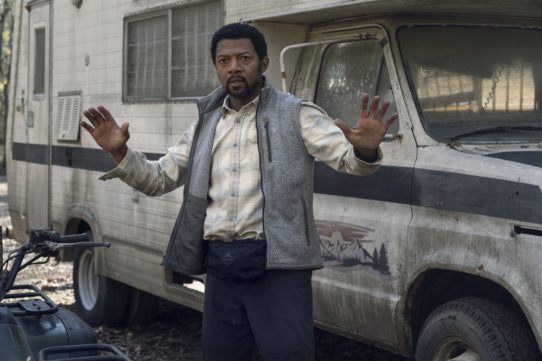 Turns out he was telling the truth, so a few days later they let Negan go. As he gets on his bike, he sees the camper parked outside and hears a woman, probably Laura, scream. Negan returns home with the medicine and finds the message, "Please don't leave me like this," written on the basement door. He nervously opens it and finds Lucille turned – she has a plastic bag over her head and empty pill bottles next to her. Negan wells up, opens the plastic bag, and sits with his dead wife. Later, we see her still chained to the bed groaning while he sits listless on the ground. He then walks outside, clips the barbed wire around their house, and wraps it around the bat. He dumps gasoline around the house, tosses on his leather jacket, and sets fire to his house. Negan rides off on his motorcycle and knocks the mailbox off, which reads "Smith" as he goes.
The biker gang beats up Franklin the doctor in the same chair Negan was tied up in. As he's interrogated, Franklin feels the loose screw in the chair and keeps unscrewing it. Outside, Negan beats one of the lookouts to death, grabs his gun, and shoots another. Franklin finally unscrews the screw and uses it to untie himself. Gun shots ring outside as the biker man begins to panic. Negan bashes in the windows as Franklin hits the man with his chair. Negan hits the man, gives Franklin his gun, and tells him to make sure his daughter's OK. Franklin leaves and Negan ties up the man and says he should pray he keeps talking, because something terrible will happen to him when he stops.
Negan tells him about a man he once met at a bar that refused to keep his voice down when Lucille's favorite song, "You Are So Beautiful," was playing. When he didn't, Negan saw red and beat the man until he stopped moving. He then took a dollar from the man's wallet and played the song for Lucille twice. Unfortunately, the man's kids went to the same school that Negan taught gym at, so he got fired, sued, and Lucille had to pay the man's medical bills. Negan says that now when he sees red, he realizes he's capable of anything. Negan beats the man with his bat and we're finally back to the present. Negan beats the walker cracks Lucille nearly in two. That night at the cabin, Negan tearfully apologizes to his wife via the bat and tells her he misses her. "I miss the shit out of you, and I'm going to do your fighting for you," he says., before tossing Lucille in the fire.
The next day, Negan returns to Alexandria to the shock of Carol, Daryl, and Maggie. He tells Carol the cabin situation isn't working for him and that he wants to return home. Carol says if she stays that Maggie will kill him, and she didn't want his death on her conscience. Negan smiles at Maggie and walks back into town.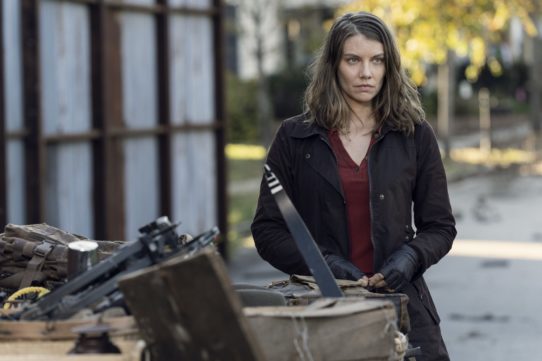 ---