"The World Before"

Flashback: Alpha asks Dante to be a mole in Alexandria. A short time later, we see him stage a walker attack to get "saved" and taken in. Behind the scenes, we see Dante pass secret messages to the Whisperers, paint the "Silence the Whispers" graffiti, mess with the water supply, and suffocate his patients in their sleep.
In the present, Dante gets interrupted from finishing off Siddiq by Rosita and Coco. Dante lies about his whereabouts as Siddiq reanimates behind him. Rosita slowly backs away before Dante tackles her to the ground. Undead Siddiq walks to Coco, causing Rosita to stab Dante in the chest, finish off Siddiq, and beat the living hell out of Dante. She picks up Coco and cries.
The next day, Gamma meets Aaron at the bridge and asks if the baby (her nephew) is still alive. He says he is and is named Adam. She offers him information in exchange for seeing Adam, and he makes her take off her mask. She tells him her name used to be Mary. At the infirmary, Daryl takes a swing at Dante as he, Carol, Rosita, and Gabe interrogate him. Dante claims he planned to keep Siddiq alive until he discovered his identity. He also confesses he was sent there to stir paranoia and force them into bad decisions.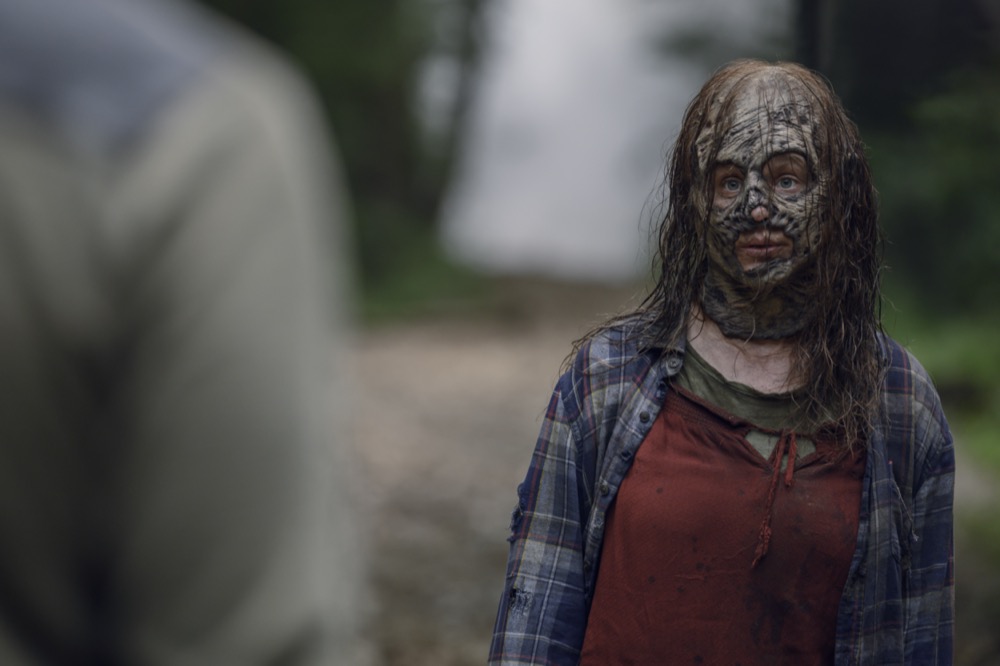 Aaron arrives home and gets caught up on Siddiq; he's disgusted with how oblivious he was. He reveals that Mary told him where Alpha's horde is, explaining she just wants to see Adam. Despite his skepticism, Daryl orders Aaron to summon a group from Hilltop to meet him while he looks for Lydia. Daryl turns to Carol and asks how she could have let Lydia slip away, but she says she doesn't think she wants to be found. "Are we talking about her or we talking about you?" Daryl asks.
On the road, Luke convinces Michonne, and Judith to visit a library to stock up on books. Michonne reluctantly agrees and they browse the library. Magna radios Michonne to break the Siddiq news as Luke gets attacked by a walker. Thankfully, he gets saved by a stranger, who runs off. Michonne grabs the man's bag and tells Luke about Siddiq.
Back in Alexandria, Gabe delivers a moving eulogy at Siddiq's funeral. Afterwards, Ezekiel laments the loss with Carol and offers to help her find the herd. She asks if he's OK and he tells her, "Good luck." Outside the gates, Rosita takes out her anger on a couple of walkers. When one gets too close, Eugene jumps in to help her. He offers his condolences and leaves. Later, Gabriel watches Dante's video tape. Rosita walks in and admits Eugene had to help her fight walkers, lamenting how vulnerable she is. Gabe assures her the feeling will pass.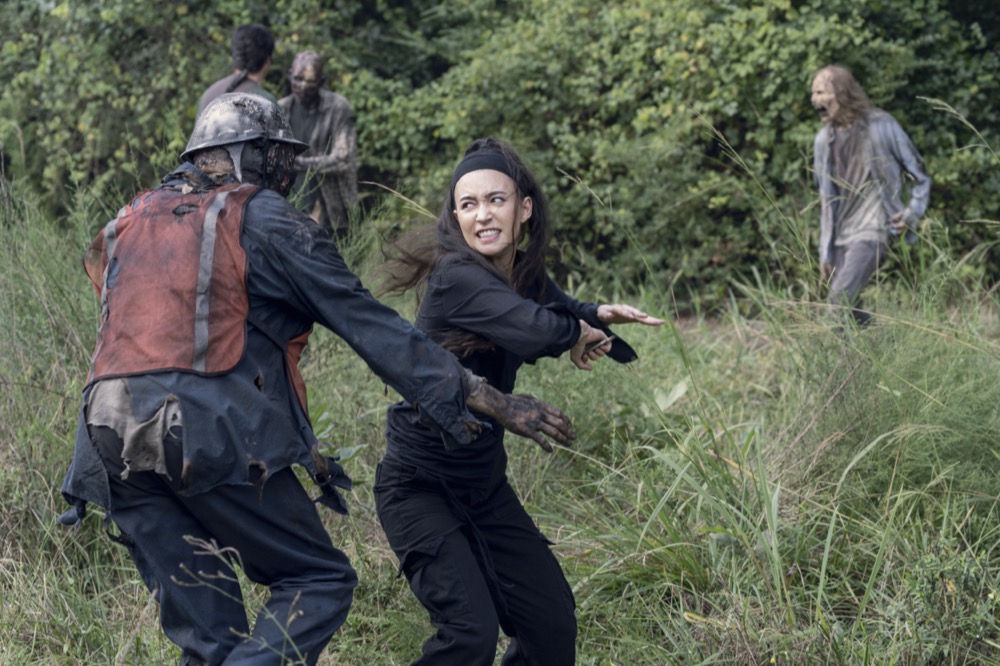 Aaron tells Gracie a story about a vacation he once took in California with his then-boyfriend. He explains they stood in ruins and wondered what life was life for the old civilization. He uses the story to ponder if Alexandria might suffer the same fate. At Oceanside, the man who saved Luke gets captured by the beach. The man begs for freedom but Michonne isn't feeling trusting anymore. Suddenly, walkers arrive and Michonne loses track of Judith.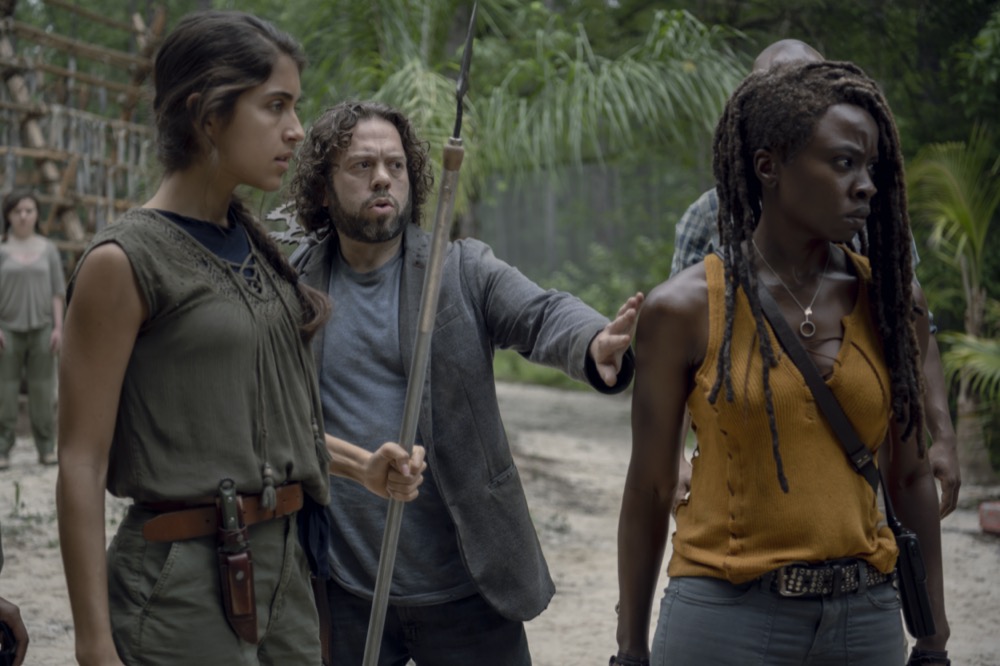 Gabe visits Dante in his cell and asks if he even had a family like he said in the tape. Dante says it doesn't matter so Gabe walks into the cell with him. He admits he saw Siddiq as a brother, and without him, his family will never be the same. Gabe then brutally stabs him in the neck and chest until he's dead.
Back at Oceanside, the man gets held up by Judith while trying to escape. Michonne comes running and looks proud of Jude. In Alexandria, Rosita spots Gabriel leaving Dante's cell covered in blood. Elsewhere, Daryl, Carol, and Aaron meet up with the Hilltop crew. They later cross Alpha's border and Carol nearly steps on a bear trap before Daryl stops her. He chastises her for being reckless. "You never came off that boat; it's been like talking to a goddamn ghost," he says. She cries and Daryl comforts her. Carol composes herself and kills a walker as Daryl disarms the trap. Elsewhere, Gabriel and Rosita burn Dante's body in the woods.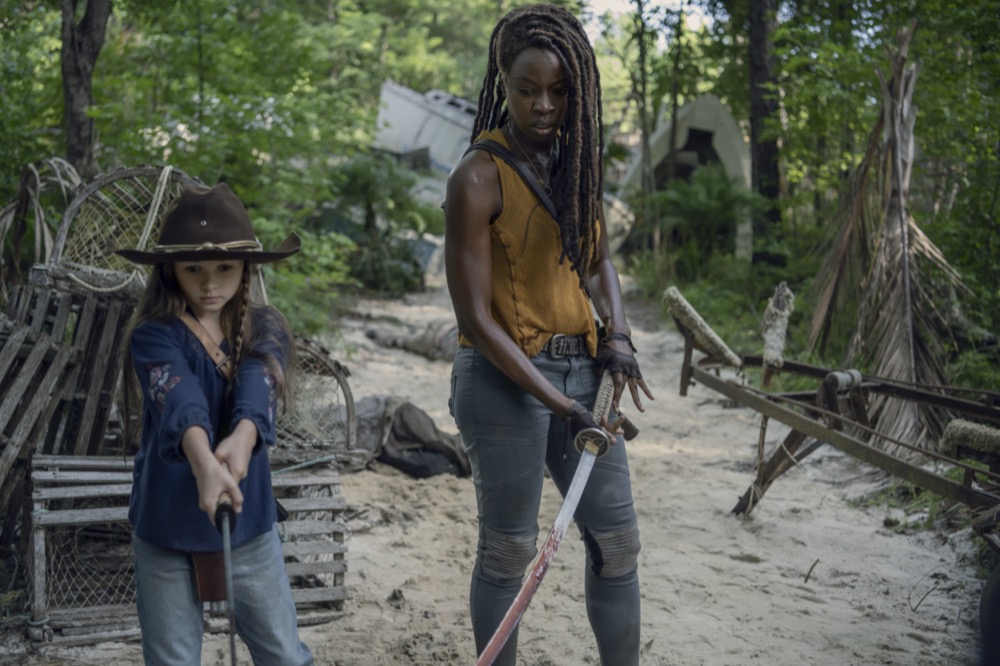 Back at Oceanside, Michonne questions the man, and he claims he just wanted to fetch supplies and go home. He also says he helped Luke because, "Mercy is in short supply these days." Michonne says that reminds her of Siddiq's "My mercy prevails over my wrath" saying. Eventually, he reveals he lives on a Naval Base on Bloodsworth Island in Maryland and needed one of their boats to return. Michonne says he still owes them, and he says, "You still have enemies to fight…maybe we can help each other out." Michonne later tells Judith his community might have weapons big enough to take on Alpha and the horde, and eventually she'll venture out to find them.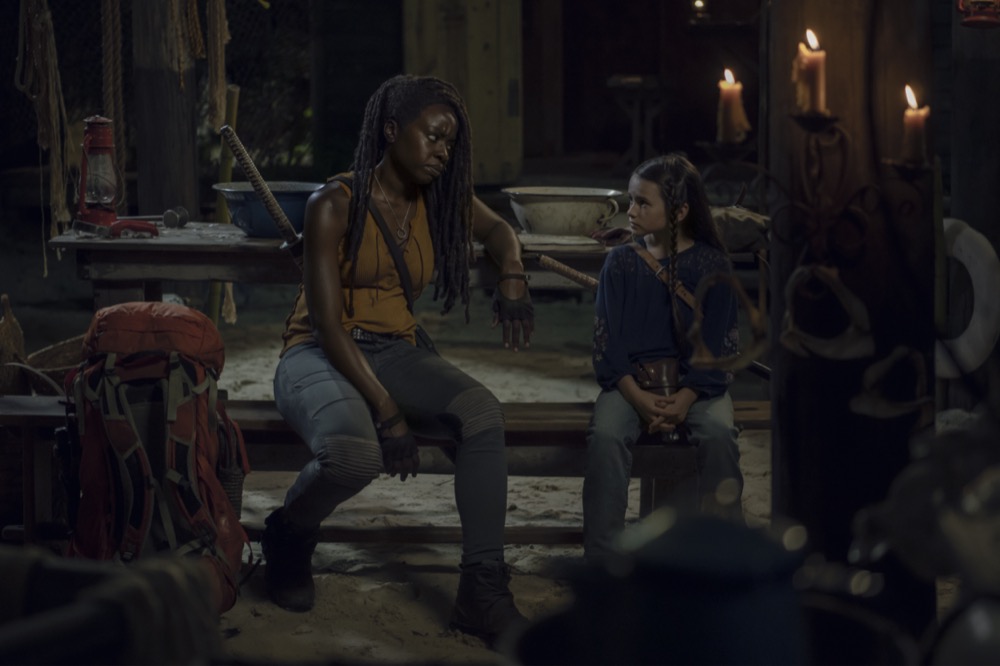 The next morning, Daryl and the others arrive at the "horde" clearing…it's empty. Daryl's pissed but Aaron tries to assure everyone he wasn't wrong about this. Still, Daryl says their new mission is to find Lydia. Michonne tells the man any weapons he gives her will pay off his debt. He accepts the offer and introduces himself as Virgil. Michonne then tells Scott, Luke, and the others her plan and asks Judith to, "Be good for Uncle Daryl." She and Virgil then set sail for Bloodsworth Island.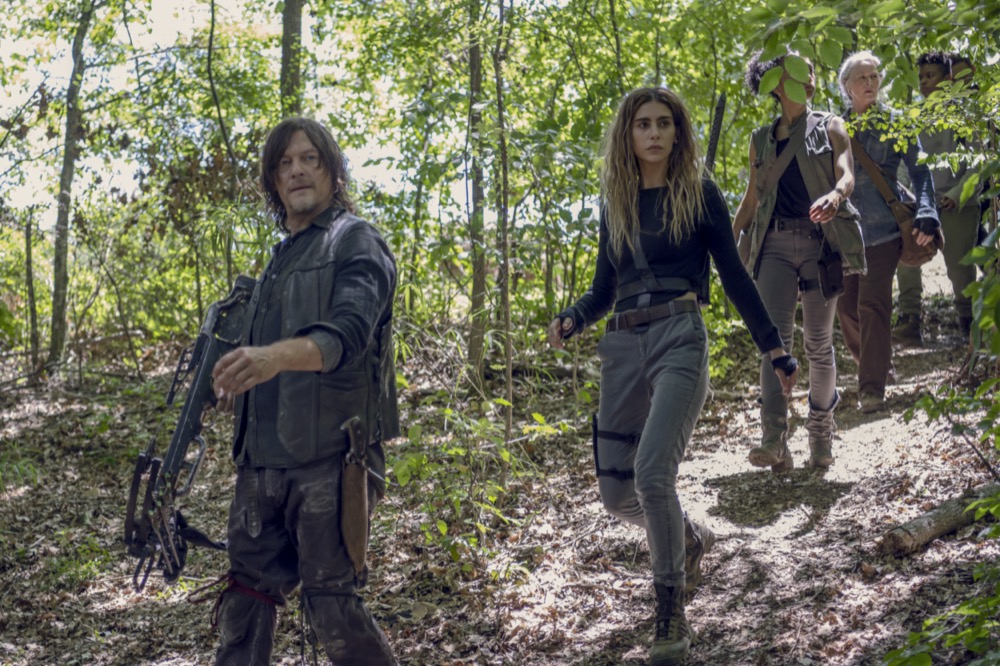 Meanwhile, Carol spots Alpha across a clearing and sprints towards her as Daryl and the others follow. Alpha leads them into a cave and Daryl's forced to kill nearby walkers before entering. He walks in and falls down a hole, where he and the gang are surrounded by walkers.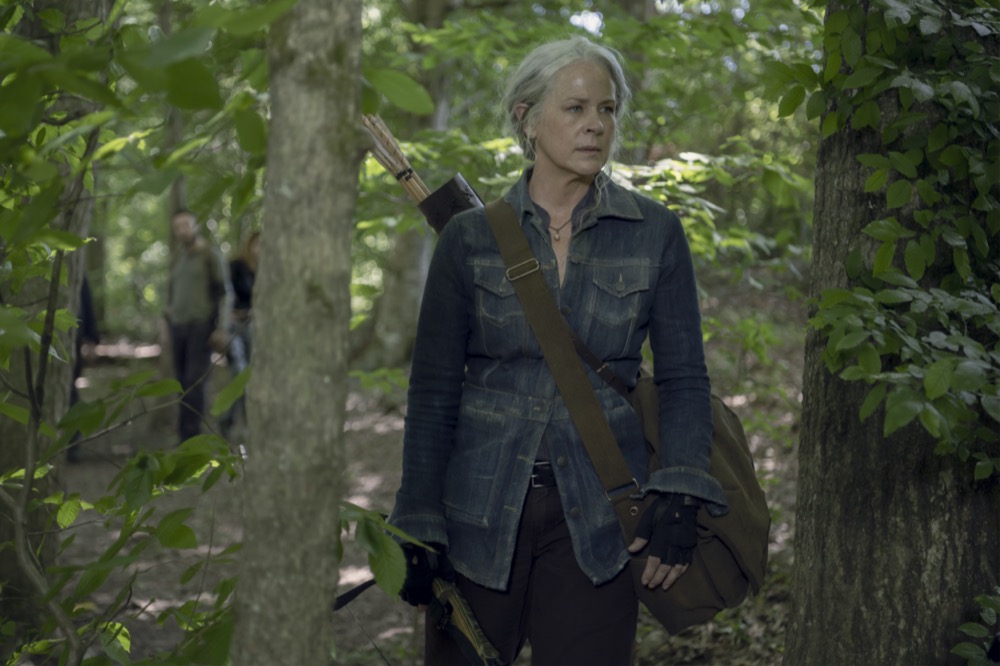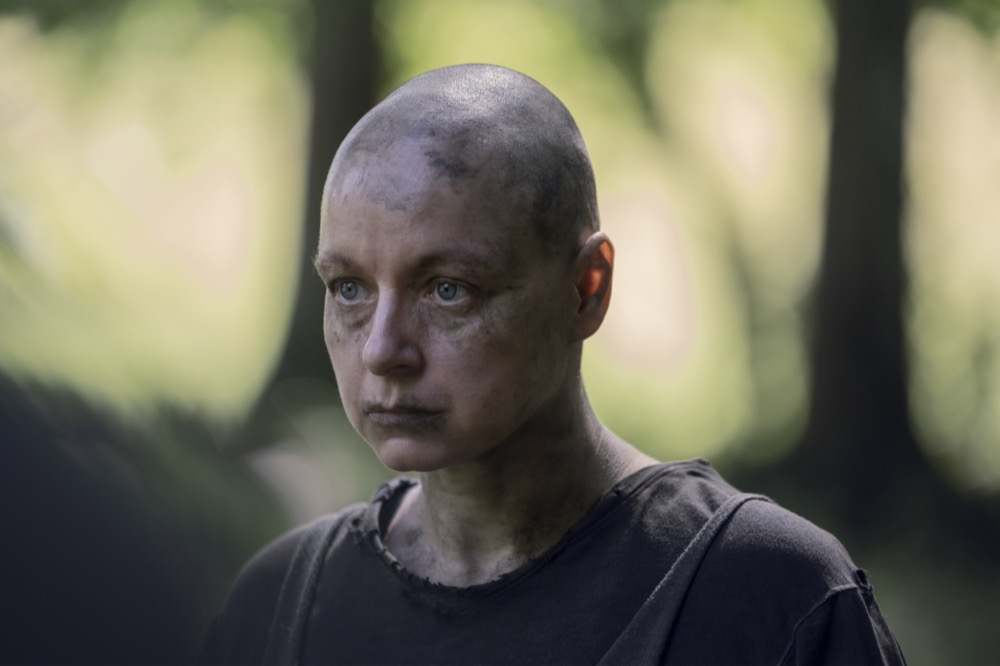 ---
What did you think about The Walking Dead Mid-Season 10 Finale? Dish in our comments below!