"Only Your Eyes"

Siddiq experiences more Alpha flashbacks before waking up and tending to the increasingly ill Alexandrians. That night, he hallucinates arms grabbing him from the couch, causing him to scream. Later, Daryl shoos Lydia out of the cell to make room for the Whisperer they captured. Carol asks Lydia about their new prisoner and she reveals he's the one who watches the walkers, meaning he could lead them to the horde. Gabriel marches over and says, "You've put us all at risk," before promising to talk to Michonne. In the meantime, Carol tells Lydia she can stay with her.
Later, Lydia tells Carol that the Whisperer they captured is ultra-loyal to Alpha. However, Lydia explains if the Whisperers find out a place like Alexandria can work, there's nothing Alpha can do to stop the idea from spreading. Siddiq and Dante examine the Whisperer and the man tells Siddiq he knows him. Dante orders him outside, where Siddiq gets triggered by the pointed gates.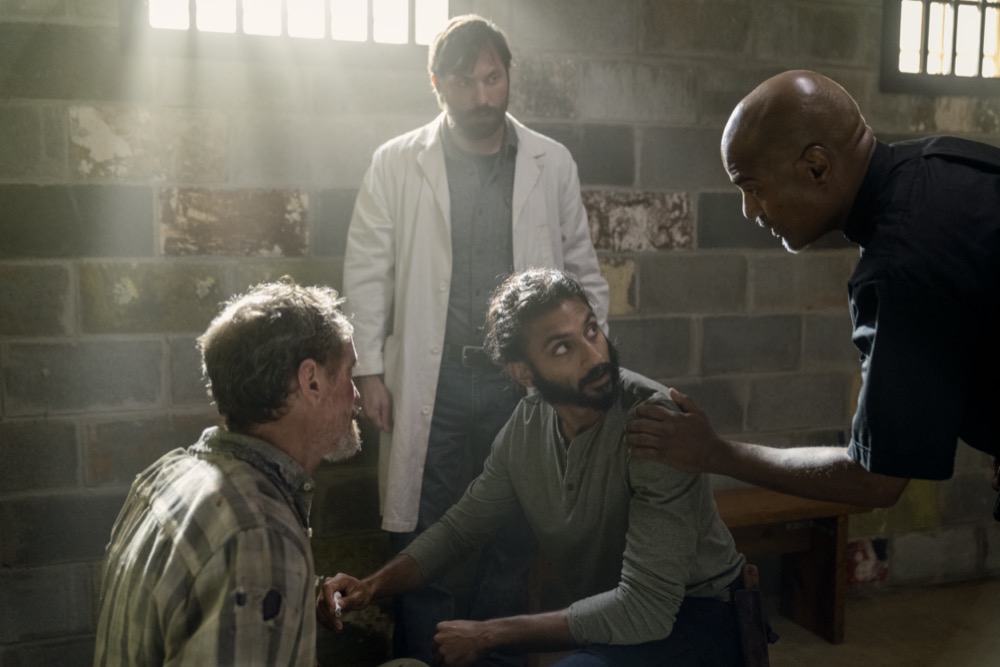 At the gate, Aaron and Gamma make small talk. She notices a kid's drawing in his bag and he reveals he has a daughter. He asks if she has any, "Children hold you back, make you weak," she says. When he asks about siblings Gamma lies and tells him she's an only child. Carol then brings the Whisperer honey and jam sandwiches and the man asks what she wants. She says she just wants to talk but he doesn't want to. The man struggles to take a bite, but when he does he's overcome with emotion. He then spits it onto Carol's face.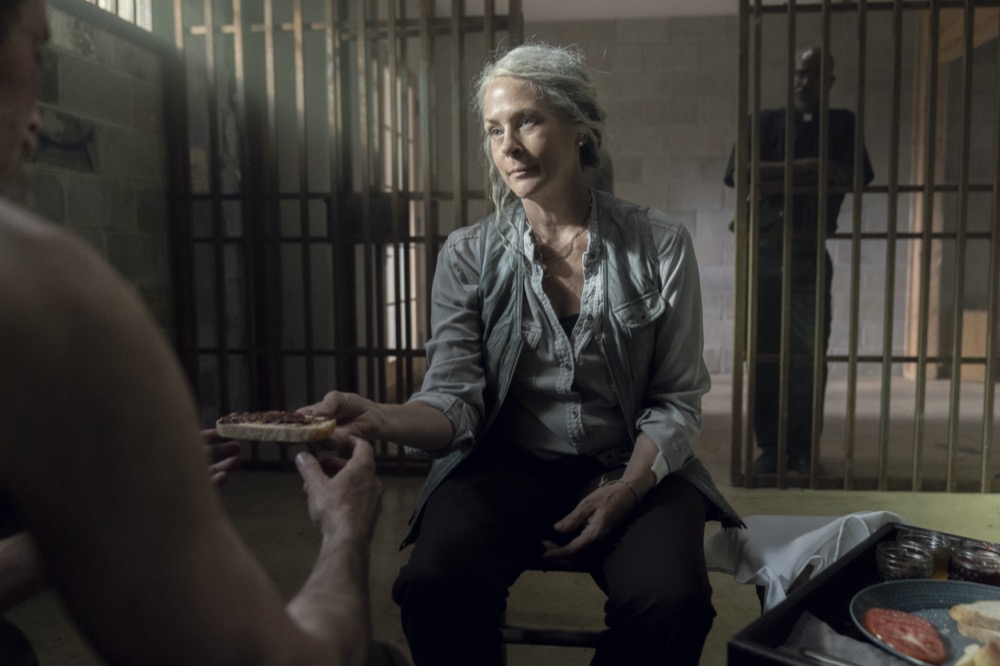 Siddiq checks on Rosita and two of them reflect on them being parents. He nearly kisses her until she has a coughing fit. Back in the cell, Carol presses her finger in the man's stab wound, demanding to know where the horde is. He tells her if they were out there he would take her "like a bitch in heat." She adjusts her ring and punches him repeatedly in the face until Daryl stops her. "You're all weak," the man tells them. Daryl takes a knife out to cut off his fingers but the man doesn't flinch and brags about how Alpha loves her people so much she sacrificed her own daughter.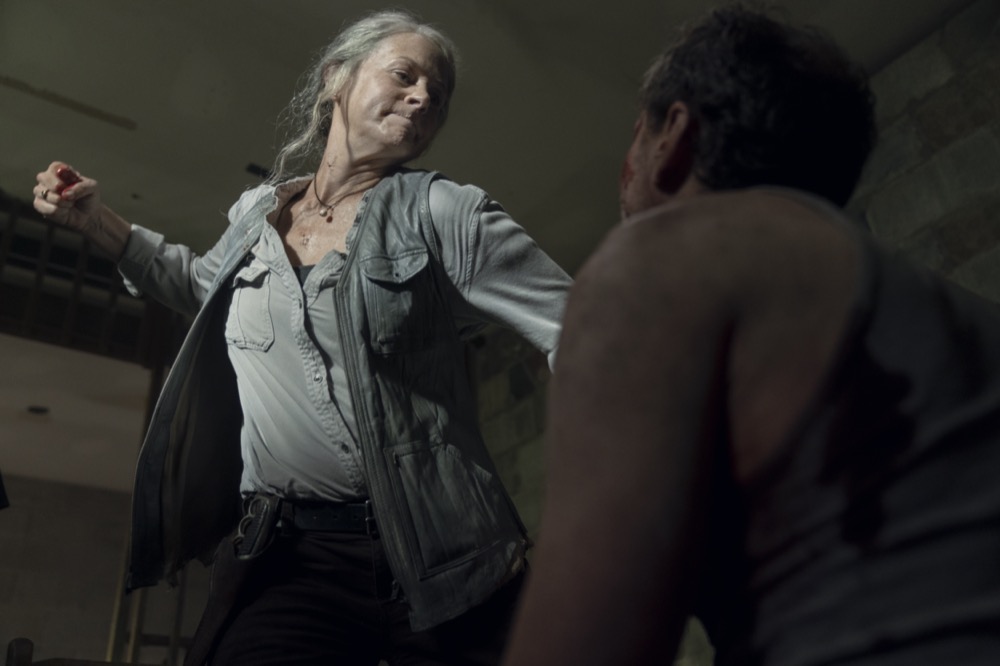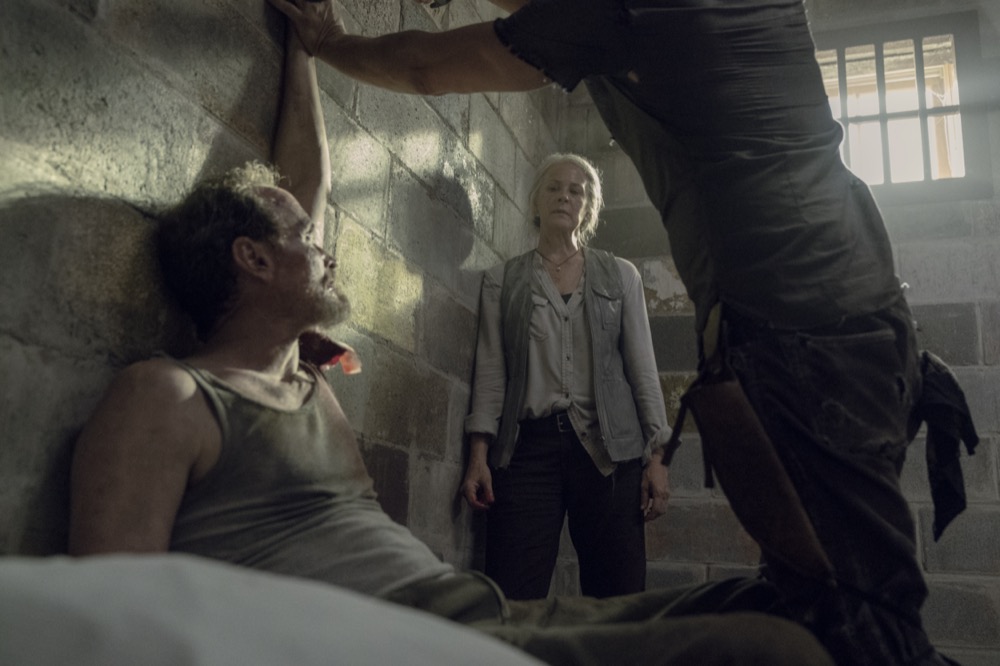 Carol sprints out of the cell and Daryl catches her, begging her not to fetch Lydia, but she doesn't listen. "This is the only way and you know it," she says. Siddiq checks in on Sheryl again, who asks him to rest so he can help the others. Back at the bridge, Gamma looks at Gracie's drawing and Aaron asks her about her past. He opens up about his younger brother and suggests from now on they just talk about nothing. Before she can give in she leaves, repeating the Whisperer motto to herself.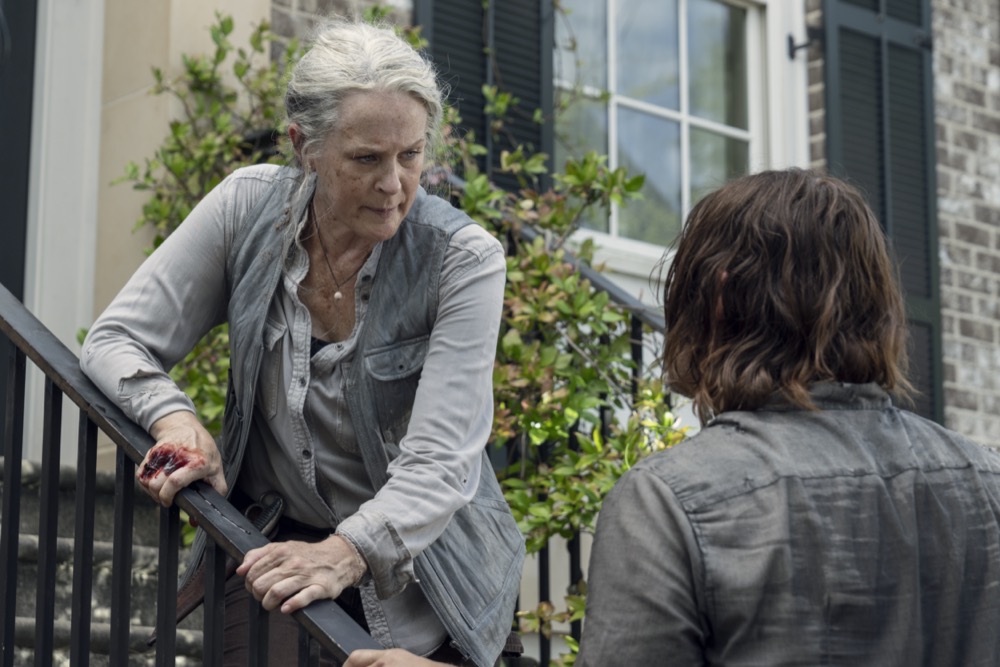 Back in the cell, the prisoner becomes violently ill and convulses until he dies. Siddiq finds jars of hemlock Dante gave the man. "You killed him," Siddiq says. Dante then accuses him of packing it. In the woods, Alpha questions Gamma on what she learned from Aaron. When she says it wasn't much, Alpha whips her arm with a switch. She warns Gamma that Aaron is trying to manipulate her.
In the cell, Daryl puts a knife in the dead Whisperers' head and Gabriel promises to help him hide the body. Siddiq finds Sheryl's room empty so he finds Dante, who's digging Sheryl's grave with her body nearby. Siddiq walks away looking disheartened and then experiences more flashbacks from the pikes. Unable to stop them, Siddiq jumps into the lake. The flashbacks continue, each more horrible than the next. Rosita jumps into the lake and saves him. Shortly after, he breaks down as explains to her how he can't escape his memories. He says he can't figure out why she's sick but suddenly has a break through. He inspects the water pumps and then starts throwing things.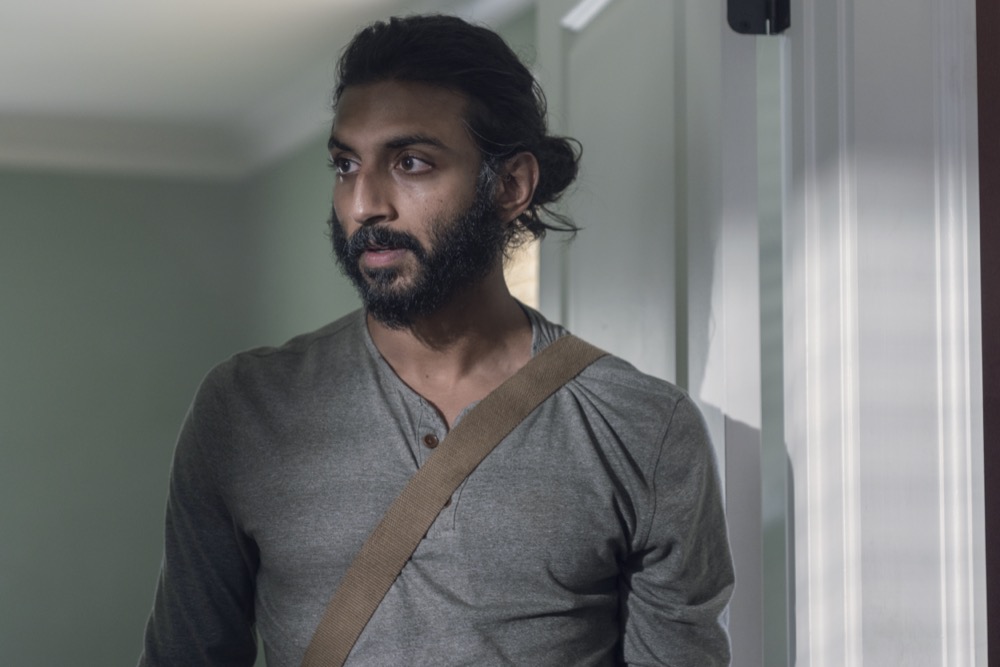 That night, Gamma hands Gracie's drawing back to Aaron. When he reaches for it she grabs him from behind and puts a knife to his neck. Carol appears with her arrow pointed as Lydia also arrives. Gamma, who can't believe she's still alive, runs off. Carol tells Lydia that Alpha told her people she was dead, so she accuses Carol of using her. She hits her with her staff and runs off as Aaron pleads with Carol to stay. Nearby, Gamma sobs.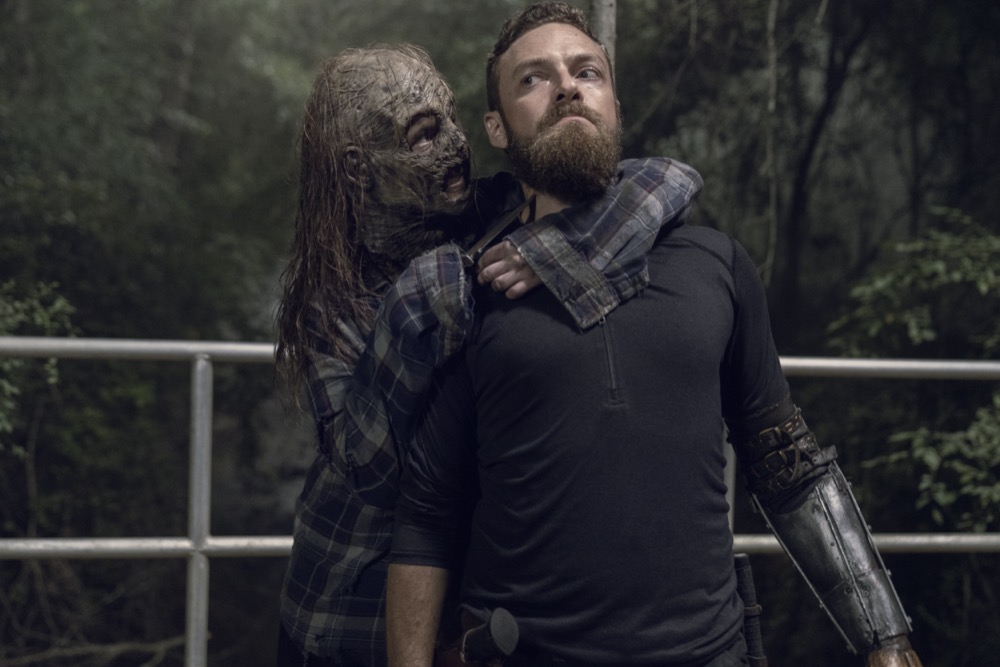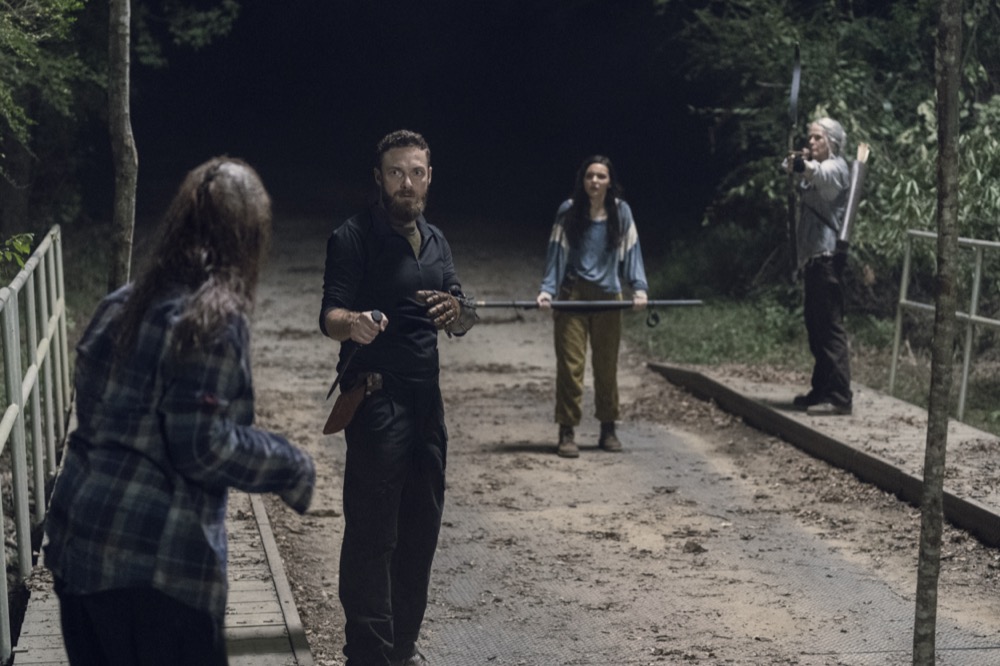 Dante visits Siddiq to "comfort" Siddiq. "It's going to be OK," he says. He starts clicking his tongue, which triggers Siddiq back to the beheadings. He then puts it together – Dante was the Whisperer who held his eyes open during the killings. Siddiq leaps for his hatchet but Dante tackles him and puts him in a chokehold. Siddiq moans as Dante squeezes the life out of him until he's dead.
---
What did YOU think of this week's shocking Walking Dead? What happens now with Dante? Let us know in the comments below!