"Bonds"

Daryl catches Carol leaving Alexandria to search for Negan and offers to tag along. He says he can't image Negan joining the Whisperers but Carol reminds him, "stranger things have happened." Daryl asks what they're actually looking for and Carol reveals, "Alpha's horde. We're going to find it and we're going to destroy it."

At Hilltop, Dante gives an older woman a check-up and tells Siddiq she's the seventh person to come down with a stomach bug. Dante makes an inappropriate joke about checking in on Rosita but Siddiq reminds him about boundaries. Back in the woods, Daryl asks Carol why she wasn't honest with him and she admits she didn't want him to worry. He understands and says he'll stick around.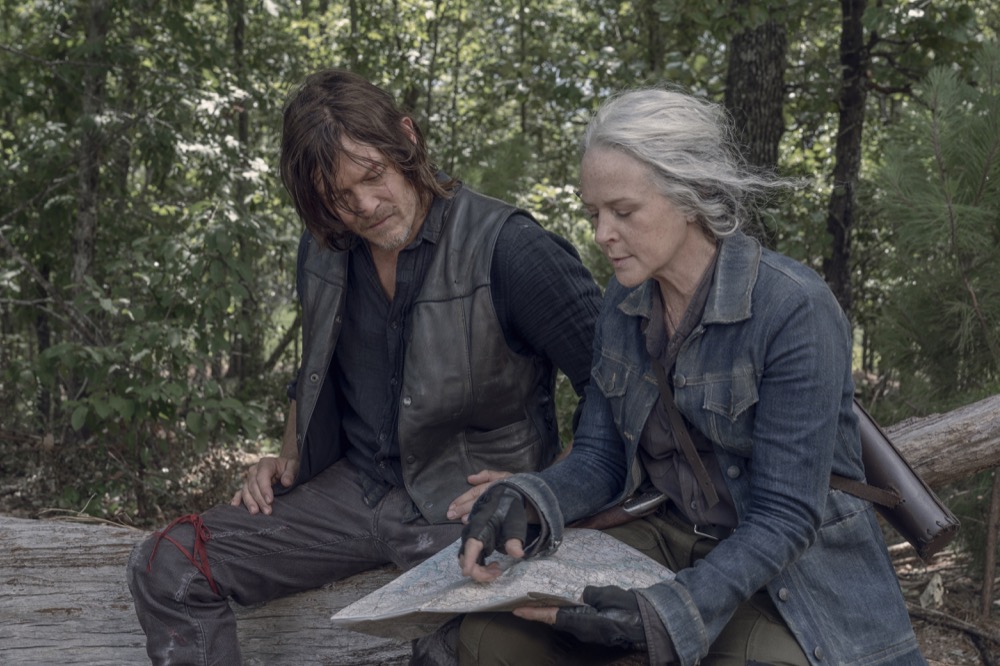 Elsewhere, Beta and the Whisperers lead Negan blindfolded through the woods. Negan continues to ask if he can join them until Beta puts his two giant knives at Negan's neck, telling him to be quiet. Negan promises to spill all of Alexandria's secrets if he takes him to their leader. Beta seems to agree and puts Negan's blindfold in his mouth as they continue their walk.
In Alexandria, Eugene finishes his new radio set-up, which is now complete with the Russian satellite parts. He boots it up and hears Rosita trying to contact him from Hilltop. They catch up and she seems happy to talk to him. One of his radio parts sparks and they agree to talk later. In the woods, Carol asks Daryl about his thing with Connie but he says it's not like that. "You don't have to be alone," she says. They share a piece of bread and suddenly notice a suspicious group of walkers nearby.
At the Whisperer camp, Alpha and Beta argue over what to do with Negan. Alpha wants to test him while Beta wants to kill him. Alpha questions if he wants her job and Beta kneels, telling her, "never." Later, Negan tells Beta people used to kneel for him and asks why he would do that to Alpha. Elsewhere, Siddiq takes Rosita to the infirmary while Eugene radios open channels to no avail. Meanwhile, Daryl and Carol plan to cross the border to disrupt Alpha's horde.
In the woods, Beta makes Negan do a series of tasks, like digging graves, skinning walkers, and hunting. Back in Alexandria, Siddiq arrives at the infirmary to find a room full of sick people. Siddiq berates Dante for letting things getting out of hand and rushes to start making more medicine. That night, Negan tells Beta he should get to eat with everyone, which prompts Beta to throw him to the ground. Negan collects himself and says, "Whatever you say, boss." Eugene tries again to connect on the open air waves and this time connects with someone. "I read you loud and clear…are you really out there?" a woman's voice asks.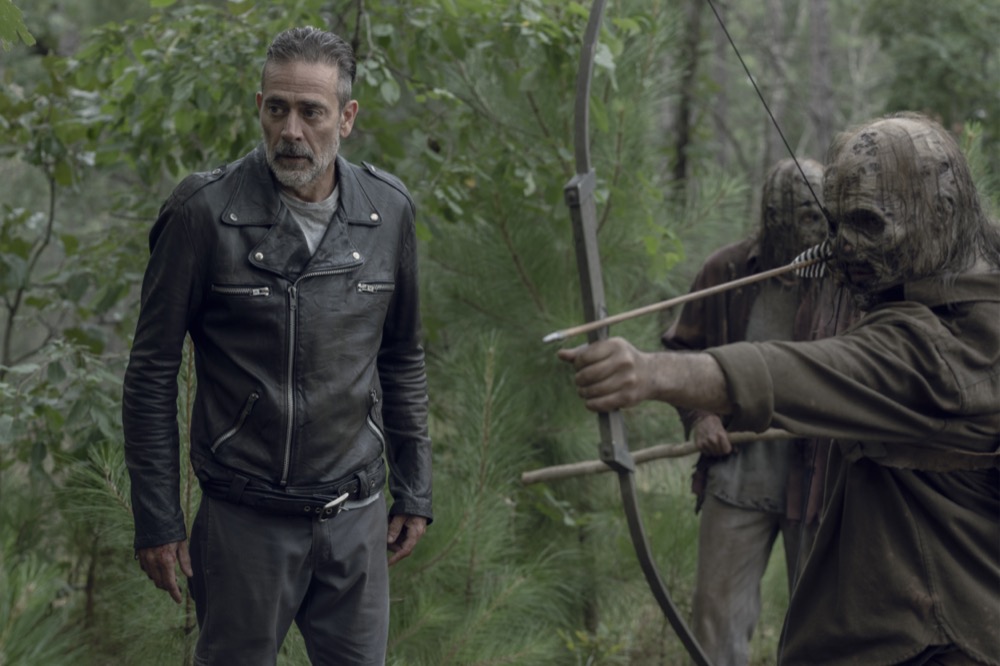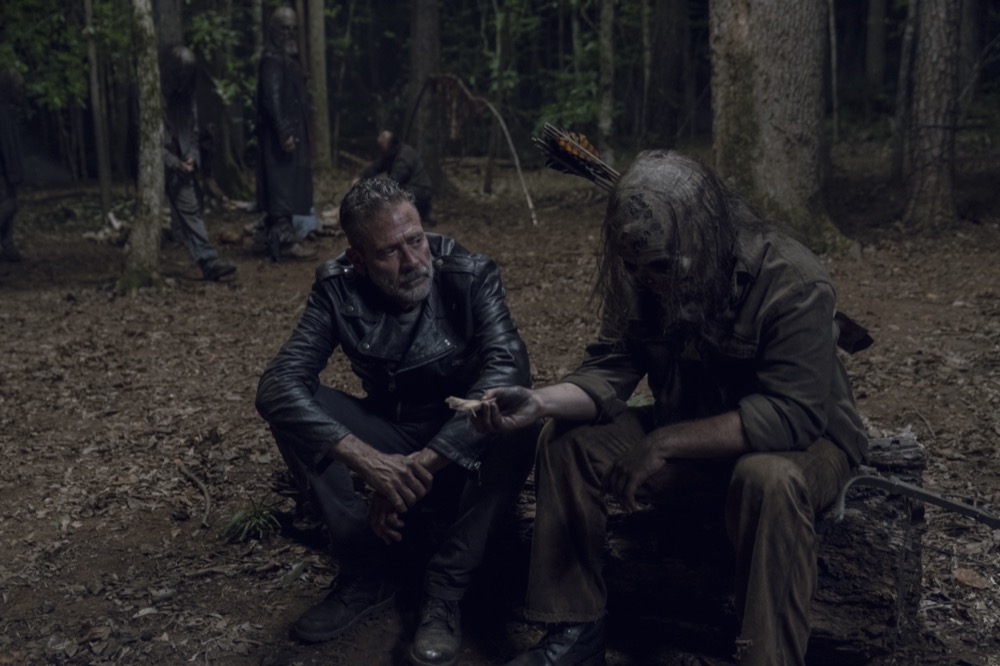 Carol accidentally steps on a twig and attracts the horde of walkers to her location. A Whisperer whispers, "Not here…keep looking" as Daryl quietly tries to leave. Meanwhile, Eugene asks the woman about her community and she says she's not comfortable sharing that yet. However, Eugene does talk about his past. Back in the woods, Daryl kills a walker, slices it open, and rubs its blood on his face to blend in. At the infirmary, Siddiq comforts an older woman sick in bed. Dante arrives and Siddiq apologizes for his outburst earlier. Dante tells him not to sweat it. Siddiq holds Coco and drifts to sleep, remembering that harrowing night with Alpha yet again. He wakes to find himself holding Coco on a balcony outside, looking confused.
In the woods, Beta tells Negan he'll never be one of them because he's too loud and egotistical. "I'm not here for you, I'm here for Alpha," Negan says. Beta then kills one of the walkers and walks away, leaving Negan to fend for himself with a pocket knife. Daryl finds Carol, who's holding a Whisperer hostage. He's pissed and asks where she got zip ties from, but she tells him they have to keep going.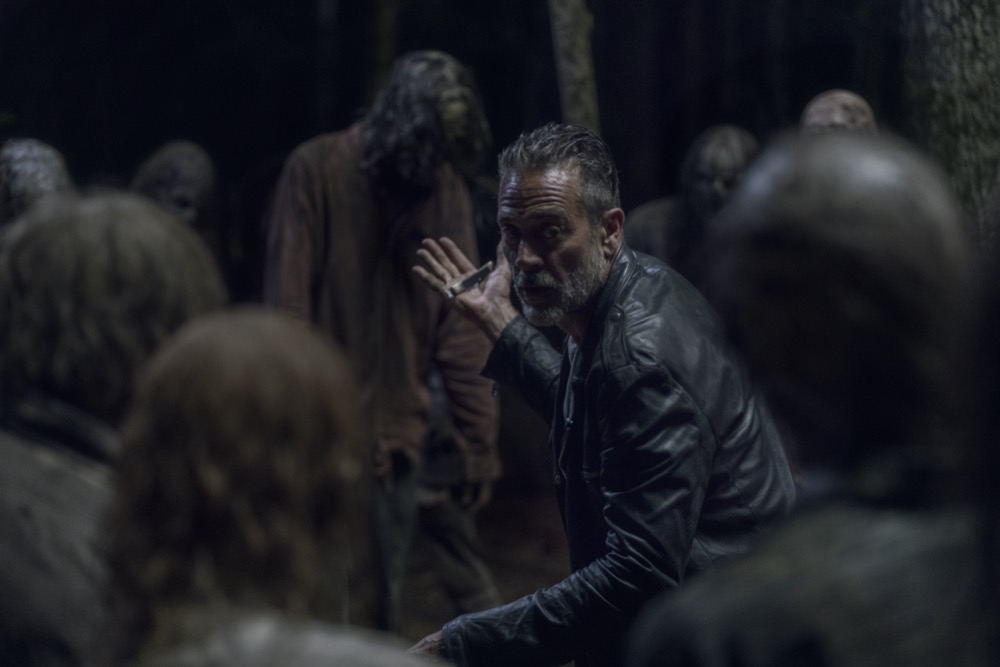 On the radio, Eugene tells the woman his full name and asks to keep talking with her on a regular basis. She agrees but asks him to keep their conversations private, saying if she hears anyone else she'll cut off communication completely. The next morning, Beta returns to Alpha and tells her Negan was weak. Suddenly, Negan returns with a bat-shaped stick saying, "I am ready for my goddamn skin suit." Covered in blood, Negan directly introduces himself to Alpha and bows in front of her. "I'm all in, whatever you want, whatever I got, it's yours." She leans down and makes the whispering motion, as if to signal she approves.
---
What did you think of this week's episode of The Walking Dead? Leave a comment in our discussion below!