"What It Always Is"

Kelly hunts a wild boar in the woods when her hearing gives out. She still makes the shot and puts it out of its misery when walkers appear. Kelly kills them as more begin eating the pig. She sprints away through the woods until she trips and falls down a hill. A walker silently creeps up behind her.
Elsewhere, Negan washes his face in the river as Brandon pretends to hold a knife to him. He's kidding, and Negan flashes a sinister smile. At Hilltop, Eugene has people salvaging every inch of the tree as Alden tells Yumiko they need to build up their defenses. She says now's not the time as Earl complains about their lack of retaliation against the Whisperers. To make matters worse, Brianna tells Yumiko that someone stole the crate of fish from Oceanside. She goes to Magna to tell her to be better at watching the food, but she only turns up her music.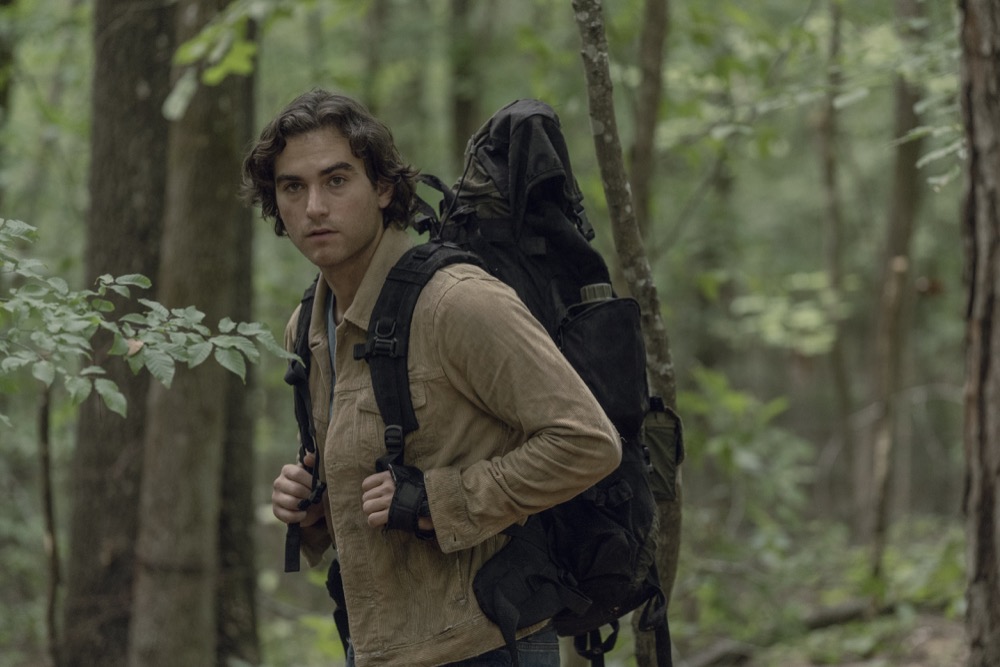 Daryl and Siddiq return to Hilltop to tell Ezekiel they didn't have any luck finding Negan. Ezekiel coughs and asks Siddiq to help in the infirmary, which he agrees to. The Hilltop warriors also return and Connie expresses concern about Kelly's whereabouts. Back in the woods, a star struck Brandon bugs Negan about his accomplishments and asks if he really killed Carl. Negan scowls and says, "I would never kill a kid."
Later, they find Whisperer tracks. Before they can investigate, a walker attacks Negan. He uses the wire around its neck to rip its head off and stomp it into oblivion. He sarcastically thanks Brandon, who reveals he snuck his leather jacket and Lucille out there with them. Negan smiles approvingly. Elsewhere, Aaron secretly watches Gamma gut a walker and suspiciously pour its guts into the water.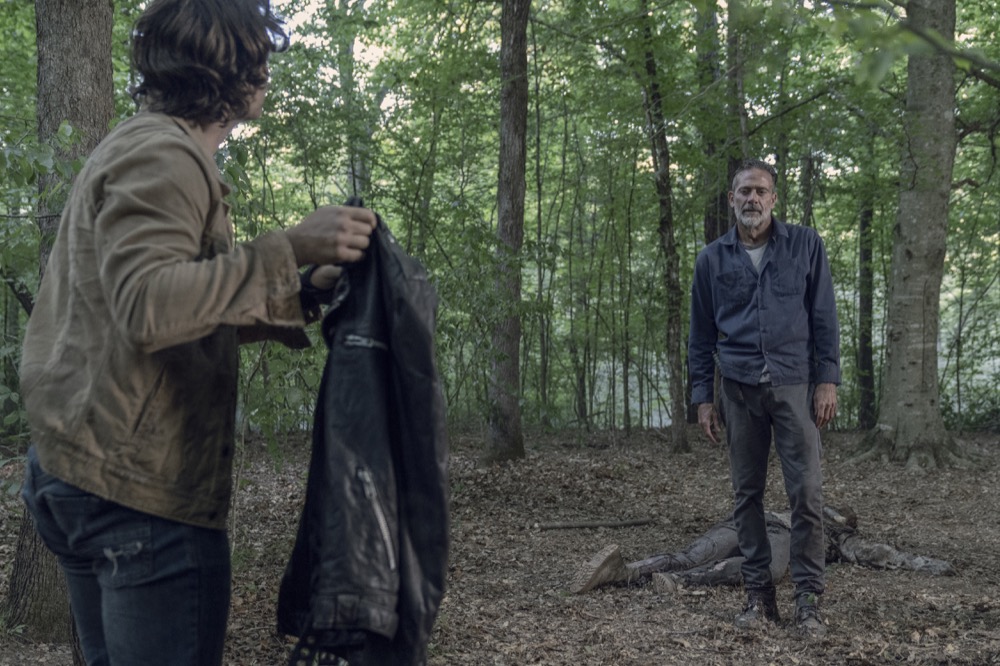 Brandon asks Negan to rate female walkers on hotness when they suddenly hear a woman cry in the distance. Negan runs over and stabs the walker through the head, but the blade breaks off into its skull. The woman screams again, so Negan rushes into the bus and saves the woman by bashing the walker's head in a door. "Damn, classic Negan!" Brandon says, elated.
While searching for Kelly in the woods, Daryl tells Connie a fishing story about Merle where he saved his life but was chastised for not getting the beer. Suddenly, Dog finds the remains of the boar. They hear a noise behind them, and when they look it's Magna. Back at Hilltop, Earl takes his Whisperer complaints to Alden as Siddiq checks on Ezekiel's cough. The King reveals a large bump on his neck and explains he has a family history of thyroid cancer. Siddiq then reveals his own struggles, saying they at least have a community.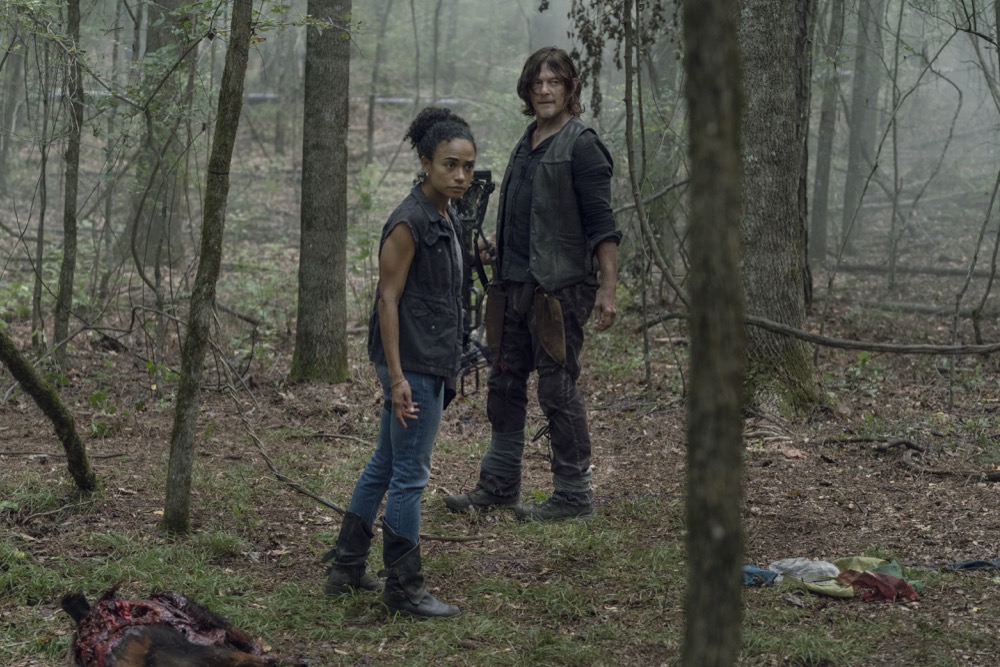 In the bus, the woman tells her story to Negan and Brandon. She takes her son for a walk and Brandon gets up to rob them. Negan stops him and suggests he go home. Brandon says he can't go back, so Negan tells him to go wherever the hell he wants, as long as he doesn't see his pasty face again. "You're just like all the others," Brandon says before leaving.
Elsewhere, Gamma reports to Alpha that another one of their guardians was killed. A Whisperer suggests instead of letting more die, they just go full force into their community. Alpha asks if anyone agrees and no one speaks up, so Alpha makes a point by cutting the man several times. She explains to the others when it all collapses the smart ones will know where to go to stay safe. She then hands the knife to Beta, who kills him. "You said you wanted another guardian," Alpha tells Beta.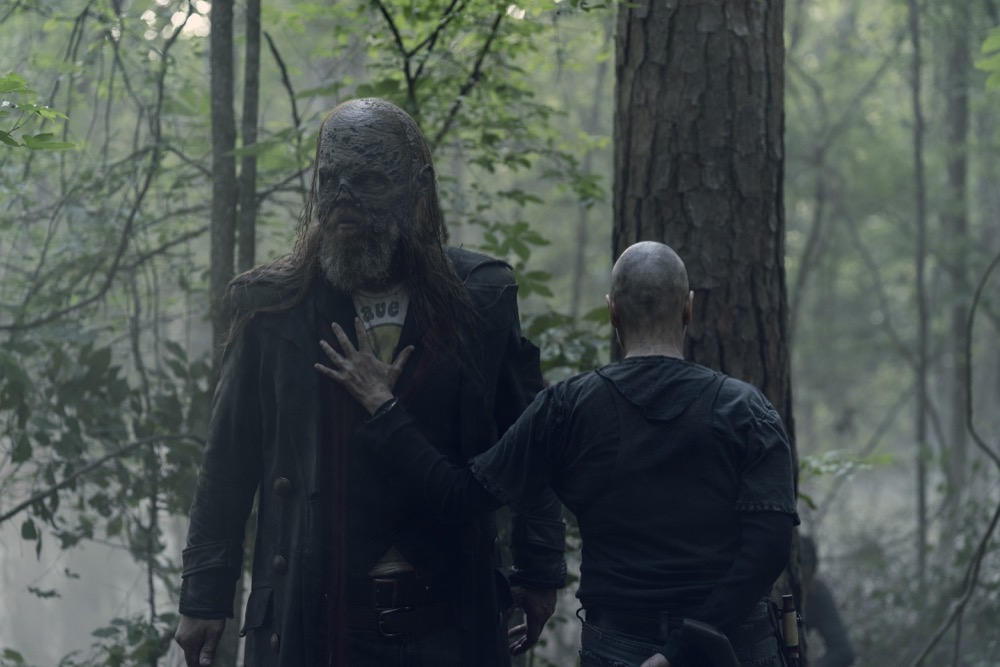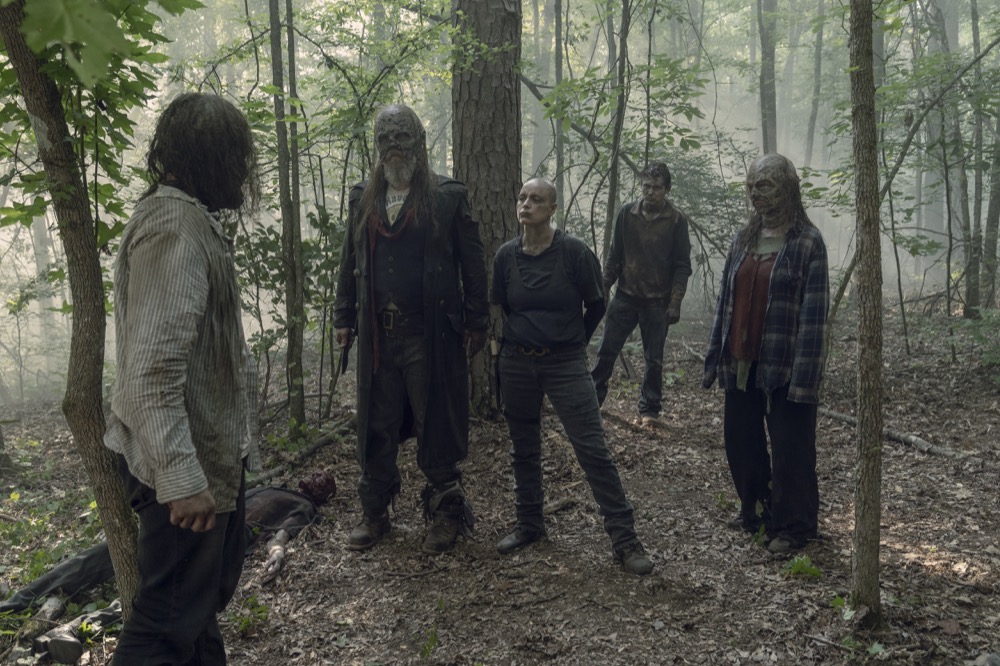 Negan sits down with the kid, who's playing with a toy airplane. He realizes the kid has never been on a plane, so he explains the joys of it. He then teaches the kid the joys of nut-tapping and promises to take him and his mom to Hilltop. Back in the woods, Gamma brutally kills her guardian and cuts her hand in the process. Aaron appears and throws her gauze. He introduces himself and tries to get her to do the same, but she picks up the bandage and runs off.
In the woods, Connie, Magna, and Daryl find Kelly, who's not looking too hot. Kelly reveals she's been hoarding a wagon of their supplies, meaning she's the thief they've been looking for. Kelly signs that she doesn't trust Daryl and Connie says they'll lie to the others about finding it. Elsewhere, Negan hears Brandon whistling and goes to investigate. He finds the woman and her son murdered by the bus. "I realize it was a test," Brandon says with a smile. Enraged, Negan grabs a stone and bashes Brandon's head in until he's dead. Negan grabs his jacket and Lucille and walks away.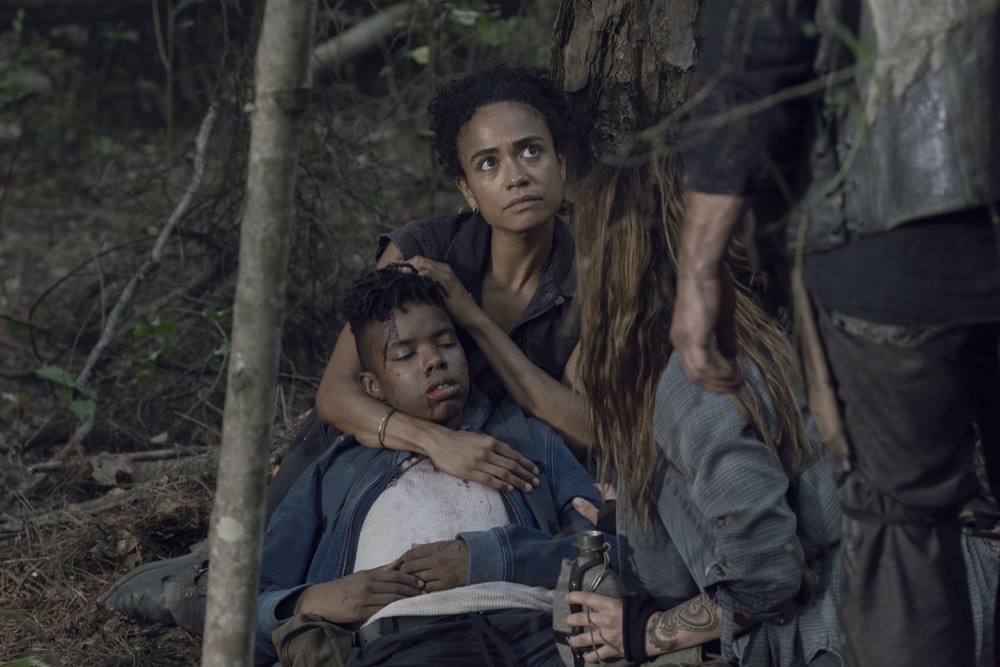 Daryl and the others return to Hilltop with Kelly. Siddiq radios Dante, who tells him Rosita caught a bug. He says he'll leave for Alexandria tonight and then asks to speak to Carol. Dante grabs him and Siddiq and Ezekiel swap places. Carol sits down to speak but Ezekiel cuts off communication. Yumiko questions Magna about the stash. Magna reminds her she killed someone who did something bad to her cousin. "I think you should find another place to sleep," Yumiko says.
Later, Gamma confesses to Alpha that "the man with the metal arm" gave her gauze for her wound. Alpha shushes her and takes off her mask, telling her that man could be useful to her. "You might just have to wear a new mask," she says. At Hilltop, Connie apologizes to Daryl for making him lie about Kelly. She suggests they're family right before he rides off. Back in the woods, Negan, now wearing his old jacket, lures walkers to him. He bashes them with Lucille until he's thrown to the ground by Beta. "Aren't you a big ass freak. Let's do this," he says.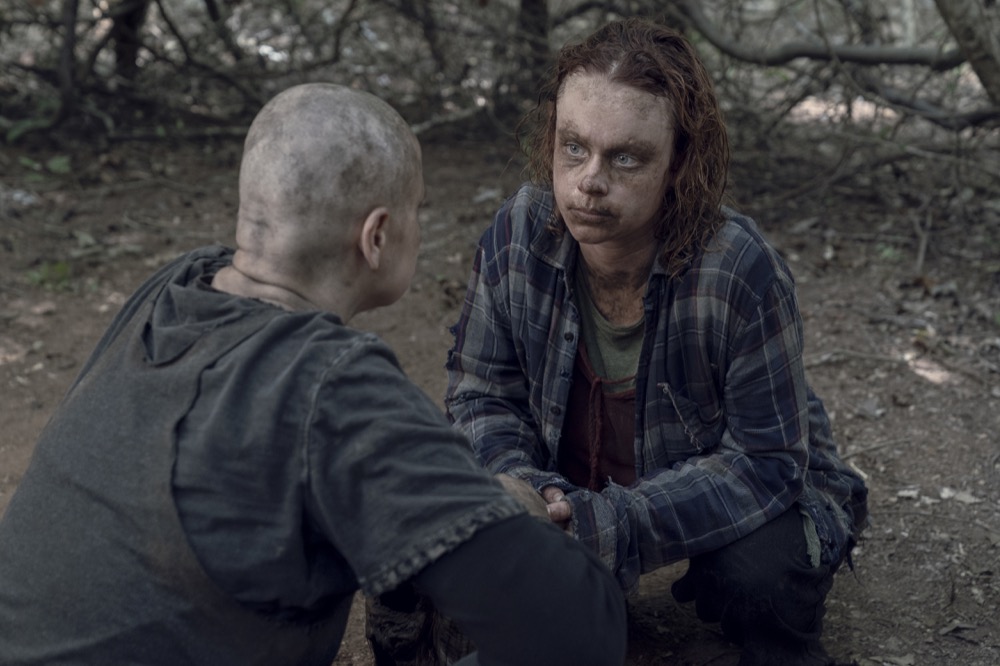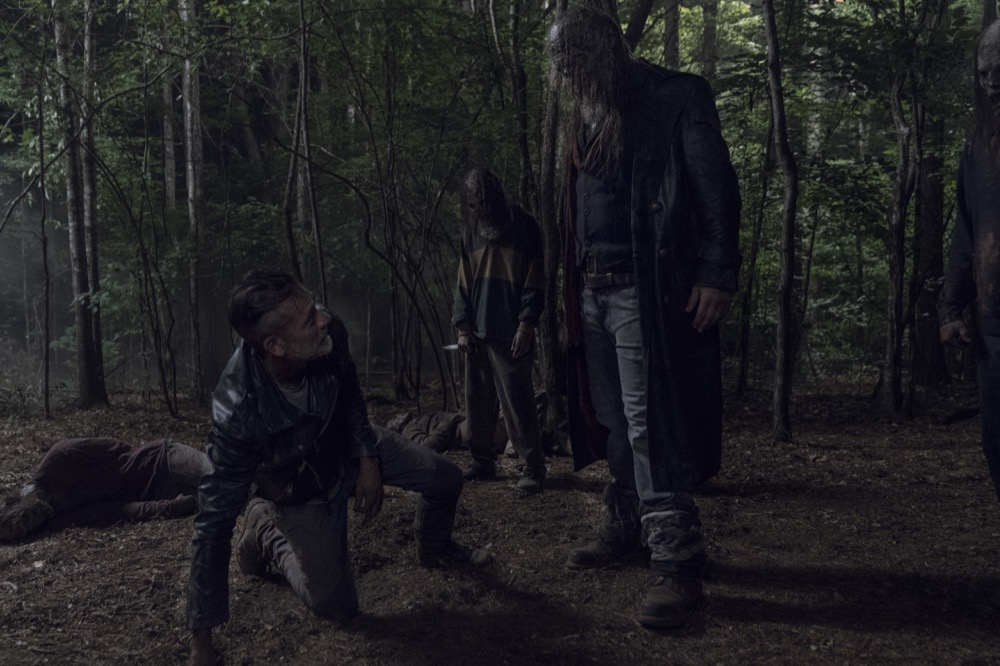 ---
What did YOU think of the episode? Let us know in the comments below!