"Silence The Whisperers"

A giant tree falls through Hilltop's fence, injuring nine. Connie suggests the Whisperers are to blame as Zeke and Jerry figure out where to put the victims. The next morning, Aaron gives the Alexandrians combat training while Gage taunts Lydia with a potato sack over his face.
On the road, Michonne tells Judith never to take enemies by their word. Judith suggests the Whisperers are probably trying to tire them out like RJ does before he goes to sleep, and Michonne agrees. Suddenly, Michonne spots Ezekiel riding his horse alone. She tells them to keep riding while she investigates. As she gets closer, Zeke's horse gallops past her without Zeke on it. She then finds him on the edge of a cliff clearly pondering suicide. Michonne hugs him and tells him it's ok, so he goes in for a kiss. After a few seconds he pulls away and apologizes.
In Alexandria, Lydia tells Negan about Gage and he advises her not to react. Daryl suddenly appears and orders her to leave. "She's just trying to fit in," Negan says. Daryl tells him that won't happen with him around. He then catches up with Lydia to scold her for talking to him. It's then they notice a "Silence the Whispers" message graffitied on her door.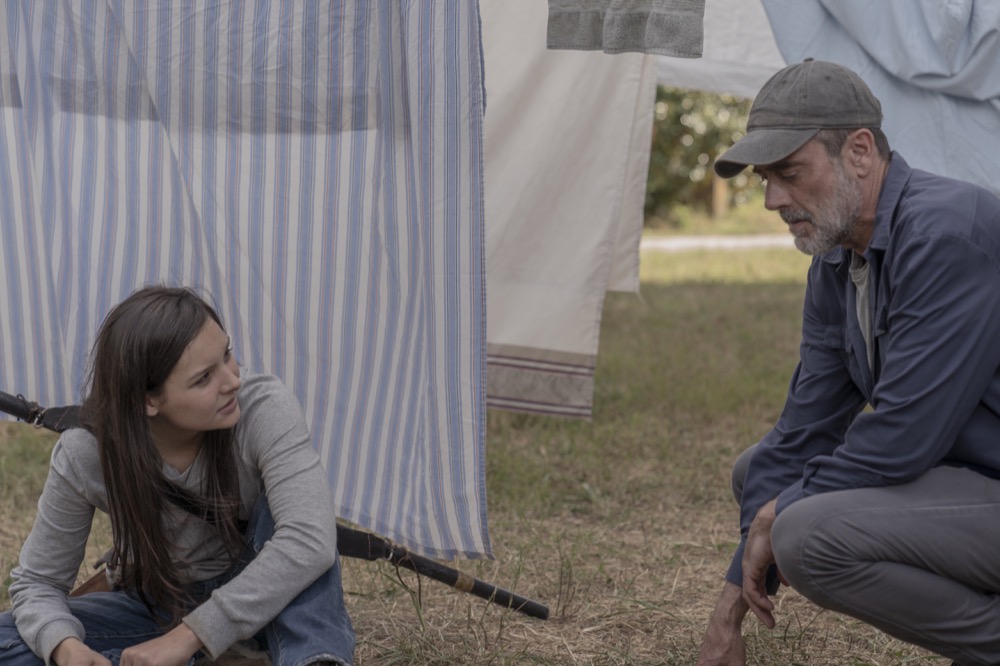 Back in the woods, Zeke tells Michonne they could have been together in another universe (lol) and reminds her how much he lost. She admits she was once jealous of walkers, wishing they would bite her. But eventually, she tells him, it gets better. Back in town, Lydia sits with Gage and his friends and skins a rabbit in front of them, mocking the Whisperer shushing motion. Disgusted, they leave the table. Later, Daryl tells her to cool it but she defends herself and storms out.
That night, Lydia gets surrounded by Gage and the gang. Margo blames her for putting her friends heads on spikes but Lydia reminds them she wasn't involved. She tells Lydia she can run but Lydia says she's one of them. They all jump Lydia, grabbing, punching, and pinning her to the ground. Suddenly, Negan arrives, throws Margo into a wall, and tells Lydia it's OK. Frightened, Gage claims they were just trying to scare her. The guards show up and find Margo dead. Negan sighs deeply and says, "Shit."
Daryl and the others arrive to assess the situation. Gage's friends blame Negan for Margo's death but Lydia screams it wasn't his fault. Still, Daryl orders Negan back to his cell. Siddiq's vision suddenly gives out so he runs to the infirmary to wash his eyes. Dante finishes up with Lydia and Daryl checks on her, telling her he's sorry this happened. She tells him Negan saved her so Daryl goes to meet with him.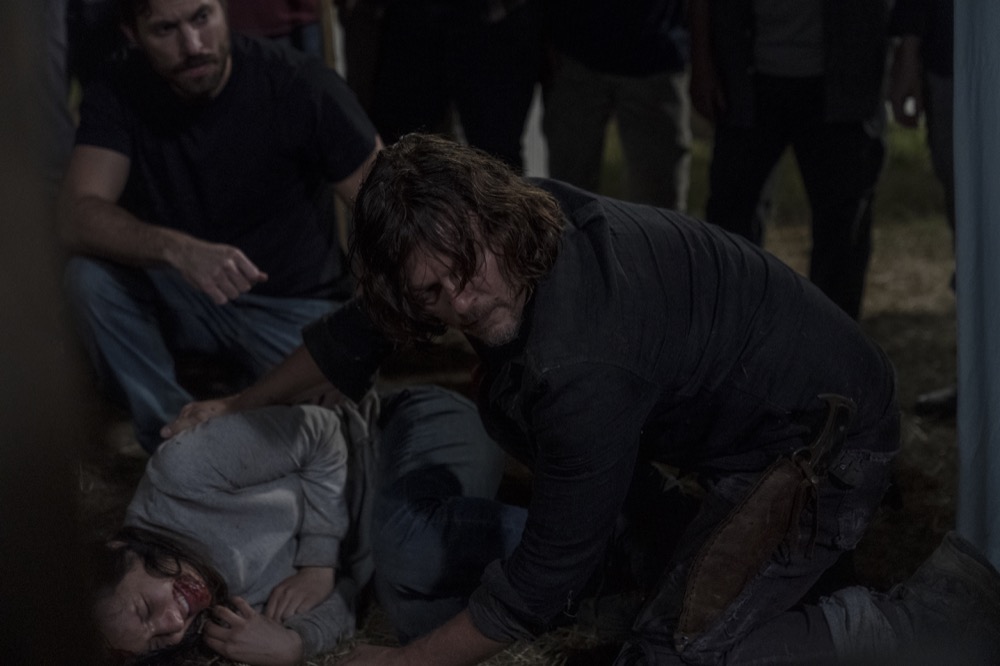 Daryl tells Negan people want him dead but Negan claims it was an accident and Margo was an asshole anyway. "World's better off," he says. Daryl asks why he helped her and Negan says he's actually bought into their way of life. Daryl promises he'll get a chance to tell his side. Daryl then goes to Carol, who asks what he's going to do about Negan. "I believe her," he says. Carol reminds him the real enemy is still out there, adding, "We should have gone to New Mexico." Back at Hilltop, Magna and the gang kill as many walkers as they can to protect the walls. Suddenly, Michonne, Ezekiel, Judith, and the others arrive to join the battle.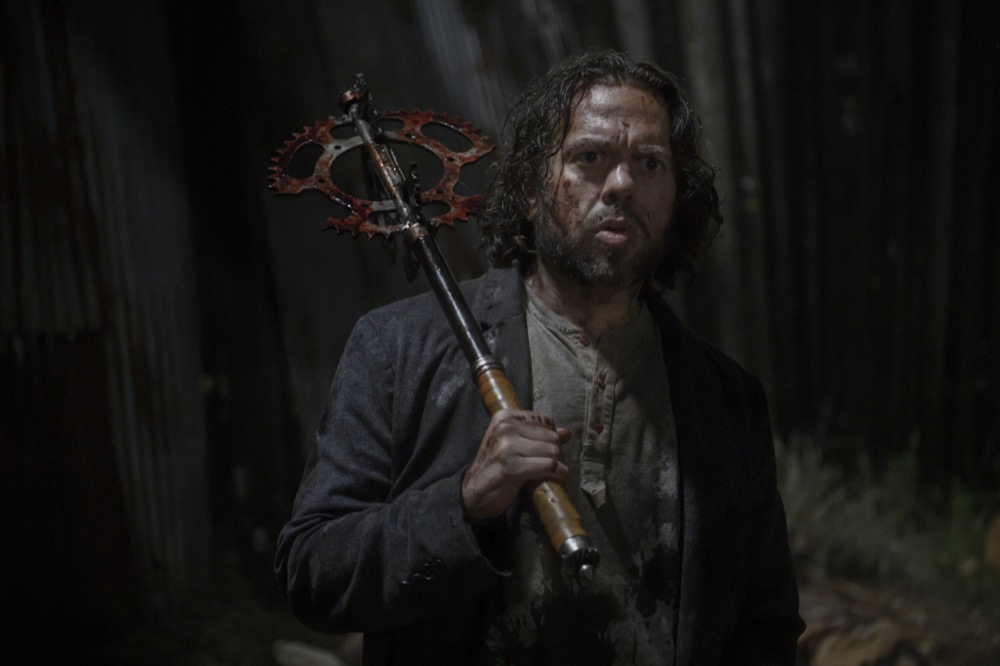 The Alexandria council holds an emergency meeting with Gage and Alfred, who claim they were attacked. Gabe asks why Lydia's the one in the infirmary. They remind them how their friends got beheaded by the Whisperers. Meanwhile, Daryl radios Michonne at Hilltop to update her on the situation. He tells her Negan's on the right side of this but it may not matter. Michonne asks if she should come home but Daryl tells her to stay as long as Hilltop needs her. Michonne tells him Lydia has to stay regardless of the outcome because she believes Alpha will be harsher with them if Lydia's gone.
Daryl checks in with the council, who's voting on Negan's fate. Daryl says he believes Lydia, which ties the vote. Gabe announces he'll take the night to make his decision. Back at Hilltop, Michonne prepares to leave while Eugene devises a plan to fix the wall. Back in Alexandria, Gabriel finds Negan's cell empty. "He's gone," he says.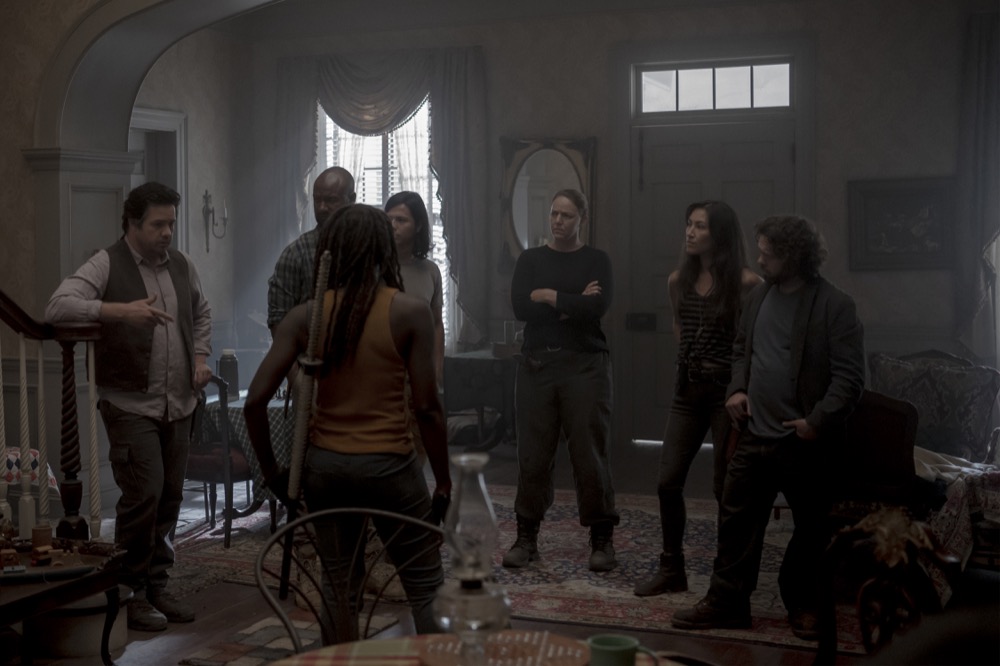 While Gabe is telling Aaron about the escape, Lydia walks by and tells them, "I did it. I let Negan out." Daryl rushes over and tells Lydia there's no way she let him escape because he was watching her all night. She asks if it matters because the people want her in the cell. She tells him she feels safer in the cell so he locks it with her inside. Later, Michonne and her caravan leave Hilltop while Daryl washes off the "Silence the Whispers" graffiti.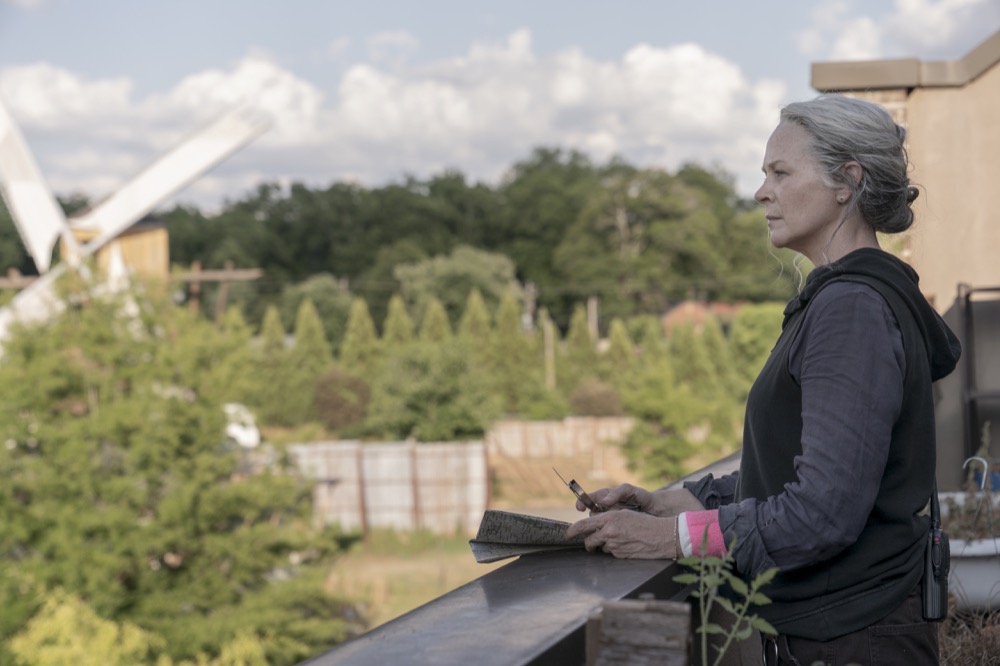 ---
What did you guys think of this week's crazy episode of The Walking Dead? Join our discussion below!