"Ghosts"

Waves of walkers pour onto Alexandria's gates and Aaron suspects Alpha's to blame. Another wave arrives, which takes days to fight off. After prevailing from the exhausting battle, Michonne checks on RJ even though Judith reminds her it's not safe to go to sleep. She gets a call on her radio – new walker hordes are nearby, but this time they're coming from multiple directions.
Gamma arrives at the gate to tell Daryl and Michonne, "North border, now." Michonne asks her to call off her walkers but she swears they're not theirs. She instructs them again to go wait for Alpha at the border. At an emergency council meeting, Lydia backs up the claim that her mother isn't behind the attacks. The Highwaymen rile up the others as Siddiq's vision becomes blurry, forcing him to step away. Michonne tells everyone instead of retaliating, she and a small group will meet with Alpha to work things out. As everyone files out, Daryl tells Michonne that Rick would have liked that speech.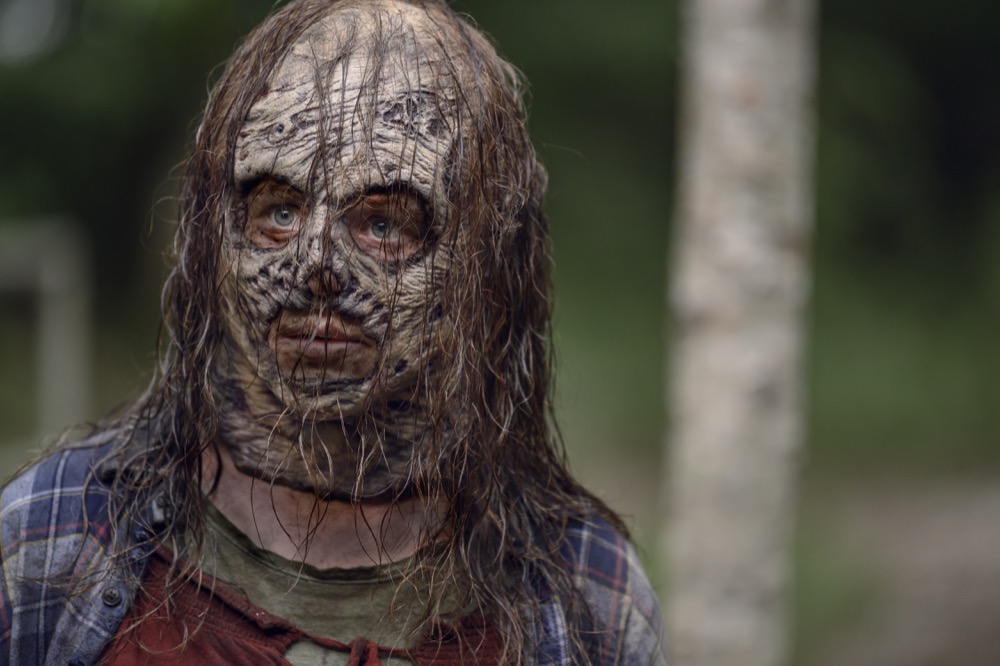 Michonne makes the plan – Gabriel will lead against the northern wave, Aaron will handle the southern wave, and they will take the border. Aaron screws a mace onto his arm as Carol hides a revolver in her pants. Gabriel decides Negan's going to fight alongside Aaron while Daryl and the others head for the border. Gabe pleads with Rosita to stay at home with Coco instead of fight but she's not having it. Negan and Aaron pair up to take out walkers; Negan finds a crowbar but Aaron tells him to put it down. Negan says he's not the guy he thinks he is but Aaron makes him continue to fight with the broomstick.
That night, Rosita and Eugene tag-team walkers at the gate as Daryl, Michonne, Carol, and the others reach the border and lay down their weapons. Alpha arrives with some Whisperers and reminds them to stay off her land. Michonne explains the fire would have wiped out Oceanside and they only crossed one time, but Alpha corrects her, reminding her of two other times they trespassed. "We are always watching," Alpha says.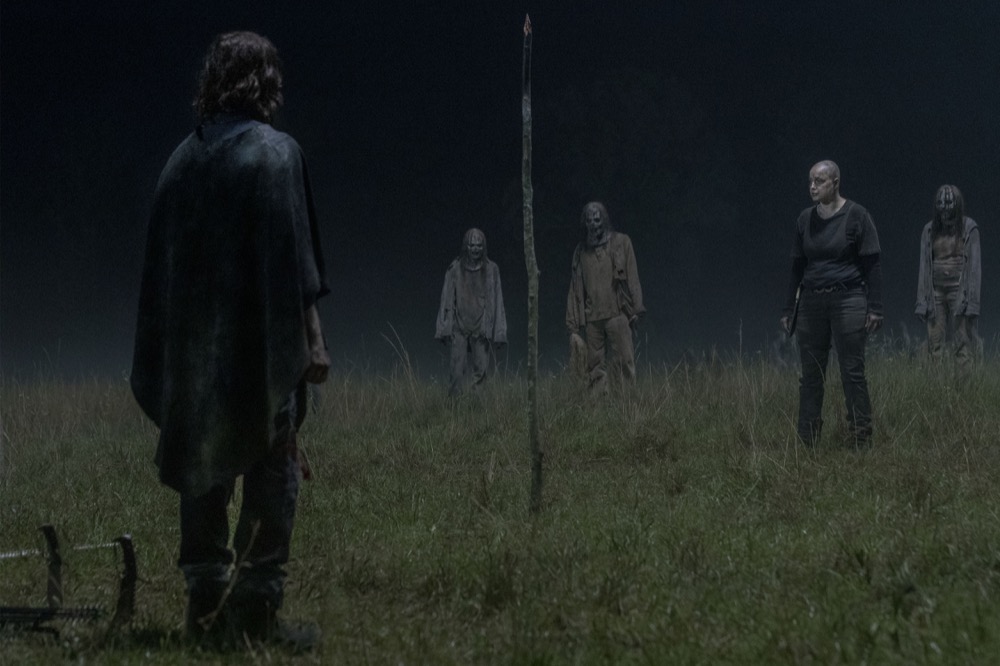 Alpha announces she's moving the border up as punishment, but Carol says they don't have to listen to her bullshit. Daryl tries to get them to leave but Alpha says not until Carol lowers her eyes to her feet. Alpha tells Carol she should fear her but Carol says she feels nothing at all. Alpha reminds her how Henry feared her before she beheaded him, causing Carol to pull out her gun and shoot. Daryl manages to hit her arm so she misses as The Whisperers draw their weapons. Michonne apologizes to Alpha for her behavior and Alpha says she forgives her, but it's her land now and they better run.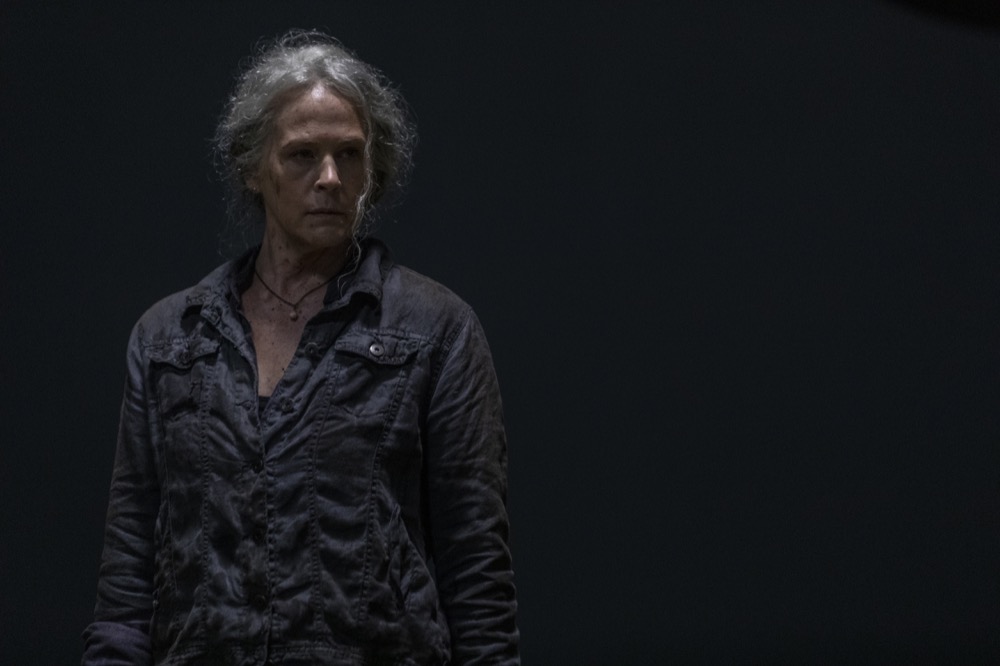 Back in the woods, Carol tells Michonne, "Bitch has to die." Daryl tells Michonne she hasn't been the same since the boat. Carol spots some Whisperers nearby and takes a shot, but misses. Michonne orders the gang to capture, not kill them. Elsewhere, Aaron and Negan start arguing again. "I did what I had to do back then," Negan says. Aaron asks why Eric had to die and Negan tells him if he doesn't protect what belongs to him then it belongs to someone else. Aaron shoots back that if he failed Eric then Negan failed his wife. "Careful," Negan warns. Suddenly, Aaron gets attacked by walkers. He kills it, but the blood causes his eyes to go blurry and he's forced to escape into a cabin as Negan is nowhere to be found.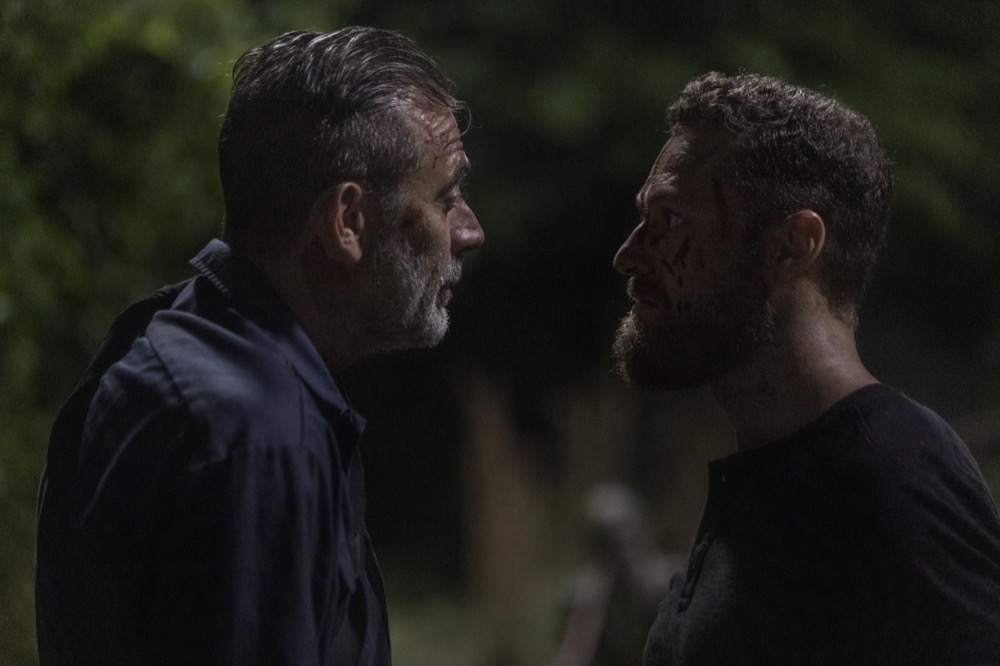 After coming up empty-handed, Michonne seems dubious over Carol's claims. She suggests the pills Carol is taking is affecting her but Carol brushes it off, saying they're basically coffee. Michonne lets it go and leads the group to a seemingly abandoned school to rest up. While inspecting the place, Carol finds a Home Economics text book, where she hallucinates seeing herself at the head of the table with Sophia, Lizzie, Mika, Henry, and Sam sitting at the table.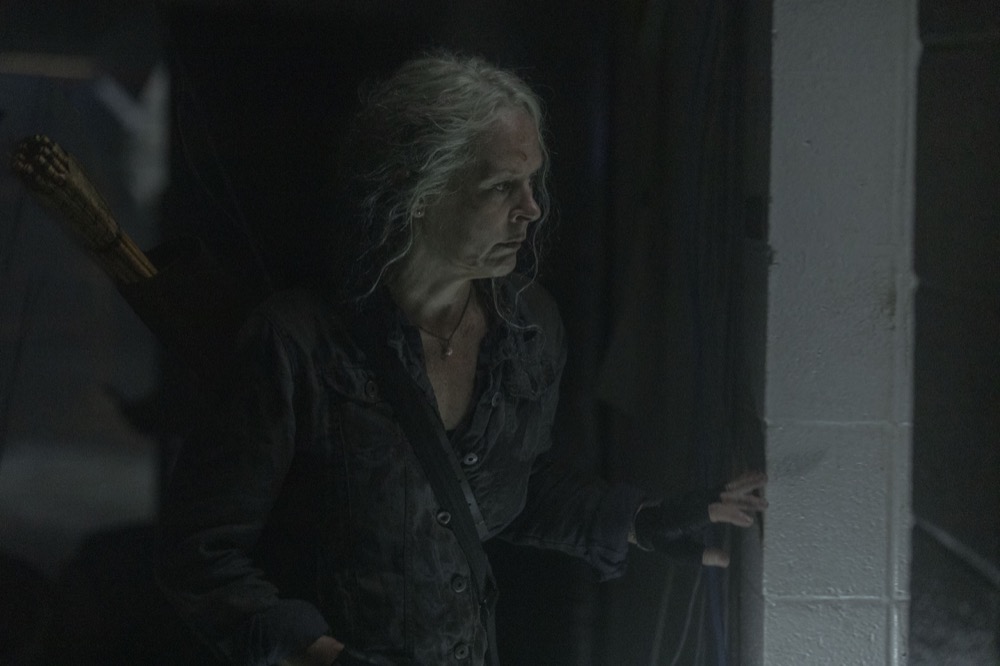 Aaron's blurry vision causes him to bang around the cabin as walkers break in. He's saved by Negan with the crowbar but can't make him out. Negan tells him the flowers growing out of the walkers are called hogweed and can lead to blindness. He hands him water and tells him they'll leave first thing in the morning.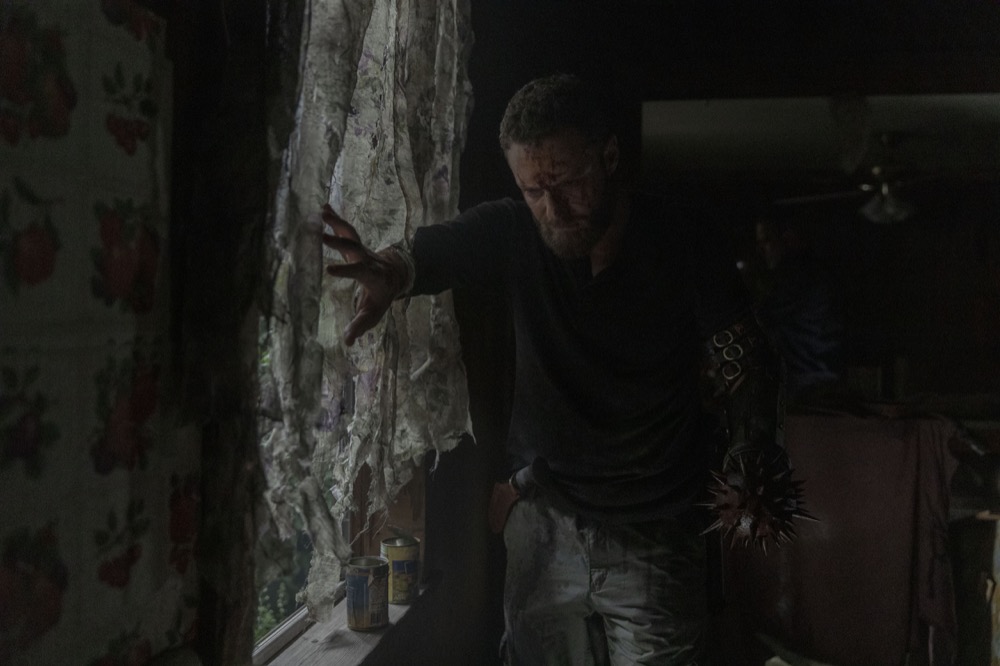 Meanwhile, Carol hallucinates seeing Henry next to her, and then a walker who stabs her. She wakes up in the gym, where she follows a Whisperer into a trap that catches her upside down from the ceiling. The Whisperer leads a group of walkers towards her and she takes them out while freeing herself. After killing all the walkers the gang finds her and takes her back home.
In Alexandria, Siddiq and Dante tend to Carol's wounds. Siddiq's vision blurs again as he struggles to grab the equipment. Dante tells him he'll do it instead. Afterwards, they tell Daryl and Michonne that she's doing well, so they agree to take her home. The next morning, Aaron regains his vision and tells Negan he can finally see him. Rosita and Eugene return from killing walkers and they quickly get in an argument about her lack of feelings for him.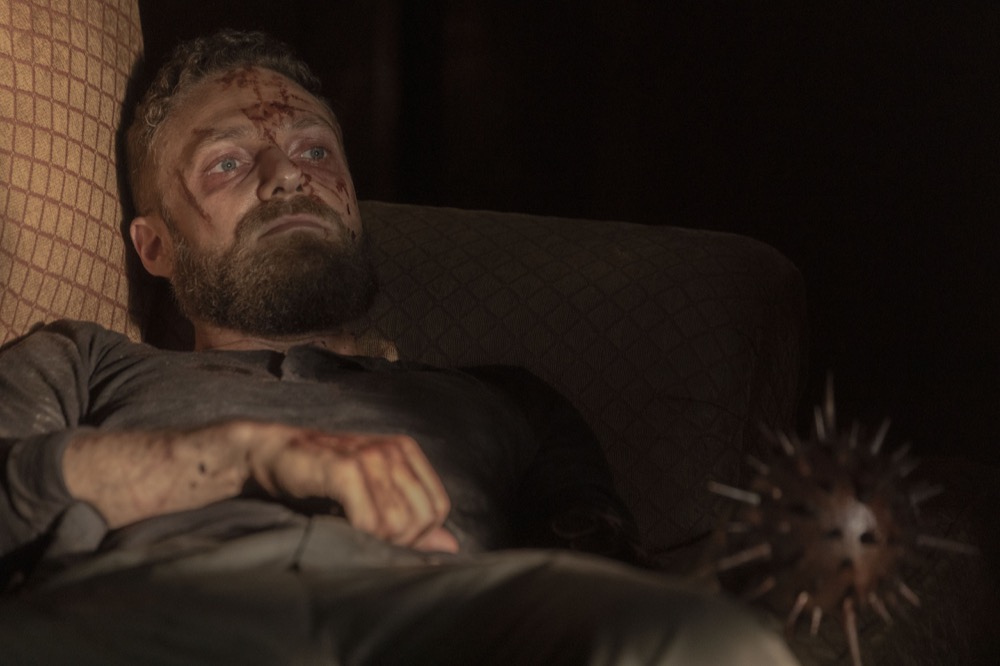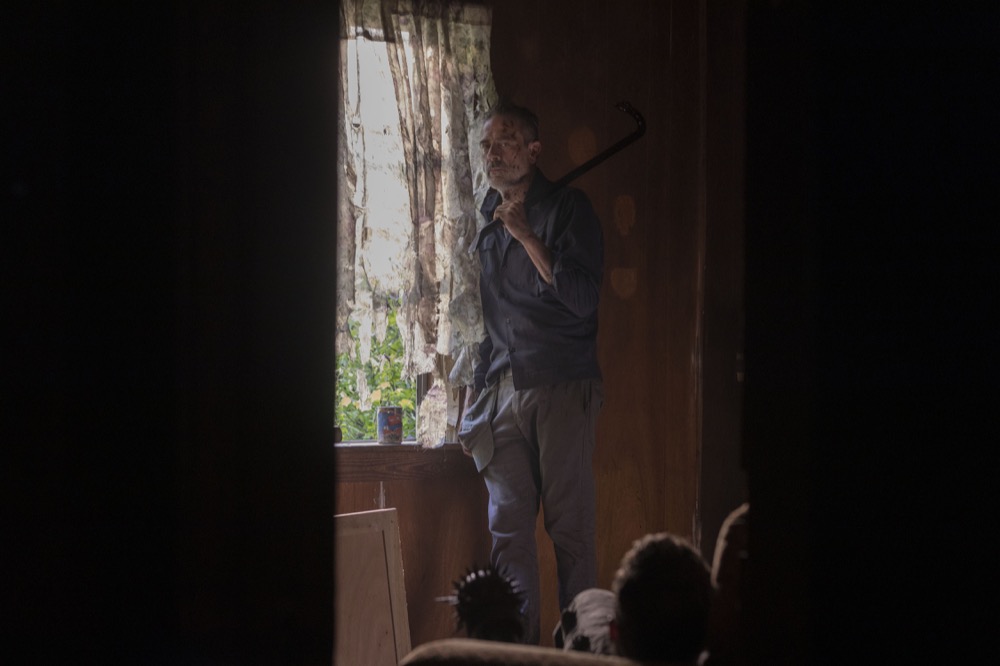 Michonne asks Siddiq if he's OK and he claims he's just tired, so she leaves. Dante shows up and tells him he's a good liar. He reveals he used to be a field medic in Iraq and he'd be happy to show him some techniques to reduce panic, but Siddiq isn't interested. Carol finds Daryl making breakfast for her and then hallucinates Henry at the kitchen table. She wakes up for real and holds up her meds, eventually storing them in the drawer. She talks with Michonne downstairs and swears she saw those Whisperers, but Michonne says no one else saw them.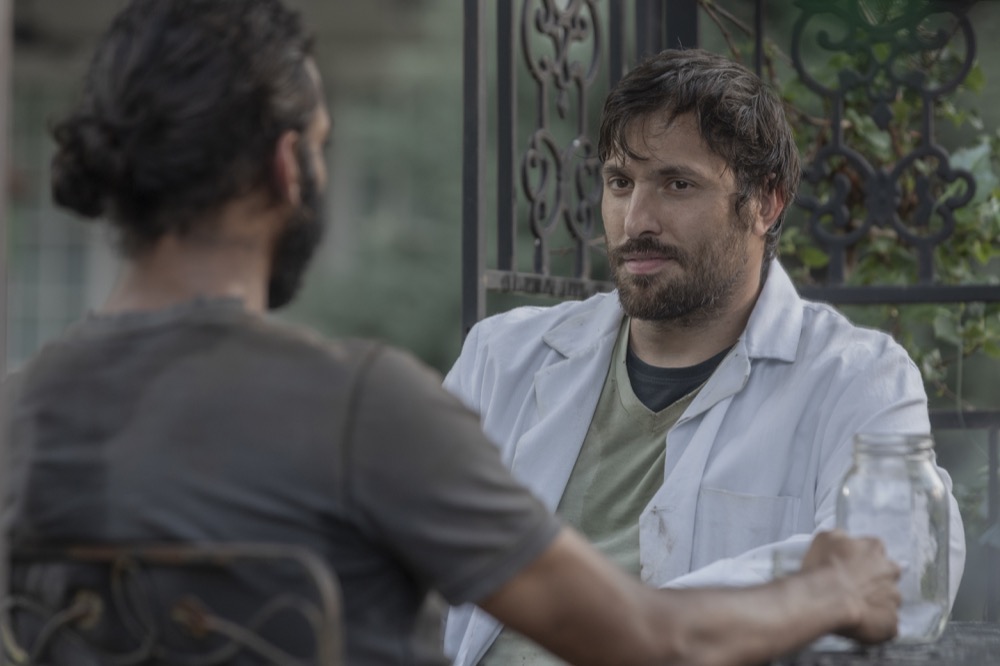 Michonne visits Judith and tells her it's finally safe to sleep. Carol asks Daryl if he believes her about the Whisperers and he says yes. We then see flashes of the school gym and eventually a the black-haired Whisperer lying on a river bed severely injured.
---
What did you think of this confrontational episode of The Walking Dead? Join our discussion below!