"Diverged"

Carol, Daryl, and Dog walk through the woods following the drama at the cabin. Carol tells him she doesn't need a ride from him, adding, "You don't have to apologize, I'm good, really." He hands her his knife and wishes her luck before the two go their separate ways (Dog chooses Carol).
Carol returns to her house in Alexandria and tells Dog she didn't need an apology from Daryl, knowing that he meant what he said no matter how angry he was. A little later, Carol chats with Jerry and asks how she can help with the re-build. His stomach rumbles and she says she'll go make something. He gives her a heads up that Maggie's people are crashing in Michonne's old house. The two chat some more about soup until she finally leaves.
Meanwhile, Daryl's bike stalls in the woods and he's forced to continue on foot. Back in Alexandria, Carol preps Jerry's soup and then walks in on Dog tearing up her place to find a rat he hears in the walls. So, Carol fashions a homemade rat trap and then heads out of town to "find more ingredients." In the field, Carol gets approached by walkers and starts taking them on one-by-one.
Elsewhere, Daryl searches abandoned vehicles for parts to fix his motorcycle. He gets under one with a walker inside, who tilts the car too close to the edge of a hill. Thankfully, he gets distracted and Daryl makes it out alive. Daryl returns to his bike and realizes he should have kept the knife he gave Carol earlier. Unable to repair his bike, he walks his bike. Carol returns home covered in blood but assures Jerry she's back at the soup. Carol also helps repair the solar panels as Jerry looks on concerned.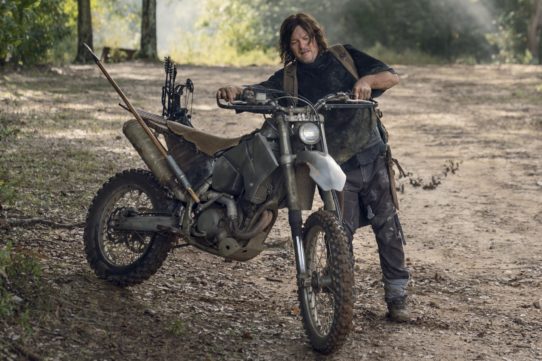 Back in the woods, Daryl limps past a small group of walkers and loses his footing on a hill. A walker dressed in army camo attacks him but Daryl flips it over and stabs it in the head. He checks its bag for a pocket knife, finds one, and hobbles back to his bike. He shoots a nearby walker in the head, loots it for supplies, and luckily finds food.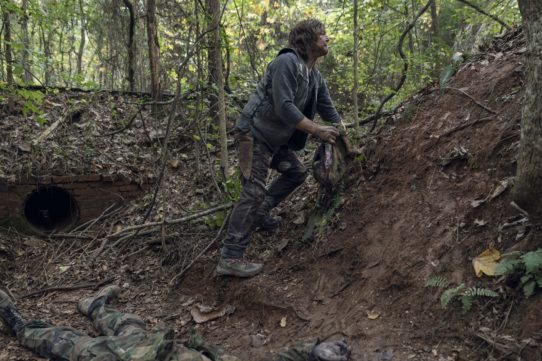 v
Back in town, Carol chases around the kitchen rat until it flees back into the wall. That night, she comforts Dog in bed and assures him Daryl will come back. "You think I should scram?" she asks him. Elsewhere, Daryl continues to repair his bike and hears wolves in the distance. Back in town, Dog wakes Carol up because he hears the rat. So, Carol tears the shit out of her wall to find it. She eventually gives up and Dog comforts her as they sit in the debris.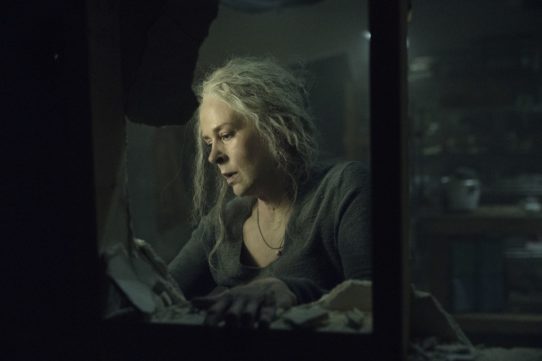 The next morning, Jerry visits Carol to check in on her, saying Ezekiel would have done the same. She admits the other day wasn't her best, and Jerry sees the effed up wall as evidence. He admits he noticed Daryl not returning, and he knows how it's affecting her. The two embrace as the mouse escapes her garage. Daryl rides back into town and immediately finds Carol. Dog runs up to him and she offers him soup, but he says he's fine. Carol offers to give him back his knife but he tells her to keep it. He says he's going to go to sleep and pauses at the gate, before leaving. And that is somehow an episode of television.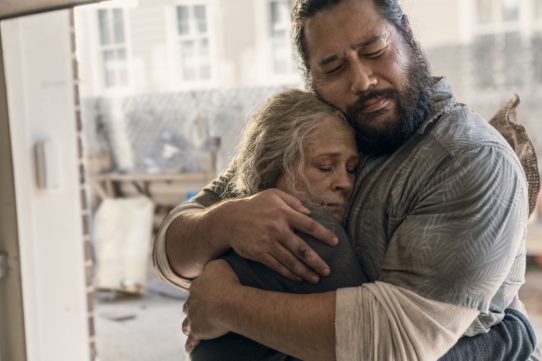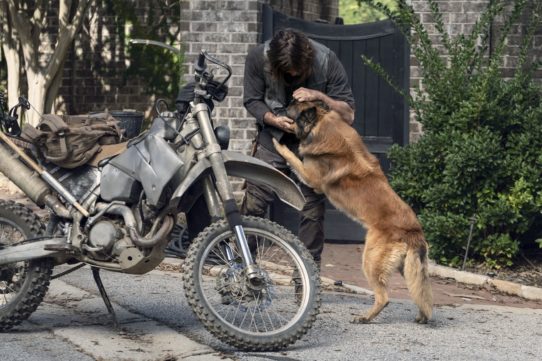 ---
What did YOU think of this week's new episode of The Walking Dead? Let us know in the comments!