"The End of The World"

Flashback seven years ago – a woman wakes up in her totaled car with walkers surrounding her. She tries to escape but quickly gets devoured. Alpha and a younger Lydia appear, disguised as walkers (without the masks). Lydia watches the woman's face get torn apart and screams, blowing their cover and forcing Alpha to rush them inside. Alpha scolds her for nearly getting them killed when Lydia notices a tall man staring at them from across the hall.
In the present, Beta shaves Alpha's head and tells her it's time to return. She agrees and instructs him to take "the sisters." Back to the past – Alpha tells a younger Beta she'll do anything to protect her daughter and he allows them to stay for a night. In the present, the sisters follow behind Beta. One of them, Frances, begins acting strangely while the other, Mary, implores her to act normal.
In the past, Alpha washes the blood off Lydia and then searches for supplies. She hears Beta humming and decides to match his tune. He tells her to stop singing and asks her name, but she tells him if the dead don't have names they shouldn't either. He explains he got here after the dead overran his camp, but now he likes the sound of the dead. "It's the only sound I never want to end," he says.
In the present, Beta and the Whisperers free walkers trapped in a parking garage, and return to the fields. Frances starts crying, and we see that she was the Whisperer forced to "sacrifice" her baby at Hilltop. Mary tries calming her down as Beta grows angry at her insolence. Back at camp, Beta throws Frances on the ground and she tearfully explains her sorrow for losing a child. Another Whisperer prepares to kill her but Alpha, who sympathizes with her sorrow, makes them stop. Later, Beta tells Alpha how Frances endangered the pack and she tells him he doesn't understand the pain of losing a child. She asks him to bring Frances to her in "the deeper place."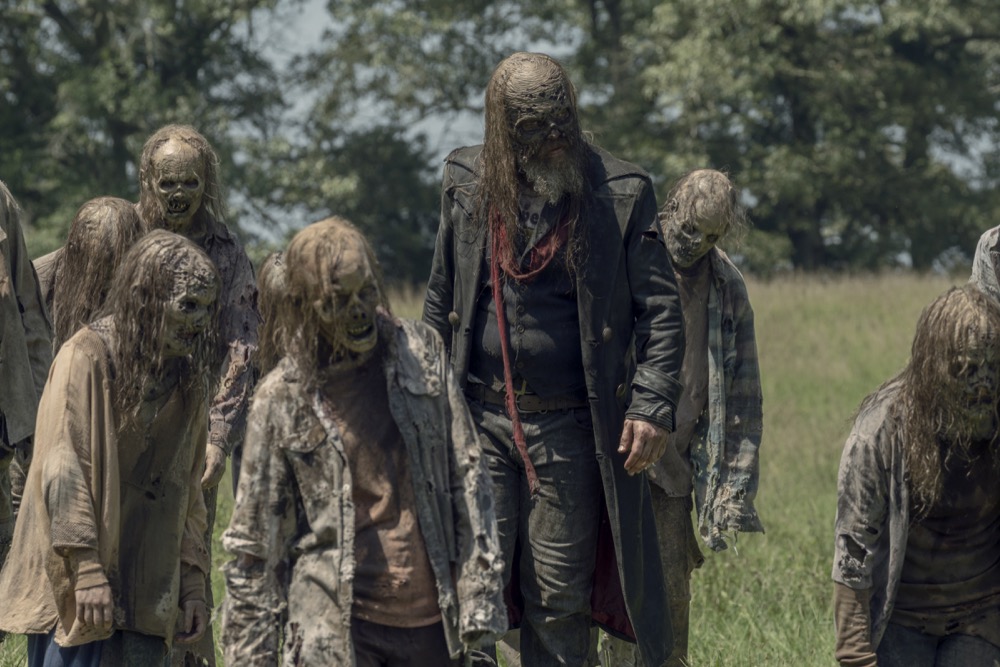 In the past, Alpha gives Lydia a place to sleep in a solitary confinement room. Lydia tells her she wants to be more like her, and Alpha says if she doesn't she'll leave her behind. In the present, Frances meets Alpha in a cave. Alpha makes her remove her mask and kneel, and then presses her head against her and comforts her as if she was her own daughter.
To Mary and Beta's surprise, Frances emerges from the cave unharmed, promising not to stray again. Beta confronts Alpha on her mercy and she assures him she'll skin her alive the next time she misbehaves. Beta asks if she's ok. "I'm right here, as I've always been."
In the flashback, Alpha nearly dies killing walkers in a hallway until Beta saves her. Together, they team up the finish off the rest. "I like killing with you," Alpha admits. Shortly after, Alpha guts a walker and Beta joins in to help. She calls him big man, but when he doesn't like it she shortens it to "B." When he asks what that makes her, she responds, "A." She tells him the only people remaining are the ones willing to walk among the dead and those who aren't. She tries pulling his mask off but he forcefully stops her and tells her to leave and not come back.
In the present, Mary and Frances talk about how tough Alpha is and Mary warns her not to stray again. The next day, Alpha and Beta try to merge their people with another walker herd but an explosion rings out above. The walkers become distracted and Alpha whispers for them to stay the course. Frances spots a walker with a baby Bjorn and again has flashbacks to losing her child. Frances screams and tackles Alpha from behind, causing all the walkers to turn in their direction. Beta springs into action and mows down the walkers in his path. Mary grabs Alpha and saves her as the walkers devour Frances and the Whisperers get away.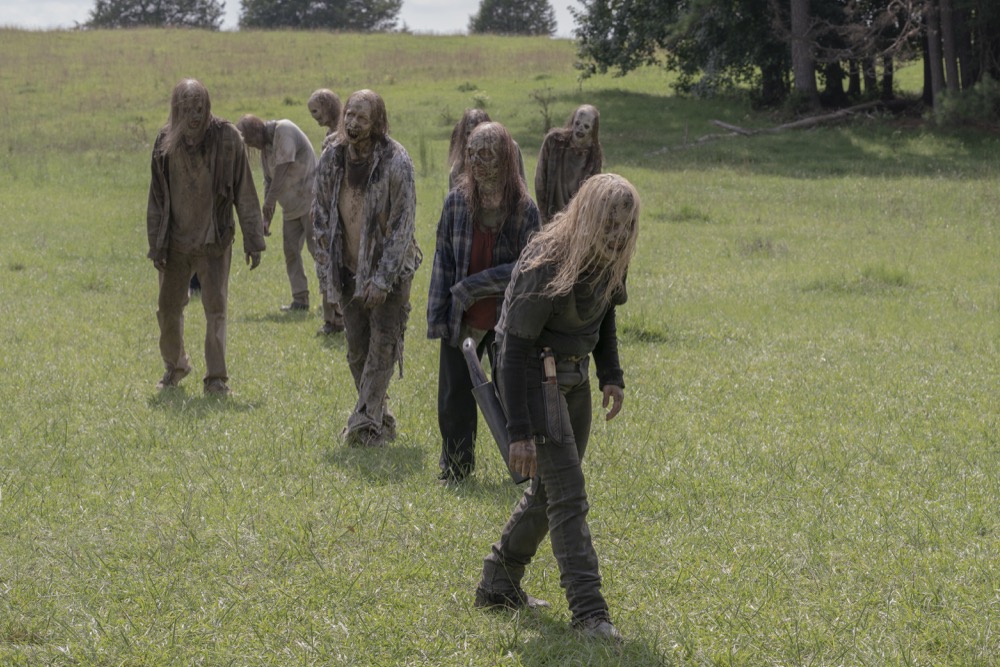 Back at the camp, Alpha unmasks Mary and asks if she regrets her decision. She says she doesn't and claims she had to protect the Alpha. "I see greatness in you," Alpha says. Beta makes Mary leave and angrily reminds Alpha that they lost three of their own. Alpha proudly tells him Mary fears nothing. That night, Alpha anoints Mary as "Gamma" in a ceremony among all the Whisperers. They all quietly chant "To Gamma" as Beta quietly watches from afar.
The next day, Beta asks Gamma where Alpha is and she points him in a direction. In the past, Lydia, now covered in blood, repeats to herself "we're all monsters now" as she reaches for a door with the undead on the other side. Meanwhile, Alpha comes upon a room while searching for her daughter. In it, she finds pictures of people with their faces scratched out. Beta appears behind her and tells her she shouldn't have come in there. Alpha pleads with him and explains she's just trying to find her daughter.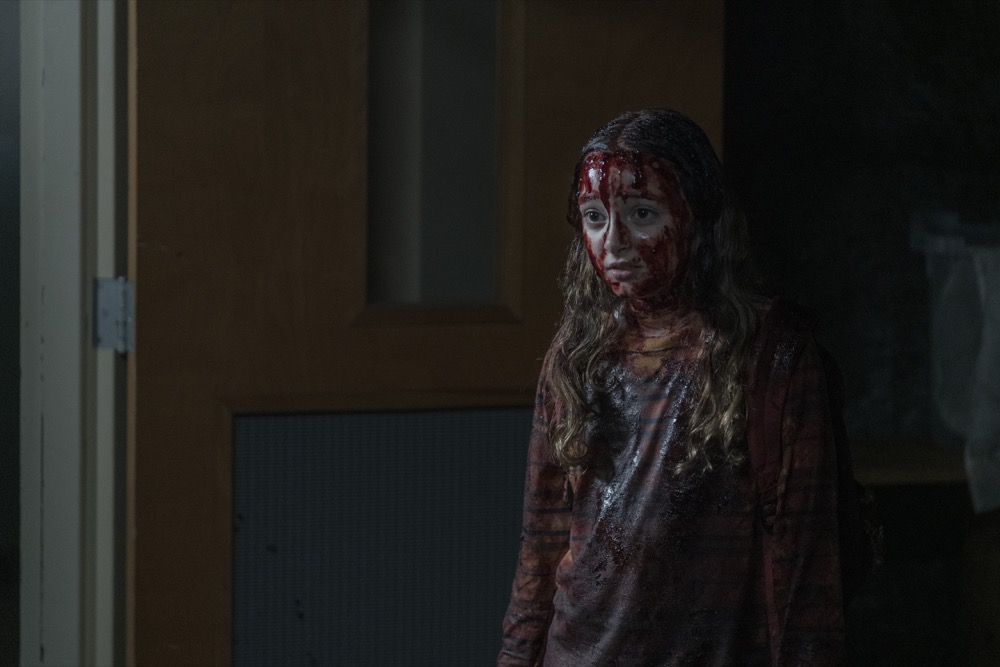 In the present, Beta locates Alpha and realizes she's been building a small nesting area for Lydia in case she returned. He can't believe she lied to him about her death. "You shouldn't have come here," she says, echoing his warning from the past. He tells her Lydia's never returning. In the past, a walker with the same shirt as the guy in the picture approaches and Alpha immediately kills it. "No!" Beta cries out. In the present, Alpha breaks down while holding Lydia's old stuffed animal and Beta holds her hand. She freaks out and tells her Lydia's still dead to her because "She's not like me!" She repeatedly screams this before destroying the shrine.
In the past, Beta freaks out and starts throwing things around. He nearly kills Alpha until Lydia shows up and stops him, telling him she's trying to make him strong. Beta puts his hand on his old friend and Alpha implores him to walk with her so he's never lonely again. He tells her he can't leave him and she tells him he doesn't have to. She hands him her knife and he cuts his old friend's face off. In the present, Alpha tells Beta they're going back to teach their enemies a lesson. They repeat a saying to each other about being free, and we end with Alpha staring back at Carol.
---
What did you guys think of this Whisperer-themed episode of The Walking Dead?? Join our discussion below!