"One More"

Aaron and Gabriel team up to take walkers on in a field. They continue on to find a house burned to the ground and later a walker whose insides fall out of its back. Gabriel kills it, sets a timer, and tosses it like a grenade. More walkers emerge from the field as Aaron and Gabe start taking them out one by one.

The two find canned food in abandoned cars and then make their way to a nearby town, where they search an abandoned grocery store for supplies. After having some trouble with a big walker, they make their way to the roof, where they find skeletons, a tied up walker, and the words "SAVE US" painted on the ground. Gabe climbs into the store but finds nothing. "One more," he tells Aaron, who reminds him they've been out here following Maggie's maps of dead ends for two weeks. Still, they agree to do one more before they go home to see their daughters.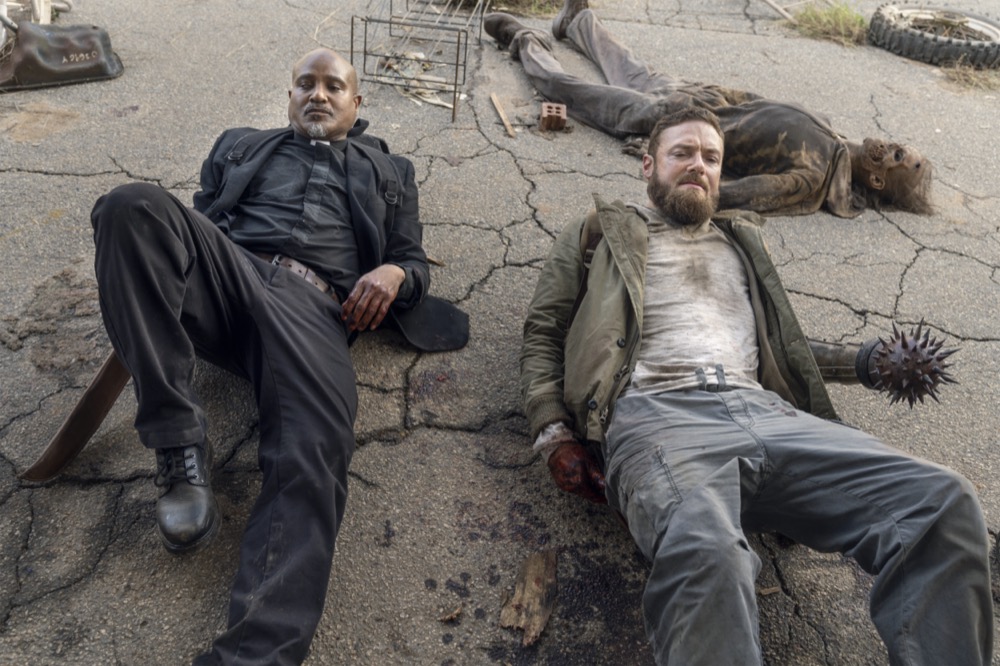 On the way, Gabriel gets grabbed and tossed in the mud by a walker. Aaron saves him and laughs, until they realize the map has been ruined by the mud. Gabriel suggests they keep going but Aaron says they have to turn back. It starts raining so the two are instead forced to seek shelter in a farm storage house. Gabe finds a pile of Bibles while Aaron screams as a walker startles him. He kills it and Gabe runs over and laughs at how scared he was.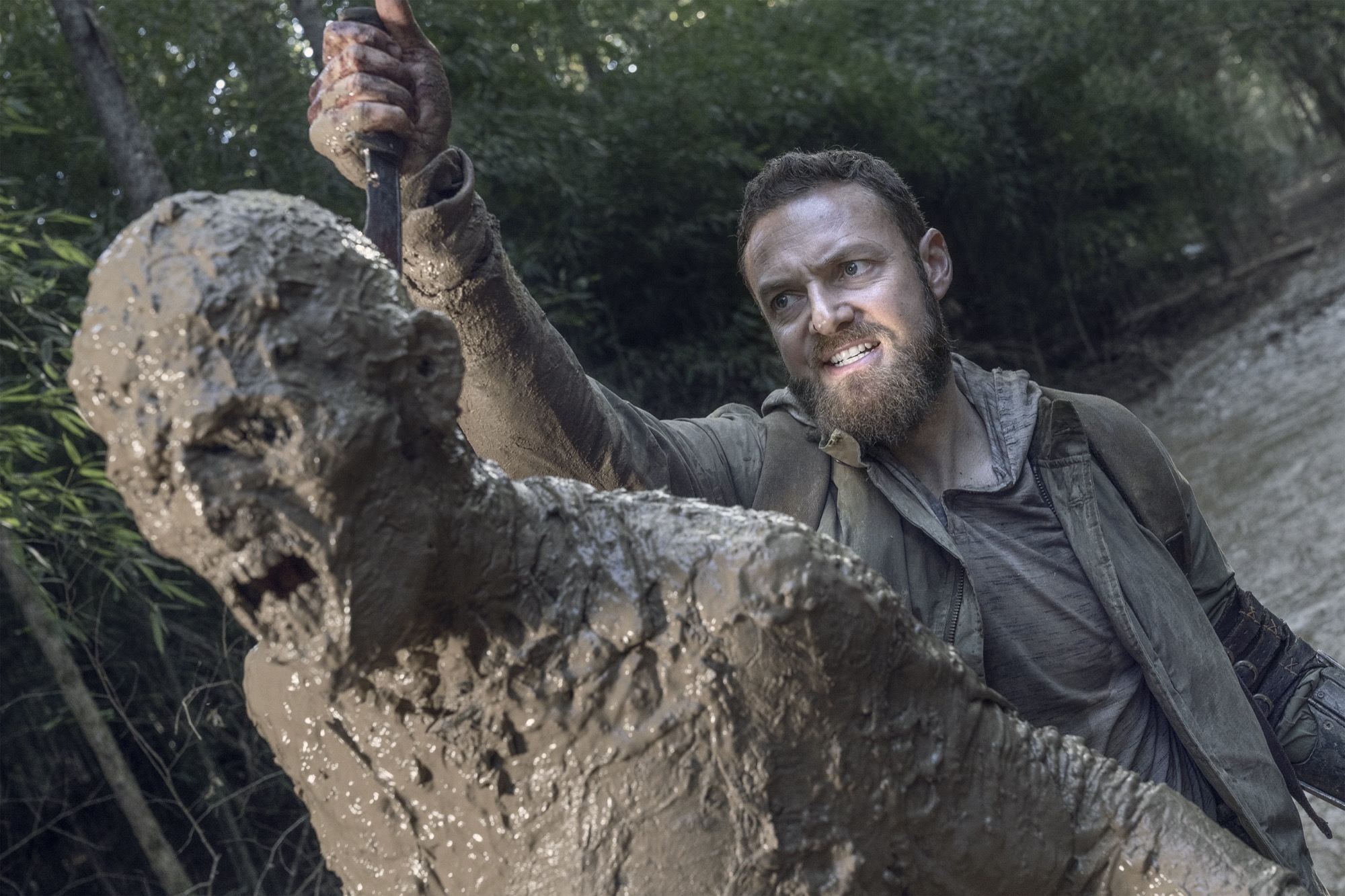 That night, the two have dinner and Gabriel helps Aaron understand why their $2k bottle of liquor was worth it. The two get drunk, play cards, and exchange stories. Gabriel tells him about his old mentor Reverend George, who he met at a boy's funeral. After his beautiful eulogy, George sped home so he could liquor up a little before the reception. Gabe tells the story to say preaching isn't about speaking from a pulpit, but rather about talking to people one on one. "You need to start preaching again," Aaron says drunkenly. The two debate about it until they pass out.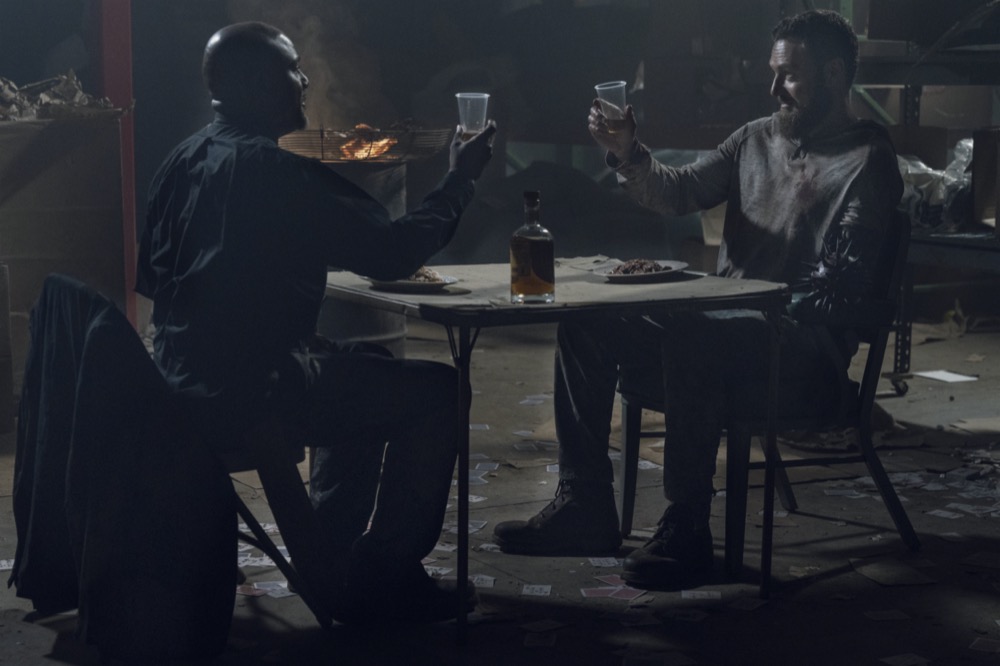 The next morning, Gabe wakes up to find Aaron gone. His search leads him to a man in a raggedy coat and AK-47 slung over his chest. The two eat together and Gabe calmly asks if he's seen his friend, but the stranger ignores him and chides Gabe for eating his boar and drinking his whiskey. "We were just looking for food, we meant no harm," Gabe says. The man pulls Aaron's mace arm out of his bag and tosses it on the ground, asking if that looked like no harm. Gabe warns that they belong to a large community that will come looking if they don't return. The man, who we later learn is named Mays, unloads his AK into the locked room next to him and says Aaron is in there, asking Gabe if he thinks he made it. Gabe springs up but Mays points his gun and checks himself. "Still breathing, I think!"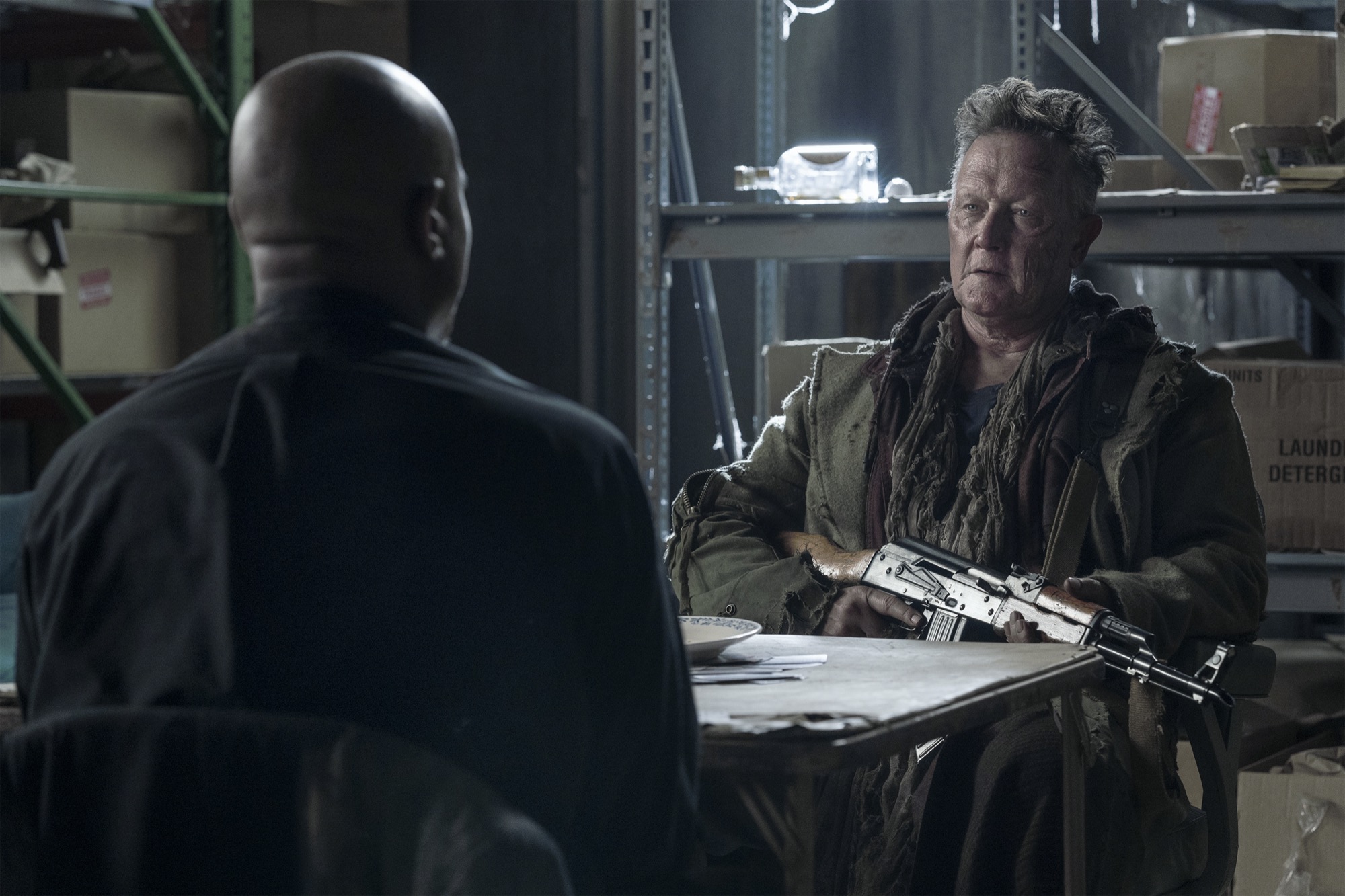 Mays asks about Gabe's priest clothes and admits he uses his Bible collection as toilet paper. "It must be hard preaching about something you don't believe in," he says. Gabe argues but the man gets up again, this time to roll a tied-up Aaron to the table. He empties his revolver except for one bullet and tells them to play Russian Roulette – the winner gets to go home.
Gabe reluctantly pulls the trigger on himself and the gun doesn't fire. He slides it to Aaron, who repeats the process – nothing. After some arguing, Gabe tries again – nope. The gun clicks, suggesting the next one might be death. Aaron tries to reason with Mays, who tells them his brother, who he helped save for years, stole from him. When his brother attacked him with a knife, he killed him. Gabe tells Mays that he can't deal with the fact his brother thought less of him than scraps of food, and he's so angry that he can't see he's about to kill two good people for nothing.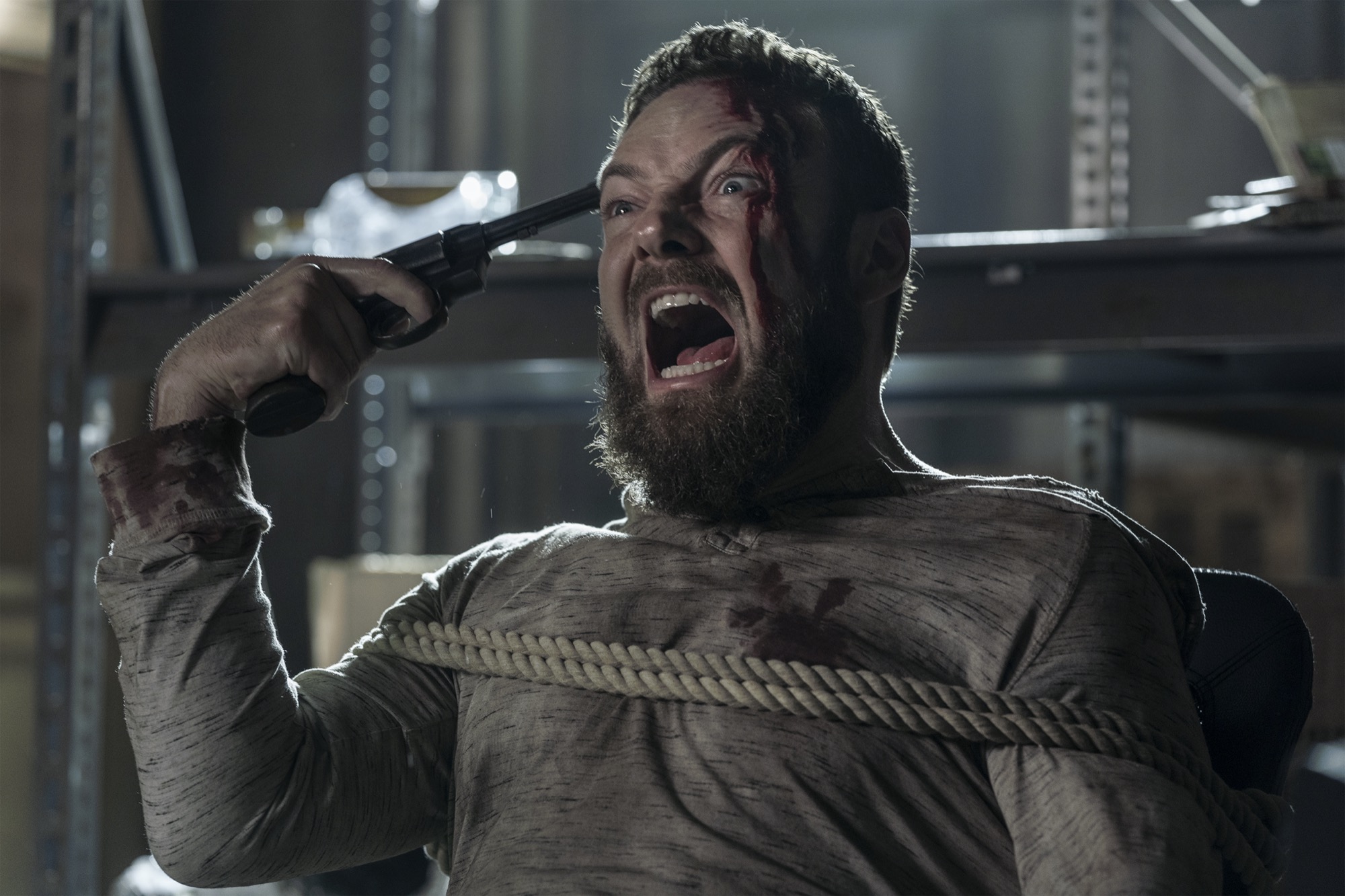 Angry, Mays demands Aaron pull the trigger so he can see Gracie again. Tearful, Aaron aims the gun at his head and nearly pulls the trigger until Mays yells at him to stop. "If you punish people for (your brother's) sins, then you're no better than him," Gabe tells him. After more arguing, Mays calms down and unties Aaron. "My name is Mays," he says, before Gabriel bludgeons him over the head with Aaron's mace hand. Aaron's stunned but Gabe reminds him he killed his brother and family.
Aaron and Gabe then find Mays' living quarters in an attic, which is where they find his identical (but heavily bearded) brother, still alive but chained to the wall. Next to him are skeletons with bullet holes in their heads. "He made me play," the brother says. When Gabe and Aaron try to free him, the man pulls a gun on them. They try to get him to put the gun down, but the brother kills himself instead. Gabe and Aaron grab the man's supplies, looks at his family photos, and head out. "One more," Aaron says.
---
What did YOU think of the episode? Let us know in the comments!