"Look At The Flowers"
Flashback: Carol visits Negan in his cell and offers to let him escape if he brings her Alpha's head. In the present, Carol puts Alpha's head on a spike and again asks Negan what took so long. He explains the challenges of the mission and asks when they can start spreading the good news in Alexandria. "I'm not going back," she says.
Magna reunites with the Hilltop survivors in a safe house as Eugene spills the beans to everyone about Stephanie and his plans to meet her in West Virginia. Although they're all skeptical, Eugene says they need allies now more than ever, offering to go alone if they're not on board. Shortly after, Magna convinces Yumiko to go with Eugene as Ezekiel decides to tag along too. "The Kingdom needs you, make sure our legacy lives on," Zeke tells Jerry. The two embrace, both realizing this could be the last time they see each other.
Elsewhere, Beta and two Whisperers discover Alpha's head on a spike. "You are the Alpha now," one of the Whisperers says to him. Peeved, Beta orders the man to take off his mask and then pushes his head to Alpha, who takes a meaty bite out of the man's cheek. Beta lifts Alpha's head off the spike and holds it in his arms like a baby.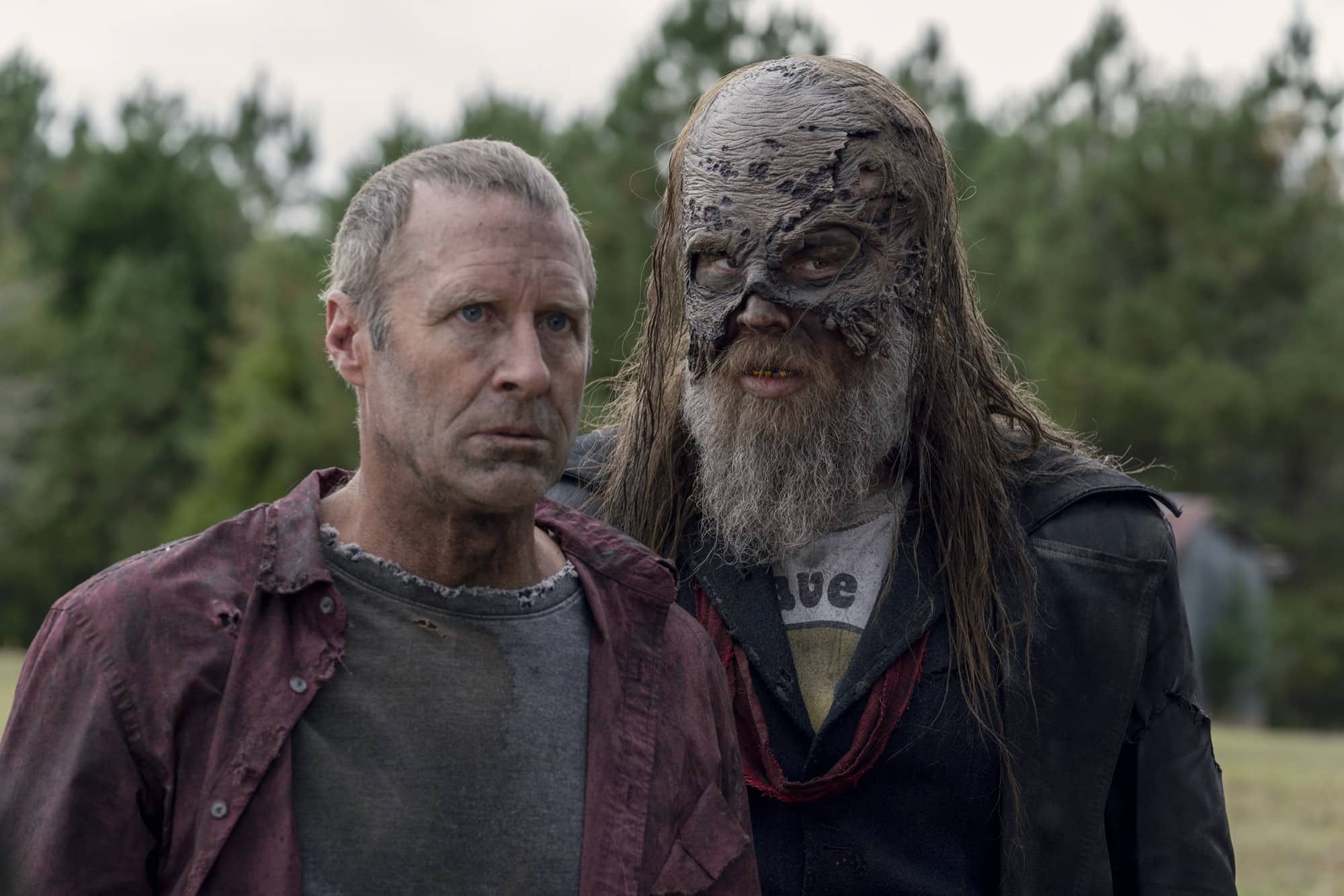 Negan returns to Lydia's cabin to find her missing from the chair. Daryl hits him over the head with his crossbow and asks, "Where's Alpha?!" Negan tells him she's dead and even shows him her mask, explaining how his "girlfriend" Carol orchestrated the whole thing. Speaking of, Carol hallucinates seeing Alpha in the woods, who tells her, "I'm always watching."
Beta heads into a nearby town and kills the man who got his face bit. He holds the bag carrying Alpha's head up to his ear, as if it's talking to him. This leads him into a western-looking barn, where he finds a note that says, "These 2 eyes see 1 truth." He then spots a poster for his old band "Half Moon," which causes him to rage. Back in the woods, Hallucination teases Carol about Henry and Sophia and prods her to reveal what she really wants. Suddenly, Alpha turns into a real walker, which Carol luckily kills.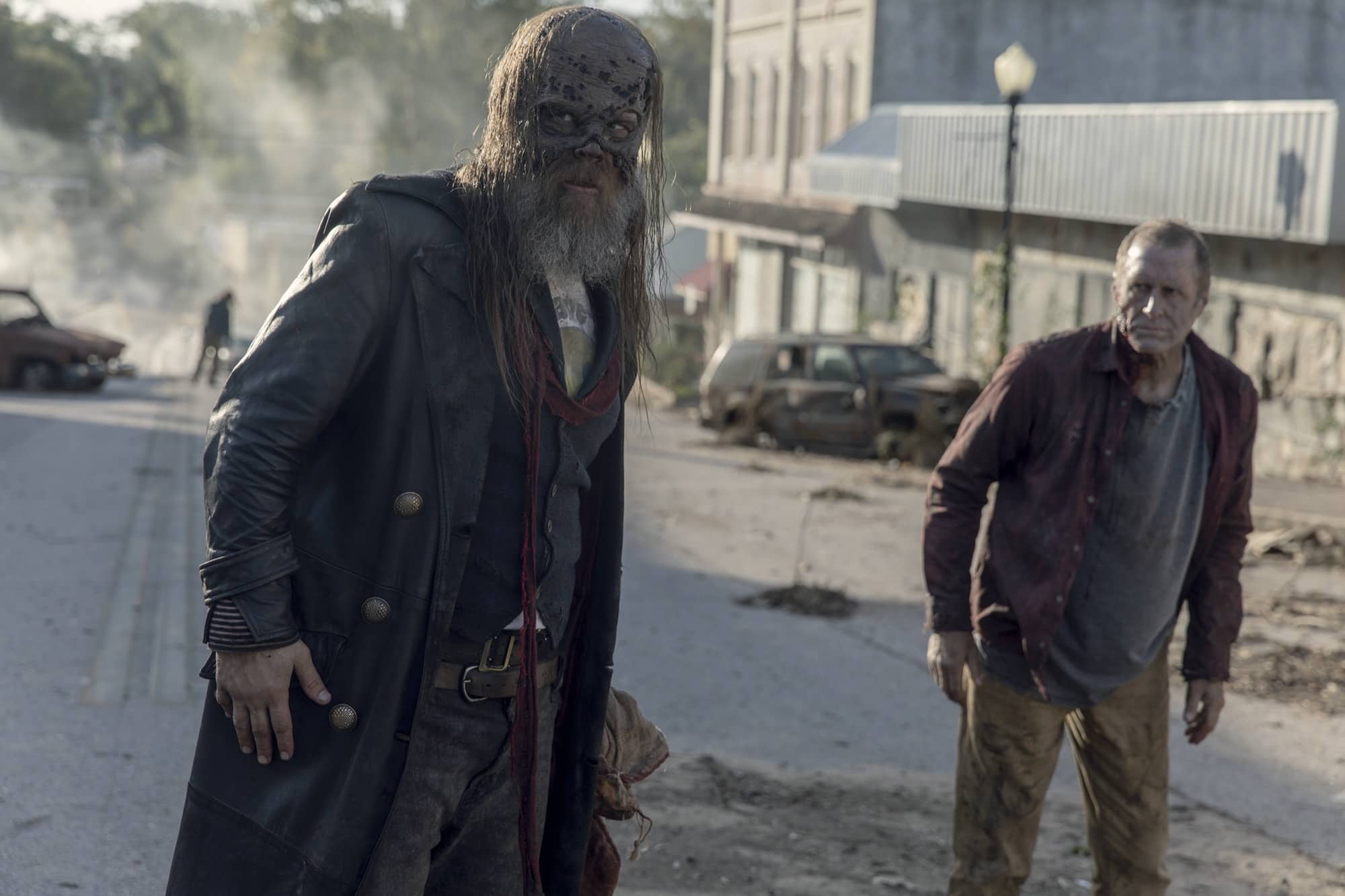 On the road, Eugene, Yumiko, and Eugene spot two cages with walkers trapped inside but decide to move on. A little later, Ezekiel has a coughing fit while fighting walkers, but still manages to kill them. Elsewhere, a tied-up Negan teases Daryl about Carol leaving him in the dark Daryl reminds him he almost got a bunch of kids killed at Hilltop. Back in the restaurant, Beta plays one of his old country records to lure walkers for his horde.
Hallucination Alpha follows Carol into a boat house, where her taunts cause Carol to falls from a ladder and get trapped underneath debris. That night, Negan leads Daryl to the border, where Alpha's head is missing. Daryl assumes the worst until three Whisperers emerge from the woods, look at Negan, and say, "Alpha is dead because of you. We kneel to the new Alpha." They bend the knee as Negan looks at Daryl laughing.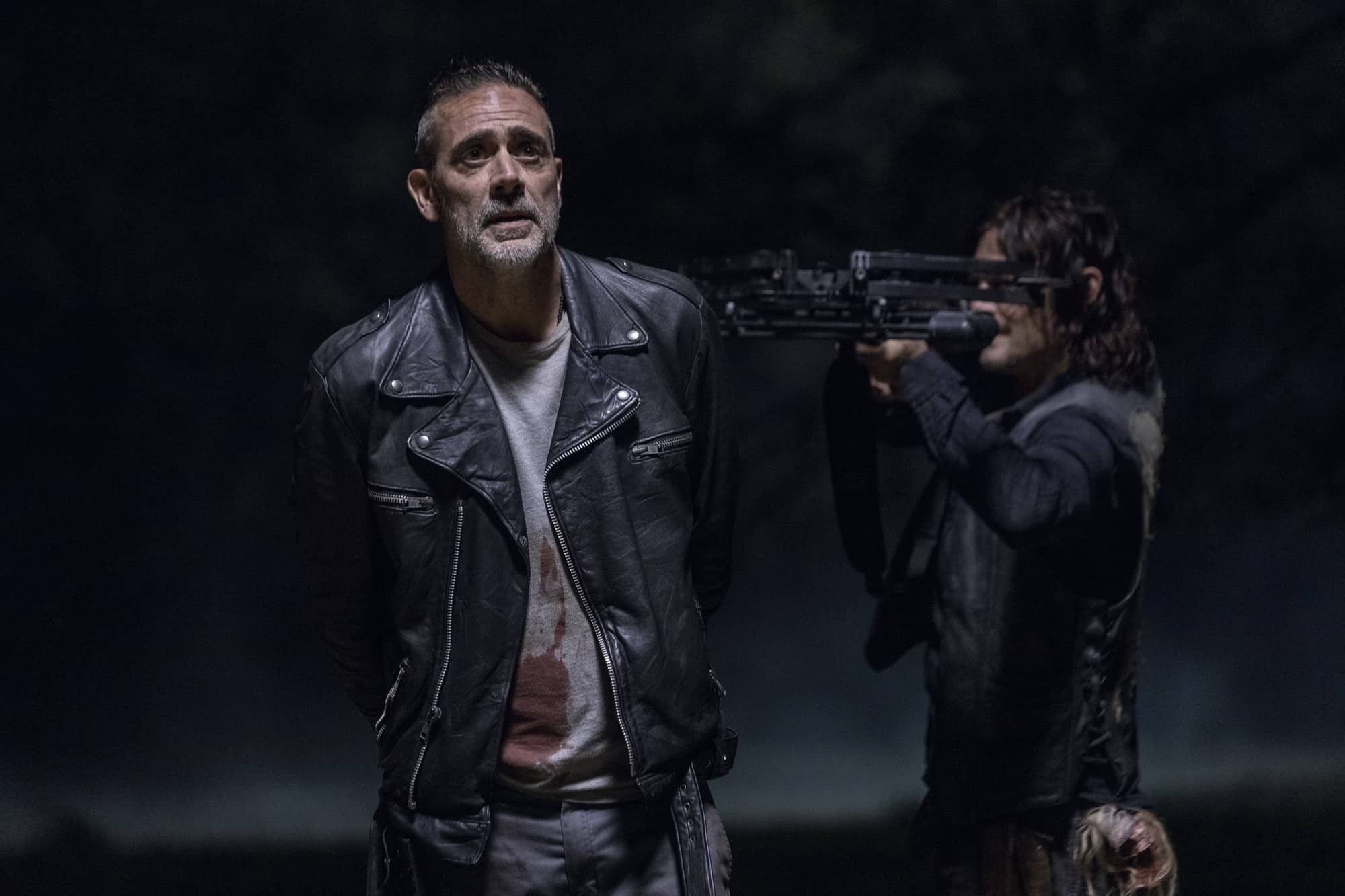 Elsewhere, Beta rips off half his mask and gets emotional watching his new horde form in the abandoned town below him. Back at the border, Negan grans the shotgun from his new follower and makes Daryl bend the knee. He plays it up until he turns and shoots one of the Whisperers in the face. The gun jams so he and Daryl finish off the other two hand-to-hand.
On the road, Ezekiel's forced to put his horse down after it collapses from a walker bite. He tells Yumiko that like the horse, he might not be strong enough to make the journey, but Yumiko convinces him to stay with them. The next morning, hallucination Alpha reminds Carol of all the people she's lost and warns Daryl could be next. "Just look at the flowers, like you're supposed to," Alpha says. Carol frees herself, kills a walker, and collapses, saying, "It's never too late."
Negan and Daryl have a heart-to-heart, where Negan admits he actually enjoyed the Whisperer lifestyle for a bit because he felt like he mattered again. However, he thinks Alpha went too far in her cruelty. Later, Daryl returns to Alexandria and silently greets Carol at the gates.
Eugene, Zeke, and Yumiko arrive at a city, where they find walkers dressed in various costumes doing everyday tasks as if they were animatronic. Ezekiel laughs HARD when he finds one walker staged as a parking attendant handing another walker a ticket. They continue along until they spot a woman dressed in pink with purple hair, goggles, and an assault rifle. "Oh my God, hi!" she says in disbelief. Back at the bar, Beta thanks Alpha's head before putting a knife through it. He then sews half of Alpha's face onto his mask and walks outside among his new horde, now two eyes, one truth.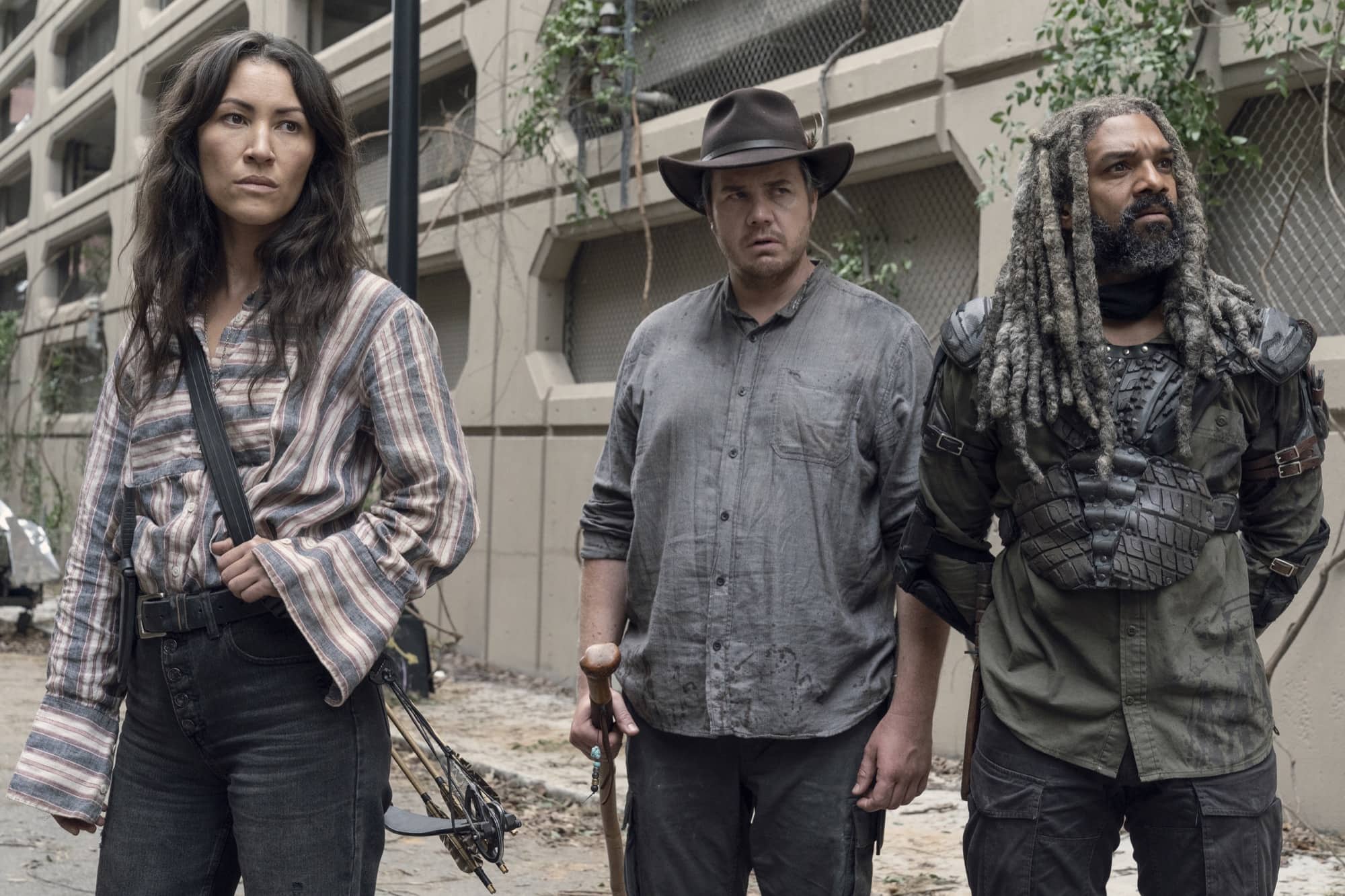 ---
What did YOU guys think of this week's big reveals? Join our discussion below!