We sat down with Melissa McBride ahead of The Walking Dead Season 9 premiere to discuss her thoughts on Carol's relationships and Andrew Lincoln's departure from the show.
---
Carol's New Relationship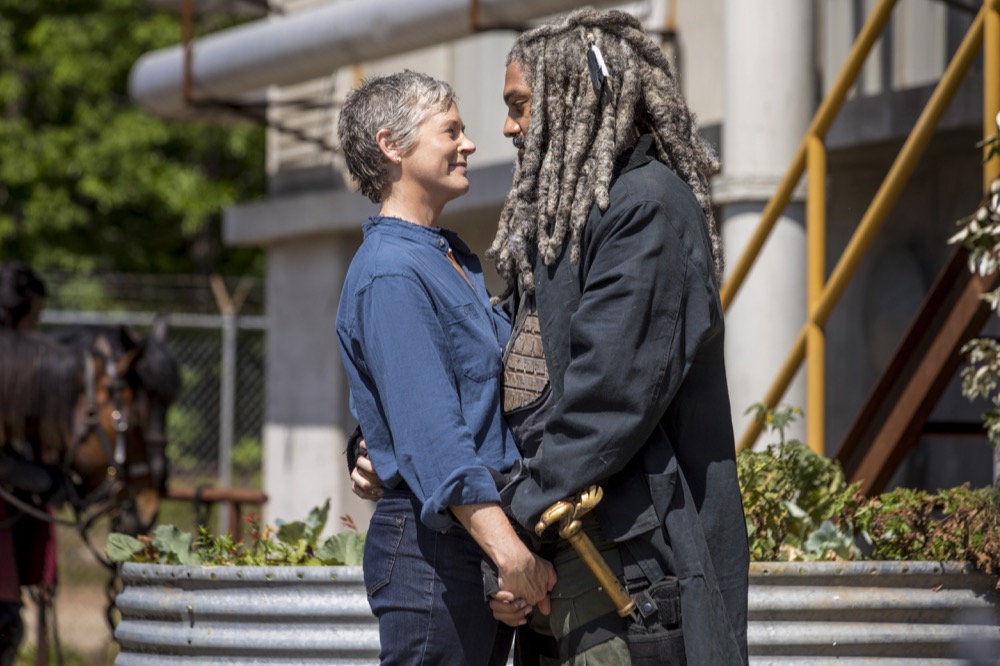 After the dust settled from All Out War Carol decided to make The Kingdom her permanent home. So it didn't come as a shock when new showrunner Angela Kang broke the news to Melissa McBride that her character would soon be getting intimate with The King. McBride told Skybound, "Angela and I were talking about it, we were FaceTiming. She was telling me a little bit about what was coming for Carol this season. And she threw that out there and I was like oo! It kind of didn't surprise me, I'd wondered about it."
Since Season 9 kicks off a year-and-a-half after Season 8, McBride and Ezekiel actor Khary Payton had to act like their characters had been together for a year and a half. "That was exciting, you know Khary's fun to work with," McBride said. "He's a really colorful character. It was fun when we had to do our kiss, so we just had to get it over with between ourselves."
"(In the show) we had been together for a while so we had to make it look really comfortable. So we popped gum, and we kissed, and giggled. Greg Nicotero came over and said we had to hold the kiss for a little longer, like linger for a while. And then I would pull back and turn around to look at Andy, and he would say, 'Are you good now?' But it's fun…Carol and the King!"
---
Carol's Best Relationship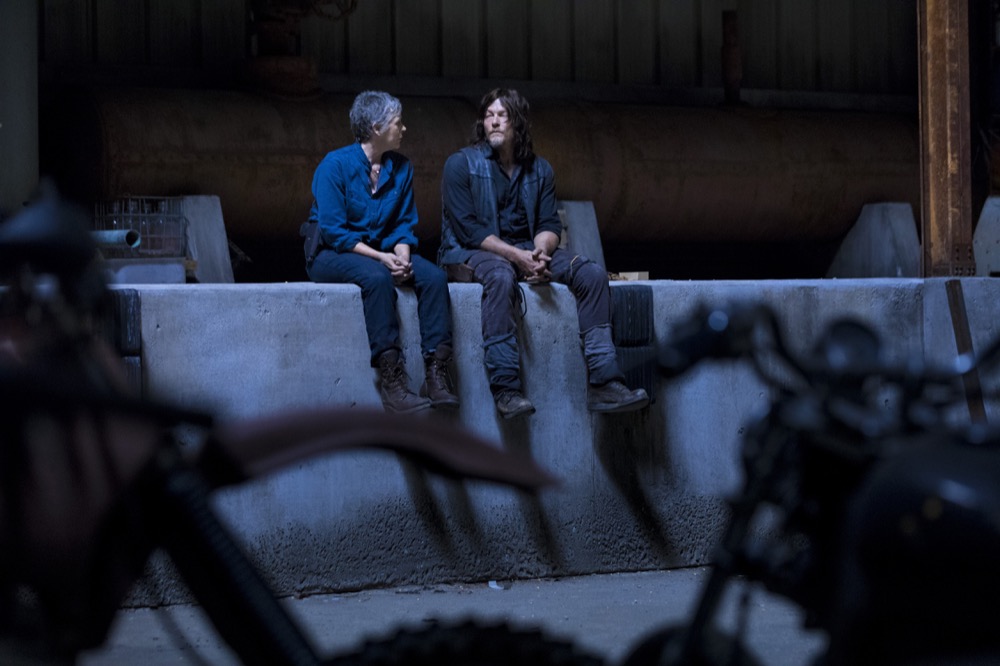 As exciting as Carol's new romance is to some, other fans continue to desperately hold out hope for an eventual relationship between Carol and Daryl (also known by their shipping name 'Caryl'). McBride understands the desire, but emphasized their bond matters more than a romantic relationship. "I don't see it that (Carol and Daryl's relationship) isn't happening anyway. I mean, they are what they are," McBride said.
"Whether I say she's pining for him, whether I say he has secret feelings, whether I say they're just best friends, whether I say maybe they already did have something. It's doesn't matter…it doesn't matter for them, whatever they are they have each other's backs. They trust each other more than probably anyone else in their lives."
McBride continued, "It's come as you are, you know? They meet each other wherever they're at and it's been that way since I've had to discuss them, you know? They're each other's breathing rooms. They're resuscitators. They're best friends, I don't know. But then Ezekiel comes along…and we saw that in the (Season 9 Premiere), (Daryl's) happy for her. And she confides in him that this is a little difficult for her."
McBride acknowledged the Caryl relationship is unconventional and said she sometimes gets fans' frustration with the supposed will they-won't they nature of their friendship. "I want to see it from where the fans are coming from, sometimes I get that glimpse. Like I understand it as a viewer, ok? But I don't know what else to say. They have a beautiful relationship, sure! (Laughs) Let's ship that! Whatever that is. But it's been established that Carol and Ezekiel are happy."
---
Andrew Lincoln's Departure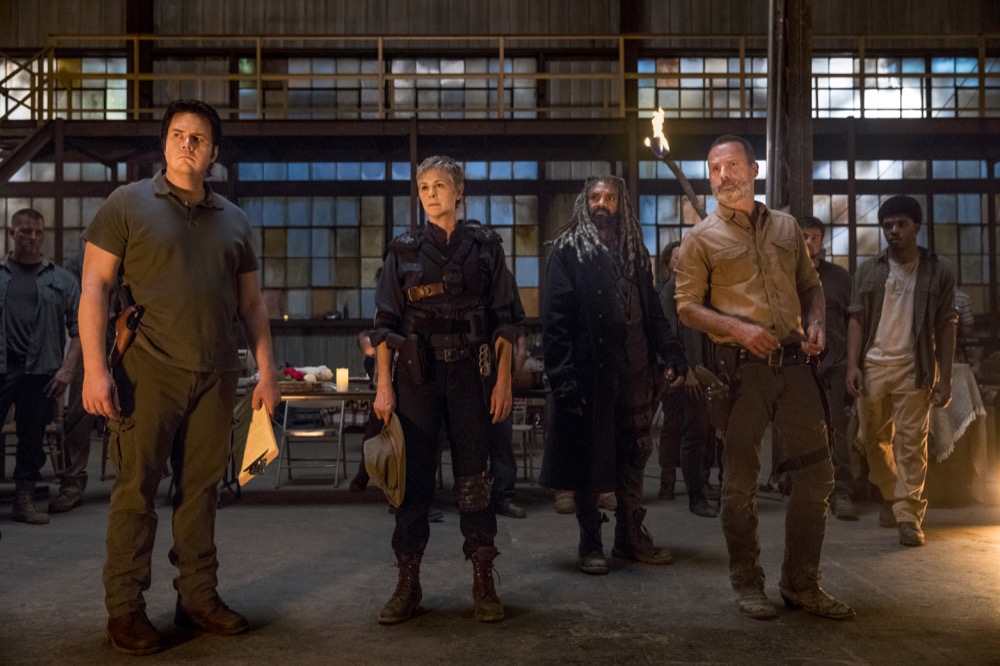 Finally, Melissa gave us a glimpse of what it was like for her to see Andrew Lincoln leave the show. "We knew for a while he was going to go so we had time to prepare for it," McBride said. "The days certainly feel very different, but also he was such a good leader. And the way he presented himself every day – he was there early every day. Hours before his call time. Nobody else is that early. He's missed, but the story is still moving on."
---
You can see that story move on when The Walking Dead returns Sunday, October 7th on AMC and Monday, October 8th internationally.