"Bounty"
Flash back before the flash forward – Jerry tells Ezekiel and Carol that Nabila is pregnant. A jubilant Ezekiel congratulates him as Jesus (!) and Tara ride up to them. Tara hands Ezekiel the charter and he promises someday the community leaders will all sign it together. Back to the present, where Ezekiel looks longingly at the document. Diane catches him up on their mission while Carol updates him on preparation for the fair. Back at Hilltop, Alpha and her whisperers wait outside of the gates for them to bring Lydia to her. Daryl asks them to leave and Alpha signals for more Whisperers to show up.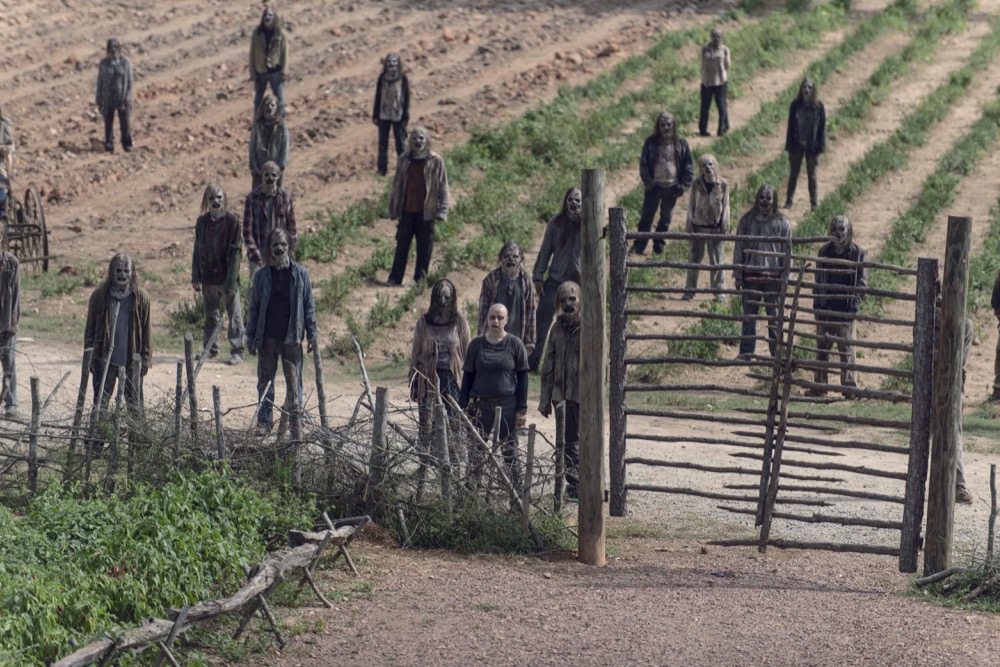 Enid treats Earl for an injury and suggests he retire, but he refuses. Tammy thanks her for helping and assures her Alden will turn up. Marco informs everyone the people who killed Jesus are here. Magna asks Alpha if they killed their people – Alpha says no and promises if they don't bring her Lydia there will be conflict. Connie hides in the cornfield nearby as Daryl walks outside the gates to talk to Alpha face-to-face.
Ezekiel suggests Carol take another caravan back to Kingdom while he leaves with another group. Carol senses something's up so Ezekiel explains he and his people planned a minor side mission to grab something for the fair. She agrees to tag along and together they arrive at an abandoned movie theater. At Hilltop, Daryl walks outside and Alpha instructs one of her people to "go get 'em." Daryl informs Alpha he's prepared to fight for Lydia when he spots one of the Whisperers with a baby. Alpha explains they're animals and "animals have babies." She then unmasks two tied-up "Whisperers" – it's Alden and Luke. She offers to trade both of them for her daughter.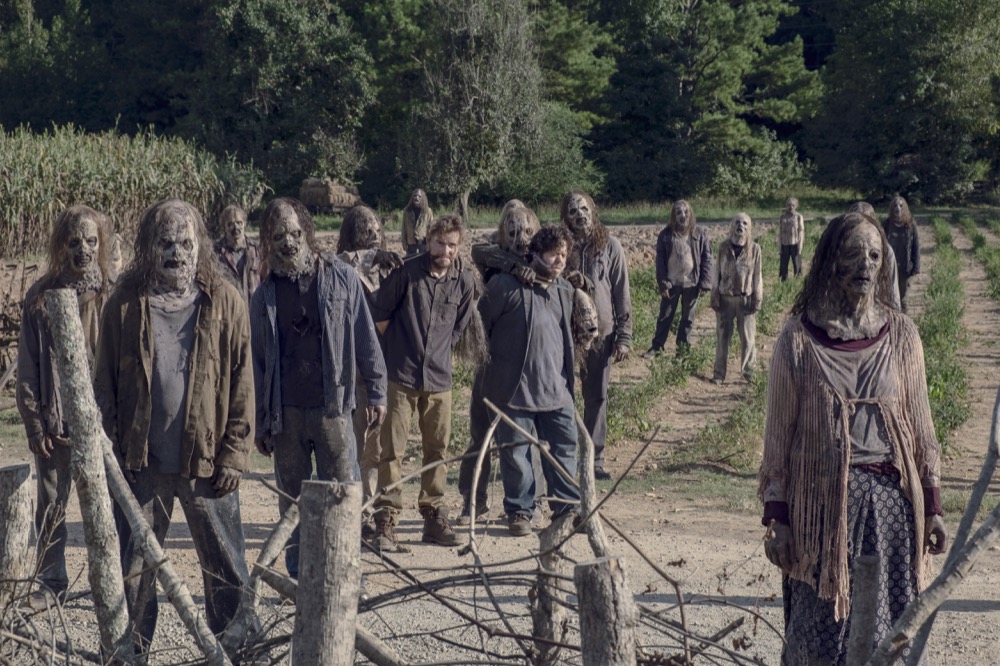 At the theater Ezekiel fesses up to Carol their mission is to extract a projector bulb to play movies. She's understandably upset they're risking so much for for something so trivial (to her). Ezekiel explains how important it could be for families and community, so she relents. Jerry uses a boombox to lure the walkers away from the theater while they sneak in.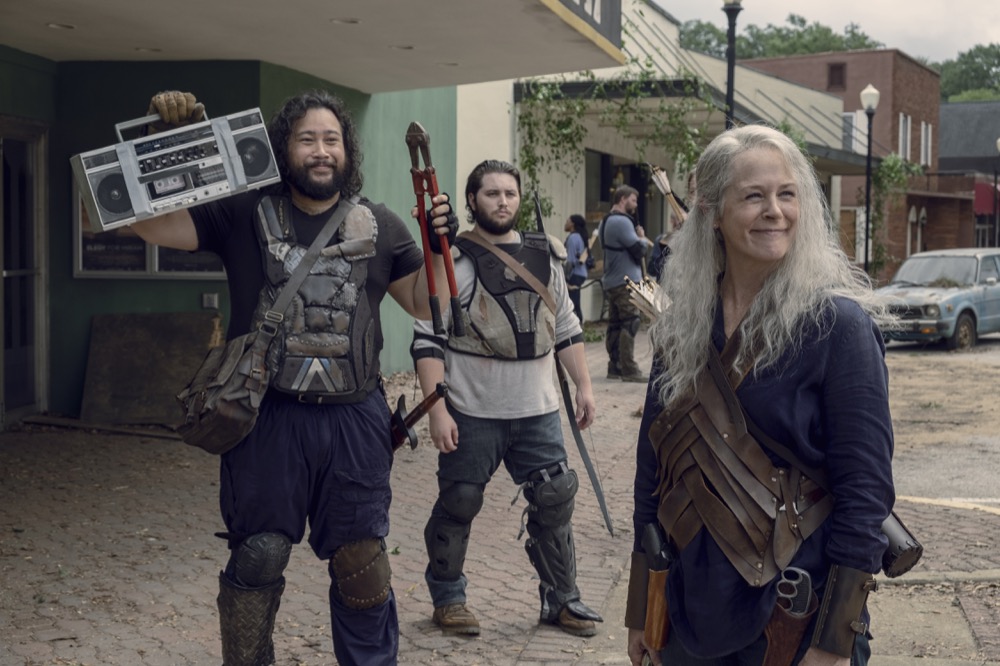 A group of walkers arrive at Hilltop and Alpha instructs her people to draw them away. Luke spots Connie in the cornfields and signs behind his back for her to keep quiet. Daryl informs Enid he's going to make the trade when Magna announces Lydia and Henry are missing. Daryl sends everyone (including Dog) out to find them. The Whisperer's baby starts crying, which attracts the walkers closer. Alpha shrugs at the mother, indicating she should abandon the baby to die. Alden and Luke scream for them not to but Alpha explains it's natural selection.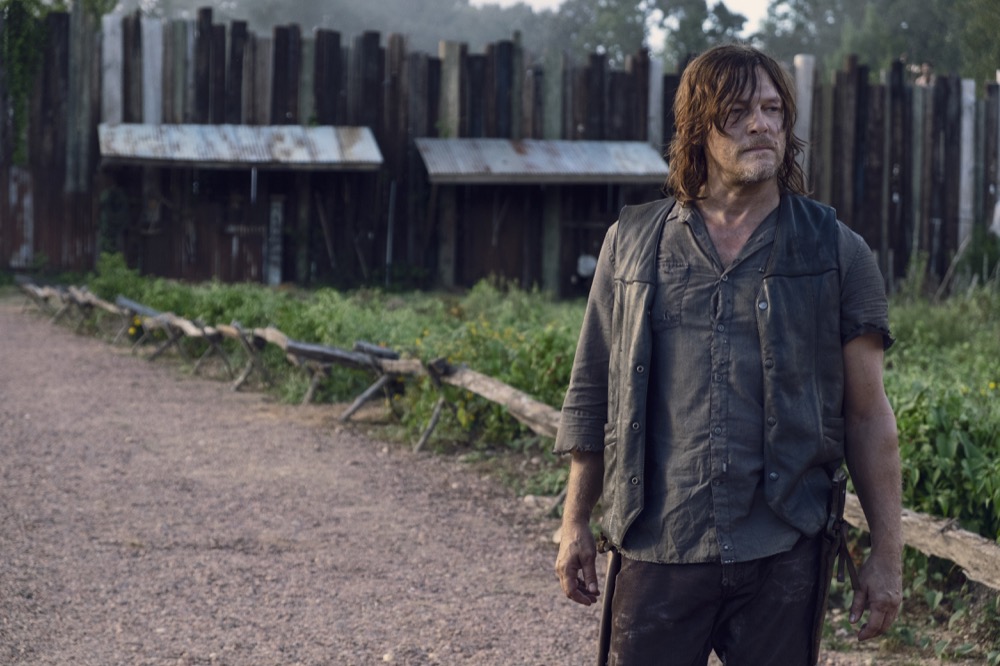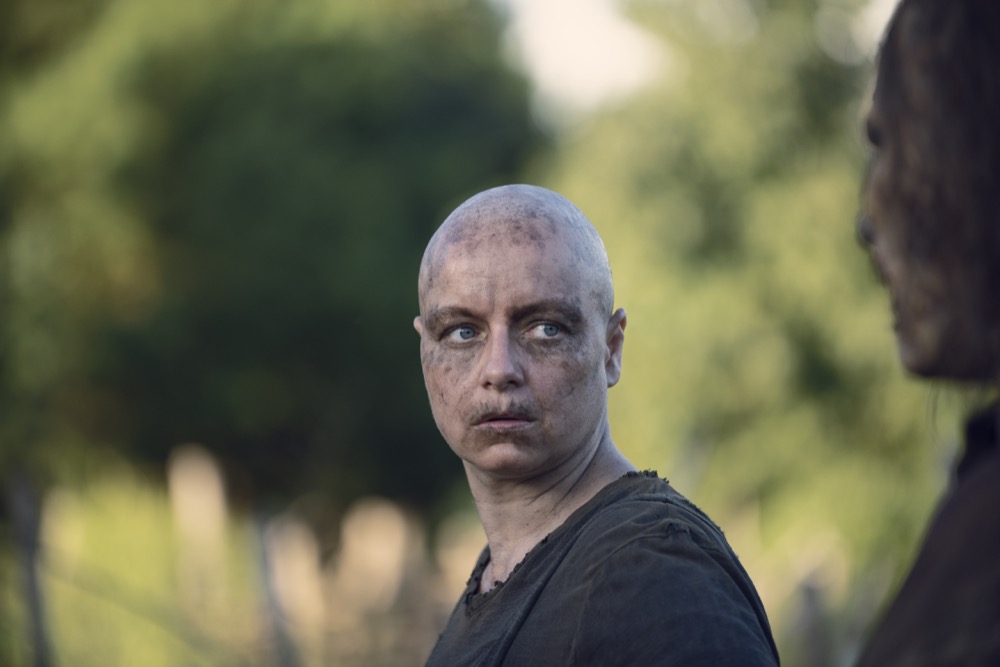 Addy and Enid head out to Henry and Lydia while the Hilltop guards try to distract the walkers away from the Whisperer baby. Luke frantically signs Connie to save the baby so she runs out of the cornfield, sling-shots a walker, and grabs it. The Whisperers around her unsheathe blades as Connie escapes back into the cornfield. Daryl bolts in and kills the walkers and Whisperers around her while Kelly, Tammy, and Earl step in to rescue her.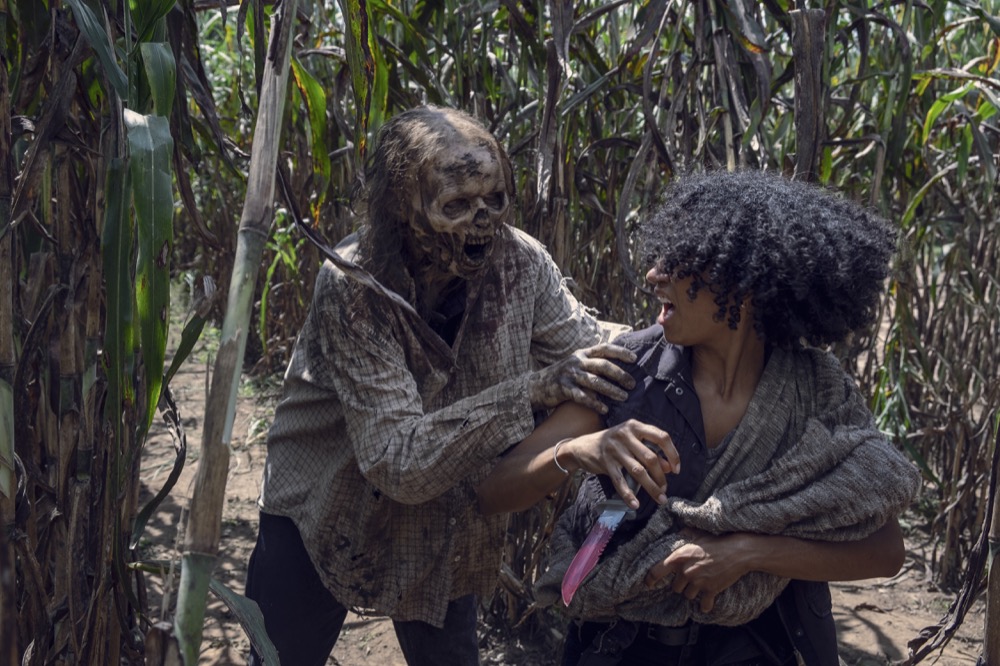 Jerry gingerly retrieves the bulbs as Carol helps Ezekiel unhinge a movie poster frame to use for their charter. Carol asks what happens if the fair doesn't bring everyone together, suggesting they stay at Hilltop if it doesn't. Before he can answer the walkers breach the theater and attack Jerry, causing him to drop the bulb.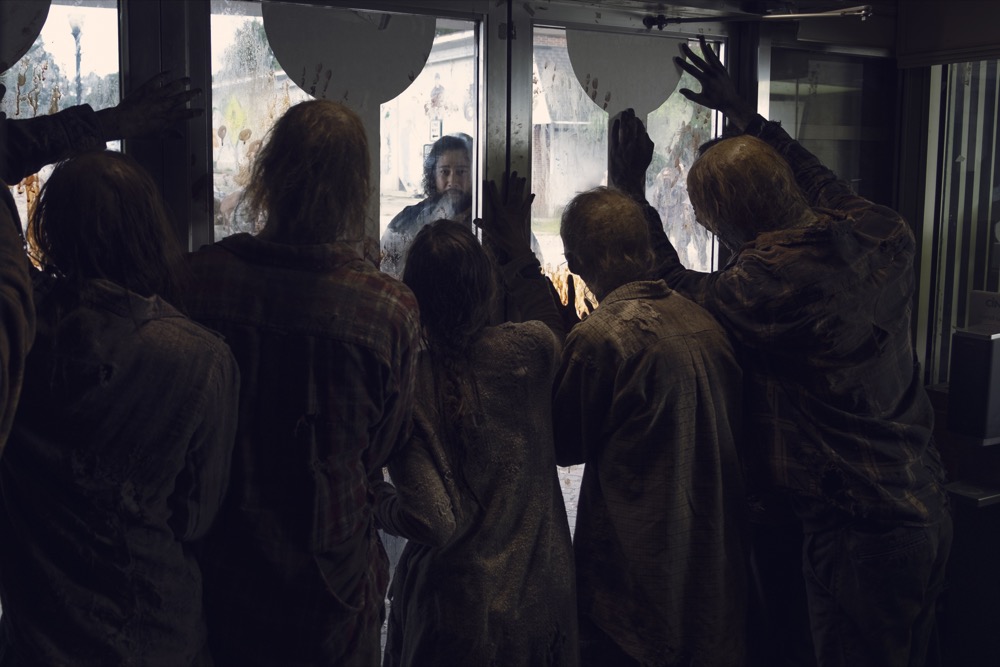 Henry and Lydia hide out at the Hilltop teen cabin when Enid and Addy show up. Henry refuses to give Lydia up but Enid explains Alden and Luke's life are in jeopardy. Enid recalls watching her parents die and how Carl told her she has to live for more than survival. Lydia realizes the stakes and offers herself up to save their friends. She kisses Henry and leaves. Back at the theater Zeke and Jerry weigh abandoning the mission but Carol decides they need to finish it. Together they kill the walkers, grab another bulb, and head out.
At Hilltop, Daryl finally hands Lydia over to Alpha in exchange for Alden and Luke. Lydia apologizes to her mother and Alpha smacks her across the face and tells her to call her Alpha. Later, Henry tells Daryl what they did isn't right but Daryl reminds him they had to and will just have to live with it.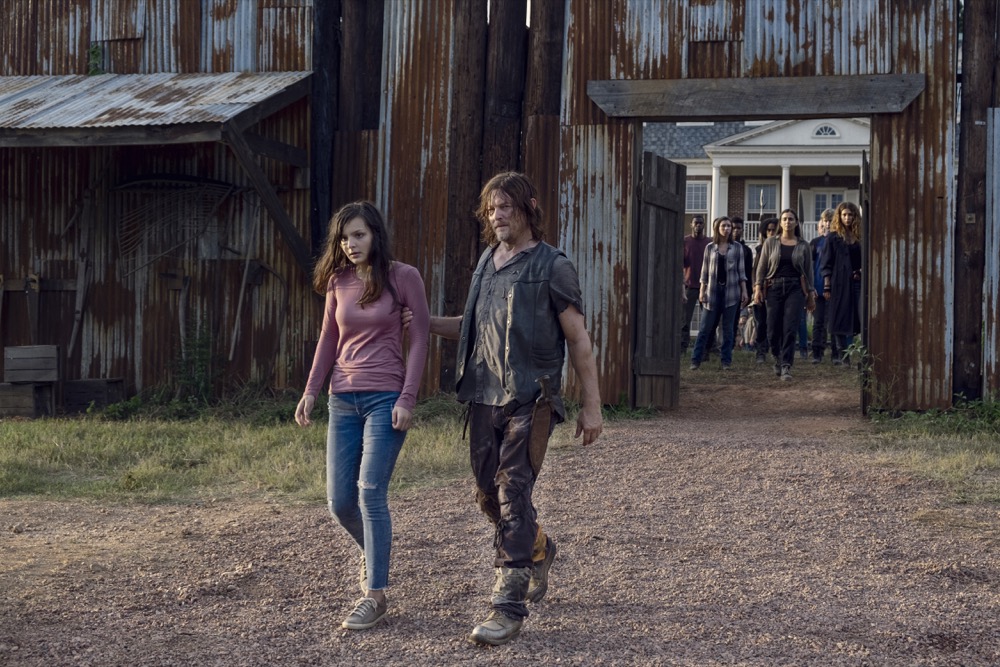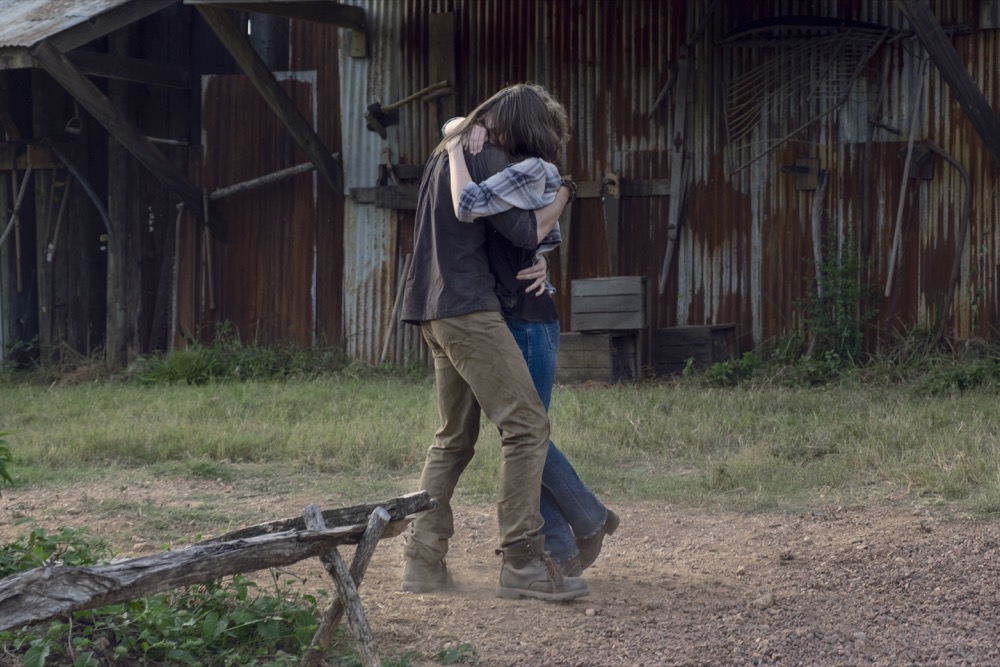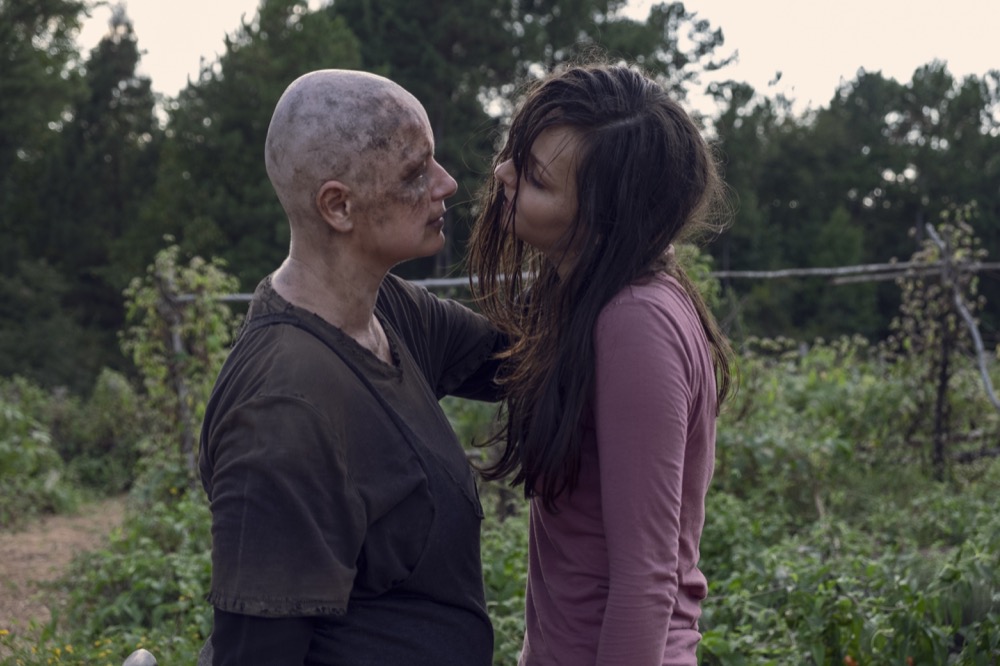 Zeke and Carol return to the Kingdom to place the charter in the frame and turn on the projector. Magna's group drinks, Enid and Alden get it on, Tammy and Earl take care of their new baby and Henry decides to leave. Addy hands Daryl a note saying he left to find Lydia. Connie stops Daryl on his way out and writes him a note asking where he's going so he explains he's going to find Henry. After some debate, she decides to tag along.
---
What did you think of this week's stressful episode? Do you think Henry will rescue Lydia like Carl did in the comics, or will it all end in disaster? Let us know your reactions in the comments!