"Buried"
In the aftermath of Nick's death, Althea turns on her camera and asks Strand how he ended up where he is today. Luciana says there was a day where they could have stopped all of this from happening, and Althea asks her to tell her about it.
Flash back to The Diamond, where Luciana monitors The Vultures living outside their gates. She explains how they had to resort to eating cattle feed to survive. Madison passes out maps of potential locales they can scavenge for food. Strand narrates from the present that they should have never left that day. On the run, Strand and Cole battle off walkers at a grocery store. They survive but Cole gets stuck with pricks. Luciana tells Althea about the time Nick drove her to an abandoned library to get books for Charlie.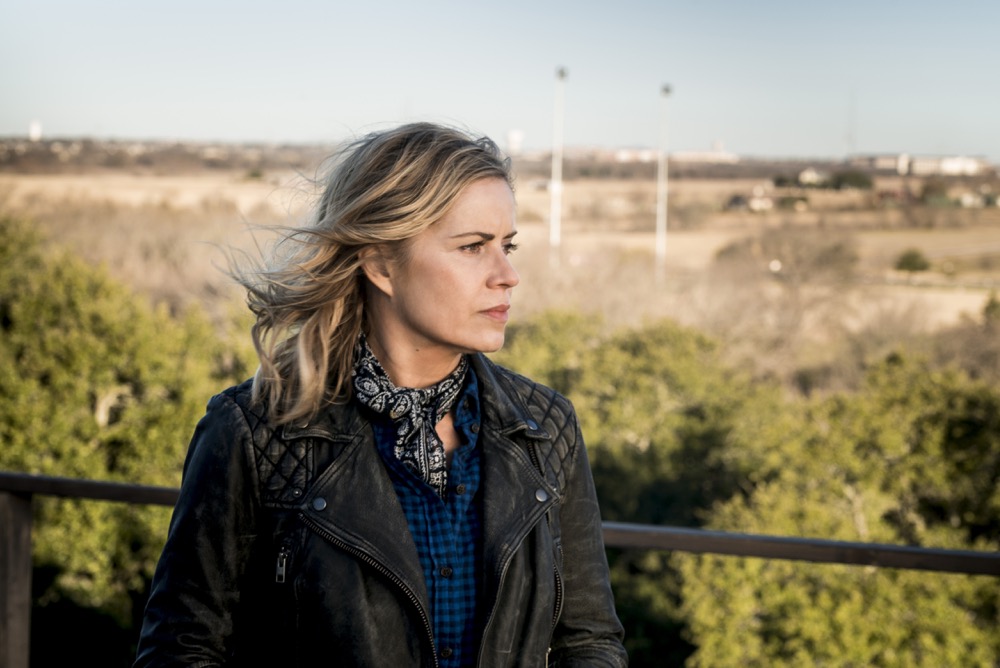 In the truck John tells Morgan he used to be a police officer and how he wants him to stay with the group after they pay respects to Nick. That way, he can eventually meet his long lost love Laura. Morgan declines and says he's better off on his own. Flashback – Alicia and Naomi search for supplies at an abandoned water park. They battle with a pool of walkers until they're forced to retreat up the water slide. They discover a trove of supplies at the top but are attacked by a walker, who makes them slip back down. Alicia uses the end of the gun she found to kill the walkers. Flash forward to the present when Althea asks how the gun barrel became her sharpened weapon today. "That came later," Alicia says.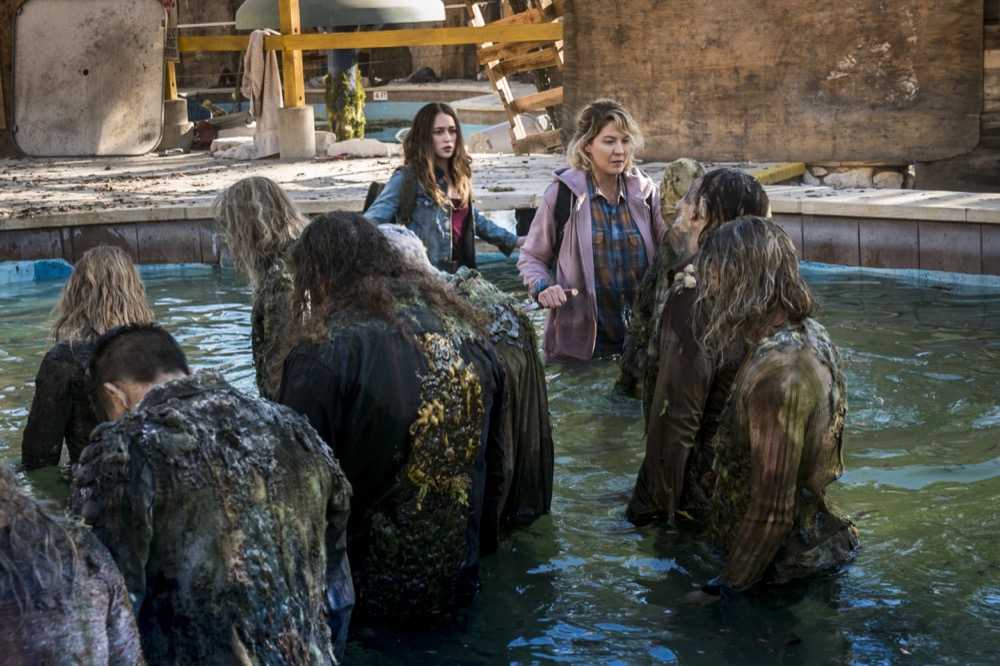 Alicia raids the medical supplies at the waterpark while Naomi sneaks off to drive away. Her car immediately breaks down, Alicia finds her and says that she's either with them or against them. Naomi says she doesn't think she can keep doing this, and Alicia relates, but says she's making a mistake.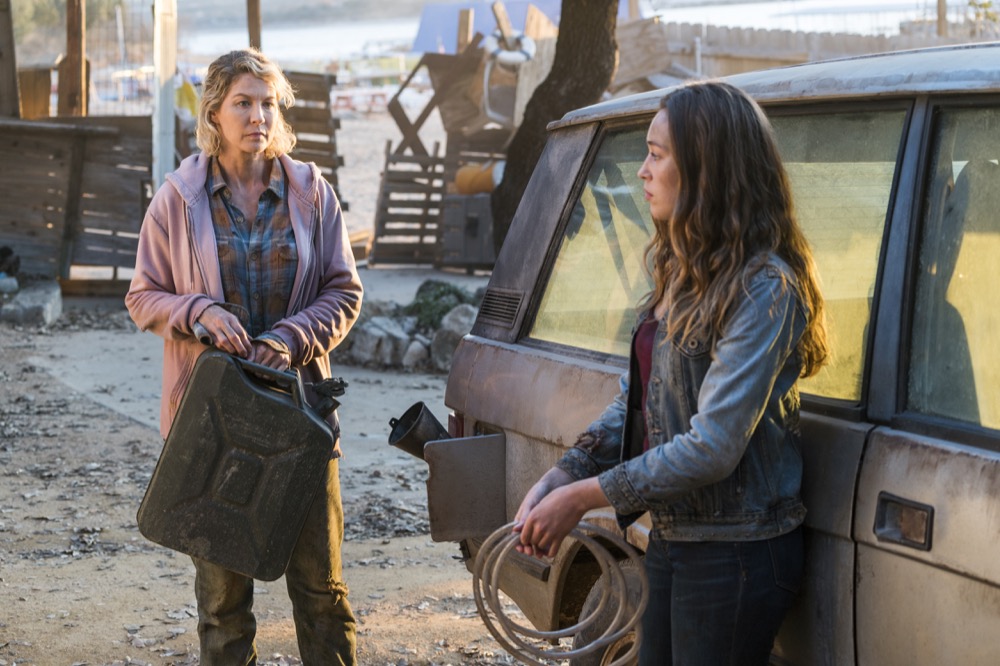 Present-day Strand tells Althea, "I just wanted to do the right thing." Past Strand takes Cole to a car junkyard where he reveals he's been hiding provisions in a truck since the crops failed. Cole questions why he's keeping it to himself and Strand says there's room for both of them in the car. Cole declines and tells Strand to find his own way back to the stadium. Cut to the present – Alicia cryptically tells Althea that "it wasn't (Strand's) fault" and that he wasn't the only one who thought about leaving.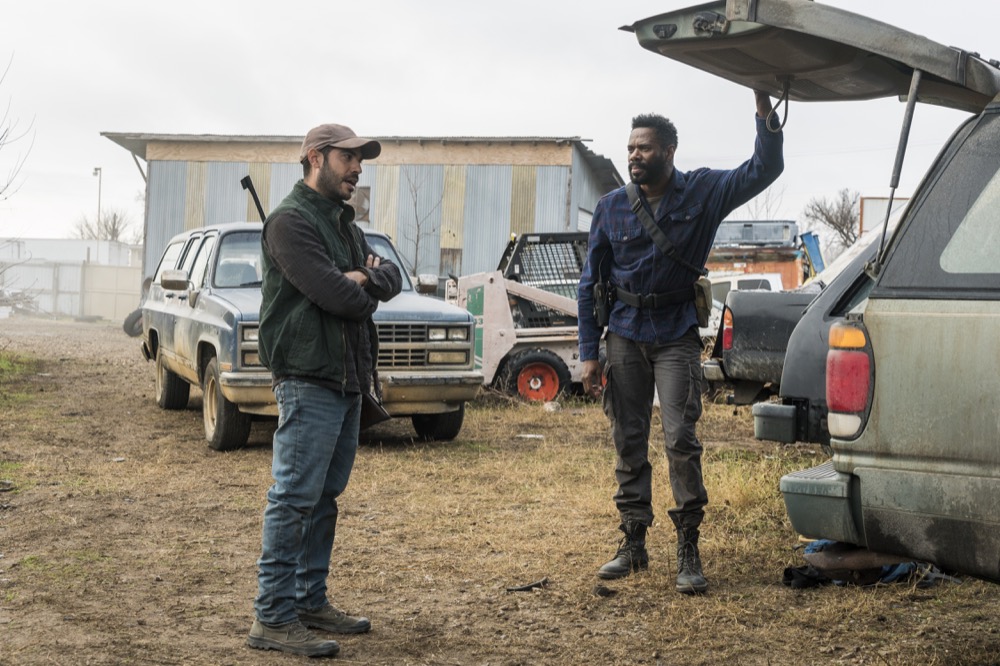 Now it's time for…past Luciana! She scavenges for supplies with Nick, where they find and kill a walker in a library. She finds a book of maps of the southwest U.S. and tells Nick they should go to the first place they turn to in the book. In the present, Luciana tells Althea, "I never should have opened that book."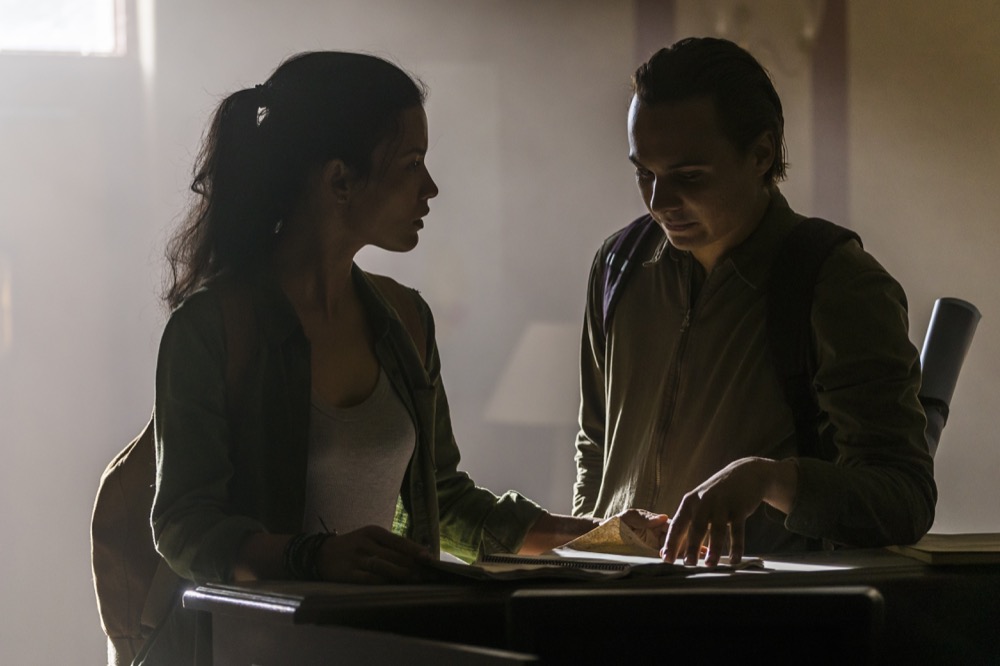 Madison meets with Mel outside the stadium while her people are out scavenging. Mel tells her he and Ennis lived in a cattle ranch with other families before this until a wildfire broke out. Madison interrupts his story and postulates that he and Ennis saw what was coming, warned the others, and escaped before everyone else got burnt up. Mel makes it seem like she's right, so Madison proposes Mel's people join hers in the stadium to build a solid community. He says that her optimism will be her downfall. As she walks away Mel says she got the story wrong – he actually convinced everyone to stay and only escaped with Ennis when the fire was at their doorstep, leaving everyone else to die.
Naomi tells Alicia how her days of being an ICU nurse helped her realize who was going to make it and who wasn't. She then tells Alicia the stadium is doomed and she should think about where to go next. Strand returns to the Diamond with his truck of supplies and Madison praises him for the haul. After opening to a page in the book, Nick and Luciana also return to the stadium to tell Madison about their plan to travel up north to find seeds to bring back. Madison agrees and Present Day Luciana sheds a tear at the memory.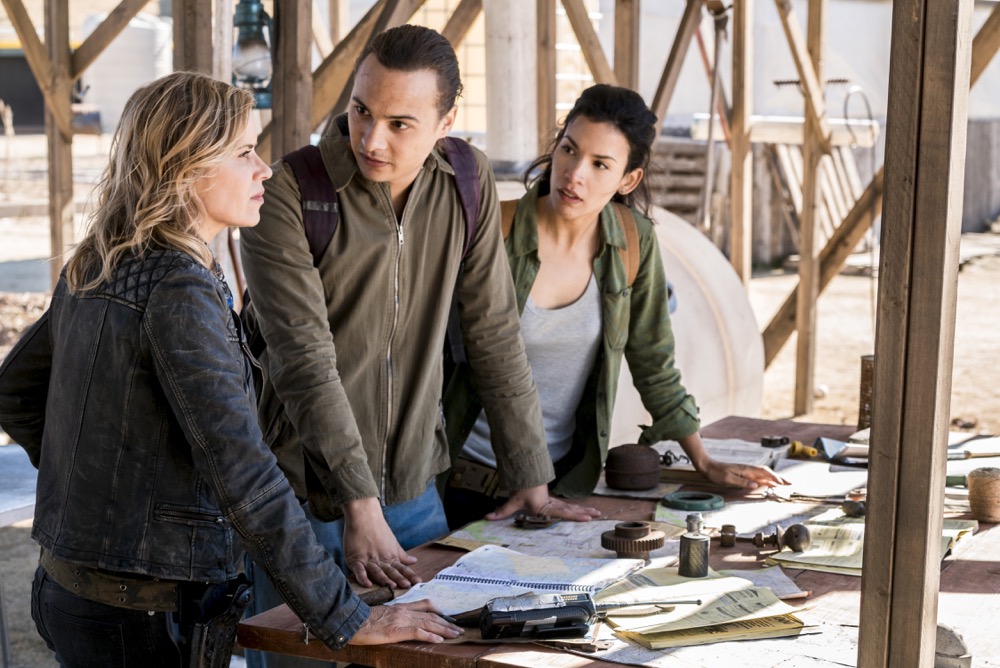 Alicia and Naomi return to the stadium and tell Madison they want to open an infirmary. Present day Alicia says they should have talked Madison into leaving that day. Strand says he should have kept the car a secret, and Luciana admits she should have flipped to another page. But instead, they all wanted to stay and make it work. "That's why Nick is dead," they all confess.
They pull up to a field to bury Nick, but instead of digging a hole they dig up a metal crate full of weapons and supplies. Morgan surmises they'll use it to go after the Vultures – and he's right. Althea's angry about being misled – but they tell her if she wants to see how their story ends she'll have to follow them. She agrees, and the group decides to actually bury Nick. Morgan leaves a blue bonnet on his grave as the crew loads up the truck.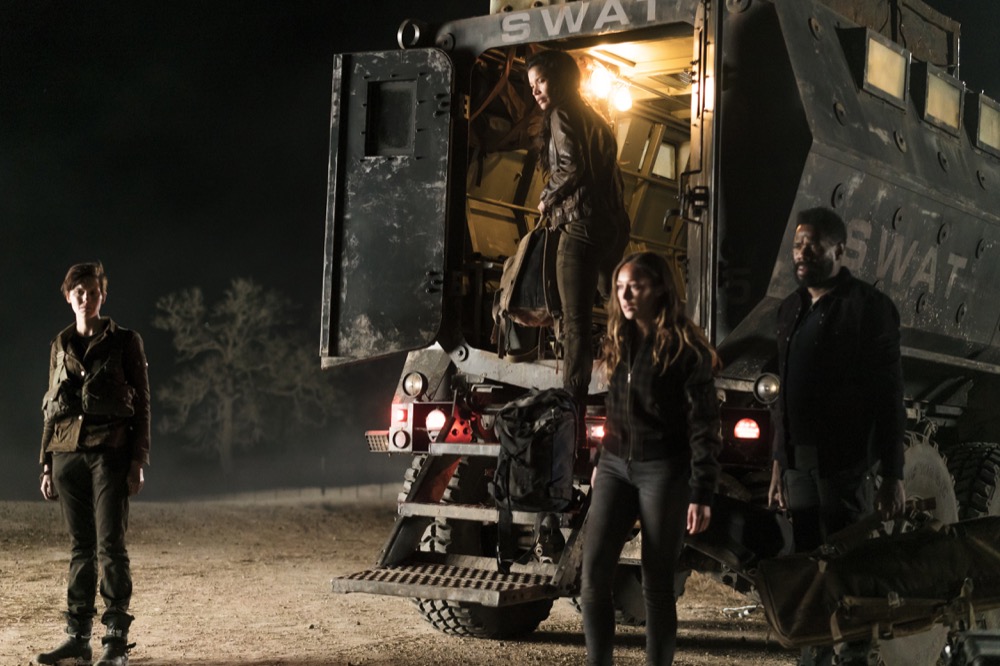 John recognizes one of the backpacks they load as Laura's, and we get a brief flashback of Naomi with that backpack and the identical gun. John says "Laura" never gave him her real name and frantically asks Strand and the group what happened to Naomi. Luciana says she didn't make it out of the stadium and John is in disbelief. Alicia blames the Vultures and asks John to join them to make things right. He refuses, and Morgan tells Althea to get on the truck while he stays behind with John.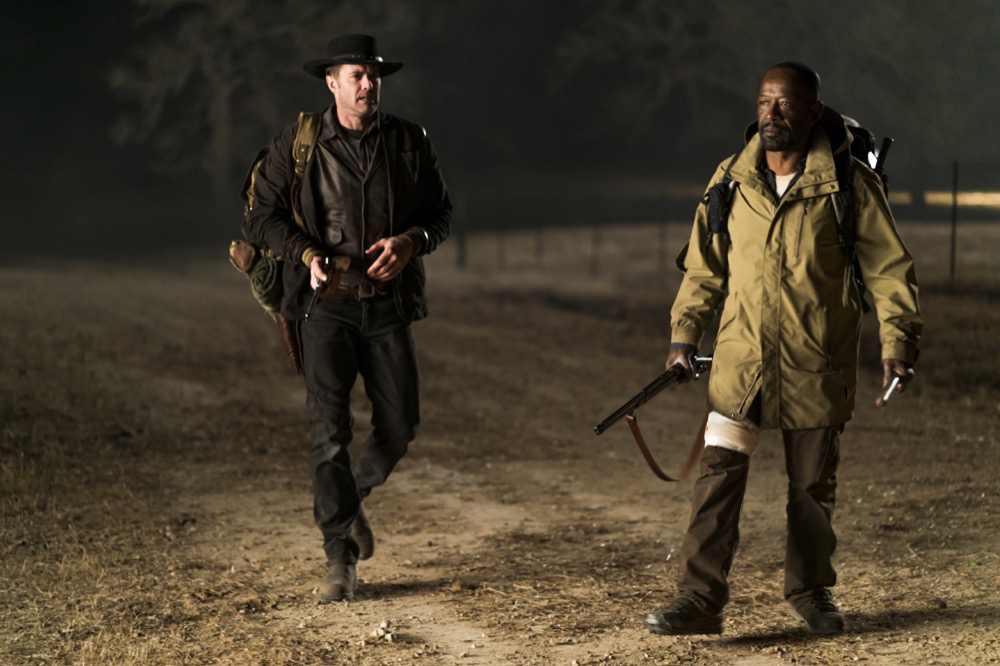 ---
What did YOU think of the episode? How do you feel about Nick returning in flashbacks? What do you think happened to Madison? Let us know that and more in the comments!