"Still Standing"

Alicia cuts down the walker road block while Strand and Charlie stave off walkers at the crash site. Morgan radios Grace to ask for her truck to rescue them and she instead gives him directions to a place that might have a vehicle. Alicia comes across a radioactive walker and then sees Dylan, who tells her to come with him. Strand finally frees the propeller as Charlie uses the balloon as a walker barricade. Dylan takes Alicia to the kids' treehouse hideout, which has walkers tied to the gate. Annie warns Alicia she never should have come here.

Alicia reminds Annie they'll end up dead if they stay in these radioactive lands. Annie asks why she's so adamant on helping them and Alicia admits she has to make up for her past. Refuses to let her go until she helps them rebuild their barriers – even if it means missing her flight.
Back at the yard, the gang realizes there's a hole in the plane and they have to find more gas; Al knows just the place. Elsewhere, Morgan checks out the house Grace sent him to, where he finds radiation protection and pictures of Grace. Alicia radios him to tell him she found the kids but won't be able to get them back for the flight. Morgan tells her to try harder and then finds the keys to a truck.

Al takes June back to the mountain with the helicopter fuel as John finally makes contact with June. She warns the reactor will soon melt down, so he tells Dwight they have to leave. Dwight offers to go off on his own so John pulls out Sherry's letter, but doesn't have the heart to give it to him. Back at the crash site, Strand reveals to Charlie he could have been on the first plane but hesitated; he promises he won't hesitate again. Suddenly, Morgan pulls up in a truck wearing full HAZMAT gear. He kills the walkers and reunites with Strand and Charlie.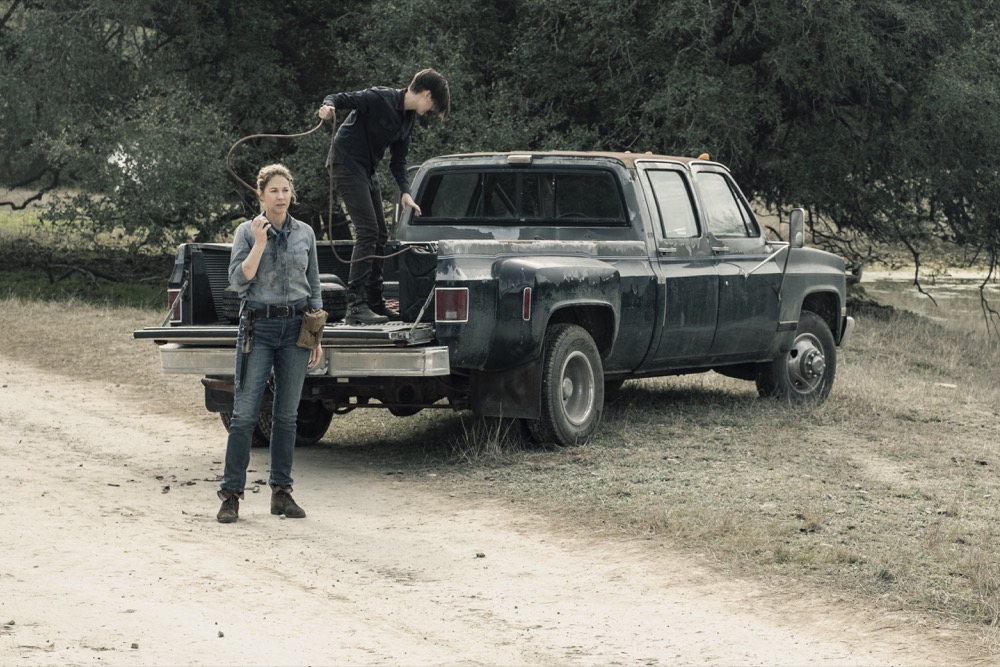 In the woods, walkers break free from the maze and Annie and Max are forced to run back. Alicia finds Dylan's drawings of tied-up walkers and he explains Annie used it as an idea for their real-life barricade. Annie and Max barely make it back to the hideout with walkers now surrounding their little community.
Morgan radios Grace to tell her they got the truck and she informs them the generator broke and they have a day before the meltdown. She promises to try and fix it to give them more time. Morgan decides he needs to rescue Grace, so he tells Strand and Charlie to get the truck and he'll meet them at the truck stop later. Elsewhere, Al tells June about Isabelle as they pack up the fuel on the truck. June explains how she was always grateful for what she had with John when she didn't know if she would see him again. She says she's certain she'll see Isabelle again.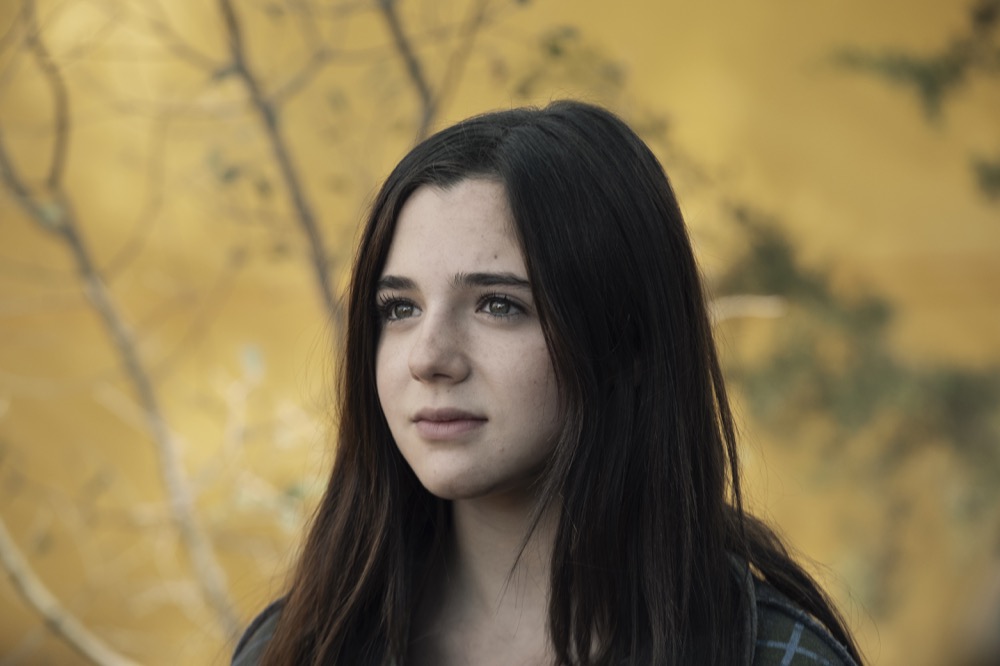 Back at the treehouse, Alicia demands to get her weapon back from Annie when she finds out their guns are just for show. She tells the kids to find a way down as she begins chopping down the walkers. Meanwhile, John's unable to hot-wire a semi and Dwight tells him it's OK, they can just keep searching. Riddled with guilt, John's forced to give Dwight Sherry's note. He apologizes and Dwight gets out of the truck.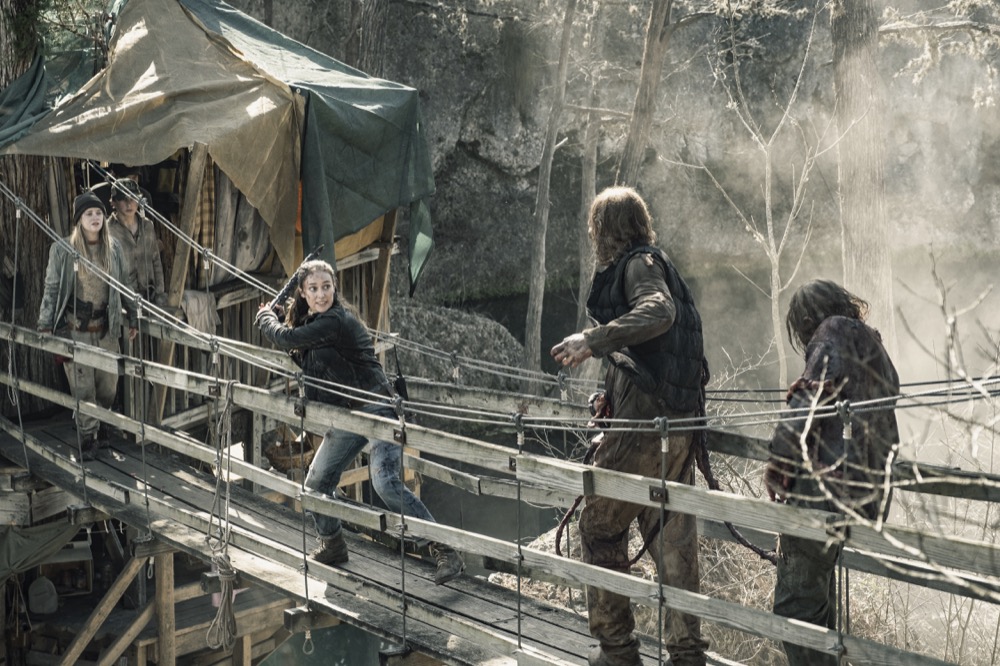 Morgan shows up at the plant and tells Grace she's not dead yet. Alicia kills a dozen more walkers as the kids finally manage a way down. A radiated walker tackles Alicia and she manages to kill it, but its blood gets all over her face in the process. A couple of walkers get past her and tumble down the hill, forcing Annie to shoot them from the hideout. Alicia radios Annie to tell her to run back to the plane and Annie tears up, telling Alicia she made up for her past. Annie jumps down and runs away with the kids as Alicia prepares to kill more walkers.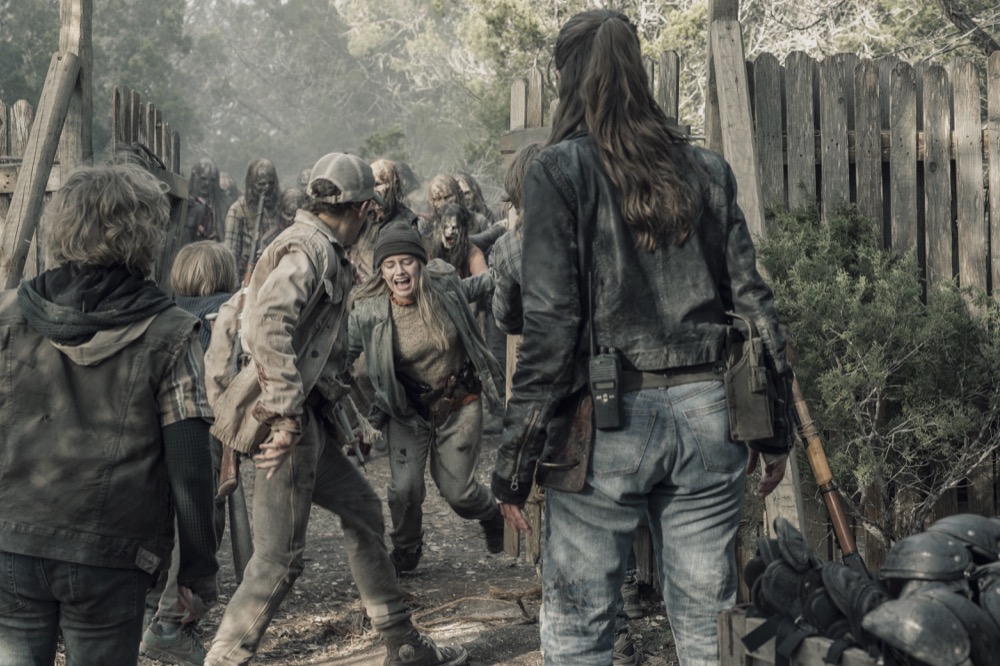 That night, Strand and Charlie make it back to the truck stop and update Luciana on the situation. Elsewhere, Morgan tells Grace he saved her because of Eastman's "all life is precious" motto. She says they both believe other people's lives are more important than their own. A little later, Annie drives the kids back to the truck stop. Luciana introduces them to Strand and Annie tells him Alicia's still out there.
John apologizes again to Dwight, who admits he understands why he did it. John says it doesn't have to be the end of the road but Dwight says he doesn't want to stop looking for her. "Impossible shit happens," he says. John agrees and Dwight promises to get him back to June. In the woods, Alicia cleans her face in a river and Morgan makes contact with her. He asks if she's OK and she lies but says she's being followed by a pack of walkers. Morgan commends her on getting the kids back and asks where she is. She doesn't respond. Suddenly, the alarms at the power plant start sounding.
---
What did you think of the penultimate episode of the first half of Fear the Walking Dead Season 5? Tell us in the comments!